While your newborn can't walk or talk it is never to early to introduce playtime. Between changing diapers, naps, and feedings try to engage in playful activities with your baby that will stimulate their development. Obviously, they are too young to toss around the football or enjoy playing board games but there are plenty of toys for newborns. The toys with different textures or bright contrasting colors will stimulate their sensory development. Purchasing a toy that your child can grasp or reach for will increase their fine motor skills. We have created a list of the ten best toys for newborns to help you find toys that are entertaining and developmentally appropriate.
Our Top 3 Picks
Sassy Developmental Bumpy Ball

Our rating
Sensory Stimulation Toy
Price:

See Here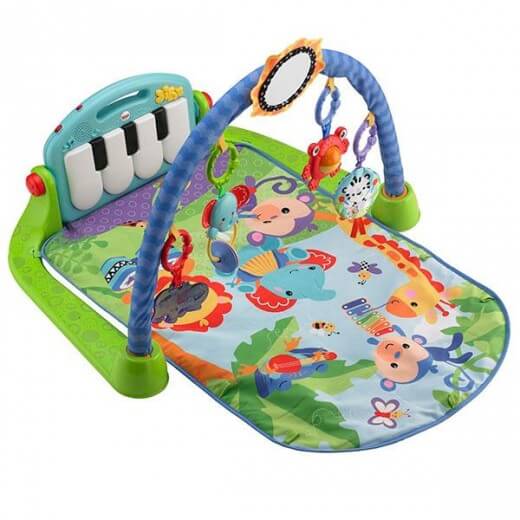 Fisher-Price Kick & Play Piano Gym

Our rating
Motor Skills Development
Price:

See Here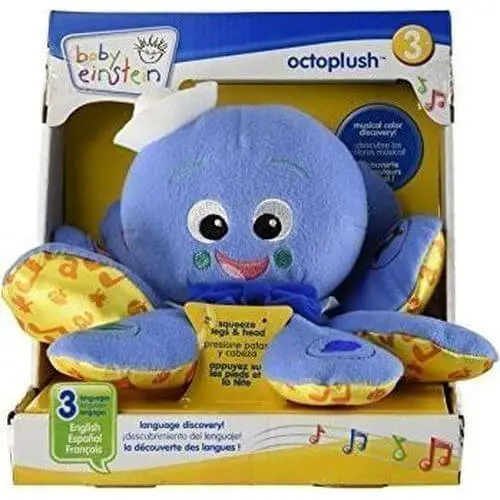 Baby Einstein Octoplush

Our rating
Sensory Stimulation
Price:

See Here
Sassy Developmental Bumpy Ball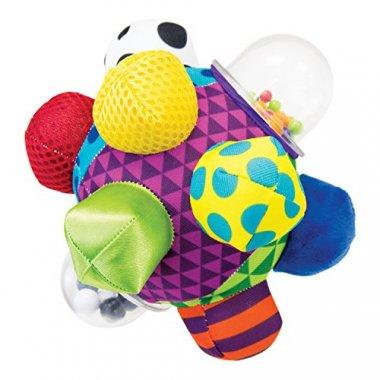 Fisher-Price First Steps Kick 'n Play Piano Gym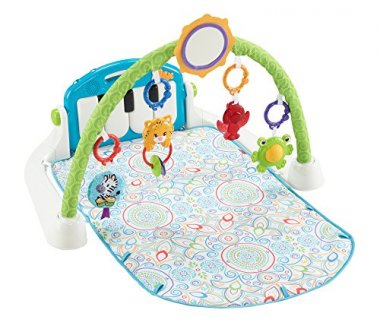 Jellycat Bashful Grey Bunny Soother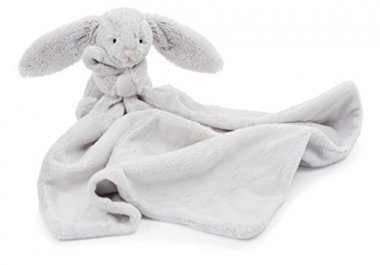 Fisher-Price Soothe & Glow Seahorse, Blue
Lamaze Freddie The Firefly
Playgro My First Bead Buddy Giraffe for Baby
The First Years My First Rattle
Manhattan Toy Winkel Rattle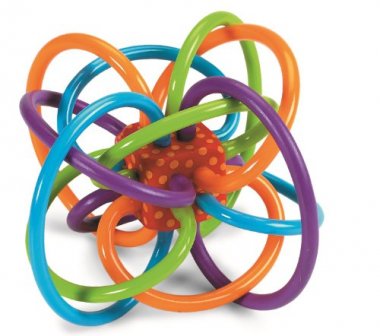 Criteria Used in Evaluation of The Best Toys for Newborns
1. Do the toys make sounds, noises, or music?
Even at the most infantile age, babies need to hear sounds and music to use and strengthen their hearing skills. The toys listed here that do make sounds or music, do so in a very gentle way that will not frighten or alarm the baby. They are introductory noises and music that soothes the baby into sleep or nap time easily. Not all toys must make sounds, but those that do must encourage the baby to listen and be something that it enjoys hearing. All of these toys do that very nicely.
2. What activities are provided for the baby and what are the skills it will help with?
All of the toys reviewed here provide many levels of skill building that will teach the baby how different textures feel, how to move objects, and how to recognize shapes and colors. All of the toys chosen are colorful and loaded with activities. Sensory skills and motor skills are a benefit of almost each toy because playing should not only be fun but beneficial. All of the toys also provide multiple opportunities for the baby to chew and teeth on soft objects as well as soft plastic ones. Teething is a painful time for infants and these toys can help ease the pain in a playful way.
3. What materials are the toys made of?
The manufacturers of the items listed here were careful to keep baby in mind when choosing the materials for their toys. Knowing that infants would be teething and gnawing on these toys, most of them are made with nontoxic or BPA-free materials to keep your baby safe. The fabrics are all super soft so the baby will not be scratched or have problems with its tender skin. Even the toys with crinkly fabrics for the crunchy sounds are soft to the touch and ready for nibbling and teething infants.
4. Is the toy machine washable?
Considering these toys are for babies that will get everything dirty with food, spit-up, and what-not, their toys must be easy to clean. Machine washing for the toys with fabrics is a must because otherwise with just spot cleaning, stains will never go away. Most of the toys listed can be cleaned by machine washing or by simply wiping the hard surface off with baby-safe cleansers.
A Closer Look at the Developmental Milestones of a Newborn
Child development progresses in a very systematic and organized way-–from general to specific, from gross to fine, and from top to bottom. Your understanding of these principles are very crucial to making the correct choice of toys and playthings for your very young baby.
Infants who are less than 28 days old are generally classified as newborns or, in medical parlance, neonates; although it is not uncommon to see some parents calling a 3 month old baby still a newborn. This stage of a child's development is very crucial as he or she is still adjusting to life outside the protection of the mother's womb. Neonates are especially vulnerable to infections, injuries, and other illnesses. Unfortunately, it is also a very critical stage in his or her development because anything that he or she experiences or senses by this time will already be imprinted on his or her very young mind.
Here is a quick run-down of what is going on with a newborn during the first month of his or her life.
By week 1 your baby can already recognize your voice. He/she may not understand what you are saying but he/she feels that you can be trusted and that he/she can rely on you to meet his/her needs, particularly love, affection, hugs, and food.
By week 2 your baby can begin to focus on objects or items placed anywhere between 8 and 14 inches from his/her eyes. Did you know that you are the most amazing "object" in your newborn's eyes by this time? That is why child psychologists always recommend infant feeding times to be really up close and personal.
By week 3 your baby will already begin to attempt to control his/her otherwise jerky and random movements. This is one of those most amazing moments when you carry your baby and he/she positions himself/herself to snuggle up to you. Your baby associates your arms with comfort and calm.
By week 4 your newborn will already be cooing and making some "ahh" sounds, especially when he/she sees you. Newborns at this stage are already adept at mimicking sounds and they already know that the sounds they make actually has power-–the power to call you.
As the week progresses, your newborn's movements will become more purposeful and smoother. He/she will now have greater control of his or her body movements. He/she will also flash his/her very first smile by the sixth week. From here on, you can expect a lot of changes both physically and mentally from your newborn.
Choosing the Right Toy for Your Infant – The Value of Our List
With an understanding of these developmental milestones of your very young baby, you can now choose the right toys for him or her.
We have listed below the top 19 products that you can consider for your new addition to the family. The toys and play things included in this list are a product of meticulous research that factored quality, safety, and overall reliability and trustworthiness of the toy. Additionally, we also listened to what countless of parents who have already tried these toys with their own kids.
These toys for newborn babies are just some of the world's best. Hopefully, you were able to identify at least several that will benefit your newborn baby. The most important things to remember about buying toys for your newborn baby include their developmental appropriateness, safety, and quality.
Toys are your kids' best instruments for learning more about themselves as well as other people and things in their immediate surroundings. These play things are very important for your child's physical, psychological, social, and emotional development. As such, it is very crucial that, as parents of these lovable children, you should be able to provide them with the correct kinds of toys that are highly appropriate for their age and development.
FAQs
Frequently Asked Questions
Q: Does the Piano Play Gym play just one note for each key when pressed or does it just play music?
A: It has two modes of music play you can choose – short play just sounds one key at a time, while long play actually plays music for up to 15 minutes.
Q: Does the Bead Buddy Giraffe hang up?
A: No, this toy does not hang up.
Q: For the Newborn-to-Toddler Play Gym, do the hanging toys come off so others can be put on too?
A: Yes, they do come off and you can put on other toys that can fit in those spaces.
Q: For the Tiny Love Take Along Mobile, does the mobile move as the music plays or is it still?
A: The mobile does rotate or stay still for the music. You can choose what you prefer.
Q: Does the Grow With Me Activity Gym and Ball Pit make any noises or sounds or play music?
A: No it does not make any noises, sounds, or music.
Q: Is there an attachment strap for the Sassy Ball?
A: No there is no attachment strap nor a place on the toy to attach one.
Q: What is the benefit of colorful, high contrast toys?
A: Colorful toys help to stimulate baby's eyesight and engage them in play. High-contrast toys, such as toys with lots of different animals, help your child to switch focus. By pointing out the colors, and talking about the different animals, your baby will learn to follow along with you, rather than staying fixed on one subject. They might not understand the meaning of your words yet, or be able to differentiate between the animals fully, but they'll develop the mental capacity to change tracks. Deceptively simple concepts and toys can still have a huge impact on your child's learning to assess and functionally interact with the world around them.