Are Mattress Toppers Neccessary for Families?
Whether you've just got a brand new mattress, or your current one is starting to feel not so great, there is definitely a good reason to consider purchasing a mattress topper.
Mattress toppers, also called mattress pads, are a thick layer of material that goes over the top of the mattress and underneath the fitted sheet. They provide an extra layer of comfort between the user and the mattress.
They also can help address a mattress's limitations, by softening a too-firm mattress, or adding support to a too-soft mattress. Some also serve as protective barriers to your actual mattress and protect against bedwetting, spills and kid-induced dilemmas.
Mattress toppers range in price from ten US dollars for a one and a quarter inch thick topper (Mainstays brand for a Twin XL bed), to $551.60 (US) for a three-inch thick topper (TempurPedic brand for a King sized bed).
There are various materials from which toppers are made, including Memory foam, latex, goose/down feather, and wool.
There also exists a mattress pad, or mattress cover, which is a thin material that goes over the mattress and under the fitted sheet that provides a barrier between the user and the mattress.
These are better suited for preventing stains and soaking of the mattress, as well as a few other things. In this article, you will be provided with sufficient information to be able to make an informed choice as to which mattress topper or cover is right for you and your family, or if you even need one at all.
Memory Foam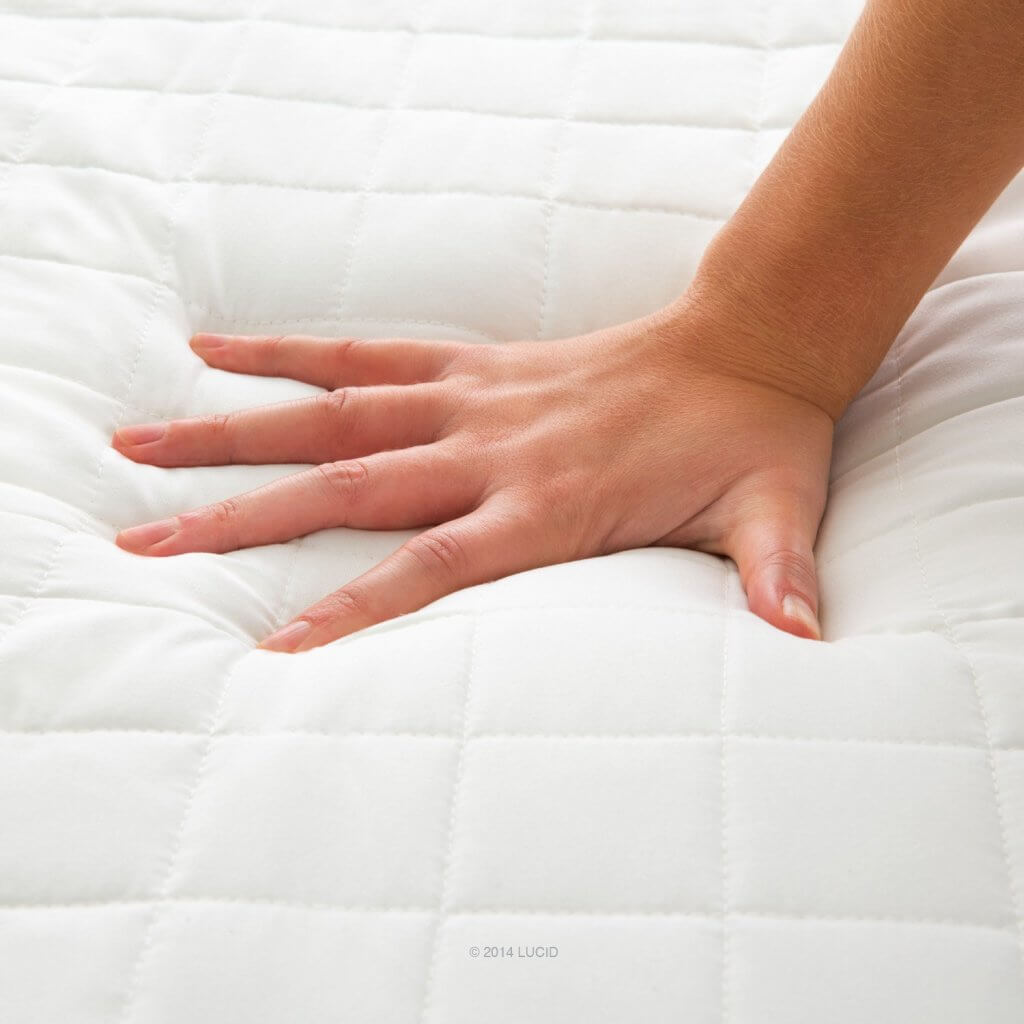 Let's begin with memory foam mattress toppers. These are the most commonly purchased toppers, and for good reason. They soften a too-firm mattress while providing body contouring to relieve pressure points, reducing pain during sleep.
This makes the bed more comfortable, resulting in less tossing and turning to find that sweet spot to sleep in. Memory foam mattress toppers are produced to prevent dust mites, mold, and even bed bugs.
A good rule of thumb to remember with memory foam toppers is, the higher the density, the better it will be at conforming to your body and reducing those painful pressure points.
Surely they can't be all good, can they? There are a few drawbacks when considering a memory foam mattress topper.
To begin with, they hold heat. Though third and fourth generation foam toppers are being made with larger cells, providing more airflow throughout the topper, reducing the heat overall.
Memory foam mattress toppers can also have a chemical smell when you unpack them. This smell will go away as soon as a few hours after unpacking, but be prepared for the smell to linger around for a few weeks, depending on what brand you purchased.
Latex
Next, we'll discuss latex mattress toppers. They are more durable than foam toppers and the pillow tops that come attached to many beds nowadays. They sleep cool, because the latex is a breathable material.
Latex mattress toppers are also good for those who are on the heavier side. This is because the toppers bounce back into their original shape quickly, unlike foam, which can lose its original shape easily when used by larger people.
Latex toppers also make a firm bed softer. Latex is eco-friendly, that is, if you purchase a natural latex topper. These are made sustainably from trees, are biodegradable, and have no toxic chemicals.
They are hypoallergenic, and are resistant to mold, mildew, and dust mites. Finally, there is a diverse range of thickness and firmness of latex mattress toppers.
Like the memory foam mattress topper, latex toppers also have some disadvantages. They tend to tear easily when handling, however, once in place on the bed, they are very durable.
If they are not made of natural rubber, the chemical smell can be a problem. Most have been tested for toxic or otherwise harmful VOC's (Volatile Organic Compounds) and were found to contain no such toxins.
Latex mattress toppers tend to cost more than memory foam toppers. They are difficult to clean, but regular care of your bedding and the occasional vacuuming of the topper can go a long way.
Finally, people who have a latex allergy should proceed with caution. Remember, if you are allergic to latex, you may not be allergic to all kinds of latex, so some kinds may be safe for you.
Feather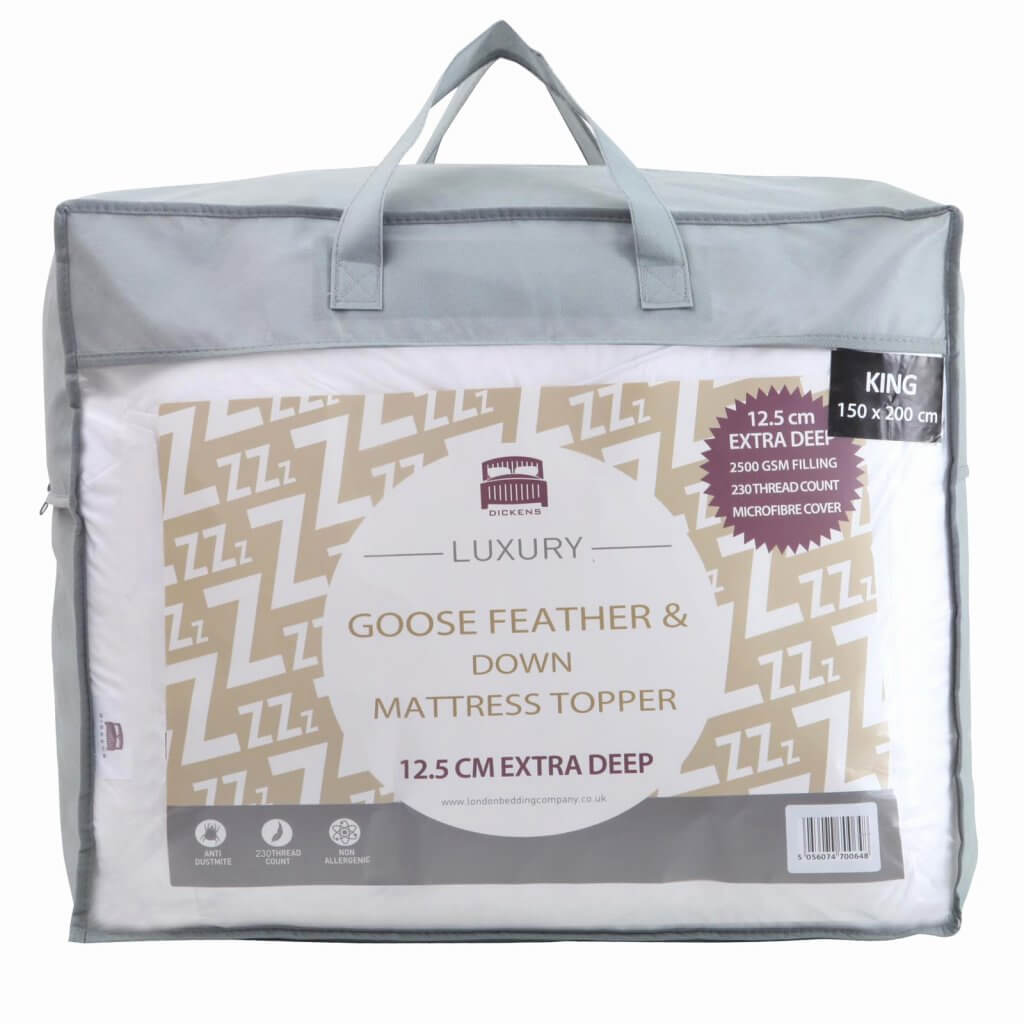 The third type of topper is a goose or duck feather mattress topper. Feather toppers are extremely soft, they give you that "sink into the bed" feel.
They are very durable, which allows them to last a long time. Because the feathers are a natural fiber, they allow for temperature regulation. This means you will stay cool in the summer and warm in the winter.
The down side of duck or goose feather mattress toppers are more of an annoyance than any major issues. They do not provide any firmness, making these undesirable to those with aches and pains.
The feathers may begin to poke through the fabric lining. This can be prevented by buying a high quality mattress topper, with a thicker outer fabric.
Finally, the feather topper may need to be fluffed up, due to the feathers inside packing down over time from laying on them repeatedly, causing it to go out of shape and flatten.
Wool
The final type of mattress topper we will discuss is a wool topper. These are great for temperature regulation, as the fiber is natural and breathable, allowing you to be comfortable in all seasons. An exclusive blend of British wool and Alpaca makes these a luxury, and they are super soft and fluffy. 100% certified organic wool toppers are also available.
Wool mattress toppers are wonderful for anyone with allergies and/or asthma, as they are naturally hypoallergenic.
Finally, this type of topper is good for bed sharing. It can be folded in half and added to one side of the bed to create a soft side. This is ideal if your partner likes the bed firm, while you could use a little more cushioning, or vice versa.
There are two main downfalls of using a wool mattress topper. The first being that they are considerably more expensive than a foam topper.
The second downfall is that there is an odor when you initially unbox your wool topper, which can be quite strong. This will, however, dissipate with time.
None of Those Quite Right?
What if your bed is perfectly comfortable to you, but you want that extra layer of protection to keep your mattress clean and safe for years to come? Here is where the mattress protector/mattress cover comes into play.
The benefits of a mattress cover are numerous. They reduce stains, which is the number one reason people purchase them. Now you can have breakfast in bed (or a nice glass of wine) without worrying about spilling something and ruining your ultra-comfy bed.
Mattress protectors also prevent allergies. They keep allergens from getting on the mattress itself, and when said allergens get on the protector, just toss it in the wash to remove them.
Mattress covers keep bed bugs from getting onto and into your mattress, where they are very difficult to spot. Should you bring the nasty little pests into your home, from a hotel, air bnb, or what have you, they will be on the cover only, and you can toss that thing right into the washing machine on a hot cycle and kill them off.
Some latex mattress covers provide a layer of extra comfort as well. The most amazing part of covers is that many of them are waterproof! That's right, some varieties have a waterproof bottom layer.
Now you don't have to worry about little Timmy wetting the bed and ruining his mattress. Be sure your cover has either a plastic lining, or a plastic membrane.
What Plastic is Safe?
Unfortunately, not all plastic is safe. Here is what to look out for when choosing a mattress protector with a plastic bottom layer or membrane. Stay away from any cover made from vinyl or PVC. PVC is a known carcinogen.
The plasticizers that are used to make the PVC soft enough to use for a mattress cover are called phthalates, and they are toxic. Phthalates make up thirty to forty percent of the surface of the vinyl, and they have been linked to cancer, liver damage, early puberty onset, asthma, kidney damage, and reproductive harm.
Furthermore, the phthalates are bound weakly to the vinyl, and when they separate, they leech off gas into the air. But what about "phthalate free" or "non-toxic" vinyl? See, these haven't been tested for safety, so they are not to be trusted either.
Be cautious of any mattress protector made from PEVA/EVA. While these are free of chlorine, they can still harbor chemicals that you are best off avoiding.
Polyurethane can be safe, however, you still need to do your research on the specific brand and their production process. It is safe on its own, but becomes dangerous when mixed with certain chemicals and solvents.
Polyethylene is a safe plastic, but it is not suitable for mattress covers. It is great if you want a waterproof mattress though. The reason it isn't good for covers is because it can't hold up to washing well. Finally, stay away from anything with a coating.
These are simply not worth the possible risk to your health. If the mattress protector is labeled as being anti-microbial, anti-mildew, or antibacterial, it is likely to have a coating on it. The coating is potentially toxic, and even if it wasn't, it is still unnecessary. If you wash your mattress protector regularly, the coating is rendered completely unnecessary.
Wool mattress covers are a safe and natural choice for a cover, however, they are not completely waterproof. They are quick to dry, and resistant to moisture though. Some brands have synthetics in them, usually polyester. You can avoid this by searching for 100% certified organic wool in your mattress cover.
Final Notes
Let's sum this up, shall we? Why do you even need a mattress topper or cover in the first place? Three reasons: protection, comfort, and preservation of the mattress.
If you are looking for comfort, support, and low cost, go for a memory foam mattress topper. If you want a cool, durable, and soft topper, search for a latex mattress topper.
If you don't need support, but want to feel like you are on a cloud, while being a comfortable temperature in all seasons, check out goose or duck feather mattress toppers.
If you need something hypoallergenic, yet still super soft and fluffy, while still being breathable and able to regulate temperature, find yourself a wool mattress topper.
Should none of those sound good for you, and you really just want to prevent damage such as stains and spills, while having your mattress protected against bed bugs and allergens, a mattress cover might be more your speed.
Be sure to find what works well for you, your sleeping style, and your needs. The reasons one may want a mattress topper vary, but if you have a big family, or even just a messy kid, a protective cover may be on your list!