10 Awesome Kayaks for Kids in 2019
last updated
Mar 31, 2019
With Moana and Pocahontas leading the way, canoes, kayaks, and boats seem pretty shiny to young eyes. And many of these activities are actually good for them, as well. Kayaking especially is a fun, family-friendly activity that requires children to exercise focus, balance, coordination, and muscular endurance, as they paddle their way through the water. Solid kayaks as well as inflatable kayaks can be safe, budget-friendly options, depending on the specific features you're looking for. We think you'll find all of the kayaks on our top ten list to be waves and waves of fun, so get out there and start paddling!
In a Hurry? The test winner after 18 hrs of research
Intex Challenger K2
Why is it better?
Can be deflated for compact travel
Two riders can paddle at one time
One seat removes
Deluxe paddle included
Maximum weight of 400 pounds
In a
Hurry? Editors choice:
Test Winner: Intex Challenger K2
43
Researched Sources
387
Reviews Considered
18
Hours Researching
17
Products Evaluated
Safety
Ease of Use
Durability
By Default
In depth review top 10
Intex Challenger K2
Inflatable Kayak Set
Aruba Sit-in Kayak
Sun Dolphin Sit-on-top Kayak
Lifetime Youth Wave Kayak
Youth Wave Kayak with Paddle
Intex Explorer
Advanced Elements AE1012-R AdvancedFrame Inflatable Kayak
Lifetime Tamarack Angler
Vibe Skipjack
Table of contents
Criteria Used for Evaluation
Other Factors to Consider
Frequently Asked Questions
Sources
10 Best Kayaks Reviewed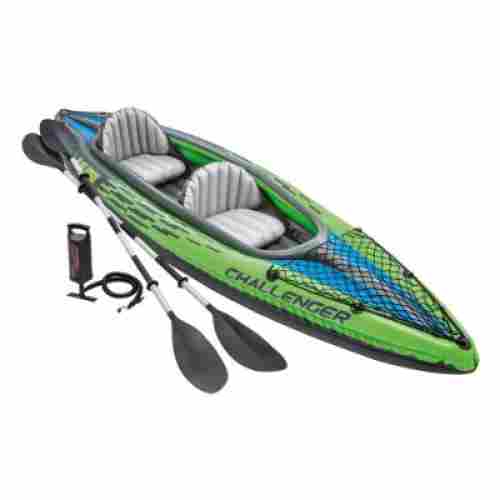 Can be deflated for compact travel
Two riders can paddle at one time
One seat removes
Deluxe paddle included
Maximum weight of 400 pounds
Customer support appears difficult to contact if there is an issue or defect
The removable seat really sells this one for us. It means that you can go out together, send siblings on a wild ride, or remove one of the seats and have enough storage room to enjoy a quiet afternoon with a cooler of drinks and snacks.
Read more
Safety
Kayaks allow children responsibility and independence, while teaching them focus, navigation, coordination, and balance.
Ease of Use
A high capacity pump makes it easy to inflate, and a repair patch kit means you don't need to freak out or send it back every time there's a little snag. This inflatable kayak features two seats, one of which is removable to give you more storage space. The nose of the kayak is equipped with netting, and it can deflate and compress to store easily in any size car. Even given how compact it can be, there's plenty of spacious room for paddlers and their supplies, even when both seats are intact. If you're travelling without the resources to lug around a hard-side kayak, this truly is a quality alternative.
Durability
Made from puncture-proof vinyl, the Intex Challenger K2 is a streamlined design meant for longevity and ease, as it's modeled to be easy to paddle and steer. The vivid colors make it easy to spot out on the water. Two 86 inch aluminum paddles allow users to navigate their way through the waves. It's UV damage-resistant, so feel free to soak up the sun, and can hold up 400 pounds as a maximum weight limits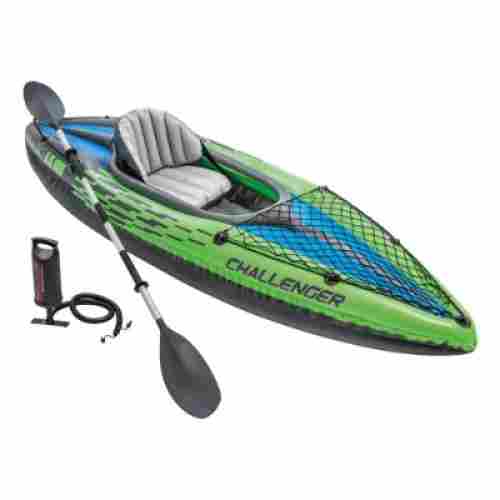 Great for travel
Easy to store
Includes a high power pump
Features a net for storage
Made of durable materials
Does not come with a skeg
The material its made of is extremely durable and won't tear or rip easily if it rides over rocks. Kids really love the design and have a lot of fun in it. It holds air securely for long periods of time.
Read more
Safety
The design is bright and aesthetically pleasing and has ropes one both sides making for easy transport. There is a cargo net that can be used to store things necessary for a day out in the sun.
Ease of Use
For hassle free inflation there is a high powered pump and two air valves. For assistance with maintenance there is also a repair kit included. In addition, this kit comes complete with a quality oar, made of high grade aluminium.
Durability
This inflatable and durable kayak is perfect for travel and ideal for storage. It can be folded up or flattened to fit into any space. There are several great perks that come with this kayak to make for quick inflation and easy maintenance
Available in six colors
Adjustable footrest
High back support
Features several storage storage options
Adjustable seat
Does not come with a paddle
The colors that this epic kayak comes in are bold and bright. Available in six different colors or any young kayakers favorite color. You will easily be able to pot this kayak on the water while you float with your kid.
Read more
Safety
For kayakers who have a bit more of a history with the popular sport, the Aruba Sit-In Kayak is a great upgrade. This kayak is just slightly over ten feet which makes it rather large and possibly difficult for very young children to control, but for pre-teens and teenagers, it should be no problem. With a little experience, they'll be paddling their hearts out in no time
Ease of Use
This kayak comes in several different colors to make it a little more personal and fun for the kids using it, and even includes drink holders and food storage for those long trips on the river. The seat and backing are padded and can be adjusted to fit the kayaker which makes it a great option for those who find other kayaks uncomfortable over long periods of time. The kayak also has handles for carrying, which makes it perfect for long-distance trips where you might have to walk a long way to reach the waterway.
Durability
Due to this kayak's larger size, it really makes a great option for an experienced kayaker. It could be difficult for beginners to learn how to paddle on something so big but will be easy for kids who already have the experience to steer and they'll appreciate the extra room.
4

. Sun Dolphin Sit-on-top Kayak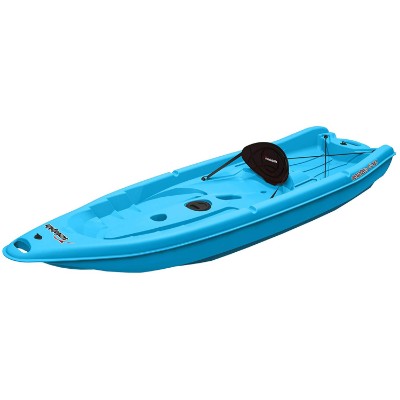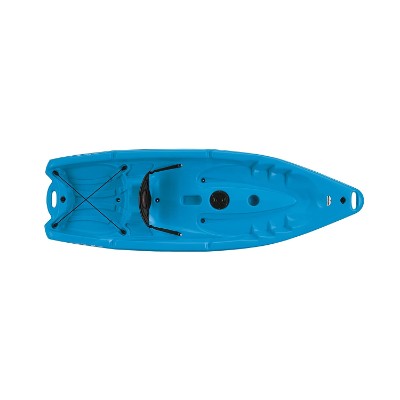 Available in three colors
Features an open cockpit
Made of lightweight materials
Can support up to one hundred and forty pounds
Has a moldable foot rest
The durable construction is meant to provide your child with ample space and room to grow. There is a whole world to explore, the sit on as opposed to sit in kayak provides you with more to see. Generally the sides may cause some blockage to see into the water. This style kayak is featured with with a sleeker design to provide your child with a bit more mature effect.
Read more
Safety
The durable construction is meant to provide your child with ample space and room to grow. There is a whole world to explore, the sit on as opposed to sit in kayak provides you with more to see.
Ease of Use
This solid kayak is meant to be sat one as opposed to in. The style of design provides your child the opportunity to improve balance at a mre more rapid rate. In addition the open space seating will enhance their the experience in becoming one with nature. It is available in three eye pleasing colors.
Durability
Generally the sides may cause some blockage to see into the water. This style kayak is featured with with a sleeker design to provide your child with a bit more mature effect.
5

. Lifetime Youth Wave Kayak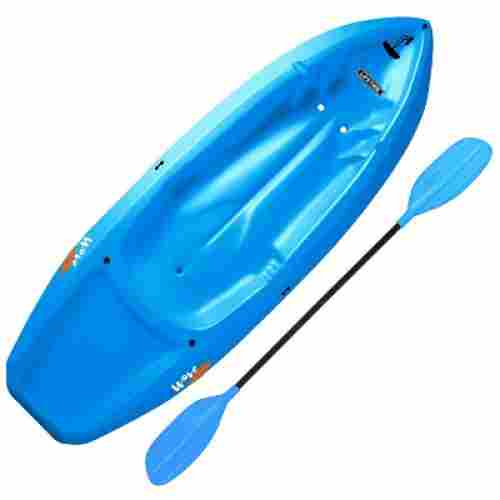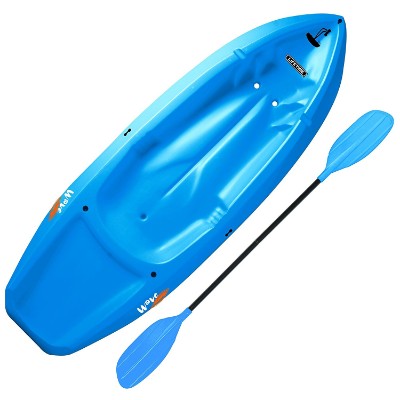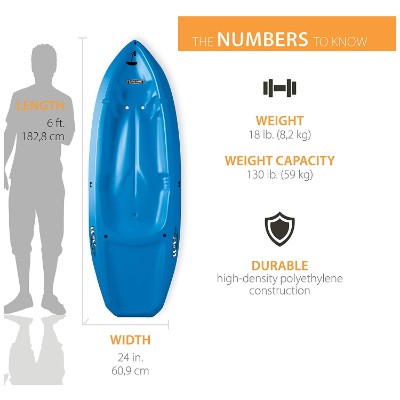 Ergonomic design for any water type
Lightweight
Includes a kayak paddle
Features hand grip and "swim-up" back
Holds up to 130lbs
Might be scary to kids who are not comfortable swimming  with no sides
Hard to paddle in rough water due to shape
You'd think having such a unique design would make this kayak somewhat of a fail, but it actually functions very well as a kayak! We love that it can be taken to a variety of different places and paddled just like any other kayak while still offering various options.
Read more
Safety
You'll notice right off the bat that this kayak has a very unique design. The Youth Wave Kayak is specifically designed for kids who love to ride waves whether they're at the beach or the lake. It slightly resembles a surfboard with raised sides and functions in very much the same way; it's essentially a sit-down paddle board. Kids are able to sit inside the Kayak and paddle from either side with the main difference being no holding cabin where the seat of a kayak would normally be. This is great for kids who are excellent swimmers and love being up on the waves but can't surf.
Ease of Use
The kayak is lightweight with a weight limit of 130lbs which makes it perfect for kids aged five and up (with parental supervision, of course). Its ergonomic design makes it great for shallow water as it bobs amongst the waves, and kids are able to control their direction with the use of a kayak paddle. It's even great for having a lazy river day and just floating along calm waters to enjoy a sunny day. The back of this kayak features a "swim up" design which makes it easier for kids to jump back on if they fall off, as well as finger grips on the side so they can hold fast to the kayak itself.
Durability
The versatile design of this kayak makes it perfect for the beach, rivers, streams, and lakes, and allows kids to use it in a number of different ways. Whether they're using it as a kayak and actively padding, floating along on calmer waters, or wave-jumping with it, they'll have a blast knowing they're safe with the perfect floating device.
6

. Youth Wave Kayak with Paddle
Manufacturer offers a five year warranty
Features a sloped back end
Available in two colors
Capable of supporting up to one hundred and thirty pounds
Features molded finger handles
May not be durable or suitable for rough water conditions
This kayak is a great starter kayak for children ages five and up. It's lightweight construction  makes it easy to transport and maneuver in the water. The materials comprising this vessel are high quality polyethylene. It is available for purchase in bright green and orange. The colors are both aesthetically pleasing and have an added safety feature. They will be easy to spot from off in the distance so you can keep an eye one your little one, even if they drift down the river by themselves.
Read more
Safety
Luckily, you don't have to sacrifice durability for safety. This vessel is designed to provide your child with a stable ride. There is a paddle included with this product so, upon arrival, you'll have everything you need for a day of fun.
Ease of Use
This lightweight product is only eighteen pounds and comes with finger grips so it is easy to transport. It's designed for children ages five and up, and tops out around one hundred and thirty pounds. With multiple foot rest postinos this product can be used for a few years. The manufacturer offers a five year limited warranty to give you added peace of mind. It is available in both orange and green. Designed with a sloped back and swim up step it will be easy for your child to climb in and out of, even while they are in the water. There are also holes so water can easily drain to prevent the vessel from sinking.
Durability
This kayak is made of high quality polyethylene. It's lightweight at only eighteen pounds. Appropriate for ages five and up with a maximum weight of one hundred and thirty pounds.
Affordable
Composed of puncture-resistant vinyl
Designed with a removable skeg
Includes oars and air pump
Skeg may pop out on its own
The adjustable seats make it easy for people of all ages and sizes to ride comfortably. The seats can also be removed so you can stretch out and enjoy a relaxing ride down the river.
Read more
Safety
The Intex Explorer inflatable two-person kayak makes a family day out on the lake much more fun. Both inflatable seats have backrests and can be adjusted to provide a comfortable ride for people of all sizes.
Ease of Use
Being inflatable it is lightweight and compact so your family can easily take it out to any lake or river. The boston valves on each side make inflating and deflating quick and easy. If you're looking for a chill day out on a lazy river take the seats out, lay back and relax.
Durability
There is plenty of space in the cockpit that can be used for storage or extra legroom. The bright yellow color makes this kayak easy to spot on rough or calm waters.Composed of a heavy-duty puncture-resistant vinyl, this kayak is built to last.The removable skeg makes it easy for anyone to direct the kayak. With your purchase, you will also receive two 86-inch aluminum oars and an Intex air pump.
8

. Advanced Elements AE1012-R AdvancedFrame Inflatable Kayak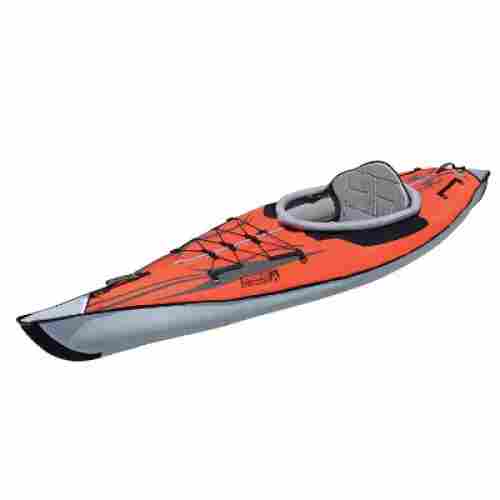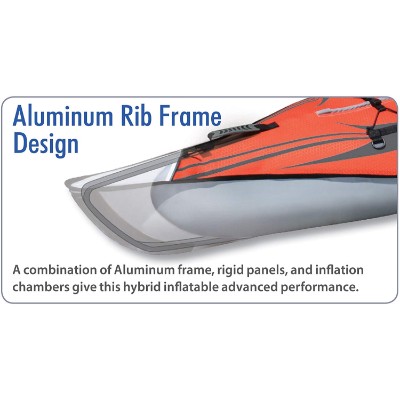 Multi-layer construction gives this kayak a high level of durability
Highly portable
Quick and easy to set up
Lightweight and easy to maneuver
Not ideal for longer trips
The multi-layer construction gives this kayak a high level of durability while also having the ability to fold up for easy storage. Set up is so quick and easy that you will be out on the water soon after unfolding it.
Read more
Safety
The Advanced Elements Kayak is perfect for those who do not necessarily have the space for large fiberglass kayak. This inflatable and foldable kayak hybrid is great for people of all ages. Setting up the kayak is extremely easy and takes less than ten minutes. Just unfold it and fill the chambers with air. The high back seat provides a comfortable ride for your child. Along with the mesh pocket on the back of the seat, there is plenty of storage space for whatever things your child might need to bring out on the water.
Ease of Use
The molded rubber handles make it easy for you to carry the kayak in and out of the water. The built-in tracking fin allows this kayak to glide smoothly through the water. While this is not a hardshell kayak, once it is inflated it feels just as firm as one. After a day out on the lake, just deflate the kayak, dry it out and fold it back up for easy storage.
Durability
Designed with multiple layers of material this kayak is highly durable and will survive countless trips out on the water. The red and grey color scheme gives this kayak a sleek look and will make every rider look like a pro.
9

. Lifetime Tamarack Angler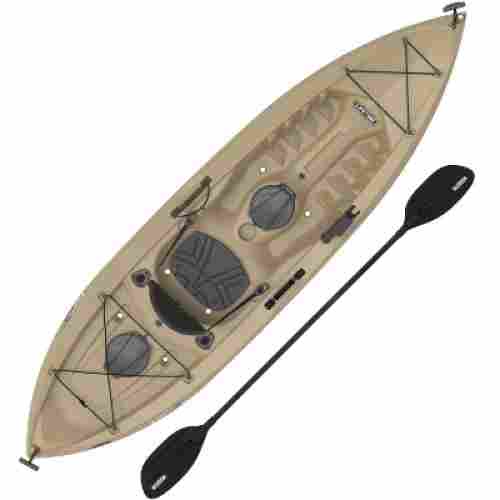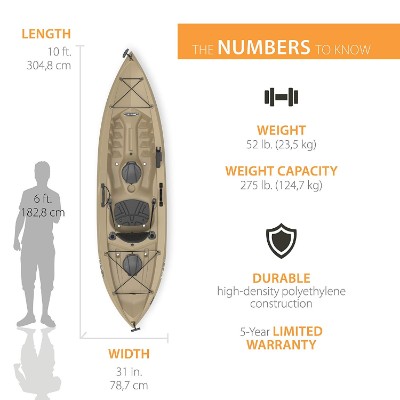 Flip Resistant
Designed with multiple footrest positions
T-handles make it easy to carry
Includes two 6-inch storage compartments
It is not made for riders to stand and fish
The rod holders will give your little fisherman the opportunity to relax while waiting for a fish to bite. When it is time to reel in their catch, the flat bottom eliminates any rocking and provides your child with the stability they need to lock in their catch.
Read more
Safety
With two flush-mounted fishing rod holders, your child can sit back and relax as they wait for their big catch. The t-handles on the front and back of the kayak make it easy for you to transport this kayak in and out of the water. The flat bottom makes it practically impossible to flip the kayak.
Ease of Use
If your child loves to spend a day out of the lake fishing then the Lifetime Tamarack kayak is perfect for them. Designed with multiple footrest positions, riders of different sizes can sit comfortably
Durability
Composed of a UV-protected high-density polyethylene, this kayak is durable and its colors will not fade in the sun. The adjustable seat is padded for extra comfort. The two 6-inch storage compartments, located in the rear and center, make it easy for your child to keep their supplies at arms reach. Along with this fishing kayak, you will also receive a paddle.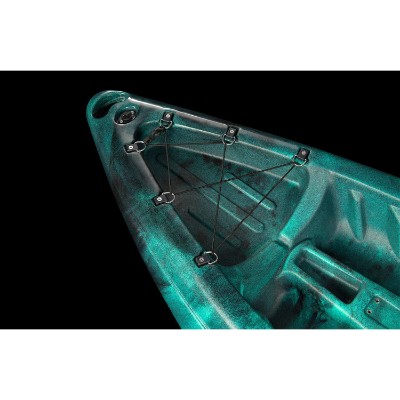 Nine feet long; spacious
Plenty of storage
Comfortable cushioned seat
Holds up to 300 pounds
Station to park oar so it doesn't tip overboard
The seat sometimes slides, even when adjusted to the tightest strap
It's a sturdy boat, that's for sure. This kayak can hold a good amount of weight, and the solid structure means you don't have to worry about snagged or sun-weakened vinyl.
Read more
Safety
The Vibe Skipjack is equipped with several key features. It is a nine foot, 46 pound kayak designed to be especially useful when fishing. A journey paddle lets you steer your ship as you choose, and five capped rod holders and mounting points lie flush and ready to hold all of your accessories. There are stations to park your paddle when it's not in use, preventing lost paddles in the water. Three sealed hatches and a bungeed rear tank give you plenty of space for storage
Ease of Use
Five easy grip carry handles make this easy to transport to and from racks, cars, and shores. It is meant to hold one rider at a time, so it might be best suited for older kids who have something of a command of the kayak, but the weight capacity taps out at 300 pounds, so you could also paddle with a little one onboard in your lap, as long as they know to sit still and not rock the boat. The seat is cushioned, giving you a nice, comfortable station from which to enjoy the water and open skies.
Durability
Kayaks give children a chance to practice responsibility, balance, coordination, and leadership skills. This one-seater especially can be used for little ones who still need to sit in a lap, or older children who might be ready to go out on their own.
Criteria Used for Evaluation
Safety
Always keep in mind the importance of safety and knowing your child's physical abilities. It is not recommended your little one be expected to paddle through wild rapids on their own. The water can be a bit intimidating for some, so encouraging your child to develop self- confidence in the water is important. This feeling will develop and become stronger over time with more exposure to the water. Until that time comes, and even after, you want to know that your child is using a product designed to provide them with the utmost in safety. These vessels are highly rated in several aspects and designed to provide a range of safety features.
Kayaks are primarily built for speed. If you have a canoe, then that would be the equivalent of a sport utility vehicle. However, if you're thinking of an F1 racer in the water, there can only be a kayak. As such, one of the principal considerations for our choice of the best youth kayak is the overall design of the hull. It should be designed in such a way that it can slice through water with relative ease, like a hot knife slicing through butter. Equally important is the stability of the platform. We are particularly aware that some form of stability is ultimately lost with each increment in speed. So, we may be giving you a really high speed water vessel but if it cannot maintain stability even at such speeds, then we'd rather choose one that is not as fast but is stable enough to keep your child safe.
Ease of Use
In addition to safety, these kayaks are designed for speed and ease. As your child is starting out on the water, understanding how to maneuver a toy this size can be tricky. These are great starter toys ideal for helping your child gain confidence in the water. They are easy to control and have added features making it easy for you to help if they get too tired. The ability to easily control your vessel gives you more mobility and speed, helping you get through more river. With added speed comes the ability to prepare for more challenging adventures in the future.
Durability
We also considered the weight of the youth kayak. This was a very important consideration since kayaks are especially built for lone riders, adventurers who would rather go it alone. That being said, it is important that these small streamlined boats are lightweight enough to be carried or even dragged from the vehicle and onto the water by an average kiddo. Playing a part in the lightweight design of the small boat is the choice of materials used in its construction. However, these materials should not only be lightweight; they should be extremely durable and sturdy, too. Most kayakers are some of the most adventurous out there. And while we don't expect your kid to be shooting the Class V rapids of the Grand Canyon anytime soon, it is best to choose one that is as sturdy as the Grand Canyon itself.
Most Important Criteria
(According to our experts opinion)
Experts Opinion
Editors Opinion
Users Opinion
By Default

Other Factors to Consider

Physical Development
An activity like this promotes the development of muscles and motor skills. Paddling against the water will help your child build core muscles and arm strength. The movement of the wrist will strengthen forearm and wrist strength. In addition to helping your child strengthen their physical capabilities, they will improve their balance and coordination skills. Let's be honest, nobody wants the moment in school where all eyes are on them to be the moment they slip walking down the hall. By encouraging your child to get out and and be active, you can save them the embarrassment and provide them a number of benefits. These benefits range from health, development and happiness, giving you the chance to be an inspiration to your little one.

Effectiveness
This list is compiled with a number of highly rated options designed with safety, function and durability in mind. They have enhanced features to provide your child with a comfortable ride. You love the outdoors and you want to give your little one the same fun opportunities to develop a love of the wilderness also. Kayaking is a great way to get out extra energy as mentioned above, but also to help bring you back to nature. Calmly row down the river birdwatching or paddle through the rapids.
Frequently Asked Questions
q:
Do they come with a paddle?
a:
Some do and others don't. There are a few with paddles that may not be durable enough to withstand more than a few adventures.
q:
Are they too heavy to paddle?
a:
ome of these are incredibly lightweight and designed for children as young as five. This means they are intended to be easily manipulated and controlled in the water.
q:
Are the footrests adjustable?
a:
There are several kayaks on this list to do have an adjustable footrest. They have a few levels so they can be used year after year.
q:
What is a skeg? Is a skeg useful for these products?
a:
A skeg is used to protect the propeller of the vessel. They are not necessary as these are not motor-controlled. They are also not included.
q:
Do these products come with a warranty?
a:
There are some that have a manufacturer warranty, while others may be offered by the company you made the purchase from.
q:
Are they durable enough to be used in the river?
a:
Yes most of these toys are designed to be used in the river and some can also be used in the pool. Possibly even the ocean if you feel really adventurous. It should be noted, care and adult supervision as well as assistance from flotation devices are recommended during use, in order to ensure the most in safety.
q:
What is the weight limit?
a:
The majority of these support a maximum weight of around 130 pounds. There are a few on this list that are capable of holding up to around 200 pounds for older children. This means you can find something for everyone ages five and up. They are sure to be excited!