10 Essential Camping Gear For Babies Reviewed in 2019
last updated
Jul 29, 2019
We know the idea of the whole family enjoying the great outdoors is dreamy--but, sometimes, when you have a baby in the house, it stops right there: at the dream level. Camping is a fun way for families to bond and enjoy nature. And though babies might complicate the trip, they certainly don't have to prevent it. In fact, we think it's a good idea for your little one to get out there and enjoy the fresh air! Just make sure you've packed to prepare for baby's needs. With this handy guide featuring our top ten picks in Baby Camping Gear, we don't think you can go wrong.
In a Hurry? The test winner after 23 hrs of research
Portable High Chair by ciao baby
Why is it better?
No assembly
Lightweight
Safe and Secure
Attached tray
Easy Cleaning
In a
Hurry? Editors choice:
Test Winner: Portable High Chair by ciao baby
52
Researched Sources
23
Hours Researching
15
Products Evaluated
Safety
Physical Development
Comfort
By Default
10 Best Camping Gear for Babies Reviewed
1

. Portable High Chair by ciao baby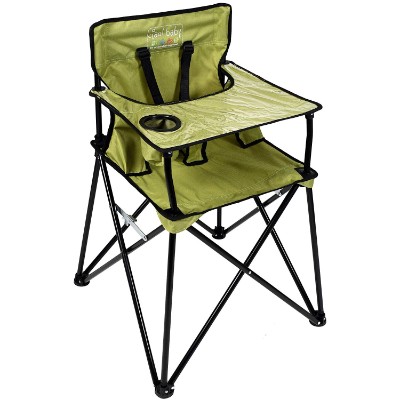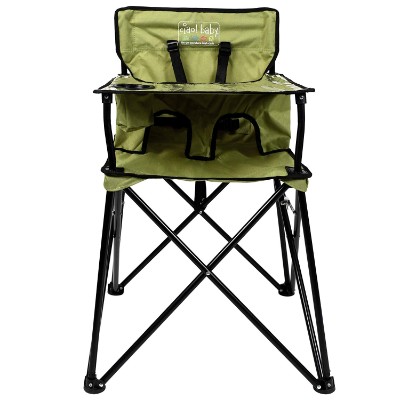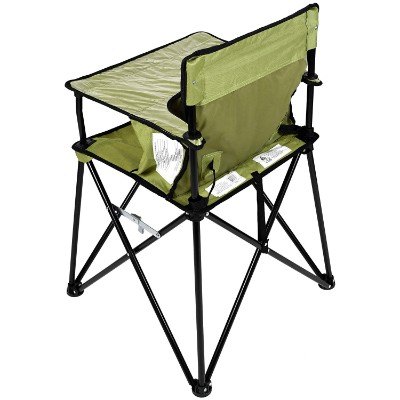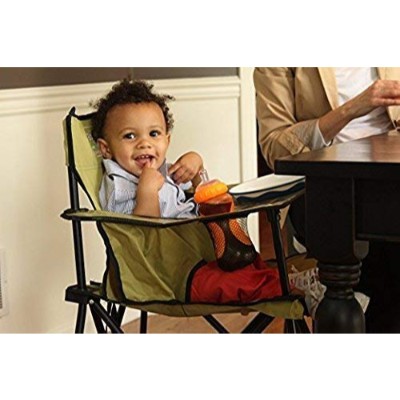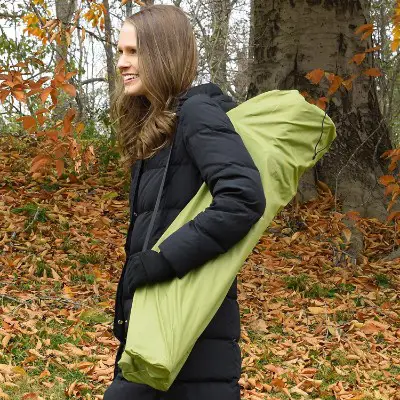 No assembly
Lightweight
Safe and Secure
Attached tray
Easy Cleaning
The tray slants slightly towards child
Has a safety belt instead of a harness
Its lightweight and compact design make the ciao baby a great item to have whenever the baby's heading outdoors.
Read more
Safety
It is exceptionally sturdy, too, able to hold babies who may weigh up to 35 pounds. It's got a lap strap in addition to the rail guard forming part of the food tray to keep your little angel safe.
Physical Development
This portable high chair is essential if you're camping with a baby. There's no setup or hassle and it only weighs 8 pounds. The foldable design will store perfectly with your other lawn chair and will work for babies 3 months to 3 years. The case that it fits inside makes loading and unloading very easy and simple as well. When you're ready to use, just pop it open. Don't worry about the mess either, just wipe clean with water when you're done eating.
Comfort
Make your baby sit in absolute comfort with this portable high chair that requires no assembly whatsoever. It comes as a very lightweight contraption that's just perfect for outdoor use. This wonderful outdoor baby gear comes with its own carrying bag so there's no need to fret about storage and transportation.
2

. Fold N' Go Travel Bassinet by BRICA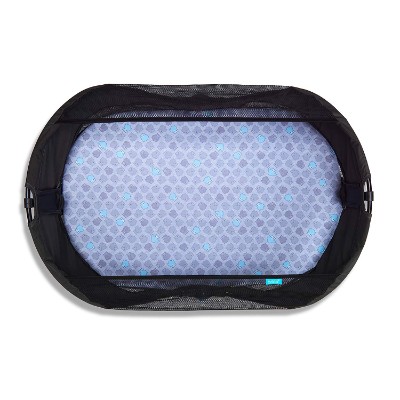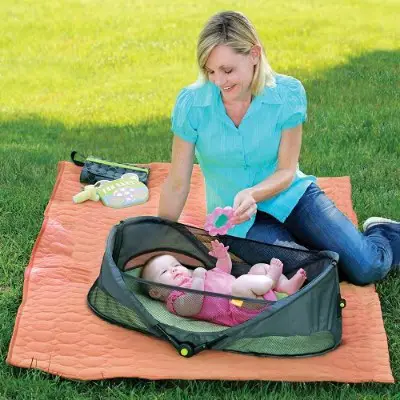 Breathable mesh keeps out bugs
Lightweight
Durable and portable
Mattress and fitted sheet included
Mattress is too stiff for some babies
The Brica travel bassinet's strong and durable construction coupled with its superb comfort and portable design make it a great camping gear to have.
Read more
Safety
The Brica travel bassinet comes with fully redesigned mesh panels that double as sufficient protection against insects and bugs while also allowing for optimum ventilation. The fabric has been re-engineered, too, allowing for greater breathable comfort. Its newly improved Safe-T-Lock technology makes it all the more convenient to lock and secure the Fold N' Go wherever baby may be.
Physical Development
Having a bassinet makes traveling with a baby just that much easier. Parents always need a free arm to take care of their many responsibilities. Caregivers love that it folds flat for easy storage and comes with a mattress and fitted sheet. Our favorite part about this baby camping bed is the safety features. When you set this up, there are audible clicks so you are certain it's locked into place.
Comfort
Make your infant's sleep time or naptime as comfy as possible with this portable baby camping bed that reminds him or her the comfort of home
3

. Crocnfrog Baby Mosquito Net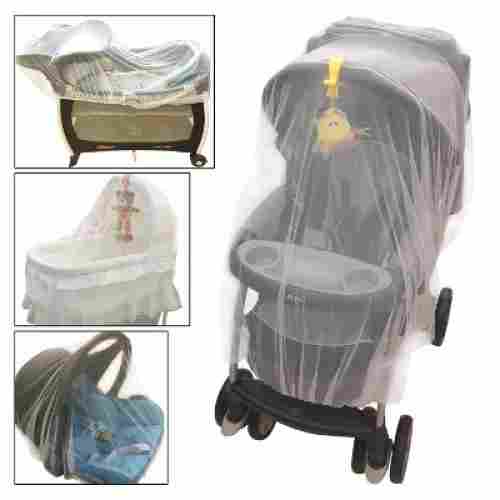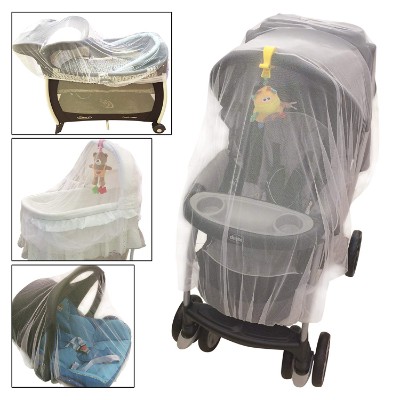 Elasticized
Large: 44 centimeters x 47 centimeters
Durable
Lightweight and breathable
Compact and easy to travel with
Will be a tight fit on some play pens and strollers
When you're camping, you need all hands on deck. You can't be bouncing baby at your hip and swatting bugs away all trip. Give yourself a break and give your baby a safe, bug-free play space with this lightweight Crocnfrog net.
Read more
Safety
We know your little one is sweet, and you know it...and there's a good chance that the mosquitos know it too. Nothing will ruin a camping trip faster than pesky bug bites irritating a fussy baby. And while bug repellant might be a good place to start for adults, we also understand the desire to keep chemicals away from baby's skin. A mosquito net is a nice, natural alternative when it comes to battling the bugs. This Crocnfrog Baby Mosquito Net is perfectly sized to fit over strollers, chairs, playpens, and cribs, at 44 centimeters x 47 centimeters
Physical Development
Simply set up your little one's outdoor playpen or high-backed chair, and drape the netting over them. Odorless, lightweight, and breathable, this netting is safe and easy to travel with. An elastic band helps to hold it in place, so there's no hassle in setting up or taking down, and it will fit securely over whatever you need.
Comfort
Bug repellant is smelly, sticky, and brimming with various chemicals; plenty of parents would feel better keeping away from their infants. But bug bites are painful, itchy, and unsettling. This nylon netting will help keep baby bug-bite-free in an all-natural way.
4

. Pop N' Sit Portable Booster by Summer Infant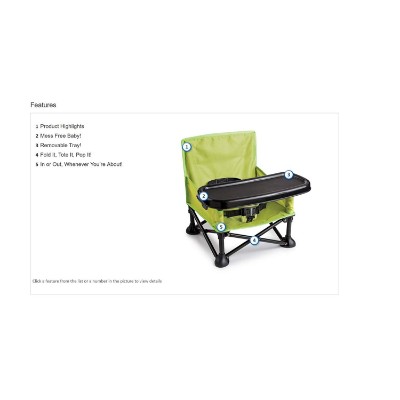 3-point safety harness
BPA-free, dishwasher safe, and detachable food tray
No assembly required
Supports children ages 6 months and up (max weight 37 lbs)
The belt buckles are stiff and hard to unlock
The tray can be difficult to attach
The Pop N' Sit's super compact design plus the built-in safety features make it an amazing outdoor gear for infants.
Read more
Safety
Summer Infant's portable booster is lightweight and comes in a folding design that can be easily set up in seconds. It has a built-in 3-point safety harness as well as safety straps that can be easily mounted on a standard-sized chair. There's also a durable removable tray for your kiddo to use.
Physical Development
The portable chair is like an itty-bitty camping chair just the right size for your little one. It's lightweight and non-bulky design won't add a bunch of excess weight to your gear. The sturdy feet system and included chair straps allow this seat to be set up pretty much anywhere, whether in the middle of the forest or at a restaurant table. Best of all, it cleans up in a snap! Just toss the tray in the dishwasher (or give it a wipe down in the woods) and spray the chair itself off with a hose!
Comfort
Sometimes you don't necessarily have to bring a full-sized high chair when you're going camping with a baby. You only need something that he or she can conveniently and comfortably sit on while also allowing for the infant seat to be easily placed and attached to any surface
5

. Pop N' Play Ultimate Portable Playard by Summer Infant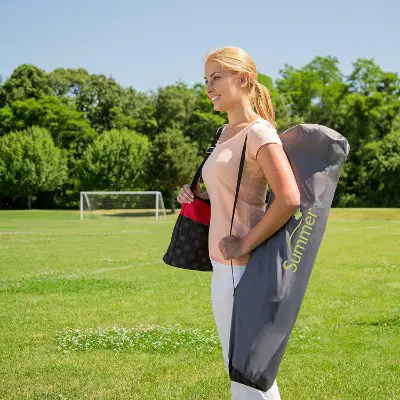 Large play area
Shade canopy that protects from UVA and UVB
Lightweight and foldable
Mesh breathable sides
Quick setup and takedown
The support bars don't have padding
Whoever said that babies cannot play when they're camping? This camping equipment for babies from Summer Infant is designed specifically for that purpose.
Read more
Safety
The Pop N' Play is an amazing product that gives young kids the opportunity to play in a very safe environment, wherever that may be.
Physical Development
When dealing with the outdoors and a young kid can be hectic. There are always something kids want to play with or put in their mouth, and having a safe place for them to play is a must. That's why with Pop N' Play Playard is a favorite among families camping with a baby. The large space gives babies the freedom to play and parents get some free time to relax. A few parents have had issues with the metal frame and were worried about hitting their heads. Some of those creative parents used pool noodles to protect their kids and it was really effective.
Comfort
Because infants are not fully mobile yet and that they are still prone to injuries, it is best to allow a certain space where they can freely enjoy some much-needed play time while also relishing the beauty of Mother Nature. This portable and freestanding play yard comes with a spacious playing surface at 14 square feet and features a durable metal frame that can be easily assembled and disassembled in seconds. It comes with a protective sun dome, too.
6

. My Cot Portable Bed by Regalo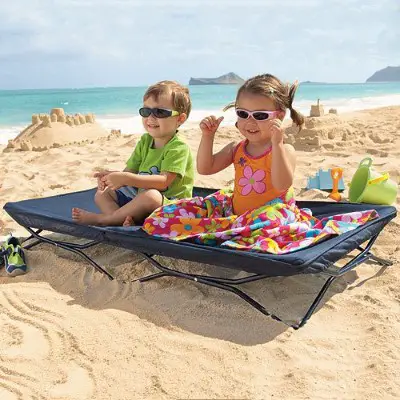 Includes carrying case
Quick setup and takedown
Folds up and stores small
Fitted sheet included
No locking mechanism for joints
The foldable nature of the My Cot is exceptional, to say the least.
Read more
Safety
If you already have a large tent that fits the whole family inside, then you may need this baby camping bed from Regalo. Its combination of steel and plastic construction gives it exceptional lightweight portability without sacrificing durability and strength. The bed liner comes as fully reinforced canvas capable of accommodating even grown-up kids weighing no more than 75 pounds. It comes with a removable cover and folds conveniently to fit a small carrying bag.
Physical Development
If you have some older children, this portable cot is perfect. It fits up to 75 pounds and since it sits off the ground, it is perfect for staying outdoors. This bed folds out and cleans up in seconds and comes with a convenient carrying case.
Comfort
It also comes with a fitted sheet so it's easy to clean. It is more durable than something like an air mattress due to design. You're kids just might be so comfortable, they set it up after they come home.
7

. Clevr Cross Country Baby Backpack with Stand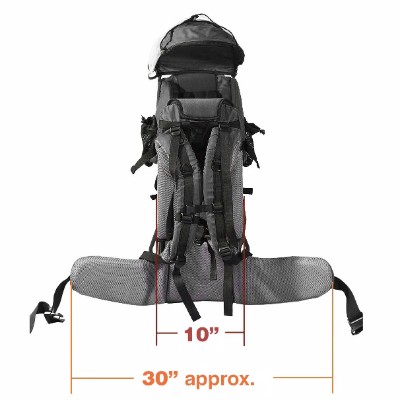 Weighs only 5.1 lbs
Includes retractable sun/rain canopy
Lumbar support and padded hip/shoulder belts
Designed for children between 6 months-4 years (max weight 33 lbs)
Not designed for taller adults
The belt buckle is too small to support large amounts of weight and may break
This backpack style carrier provides a secure place for your baby to rest while also giving you all the carrying space you may need to bring along the multitude of necessities that your little one requires.
Read more
Safety
Freedom to roam is what Clevr Cross Country's Baby Backpack Carrier with Stand and Sun Visor Shade is all about. This combination backpack and baby-carrier will allow you to take your little one to places that you never before thought possible. Hike up the nearest mountain with ease as this extremely lightweight secures and protects your child. The sun visor will keep that precious baby skin free from sunburns and doubles as a rain guard just in case.
Physical Development
The hip belt and front closure design will save your shoulders from pulling double duty and keep your kiddo riding in style. The huge amount of storage space also means you will have one less bag to pack or carry as there is enough room to carry everything from bottles to diapers to binkies guaranteeing you will also be prepared.
Comfort
This essential camping backpack is a combination diaper bag and baby-carrier in one. The lightweight metal frame weighs just 5 pounds and folds flat for easy storage between hikes. Padded shoulder and belt pads take the weight off your back and shift it to your hips while providing cushioning for comfort. It includes a plethora of pockets in multiple sizes and shapes and can even freely stand on a table with the included kickstand!
8

. ONEDONE Portable Potty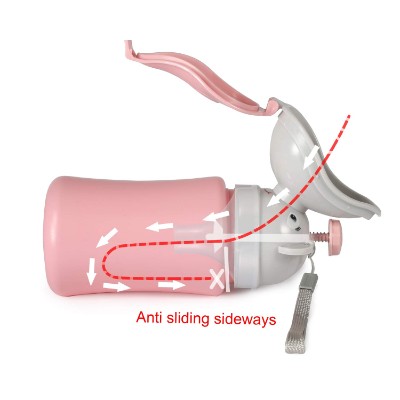 Cute elephant design
Strong seal
Easy to carry
Can take funnel out to make it easy to use for older boys
Reusable after cleaning
Has to be kept upright after use, and may leak under larger volumes if you don't remove the funnel first
When a kid's gotta' go--they've gotta' go. And good luck convincing them that they can hold it until the nearest rest stop. Babies and young toddlers especially are still working to perfect their understanding of their body's needs. Diapers work well for infants who haven't been through any sort of formal potty training. But for young toddlers who are beginning to use the restroom with a little autonomy, the ONEDONE Portable Baby Potty is a great way to keep them in the habit, even on your camping trip.
Read more
Safety
Lugging around specialized seats to and from public restrooms, or trying to convince them to go outdoors can be a hassle. The ONEDONE portable potty sells products for both young boys and girls (though honestly the girls' one could be used by any sex). The cute little animal cup allows children to relieve themselves. The strong seal makes sure no urine leaks out before mom or dad can get to the nearest sink and give it a rinse. It can be repeatedly used after cleaning, making it an environmentally friendly option and a worthwhile investment.
Physical Development
This little gadget allows your family to continue the practice of marrying bathroom habits to a sense of personal understanding, responsibility, and independence. Little ones who are at the start of their potty-training journey can comfortably continue without parents having to lug around clunky equipment.
Comfort
It makes the bathroom business a little bit easier. No more searching for a semi-private tree or cutting playtime short to run and find the nearest public restroom. This device is great for long car rides or lengthy outdoor trips.
9

. Battery Operated Clip On Mini Fan
Portable battery operated clip-on fan
High speeds with low noise
Constructed with powerful and high-quality motor
Compact size and lightweight
Horizontal and vertical 360 degree rotation
Powered by a rechargeable battery that cannot be removed from the fan
Battery does not have a long life on full power
Clip-on, let the breeze begin. Those strollers, pack n plays, bouncers and high chairs can get so warm. This clip-on fan solves that problem easily. It clips to just about anything and with the unique rechargeable battery design it goes anywhere too. With an easy charging system with a USB connection that can be charged from an outlet, computer, power bank, or any source of USB power. This portable fan can provide a cooling breeze for up to six hours at a time.
Read more
Safety
Safety is always first when it comes to gear for your little campers and this portable fan is no different. It is a compact sized fan that can clip to anyplace that your little one needs to get some air. Because it is so compact and portable it can help keep their body temperature down during those warm camping adventures or nights. Making sure they are cool and well hydrated is so important on those trips and this fan with its 'go anywhere attitude' makes it that even easier.
Physical Development
Small, compact design, easy to clip, and lightweight is some of the best things about this portable fan. Keeping the airflow optimal for your baby makes their day better and their nights more restful. Anytime a parent can help the mood of their baby on a trip they should take full advantage.
Comfort
The powerful breeze from this fan is created by a high quality constructed motor that reaches its max power at 75 ft/s. That's a lot of breezes when needed. The best thing about it is the high speeds, but not the high noise. It is super quiet and great for naps in the stroller when camping in the summer. The speed is controllable. With the step-less control, it allows you to get your little one just the right amount of air when they need to be the most comfortable.
10

. PreparaKit First Aid Kit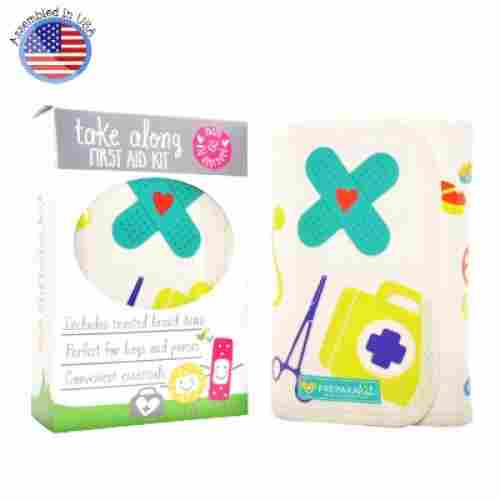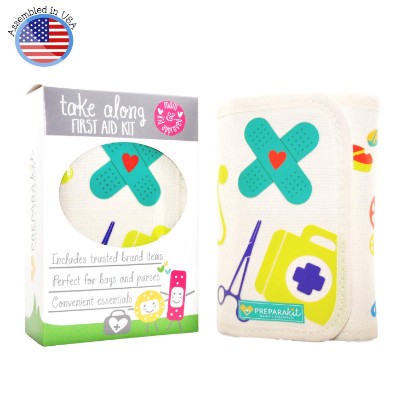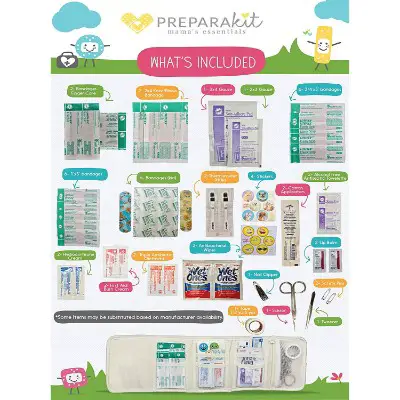 Four kinds of bandages
Anti itch cream and anti burn cream
Antibiotics
Choose from one of three cute case designs
Thermometer and antiseptic alcohol included
You could get most of these products in bulk for cheaper if you buy separately
Eventually, it's bound to happen: baby's going to bump their head or scrape their knee, or any number of other minor accidents. Don't panic when it finally occurs, just be prepared. This kit comes with everything an infant could need so you can treat your little one right away.
Read more
Safety
Don't let an emergency sneak up on you. With this Baby First Aid Kit, you'll be ready for any accidents baby might have. Designed by a nurse and mom of two, this little set is filled to the brim with important pieces. The PreparaKit Baby First Aid features over fifty items, including bandages, antiseptic wipes, gauze pads, antibiotic ointment, nail clippers, burn creams, safety pins, anti-itch cream, thermometer strips and so much more.
Physical Development
It stands at just five and a half inches tall, making this a solid compact tool to tote around with you. It is engineered to fit easily into diaper bags without taking up too much space. The kit is latex free and contains only the very finest first aid supplies. Choose from three cute designs, and know that if this kit isn't right for you, Preparakit will refund your money, guaranteed. To really seal the deal, also take note of the fact that this kit includes stickers, so crying little ones will have something to coo over instead. Nurses and moms know babies, and the creator of Preparakit checks both of those boxes.
Comfort
Basic medical supplies needed to treat minor accidents, bumps, cuts, and bruises. This is a great way to make sure that you always have just what baby might need in case of a medical emergency on hand.
Criteria Used for Evaluation
Safety
A number one priority with any parent is keeping safe. When camping with an infant, it can be so hard to think of everything you need to keep your little one safe. There are a few main hazards parents need to think of when venturing outdoors including bugs, UV and the elements. It pays to invest in mesh breathable fabrics for tents or waterproof-quality materials depending on the weather. Look for layers of clothing containing polyester, polypropylene, and wool. These materials are quick-drying, breathable and keep you warm.
Mosquitos and storms happen year-round, not seasonally as some people believe. One summer storm can send an ill-prepared family back to the city in a matter of minutes. We recommend looking through your supplies and see if they will hold up to the elements. The sun is another aspect that comes out a lot seasonally but we also need protection year-round. A lot of materials we have listed here have UVA and UVB protection. This helps with sunburns and even things like skin cancer. Basics like sunscreen and sunglasses are an obvious necessity as well.
Physical Development
While it is true that a baby product is specially designed for infants, it doesn't automatically mean that it's appropriate for your baby. For example, you may think a high chair is great for babies. But, if your child hasn't mastered the art of pulling himself or herself in an upright sitting position, then this high chair simply is not appropriate even though it is considered a bestseller in its category. What we are trying to say is that, even before you start shopping for any item for your infant, it is important that you understand your young kid's developmental skills. Can he or she sit without support? Is he or she able to exert some control of his or her movements? These are just two of the questions you may need to answer, alongside many other questions about your kid's developmental abilities, before you can start choosing the right outdoor equipment for him or her. Check out these Mothercare offers for some possible discount codes for outdoor baby gear.
Comfort
Going outdoors means there are no plush, super-soft, and comfy mattresses to cushion your baby's body against the hard surface of the earth. The outdoor clothing that they wear may be too warm or simply not warm enough to help very young infants get through another minute in the woods or even in the park. The point is that you also need to check the comfort that these products can provide.
Whenever you go outdoors, you are essentially at the mercy of the elements. Not only do you have to check the level of comfort that the product provides to your baby, but you also need to consider if it can protect him or her at the camp. This is why sunglasses, UV protection, and bug sprays are almost always considered as essential things when going on a camping trip.
Most Important Criteria
(According to our experts opinion)
Experts Opinion
Editors Opinion
Users Opinion
By Default

Parents, did you know?
Always bring plenty of water. Dehydration can occur quickly and a lot of kids will have too much fun outside to remember to drink enough. This is very dangerous and can lead to hospitalization. Not only will you need drinking water, but having a hand- and foot-washing station will keep your campsite clean and your kids germ-free.
Parents, did you know?
You can find a ton of DIY baby camping organization hacks all across the internet, but I'll list a few. The best system is one that suits your family and your individual needs. One way to keep track of all your packing stuff is by using clear storage tubs. Each tub can contain similar supplies, similar to how you would pack a house. By storing all of your kitchen, tent or kid stuff in individual tubs, it's a lot easier to pack and unpack. Not to mention, they can be stacked easily inside your car or while you're unpacking. Plus, these are waterproof to keep the weather from getting in, or the mess inside from getting out into your car.
Parents, did you know?
Instead of purchasing an expensive camp kitchen, try using a shoe organizer to store your kitchen utensils. This can be quick and easy to hang up and easy on your wallet. It would be much smarter to invest in something more useful such as headlamps or quality camping clothes.
Parents, did you know?
The main way to stay sane on a road trip of any type is by keeping the kids entertained. In the car, keeping an activity box of their favorite things can be a boredom stopper. Finding age-appropriate toys around the campsite can really help ease the stress of camping with kids. Parents may want to keep the toys at home so children can appreciate the outdoors, but things like squirt guns, sports balls and even nature crafts like a scavenger hunt can connect your child to the great outdoors.
Parents, did you know?
There are some parents who are averse to the idea of bringing their very young children, often below 12 months of age, outdoors or going on a camping trip. For them, babies are simply too young to be exposed to the elements as well as the many potential threats and obstacles going, staying, and leaving the campsite. While these are all valid concerns, young infants can benefit a lot from camping. For older children, the psychological benefits of camping far outweigh any concern for a potential safety issue. For younger children especially babies, the benefits can be less apparent but are, nonetheless, very important.
Parents, did you know?
Babies are not explorers yet because they are not yet fully mobile. However, one of the most important developmental milestones of children this age is their sensorimotor development. According to Jean Piaget, this is the stage where infants begin developing a rough understanding of their world using their actions and their senses. The things that they see, hear, feel, and even smell can help trigger the more efficient firing of electrical impulses across the nervous system. This essentially stimulates different areas of the brain to start developing to their fullest. The flowers and the bees, the trees and the birds, and the other living creatures in the wild open space can provide a host of visual, tactile, auditory, and even olfactory stimulation that things or objects in the home simply cannot provide. These things expand the capabilities of the infant's brain which will ultimately lead to optimum brain and cognitive development.
Parents, did you know?
One of the crucial psychosocial developmental tasks of infants is in the establishment of trust-trust in themselves, their primary caregivers, the others around them, and their environment. There are many benefits of camping as a family. For very young kids, the benefits center on the establishment of trust that can only be earned through close family bonds. Because going camping means you have all the time to really focus your attention on each member of the family and not on some fancy gadget like a smartphone, laptop, or tablet, infants learn to trust you as his or her primary caregiver. This is important since, a few years from now, your little man or woman will have to go exploring his or her own world. It is going to be tough but he or she knows he or she will make it because he or she trusts you to be there should his or her journey be uneventful.
Parents, did you know?
You can never underestimate the benefit of breathing high-quality, fresh air. Oxygen is what keeps us alive. It keeps our cells and tissues functioning properly. Likewise, the carbon dioxide we breathe out helps plants make food and they give off oxygen in the process. So, it's a win-win situation. The effects of oxygen on infant development are all the more important as the brain is largely dependent on the adequate supply of this life-giving gas. Brain cells are dependent on oxygen for them to function normally. Without it, many of the cognitive processes that young children need to develop simply cease.
Parents, did you know?
There is no single type of outdoor baby gear that can do all the different things that you expect whenever you're outdoors. That is why many parents always make sure to have at least one of each of these types of products every time they plan to head to their favorite campsite.
Portable Furniture While conventional cribs are definitely out of the question, you may need to consider getting portable infant furniture like portable high chairs, baby carriers, portable and mini playpens, and even strollers as these can help you provide both safety and comfort for your young child while out in the open.
Sleeping Essentials Remember that you may not have the comfort of home to put your infant to sleep when you're camping. That's why it's always a good idea to consider getting sleeping essentials like bedtime toys, receiving blankets, night lights, music, and even a portable crib with a mosquito net.
Parents, did you know?
Play essentials Infants still need plenty of playtimes even when they are out camping. That's why on-the-go toys are such a huge hit when it comes to outdoor play. You may also want to consider bringing security toys. Portable playpens should also do the trick.
Grooming and hygiene  Would you bring your baby to the river for a bath? Again, the trick is to bring camping gear that is designed with optimum portability.
Parents, did you know?
Outdoor wear This cannot be overemphasized as not wearing the correct outdoor or camping wear can undermine the positive experience for your baby. Always consider infant wear that is both comfortable and protective against the elements and insects.
Outdoor protection Bug sprays and UV protection products are all essential things when you and your baby are going outdoors. You may also consider products that have built-in external protection from insects, dust, and dirt, and even UV radiation. Tents and portable cribs with built-in nets can help in this aspect.
Parents, did you know?
Going camping with a baby can bring a host of benefits to your young child's early development. It's also a great way to strengthen family ties. In choosing the right camping gear for your kid, it is essential to look at its appropriateness, safety, comfort, security, and other features that your baby will need.
Other Factors to Consider
Safety
Aside from the developmental appropriateness of the product, it is important to check for the camping gear's safety features. In our example above, a high chair may be deemed just right for your child because he or she is already able to sit on his or her own. However, if there are no safety features such as rail guards or even seat belts, then it still is a lousy item to get for your young angel. The different materials used in the construction of the item should also be considered. Remember that children below the age of 3 years old have this tendency to automatically put anything and everything into their mouths as a means of exploring their world. If the item comes with harmful chemicals like phthalates, lead, bisphenol-A, and many others, then we are simply risking the health and wellness of our babies by exposing them to these chemicals. So, do check out the different materials used in a baby product before you buy. More importantly, make sure there are safety features that can safeguard the welfare of your infant.
Materials
While the safety of a product is always related to its inherent design and construction, it still pays to really consider the strength and durability of the design. Even infant wear should be assessed for its durability. Our example of a high chair, for instance, should be built with a wide and stable stance complete with very secure joints so that infants will not inadvertently fall from these types of baby gadgets and gizmos. Unfortunately, one can never really make a very accurate determination of the quality of a product's construction until you have given it a try for some time. Sadly, if there are inherent flaws in the design that were not readily apparent during your initial investigation, then it might be too late to avert an accident.

Brand
When there is no way to evaluate or determine the quality and safety of baby camping gear that you are considering on buying, then looking at the experiences of other consumers can provide you with a greater understanding of the product's inherent qualities. Many consumers leave invaluable feedback including the pros and cons of a particular item so that other potential customers will have an idea of what they can expect. However, do understand that some negative comments may be considered as trivial or as isolated cases. Do exercise caution when looking at star ratings as these do not accurately reflect a product's overall usefulness and quality.

Effectiveness
When parents are taking babies or even small children on a trip having the right gear is so important to the quality of the trip let alone a camping trip where you may not have access to all the amenities that you are used to at home. It is important to plan the trip and think about all the things that they need to keep them safe, dry, and content because without those a fun trip can turn into a trip home really quickly. The items on this list have been researched and reviewed. They made the list because they will help parents and caregivers are able to keep their little ones safe, dry, and content on a camping trip without taking up too much space or being too heavy.
Frequently Asked Questions
q:

Will the Fold 'N Go Travel Bassinet By BRICA fit on an airplane?

a:

The product folded should fit in the overhead compartment. When unfolded, it is too big to fit on a lap. It could work well in first-class under your feet or even while in the airport.
q:

What is the difference between a safety harness and a safety belt?

a:

A safety belt is how it sounds, a single strap across the lap. A safety harness has multiple buckles or points that make your little one more secure. Three-point harnesses are pretty safe, including a middle strap that goes between the child's legs and attaches to the belt. A five-point harness is the safest and normally used in car seats. This one has the straps that come over the shoulders and buckles in as well. Any type of high chair or seated function should have at least some sort of safety belt. This is necessary to prevent children from falling out, tipping over and other accidents.
q:

How durable is the Pop N' Play Ultimate Portable Playard by Summer Infant?

a:

The Pop N' Play really handles the elements of the outdoors well. Sand from beaches just brushes off the material easily and it won't be tipped easily by winds or rowdy children. The fabric can't be removed to wash but just wiping it down removes any dirt.
q:

When is a good age to start camping with your little one?

a:

Actually, it is never too early to introduce camping to your little one. Nature is one of those places that offer a full spectrum of sensory development tools. The experience of growing up with a family that camp will offer a lifetime of memories, experience, and talents.
q:

What is the best way to pack all the gear that the little ones need for camping?

a:

When packing for a camping trip with a baby in tow it is best to have the entire baby's gear packed and easy to access. That makes setting up camp easier and quicker. It is best to pack their items in a place that they are provided from the elements. Plastic totes with lids are an ideal storage container system for baby camping gear.
q:

Should babies where sunscreen and bug repellent when camping?

a:

Your baby has sensitive skin so always remember that with anything that you apply. Sunscreen and bug spray are great ways to help protect your baby for the elements, but with everything, they both have their own risks. They have baby-friendly products on the market, but it is best to speak to their pediatrician about what products that they suggest.