Baby Clothes Preparation and Organization
When it comes to having babies, preparation is your best friend. Your new little bundle of joy is going to need a specific wardrobe, consisting of a basic 3 month growing period of different size clothes. As the parent, you will feel you need to buy as many clothes as you can to be prepared for your child's precious life.
But in reality, you will actually want to save your money and resist your very tempting impulse purchases. This is because you will most likely be getting a plethora of baby shower and just plain newborn baby gifts, including a large amount of different sized clothes. It is best to get the bare minimum, and then stock up on what you need after you receive all of the gifts.
I know it sounds hard to do, but you will be glad you were not too overly prepared after you see how many leftover baby clothes are still around once your baby isn't much of a baby anymore. With this baby clothes preparation list, you will be able to pinpoint the must-have baby clothes and quantity needed for your child's first years of life and be able to sleep soundly knowing that you won't have to stress about baby clothes

Mandatory Clothes


Onesies or rompers
A onesie is a one piece kind of baby jammies. You want to aim for the cotton-based onesies if you can, they stretch better and are just better for your child's skin. Onesies are great for any weather, and they are so easy to put on your baby as well.
A good number of onesies to start with to be prepared is 7-8, this way you have enough for one, every day of the week. A romper is basically the same thing as a onesie except the legs are a lot shorter, making them the ideal outfit for summer.
These are both personal preference and honestly the same product just with a style difference. Having 7-8 of these as well won't hurt, but don't stock up too much.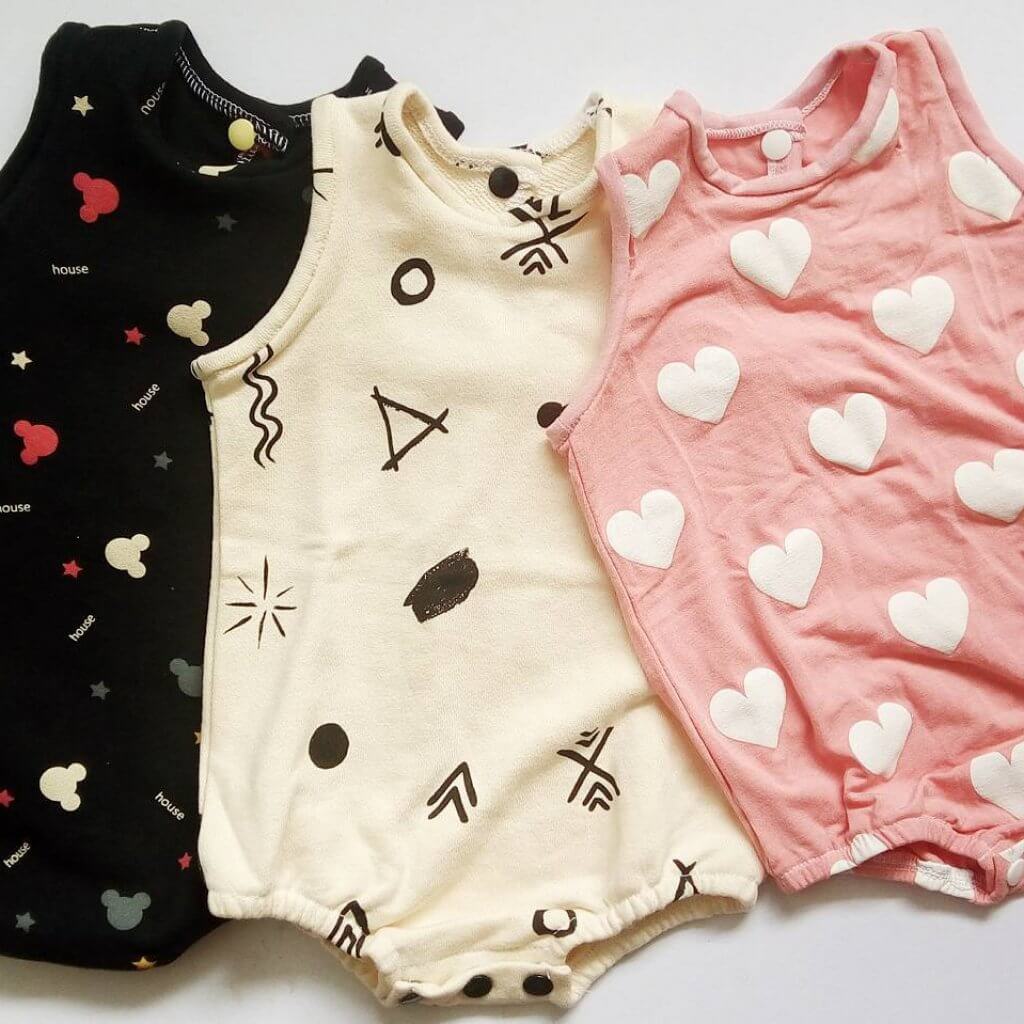 Undershirts
A key to this essentials list, undershirts are vitally important to have when your baby arrives. Stretchy and breathable, they pose as the perfect shield when waiting for the umbilical cord to fall off.
Again, you will want to search for the ones made of cotton, but don't spend an excessive amount of money on these things.
Mothers from all around the world can agree, finding the undershirts with buttons or ties on the side make dressing a newborn a piece of cake. You will want to pick up 4-6 undershirts to start, they are a very popular gift for baby showers.

Side snap shirts

I know we just covered undershirts, but side snapping shirts are essential as well! Typically both styles of the shirt are worn together, hence the name undershirt. Side snap shirts are great for cold days because of the layering factor.
Keeping your new baby warm is important, and with side snaps or ties, you will never have to inconvenience your child by pulling a shirt over their head. You are going to want a lot of these because they get dirty fast, 7-10 shirts should start you off with plenty.


Newborn baby socks and shoes


Essential to keeping those tiny little wiggling toes warm and safe, baby socks are a well-needed comfort for your baby. Most newborn socks are loose and fall off very easily, finding slimmer fitting newborn socks is an option, but we recommend getting the shoe style socks.
They are shaped like a high top shoe, and tie around the ankle, so no more of the half sock on, half sock off. They come in an awesome selection of styles from baby moccasins, to baby booties, so they can help tie any outfit together in a breeze.
Since your child will not be walking directly on the bottom of these socks, you only need to have about 3-4 pairs to start out. You will want to make sure your child is not outgrowing them during the first few months, and be prepared with a bigger size when they do.


Infant gowns

Sounds pretty self-explanatory, these are basically onesies but instead of 2 leg holes, they have one giant hole for both legs to go through.
Perfect for around the house and quick diaper changes, you both will enjoy the benefits. Legs are free to kick if need be, and the overly large hole gives slack so your baby's feet will never get cold.
These are well needed and you will want to have about 3-4 pairs so your baby will never get cold.


Stretchy Pull-on Pants
You won't always want your precious baby wearing the same style onesies and infant gowns if you are going out or just visiting family.
That's why having a good pair of stretchy pants can make it look like your baby is the next big fashion guru, and all you did was pull them up and over the diaper!
Having 3-4 pairs is great for anytime you want to dress your child up nice, or the weather is a little too cold for a romper.


Footed Onesies

Adults love them for bedtime and so do babies! The iconic Footed onesie is the ultimate sleepwear and lazy day wear for your child, whether they are sleeping, eating, or getting changed, these things are just straight ideal for any situation.
They button from the feet up, so changing a diaper is as simple as popping a few buttons, and then pulling the onesie past the diaper.
You will want to stock up on about 4-6, but if footed onesies are your thing, then you might want to get even more and possibly one for yourself!


Baby Hats and Bonnets

Babies get cold fast, combat the freezing of newborn ears with a baby bonnet! It doesn't matter if it is just plain fabric, or if it has little designs on it for personality, a baby hat is just a mandatory thing to get.
Being extremely cheap, stocking up on these will be a breeze. Make sure you are fine with the material the hats are made out of and ensure that they will be tight enough to not slip off of your child's head.
You only really need to buy 3-4 baby bonnets for yourself, expect a lot to come in baby shower gifts, along with other essentials you need.


Swaddles

When newborn babies are discovering how to move their legs and arms, it becomes a pretty evident threat that they might scratch or even hit themselves and cause a booboo.
Using velcro swaddles will not only protect your precious child from their own limbs but also make them feel secure and safe when wrapped up all snugly. Swaddles come in multiple fashions and style.
When you decide the kind of swaddle you would like to use for your child, stock up on around 3-4 so you have them in advance.


Baby Mittens

Going along with the swaddles, you will want to purchase at least 2 pairs of newborn baby mittens. They are typically made of cotton, and you will want to find ones with a securing mechanism like strings to tie or buttons. These cute little mittens will add some sweet accessorizing action to your child's outfit, but more importantly, protect their face from getting scratch or hurt when they swing their arms back and forth. This is really a must have that some parents forget to include until it's too late.

The Coming Home Outfit
You will want to have a coming home outfit for your newborn chosen and ready at least a month before your due date. You will want to keep in mind what the season is and the weather, along with comfort and ease of access.
These are most of the time either a specific onesie, a baby gown, or a chosen outfit just for pictures, but almost all of the outfits are made out of soft material for the baby's comfortability.
You only need one outfit, but it is okay to have 2-3 that you can't decide on! You will eventually find the perfect one when the time comes.

Baby Clothes Organization Tips and Strategies

Closet dividers

A super clever way to organize full sets of outfits ranging from 1-6 months in size is to use labeled closet dividers, they are like a page divider but for clothes. You can put 1-2 month sized clothes in the front, divide them with a labeled divider and go on with your 3-4 month sized clothes, and so on.
Honestly, a genius idea that can be done using arts and crafts, but Amazon has some really cute ones most mothers would die to have, so its personal preference in this case. Either way, you will be extremely more organized and happy you did so.


Hanging Baskets

Always have trouble keeping all of your child's socks together and organized? A hanging basket above or near hanging clothes is an ultimate game changer, it offers an easy access to grabbing the right socks you want and stacking them for storage when putting them away.
They are as simple as a screw in the wall, or a sticky command strip hook, but they are perfect for any loose clothes. Having multiple is the ultimate way to go so you can store socks, undies, and other accessories you might want.


Shoe Organizer

A little bit of a life hack, using a hanging shoe organizer, you can store almost every little piece of clothing that you would usually put into a drawer. Hang it on the back of the closet door or just on the wall, the 20 or so slots make for endless storage opportunity without any hassle.


Old Shelf Reconfiguration

If you have an old bookshelf or storage shelf, you can rebuild it into a baby storage mini closet. With a little help from dad, you can drill 2 sets of closet pole holders to make a couple hanging areas for hangers.
You will have 2 sections for hanging clothes, and the rest of the shelves for baskets and boxes to store the rest.It is honestly an awesome idea, and the concept can go into anything that has the proper shelves.
Some people have even configured 2 shelves together with door hinges to make more room and still have storage space, what a cool idea.


Clothing cart

Using a clothing car is an easy way to keep your child's clothes as close to the changing station as possible. With wheels and multiple shelves, a clothing cart will move about easily and effortlessly, but also hold all the needed clothes throughout the week. Moms love to decorate these to fit their babies personality and we think that's just awesome!


Wire Basket

Wire baskets are ideal for the parents who use cloth diapers, being square, the wire baskets make a perfect spot to fold and stack all of your reusable cloth diapers. As simple as stacking and placing near the changing station, you will never have to fight constant clutter when changing a diaper with a wire storage basket.


Shower Curtain Hooks

The plastic circles used to hold up shower curtains are the perfect match for organization in the closet. Using the shower curtain hooks and mini clips, you can hang all of the little baby shoes, socks, and booties that your child has acquired within their new life.
One of the easiest tips we have on this list, but also one of the funniest and cutest looking as well. These clips can also work for hanging bibs, baby hats, and mittens, anything light and small will work with this hack!

Preparing for a baby can be nerve-racking and extremely stressful, and we understand that completely. Gathering the clothes and trying to organize them as well can be extremely frustrating, but don't worry!
Follow the guidelines listed above and your own personal choices, and you should be fully prepared with the clothes and organization needed to care for your child.