10 Best Baby Doll Accessories Reviewed in 2019
last updated
Oct 07, 2019
Little ones often want to be just like the grown-ups around them and especially mom and dad. Give them the chance to show you all they've learned. Nurturing and empathy are important developmental skills enhanced by toys like baby dolls. And what better way to take care of a baby doll than with lots of best baby doll accessories? These ten accessories and sets have the best ratings on the market. Have fun with your little one--and their even littler one.
In a Hurry? The test winner after 11 hrs of research
Bagged Care Set - 30 Pieces
Why is it better?
Thirty total pieces
Comes with carrying/storage bag
Includes things like a potty, diaper, comb, and dining set
Some of the containers open up
Sized to be compatible with most baby dolls
In a
Hurry? Editors choice:
Test Winner: Bagged Care Set - 30 Pieces
21
Researched Sources
11
Hours Researching
16
Products Evaluated
Educational Value
Accessories
Entertainment Value
Creativity
By Default
10 Best Baby Doll Accessories Reviewed
1

. Bagged Care Set - 30 Pieces
Thirty total pieces
Comes with carrying/storage bag
Includes things like a potty, diaper, comb, and dining set
Some of the containers open up
Sized to be compatible with most baby dolls
The carrying bag rips pretty easily
Some of these can be choking hazards when taken apart
The You & Me 30-Piece Baby Doll Accessory Bag comes with everything your child needs to start taking good and proper care of their doll. It includes two diapers, two bibs, booties, a training potty, a stuffed bear, hair brushes, mirrors, lotions, bath toys, a rattle, and a whole host of feeding accessories. All of this fits neatly into a little plastic carrying case so clean up and transport are always easy.
Read more
Educational Value
Kids gain valuable developmental skills from role-playing games. Imitating adult behavior is how they learn to understand and execute it themselves. Baby dolls are a great tool for helping children to understand basic responsibilities in care-taking.
Accessories
Many of the toy containers can be taken apart, so your little one can pretend to fill them up with powders, lotions, baby food, and more. Kids can let their imagination run wild, all while practicing basic care-taking skills.
Entertainment Value
It's a whole host of fun activities for your child to do with their baby doll. It'll add hours of interest to playtime with their favorite baby doll(s), and teach them a thing or two about care-taking while they're at it!
Creativity
Your little one will enjoy pampering their baby doll with a sippy cup, bib, bottle, diaper, changing pad, booties, brush, mirror, dining set, potty, rattle, building blocks, two animal toys, and plenty of miscellaneous jars and containers that can hold all kinds of "necessary baby products."
2

. Melissa & Doug Mine to Love Feeding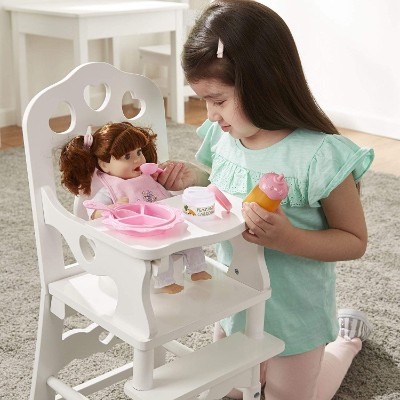 Cute pink motiff
Formula bottle and juice bottle contain disappearing liquids so it seems baby is actually drinking.
Comes with a three portion plate, utensils, jars of food, bottles, and a cute embroidered bib.
Everything your child needs to learn how to feed the baby
Children can role play and create new adventures with their dolls.
Packaging may be hard to open
Some of the bottles arrived dry
Feeding is a very tricky activity when it comes to infant care. There are also times when a kid can become so choosy and mom has to use all her convincing prowess to get baby to eat. If not, then daddy has to step in. Now, toddlers and preschoolers can have the opportunity to play the role of mom, negotiating with their baby dolls to eat their delicious meals. It may take a while before their own little infant mannequins will decide to feed. For now, they will have to practice scooping infant food from the different jars of infant food of Melissa & Doug's 8-piece Mine to Love Time to Eat Feeding Set toy food accessories. The Time to Eat set features 8 lovely accessories that include a bib, a three portion feeding dish, a spoon and fork, milk and orange juice feeding bottles, a jar of applesauce, and a jar of carrots and peas. It's all make-believe play but the implications for young tots are immense. It helps teach them about feeding responsibilities, proper nutrition for infants, and the importance of correct portioning.
Read more
Educational Value
The Time to Eat set also teaches kids about cleanliness while eating. With a beautifully embroidered bib, they will learn the value of keeping babies clean especially during mealtimes.
Accessories
. But it's not all make-believe play since the feeding bottles can really magically "empty" their contents while feeding a baby mannequin. The carrots and peas and applesauce infant food can also be served onto the feeding dis
Entertainment Value
This bottle set is a small but complete kit. The milk and orange juice both disappear from the bottle as your child tilts it for their doll to drink. The little bib keeps baby from making a mess and the pretend peas and carrots and applesauce make for a yummy meal! Serve it up in baby's own three-tray plate with a matching silverware set.
Creativity
As cute as can be! The Melissa & Doug Mine to Love Time to Eat Accessories Feeding Set is so darling in its pink motif that your little girl will love feeding her baby doll when it is meal time. This is a chance for her to imitate real life mealtime adventures in food. The milk and OJ bottles are about half full and the liquid disappears as the baby drinks. And your little one will become more and more creative as she tells the story and has intimate conversations with her dolly.
3

. Badger Basket White High Chair
Adjustable tray
Includes feeding accessories
Fabric-trimmed and covered seat
Footrest for the baby doll
Fits most major brand dolls up to 18"
Customers had some trouble with assembly and instructions
When it's dinner time for any doll up to 18" (this includes favorites like American Girl, My Life As, and Madame Alexander dolls!), strap up with the Badger Basket High Chair. This lovely piece comes in a pristine white color with a pink polka dotted cushion as well as a matching bib, spoon, and plate. The tray gives your child a place to set out dinner and raises their doll to be close enough to their height for comfortable, happy supper time role-playing!
Read more
Educational Value
Growing boys and girls need their food. Your little one can feed her favorite baby doll with this pretty high chair, including a tray and accessories. Creative play stimulates imagination and empathy in developing children, and this accessory is just right for playing house.
Accessories
The high chair features a tray that really lifts and lowers, feeding accessories such as a plate, bib, and spoon. A pretty pink gingham fabric trim covers the seat, and a footrest below the seat will keep baby doll happy and comfortable.
Entertainment Value
It's well-made, pretty, and the perfect size for your child and their baby doll. The adjustable tray and included utensils and bib make this the full package when it comes to getting the baby fed and happy!
Creativity
This high chair is simple and yet clever in its details. The footrest adds a nice, realistic little touch. The tray is compact but just big enough for the plate to comfortably fit. The little heart cut out in the high-backed portion of the chair adds a sweet, nostalgic flare. This high chair is sure to encourage lots of creative playtime games!
4

. Toysmith My Sweet Magic Bottles
Sturdy and well made
Juice and milk flow faster as the bottles are tilted up.
Cute little graphics wrap around the bottles
Sparks imaginative play
Toysmith is known for the safety of its toys
The bottles empty too fast for some buyers.
Formula milk feeding is technically a lot trickier than breastfeeding for the simple fact that there are a lot of things that need to be considered. For example, you have to consider the right temperature of the milk. If it's cold, it might bring spasms and discomfort to a young child. If it is hot, then there might be injuries to the young child. That is why breastfeeding is largely considered as the best because it comes at the right temperature, with no heating or cooling required. But of course, we now live in a modern age where even breast milk can be fed via bottles.
That's why young ladies can really attempt to roleplay feeding babies by giving them the Toysmith My Sweet Baby Magic Bottles. These doll accessories comprise of two beautiful and colorful feeding bottles that are specifically colored to match the liquid that each contains: white for milk and orange for, well, orange juice. The fascinating, almost magical, thing about these Toysmith feeding bottles is that they look as if their contents are being emptied as infant figurines gulp each one down or the farther the feeding bottle is tilted.
Read more
Educational Value
This should help kids understand simple cause and effect relationships: the more vertical the orientation of the bottle, the faster the contents are emptied.
Accessories
So your child has a doll. She loves her doll and plays with it all the time. Little girls and boys love dolls because, with them, they can create a child version of the adult world around them. Now she needs some doll accessories so she can relive those moments that you, her mom, showed her in real life. Enter the Toysmith My Sweet Baby Magic Baby Bottles. These are bottles that 'empty' magically as the baby is being fed. How cute is that? This action with the bottles really adds some reality to your child's playtime with her doll. We can hear her saying, "See, Mom. My baby drank the whole thing. She's a good girl." How sweet is that?
Entertainment Value
Additionally, the colorful prints on the bottle itself can also be a great source of visual sensory stimulation for young children as they get to guess the names of objects on the print while also improving their mastery of the different colors.
Creativity
These bottles magically empty as children feed their baby dolls! This cool trick makes dinner time seem more realistic in the midst of imaginative role-playing. Kids will have a blast watching the orange juice and milk disappear as if their dollies are actually drinking it!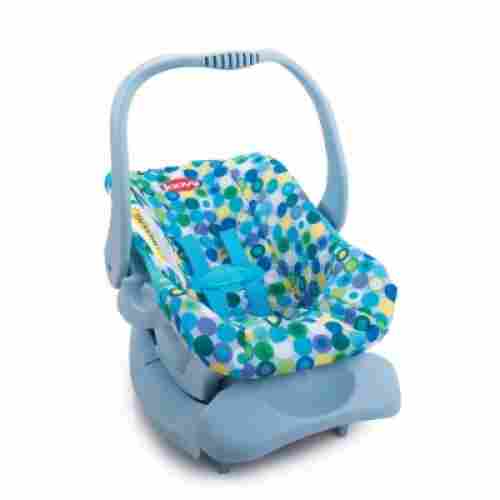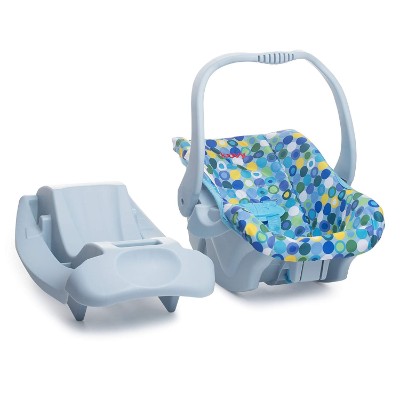 The seat cover is machine wash safe
The latch attachment & safety harness work like the ones in a real car seat
The seat can be converted into a feeding seat or rocker
Encourages responsibility and car safety
Fits all doll up to twenty inches
Children may have a hard time unbuckling their doll from the safety harness
Most mommies have to hit the road at some point, even if they're just playing pretend. This baby doll car seat allows your little one to bring their doll with them wherever you go, all while practicing proper safety measures! Getting to strap their own doll it will remind them how important it is that they also use the proper safety procedures when riding along in the car. It comes in pink or blue and the cloth cover can easily be removed for washing.
Read more
Educational Value
This car seat allows your child to make real-world connections through role play. As they buckle their doll in, they will learn the responsibility of caring for their doll and the importance of car safety. Children also become more cooperative about riding in their own car seat.
Accessories
The seat can be detached from the base and used as a rocker. The five-point harness works just like a real car seat buckle and allows all baby dolls up to twenty inches to safely ride in the car.
Entertainment Value
The polka dotted seat cover is available in blue and pink. It is padded and can easily be removed to be thrown in the washing machine. The handle can be rotated to the back to turn the car seat into a feeding seat.
Creativity
The attention to detail in the design of this car seat is amazing. The way the safety harness and latch attachment work like a real car seat allows your child to make real-world connections.
6

. KidKraft Tiffany Bow High Chair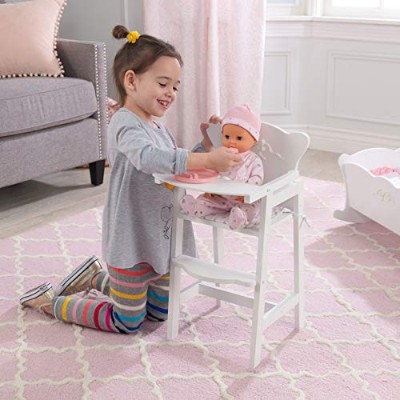 Strengthens family bonds.
Dimensions: 12.2 x 12 x 23 inches
Easy to put together.
Painted a beautiful white with splashes of pink.
Allows children to simulate a family meal with their dolls.
Some of the dolls tend to slide out the bottom
One of the most vital pieces of infant furniture is the high chair. This is needed especially during mealtimes when babies are introduced to joining the rest of the family for a meal. This helps strengthen the bond of the family. Children, especially girls, will appreciate the value of such activity if they get to play pretend mealtime with their "baby". As such, they can rely on the KidKraft Tiffany Bow Lil' High Chair as superb baby doll accessories.
Read more
Educational Value
What a great opportunity for your little girl or boy to play at being a parent. This beautiful high chair is bright white with pink bows. It also has a bead rail with 2 white beads and a pink bead. The beads are great for 'baby' to play with.
Accessories
The KidKraft Tiffany Bow is just perfect for propping 18-inch infant mannequins from American Girl, Gotz, Madame Alexander, and, of course, KidKraft. Young princesses will now have the chance to let their imaginations fly through the roof as they attempt to enjoin their "babies" during mealtimes.
Entertainment Value
The KidKraft Tiffany high chair is made of premium quality materials and comes in an immaculate white finish. There are a number of adorable bow designs as well as a fully padded, comfy seat cushion. The food tray is integrated with a rattle bar that contains pink and white rattle balls.
Creativity
The bow is a beautiful touch. This high chair could be a piece of furniture. Role-playing with a doll and doll accessories helps kids to learn to think objectively and logically, growing their cognitive abilities. There are also small and gross muscles that get exercised when taking dolls in and out, feeding them, opening containers, and other play activities. This gorgeous high chair fills the bill.
7

. Mommy & Me 3-in-1 Playset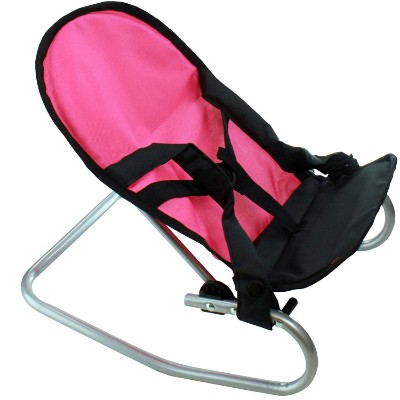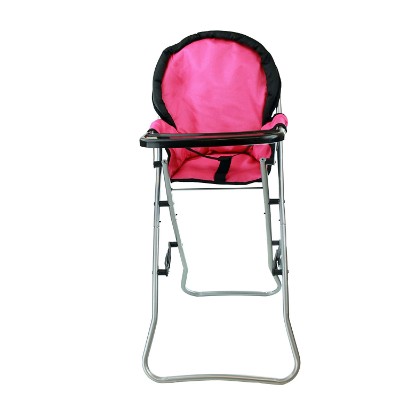 Each piece folds down for easy storage
All of the pieces are lightweight and can easily be moved from room to room
Each piece can hold a doll up to eighteen inches
Encourages social skills & stimulates imagination through pretend play
The pieces could be more sturdy
The Mommy & Me 3-in-1 Playset is the whole kit and the caboodle too! Set Baby Doll down for some time in their foldable playpen while busy "mommies" take care of their to-do list. Settle them in their high chair for dinner time or put them in their bouncer to give them some time to relax and absorb the world around them. This set comes in a whole variety of colors and patterned fabrics and fits dolls up to 18".
Read more
Educational Value
Dolls up to eighteen inches can enjoy bouncing in the bouncer, resting in the Pack N play, or sitting in the high chair. Your child's imagination will be stimulated as they engage in pretend play.
Accessories
The variety of pieces included in the set will increase their social skills as they can allow their friends to enjoy whichever piece they are not using.
Entertainment Value
When your little one is not playing with the set, each one folds down and can be stored away. The three separate pieces allow your child to play with multiple dolls at once, or they can enjoy the set with siblings and friends.
Creativity
Having such specific accessories helps children to role-play realistic and beneficial scenarios. They can learn lots of different components of childcare and will love just how grown up they feel using baby furniture and accessories just like they needed when they were infants.
8

. Melissa & Doug Diaper Changing Set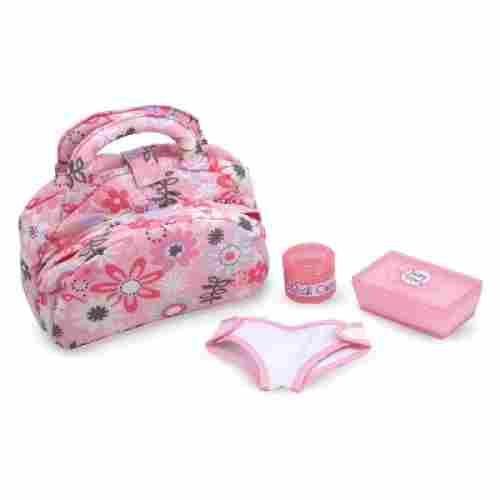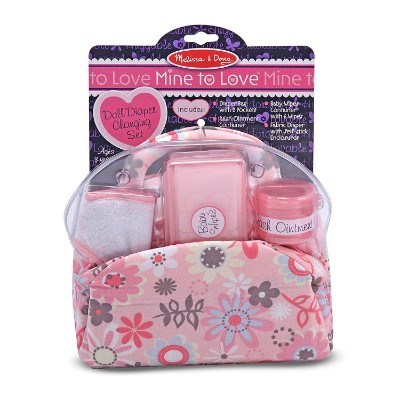 Velcro closures
Bag has room for a few more items
Cute print on the bag
Allows children to role-play being a mom and taking care of little ones.
Customers want more diapers for this bag.
Melissa & Doug returns with their version of a Diaper Changing Set from their Mine to Love line of dolls. These superbly useful baby doll sets help young children learn one of the essential tasks of caring for a younger sibling or a young child – changing diapers. Some parents actually find diaper changing to be quite repulsive especially if the infant happens to pass poop that is watery and really smelly. The Diaper Changing Set from Melissa & Doug can help prepare young girls in the task of changing the diaper of their respective miniature babies.
The set comes packaged with 6 "wet wipes" for make-believe cleaning of the infant's bottom. The wipes are encased in a sturdy plastic box that mimics the kind of container of real-life wipes complete with a lid that snaps shut. It even comes with a cloth diaper that's just perfect for large types of dolls such as those above 15 inches. The Diaper Changing Set also includes a rash ointment which helps teach young girls the importance of applying such products on the buttocks of babies to help prevent or even to soothe skin rashes and other signs of skin irritation caused by soiled diapers.
Read more
Educational Value
Little girls love their Mine to Love dolls, and now they can change the diapers! This is something that can be taught by mom, strengthening the bond Mom has with her child. Little girls can role play as they have dolly adventures and imitate how Mom changes the diapers. This cute set has a nice, durable travel bag with a cute print on it. It includes diaper rash cream, diaper, and baby wipes. Little girls will have loads of fun making up new adventures in parenting, and for some, their doll can become a friend.
Accessories
The diaper changing bag is quite roomy, complete with two large pockets which can serve to hold other toys and accessories that your kid will need in caring for her baby doll figure.
Entertainment Value
The Diaper Changing Set is a surprisingly complete tool for introducing young girls to the task of changing a baby's diaper.
Creativity
In a way, they learn that soiled diapers can lead to skin rashes and this essentially forms their understanding of basic cause and effect. In turn, this helps build their problem-solving skills.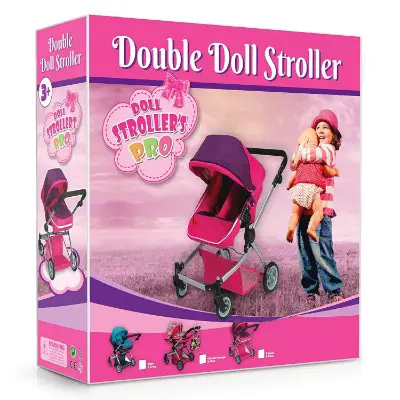 The handle can be adjusted to allow the doll to face the street or your child
The wheels swivel
Equipped with a storage basket
Fabric can be removed and is machine wash safe
Lil' mommies have so much to do! This stroller allows them to safely situate their babydoll while they go about their day. Maybe they want to take a walk through the backyard. Maybe a stroll to the kitchen or "grocery store" is in order. This stroller features a canopy, a lower storage unit, and a handlebar with an attached diaper bag. Pack up all dolly's favorite toys and don't forget her bottle; it's going to be quite the excursion!
Read more
Educational Value
Caring for a child can get messy, even if that child is a doll. You won't have to worry about accidental spills ruining this stroller. The fabric can be removed and thrown in the washing machine.
Accessories
Equipped with a basket on the bottom, your child can have all of their doll's accessories nearby. The hood opens and closes easily and will provide shade to your doll on hot summer days.
Entertainment Value
The wheels swivel thus allowing your child to turn in any direction when pushed on a variety of terrains. Your little one will have a blast playing mommy with this stroller and any doll that is up to eighteen inches.
Creativity
Assembly is easy and takes practically no time at all. You will only need to attach the wheels, so your child can start enjoying their stroller almost immediately.
10

. JC Toys Walker Playset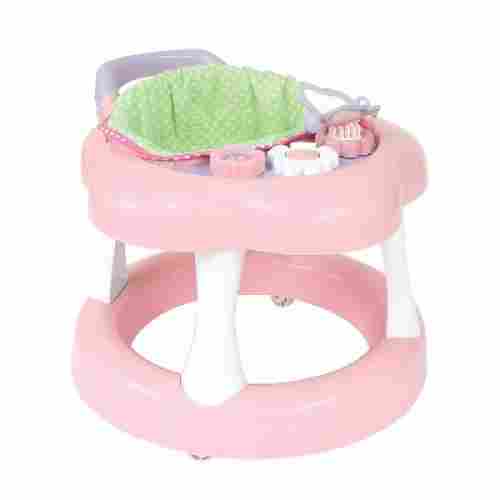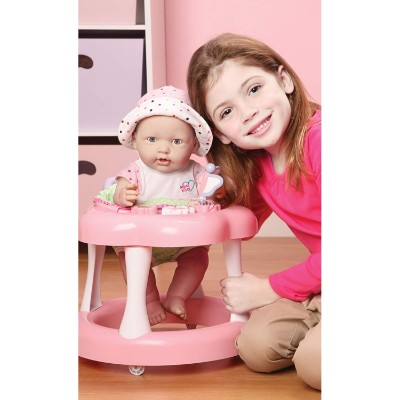 Sturdy plastic design
Cute butterfly and floral accents
Fits most dolls up to 17"
Easy to assemble
Durable
The toy will come apart if you don't snap it firmly together
Doesn't come in a nice box (in case you were going to give as a gift)
The JC Toys Walker Playset allows your little one to watch their baby doll "learn to walk," just like they did when they were a baby! It fits most standard dolls up to 17" and works especially well with all-vinyl dolls. (JC Toys makes some of these, but plenty of other companies' models are equally compatible with this walker.) It's made of sturdy plastic and meets or exceeds all safety requirements.
Read more
Educational Value
It's a joy to watch your baby take their first steps. Your little one can have fun watching their dolly learn to walk with this great accessory. Kids love creative role-playing games and benefit from the empathy, social skills, and more advanced communication they learn from them.
Accessories
Assembly is easy; just snap your pieces into place and the walker is ready to get to work. Make sure you do hear the pieces snap together though, otherwise, they may be loose and fall apart during play.
Entertainment Value
We see lots of strollers and cribs when it comes to baby doll accessory set, but it's rare to find other pieces that you'd normally see in a nursery. We think this is a great addition to any doll set and lets your child get up and walk around with their "baby."
Creativity
To young children, their dolls really do have hearts and thoughts and growing needs. This walker is a beautiful addition to any collection. Set up your favorite baby doll and help them explore the room. It features cute little "developmental toys" on the tray for dolls to interact with and fits dolls up to 17".
Criteria Used for Evaluation
Most Important Criteria
(According to our experts opinion)
Experts Opinion
Editors Opinion
Users Opinion
By Default

Parents, Did You Know?
When we choose the toys on our list, we keep in mind that we want your kids to grow up to be the best that they can be, just like you do. The best way to accomplish this is to provide suggestions for toys that support your child in his or her growth and development. One of the most awesome ways to do this is to provide toys that support creativity. A child's creativity comes from being imaginative and creating tales through imitation of adults. Creativity helps kids to learn problem-solving skills and helps them come up with more than one answer. This supports divergent thinking, which is a good thing.
Parents, Did You Know?
Toddlers learn about their emotions as well. They use playtime as a way of expressing their emotions and working through the difficult ones. As they learn and grow, they learn how to control their emotions. Kids learn to push their boundaries and testing emotions out on others (parents). This is a time to make new friends and build relationships with others.
Parents, Did You Know?
Parents can join in the playtime to have fun with their kids, teach new skills, and strengthen their family bond. Teaching and laughing together helps family members to learn new things about each other. They learn to have fun together and have stories to retell so they can share memories later. Use the dolls and accessories as teaching tools to create and then retell these wonderful stories.
Parents, Did You Know?
One of the best ways to teach kids about emotions is to instruct them about words that express feelings. Words like happy, sad, thrilled, delighted, tearful, are just examples of the many words that express feelings. Teach them about showing compassion and caring for others by role-playing and showing how to help when an old person drops her glasses or another child spills his juice. Maybe a little girl is crying and you can teach your child to ask if he can help or even just give her a pat on the shoulder. Kids can learn these things just by watching you and other people, but she'll remember better if she can become a willing participant in these scenarios and be actively doing something.
Other Factors to Consider
Safety
Of course, we are going to add safety concerns to the mix. This is the topmost priority for our toys. Kids need to be kept safe. We try to find toys that are made with nontoxic materials, and while this is not always possible, we do always keep it in mind. We want kids to have fun and learn, but to keep them safe is of utmost importance. We look for possible problems like sharp edges or items that might break easily and try to eliminate them from our lists.

Brand
When we choose toys for our lists, we go through a process of ranking them within our buyer rankings protocol. The best toys get on our lists, the worst ones do not. We choose the highest-rated toys in our category first. Those with the most reviews get ranked above the ones with the fewest. And when we read through the reviews, we find that the buyers have some very detailed comments and creative ideas on how to fix a problem or how to make a substandard toy work for them. Reading the reviews is the most fun part of creating our lists.
It was quite easy choosing from among the hundreds of possible items to include on the list of the best baby doll stuff. Our thinking was that dolls are like our children and our kids are like us. These dolls have to be cared for in a manner that we as parents care for our children, too. That said, we focused on the functionality of the different items in the market. There were a lot of instances when there were several products of the same type or genre of plaything. As such, we considered only those that had better customer satisfaction scores. For instance, if there were three products that are classified as feeding accessories, we only took the one with a higher consumer satisfaction rating so we can include as many possible types of products for you and your kid to choose from.
Once these have been shortlisted, we looked at the integrity of the design, specifically focusing on the safety of the materials used and the quality of the manufacturing or construction. Like we said earlier, it was imperative that these products serve a specific purpose that closely mirrors certain activities in real life. For instance, activities likechanging disposable diapers or even feeding little infants. These were crucial as what we would like these doll accessories to provide is the chance to practice or get introduced to real activities of daily living. This was a very important consideration that we simply cannot brush off easily.
Emotional Development
In the past, young boys who were seen playing with dolls were taunted to be homosexuals. Gender stereotypes dictate that only girls can play with these types of playthings. However, as our understanding of child's play and children's growth and development widens, there is now a growing acceptance of the main reasons why kids should play with dolls. Science has also revealed many remarkable findings of the different benefits of doll play. And, in case you're wondering why you should encourage your child to play with dolls, just consider the following.
Fosters nurturing and caring skills – Scholars agree that kids who play with dolls grow up to become better-equipped at caring for other people. They are able to show empathy, caring, and nurturing behaviors that cannot be simply taught in any academic setting. Playing with dolls helps children become more compassionate and caring.
Develops motor skills – Without a doubt, playing with dolls helps young children master their psychomotor skills including fine- and gross-motor movement, balance and coordination, and even spatial awareness and kinesthetic sense integration. These are all essential skills as they grow.
Builds cognitive abilities – Playing with dolls also helps build and enhance a variety of cognitive abilities such as simple problem-solving, memory recall and integration, and learning.
Aids in the development of language skills – Each time your kid plays with his or her dolls, she or he eventually learns a new word or two. Your child can then integrate this into his or her vocabulary until such time that it expands well into conversational communication.
Playing with dolls is like playing with any other children's toy. When used appropriately, these can bring a host of developmental benefits to kids. with the 10 best baby doll accessories in 2019, kids can now make full use of their respective dolls to fuel their imaginations and creativity.
Frequently Asked Questions
q:

Why can't I just give my kids the pots and pans in my kitchen to play with?

a:

Well, there is no rule that says you can't. But you have to consider the safety of the items you give to your kids. A couple of pots with a wooden spoon works fine, but metal silverware that includes forks and knives really doesn't. And using a pot to give your little girl's doll a bath can work, but giving her a nice pink plastic bathtub is more realistic and the pieces that come with the tub add the fun and can spark more creativity. Kids have to learn creativity. They don't just have it, so they need you as the parent, and some realistic toys to lend a spark to their originality.
q:

How can I use all these doll toys to support my child's emotional development?

a:

Wow. That's a huge question with lots of answers. Even in ancient times, children have had dolls of some sort to keep them comforted and to give them someone to talk to within their own little worlds. Dolls are great because they help children become clever about their role-playing behavior, and the accessories help to bring a bit of realism to their stories.

Parents can use dolls and the items that go with them to teach kids how to be empathetic towards others. A parent can show a kid how to hold the doll to comfort it and then hold their child too, emphasizing the behavior. Play act with your child about how to help someone who spilled milk maybe is crying or doesn't know how to use a spoon yet. Use the doll tools to show how to do an activity like feeding or holding the spoon. Talk about feelings, use words that express feelings and teach them to your child. Praise and smile when your child does something right to increase confidence. These are just some suggestions. There are more in the resources below.
q:

What are some examples of motor skills that improve using dolls and their "stuff?"

a:

Dolls are so great for motor development, and the accessories are not only the supporting cast but can become the main tool. Manipulating bottles, silverware, soap, hybrid diapers, and such helps develop fine-motor skills. These skills are of major importance for your child's hand-eye development, manipulating small objects, and building things.

Holding the doll, wheeling it around in a stroller or buggy, and putting the doll in a high chair support the growth of big muscles. These tools (stroller, buggy, etc.) can give some support to your child while she is learning how to balance. She can also become more agile and develop athletic skills.
q:

I have a young son. Should I let him play with dolls?

a:

Yes! Boys need to learn parenting skills just like girls, and dolls help with that by giving kids a visual for reference. Boys also learn motor skills and emotional skills, the same as girls do, though perhaps a bit later. Boys need to practice fine-motor skills and can do so by dressing the doll, using zippers and snaps, putting on a hat, pulling on pants and slippers. Just like girls, boys need to exercise their muscles so they can learn to pick up small objects and learn eye-hand coordination. They can do this by feeding the doll, changing its diaper, putting the doll in the high chair, and all of those other "take care of baby activities."
q:

How can dolls help me teach my daughter not to be jealous of our expected new baby?

a:

Congratulations on the happy coming event! Dolls can be tremendously helpful to you in preparing your daughter to become a great older sister. You can use the dolls and accessories to show her how to care for a baby, but also how to change the baby, how to appropriately touch and wash the baby, how to put her to bed and all those other baby activities. Once the baby arrives, you can keep your daughter involved in caring for her doll alongside you as you take care of the new arrival. This would help her to feel like she is part of your life and the baby's life. That should head jealousy issues off at the pass.
q:

My daughter loves playing with her doll, but I'm afraid she will get bored. Should I buy another doll?

a:

You would probably be better off buying some doll accessories based on your little girl's interests. You could also set up some play time with other children and their dolls or activity for several kids where they can all work around a water table and give their dolls a bath. Provide blankets and towels, soaps and lotions, and all they will need for bath time. This way your daughter will learn new relationship skills like having conversations, sharing, and taking care of others. The tribe of girls will learn nurturing skills and gain emotional expertise so they can play cooperatively together.