10 Best Baby Food Recipe Books and Cookbooks Reviewed in 2023
last updated
Sep 25, 2019
Not all parents have the time to prepare their infants meals every day, but for those that do, we have a treat for you! We have found the most-reviewed and the best baby cookbooks for parents who want to ensure their babies are getting the absolute best food in their little tummies. You will know every ingredient that your little one consumes because you prepare each meal, puree, snack, and finger food yourself in your own kitchen. Each of these volumes is designed to be simple, quick, and exciting for you to experiment with common ingredients in making some fantastic blends that your child will love to eat. We have analyzed them for you based on their ease of use, value, design, and educational value. These baby food recipes books also give valuable insights into food nutrition, weaning foods, and food allergies besides some incredible recipes. Happy reading and eating!
In a Hurry? The test winner after 37 hrs of research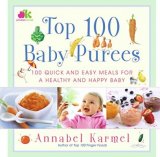 Top 100 Baby Purees
Why is it better?
Available in hardcover and Kindle editions
Author is a nutritional expert for children
Great for the weaning stages to older baby meals
Information for food allergies, preparation, reheating frozen foods
Preface by Michel Cohen MD, a pediatrician in New York
In a
Hurry? Editors choice: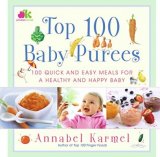 Test Winner: Top 100 Baby Purees
34
Researched Sources
37
Hours Researching
28
Products Evaluated
Design
Ease of Use
Educational Value
Value
By Default
10 Best Baby Cookbooks Reviewed
Criteria Used for Evaluation
Design
While all of the volumes listed are not set up the same, most of them use a graduated approach to their sections. This means that they begin very easy with simple, single ingredient recipes and then go to more sophisticated blends for purees. Nearly all of them have much more than just purees, so expect to find finger foods, snacks, and meals given in the assortment. These will be in order from easy to more difficult as the book progresses. They all have large colorful pictures and illustrations of how you are to assemble the ingredients. Plenty of information is packed into these books that are vital to parents of infants.
Ease of Use
With only a few ingredients, many of these recipes given will result in wonderful foods that your child will love. The authors of many of them realize how hard and time-consuming it is to fix for the baby and then the rest of the family, so a great deal of these books feature recipes that can be adapted for the entire family to enjoy. This means fixing only for the family as a unit and not everyone individually. The majority of the ingredients are simple and common but with unique blends to get your child to love eating them.
Educational Value
Explore the foods that your child needs and how to cook them and blend them with these incredible methods. With just a few ingredients, you could make your child a marvelous puree of many different kinds. They may seem simple and not so different than just regular blends but realize that these are tried and true to satisfy the baby and its nutritional needs in the exact proportions needed. Sure, it is easy to blend a banana and some breastmilk to make a puree, but do you know exactly how much to give the child or how much to mix together for the correct consistency? These books give you precise measurements.
Value
Just having a few of these recipe books will inspire parents to strike out on their own in adapting them to their particular tastes and adding in other ingredients they may favor. Knowing what others are feeding their children helps parents by guiding them in the right direction of health and nutrition. Feeding another human is a large responsibility that should not be taken lightly, but recipe books such as these that are listed will keep you on the right track.
Most Important Criteria
(According to our experts opinion)
Experts Opinion
Editors Opinion
Users Opinion
By Default

Parents, Did You Know?
Be sure to cleanse your hands before performing the tasks to prepare the food for the baby. All equipment, tools, and counters should be spotless. Nearby sponges, cloths, and towels are a must as well.
Parents, Did You Know?
Never leave the prepared baby food out of refrigeration for more than a couple of hours to prevent contamination. The warm temperatures are the best for germs to breed. It is best to throw out foods that have been left out rather than to give them to the baby and risk making them sick.
Other Factors to Consider
Approved by Pediatricians
Not only do pediatricians give these books the thumbs up for excellence in ingredients and preparation, but some of them even have doctors that have written the forward for the volume. A few of the authors are dieticians, registered nurses, or food experts that have the latest knowledge of what babies need to eat and how those foods help them grow and excel.
Support
Although most parents will purchase these books for the recipes inside, they will also gain the knowledge and expertise of the authors and their vast wealth of information about the food ingredients. So much more is included in these books than just recipes. Just flipping through the pages will give a better understanding of why certain ingredients were chosen and why the infant needs them at this stage of life.
Frequently Asked Questions
q:

Are there any special practices when it comes to meat or fish for preparing baby foods?

a:

Yes, fish, chicken, and fish can contaminate other types of foods easily if they are raw. Make sure they are contained apart from the other foods when refrigerated. After working with raw meat, fish, and chicken clean the work area and items well. Make sure when cooking these foods that they are thoroughly cooked.
q:

When feeding the baby, is it safe to save what he or she does not eat for another time?

a:

Since the spoon you feed the child with has his or her saliva on it, it is not the best practice to save any food that this utensil touched. A good rule is that if the feeding utensil went in the mouth of the child and into the portion of food, then it must be finished or tossed out. This is the perfect place for germs and bacteria to thrive. This will encourage parents to take out only small portions for feeding the child each time.
q:

Are these recipes easy and quick to prepare?

a:

Most of them are, yes. The authors aimed for very easy things to fix because they know that parents have much more to do than just cooking for their kids. These meals, snacks, and puree blends are so quick to prepare and store that parents with full-time jobs can easily find time to stock some of them away and use as they need.
q:

Do all the recipes have to be cooked?

a:

No, they do not. Some of these recipes are just blends of fruit or vegetables that can be stored or consumed right away. Of course, any of them that contain meat, fish, or chicken will have to be cooked or use already cooked ingredients and prepared later.
q:

Can these foods or meals be prepared in advance and frozen for use later?

a:

Certainly, they can. The authors of most of the books even encourage making the recipes in bulk batches that can be used right away with some of the portions stored in the freezer for future use. Being able to store some prepared foods is a vital part of being able to make homemade foods all the time for babies. The very last book listing shows you how to prepare three months of foods in advance for the busiest of parents. These only take three hours to prepare too.
q:

Are any of these baby food cookbooks easier than the others for simpler recipes?

a:

The ones that are just purees might be easier than the ones that contain baked goods, snacks, meals, and finger foods. It really all depends on the wording and the number of ingredients as to how easy these can be for parents. You can look through some of the pages online where the book is listed for a sneak preview of the words, ingredients, and recipes that each one contains. This will give you a good idea if you will ultimately like the book or not.