What to Keep in Mind when Buying a Baby Stroller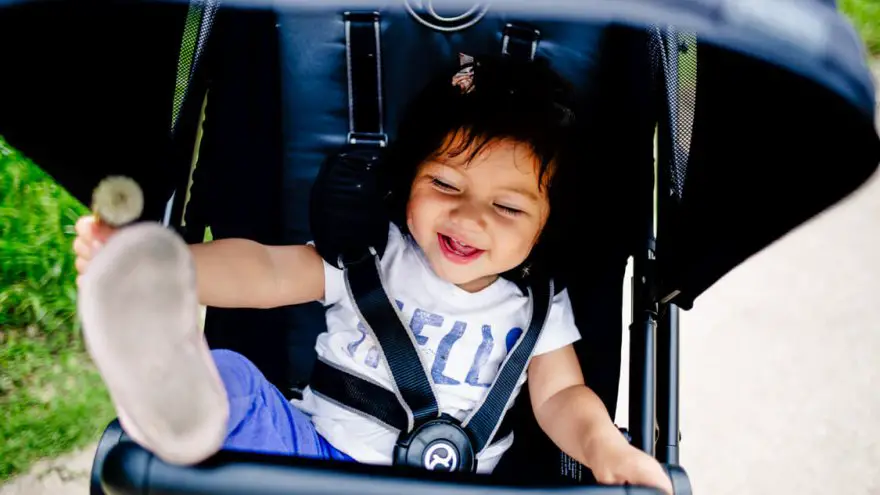 Remember when you went shopping for your first car?
The long grueling process of deciding on a ride that came with all the features you needed and wanted. You were probably feeling a mixture of anxiety and excitement. Now it's time to pick out a "car" for your baby, and by car we mean stroller. Yes, cars and strollers are completely different but when looking for a stroller you should take into consideration many of the same things you did when looking for a car. With many strollers looking like they're going to transform into Optimus prime at any minute, we thought you might like some advice.
With our help, your stroller buying adventure can be nothing other than exciting. We're going to give you some tips on the process as well as some things to keep in mind as you shop. Once you're finished reading, we're confident you will be ready to pick out a safe and stylish stroller that is perfect for your family. Stroll on!
Stick to your budget
When you were picking out a car, the first thing you may have done was set a budget. As you begin to shop for a stroller, you should do the same thing. If you didn't set a budget, do it now! Strollers can range anywhere from $50 to over $1,000. To keep you from being overwhelmed by choices, it is smart to know your budget before you even begin to look. It will also keep you from falling in love with one that you can not afford.
When setting your budget, think about how much you're going to use it. If you love to take your baby on daily afternoon strolls, you should get a more expensive stroller as they are guaranteed to last. If you see yourself only using the stroller when you take the family to Disney and other vacations, you can opt out for a cheaper stroller. If you love to jog and do it several times a week, we recommend a jogging stroller.
They are equipped with three wheels and can handle off-road jogging. We do not recommend these strollers for everyday tasks as they have a fixed front wheel. They are also large and can be heavy, so unless you plan on jogging with your child often, choose another stroller for your day to day tasks with your baby.
Number of Passengers
Obviously, if you have twins, triplets, etc you will need a stroller that can accommodate all of them. If you're thinking, "I only have one kid, so this doesn't apply to me!" Wrong! If you think there is even a slight chance that you may have another kid in the future, pay attention. Buying a single stroller that converts into a double stroller will save you money in the long run. Also, it will make your life a lot easier.
You won't have to purchase another stroller later and spend even more money. You won't have to worry about the kids fighting over who gets to ride and who has to walk. You definitely won't have to worry about holding one child while pushing the other one in the stroller. If you are purchasing a stroller for twins or two passengers, you will need to decide if you want them sitting side by side or a single file.
The side by side strollers can turn curbs easier, but the tandem strollers will fit through doorways easier. If you are transporting two children whose weight range is drastically different, we recommend a tandem stroller. If you transport them in a side by side stroller the stroller will be pulled to the side of the heaviest child.
Car Seat Stroller Combo
Travel system strollers allow you to clip your baby's car seat and stroller together. If your baby is sound asleep in their car seat, you can easily pick up the car seat and attach it to the stroller without waking them. It is important to remember that you will be lifting the baby and car seat which can get pretty heavy. Travel systems are economical and convenient. It is possible for you to create your own, but if you purchase the travel system as a set it is safer for your child. The set guarantees that the car set will securely attach to the stroller and eliminates the possibility of it falling off.
They See Me Strolling 
Remember a few minutes ago, when we asked you to think about how often you will use the stroller? Now think about where you will be using it because this will help you determine the type of wheels your stroller will need. Plastic wheels, which are the cheapest, are ideal for paved surfaces. If you see yourself strolling through gravel, or rough roads often we recommend staying away from plastic wheels.
Some strollers offer air-filled tires which can handle pretty much any terrain. However, much like with a bicycle, you will have to check the tires and air them up when they get flat. Foam Filled wheels, provide a smooth ride and you won't have to worry about airing them up. They are also durable and can withstand sharp objects that would puncture an air-filled tire.
Portability
Do you have to walk up several flights upstairs to get to your front door? Do you live in a busy city and have to take the subway everywhere? Do you fly often? If you answered yes to any of these questions we recommend buying a lightweight stroller as they are easier to lug.
Strollers can range anywhere from 11 pounds to 35 pounds, so it is logical to think about how often you will be carrying it when purchasing a stroller. If you're the kind of parent who will only be using the stroller to push your kid through the target as you browse the shelves while sipping your Grande latte than a heavier stroller is perfectly fine.
Storage
Whether you're living in a one bedroom apartment or a luxurious mansion, it is important to think about where you will be storing your stroller. Compact strollers are ideal for people who live in smaller houses or apartments and do not have much storage space.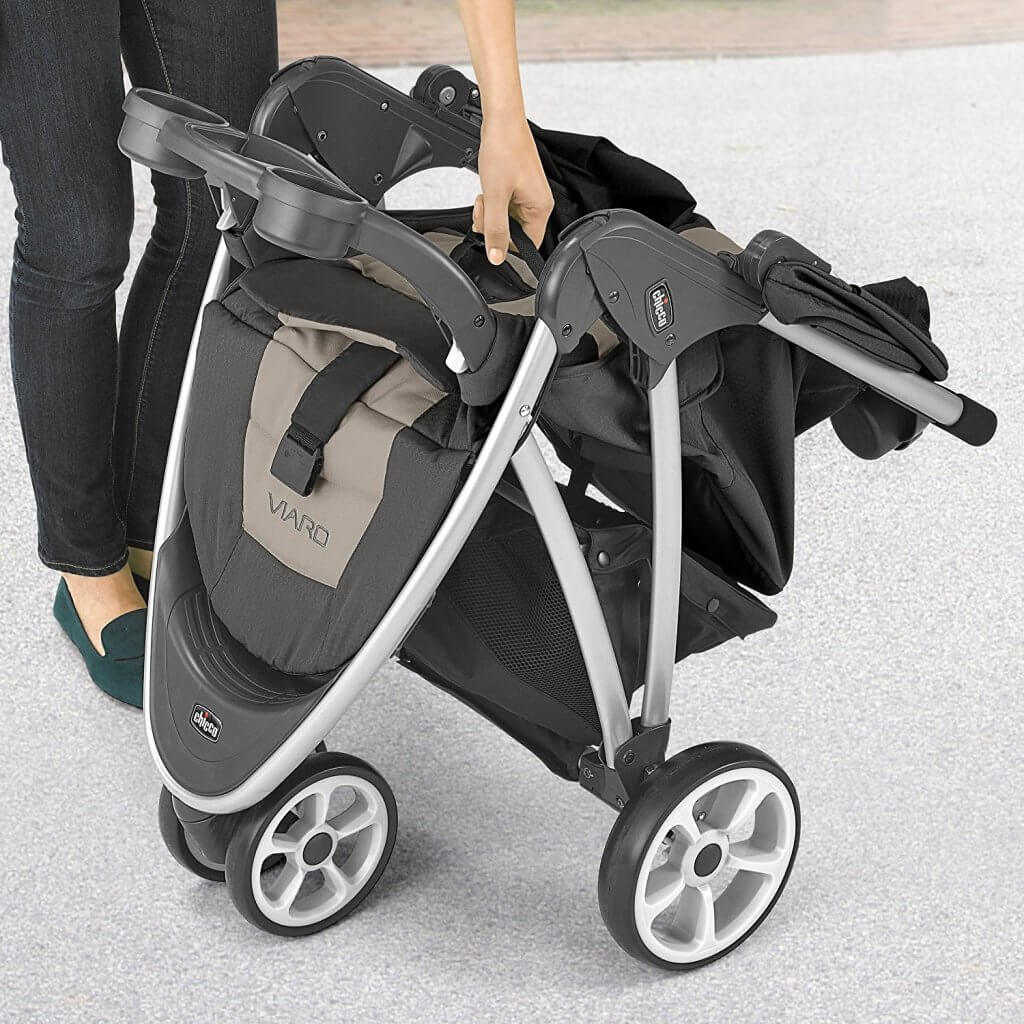 Furthermore, they are perfect for families with small trunk space, as they fold down and make storing it a breeze. You should also consider how much storage space you want your stroller to have. If you need room for a diaper bag, purse, and things you pick up throughout the day it would be wise to get a stroller with a larger basket.
Bells and Whistles
Who doesn't love a good cup holder? We do, that's for sure. If you're like us and think you might want space to put a drink, snacks, or even your keys keep an eye out for strollers that have spaces for such things.
If you happen to fall in love with a stroller that doesn't have cup holders or extra spaces to keep you organized, you can purchase them separately and attach them to your stroller. The downside is, you may be spending more money in the long run. Especially since you will be buying other accessories for your stroller.
Bunting bags, SnoozeShades, and rain covers are all popular add-ons. If peeking at your baby as you stroll is important than you will want a stroll with a Peek A Boo window.
Safety Features
As a parent, your main goal is to keep your child safe. Buying a stroller with a strong safety belt and crotch strap is crucial in keeping your baby strapped in. If the stroller includes buckles, make sure they can not be undone by tiny hands. Adjustable straps are a huge plus, as they will allow you to fit them to your child as they grow.
Take a look at the brakes the stroller comes with. Brakes that will look at least two wheels are a must-have! Canopies will protect your baby from the hot sun and should be considered a necessity on your list. Machine washable seats are perfect in keeping your baby safe from bacteria and germs.