Today's most often used hanger can be traced back to 1903 in Jackson, Michigan. According to legend, Albert Parkhouse arrived to work at Timberlake Wire and Novelty Company and discovered all of the coat hooks to be gone. In an act of irritation, he grabbed a wire and bent it into the perfect shape to hang up his coat. It is even said that President Thomas Jefferson invented the original wooden hanger. Who can say what disarray our closets would be in had it not been for these inventions?
Clothes hangers are often overlooked as a necessity for children, but they can be the difference between an organized or messy closet. Of course, not all hangers are created equal. Some are made of wire, which can be dangerous for kids to get a hold of, and others are made of cheap plastic that can easily break in half. On top of that, if the hangers are not designed specifically with the young ones in mind, then they may stretch and ruin their clothes.
This has led many companies and manufacturers to design hangers exclusively for kids and babies. These hangers are quite different from those made for adults. For one, they are much smaller so they can fit children's clothes just right. They also tend to come in bright colors, which tends to make kids more excited about hanging up their clothes. Often, they are durable enough that parents don't have to fear their children snapping them. Investing in children clothes hangers is a great way to keep all of their outfits neat, and with the right colors they can even spice up your kid's room. It seems like the simplest of things, but these hangers really make all the difference.
Our Picks of The Best Kids Bedsets in 2018
ZOBER Kids Velvet Hangers – 50 pack – 14
Kids Velvet Hangers (Pack of 25) Small Clothes Hangers
Mighty Hanger Multi-Purpose Clothes Hanger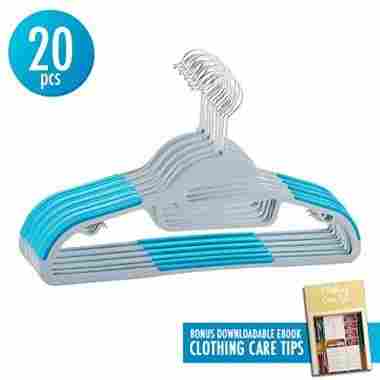 AmazonBasics Kids Velvet Hangers
Delta Children Nursery Closet Organizer-24 pcs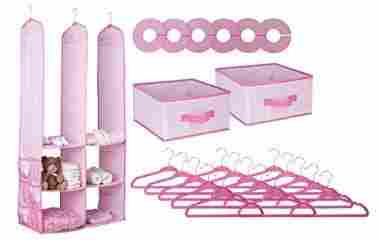 Delta Children 30 Pack Infant & Toddler Hangers
Honey-Can-Do Kid's Tubular Hanger with Clips
Closet Complete Baby Velvet Hangers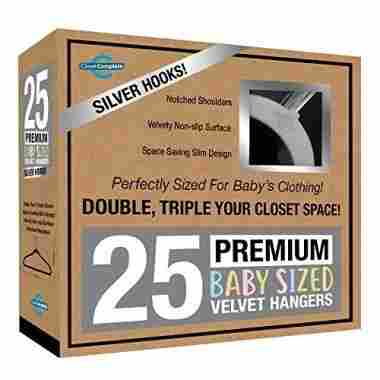 Criteria Used in Evaluation of the Best Baby and Kids Hangers
It can be hard to decide what clothes hangers will work best for your child because at first glance it seems they are all virtually the same. However, not all of them are created equally and through research, we found that some hangers were by far better than others in meeting the needs of kids and babies.
Children hangers need to be made of the best material. It is important for a kid's clothes hanger to be sturdy and of high-quality because children are not beyond getting rough with their belongings.
They need to have clothes hangers that are soft and hard to break. You wouldn't think a clothes hanger can present a danger to children, but you should always be cautious. That is why we chose not to include any wire hangers, as our research revealed they were the most dangerous for children to be around. Velvet and hard plastic turned out to be the best material for hangers. When made right, the hangers are soft and smooth, and often quite hard for even the strongest child to break.
Parents also want to make sure they are getting a hanger that can do the one thing it is meant to do; hang up their child's clothes. It is common for clothes to slip right of their hanger and into the floor, which can cause quite a headache when parents are hurrying to dress their child. Some hangers marketed toward children have a bad habit of not securing clothing, but we made sure to only include hangers with good reputations of not letting clothes slide off.
It can be just as annoying if a hanger stretches out clothes, causes wrinkles, or deforms the shoulders. Often, hangers that claim to be for kids end up being too big and stretch out their clothing. We made sure to only include hangers that were the right size for babies and children. If the hangers do not have a smooth surface then they can pull at clothes, and deform the shoulders. Through our research, we found the best child hangers that aim at preventing that problem.
When it comes to kids, they tend to want their room to be a fun and colorful place. Their closet is no exception. It is important for a child to have hangers they like, as they are more likely to be excited about hanging up all their clothes. When researching the hangers for this list we wanted to make we have a variety of colors that could make any child happy. We were able to come up with enough different colors that are sure to satisfy any kid no matter what their style is.
FAQ
Frequently Asked Questions
Q: Where did the hanger come from and who invented the clothes hanger?
A: The clothes hanger can be traced back to President Thomas Jefferson. Historians claim he invented the first wooden hanger as a way to increase his closet space. The first wire hangers are believed to have been invented by O.A. North in Connecticut. It wasn't until 1903 that a hanger was created that is very close to what we use today. Albert J. Parkhouse worked in Jackson, Mississippi at the Timberlake Wire and Novelty Company. He used a wire to invent a hanger that most closely resembles the hangers we use today, with a hook and all.
Q: Do plastic hangers bend or break?
A: Over time, some plastic hangers may bend or deform depending on the weight they have been holding and the quality of the material they are made from. If a hanger is made from cheap plastic it will most certainly bend on heavyweight and will be easier to break than a better quality one. The high-quality plastic hangers are much harder to bend and break.
Q: Will all hangers hold tank tops and other strapped clothes?
A: Hangers with notches in the shoulder are best for strapped clothing, but other hangers are able to get the job done too. Some hangers, especially velvet ones, have ridges along the shoulders to allow them to hold straps in place. If a hanger does not have notches or ridges, then the strapped clothing can be folded and hung over the bar of the hanger.
Q: Which material makes for the strongest hangers?
A: When hangers were first being invented and used, it was believed that wooden hangers were the strongest. At that time, it was only wooden and wire hangers being used. As they evolved and began to be made from plastic and velvet they also became stronger. Many high-quality plastic hangers can be just as strong as wooden ones, and velvet hangers are close to beating out wooden ones as the strongest.
Q: Can I hang my child's wet clothes on velvet hangers?
A: It depends on the quality of the velvet. Velvet hangers made of cheap quality velvet are notorious for bleeding on clothes when they become wet. However, it tends to just be black hangers that do this. The high-quality velvet hangers are made in a way to keep them from bleeding onto clothes. For this list, we made sure to include velvet ones that did not bleed.
Q: Do kids really need special hangers?
A: Yes. Babies and children tend to need several things that adults do not need. This includes smaller hangers. Just like they need smaller clothes, they need hangers that can fit them. If you were to use an adult hanger on infant clothing you would risk stretching out the fabric and ruining their clothes. On the other hand, if you were to use infant hangers for toddler or kid clothes then it is likely the clothing would always sleep off and become wrinkled easily. That is why it is important to get clothes hangers tailored to the age of your child.