Decorating and arranging your baby's nursery is an act of creativity and compassion. You want the room to reflect the boundless love you have for your child, the thousands of possibilities they have before them; the infinite futures at their fingertips and you want them to know that through it all, you will be there to guide and support them. Of course, that's rather a lot of metaphysical information to be throwing at a baby via color scheme and rocking chair choices.

But the art of feng shui does suggest that the ways in which we arrange our homes affect the ways in which we view and experience our lives. Paint and wallpaper are a great example of two aspects of a room that can completely turn the tone. We suggest soft colors for the nursery, as bright or primary shades tend to be stimulating to little eyes (and it's already going to be hard enough to get them to sleep peacefully). Pick shades that bring you a sense of tranquility and don't feel like you have to adhere to the traditional blues and pinks of our past. Balance the light in the room with soft curtains to filter but still permit the sun's glow, place the crib away from doors and window (hopefully perpendicular to a wall), favor natural materials (wood, bamboo, linen, cotton, silk) over processed ones (plastic), pick decor that is rounded rather than sharp, and if you're inviting in characters, avoid ferocious or aggressive animals and depictions, even if they're cartoony.

And amid all of the more abstract mechanics behind arranging a happy, healthy nursery, also consider the practicality of what you're buying and how you are organizing it. Cribs usually steal the spotlight when it comes to a baby's room, but we think there are other equally important pieces: namely, the dresser. Dressers provide not only aesthetics but logistics as well. Choosing the right dresser for your space, color scheme, and organizational needs can be time-consuming, so to help speed the process along, we've included below our top picks for nursery chests and dressers. Happy decorating!
The following list contains a number of beautifully designed baby and nursery dresser options. They are meant to perfectly accent your baby's nursery and provide a reliable product meant to withstand the growth of your child.
The Best Baby & Nursery Dressers Reviewed in 2018
Delta Children Universal 6 Drawer Dresser
Delta Children Haven 6 Drawer Dresser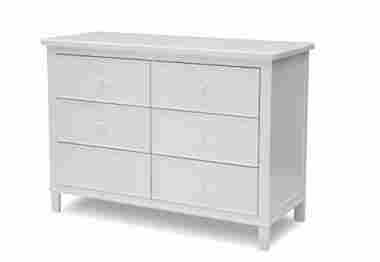 Stork Craft Kenton 6 Drawer Universal Dresser
DaVinci 3-Drawer Changer Dresser
Badger Basket Sleigh Style Changing Table with Six Baskets
Dream On Me Marcus Changing Table and Dresser
Delta Children 3 Drawer Dresser
Davinci Signature 6-Drawer Double Dresser
Storkcraft Crescent 3 Drawer Chest
Storkcraft Avalon 6 Drawer Universal Dresser
South Shore Little Smileys Changing Table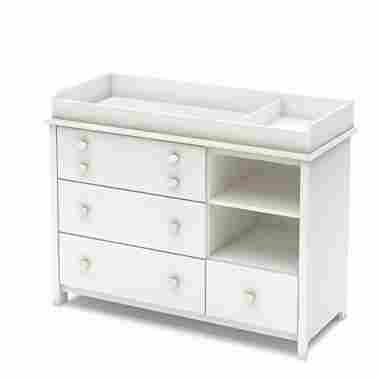 Criteria Used in Evaluation of the Best Baby Dressers on Our List
Finding the perfect style for your little one is a fun and exciting step in the process of parenthood. In this room, you will spend countless sleepless hours, watch your baby grow and build lifelong memories with your family. That in mind, matching the perfect decor with the right colors and patterns helps to ensure a more restful and happy baby. While finding the proper furniture does not guarantee a perfect night every night, it can help with aesthetics and style as well as eliminating the loud overstimulating world outside a baby's room.
These solid color options are elegant and gentle to prevent the frustration of overstimulation. Getting rid of your child's first crib can be a little heartbreaking but the wonderful thing about these dressers is their elegant style is timeless and they will match with any room from the nursery to the dorm room.
As time goes on children crave new and exciting surroundings. This is where creativity and imagination come into play. You can explore color stain options and spend a fun-filled afternoon as a family creating a personalized piece of art for a child's room. Offering so much in durability, the well-crafted dressers are designed to last for years.
The beautifully constructed dressers on this list are made from reputable companies, well known for crafting high-quality furniture. These companies are known for the care they put into the baby products they provide quality to your family. With years of experience under their belts and a wholesome drive that comes from the genuine desire to provide safe furniture and products to your baby.
Products, these days, are so rapidly configured it can be hard to sort through and find the good from the bad. There are so many chemicals and additives that are meant to prevent disaster. Unfortunately, these can cause long-term complications to health and development.
The dressers on this list are made by companies who have sought after chemical compositions that are not damaging and safe for the lungs and brain development. You can have peace of mind knowing the furniture in your baby's room is free of other harsh compositions such as lead and mercury.
So who hasn't spent a night quietly stubbing their toes in the dark or walking into a door in an effort not to wake the angel, you finally got to sleep. Parenthood is exhausting but having a solid organization system, such as a six drawer dresser, will help make those nights feeling around for an extra blanket or new pj's in the dark so much easier. These dressers offer a range of space options to help keep you organized no matter how much space you have to work with.
Dressers provide a range of headache-free benefits, from storage to organization. During the first sleepless months it can be hard to keep everything together, things are exhausting and it's quite a feat to be productive. A dresser is a wonderful way to help you keep your little one's clothes and maybe even possessions in order.
The arrival of a new baby often brings countless visits by the members of the family and in our circle of friends. The list below if full of some really great options for your nursery. They may help you feel a bit more organized, or at least a secret place to stash the mess when you have unexpected company.
As babies grow they learn to crawl, walk and climb. A dresser provides ample climbing opportunities and endless possibilities for the imagination. Children love to climb so finding furniture for their room that has a solid stance is crucial.
It is not recommended these dressers be used as a climbing tool but you can rest easy knowing they are strong and sturdy, designed to prevent injury. Should you walk in to find them atop the dresser or making their way up, you can calmly explain why they shouldn't be there meanwhile knowing the dresser was designed with children in mind.
FAQ
Frequently Asked Questions
Q: Do these dressers come with a warranty?
A: Yes, they offer things like a hassle free return policy and a high-quality guarantee.
Q: Are they made without the use of harsh chemicals?
A: Most of the companies on this list pride themselves on providing children and family with the safest products available.
Q: What is the proper care regimen for these dressers?
A: Because they are made of high-quality woods they do require a bit extra TLC than normal furniture. However no more excessive than the other wood pieces in your home.
Q: Do the drawers open and close easily?
A: The dressers are designed to be hassle free and easy for parents to maneuver. Additionally helpful for growing children, themselves to learn how to open and close drawers.
Q: Can a changing table be attached?
A: Not for all the options but some do come with a changing table already attached. Consider the flat top surface can provide space for a changing surface.
Q: Is assembly easily?
A: All of these products come with an instruction manual included.