It's story time! One of your children's favorite memories will be reading together before bed. It's such an intimate time between you and your children where you both can get lost in whatever world you're reading about. Parents are able to start this wonderful tradition as soon as their bundle of joy arrives, and we have the perfect books for you to choose from.
Reading to your child every night is so important because not only will it instill a love of books for your children, but it can also promote family bonding, help stimulate their senses, can even stimulate their imagination, and helps with early listening skills. We can't stress enough how important it is to curl up on the couch or in your child's room with a book and just get lost with these fun stories that you and your children will love.
Our Top 3 Picks
Lamaze Peek-A-Boo Forest

Our rating
Soft Tactile Stimulation
Price:

See Here
First 100 Farm Words

Our rating
Fun Learning Book
Price:

See Here
Sassy Baby's First Books

Our rating
Perfect First Book
Price:

See Here
The Very Hungry Caterpillar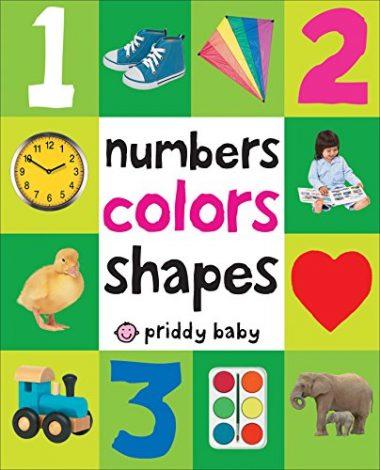 Sassy First Sounds Book Set
Little Green Frog: Lift-a-Flap Board Book
Criteria Used to Evaluate The Best Books
Reading stories with your child is an important part of their development. It gives them exposure to a number of skills and benefits. Additionally, you can create long life lasting memories with your child to carry forever. Most people have a favorite childhood book and for some reason when nostalgia hits we spend time searching and searching for that one book. The moment we find it, we see the cover and hold it in our hands it takes on a journey through time and to a different world. Providing your baby with an opportunity to one day feel that sense of nostalgia brings them a sense of peace.
Hearing your voice and familiarizing themselves with sounds is an important part of auditory development. Not only does this help your baby familiarize themselves with loved ones. It also provides them the opportunity to make the correlation between vocabulary and making sounds with our mouths. It is important to understand the importance of finding your little one with the correct age group books. As babies develop their brains requires a series of constantly changing tools to support and nurture healthy and happy brain development.
Books can give your child several worlds to explore, and help foster imagination. There are countless books that have been written. Reading to your children on a regular basis can instill a love of books that they will always be able to turn to. Books give us the ability to pull ourselves away from the stress life throws at us. Reading can take us to other worlds or places around the world we live in. Early exposure to books can set up blocks for building a love for reading.
Books that are designed for babies, infants, and toddlers often have bright bold images. These are ideal in helping your little one learn color, shape and animal recognition. The bright and engaging colors work hard to keep your baby's attention. The patterns featured in these books are designed to help your infant become familiar with the world around them.
Understanding the alphabet and being able to communicate are important tools that are enhanced by reading books. Your child will learn to follow along with you and begin to recognize letters and the sounds they make. Many of these books are designed with large bold print to capture your little one's attention and give them more motivation to remain engaged. The images depicted in these books introduce your child to counting and to help enhance memorization.
The books on this list are meant to be fun and silly. The goal is to provide educational development while creating a fun and memorable atmosphere. These books have been selected to provide you with a number of books that can help you create a positive reading experience for your child. They are aesthetically pleasing and educational. There are some that are compact and cost less than ten dollars, they make great stocking stuffers. There are other than a bit more expensive but totally worth it. They adorable and fairly involved stories that will more thoroughly enhance your child's imagination and learning.
What Determined the Amazing Books for Babies in Our List
It's quite tricky picking out the baby book that will have to be included in this particular list. We already had an idea of how to approach the particular subject but we wanted to make sure. As such, we sought the advice of our resident child psychologist to get a firmer understanding of how the task can be completed. We knew that children below 18 months of age don't have the necessary pre-reading skills yet so we had to always keep this in mind. However, we also knew that infants are rapidly developing their senses so the more senses they use in storytelling sessions can definitely help them. This became the focus of our search. The greater sensory stimulation the baby book is able to provide, the greater is the likelihood that it will land a place in our final list. In line with their sensory development needs, the book must also be able to help them build their vocabulary as a stepping stone to effective language development.
Helping us validate our initial searches were the comments and feedbacks of moms and dads as well as grannies and grandpas out who were so kind enough to let their voices heard regarding their children's and grandchildren's experiences with these books. While we strived to include only those with at least 4-star customer ratings, we still evaluated each of these feedbacks especially any negative comments about the publication. We know that some parents sometimes forget that these are for babies and not for adults. So, if they are expecting the content to be somewhat of a novel, we usually struck this negative comment out as inappropriate for the simple fact that kids' books don't need to be as grammatically correct as novels.
The manufacturer, publisher, or author's reputation was also considered. While new writers can create a masterpiece of their own, we would rather include an author who has been writing children's books for a long time. At any rate, this gave us the assurance that the content you'll be reading to your baby is developed specifically for babies by someone who truly understands how babies learn.
Why We Need to Read to Our Babies
We all know what reading books can provide especially for our children who are already in school. Unfortunately, there are some parents who think that babies, because they cannot read yet, are still too young to be reading books. While they cannot read yet, we can for them. Even newborns can benefit a lot from our reading to them. If this is true, just imagine what reading can do for our babies. Here are some of the wonderful benefits of reading to our infants.
Promotes parent-infant bond – Reading to babies is a lot different than reading to an older child. We carry our babies and have them on our laps. This promotes parent-child bonding which can become the foundation for a healthier relationship between us and our kids. More importantly, this helps establish a more stable emotional and social development among our children.
Stimulates the senses – Different textures, colors, shapes, and sounds provide the necessary sensory stimulation that infants need to ensure optimum brain development. By employing as many of their senses, infants are able to integrate all of these pieces of information into one fantastic experience.
Stimulates imagination – While it is true that infants cannot talk yet, it doesn't mean their brains are not yet working. We are laying the foundation for their imaginative abilities whenever we read to them. This is crucial for creativity and problem-solving capabilities in later childhood.
Promotes listening – Part of communication is listening. When we read to our infants, we are inherently teaching them how to listen to every word that comes from our mouth. They listen to how we produce sounds.
Builds vocabulary – It would be quite difficult to communicate with others if we know only a few words. A good stepping stone to effective communication is a wide vocabulary. Reading to our kids can help them expand this.
The Bottom Line
Newborns and babies alike can benefit from our reading to them. With our 10 cool baby books, you can be sure your infant is on the right track to optimum language, cognitive, social, speech, communication, and social development.
FAQs
Frequently Asked Questions
Q: What are the age recommendations?
A: This list has books for a range of ages suited for babies and toddlers, aged between six months to around three years old. There are some books on here gentle enough for smaller babies. While others on this list provide ample stimulation for children who may even be bit older than a toddler.
Q: What is the importance of reading to my baby/toddler?
A: Reading to your baby provides a number of developmental benefits. They can be introduced to shape and color recognition. Their vocabulary will be expanded and they learn to compose their own thoughts and sentences. Additionally, you provide them with lifelong memories.
Q: How many pages are there?
A: There are books listed with four pages and books up to around thirty pages. There is a book ideal for providing mild stimulation for babies and a fun and engaging storybook for toddlers.
Q: Are they ok to be used by teething babies?
A: Although there is a couple options that actually have a teething toy attached most of these are not meant to be used as a teething toy. On the other hand, they are made of safe and durable materials as the makers do realize small children often put everything into their mouths.
Q: Do these books pose as a choking hazard?
A: While most of these books constructed to be one piece. There is little concern for choking. There are however a few made of cardboard that may eventually break down over time.
Q: Are the materials washable?
A: The materials used to comprise these books range in composition. Most of these can easily be wiped down. There are a couple suited specifically for babies that can are soft and plush, these are machine washable.
You May Also Like
Best Books For 2 Year Olds
Best Books For 3 Year Olds
Best Books For Teens