10 Best Baby & Toddler Toothbrushes in 2019
last updated
Mar 17, 2019
Even though your baby will eventually lose their first set of teeth and replace them with their permanent ones, it is still highly important that you take good care of them. As soon as you start to see a tooth poking through your little one's gums, you can begin brushing their teeth. Their gums are still pretty sensitive, so avoid adult toothbrushes. There are a variety of toothbrushes for babies and toddlers on the market. We have created a list of the ten best ones to help narrow your search. Whether you choose to start with a finger brush or toothbrush with a fun character design, we're confident that your little one's first brush will start a lifetime of healthy habits.
In a Hurry? The test winner after 29 hrs of research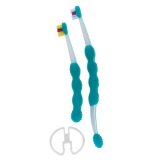 MAM Learn to Brush Set
Why is it better?
Rounded brush head
Provides visual feedback for toothpaste application
Comes in a set
Prevents the growth of bacteria
Knobby handle for firm grip
In a
Hurry? Editors choice: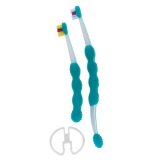 Test Winner: MAM Learn to Brush Set
35
Researched Sources
263
Reviews Considered
29
Hours Researching
17
Products Evaluated
Age Range
Design
Effectiveness
Protection
By Default
In depth review top 10
MAM Learn to Brush Set
RADIUS - Pure Baby Toothbrush
Jordan Baby Infant to Toddler Toothbrush
BabySonic Electric Toothbrush
Teether Banana Infant Toothbrush
Baby Buddy Finger Toothbrush
Baby Buddy Baby's 1st Toothbrush Teether
Dr. Brown's Infant-to-Toddler Toothbrush Set
SmileFrida The ToothHugger
Nuby 4 Stage Oral Care Set System
Table of contents
Criteria Used for Evaluation
Other Factors to Consider
Frequently Asked Questions
Sources
10 Best Baby & Toddler Toothbrushes Reviewed
Criteria Used for Evaluation

Age Range
Sparking their curiosity will give you a better opportunity to introduce your baby to good oral hygiene and encourage them to develop healthy brushing habits. Whether you are trying to help your baby develop good habits or hoping to help your little one find some relief from teething, these versatile options are sure to help you find just what you are looking for. There are brushes suited for infants and for toddlers so you can be assured these designs will keep up with your child's growth. The range of colors and designs guarantee you will find something that appeals to your little one. Another wonderful benefits of having many color options is the comfort of knowing, in a household with more than one child, it will be easy to keep track of whose is whose. This is a great way to prevent the spread of germs and disease
Design
These infant tools come with ultra soft bristles for soothing comfort and a massaging effect to help ease the pain of teething. They are efficient in removing bacteria. This is especially important during the teething months as teeth are splitting through the gum and your baby's mouth has small abrasions susceptible to infection. The soft and flexible design of these brushes will make gripping easier for little hands. These softness of material will also provide your child with comfort while brushing. Comfort paired with the aesthetics is sure to help inspire enthusiasm and a solid routine for good oral hygiene.
These unique and creative tools are a great way to promote your baby's health and well-being. Oral hygiene can be a huge factor in promoting and supporting a healthy immune system. There are millions of bacteria that already exist in our mouths, this is what keeps our immune system functioning. When there is an extra layer of build-up there are millions more bacteria and microorganisms your baby is exposed to. As the bacteria sits in the same place for long periods it hardens and becomes tartar build-up. This leads to tooth decay, which if untreated can eventually cause more serious health concerns.

Effectiveness
Your baby doesn't have teeth yet so you're wondering is it necessary to brush their teeth. It is not only very important to get them into the habit of brushing every day, but you will notice as teeth start coming in there is a whole new world of crevices and surfaces for food and plaque to get stuck in and attach to. Babies and young children are more susceptible to build-up than adults. This is because much like their soft bones, their teeth haven't hardened and do not have a fully formed solid enamel. We all have enamel on our teeth as a protective barrier however without proper care the body's ability to produce a healthy layer of enamel can become stunted and make teeth more susceptible to decay.
Protection
What about toothpaste? There are several toothpastes on the market as well and it can be hard to know which is the right choice for your baby. With all the big words and unrecognizable ingredients, how can you be sure you really are giving your baby the best? There are some options available on the market that have been produced by some trusted household brands such as Oral-B and Crest. There are tons of "training pastes" as they are advertised. These pastes come in great flavors which will inspire your baby to be really enthusiastic about brushing and maintaining oral health.
Most Important Criteria
(According to our experts opinion)
Experts Opinion
Editors Opinion
Users Opinion
By Default

Parents, Did You Know?
There are several considerations that we had to observe in our choice of the best toddler toothbrush. Since these products will eventually be rubbed against the still-immature gums of babies, it was imperative for us to choose only those that are made of the softest possible bristles; but, not too soft that it cannot perform its expected function which is to remove any particles in our child's oral cavity. The bristles must not, in any way, injure or undermine the tissue integrity of the juvenile gums. Any break in the integrity of gum tissues can serve as an entry point for microorganisms leading to infection. That's why we had to carefully evaluate the products that have been seriously considered for shortlisting.
Parents, Did You Know?
Likewise, since these products eventually end up inside infants' mouths, these have to be made of super-safe materials that don't contain any of the harmful chemicals like BPA, lead, phthalate, and other substances. We may be removing debris and keeping their milk teeth clean; but, if we're also leeching chemicals into their mouths, then we are defeating the purpose of tooth brushing. As such, it's important that these toothbrushes are certified safe.
Other Factors to Consider

Brand
The overall design of the infant toothbrush was also considered. If the bristles can also function to stimulate the gums, then that's a good feature. Teether features were also identified and evaluated for their safety. All of these were carefully assessed to determine their overall usefulness for the babies of today. The last thing we'd want to give is a product that does nothing to help protect baby's growing teeth or at least stimulate the healthier eruption of his or her tooth. Rounding up our search for the truly amazing infant toothbrushes is the consumer rating for such products. We made sure that we only included those that have at least 4.5 stars. With these, we're confident you will find our list to be quite helpful.<

Educational Value
Caring for our infants' first teeth is crucial to helping them grow healthier. This is because of the causal relationship that exists between general health and dental health. If the health status of the teeth is poor, then it is expected that health problems can also occur elsewhere in the body. For very young children, this is not good. That's why we need to learn how to properly care for baby's teeth.
Support
Because infant teeth are quite fragile compared to the teeth that we have, these must be well-cared for. Even before babies have their first tooth, they must already be exposed to meticulous oral care. One of the things we can do for them is to get a piece of clean cloth, moisten this with warm water, and gently rub against our infants' gums. Alternatively, you can purchase one of those finger toothbrushes like the ones we featured in our list. The idea is for us to simulate the action of brushing the teeth, although there aren't any yet. This acclimatizes babies to the sensation of having something rubbed against the tissues of the oral cavity. And if your baby is already teething, these rubbing motions can help soothe the gums.
Taste
>By the time your child already has his or her first tooth we need to be even more careful. If our babies love sweets as snacks, then we must always follow this up with water to drink. This washes away the sweet debris in the oral cavity that can attract the growth and proliferation of microorganisms that really love sweet things. A better approach is to give these sweet and starchy items during the main meals so that other food items will sweep these substances off the teeth. Giving babies sweets at bedtime is also not recommended unless you can follow it up with water. This also includes milk as it has a natural sweetener to it. If you have to provide milk at bedtime, make sure to give water right after.
A visit to the dentist is also never too early for babies. This way, your infant's oral and dental health can be assured right from the very start. Problems can be identified and managed early on.
There are other tips for caring for baby tooth. The point is whatever you do for your own dental health, you'd have to extend these to your child as well; albeit, modified a bit.
Frequently Asked Questions
q:
How do I clean it properly?
a:
Some of these products can easily be put in the dishwasher for sterilization. Run under or soaked in boiling water is another great way to ensure the microorganisms living on the surface of the brush will be killed, also remember to dry them completely before giving them back to your child as bacteria tends to thrive in a moist environment.
q:
Can they be used with toothpaste?
a:
Yes, some of the bristle designs allow of easy toothpaste application. One specifically features bristles that provide visual feedback. There are some great training pastes on the market that contain a few key ingredients to support and promote a healthy mouth. More importantly they taste great. You are sure to find a flavor that will appeal to any little one's taste buds. A serious benefit to using toothpaste can be exposure to the feeling of slime in their mouth, to assist them in real toothpaste exposure.
q:
What country are they made in?
a:
The materials used and manufactured for these products come from the U.S., Germany and China. Each product has it's own label to offer you comfort and peace of mind in knowing exactly where your child's product has come from. There may also be some further information about the ingredients and material components that go into the making of these products.
q:
How often should they be replaced?
a:
In order to support a good healthy mouth it is recommended that toothbrushes be replaced every three months. The good thing about these products is some have the capability of withstanding the dishwasher. This sterilization should help with a longer shelf life.
q:
What is an easy way to get babies and toddlers to let us brush their teeth?
a:
The easiest way to get babies and toddlers to start to brush their teeth is routine, routine, and more routine. When they have completed a meal, in the morning, and before bed, always brush their teeth. Even if they dislike the routine, still present them with the idea and help them with it. Over time they will start to complete the routine and it will become a part of their daily habit. Also the earlier you start with brushing their teeth the easier it will be in the long run.
q:
At what age do you start to use toothpaste that contains fluoride?
a:
It is best not to use a fluoridated toothpaste until they reach the age of 3. If used earlier than that it is hard to make sure they are rinsing the toothpaste out and not swallowing it.
You should always supervise the brushing of your toddler's teeth and only provide them with a pea size amount of toothpaste. Try to make sure that they are not swallowing any excess amount.