10 Best Baby & Toddler Toothbrushes in 2019
last updated
Sep 04, 2019
Even though your baby will eventually lose their first set of teeth and replace them with their permanent ones, it is still highly important that you take good care of them. As soon as you start to see a tooth poking through your little one's gums, you can begin brushing their teeth. Their gums are still pretty sensitive, so avoid adult toothbrushes. There are a variety of toothbrushes for babies and toddlers on the market. We have created a list of the ten best ones to help narrow your search. Whether you choose to start with a finger brush or toothbrush with fun character design, we're confident that your little one's first brush will start a lifetime of healthy habits.
In a Hurry? The test winner after 29 hrs of research
Baby Munka Cactus Infant Teether
Why is it better?
Composed of a BPA free silicone
Flexible bristles are gentle but highly effective
Doubles as a teether with a variety of different textures
Cactus design is compact and fits perfectly in tiny hands
In a
Hurry? Editors choice:
Test Winner: Baby Munka Cactus Infant Teether
35
Researched Sources
263
Reviews Considered
29
Hours Researching
17
Products Evaluated
Age Range
Design
Effectiveness
Protection
By Default
10 Best Baby & Toddler Toothbrushes Reviewed
1

. Baby Munka Cactus Infant Teether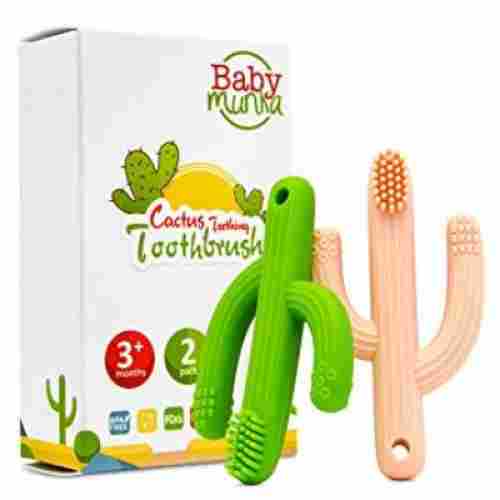 Composed of a BPA free silicone
Flexible bristles are gentle but highly effective
Doubles as a teether with a variety of different textures
Cactus design is compact and fits perfectly in tiny hands
Some reviewers feel the hole was too small & made it hard to attach to string, keychains, etc.
The Baby Munka infant teether toothbrush is one cactus you won't want to avoid.
Read more
Age Range
Doubling as a teether, this gentle toothbrush can be used by babies as young as three months.
Design
Designed in the shape of a cactus, this toothbrush is not only adorable but also compact and easy to tote. It is lightweight and shaped to fit perfectly in your child's small hands. Each limb of the cactus is designed with a different texture to provide your child with a variety of teething surfaces. The bottom hole of the cactus can be used to attach this teether to a variety of things, thus making it even easier for you to tote. It can also be placed in the freezer and dishwasher when it needs to be cleaned.
Effectiveness
The super-soft silicone bristles will soothe your child's gum while they teeth. The bristles are highly flexible, thus making sure they will get in those hard to reach places to leave your child's mouth clean.
Protection
Composed of 100% BPA-free silicone, your baby is safe to have this cactus in their mouth as often as they want. The silicone material will also prevent your child from receiving mouth injuries while they brush as they are not handling a hard plastic brush. This gentle brush will fight tooth decay and keep your little one's mouth healthy.
2

. RADIUS - Pure Baby Toothbrush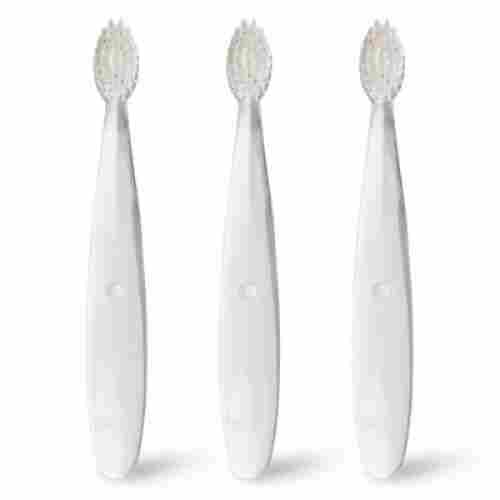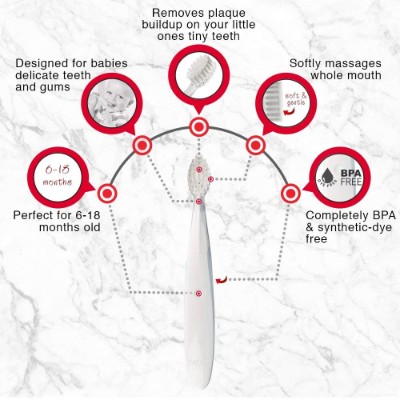 Designed for kids 6 months to 18 months old
Created from dye and BPA free materials
Features bristles created from pliable, vegetable-derived materials
Each brush head features over 8,000 bristles
Handle designed for both parents and kids
Does not feature a long lasting bristle head, flattens and wears fast
Handle design is flatter making it hard for the younger baby's to hold
Sensitive, simple, and effective is what makes this brush stand out from the others. It has been created without the use of BPA, harmful chemicals, or dyes. The easy to grasp handle has been created from the feedback from parents just like you. Designed to fit in their hand as easily as it does yours this brush will make teeth brushing time rewarding for both.
Read more
Age Range
The design is great for kids 6 months to 18 months old as it gently massages their teeth and gums removing plaque buildup and germs. The smooth and corner-less design of the brush head has been created to ensure that you are not harming your baby's mouth when using this brush.
Design
Designed with a tapered handle, these brushes are easy to hold for both you and your baby. Each brush included in this pack is free of synthetic dye and BPA.
Effectiveness
The unique bristles will massage your child's mouth while also removing plaque buildup from their teeth.
Protection
The bristles on these brushes were made specifically to protect your baby. These vegetable-derived bristles are luxuriously soft thus providing a gentle brushing experience and will prevent your little one from injuring themselves. To increase the level of safety, this oval-shaped toothbrush is smooth and cornerless.
3

. Jordan Baby Infant to Toddler Toothbrush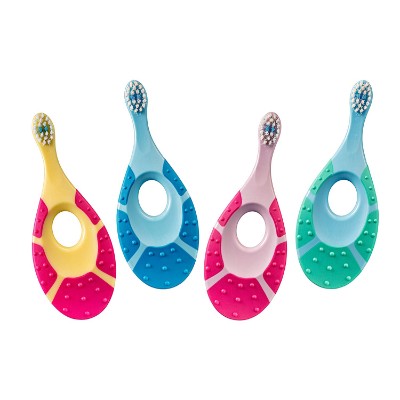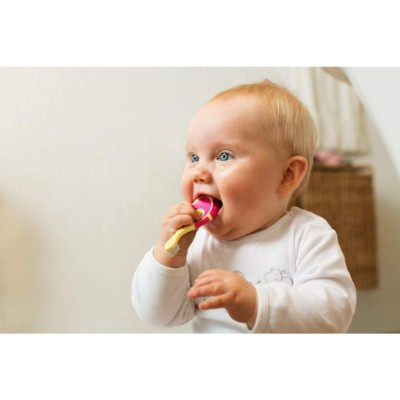 Constructed from Phthalates and BPA free materials
Chewing grip is designed to stimulate gums
Handle shape created with both parents and baby in mind
Features super soft bristles and small brushing head
Short and unique neck prevent pushing brush too far in mouth
Stimulating handle features a ridged design that makes it hard to get a good grasp for smaller hands
Base design can collect mold easily, check routinely
Are your kid's first teething poking through? Then it is time to start with a toothbrush and move away from the finger brushes that you have been using. Plus the short neck design prevents them from being able to push the toothbrush too far into their mouth, but always make sure to have them only use a toothbrush under adult supervision.
Read more
Age Range
This toothbrush has been designed to get to their first teeth with ease with the small head and super soft bristles. It also features a handle that can be used as a teething ring for those kids with irritated gums.
Design
The design also has a grip that has been designed for parents to be able to assist with brushing. So once those teeth appear it is time to start brushing with bristles. Gripping a small toothbrush can often be hard for parents, but this brush features an easy to grasp large handle that is designed with both kids and parents in mind.
Effectiveness
The large handle is great for teething but created with the dual purpose of the parent in mind. Supporting your young brusher is important, but making sure that you can great the job done when they are done playing is important.
Protection
When products are designed with a dual purpose always makes parents happier when purchasing. This toothbrush/teething ring is none the less. It is easy to grasp and features soft bristles that make brushing painless.
4

. BabySonic Electric Toothbrush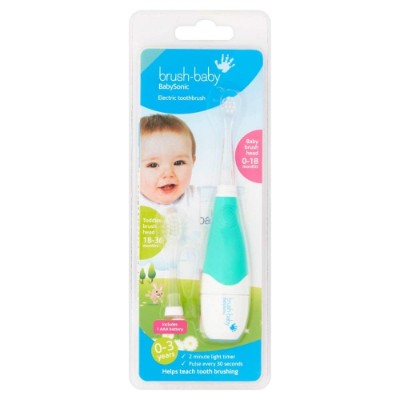 Features easy-to-grasp handle with a two-minute timer
Constructed from nontoxic and food-grade materials
Designed especially for babies and growing toddlers
Replaceable heads and batteries
Promotes good oral hygiene routine from very young age
Bristles wear down fast, have to replace often
Toothbrush just vibrates, does not move head or bristles
Get your little one excited about brushing with the award-winning Baby Sonic Electric Toothbrush.
Read more
Age Range
This package includes two brush heads. The first is geared towards babies between the ages of 0 and 18 months, the second brush head is designed for babies between the ages of 18 and thirty-six months.
Design
Designed with an easy-grip handle, you or your toddler will have a comfortable grip on the brush. Establishing a routine is easy with this battery-powered brush as it is equipped with a two-minute timer and a pulse timer.
Effectiveness
Both brush heads are equipped with tiny soft bristles that make it easy for you to get in those hard to reach places in your child's mouth. Every thirty seconds the pulse timer will let your child know when it is time to move to another area of their mouth, thus ensuring their entire mouth gets cleaned.
Protection
The entire brush is composed of non-toxic materials which make this brush perfectly safe for your child to use.
5

. Teether Banana Infant Toothbrush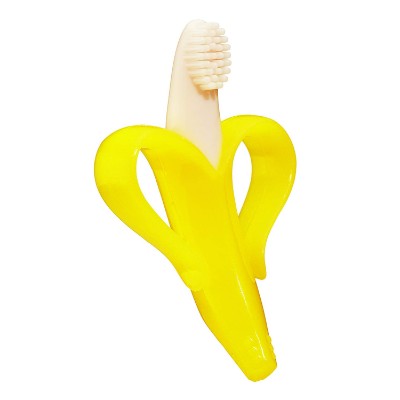 Soothes baby's sore gums
Comes with aesthetically pleasing design and a choice of colors
Soft and thick bristles
Helps promote good brushing habits and healthy oral hygiene
Easy for little hands to hold
Some reviews have stated the bristles may be easy to bite off
Grasping area is large, causes young children to drop more easily
The baby banana toothbrush will certainly be a-peel-ing to your little one. The brush is designed to look like a banana that is being peeled. The small size of the toothbrush makes it great for storing it in your diaper bag or carrying it on the go. When purchasing you can choose between several colors or even pick out a toothbrush that is shaped like a stalk of corn.
Read more
Age Range
The kid-friendly design of the peel doubles as a handle and makes it super easy for younger children to grasp. The soft bristles will clean your child's teeth while also massaging their aching gums.
Design
The unique design of the Baby Banana makes it a wonderful training toothbrush as well as a teething soother. Because of the inherent function of the Baby Banana, its safety profile is also superb. Composed of 100% food-grade silicone this brush is completely free of Phthalate, latex, and BPA. It is dishwasher safe so cleaning it is stress-free.
Effectiveness
Whether your little one is brushing with a peeled banana or a stalk of corn, they will have pearly whites that you will be proud to show off.
Protection
This toothbrush can also be used as a teether. In fact, you can pop it in the freezer before your child chews on it. The cold temperature will provide relief to your child's aching gums
6

. Baby Buddy Finger Toothbrush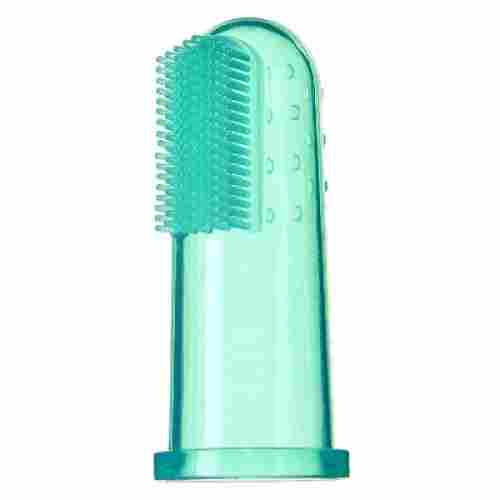 Stimulates healthy development of teeth
Duly approved by the FDA
Massage baby's sore gums
Made from a food based silicone
Finger hole may be a bit small for the average adult fingers
Do not use if the baby has teeth, used for gum stimulation only
If your child isn't quite ready for a toothbrush, the Baby Buddy finger brush is perfect for them. In fact, this finger brush will alleviate pain caused by teething while also stimulating the development of their first teeth.
Read more
Age Range
The Baby Buddy Finger Toothbrush is especially designed to both clean your child's small milk teeth and stimulate his or her gums especially when your infant is teething.
Design
This easy to use brush slides right onto your finger. Composed of silicone, this brush is FDA approved so you can be confident that what you're putting in your child's mouth is safe. The silicone material also makes this brush easy to clean as it can be put in the dishwasher. Its small size makes it highly portable so you can clean your little one's gums on the go if needed. For a little added fun, this brush is available in a variety of different colors.
Effectiveness
This product can also be a great tool in providing comfort to your baby's sore gums during the teething phase.
Protection
The materials are made of a silicone-based from food so you can also have peace of mind knowing your little won't be exposed to all the harsh chemicals that seem to be everywhere.
7

. Baby Buddy Baby's 1st Toothbrush Teether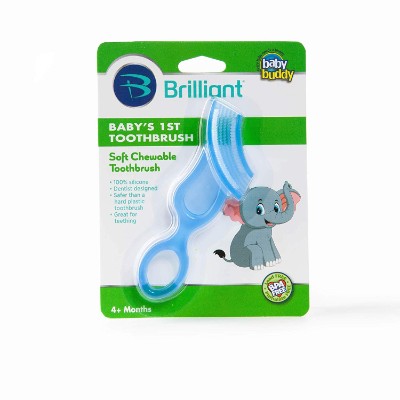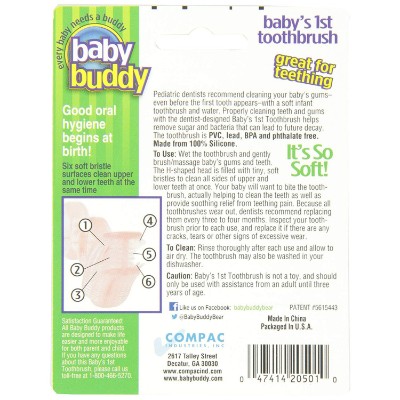 6-sided brush cleans and massages upper and lower teeth/gums simultaneously
100% FDA food-grade silicone
Dishwasher and freezer safe
BPA, lead, and phthalate free
Similar to teethers in style which may cause child to chew on the toothbrush
Nubs can wear/come off over time
Most dentists in 2018 recommend you brush your child's teeth for them until at least the age of 3 to ensure that they are getting properly cleaned. Combined with a more through adult-led brushing this toothbrush can give your child a sense of self-confidence and encourage them to take their first steps towards self-independence at tooth care time.
Read more
Age Range
This is highly beneficial for your little one's oral health but it can make instilling good teeth cleaning behaviors more challenging as you are not introducing self-led brushing
Design
This toothbrush can double as a teether for little ones who are struggling with molar pain. The silicon material is entirely food safe and chemical-free for the safety of your baby. It can even be thrown in the freezer for added pain relief.
Effectiveness
The Baby Buddy Baby's 1st Toothbrush Teether is an ideal alternative to provide additional, baby-led oral care as a supplement to normal tooth brushing. This teether-like toothbrush is made of baby-safe silicon that is extremely flexible and durable. Its unique H-shape wraps around your infant's teeth as they chew and swirl it around in their mouth, providing 6 sided brushing action.
Protection
The soft material is gentle enough to clean the gumline for baby's whose teeth have not yet sprouted and will not irritate their delicate skin.
8

. Dr. Brown's Infant-to-Toddler Toothbrush Set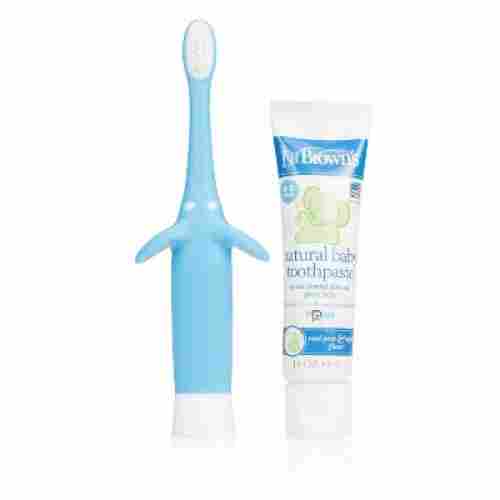 Comfortable handle with extended grip for little hands
Adorable elephant-shaped design to encourage proper tooth care
Comes with fluoride-free fruit-flavored toothpaste
Extra-soft bristles safe for infant teeth and gums
Bristles may come out if chewed on
Some reviewers report that the brush bristles were too rough for their child
You may recognize the name Dr. Brown from the popular infant bottle brand. Dr. Brown's products have been specifically designed to benefit your infant's oral care and Dr. Brown Infant-to-Toddler Toothbrush set is no exception. A toothbrush and toothpaste all in one, this set provides positive oral care for your little one straight out of the box!
Read more
Age Range
Comfort and fun are two key components to encouraging your child to brush their own teeth. Using a fluoride-free toothpaste allows your little one to practice brushing at a younger age as many children are not physically or emotionally capable of spitting at a young age.
Design
The flexible body and soft bristles are made of child-safe and toxin-free materials while being designed to prevent accidental injuries.
Effectiveness
The elephant's ears create a wide handle to assist your child with gripping and using the toothbrush on their own. Best of all, this set also includes a 1.4-ounce tube of Dr. Brown's All Natural toothpaste, a fluoride-free brushing option that gives your child the freedom to practice self-care without concern that they will ingest too much fluoride.
Protection
This toothbrush features a delightful elephant-shaped design sure to entertain your little one and help make tooth brushing time fun. The soft bristles are gentle enough to use on baby teeth and gums without concern of irritation.
9

. SmileFrida The ToothHugger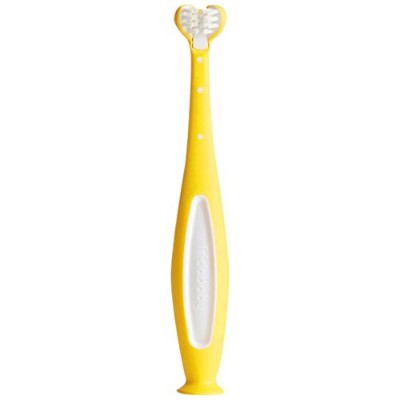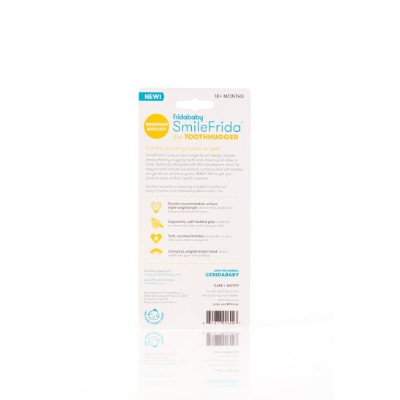 Triangular triple-angle brush design
Ergonomic grip perfect for little fingers
Soft and rounded bristles for gentle brushing
Suction-cup bottom attaches to any surface
Brush head can make cleaning front teeth difficult due to lack of flat surfaces
Bristles can come off if brush is chewed
Plaque is no match for the Smile Frida Toothhugger toothbrush. Just as the name states, this brush is designed to hug your child's teeth and attack plaque fast.
Read more
Age Range
The angled shape of this three-headed toothbrush allows it to clean the top, bottom, and front of your little one's teeth at the same time making brushing time extra-quick!
Design
The bottom of the toothbrush is a suction cup which makes storing it easy. Simply suction it to your child's bathroom sink or mirror so they will always know where to find it. To make the experience even more appealing to your child, you can choose between several different colors when purchasing. While it may not seem like a big deal to you, giving your child a toothbrush in their favorite color will actually encourage them to brush their teeth. e soft bristles provide a gentle brushing experience, thus making this a great introductory toothbrush.
Effectiveness
The triple angled brush head is equipped with bristles on all three sides. This unique design provides a highly effective brushing experience as the bristles will clean all sides of your child's teeth at once.
Protection
All of the bristles are super soft and will not cause pain during brushing. The triple angled brush head will protect your child from tooth decay, cavities, and other problems related to poor oral hygiene. The soft silicone handle gives your child a comfortable grip while cleaning their teeth.
10

. Nuby 4 Stage Oral Care Set System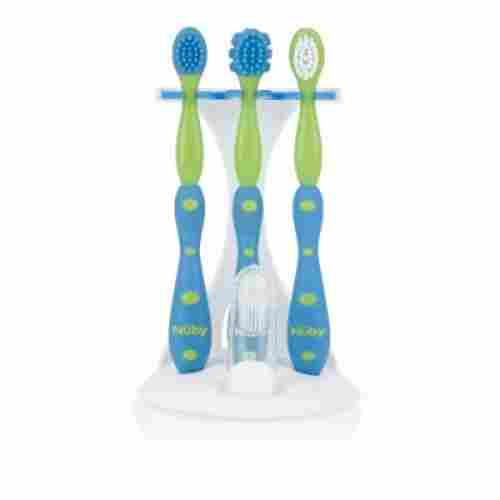 Stage 4 toothbrush featuring gentle nylon bristles
Constructed from BPA free materials
Specially designed for cleaning during and after the teething process
Encourages proper brushing and oral hygiene habits
Easy to grasp handle makes brushing rewarding
Bristles splay when crewed on, not long lasting
Color is not a choice when ordering
Brushing and caring for your child's teeth have several stages. This oral care set has been created for stage 4. Stage 4 is when brushing with a toothbrush starts. When it is time for your child to reach this stage it is time to teach them proper brushing habits and make sure that the routine is consistent every day.
Read more
Age Range
This little set is great for beginners ready to start brushing on their own. The design is perfect for their little grasp and easy for parents to help finish brushing with. Colors and design are perfect for growing toddlers.
Design
The attention to detail used in this product makes it easy for kids to use on their own making the new stage of the routine even better than the last.
Effectiveness
Early development of a good oral hygiene routine is important to promote with young children. The stages of the routine are very vital to the establishment and with brushes that are designed for each stage of the system, it makes it easy to feel confident about creating a great habit.
Protection
These brushes have been created to be the perfect size for protecting your baby's primary set of teeth. The bristles on the brushes have been designed especially for a child making them easy to use.
Criteria Used for Evaluation
Most Important Criteria
(According to our experts opinion)
Experts Opinion
Editors Opinion
Users Opinion
By Default

Parents, Did You Know?
There are several considerations that we had to observe in our choice of the best toddler toothbrush. Since these products will eventually be rubbed against the still-immature gums of babies, it was imperative for us to choose only those that are made of the softest possible bristles; but, not too soft that it cannot perform its expected function which is to remove any particles in our child's oral cavity. The bristles must not, in any way, injure or undermine the tissue integrity of the juvenile gums. Any break in the integrity of gum tissues can serve as an entry point for microorganisms leading to infection. That's why we had to carefully evaluate the products that have been seriously considered for shortlisting.
Parents, Did You Know?
Likewise, since these products eventually end up inside infants' mouths, these have to be made of super-safe materials that don't contain any of the harmful chemicals like BPA, lead, phthalate, and other substances. We may be removing debris and keeping their milk teeth clean; but, if we're also leeching chemicals into their mouths, then we are defeating the purpose of tooth brushing. As such, it's important that these toothbrushes are certified safe.
Other Factors to Consider
Frequently Asked Questions
q:

How do I clean it properly?

a:

Some of these products can easily be put in the dishwasher for sterilization. Run under or soaked in boiling water is another great way to ensure the microorganisms living on the surface of the baby toothbrush will be killed, also remember to dry them completely before giving them back to your child as bacteria tends to thrive in a moist environment.
q:

Can they be used with toothpaste?

a:

Yes, some of the bristle designs allow of easy toothpaste application. One specifically features bristles that provide visual feedback. There are some great training pastes on the market that contain a few key ingredients to support and promote a healthy mouth. More importantly, they taste great. You are sure to find a flavor that will appeal to any little one's taste buds. A serious benefit to using toothpaste can be exposed to the feeling of slime in their mouth, to assist them in real toothpaste exposure.
q:

What country are they made in?

a:

The materials used and manufactured for these products come from the U.S., Germany, and China. Each product has it's own label to offer you comfort and peace of mind in knowing exactly where your child's product has come from. There may also be some further information about the ingredients and material components that go into the making of these products.
q:

How often should toddler toothbrushes be replaced?

a:

In order to support a good healthy mouth, it is recommended that toothbrushes be replaced every three months. The good thing about these products is some have the capability of withstanding the dishwasher. This sterilization should help with a longer shelf life.
q:

What is an easy way to get babies and toddlers to let us brush their teeth?

a:

The easiest way to get babies and toddlers to start to brush their teeth is routine, routine, and more routine. When they have completed a meal, in the morning, and before bed, always brush their teeth. Even if they dislike the routine, they still present them with the idea and help them with it. Over time they will start to complete the routine and it will become a part of their daily habit. Also the earlier you start with brushing their teeth the easier it will be in the long run.
q:

At what age do you start to use toothpaste that contains fluoride?

a:

It is best not to use a fluoridated toothpaste until they reach the age of 3. If used earlier than that it is hard to make sure they are rinsing the toothpaste out and not swallowing it.

You should always supervise the brushing of your toddler's teeth and only provide them with a pea-size amount of toothpaste. Try to make sure that they are not swallowing any excess amount.