Best Baby Bibs and Burp Cloths for Infants Reviewed in 2019
last updated
Mar 17, 2019
Meal time with baby is often messy. Sometimes it's easy to acknowledge that they're trying, or they don't know any better. Other times it feels like they've specifically vowed to make breakfast, lunch, and dinner as difficult as humanly possible. Little ones are often still gaining control of and exploring their motor functions, resulting in food traveling to all sorts of places it shouldn't. And with the adorable new onesie that nana bought them, or that stylish little dress your co-worker recently gifted you, you want all hands on deck for protection and cleanliness.
Baby bibs and burp cloths are one such way to ensure that, wherever else their food might land, it won't be on their clothes. These bibs also help catch the inevitable waterfall of drool that makes its way onto the map during mealtime.
In a Hurry? The test winner after 22 hrs of research
Happy Healthy Parent Waterproof
Why is it better?
Easy to clean
Adjustable neckband
Lightweight
Portable
In a
Hurry? Editors choice:
Test Winner: Happy Healthy Parent Waterproof
17
Researched Sources
200
Reviews Considered
22
Hours Researching
13
Products Evaluated
Materials
Design
Adjustability
Ease of Use
Maintenance
By Default
In depth review top 10
Happy Healthy Parent Waterproof
Bandana 12-Pack by Daulia
Bumkins Waterproof Sleeved
KUDL Absorbent Feeding
Tommee Tippee Easi Roll Drip Catcher
Neat Solutions 10 Pack
Parker Baby Bandana Drool
BABYBJORN Soft 2 Pack
Liberty Imports Water Squirties
Green Sprouts Stay-dry
Table of contents
Criteria Used for Evaluation
Other Factors to Consider
Frequently Asked Questions
Sources
10 Best Bibs & Burp Cloths Reviewed
1

. Happy Healthy Parent Waterproof
Easy to clean
Adjustable neckband
Lightweight
Portable
Happy Healthy Parent's silicone bibs are perfect for meal times. You can choose between four color combinations and each purchase comes with two bibs. The color combinations are lime green, turquoise, pink, purple, red, blue, orange, or grey.
Read more
Materials
The silicone material is lightweight, thus providing comfortability for your child.
Design
Being 100% waterproof, these bibs will not absorb any liquids or food, so you won't have to worry about stains or odors. Rolling the bibs up also makes them super easy to transport around as they take up little room.
Ease of Use
No matter how much food is spilled into the pocket, these bibs can be rolled up to keep the mess in until it can be dumped.
Adjustability
These bibs can be worn by children who are 6 months to 6 years old.
Maintenance
It is also very easy to clean as it can easily be wiped with a washcloth. Fewer Loads of laundry for you to have to worry about.
2

. Bandana 12-Pack by Daulia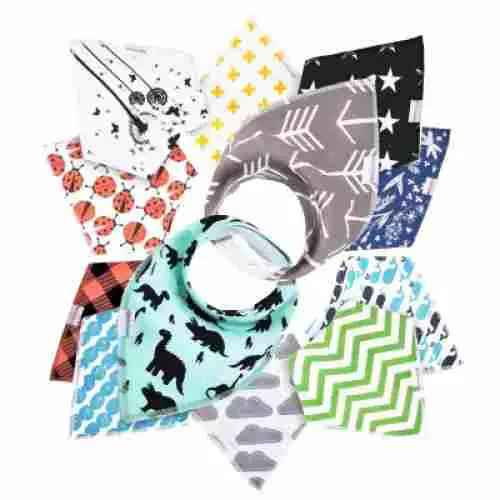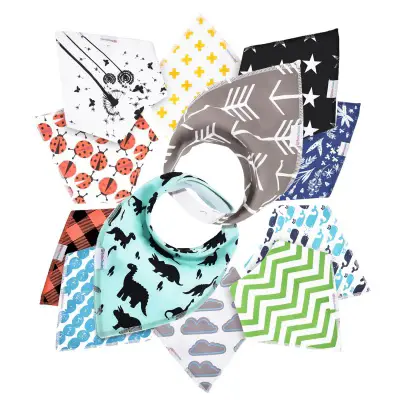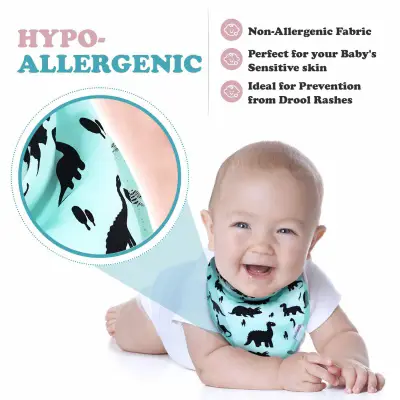 Twelve pack
Various colors included
Hyper-absorbent
Hypoallergenic 100 percent organic cotton
Nickel-free
Bandanas tend to ride up a little bit and will need to be pulled down
With high absorbency rates and hypoallergenic design, these bandanas are heavy-duty hitters in the world of messy meals. They're made of 100 percent organic cotton, with a patterned front and stylish cut. Carefully stitched, these will stay strong and vibrant even after tons of use.
Read more
Materials
Nickel-free and 100 percent organic cotton, these bandanas are absorbent, non-irritating, breathable, and easy to wash, so everyone in the family can enjoy their benefits
Design
Bandanas are certainly the most stylish option of the bunch. This cute set is effective too, though, with its high absorbency rate and machine washable, hypoallergenic fabric.
Ease of use
The snaps are adjustable and engineered not to irritate baby's sensitive skin in the back. .
Adjustability
With different size snap closures suitable for children between the ages of 0 and 24 months, these bandanas can see lots of use, even with shooting little sprouts and their growth spurts
Maintenance
This pack of 12 gives the family plenty of backups and overstock to utilize when the first few need to be thrown in the wash. Saddle up, partner! It's dinner time!
3

. Bumkins Waterproof Sleeved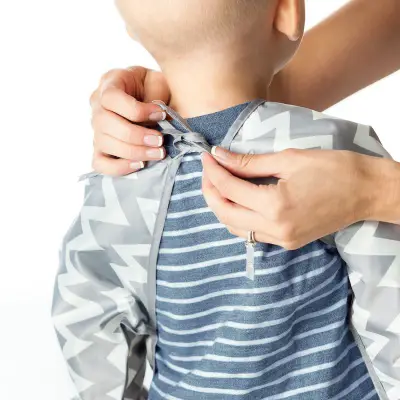 Easy to clean
Full Coverage
Elastic Cuffs
Comfortable fit
Thread in the middle of the catch-all pocket should be removed.
If you're worried that traditional bibs don't provide full coverage, give the Bumkins sleeved bib a try. Simply slide your child's arms in the armholes, tie the strings in the back and wah-la your child's shirt is fully protected. The sleeves also allow your child to self-feed without leaving a huge mess for you to clean up. They even are designed with a catch-all pocket. These bibs are geared towards children who are between the ages of 6 to 24 months.
Read more
Materials
The bibs are made from 100% polyester and have a waterproof coating.
Design
The sleeves are designed with elastic cuffs, so they can easily be rolled up if need be.
Ease of use
The sleeves on this bib are perfect for the children learning how to self feed. The elastic cuffs make the sleeves even better as they can be rolled up without a problem.
Adjustability
More sizes are offered during purchasing. You can even choose between 26 different designs.
Maintenance
YAY, easy cleanup! If you're not in the mood to wipe them with a cloth, just throw them into the washing machine.
4

. KUDL Absorbent Feeding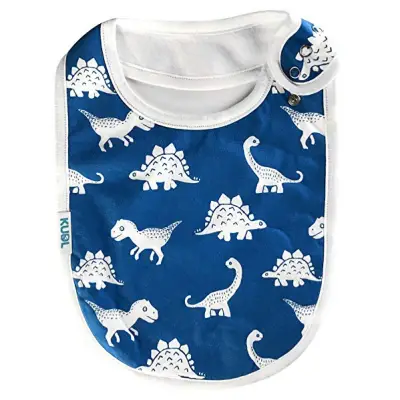 Absorbent
Nickel Snaps
Machine Wash safe
Extra Large
The Premium Bib set comes with four 100% cotton feeding bibs. These bibs are 8.5" X 14" so your baby will be completely covered in the front. Each bib varies in color and designs so finding one for your little boy or girl will be easy. The length of these bibs are great for containing messes. We love that you receive four super soft and absorbent bibs with your purchase.
Read more
Materials
The back of the bib is 100% polyester fleece which provides an extra level of absorbency.
Design
The extra protection makes these bibs great for babies while they are self-feeding. They're geared towards babies between 3 to 36 months. You can choose between seven different sets of four bibs
Ease of use
Each bib includes three nickel free snaps. The snaps make it hard for babies and toddler to pull off the bib during feeding.
Adjustability
They also will cause zero irritation to your child's sensitive skin.
Maintenance
These bibs are machine wash safe and are durable enough to survive countless washes.
5

. Tommee Tippee Easi Roll Drip Catcher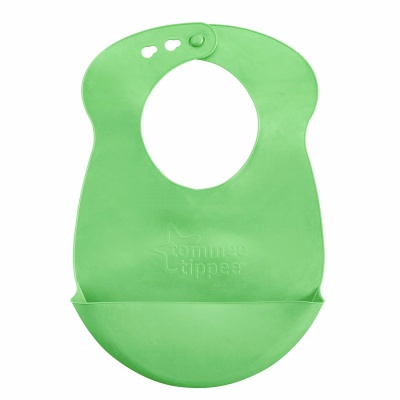 Two pack so you can swap out
Easy to roll and compact for travel
Catches all kinds of food
Engineered to be more comfortable for baby
Easy to clean and dries quickly
Bib might be a little too narrow for some babies, leading to stray mess
This award-winning bib is a BPA-free, phalate-free, crumb-catching master. The scooped end collects all kinds of mess, from drool, to slop, to crumbles. A dimpled reverse backing promotes airflow and breathability, so baby's sensitive skin won't get irritated. The bib rolls up nice and neat for storage and travel, making it a mobile-friendly, compact option for families on the go.
Read more
Materials
These bibs are chemical- and toxin-free, easy to use, and comfortable for baby. The breathability factor will help baby stay content, or at least eradicate any irritation caused by the bib.
Design
This bib set is a great option for a family that wants fuss-free feeding. They're easy to clean, easy to store, and easy to travel with.
Ease of use
They're also more comfortable for baby to wear, leading to less squirming and more eating!
Adjustability
And this Tommee Tippee product comes in a two-pack, with one blue and one green bib so you can swap them out when one needs a good wash, or put one in the diaper bag so you're also equipped when you're out and about.
Maintenance
These bibs are most suitable for babies 7 months and above, and truly make mealtime far more convenient for everyone involved.
6

. Neat Solutions 10 Pack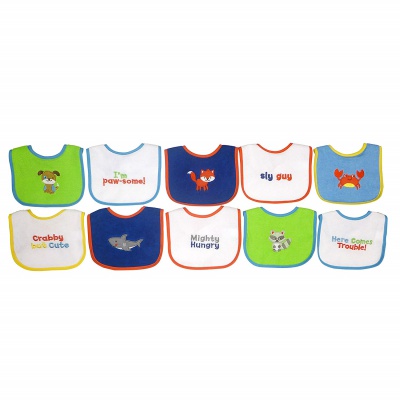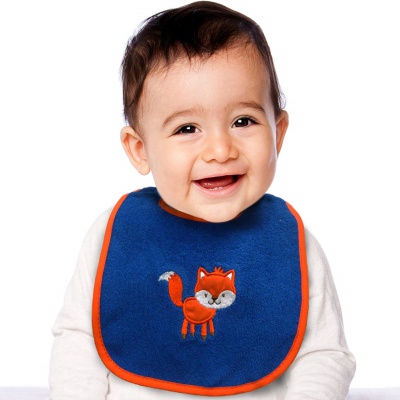 Affordable
Lightweight
Includes 10 bibs
Waterproof backing
Bibs could be made larger
If you're looking for an affordable set of bibs, then the Neat Solutions Bib set is perfect for you. This set is priced under $10 and includes 10 bibs, it doesn't get much better than that. Each bib is made up of a cotton poly blend on the front and is 100% peva on the back.
Read more
Materials
The waterproof backing will keep your little one dry. Whether you choose the set for boys or for girls, each set includes bibs in a variety of designs and colors.
Design
10 bibs will make your life easier, as you can spend less time stressing about a mountain of laundry
Ease of use
The bibs are lightweight which will allow your baby to wear them comfortably.
Adjustability
Your really can't beat the price or quantity of bibs in this set. It is affordable and will have you more prepared for meal times!
Maintenance
. Each bib includes a velcro tab that will allow you to put the bib on your baby easily. Cleaning them is easy as they are washer safe.
7

. Parker Baby Bandana Drool
Nickel Free Snaps
Stylish
Super Soft and Absorbent
Comes with four bibs
Not recommended to be put in the dryer.
Your baby's outfit just got a lot more stylish with the Parker baby bandana. These trendy bandanas double as bibs! The front of the bibs are made with 100% organic cotton and the inside of the bibs are made 100% polyester flannel.
Read more
Materials
Not only are they super soft, but they are also super absorbent. Thanks to these bibs, you can officially say goodbye to drool rings on your baby's shirt
Design
These bibs are obviously adorable, but they are also extremely practical. The material is super soft and absorbent and the snaps provide easy application.
Ease of use
The bandanas are equipped with two nickel free snaps in the back. These snaps make take on and take off hassle-free. They also allow you to adjust the bib as your baby grows.
Adjustability
There are four bibs included in the set and you have two sets to choose from. The shadow set which includes white and grey bibs are geared towards boys. The blush set is perfect for your little fashionista.
Maintenance
These bibs are recommended for babies who are three to 24 months. Your friends and family will think your baby is sporting a stylish scarf, don't worry we'll keep your secret!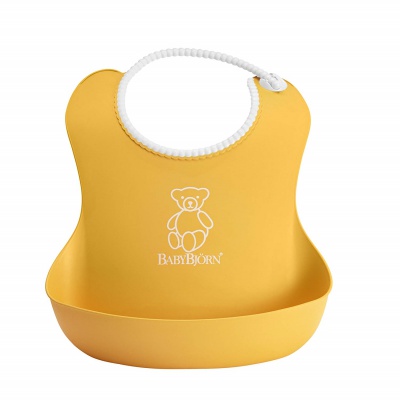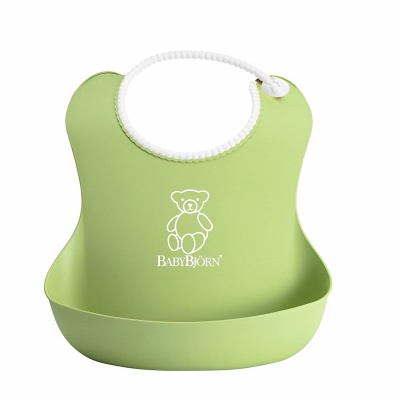 Comes in a two pack
Easy to Clean
Adjustable Neck Band
Deep spill pocket
Beads could attach more securely so baby can't yank it off
Dinner with your little one just got a little less messy thanks to the Baby Bjorn Soft Bib. When purchasing you can choose between 11 different colors. With this purchase you receive two bibs, so you can be prepared for every meal time. The bib is just long enough that it will not get caught on the table.
Read more
Materials
The bibs are made from plastic that is not only odorless but BPA free.
Design
Each bib is designed with a deep spill pocket, so you won't have to worry about food landing on the floor or your child's clothes.
Ease of Use
This set is recommended for babies 6 months and up. You no longer have to spend an hour after dinner cleaning up, now you can spend your time relaxing.
Adjustability
The bibs are equipped with an adjustable neckband, which will allow you to use this bib as your child grows. The adjustable neck also provides a comfortable fit for your child.
Maintenance
Since these bibs are made out of a plastic material, it makes it easier to clean. You can either rinse them off in the sink or throw them in the dishwasher.
9

. Liberty Imports Water Squirties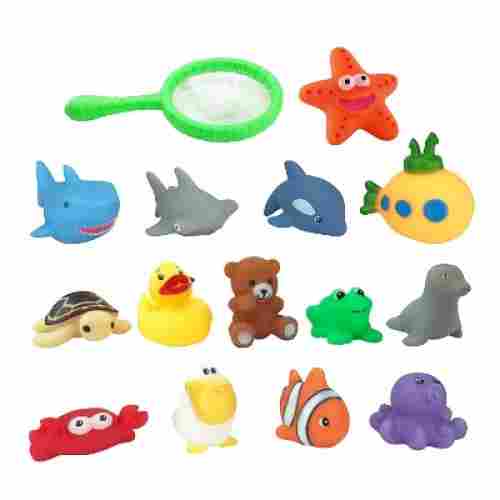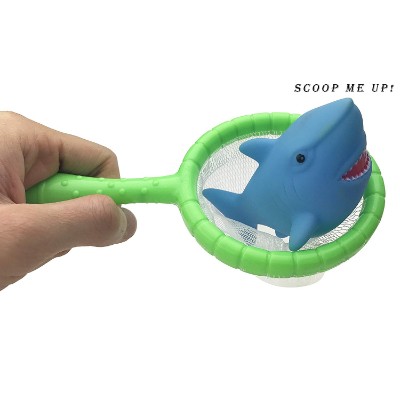 Set of squirting animals for water playtime fun
Included with the set are 15 different animals
Featured along with the set is a scooper, perfect for play and clean up time
Soft rubber characters that float and squirt
Improves coordination development skills
Holes in some of the animals are too small making it hard to squeeze
Net is not durable, handle breaks easily
Make bath time a splashing good time with this set of 15 animal squirters. The set includes 15 different squirters and a net to scoop them up with. This makes bath time clean up easy with all these floating around in the water. When it comes to fun these toys have a way of making the kids smile. Simply place down in the water, give them a squeeze, pull out of the water, and squeeze again. Watch their little faces light up as the water comes streaming out of each of the toys. They had a fun playtime element to what otherwise could be a stressful time for your little one. The toys are colorful, bright, soft, and fun. Included in the set is; a starfish, a shark, hammerhead shark, dolphin, duck, turtle, seal, crab, frog, clownfish, octopus, seagull, a teddy bear, and a submarine. All these fun squirters are ready for some bath time fun.
Read more
Materials
These are made of non toxic materials so that your little one can chew and enjoy them in their bath time fun.
Adjustability
Great set of water toys that really gives a fun touch to water play time. They are simple enough to allow the kids to have some imaginative fun, but action packed enough to engage them for hours of play.
Design
Playing is also a great way to provide a time in the water to practice some of their developmental skills. These squirters are a wonderful way to improve their coordination.
Ease of Use
Playing in the bathtub is an excellent way to relieve stress from sometimes a time of the day that your little ones don't like.
Maintenance
These bath toys are easy to clean. All you need is a little bit of warm water and you won't have to worry about any mildew or mold.
10

. Green Sprouts Stay-dry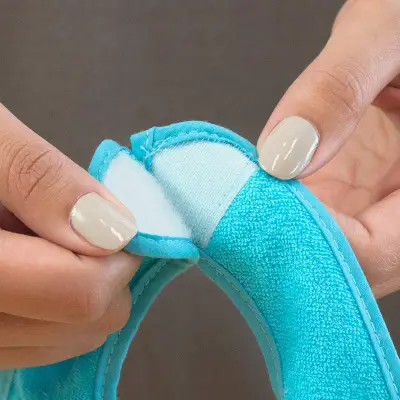 Super Soft
Includes 10 bibs
3 layers of protection
Easy to put on and take off
If you're looking for super soft bibs, the Green Sprouts infant bibs are great for your baby. The bibs in each set come in a variety of colors to match everyday outfits so your baby can eat in style.
Read more
Materials
Made of Cotton Terry cloth, these bibs are super soft.
Adjustability
You will easily be able to attach this bib around your child's neck with the velcro closure.
Design
These bibs are designed with extra protection to keep your baby dry during meal times.They are designed with a three layer protection system. The two outer layers are the soft absorbent terry cloth, and in the middle sits the waterproof layer.
Ease of use
Parents can easily wipe food from your baby's mouth without it bothering their sensitive skin.
Maintenance
With 10 bibs included in the purchase, you can spend less time doing laundry.
Criteria Used for Evaluation
Materials
Your job is to make your parenting journey a little easier and we do not take it lightly, especially since your child will be using these products. While diligently researching, we decided it would be important that the bibs on this list were easy to clean, fit great, and stylish. Many of the bibs on our list are made of chemical free and itch free materials making each use comfortable.
Design
At the end of the day, your kid is simply a kid, thus we wanted each bib to let their playfulness shine. The feeding bibs with bright colors and designs will stimulate their sensory development while also making mealtime more fun. If at first, your child fusses about putting on a bib, try one with a fun animal face or character they like. Choose a design that will get them excited to wear it.
Ease of Use
There are several feeding bibs on this list that your child might just be begging to wear all day. The bandana drool bibs are super adorable and trendy. The other moms on the playground will be itching to know where you got them. The best thing about the bandana bibs is that they are trendy and practical. They are a fun accessory for any outfit but will also soak up all of your child's drool.
Adjustability
Seeing as how your child will be wearing these bibs a lot, we wanted to make sure they would provide a comfortable fit. The cotton muslin or polyester fleece bibs will be the softest against your baby's sensitive skin
Maintenance
The cleanliness factor of each bib was a no-brainer. We wanted you to be able to spend less time cleaning the bibs you purchased and more time bonding with your baby. Every bib on this list can easily be cleaned. The plastic and silicone ones are great for a quick wipe down or rinse in the sink. The fabric ones can easily be washed in your washing machine.
Most Important Criteria
(According to our experts opinion)
Experts Opinion
Editors Opinion
Users Opinion
By Default

Parents should know
They also make it harder for your baby to yank of the bib. Velcro is another good option as it can be adjusted but is often not as secure as ties or snap buttons. When purchasing a sleeved bib, make sure the cuffs are elastic so your child can easily roll their sleeves up.
Parents should know
It is important that the bib is not loose because food or drool will fall underneath it and land on your child's clothes.
Other Factors to Consider
Protection
Not only are all of the bibs on this list easy to clean, but they are guaranteed to keep your child clean. Many of the feeding bibs include a catch-all pocket that will leave your child's pants and your floor spotless. No more worrying about bits of spaghetti staining your carpet. The drool bibs are highly absorbent and will soak up even the heaviest of amounts of drool and spit up.
Age Range
We paid close attention to the secure closures of each bib. The adjustable ties and snaps are the best options as they will not irritate your child's skin and will allow you to adjust the bib as your child grows.
Frequently Asked Questions
q:
What is the difference between feeding and drool bibs?
a:
Feeding bibs are designed to guard your child's clothes against food and liquids during meals. Generally, they are only worn during meal time. Many include a catch-all pocket to grab any food that is dropped. Drool bibs are designed to absorb moisture but are often trendy enough to be worn throughout the day. They are also much smaller than feeding bibs.
q:
How many bibs should I own?
a:
This can be left up to personal preference. If you end up purchasing a silicone or plastic bib that can easily be wiped off with a cloth, you will not need as many because you won't have to wait on them to be washed and dried. Being prepared is always great; we recommend having several on hand. Purchasing a set is always a good idea!
q:
At what age will my child need a bib?
a:
We recommend using bibs from the beginning. Many newborns spit up and a bib will make clean up easier as you will not have to constantly change their clothes
q:
Do I need a bib in my diaper bag?
a:
Yes! We know that you already have plenty of stuff loaded in your diaper bag. Purchase a bib that can easily be folded up and stored.
q:
Can I throw my bib in the dryer?
a:
Depends on what type of bib you have. Always read the care instructions found on the tag or packaging as some bibs require that they are air dried.
q:
My child always gets fussy when I put his bib on. What should I do?
a:
Your child is probably uncomfortable in it. Check to make sure that the bib is not too tight. You want it snug but your baby should still be able to move. Make sure that the closure on the neckline is not irritating them. For instance, the Velcro could be scratching their skin. Furthermore, make sure the material of the bib is soft enough for your baby's sensitive skin.
q:
I don't want to throw a dirty bib in my diaper bag. Is there another option?
a:
There are bibs that fold into themselves, which will contain the mess on the bib until you are able to clean it. There are also disposable bibs you can throw it away right after use. However, if you are on a tight budget using disposable bibs constantly can get expensive, much like diapers.