Although the general consensus is that sterilizing your baby's bottles and other items is not necessary, many parents still choose to sterilize as extra protection for their baby. During the first year of an infant's life, their immune system is developing and strengthening.
Babies are more vulnerable to disease and other health issues, so reducing exposure to germs and bacteria can be an effective way to protect them from sickness during this tender period. Sterilizers use steam to powerfully disinfect and sanitize baby bottles and nipples, pacifiers, breast pump parts, and small toys. Both microwave and electric sterilizers are effective in eliminating 99.9% of household bacteria and germs with high-temperature steam. They are safe to use with plastic items as long as they are free of BPA.
Parents may want a sterilizer as part of a regular hygienic regimen, for resetting bottles after a baby's sickness, and for brand new pacifiers and bottles. Whatever the case may be, our researchers scoured the sterilizer market to select what we found to be the best options for sterilizing your baby products. We included microwave sterilizers and sterilizer bags, as well as electric steam sterilizers… so there should be something here for every family's needs. Check out our list of the best baby bottle sterilizers and sanitizers on the market today.
Best Baby Bottle Sterilizers & Sanitizers Reviewed in 2018
Philips AVENT Microwave Steam Sterilizer
Dr. Brown's Microwave Steam Sterilizer Bags
Munchkin Latch Microwave Baby Bottle Sterilizer Bags, 180 Uses
The First Years Power of Steam Electric Steam Sterilizer
Medela Quick Clean Micro Steam Bags
Munchkin Steam Guard Microwave Sterilizer
Philips AVENT 3-in-1 Electric Steam Sterilizer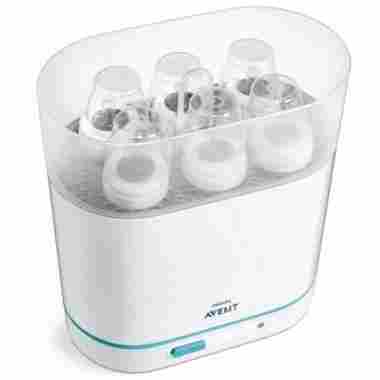 Dr. Brown's Microwave Steam Sterilizer
Tommee Tippee Closer to Nature Electric Steam Sterilizer
Bottle Warmer & Steam Sterilizer, 3-in-1 By Elfin Baby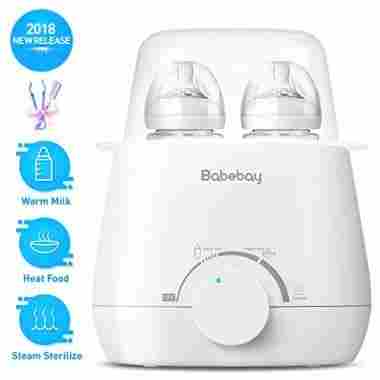 Criteria Used in Evaluation of the Best Baby Bottle Sterilizers and Sanitizers
Safety
Baby bottle sterilizers sterilize items by utilizing super high temperatures to produce steam. That being said, there is a risk for burning and other heat-related injuries when handling such hot devices and inner contents. Whether a sterilizer is designed for microwave use or is electric, there are features that can increase the level of safety for use.
For example, many microwave sterilizers will include handles that don't get as hot as the other materials. Many sterilizers will also include heat-resistant tongs so you can remove freshly sterile items safely. Safety is, of course, important with sterilizers to prevent burning yourself or a loved one.
Efficiency
When it comes to sterilizers, most will take under 15 minutes to complete sterilization. Microwave sterilizers tend to take less time than electric sterilizers, which is an important thing to consider when weighing in on what type of sterilizer works best for your lifestyle. Both types, however, do the job of sterilizing without the need for your time or attention.
Easy to Operate
Baby bottle sterilizers are generally pretty simple to use. Some pointers to keep in mind when looking for a microwave sterilizer is the ability to take it out of the microwave easily despite the high heat. Electric sterilizers often are powered simply by plugging it in, with a button to power on and off, or a simple knob.
Most microwave sterilizers are simple in design as a plastic container with a lid and perhaps a rack or tray in the interior. Other sterilizers are more complex with parts that you can add or remove to adjust the size and capacity for different sterilizing jobs.
Compact
If you are going to purchase a microwave sterilizer, the size is important to make sure it will fit in the microwave you are going to use. Microwave sterilizer bags are going to be the most compact option. The package is small enough to carry easily in a purse or diaper bag, and each bag will fit in most microwaves.
Microwave sterilizers come in different sizes, so some will be able to fit in smaller microwaves and others will only be able to fit in larger, standard sized microwave ovens. When considering an electric steam sterilizer, some models will be bulkier and others will be more compact. If counter space isn't a limited resource in your home, then a large, bulky sterilizer won't be a concern.
Durability
Although sterilizers are not a necessity for parenting, it is nice to be able to sterilize anything from baby items to toddler sippy cups and toys over the years. In that case, durability is important so that the sterilizer may withstand years of use while maintaining quality. Sterilizers made with BPA-free plastic are crucial in that they are strong without containing harmful chemicals that could leach under conditions of high temperatures.
FAQ
Frequently Asked Questions
Q: Does the sterilizer dry the contents?
A: No. Steam sterilizers will sanitize the items inside and then once opened, condensation will leave the items wet.
Q: Do sterilizers clean dirty bottles?
A: No. Sterilizers don't clean baby bottles and other baby items, they only sterilize them. It is important to hand wash bottles prior to sterilizing them.
Q: What's better, an electric or microwave sterilizer?
A: Ultimately this is a point of preference for parents. Microwave sterilizers are more portable, but electric sterilizers don't require a microwave. Both will sanitize contents with an efficiency of killing 99.9% of bacteria.
Q: Are sterilizers safe to use?
A: If you practice the right precautions, sterilizers are safe to use. It is important to make sure to avoid touching any of the hot items as well as avoid contact with steam as it exits the sterilizer.
Q: Is it necessary to use a sterilizer for my baby's bottles and other items?
A: The general consensus is that sterilizers are not a necessity. However, many doctors and other professionals recommend using them as a precaution against freak circumstances of exposure to harmful disease-causing bacteria and germs.
Q: Can I sterilize baby and toddler toys in the sterilizer?
A: If the toys fit in the sterilizer and are made with heat-resistant materials, it is safe to sterilize them. It is important to check whether the toys can handle it.
Q: Is it safe to put baby bottle nipples and other soft items like pacifiers in the sterilizer?
A: As long as the bottle nipples and pacifiers are free of harmful chemicals such as BPA and other phthalates, they should be safe to use in the hot sterilizer.