10 Best Baby Bottle Sterilizers & Sanitizers Reviewed in 2019
last updated
Jul 12, 2019
The world is swimming with germs—which doesn't need to be a huge concern too much of the time, but when you've got an infant to protect, suddenly hygiene regimens become a bit more heavy-duty. Babies are highly susceptible to illness their first few months. Even toddlers and young children often find themselves sick. But babies especially are still developing, and caring for sick infants is far trickier than children who can communicate with us.
You can't avoid every germ out there, but you certainly can help protect against some. Sterilizing your baby's bottle is a great start to developing a simple, clean routine. Steam and microwave cleaners kill 99.9 percent of bacteria in baby bottles.
The following sterilizers are a mix of both microwavable options and electric steam-powered machines. Always follow instructions carefully and precisely, and remember to sterilize regularly.
In a Hurry? The test winner after 25 hrs of research
Philips AVENT Microwave Steam
Why is it better?
Takes 2 minutes in the microwave to completely sterilize
Fits baby bottles, pacifiers, breast pump parts, and more
Made of BPA-free plastic
Fits in most microwaves
Contents stay sterile for up to 24 hours with the lid closed
In a
Hurry? Editors choice:
Test Winner: Philips AVENT Microwave Steam
18
Researched Sources
25
Hours Researching
16
Products Evaluated
Design
Ease of Use
Value
By Default
10 Best Baby Bottle Sterilizers & Sanitizers Reviewed
1

. Philips AVENT Microwave Steam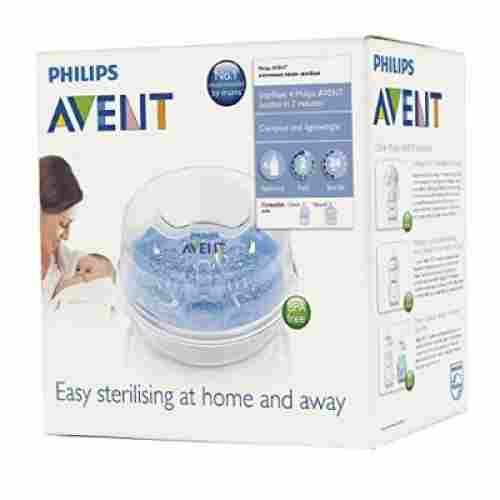 Takes 2 minutes in the microwave to completely sterilize
Fits baby bottles, pacifiers, breast pump parts, and more
Made of BPA-free plastic
Fits in most microwaves
Contents stay sterile for up to 24 hours with the lid closed
Although compatible with all Philips AVENT baby bottles, it is not guaranteed bottles of other brands will fit
Bottles will be wet when removed from the sterilizer
This baby bottle sterilizer is a compact plastic container with a secure lid enclosure that can be placed in the microwave to heat up and steam sterilizes its contents. The sterilizer holds up to four baby bottles, compatible with both standard and wider mouth bottle models. It can additionally hold breast pump parts, feeding accessories, pacifiers, and other small microwave-safe baby items.
Read more
Design
It easily fits in most microwaves, and then only takes 2 minutes on high heat to eliminate 99.9% of bacteria! The sterilizer has specialized grips that stay cooler than the rest of the sterilizer, so you can safely remove it from the microwave. The BPA-free plastic won't leach harmful chemicals when heated. When left in the sterilizer with the lid shut, contents will remain sterile for up to 24 hours.
Ease of Use
Especially during a baby's first year of life, their immune system is still developing and very fragile. Using this sterilizer that kills 99.9% of bacteria is ideal in reducing your baby's exposure to germs, and therefore reducing some risk for illness. A dishwasher doesn't get hot enough to eliminate germs to that extent. It can bring you more peace of mind as a new parent knowing your baby isn't going to be drinking down built-up bacteria from their bottle along with their formula.
Value
We love that the sterilizer has grips that won't get as hot as the rest of the sterilizer, so you can easily handle removing it from the microwave right when it's done without burning your fingers.
2

. Dr. Brown's Microwave Steam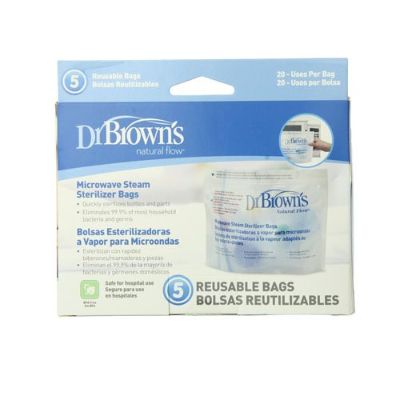 Comes with 5 reusable bags with 20 uses each
Bags can fit baby bottles and other small parts
Eliminates 99.9% of bacteria
Easy and quick to use in microwave
Great for travel
Some reports of difficulty with closing the top of the bag if packed with many items
These reusable microwave steam sterilizer bags can be used to sterilize baby bottles and other small baby items. They come in a pack of 5 sterilizer bags and each bag can be used 20 separate times, so the set provides a total of 100 sterilizations. When microwaved, each bag sterilizes contents by eliminating 99.9% of household bacteria and germs.
Read more
Design
The sterilizer bags are safe to use as they are BPA-free, and they are spacious enough to hold a couple of bottles or breast pump parts. There is a clearly labeled spout where the steam exits the sterilizer bags, which helps to ensure safer handling of the hot bag once microwaved. Each bag has a usage square to keep track of how many times it's been used.
Ease of Use
Using these steam sterilizer bags is an excellent way to be able to sterilize your baby's items while traveling. They're compact to pack, and can easily fit in your diaper bag. Unlike many more bulky sterilization plastic devices, these sterilizer bags will be able to fit in smaller microwaves typically found in hotels and other establishments.
Value
When it comes to sterilizing items for your baby you come to realize it is a job that is never complete. That is what makes these bags so great. Each one of these bags can be reused up to 20 times. That makes it easy to keep up with the mass amount of items that need to be sterilized each day and you don't have to feel like you are just using the bags and throwing them away after one time. They are totally reusable. That means that this five pack of bags is good for up to 100 uses.
3

. Munchkin Latch Microwave
Pack of 6 reusable bags provides 180 uses to sterilize
Easily keep track of uses by marking in designated counting boxes
Great for travel
Spacious bags can fit wide mouth bottles and breast pump parts with ease
Eliminates 99.9% of common bacteria
The bag's contents will need to be dried from condensation after sterilization
The zipper can pop off if the bag is packed bulky, but can easily be replaced
These microwave sterilizer bags are compact and convenient for sterilizing a variety of baby items. They come in a pack of 6 bags, each with 30 uses. The bags have a space to keep track of how many times they have been used so you know when to move on to a new bag. The bags are large enough to hold two wide mouth baby bottles or even large breast pump parts.
Read more
Design
The sterilizer bags have a sliding zipper mechanism to open and close. They are designed to kill 99.9% of common strains of bacteria as quickly as 90 seconds in the microwave! Bags can safely be removed from the microwave as the corners are made with a "Cool Touch" material that won't get as hot as the rest of the bag. Steam is released from the bag through a small hole that is clearly labeled to avoid burning. The sterilizer bags are BPA free.
Ease of Use
These sterilizer bags are convenient for traveling, but also wonderful to use on a regular basis. Even though they are bags, they have a large capacity so you can sterilize your baby items efficiently without the need to do multiple rounds. Efficiency is important as a parent of an infant, as you're already so busy tending to your baby's needs. Tasks like cleaning or sanitizing baby gear shouldn't require much energy or time, so these bags are perfect in that regard.
Value
Being able to eliminate bacteria from nipples, bottles, teethers, and all small toys when you are on the go can seem like a challenge, but this bag makes it all possible. All it takes is some water and a microwave, which most places have on hand. That means that you will be saving on the cost of having more items that you need and on the cost of having to replace items have used them one time. Plus each one of the bags can be used up to 30 times each.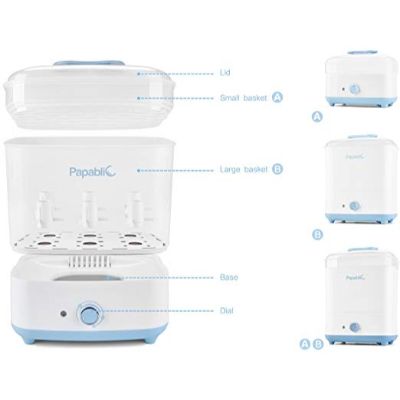 Safe auto shut-off
Easy to use
Sterilizes dries and deodorizes
Easy to clean and carry (handle included)
Stores up to 11 bottles at once, as well as other accessories
Some popular 8-ounce bottle designs are too tall for the unit (Dr. Brown's among them)
Sterilization may take up to 30 minutes
"One knob, one load, all clean!" That's the Pabablic promise. This Electric Steam Sterilizer is a triple threat, all under one button. With a quick twist of the dial, you can sterilize your bottles with steam, dry them with hot air, and deodorize them so they'll look and smell immaculate.
Read more
Design
With a larger capacity, this Papablic unit sterilizes up to 11 bottles given its three stacking options and can fit teethers, pacifiers, and other plastic toys and accessories. You can keep the bottles sterile in their storage chamber for 12 hours or more to avoid any bacteria you might risk with a towel or air drying. Easy to use, easy to carry, and easy to take apart for the infrequent cleaning, this sterilizer is intuitive, safe, and effective.
Ease of Use
This sterilizer cleans, dries, and deodorizes baby bottles. Capable of cleaning and then holding up to 11 bottles at a time, it's compact but roomy enough to get most of your sanitizing done in just one load.
Value
This unit is thorough, effective, and incredibly intuitive. No futzing around with multiple settings and an instruction manual; just load this little buddy up, turn the knob, and go about your business.
5

. Medela Quick Clean Micro-Steam Bags Economy Pack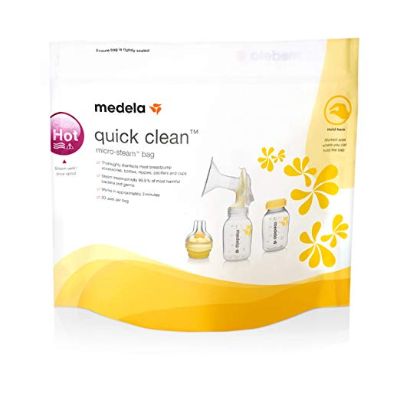 Easy, simple sterilizing and cleaning breast pump accessories, nipples, bottles, and more
Steaming cleaning is able to eliminate 99.9 % of common germs and bacteria
Simple design only requires only water and a microwave
Bags can each be used up to 20 times
Included in the box is 4 boxes of 5 bags (20 total bags)
Items come out super wet after the process
Bag does not hold a lot of items at one time
When you have a baby one of the first things that you are taught is all about how to sterilize items for the baby. The ages of having to boil water and place everything in the water for a certain time period has passed, especially when items like this have been designed and are on the market. These are perfect for cleaning, sterilizing, and steaming all those items for your baby. All that it requires is; the bag, water, and a microwave.
Read more
Design
The bags have been designed to disinfect all the accessories that come with the breast pump, the nipples, the bottles, those pacifiers, small cups, and even small teething toys. With the steam that is created when you use these bags in the microwave, it will eliminate 99.9 % of the most common germs and bacteria that could be present. All that it requires is the bags that come in the package, some tap water or bottled water, and a common microwave.
Ease of Use
Using these bags could not be easier. All that it takes is throwing the items into the bag, put some water into the bag, close up the bag, and place right in the microwave for a certain amount of time that it states on the package. Then take it out and let it cool. It is that easy and the items will be steamed clean and ready for the next round.
Value
Each one of the bags can be used up to 20 times. That means with this pack of 20 bags will be able to sterilize and clean items up to 400 times. Reusing the bags is one of the best designs that have come to this market, especially bags that can be used this many times.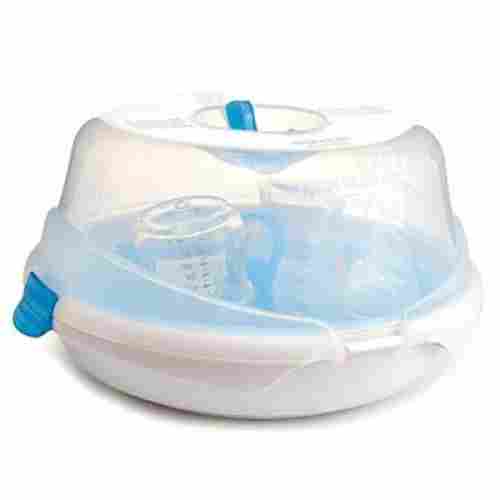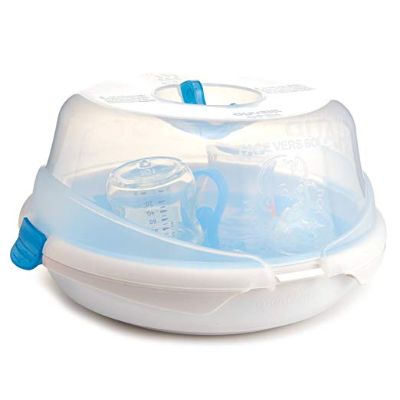 Fits in all standard microwaves
Comes with a removable basket for arranging items
Prevent burns with heat-resistant tongs and "open-away" latch
Can hold wide mouth or standard baby bottles
Kills 99.9% of bacteria on baby items
Made with plastic number 3 which contains phthalates
This lightweight microwave sterilizer has numerous features that provide you with a safe and efficient way to sterilize baby bottles and other objects. It is compact yet spacious, with the capacity to hold up to 4 standard baby bottles and 2 breast pump shields at the same time. The sterilizer will eliminate 99.9% of common bacteria from its contents when used properly.
Read more
Design
It is very safe to use, as it includes handles that won't reach the same high temperature as the rest of the device. The latch to open the lid is located at the back of the sterilizer so that the rush of steam will blow away from you. The lid locks, which is both safe for handling and ensures to effectively sterilize inner contents. The sterilizer comes with heat-resistant tongs to assist you in removing hot, freshly sterilized items.
Ease of Use
This sterilizer's lid opens with a latch at the rear of the appliance, releasing hot steam away from you. This feature protects you from the risk of burning your skin while handling the sterilizer, as it releases a powerful flow of high-temperature steam upon opening. Safety is always an important thing to prioritize when making a purchase, and thankfully this sterilizer qualifies as safe with its intelligent features.
Value
This microwave sterilizer only takes 4 minutes or less depending on your microwave power. This means you'll be able to save time, which is always ideal as a busy new parent!
7

. Philips AVENT 3-in-1 Electric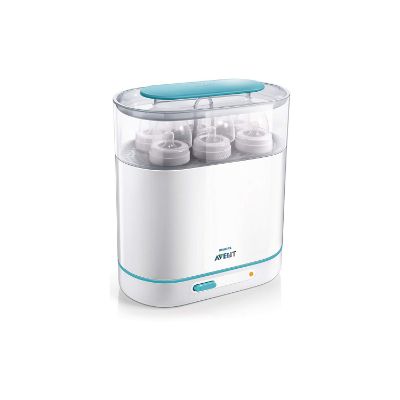 Sterilizes contents in 6 minutes
Model size can be adjusted to accommodate a variety of items
Kills 99.9% of germs
Contents remain sterile for 24 hours with a closed lid
BPA-free material
Sterilizer won't work for 10 minutes after a prior sterilization until it cools down
Set up the sterilizer with your preferred size, load up your items, lock the lid, and plug it in… and your items will be sterile in just 6 minutes! This electric steam sterilizer kills harmful bacteria, protecting your baby with a developing immune system.
Read more
Design
The 3-in-1 design allows you to add or remove parts to adjust the model's height and overall capacity. With the lid unopened, items will remain sterile for 24 hours. This sterilizer works with standard electrical outlets and will turn itself off once the sterilization cycle is complete. It comes with safety tongs and clear instructions for how to adjust the size of the machine.
Ease of Use
This electric steam sterilizer includes three different sized models in its design: small, medium, and large. By easily adding or removing parts, you can choose the perfect height size and capacity for the specific items you need to sterilize. This is a great asset to this sterilizer in that there are many different items you may want to sterilize, or you may want to do one large load rather than multiple separate smaller loads.
Value
Making sure everything is clean and safe for your little one is the most important goal of a sterilizer, so make sure that even after the process is complete that the items are still staying clean. With the product, the items can stay inside the container for up to 24 hours with the lid unopened and they will stay sterile. That means less time resterilizing items and more time spending with your little one.
8

. Tommee Tippee Closer to Nature
Easy to use with only one button
Completely BPA free design
Takes 5 minutes to completely sterilize
Compact appliance won't take up much space
Includes an organizational rack
The rack's central stem can move around when the temperature rises
Items will be wet with condensation once sterilized
This electric steam sterilizer has a compact design that quickly sanitizes its contents thoroughly. The BPA-free plastic model includes an interior rack to help organize items to be sterilized. It is easily operated, simply plug it in, load it up with items, and press the button to start the sterilizing cycle.
Read more
Design
Depending on bottle size, this sterilizer can fit up to five bottles at once. It only takes five minutes to completely sterilize. The model has a built-in handle at the top, to easily move it if need be. It comes with tongs to assist in safely handling hot, freshly sterilized items. Otherwise, items will stay sterile for 24 hours with the lid closed.
Ease of Use
This electric steam sterilizer will effectively kill all harmful bacteria without the use of any chemicals. Simply using steam is the safest way to sanitize your baby's items as you don't pose the potential risk of exposing your baby to chemical residues.
Value
Keeping chemicals away from your baby is so important to make sure that you are not using them when you are cleaning and sterilizing their items it super important. This sterilizer is 100 % chemical free and only uses water to kill all the harmful bacteria that could be building up with those milk bottles after daily use.
9

. Dr. Brown's Microwave Steam
Kills all harmful germs
Made with BPA-free plastic
Includes tongs for safe removal
The sterilizing tray can be removed
Dishwasher safe
Some parents report that it is difficult to organize many items on the sterilizing tray
Made for Dr. Brown's bottles, other brands may or may not be compatible depending on size and shape
This microwave steam sterilizer disinfects baby bottles and other small accessories, killing all harmful household bacteria within minutes. The sterilizer is made of BPA-free plastic, making it dishwasher and microwave safe.
Read more
Design
It contains a removable tray that is designed to hold 4 Dr. Brown's baby bottles, either wide neck or standard bottles. The sterilizer comes with tongs so you can safely remove hot, sterile items. It fits in all standard size microwaves.
Ease of Use
This microwave steam sterilizer is designed with hygiene in mind. Although you'd think sterilizers maintain cleanliness when used over time to sterilize objects, it's actually a good idea to routinely clean the entire unit every so often. Being able to wash the sterilizer and all its parts in the dishwasher is a wonderful feature as it helps you uphold quality with minimal effort.
Value
Being able to sterilize all the items with one product is a great value. This sterilizer can be used throughout the growing process of your little one. It is great for using with breast pump accessories, nipples, and bottles plus pacifiers then when they move on to cups it is great for getting those clean as well. From infant to toddler stages this sterilizer will be there throughout.
10

. Wabi Baby Electric Steam
Three timed settings
Fits up to eight standard baby bottles
Saves more recent settings to memory
Acts as a storage space
Can be used on other accessories
Items don't always fully dry, even on the 60-minute cycle
The new Wabi Baby Bottle Electric Sanitizer Plus simplifies and improves upon the usual bottle-sterilizing routine. Made for on-the-go parents, simply load up the unit with up to eight bottles, and start the sterilization process. Within 8 to 15 minutes, the bottles will be sanitized.
Read more
Design
Then let the bottles dry, and leave them in the storage chamber if you so choose, until they're ready for use! A smart sensor turns the unit off when it's finished. Choose between three cycles of 30, 45, and 60 minutes, depending on your schedule. This unit is great for baby bottles, breast pumps, teethers, plastic toys, sippy cups, and a whole assortment of other accessories. The machine will save your most recent settings so you can use one-button operation if you're a creature of habit and also in a hurry!
Ease of Use
Versatile and compact, this unit can dry a pretty wide array of baby accessories, and also store them. No more drying racks, no more towel and air drying your utensils. The Wabi Baby Sterilizer is easy to use and customizes itself to your preferences so you can push one button and go.
Value
This unit has a few different settings for you to choose from, but will also remember your most recent choices. So if you want a one-button machine, you've got it! And if you want something you can change up the routine with, you have that too.
Criteria Used for Evaluation
Design
When it comes to sterilizers, most will take less than 15 minutes to complete sterilization. Microwave sterilizers tend to take less time than electric sterilizers, which is an important thing to consider when weighing what type of sterilizer works best for your lifestyle. Both types, however, do the job of sterilizing without the need for your time or attention.
Ease of Use
Baby bottle sterilizers are generally pretty simple to use. Some pointers to keep in mind when looking for a microwave sterilizer is the ability to take it out of the microwave easily despite the high heat. Electric sterilizers often are powered simply by plugging it in, with a button to power on and off, or a simple knob.
Most microwave sterilizers are simple in design as a plastic container with a lid and perhaps a rack or tray in the interior. Other sterilizers are more complex with parts that you can add or remove to adjust the size and capacity for different sterilizing jobs.
Value
If you are going to purchase a microwave sterilizer, the size is important to make sure it will fit in the microwave you are going to use. Microwave sterilizer bags are going to be the most compact option. The package is small enough to carry easily in a purse or diaper bag, and each bag will fit in most microwaves.
Microwave sterilizers come in different sizes, so some will be able to fit in smaller microwaves and others will only be able to fit in larger, standard-sized microwave ovens. When considering an electric steam sterilizer, some models will be bulkier and others will be more compact. If counter space isn't a limited resource in your home, then a large, bulky sterilizer won't be a concern.
Most Important Criteria
(According to our experts opinion)
Experts Opinion
Editors Opinion
Users Opinion
By Default

Parents, Did You Know?
It is important to always remember to wash your hands before handling the clean sterilizer bottles. It is just as important to have clean hands when handling them as making sure they are clean.
Parents, Did You Know?
Air drying is an important step in the process of sterilizing the bottles. It is the best way to dry clean bottles.
Other Factors to Consider
Safety
Baby bottle sterilizers sterilize items by utilizing super-high temperatures to produce steam. That being said, there is a risk for burning and other heat-related injuries when handling such hot devices and inner contents. Whether a sterilizer is designed for microwave use or is electric, there are features that can increase the level of safety for use.
For example, many microwave sterilizers will include handles that don't get as hot as the other materials. Many sterilizers will also include heat-resistant tongs so you can remove freshly sterilized items safely. Safety is, of course, important with sterilizers to prevent burning yourself or a loved one.
Durability
Although sterilizers are not a necessity for parenting, it is nice to be able to sterilize anything from baby items to toddler sippy cups and toys over the years. In that case, durability is important so that the sterilizer may withstand years of use while maintaining quality. Sterilizers made with BPA-free plastic are crucial in that they are strong without containing harmful chemicals that could leach under conditions of high temperatures.
Frequently Asked Questions
q:

Does the sterilizer dry the contents?

a:

No. Steam sterilizers will sanitize the items inside and then once opened, condensation will leave the items wet.
q:

Do sterilizers clean dirty bottles?

a:

No. Sterilizers don't clean baby bottles and other baby items, they only sterilize them. It is important to hand wash bottles prior to sterilizing them.
q:

What's better, an electric or microwave sterilizer?

a:

Ultimately this is a point of preference for parents. Microwave sterilizers are more portable, but electric sterilizers don't require a microwave. Both will sanitize contents with an efficiency of killing 99.9 percent of bacteria.
q:

Are sterilizers safe to use?

a:

If you practice the right precautions, sterilizers are safe to use. It is important to make sure to avoid touching any of the hot items as well as avoid contact with steam as it exits the sterilizer.
q:

Is it necessary to use a sterilizer for my baby's bottles and other items?

a:

The general consensus is that sterilizers are not a necessity. However, many doctors and other professionals recommend using them as a precaution against freak circumstances of exposure to harmful disease-causing bacteria and germs.
q:

Can I sterilize baby and toddler toys in the sterilizer?

a:

If the toys fit in the sterilizer and are made with heat-resistant materials, it is safe to sterilize them. It is important to check whether the toys can handle it.
q:

Is it safe to put baby bottle nipples and other soft items like pacifiers in the sterilizer?

a:

As long as the bottle nipples and pacifiers are free of harmful chemicals such as BPA and other phthalates, they should be safe to use in the hot sterilizer.