The best friend for a new parent is a baby monitor to track the baby's movements and vital signs constantly, so the parent is always informed of what is going on in the nursery as the infant sleeps or naps. Busy parents cannot always be at the side of a sleeping baby, so monitors were invented by some wonderful manufacturers to help new parents out. These devices fall into two categories of breathing monitors and movement monitors. We feature some of both on this page for your shopping review.
A breathing monitor will track the oxygen level and heart rate of the child, as well as the breathing patterns. These will let you know if there is a pause of fifteen seconds or more in breaths that the baby takes. An alarm will go off if this happens to alert you of irregular breathing patterns. A movement monitor lets you know when the child rolls over or moves in the bed to a dangerous position. It is well known that infants should not sleep on their stomachs because of the threat of sudden infant death syndrome, or SIDS. Sleeping on the stomach is just one way that babies could possibly suffocate from the position they are in. Movement monitors will alert you to this shift in movement.
All of these monitors have a high satisfaction rating from online customers who have left overwhelmingly positive feedback for future buyers. These are the top-rated items that were the most reviewed online and have pleased the people that bought them. We highlight them on this page to simplify your shopping experience in finding the absolute best products for yourself and your family. Here are the best baby breathing and movement monitors online in 2019.
10 Best Baby Breathing Monitors Reviewed
1. Infant Optics DXR-8 Video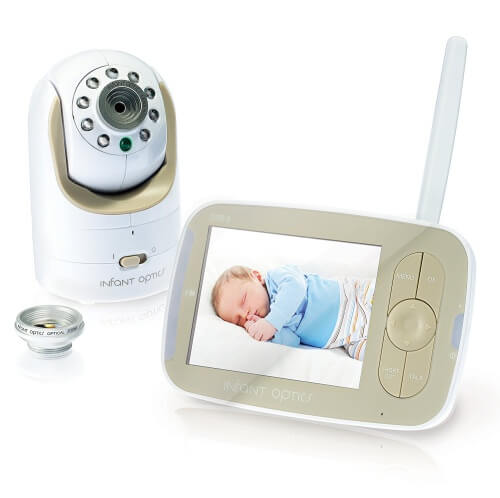 Including an optical lens with the
monitor
, this item from Infant Optics is a compact sleek unit that features a long-lasting battery. It has the capacity to change the optical lens, and the unit will remotely and digitally zoom, tilt, and pan the area of the room.
Expand to see more
This device was voted best overall baby monitor by The Bump and Livewire in 2018. It has a secure wireless transmission with digital privacy and invisible night vision. Included are an alarm function, two-way talk, and temperature display. It is expandable up to four cameras for a much better view and has LEDs that are sound activated. With over 23,000 reviews online, this is the hottest and best-selling baby monitor online currently.

Benefits
The sound-activated LED lights will let you know when your child is crying or having trouble breathing. Anything that makes sound will be picked up by this monitor to make you aware.

What We Like About It
This monitor can remotely zoom, tilt and pan the camera so you can see everything and all angles in the baby's room. Nothing will get by you with this monitor because it can see everything.
Pros
Includes remote digital zoom, tilt, and pan
Voted best overall baby monitor
Has secure wireless transmission with digital privacy
Alarm function, two-way talk, temperature display
Expandable up to four cameras
Cons
Cords lose their power and must be jiggled to work after several months
Battery charges do not last long
2. VTech DM221 Audio Vibrating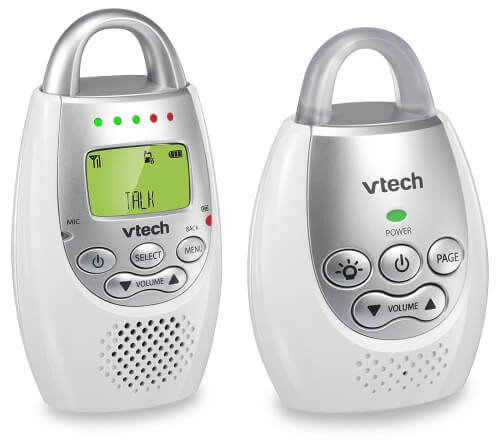 This fantastic device from Vtech includes the digital technology of DECT 6.0 and has eighteen-hour rechargeable batteries. It includes a night light, backlit display on the parent unit, sound alert that vibrates, and secure transmission.
Expand to see more
The operating range is 1,000 feet inside and 160 feet outside. This device has a two-way talk-back intercom, so you can speak to your child even when you are not in the room. Keep track of the noise level in the room with the sound indicator of five levels. It has a very clear transmission and comes with a belt clip. Choose from one or two parental devices to monitor the baby, so you can each have one for the best safety.

Benefits
A belt clip is a wonderful idea for a parental device for the monitor. This way parents can keep their hands free and still be able to go about their daily tasks in the house or outdoors.

What We Like About It
One or two devices for parents can be used with this monitoring system. Each parent can have a device to keep an eye and ear on the happenings in the baby's room.
Pros
Monitor with one or two devices
Has a two-way talk-back intercom
18-hour rechargeable batteries
Operating range is 1,000 feet inside or 160 feet outside
Includes digital technology of DECT 6.0
Cons
Has trouble holding a charge
The range may not be as long as stated
3. Snuza Hero (SE) Baby Movement
This fabulous movement monitor keeps track of your baby's abdominal movement and lack of it. It comes with a one-year warranty and is portable. There is no fuss with sensor pads, wires, or cords, and this is so easy to use and set up.
Expand to see more
Without stomach movement for fifteen seconds, the vibration stimulus will be triggered. This is to arouse the infant and get them to breathing again or making abdominal movements. If there are no movements in this area for twenty seconds, the loud alarm is sounded to alert the parents of the danger. This is a wonderful device for parents that are afraid of smothering from turning over in the crib or bed or from SIDS. Babies that have sleep apnea will also benefit from this terrific monitor that tracks their breathing.

Benefits
The vibration and alarm that the device performs will let you know if there is a problem with the breathing of your child. Parents do not have to be close to hear the loud alarm if it goes off.

What We Like About It
This is a fantastic idea to monitor the baby's abdominal movement. It is a wonderful device to prevent sudden infant death syndrome or suffocation in babies that sleep alone in beds or cribs.
Pros
Is a wearable device for the baby
No fuss with sensor pads, wires, or cords
If no movement for fifteen seconds the vibration activates
After twenty seconds an alarm sounds
Comes with a one-year warranty
Cons
Batteries do not last long
Falls off the baby easily
4. Babysense Video LCD Display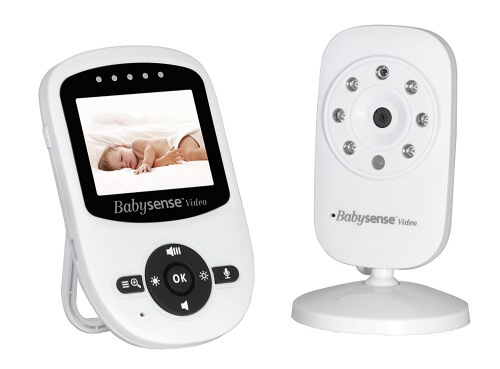 This terrific Video Baby Monitor from Babysense has a 2.4-inch LCD color display and clear digital sound and vision. Other perks are stable streaming, high definition, and a secure connection that is interference-free.
Expand to see more
The range for the devices is up to 900 feet, and there is automatic night vision in infrared. Purchase on monitor or two for two parents or one for the best monitoring. This product gives you the peace of mind you need when you are away from your infant. have a private, secure connection with your infant at all times with this item that features two times digital zoom. You can program the devices and preset for lullabies and alerts for feeding, diaper changes, and medications. There is a built-in support stand for the parent units and a low-battery and out-of-range warnings. There is an auto scan view and the view can be expanded up to four cameras. Option include adjusting for brightness and volume, plus there is a temperature display.

Benefits
Even a night and in the dark, you can still monitor your child. The infrared capabilities of this device allow the child to still be seen and heard in a dimly lit room or a dark room.

What We Like About It
Being able to preset things on these monitors is wonderful. Parents can set these devices for lullabies, medications, diaper changes, and feedings to remind them when to do these things on time.
Pros
Has 2.4-inch LCD color display
Stable streaming and high definition
Clear digital sound and vision
A secure connection that is interference-free
Has automatic night vision in infrared
Cons
Battery charge does not last long
The range was not long enough for some parents
5. Wansview Wireless 1080P Security
This security
camera
can be used for many purposes of monitoring many places in the home, but its main function is as a baby monitor
for the nursery
or child's room. It is a full HD home camera with a 2.4G WiFi connection.
Expand to see more
Have access to IOS or Android phones, Windows PC, or Apple software and web browsers. You can view the baby even when you are not in the home. It has a micro SD card slot for videos that can be played back without removing it from the camera, plus it will play back on most computers. There is no need to worry about security because the video will not be saved on servers, so the connection is secure. This device has a wider viewing angle for complete home coverage and includes eight presets to adjust the zoom in some places and not in others. You can listen remotely even in the dark with the LED vision at night.

Benefits
The video can be played back from this camera at any time and without even removing the camera. This is done with the SD card slot and a computer.

What We Like About It
With the included eight presets, you can program different zooms for various spots in the room. For the far away places from the camera, the zoom can be increased so everything in the room can be seen well.
Pros
Full HD home camera
View baby even when you are not in the home
Features a 2.4G WiFi connection
Has a micro SD card slot for videos
Includes a wider viewing angle for complete home coverage
Cons
Not easy to set up
Makes a loud beep when the connection is lost disturbing infants
6. Baebay Video 3.5 inch LCD Screen
With a 3.5-inch LCD screen for displaying the video of the infant, this terrific monitor includes night vision and two-way talk-back audio. There is a temperature sensor, plus it features clear sounds and images.
Expand to see more
You can zoom to twice the normal size for close-ups, and the two-way audio allows you to speak or sing to your child from another room. This item has infrared LEDs that will permit you to see even in the dark without waking up the child. It features a 2.4GHz wide coverage connection technology that is wireless. The temperature sensor is to detect a temperature change in the room, and there is a 360-degree rotating shaft to get the proper monitoring angle. Four lullabies are in the device to play over and over to lull the infant to sleep and provide a calming atmosphere for peaceful resting.

Benefits
Lullabies are included in this device that can play continuously to gently put the baby to sleep. This is a great feature that other popular monitors do not have.

What We Like About It
Being able to see in the baby's room at night or in low light without waking them up is a huge plus for parents. The child is not disturbed in this manner, yet parents can see very well how they are doing.
Pros
Has a 3.5-inch LCD screen
Includes night vision and two-way talk-back audio
Has clear sounds and images
There are four lullabies built-in to the device
Includes a 360-degree rotating shaft
Cons
Batteries did not last long after a few months
Rotation did not function for some people
7. Owlet Smart Sock 2 Heart Rate
Utilizing apps, sounds, and lights to warn parents if
health
levels are too low or too high, this baby monitor from Owlet uses clinically-proven pulse oximetry. It tracks oxygen levels and heart rate while the infant sleeps, connects to a station, and reports to your phone connection.
Expand to see more
Green lights mean that everything is okay, and the sock will fit most babies from zero to eighteen-months-old. Included are three socks to put on the foot of the baby for monitoring. They are comfortable and connect to the notifying base station up to 100 feet away. You get to see the real-time stats on your smartphones with the Owlet's app.

Benefits
This is the only monitoring system we feature that attaches via a sock to the baby's body. It is a unique way to check the vital signs without a device that can fall off easily.

What We Like About It
This is a wonderful way for parents to gain peace-of-mind where their baby is concerned. This sock will keep track of the important vital signs that can often prevent SIDS.
Pros
Uses clinically-proven pulse oximetry
Utilizes apps, sounds, and lights
Includes three socks to put on the foot
Will fit most babies from 0-18 months old
See the real-time stats on your smartphones
Cons
Battery issues for some users
Sock did not fit a few infants
8. New Babysense 7 Under The Mattress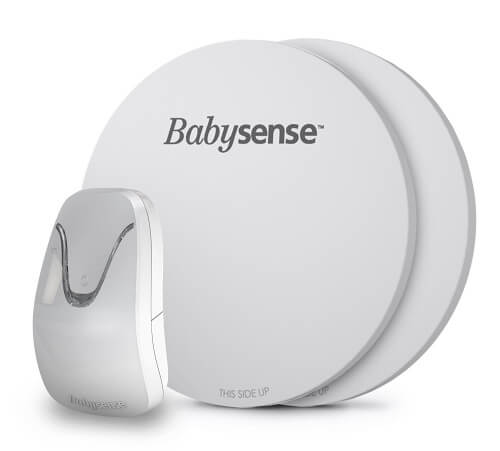 From Babysense, we feature this fabulous Baby Movement Monitor that has sensor pads that are placed under the
mattress
. It will detect and monitor any movements through the baby's mattress because the pads are highly sensitive.
Expand to see more
They do not come in contact with the child, which can be a plus for concerned parents not wanting to attach a device to the infant. It has a lower risk of alarms that are false than previous models and is used professionally in hospitals in Australia, Asia, and Europe. This great monitor is in place in thirty-five countries across the globe. If there is no movement for twenty seconds by the child, then an alarm sounds. If the movement rate is less than ten micro-movements a minute, an alarm sounds.

Benefits
Used all over the world, this is a very popular device for monitoring the movement of infants as they sleep. If professionals trust it in hospitals, then it is certainly safe and effective for home use too.

What We Like About It
This is a device that uses pads under the mattress to detect the movement of the infant. This is wonderful for those parents that do not want to attach anything to the baby or its clothes.
Pros
Will detect any movements through the mattress
Does not come in contact with the child
Comes with two sensor pads that are very sensitive
Used in hospitals in Australia, Asia, and Europe
Is used in thirty-five countries across the globe
Cons
Does not work well with thicker mattresses
Babies that move a lot in the crib will not be protected with this
9. Sense-U Baby Breathing & Rollover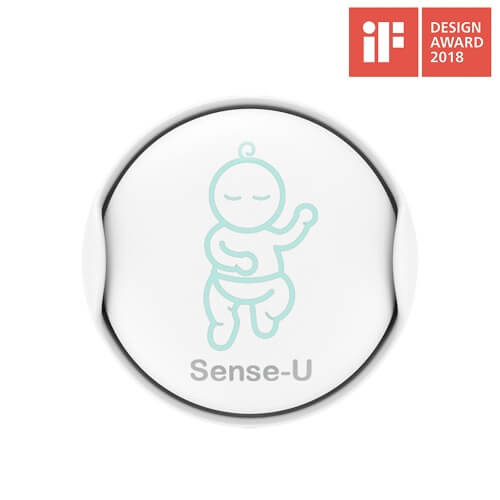 Easy to use and portable is this device that clips to the waistband of the diaper or clothes of the infant. It monitors the breathing whether there is no breath, or the breathing is too fast.
Expand to see more
This product connects to your phone to do the monitoring and sounds an alarm if the breathing is irregular. If the baby is sleeping on its stomach, the device lets you know. It is the winner of the Design Award for this year. This wonderful product will also tell you if the child is cold or overheated because it has a built-in thermometer. Monitors like this one are perfect for alerting parents of troubles or dangers in the nursery, thus preventing the symptoms that cause SIDS.

Benefits
This product is the winner of the Design Award for 2018. This shows that the ingenuity of the device is special and fabulous for parents to have to prevent mishaps in the nursery while the child is alone.

What We Like About It
The built-in thermometer is a wonderful thing to have on a baby. You will know quickly whether the child is too cold or too hot and in need of some room or blanket changes.
Pros
Clips to the waistband of the diaper
Connects to your phone to monitor
Sounds an alarm if breathing is irregular
Winner of the Design Award in 2018
Has a built-in thermometer
Cons
Did not detect baby roll over for a few people
Connection issues for some
10. allb Smart Breathing & Movement
This terrific breathing monitor will track the infant's movement, oxygen, heart rate, temperature, and sleeping position, even if you are not there in the room. You receive the information on your phone via an app, and the baby wears the device that looks much like a large button.
Expand to see more
It attaches to clothes or the diaper and will not cause a safety hazard even if it gets wet or submerged in water or urine. This item is made of plastic polycarbonate that is used for medical equipment that is durable. It contains non-toxic silicon that is very safe for the infant's skin and will prevent SIDS. This product includes cloud storage for free. Record the sleep time of the baby and track it on a graph in the app. You can monitor anywhere and anytime, plus track and record twenty-two health symptoms including fever, cough, and runny nose.

Benefits
Even when your child is not with you and maybe with babysitters or relatives, you can still keep track of the condition of your child. It works from your phone, so tracking is simple and easy.

What We Like About It
This device tracks plenty of things to let you know the condition of your child at all times. With the information you can get, your baby will be safe from harm as they sleep day or night.
Pros
Monitor anywhere and anytime
Will track and record twenty-two health symptoms
Made of plastic polycarbonate that durable
Contains non-toxic silicone safe for the infant's skin
The device is safe even is submerged in water or urine
Cons
Some said it beeped all the time giving a false alarm
The battery died early for some people
Criteria Used in Evaluation of the Best Baby Breathing & Movement Monitors
Top-rated and most-purchased items
We only choose the best products of a specific category to highlight on our buying guide pages for your shopping convenience. We aim to bring you the best of the best in online products that have customers raving over the great selections they have purchased. These monitors all have the best ratings and the most reviews online of all the items in this category. Customers would undoubtedly purchase them again because they are so great. We know you want the best for your family, just like we want for ours, so we strive to feature just the top products here.
Works effectively and efficiently
These products all have great reviews about how well they work and how much people are satisfied with them. Even if the batteries did not last six months out for a few people, the devices are of the latest technology and the newest innovations in tracking and monitoring devices appropriate for baby monitoring. They are all equipped with alarms to alert the parents when something is not right, which is why they are used. Whether you are tracking for movement or breathing, these are the best products out there to choose from today.
Is easy to use and understand
The instructions for these monitors are simple and easy to set up. Most of them use your smartphone to connect to the device via apps for the monitoring, but some of them do not. They all work on batteries, so there are no wires to contend with at all. Just activate the app, put in the batteries, and set the controls to start monitoring.
Works from a good distance from the baby
It is important that the baby breathing monitor works well while you are not in the room with the child. That is the whole point of having a monitor is so that you can be away in another room nearby, yet not right there within sight. Most of these devices can work well from 100 to 1,000 feet in range. When the manufacturer stated a range, we put it in the summary of the product. All of these work from a good range from the infant, so you can monitor them well no matter where you are or what you are busy doing.
Information on SIDS:
Sudden infant death syndrome (SIDS) is an unfortunate unexplained death of an infant as it sleeps. These babies are deemed healthy and are usually less than one-year-old when this condition occurs. It is also called crib death because it so often happens in the crib as the child sleeps. The cause of this problem is still unknown, but some studies show that a connection in the brain that controls the arousal from sleep and breathing in the brain of the infant might be defected. There are things you can do as a new parent to protect your child from dying of SIDS. The most important prevention is never putting your child down to sleep on their stomach. This is a form of suffocation for infants that do not have a full range of head motion to lift their heads from the sleeping surface or pillow area.
There are some physical factors that could increase the risk of a baby being affected with SIDS. These could include low birth weight, birth defects, and respiratory infections. It has been noted that some baby that die of SIDS have a cold just before death, which may be indicative of a breathing problem. The sleeping environment of the baby could also pose some risks of SIDS. These consist of sleeping on the side or stomach, sharing a bed, and sleeping on a surface that is soft. Soft surfaces pose an air-blockage risk for infants and sleeping in the same bed with others can increase the breathing problems for an infant. while sleeping in the same room is okay, sleeping in the same bed is not.
Some common risk factors for SIDS could include the sex of the child, race, age, being premature, the family history, and secondhand smoke. The risk of SIDS increases if your child was born premature or with a low birth weight or is a male. Males are more often the victims of SIDS rather than girls. Those between the ages of two to four-months-old are most at risk for this issue as well as babies that are not Caucasian. Secondhand smoke gives a child a higher risk for SIDS also. During pregnancy, if the mother has prenatal care that is not adequate, uses alcohol or drugs, smokes cigarettes, or is younger than twenty-years-old, the chances of the baby getting SIDS increases.
Although there is no sure way to prevent SIDS, there are some prevention measures that new parents can take to help safeguard their infants. Make sure that every time you place the infant down to sleep they are on their back. Ensure that anyone who comes into contact with or watches the baby knows this from relatives to babysitters to prevent and undue death. Make sure the crib mattress is a firm one that will not cause the baby to be face down in soft fabric that will give with the weight of their head should they happen to turn over on their stomach. Keep the bed area as free from extra things as possible. Toys and pillows in the crib may come in direct contact with the face and pose a breathing obstruction if they are too close. Take these steps and precautions to safeguard your infant the best you can to keep them from harm of suffocation.
FAQ
Frequently Asked Questions
Q: Why do I need a baby breathing monitor?
A: Baby breathing monitors will track plenty of information you need to know about your infant as they sleep, nap, or just relax in their own beds. Parents must do other things as their child sleeps, but they want to know what is going on with the baby at all times. With a monitor in the room with the infant, it is like you are standing right there watching them when you are really in the next room or down the hall. With the problem of SIDS being an ever-present danger for infants, it is wise to invest in a monitor that will at least alarm you if the child has a heart-rate problem or a breathing problem to prevent the death of a sleeping child.
Q: Can these be used when the child is in another building?
A: A few of them with a long range could possibly be used in this manner. It greatly depends on the range of the device and the interference that is around at the time of using the device.
Q: How long can these be used as the child grows up?
A: These monitors can be used as long as you need to watch your child when they are sleeping or inactive. This will vary greatly with each individual child, but generally, as the child grows up and is more active, these will not be needed anymore. Plenty of movement will cause the movement monitors to set off alarms, so this would not be practical for an active child. If the alarms keep going off because of movement or the device falling off in the case of the devices that attach to the child, then it is time to not use these anymore.
Q: Do the batteries last a long time? This seems to be a major complaint of buyers online.
A: Yes, there are numerous remarks online about the batteries in some of these devices not lasting long. It seems with time the batteries, like most wireless devices, do deteriorate and lose their ability to hold a charge like when they were brand new. This happens with cell phones and smart watches, and any other device that runs solely on battery power.
Q: Do the breathing monitors really measure the oxygen level of the infant or just that it is breathing?
A: Yes, these really do measure the oxygen levels of the child and can tell the parents when the child does not breath for a period of fifteen to twenty seconds. Oxygen level and heart rate are very important to check, especially in a newborn to watch for proper development.
Q: For the devices that attach to the child, how do these work?
A: There are several monitors that attach to the infant on this list because these are seen as some of the best devices available online currently. Most of these attach by means of a button-type device that fastens to the clothes or diaper of the baby. They track movement, heart rate, and oxygen levels of the child and when the child is not breathing for about fifteen seconds. One of these devices is a sock that is worn by the baby to track these statistics that are reported to the parent's phone. They are all safe to use and pose no safety hazards for the child when worn.
Sources
5 reasons why baby monitors are important,

Online Article

,
,
Static on a baby Monitor: Why it happens and how to avoid it,

Online Article

,

Jun 26, 2018

,
Sudden infant death syndrome (SIDS),

Online Article

,
,