10 Best Baby Carriers Rated for Safety and Comfort in 2019
last updated
Aug 20, 2019
Baby carriers have easily become some of the most commonly bought infant items of today. Infant-wearing has been shown to promote healthier, more emotionally intelligent, and definitely happier babies. It helps promote maternal-infant bonding while also helping enhance their emotional, cognitive, and social skills.
Plus mom and dad can actually get some stuff done around the house instead of being constantly worried about what the baby is doing, and stopping to check on them every five minutes. So if you yourself are expecting, or you know someone who is soon you should take a good look at this article because we have done all the hard work for you already in eliminating all the poorly made products on the market today and created this list of best baby carriers for you to check out and help make the decision-making process much easier on you.
In a Hurry? The test winner after 36 hrs of research
LÍLLÉbaby Six-Position 360° Ergonomic
Why is it better?
Choose between 23 different colors
All season material ensures your baby will remain warm or cool as necessary
Top of the line lumbar support to keep your back strong
6 different carrying positions
In a
Hurry? Editors choice:
Test Winner: LÍLLÉbaby Six-Position 360° Ergonomic
29
Researched Sources
36
Hours Researching
17
Products Evaluated
Adjustability
Comfort
Ease of Use
By Default
10 Best Baby Carriers Reviewed
1

. LÍLLÉbaby Six-Position 360° Ergonomic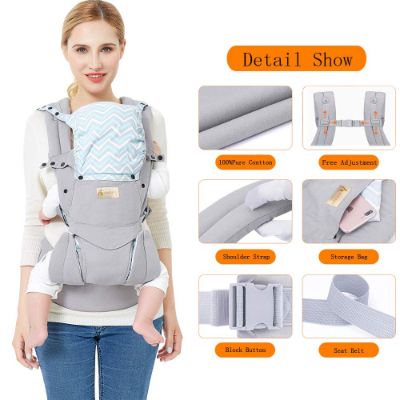 Choose between 23 different colors
All season material ensures your baby will remain warm or cool as necessary
Top of the line lumbar support to keep your back strong
6 different carrying positions
Isn't as compact as other carriers that are similar to it
Straps are incredibly bulky
You know you are an adult when you're excited over a baby carrier! This is the Cadillac of baby carriers and is nothing short of amazing! With the largest range of weights it can handle that we have seen you can use this carrier for any baby from newborn size to 45-pound toddler size.
Read more
Adjustability
There are 6 different ways you can wear your baby and you can also set the straps up a couple of different ways to please every customer who purchases one of these luxury carriers! While this may be the most expensive option we have listed here, it is well worth every penny if you will actually be using it regularly.
Comfort
With this newest lumbar support technology, you won't even feel like you are carrying an extra 45 pounds on you, to begin with! Some people describe babywearing as a workout and very tiring and hard on their bodies but that must have been because they didn't have this carrier! The benefits of this baby carrying option are endless. When you baby-carry on the regular you need to make sure your back is being supported so you don't hurt yourself in the process. The lumbar support you get from this carrier is unmatched by any other carrier we have found on the market today.
Ease of Use
This is the PERFECT baby carrier for someone who walks a lot or attends a lot of outdoor events that have you walking quite a bit. The lower back support is phenomenal and we have yet to find another baby carrier with as good of back support! Did we mention it has a hood to keep the sun from beating on your little ones head when out and about in the sun? All those reasons and the fact that there are 6 different ways you can carry your child in this carrier is exactly why we selected it to be a part of this top 10 list.
2

. Ergobaby 360 All Carry Positions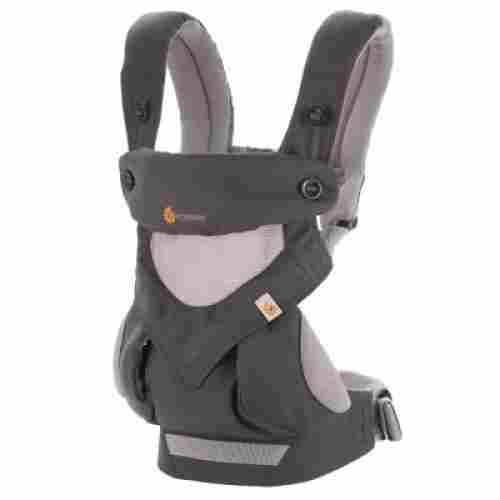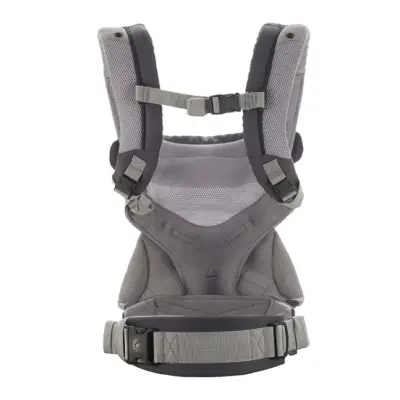 Machine washable
Zipper pockets for storage
4 adjustable positions
Has infant insert for security
Velcro waistband not easily adjustable
Needs two people to put on and take off
The Ergobaby 360 is unique, it has four positions, plus it has buttons unlike any other for easy adjustments and storage. The extra soft fabric allows the infant to sleep in comfort no matter where it is traveling. Constructed of lightweight fabric and contains an insert to hold small infants securely in place.
Read more
Adjustability
Designed specifically for babies weighing 7 to 33 lbs., the Four Position 360o BC, as the name implies, can be used in 4 different wearing positions. Regardless of the position, however, its ergonomic design helps ensure that your infant will assume the frog-leg and seated position.
Comfort
Carrying your little one can not only offer a great time for bonding and keeping them safe, but also keep them comfortable in a strange environment. It comforts them to be close to you and also allows you to be able to control their environment. Plus when they are inside the carrier they are super comfortable in the adjustable bucket seat design. It allows them to face towards you in a natural position. As the baby grows they can be placed on your back in the same natural position.
Ease of Use
The Four Position 360O has a very simple yet functional design. It's got zippered pockets, too for additional storage of your kid's things. Like many baby carriers, you'll need assistance taking this on and off but once it's strapped into place, it's a breeze to walk around in.
3

. Infantino Swift Classic
Washable and wipeable
100% cotton for comfort
Supports heavier infants
Padded supports
Easily adjustable design
Support straps are thin
Needs two people to put it on
Able to support babies up to 25 pounds, the Swift Classic is Infantino's interpretation of what a modern infant transporter should be.
Read more
Adjustability
We love the simple design of the Swift Classic. Its padded support and easy-to-adjust mechanism are features that any parent will love. Both you and your baby are constantly changing. The Infantino Swift Classic allows you to easily adapt to that without the hassles that accompany a traditional sling.
Comfort
It comes with fully adjustable fully padded shoulder straps that cross at the back of Mom for proper weight distribution. It includes a wonder cover bib that attaches to the inside surface of the Swift to protect it and Mom's clothes as well.
Ease of Use
It also features well-padded head support and a fully wipeable and washable fabric made of 100 percent cotton. This wonderful pack makes sightseeing simple even when facing mom. Because of the extra room for the infant and accessories, it is a great choice for mothers on the go. The side clips allow for easy removal of your child.
4

. Infantino Flip Front 2 Back
Backpack versatility
Easy adjustable shoulder straps
Easily detachable features
Reasonably priced
Design makes infant's legs spread wide apart
Lumbar support not the best for parent
If you want to have a quality transporter you can carry on your back like a backpack, then you need Infantino's Flip Front 2 Back. The Flip F2B carries the same signature quality that Infantino is known for but with the added benefit of using the F2B as a backpack.
Read more
Adjustability
For the caregiver, the lumbar support and chest and shoulder straps are fully padded and can be easily adjusted. If your kid falls asleep, the whole system can be easily detached. The Flip F2B allows for positioning facing outward or towards the parent. It is great for hiking and supporting larger or older infants.
Comfort
It features a versatile design is the star of this carrier. It offers a three in one design that allows baby to be able to face towards you, face forward, or on your back facing your back. The design of this carrier grows with baby allowing them to feel comfortable in the carrier as they grow. Plus the fabric that the carrier is constructed from is a mesh. The mesh fabric design is great for airflow during the warmer months of the year.
Ease of Use
Economically priced, especially for the added features of adjustable straps and great hip placement to keep everyone comfortable whether exploring or sleeping. Instructions are easy to understand and include pictures for emphasis. The backpack styling is great as it provides a different perspective for your kid. It comes with several pockets, too to keep some of your stuff.
5

. Infantino Flip 4-in-1 Convertible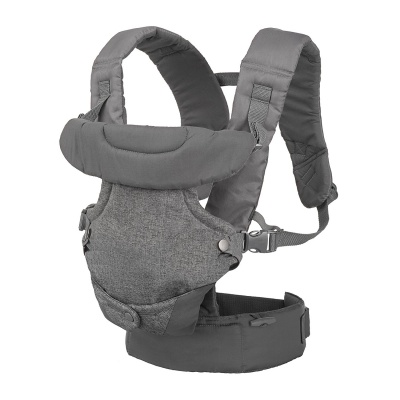 4 different wearing styles to grow with your child as they do
Comes with wonder cover bib to protect your clothes and carrier
Fully machine washable
Lightweight and versatile
Shoulder padding is there but isn't really thick so carrying small babies may be simple and pain-free but heavier ones may weigh down hard on your shoulders
Not many carriers can be utilized so many different ways or throughout so many different stages of your young one's lives. The carrier is 100% adjustable, so it can be fully customized in all four areas such as the seat, leg openings, straps, and waist belt.
Read more
Adjustability
When it comes to versatile baby carriers the Infantino Flip 4-in-1 Convertible Carrier takes the cake! Featured as our number one baby carrier rated & reviewed in 2019 this carrier has 4 ways to carry: baby-facing in a narrow seat for newborns, facing in a wide seat for older babies, facing out a narrow seat for babies with head control and back carry wide seat for older babies and toddlers. Your baby can begin being worn as small as 8 pounds and can continue to be worn all the way to 32 pounds in this style carrier!
Comfort
Shoulder pads help to take some of the brunt of baby's weight and they can fit easily and comfortably in this for years to come. This carrier will grow with your child from birth until their toddler years! Nothing makes a parent happier than not having to buy something more than once just because their child grew a smidge. You will never again need to buy another carrier if you invest in this one.
Ease of Use
This is our favorite for the whole category for not only the ability to grow with your child and save money when it comes to buying something larger or smaller for different times in their lives but also because it is so easy to use, is fully adjustable to fit any baby within the weight restriction, and is lightweight enough to just throw in the diaper bag and bring along with you. It is even machine washable! This carrier is hands down the best of the best when you compare it to other similar styles!
Machine-washable
Fashionable
Multi-culturally acceptable
Comfortable - 95% cotton
Could be constricting for mother
Hard to adjust around body alone holding baby
Experts say the infant carrier is the best type of carriage in the world. It's well-accepted by almost every other culture and the fact that your child clings very close to your body helps enhance the mother-infant bond.
Read more
Adjustability
The design of this carrier allows wearers to have the most adjustability in a carrier that is possible because the carrier is created for one piece of large fabric. The fabric is they tied around and baby is placed inside for the perfect holding position. It is a no guessing game design that makes it easy to get just the right fit. There are not tons of straps to be adjusted here and there. It is one piece that is simply tightened by a few tugs. Getting the right fit for baby and wearer is easy with this simple design.
Comfort
Undoubtedly one of the best models on our list is Boba. It's the modern version of the timeless classic worn by countless mothers all over the world for many centuries. It's made of 95 percent cotton to give it superb comfort while the remaining 5 percent is spandex giving the Boba carrier superb elasticity to secure your infant really close to your body.
Ease of Use
This wonderful spandex-cotton fabric combination is superb for the mother that breastfeeds her infant because it holds the baby so close to the body. It also leaves the hands free to do the shopping and household chores without the little one shifting out of place. The closeness this product provides enhances the mother-infant bond, which is very important in the early stages of the kid's life.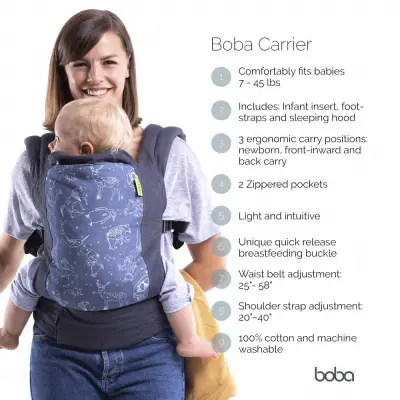 Less padded material to hold infant closer to adult
Can be used as a backpack
Holds heavier or older babies
Resembles an infant sling
Great for plus-sized parents
Cannot be machine washed
Material can be bulky and hot to wear
We love the fact that Boba really emphasizes the closeness between baby and mom. This is a cross between modern day transporters and the more traditional carriers.
Read more
Adjustability
When used in the front, it can hold up to 25 lbs.; up to 45 lbs., when used as a backpack. It is also versatile in that it accommodates small as well as larger babies without the added back strain for the parent.
Comfort
When Boba designed the 4G, it specifically thought of babies from 0 to 48 months of age. This is its modern take on the traditional infant sling by removing all unnecessary padded fabric materials to bring babies as close to their moms as possible. The only padded support is the shoulder straps. Even the waist or lumbar support is made of 100 percent cotton for superb comfort for mom.
Ease of Use
The Boba 4G keeps the infant cooler when in use than a full body scarf wrapped around because of the design. It actually holds the infant away from the adult body a little more to allow airspace. The Boba 4G, like the body carriers, helps enhance the baby-mother bonding experience and makes breastfeeding easier and more discreet. It includes purse strap holders and has pockets in all the right places to make sure you feel sure and supported as you go about your day.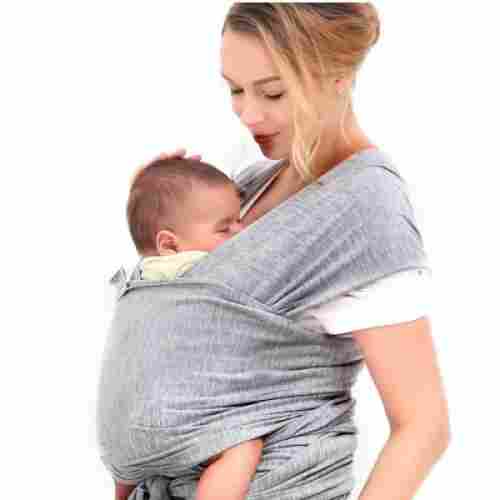 Traditional used sling used around the world
No extra padding
Great for breastfeeding
Soft, stretchy,non-bulky material
Great for plus-sized women and men to wear
Little one can move a bit, if not wrapped tightly
Takes practice learning how to tighten and adjust properly
We love the originals. And a sling, we believe, is still a lot better than the other products we have today.
Read more
Adjustability
It doesn't provide any fancy padding or support systems. Its ingenuity is in the width of the fabric itself allowing for the evener distribution of weight. And since there are no thick padding, you can be sure you will experience ultimate closeness, especially when it's time to breastfeed.
Comfort
The Innoo allows for simple adjusting to the parent's body, and maximum comfort and support all around. Made of 5 percent spandex and 95 percent cotton, this Nursing Sling is one of the best we have on our list since it closely follows the tradition of Moms all over the world.
Ease of Use
The simple carrier is recognized worldwide as one of the most economical. The super closeness to the parent's body provides for needed bonding with the infant. Unlike other products where the infant must conform to, it can be adjusted to suit the unique shape of the wearer.
9

. KONPAYDE with Windproof Cap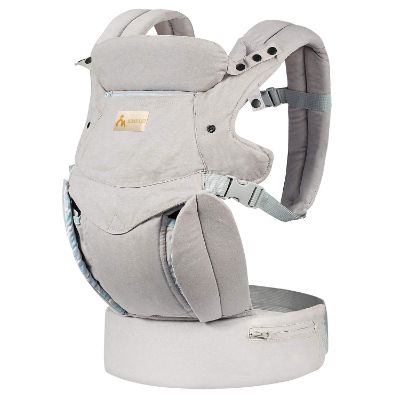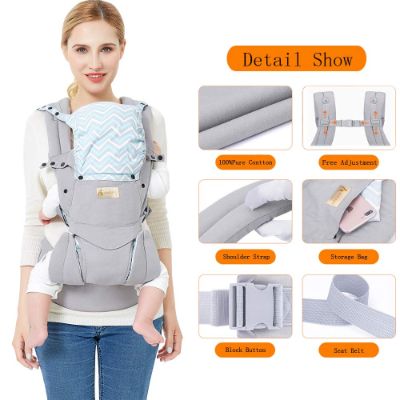 Carrier created for comfort and safety
Allows baby to be in a safe sitting position that is natural
Protects from hip displacement and promotes overall good health
Features oversized and wide shoulder straps for added comfort
Added support from thick waist strap
Thick waist strap and shoulder straps are hot in warmer months
Cannot be washed in water over 40 degree Celsius
There are so many baby carriers on the market these days. The thing that sets them apart is their design and the way that they hold the baby. It is super important for the baby to remain in a natural position to protect the hips and health. This best baby carrier does just that. It is able to provide a safe and comfortable place to carry your baby in the natural sitting position. That protects their health and keeps them safe at all times.
Read more
Adjustability
Adjusting this carrier is easy, plus it is also able to accommodate different body shapes. The waistline goes from 24 inches to 49 inches and the thick wide shoulder straps are designed to sit correctly to relieve any pressure from the back. It keeps both the person carrying the baby comfortable and the baby comfortable too. The thick waistband is not only adjustable but it is also super comfortable and really takes the stress of carrying all the weight on your back.
Comfort
The carrier has been constructed from a material that is 100% cotton and is a baby-friendly material. The material features a soft texture that is delicate and comfortable against the skin of the baby and also gives the carrier an appearance that is stylish and elegant. From newborns to toddlers this carrier will keep them safe and comfortable on adventures inside and outside the home. The carrier is designed to be the most comfortable and safe for children that are 0 months old to four years old.
Ease of Use
When you use a carrier often you will notice that it becomes dirty just like anything else would so it is super important to make sure that a carrier is easy to wash. This carrier is all that and more. It is machine washable on a cold cycle and can be hung to dry. Do not use bleach when washing. The material that the carrier has been created from will become damaged when bleach is used on it.
10

. All-in-1 Stretchy Ergonomic Sling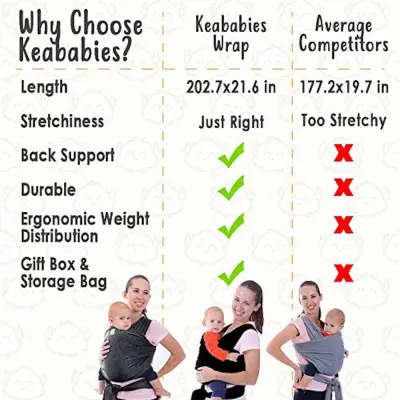 100% Risk-Free Customer Satisfaction Guarantee & Lifetime Manufacturer Guarantee
Thicker material to prevent over-stretching
Ability to double as a Breastfeeding Cover & Postpartum Belly Belt
Helps provide back support
Advertised as one size fits all but isn't able to be securely tied if your not a small person
If you are looking for a sling-style baby carrier, this may be a great option for you! While reviews have shown it is not suitable if you are plus size because the fabric doesn't quite stretch the way it is advertised, that doesn't mean it isn't a great carrier for smaller people.
Read more
Adjustability
The carrier has the ability to be used in four different ways including a baby sling, breastfeeding cover, swaddle blanket, and even a postpartum belt! You can get this product in 3 different shades of gray or black as well.
Comfort
Most importantly, it takes the majority of the weight off your shoulders and arms and places it on your back which makes carrying your little one much easier on your body. Babywearing is not something that makes you tired quickly if you are doing it right and with the correct sling. This new version of our carrier is made with a thicker new and improved fabric that doesn't stretch out after being used and continues to give you the most back support possible even after hours of being worn.
Ease of Use
With our carrier being made for any baby from newborn to 35 pounds you will finally be able to soothe your child easily and HANDS-FREE because it holds your child close to your chest. You can even use this one to hold your baby in place to breastfeed on the go! This company stands behind their product so much that they are willing to GUARANTEE that you will love it. If for any reason at all you don't, you will get your money refunded in FULL, unconditionally and hassle-free for you.
Criteria Used for Evaluation
Adjustability
The number of positions that can be adjusted to provides for maximum comfort for the infant in that it does not have to be in the same position every time it is in the carrier. This is important for physical development and mental interest.  Whether the rucksack provided for front or back carrying and away from or towards the parent's body is a major concern for the consumer. For hiking and shopping trips, the back carrying position would probably be most utilized. However, household chores and breastfeeding would require the front wearing of the carrier.
Some of the products we evaluated specified that they would be hotter than others to wear because of the fabrics.  The slings tend to be warmer for them because of the extra closeness to the parent's body and the warmth of the fabric.  Those in colder climates would prefer these carriers because of this added feature. Breathable fabrics or netting were used for some of the products to provide for added air circulation.
Comfort
(Bulkiness, support in carrying, strap placement, hot to wear, usable for larger-bodied parents)
The parent's comfort in wearing the carrier has to be one of the bigger criteria elements because if the parent is not comfortable wearing it, then it will not be used very often.  The bulkiness of fabrics can create discomfort, especially for larger-bodied parents. This would create limited mobility when wearing. Also if the carrier is hot to wear, the parent would not use it regularly.
All except the infant slings used straps for the child to be held to the parent's body, so these straps must be in the ideal place for parent comfort and support of the infant's weight. Weight distribution plays a huge role in the back strain of the parent, so the straps must support the back and shoulders of the parent while in use.  Some of the products included lumbar support for this purpose.
Ease of Use
Whether a carrier is easy to use in terms of putting it on the body and taking it off is a major concern of parents looking to buy one, especially for single parents. If two people are needed every time this has to occur, then a sling may not be the best purchase. However, the carriers that we reviewed do come with great instructions and videos on how to use them, so with practice, even a sling can be handled by one person holding a child.
Most Important Criteria
(According to our experts opinion)
Experts Opinion
Editors Opinion
Users Opinion
By Default

Parents, Did You Know?
A baby carriage can be one of the most useful tools to help you ensure your child's optimum growth and development. It helps facilitate the strengthening of the bond between the infant and his or her caregivers.
Parents, Did You Know?
The first baby carrier manufactured was sold by a German company inspired by a Mexican rebozo its founder had received as a gift.
Other Factors to Consider
Price Range
We tried to make sure that all products on our guide are reasonably priced. Some are a little more costly than others but those baby carriers have more features. When you're looking at investing, consider how long you intend to use the product for, whether you want it to provide any functions besides keeping baby close to you while freeing up your hands and consider the longevity of the piece. Sometimes paying a little more in the short run prevents you from having to purchase replacement products due to a higher quality in materials. And sometimes you want something that's inexpensive and will just last you for a little while. You decide!
Frequently Asked Questions
q:

What is the recommended weight limit on carriers?

a:

30 lbs is usually the heaviest weight that a stretchable carrier would accommodate.
q:

I have heard that carriers, especially the wrapping models are helpful in relieving gas. Is this true?

a:

Yes, the slings can help reflux issues with babies because of the movement and close proximity of the parent's body that the little one experiences.
q:

Do infant transporters provide more flexibility to the parents than strollers?
q:

Should the legs be in or out of an infant carrier?

a:

Legs can be positioned either way, in or out, in a sling. The only concern is that the weight of the baby must be primarily on the infant's bottom and not on the legs. This will inhibit the growth and circulation of the legs. For infants, it may be best to have the legs in the carrier, but as they get larger, having the legs out may be more comfortable for both baby and parent.
q:

Are most machine washable?

a:

Yes, most of them are made of durable materials like cotton that can be machine washed. Make sure to check manufacturers instructions on washability.
q:

Are the most expensive carriers the best ones to use?

a:

This depends on the individual qualities one is looking for in the best baby carrier This goes along with anything you purchase.  You must decide which features are most important to you as a parent and then decide which one is best for them. Some prefer the slings for the snugness they provide for the little one, but others may not want to struggle with learning how to fix the carrier to the body properly.  The ready to wear models all have different features to suit every parenting style and need.
q:

Are there any special cautions for the slings concerning breathing for the infant?

a:

Yes, make sure the chin is not resting solely on its chest as this restricts the breathing as well as slumping in the sling. Make sure the back is supported to avoid this problem.
q:

I have heard of a hip position for carrying an infant with a carrier. Is this a recommended position for carrying a baby because it would be the natural way you would carry an infant without a carrier?

a:

Yes, the hip position, rather than the back or front position is a possible position with any product but because it requires one hand to hold and support the infant this way, it is not a widely-used position with an infant rucksack. The weight is primarily distributed on the hip, but the extra support of one hand and arm is needed, which could cause the parent extra back strain.