Your new baby is so cute and you are so proud of her that you are just bursting. You can't help smiling when she is around. You can't wait to check out the adorable baby clothes that are out there. Of course, you probably already have the utility type clothes like the packs of onesies, a couple of sunhats, and diapers. Perhaps even some socks. But now you get to pick out the cute stuff — the little dresses with the flowers and ruffles, and for the boys the cute little pant suits that have the dinosaurs on them. We've gathered some really great clothing items for you that are cute and stylish so your baby can look his or her best any time at all.
Best Baby Clothes for Boys and Girls Reviewed in 2018
Gerber Baby 2 Pack Zip Front Sleep 'n Play
Luvable Friends Baby 3 Pack Tapered Ankle Pants
Simple Joys by Carter' 3-Pack Flame Resistant Pajamas
Little Me Newborn Sweet Bear Footie
Gerber Baby 19 Piece Essentials Gift Set
Carter's Baby Boys Fleece Hooded Romper Jumpsuit
Touched by Nature Baby Organic Cotton Romper
Newborn Hoodies with Pocket Top+Pants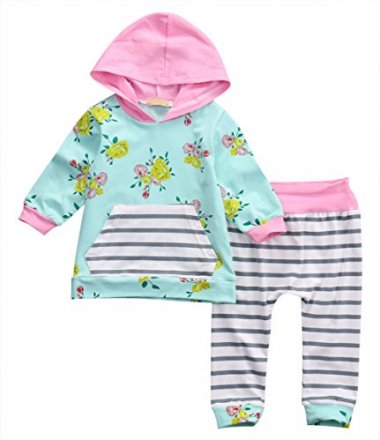 Fiream Boys Cotton Long Sleeve Clothing Set
Touched by Nature Baby Girls' 2-Pack Organic Cotton Dress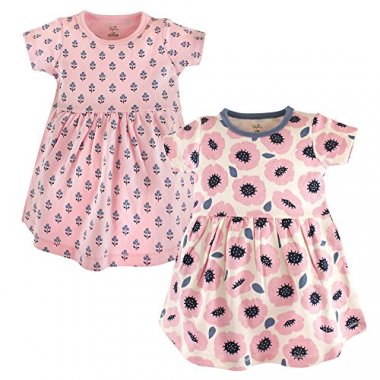 Baby Girls Plaid Ruffle Bowknot Tank Top+Denim Shorts
Criteria Used in Evaluation of the Best Baby Clothes for Boys and Girls
As always, we research many, many items and sift down until we have our list. The baby clothes were so cute and fun to 'shop' for. We've found some adorable, fun, and exciting choices for you in both girls and boys lines. The best choices, in our opinion, are at the top of the list. We chose clothes that will be soft, pliable, easy on the diaper changes, and comfortably non-scratchy.
Most of our manufacturers, like Gerber and Carter's have been making baby clothes for years, so of course they are represented here. Others are new, perhaps presenting a new concept in their clothing lines. It's always great to try something new. And some bring old concepts back to life in a little different way.
For the safety of your baby, choose clothes that have no decorations, or at least decorations that are sewn tightly onto the fabric. When changing your baby's clothes, don't block their airway. When dressing baby in shirts, get the ones that can roll down from the neck, like the Gerber Onesies. This helps them breathe and keeps a baby from panicking. Clothes made from natural fibers and that are snug fitting are the most flame resistant. Loose fitting clothes tend to get caught up in flames more quickly.
Baby safe clothing practices
When you bring your newborn home, there are some things you should be aware of, but if your doctor didn't tell you about this, here goes.
Clothing for babies is needed to keep them safe from the elements and comfortable as much as possible. So for the first six months, your baby's arms and legs should be protected from the rays of the sun by long sleeves and pants. Put sunscreen lightly on exposed skin. And baby should wear a hat to protect the face. If your baby gets too hot, he will tell you by fussing or getting red and hot. Take him out of the sun or remove a layer of clothing.
In the cold weather, dress baby in layers instead of one heavy piece of clothing. Several layers insulate better than just one. And that way if your babe gets too warm you can just remove a layer. Start with the number of layers you are wearing then add and extra layer for warmth. Easy peasy. Add a coat or a blanket and maybe a hat, and you're done. You may be going in and out from cold weather to a heated space, so keeping your baby comfortable is up to you. You'll do great.
Why might you buy organic baby outfits?
A very large group of people believe that organic food is the way to go as far as your diet is concerned. But along with food, there is a also a trend in the area of organic baby clothing made from the organic fibers of cotton. If not trending toward organic, then the trend is moving toward natural fibers like cotton and wool rather than synthetics. Synthetics are made with plastics and other petrochemical derived materials.
There are no synthetic chemicals sprayed onto organically grown cotton to get rid of insect pests. The result ends up being beautifully soft cotton clothing that has little to no residue left in the fabric to irritate a baby's soft and sensitive skin. And if you watch the sales, you can get some organic budget items.
If you are already eating organic, going to organic baby clothes can help you feel a bit more consistent with your choices. Our skin absorbs chemicals, minerals, oils, and basically whatever it comes in contact with. We have lotions that contain magnesium to be absorbed through the skin, for example. And babies have thin skin as it is not fully layered yet, so they can absorb more of the chemicals and even sunlight than do adults.
The choice, of course, is yours, but nice, soft organic clothes could be a great addition to your baby's wardrobe. One or two layette groupings would probably really fill that wardrobe out for the first couple of months. Remember that babies outgrow their clothes somewhat faster than they wear them out.
FAQ
Frequently Asked Questions
Q: How can I make sure my baby's clothes are safe?
A: While there is nothing out there that is foolproof, there are things you can do to minimize the possibility. Don't buy any piece of clothing with ties or that have decorations that aren't securely sewn on. Buy pieces that have a slightly enlarged neck so that your baby's head can fit through easily while changing so that you don't cut off his airway. And choose outfits that close with snaps or zippers, not buttons, which can be swallowed.
Q: What about fire retardant pajamas?
A: There is a bit of a controversy over this issue because of the fire retardant chemicals used on these sleepers. The chemicals may be cancer causing, which is a concern because our kids spend so much time in pajamas, and those chemicals can leach through the skin.
Even without these chemicals, the synthetic pjs are made from petrochemical materials. Still not good. Best bet: pjs can be safer if they are made of cotton or wool, which are natural fibers. Fit them snugly so that any flames will be less likely to reach the clothes than if they were loose.
Q: My baby is big for his age range. How do I know clothes will fit?
A: When in doubt, shop by your baby's weight whenever possible. If a company doesn't have sizes listed by weight, ask them if they have such a list. Some companies list their clothes by height or length along with age. Other than that, you might just have to try the clothes on or buy a bit larger size so he can grow into them.
Q: I'm a busy Mom with my babies. How can I make dressing my baby a little faster?
A: Choose clothing that helps you. Instead of cute, choose cute and functional. Or just functional. Snaps and zippers should be in front rather than the back. The neck opening should be a little larger so that a shirt will just slide over your baby's head instead of fighting with you. Choose sleeves that are loose, not tight. Pick pants that have snaps in the crotch area so you don't have to completely undress your baby to change a diaper. Choose wisely and you should have an easier time.
Q: How can I get flame retardant out of my kids' Christmas pjs?
A: First, check the label to make sure the pajamas are treated. Most will be in the US. To get rid it, wash it, adding twice the amount of fabric softener to the wash. If you want something a little more 'green' friendly, try soaking it in an acidic solution like white vinegar or lemon juice in water. Make sure it is diluted well. Another solution is to buy t-shirts and sweatpants to wear to bed instead of pjs.
Q: Should I wash baby clothes before putting them on my baby?
A: Yes. Use hot water that will kill any germs that may be left after other people have handled the clothing. Use detergent that is free of fragrances.