10 Best Formulas For Babies in 2023
last updated
Nov 04, 2019
If you're a new parent, you will hear the non-stop debate of: should you breastfeed your baby, formula feed, both? Or just breastfeed exclusively? The debate never stops. The good news is, the modern-day market provides some quality products for your baby that you can choose from. While many people around you will argue that nothing can rival a mother's breast (and, in fairness, this is how she passes on antibodies to strengthen her baby's immune system), the formula has come a long way in providing the necessary nutrients for healthy, thriving babies. We came up with our list below and we are sure that you will find a formula that's perfectly suited for your new little bundle.
In a Hurry? The test winner after 38 hrs of research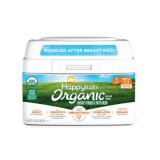 Happy Baby Organic Stage 1
Why is it better?
Non-GMO, organic ingredients including algae-sourced proteins
Whey and casein proteins to build muscle
GOS and FOS Prebiotics for digestive tract health
Tons of vitamins and minerals
Fatty Acids DHA and ARA for developing brains and nervous systems
In a
Hurry? Editors choice: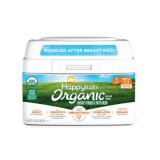 Test Winner: Happy Baby Organic Stage 1
42
Researched Sources
67
Reviews Considered
38
Hours Researching
26
Products Evaluated
Ingredients
Physical Development
Ease of Use
By Default
10 Best Formulas For Babies Reviewed
Criteria Used for Evaluation
Ingredients
First, we had to read a lot about infant nutrition and the best baby formula comparison is that of breast milk. We strongly believe in the fact that breast milk contains all the right nutrients and in the correct amounts especially geared for babies' optimum development. We had to make sure that the nutrients found in breast milk are the standards to which the different baby formula brands have to be measured against. So, the closer the nutritional profile of the infant nutritional product to breast milk, the better are its chances of getting included in our top 10 list. Moreover, if there are additional nutrients that are not found in human breast milk, we had to study these ingredients and determine if they provide a significant developmental benefit to infants. If so, then these are also factored in. For example, soy formula will have a slightly different nutrient profile from cow's milk although both are instant formula preparations. These examples of baby milk nutrient formulations will have a slightly healthier advantage to certain babies.
Physical Development
The war between breast milk and formula can seem like a fraught field to be navigating. If formula is the better choice for your family and lifestyle, rest assured that many formulas out there have been designed and engineered to pack as many nutrients as possible into your baby's meals. Blends of iron, DHA, ARA, MFGM, lutein, Vitamin E, and more all create nutritional gold mines to mimic the make-up of breast milk.
Ease of Use
Most formulas come in powder form with measuring charts on the back to help guide you in proper portions. Simply measure out the necessary powder, add it to warm water in a bottle, shake, and you're ready to serve! All formula should be refrigerated or used immediately after mixing and disposed of within 24 hours.
Most Important Criteria
(According to our experts opinion)
Experts Opinion
Editors Opinion
Users Opinion
By Default

Parents Did You Know
While the World Health Organization recommends that babies are breastfed for up to six months, it is entirely up to you to decide on what age you would like to stop.
Parents Did you Know
Roughly two percent of all women can't produce enough milk to breastfeed.
Other Factors to Consider

Brand
Next, we had to look at the company that manufactures these infant milk nutritional products. Some are well-known in child and infant nutrition while others are just beginning in this industry. We had to look at the manufacturing practices of these companies and whether their facilities have the necessary and appropriate certifications for producing nutritional products for babies
Frequently Asked Questions
q:

Is Soy one of the better alternatives?

a:

While there is some research that promotes soy for adults with high blood pressure and cholesterol, there is also some research that states how soy throws off adult hormonal balance as people approach middle-age with even trace amounts of soy in their diet! Now, it can also be seen as a good protein substitute. When it comes to babies soy can be a major contributing factor in causing food allergies and decreasing immunity in an infant. It also neutralizes the absorption of vitamins and minerals in the system. This contributes to a lower IQ. Hormonally, it can possibly cause a lifetime imbalance beyond repair in both boys and girls.
q:

What is Optigro?

a:

Optigro is a systematic formulation developed by Similac that combines DHA, Lutein and Vitamin E. It's promoted to support eye and brain development, as well as growth, immunity and the ability to the thrive. It's been reported to be in conjunction with 30 other beneficial nutrients, one of which is Nucleotidic acid. Since most of the formulas in our list are used as a treatment or preventative to colic, the Similac Optigro system, also has a proprietary blend of prebiotics for healthy digestive development.
q:

Why aren't all formulas Non-Gmo?

a:

You might have to ask the FDA about that! Simply, the jury is still out when it comes to the official research on GMOs. At this point in the conversation, scientists and corporations are still trying to find the benefits of GMO use for greater production without it being harmful or detrimental to the population or environment. It really is a toss of the dice! But, with more people becoming aware, many businesses are now sensitive to this need for at least a Non-Gmo option! If there's a greater demand for more all-natural products, then eventually it won't even be a question of labeling.
q:

How important is it to have a lower lactose base product to promote immunity in the future?

a:

Quite a few of these formulas are used to ease the symptoms of a colicy baby. An infant has an underdeveloped digestive tract and has a hard time breaking down many of the acids and proteins that a child or an adult obviously can. With a lower lactose based formula, we can introduce and provide trace amounts of the bacteria that a child will need to have a healthier and stronger immunity to lactose in the future. This will prevent dairy and environmental allergies, as well as a possible gluten intolerance.
q:

What's the difference between DHA and healthy fat for your baby?

a:

I understand the question! Many of these formulas promote carrying DHA while being non-fat! We all know that most cholestorols and high fat foods already contain DHA naturally! These formulas are meant to be substitutes or supplements to the naturally occurring source of DHA and Omega-3. Ideally, an infant should be continually feeding on its mother for all of the nutrients and "healthy" fats that will allow for proper development. One very good benefit is that some of these formulas are all-milk based so there is at least some highly-soluble, naturally occuring, amounts of DHA that are inherently present.
q:

What is a hydrolysate protein formula? Is it safe?

a:

These formulas contain proteins that have been hydrolyzed (or broken down). The proteins in cow's milk and soy-based formulas are sometimes still too big for sensitive little stomachs. When baby's digestive tract isn't able to fully process the nutrition it's receiving, you get gassy, fussy little ones. No one wants to watch their child suffer through a stomach ache or any kind of discomfort. Formulas with hydrolyzed proteins are best for infants that don't tolerate cow's milk, soy-based formulas, or have a protein allergy. For children who simply have trouble tolerating lactose or animal products, soy-based formulas are a promising alternative. Cow's milk formulas are usually the first stop as they are the least processed and closest to a mother's breast milk. But if your little one is having trouble digesting this, soy and hydrolyzed formulas may give the whole family some relief.
q:

Is it appropriate to continue with formula after 12 months?

a:

You can, but it's not really necessary! The first six months of a baby's life are the most crucial for development! This is when everything is still being solidified in his or her system, so to speak! Past that period, you will be pretty much over the hurdle when it comes to most major developmental challenges. After the twelve month marker, it will just be a matter of direct continuity to the process of thriving, emotional wellbeing and development.