Gift giving is serious business. Coming up with the perfect baby gift is always hard to do whether you, yourself are expecting or if you know someone who's expecting, it always seems like you need to get the perfect item for that special day. One of the most exciting times for a new mother is the "baby shower" while it's one of the most wonderful rituals any time someone is expecting a new bundle of joy it can also mean coming up with the most creative, thoughtful gift for that new mama to be might not exactly be an easy thing to do.
We took it upon ourselves and came up with the top ten gifts that to help you choose from that we know that you and whoever you might know who's expecting will absolutely love for their new little ray of sunshine.
Our Top 3 Picks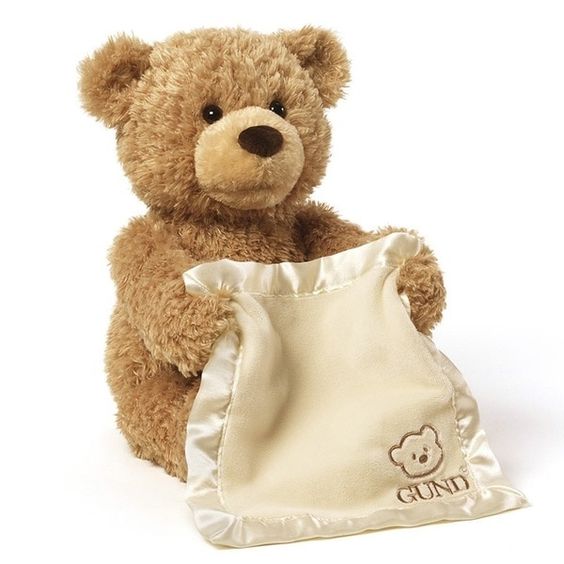 Gund Peek A Boo Bear

Our rating
Soft Animated Toy
Price:

See Here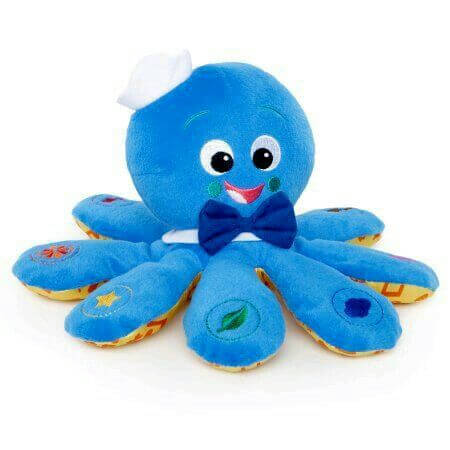 Octoplush by Baby Einstein

Our rating
Sensory Stimulation
Price:

See Here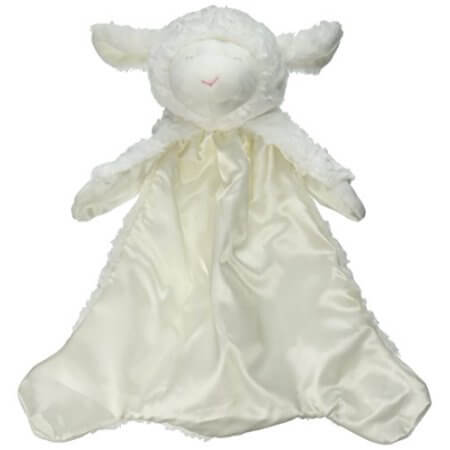 Gund Winky Lamb Huggybuddy

Our rating
Snugly Safety Blanket
Price:

See Here
Octoplush by Baby Einstein
Winky Lamb Huggybuddy Baby Blanket by Gund
Wubbanub Infant Pacifier – Baby Penquin
"Let the Fin Begin" Blue Terry Shark Robe by Baby Aspen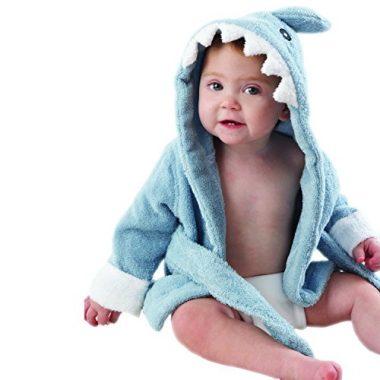 Mustela Newborn Arrival Gift Set
Baby Blanket and Rattle Gift Set by BubbyBabies
Icybite Hard/Soft Teething Keys
Baby Handprint Kit by Little Hippo
Winky Lamb Baby Rattle by Gund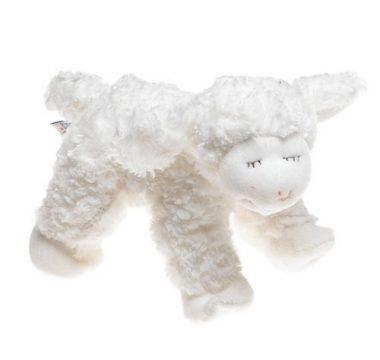 Criteria Used in Evaluation of The Top Gifts for Babies
When buying a gift for a newborn baby can be fun, we know that it can also be a challenging, overwhelming task. Finding the right gift for that new mama to be can take time and a lot of thought since there are certain parameters that need to be taken into consideration during an exciting time such as this. When we came up with our top ten list of the best infant gifts for new parents, we wanted to make sure that we narrowed down the search and provide a variety of items that could not only be helpful but kept objects on our list while keeping in minds of things that a new parent of a newborn might not have come up with on their own.
Safe and nontoxic
For new parents and caregivers when it comes to a newborn baby the most important thing to remember is making sure that your new bundle of joy is safe. When picking out the perfect gift we wanted to make sure that whoever was purchasing these items on our list remembered the guidelines for being safe for a new baby. An example of choosing to buy a gift set would include: shampoo, lotion, powder etc., it's recommended that when purchasing one of these products you're reminded to make sure that they are specifically designed for a baby and that harsh chemicals are not used in the making.
We reviewed and looked into what other customers have said about these products in the past and we don't just consider taken the companies word for it. We wanted to make sure other new parents and parents in general loved the item they were purchasing. .
Sensory perceptions
The early stages of developmental levels to a child is heightening their senses. They'll be attracted to sound like music, vibrant colors, and even unusual shapes. Your child will also respond to things that are soft or things that might have a rough feel to them. Getting a gift that will make a gentle noise like a rattle, squeeze toy, or something that can play a soft lullaby will definitely help not only soothe a newborn baby but also help their developmental skills develop. Babies love vibrant colored toys because it's pleasing to their eyes and it helps sharpen their vision skills. When it comes to soft, cuddly, stuffed animals or accessories that a newborn baby can wear it can make a child more aware of the word around them even at such a young age.
Lasting Value
One of the most important things for a new parent especially is capturing forever moments. Children grow up so fast that having a gift that can store or capture those milestone moments that can grow with your child is always a wonderful sweet item to have around the house. Gifts like a photo album, picture frame or even a journal can help preserve these moments of time for a parent so that they'll be able to remember their favorite memories as their child gets older. Gifts like a music box is also wonderful as it's something that can become a keepsake for that child to pass down to their children in the future and something that they can't outgrow.
Bonding
The bond of a child with their parents is something that is unbreakable. It's extremely important for parents to bond with their new baby as they are the first Indvidual's that their child will ever know and forever be their safe haven in life. While there are many ways that this can be done like holding your baby close, singing soft lullabies to them, or even just talking to your baby. Giving a baby gift that can be incorporated and help parents bond with their new bundle of joy is always a wonderful gesture. This can include items like bath time or even gifts like books for story time. Supervising a child as they play with any toy during playtime is also a wonderful way to have a bonding experience with the child.
What Determined the Top Gifts for Babies in Our List
It's never easy choosing items for babies. Safety is one of the most overriding concerns. The quality of the design means nothing if the materials used in the manufacture of the infant gift item including its finishing are not deemed to be safe. This is why our team of researchers had to make a very meticulous scrutiny of the individual components of the infant products that we have included in our list of the top 15 infant gifts. These products need to be free from lead, phthalates, bisphenol A or BPA, formaldehyde, arsenic, and other harmful chemicals. While it was not easy scrutinizing each one of these products, we knew we had to do it.
We then explored the implications of the products to the overall growth and development of young infants. If it can help them develop and enhance their psychomotor skills while also laying the foundation for their optimum social, cognitive, and emotional development, then we had to include these products in our list. But it didn't stop there. We had to make sure that the developmental benefits of these products are appropriate for the designated or recommended age. It is critical to ascertain the company's understanding of developmental age appropriateness in the design and manufacture of products for babies.
One way we can determine if we made the right shortlist is by comparing it to the countless feedback or product reviews from customers who have the first-hand experience of these baby products. Parents need to have a voice in our selection so we made sure that their views have been thoroughly given credence.
And so, this is how we came up with our list of the top 15 best and most popular gifts for infants, especially now that we are only a few months away from the holiday season. At the very least, you now have an idea of what you will be buying your own little child.
Caring for Newborn Babies and Infants
While the gift items that we have included in our top 15 list are excellent choices especially for first-time parents, we just would like to reiterate that these are merely instruments that we can use to care for our babies. What they will really need is our devotion, commitment, responsiveness, compassion, and extra-loving care. Nothing, not even the most expensive, most-popular, and well-designed toy or infant product, can ever take the place of mom and dad's undivided attention and love.
But how do we care for our respective babies, especially the newborns?
First and foremost, we must not be afraid to seek professional help, both for us and for our kids. If we are not really confident about taking care of our young children, then we need to seek the advice of those who are experts at parenting. We are not experts but we can share with you what we know. You can check out our section on Parent Tips for more of our articles on how you can become a better parent.
As for your very young child, we need to make sure that he or she has his or her own pediatrician. They need to be protected against common childhood diseases so they need to receive their vaccinations and immunizations. A regular visit to the kid's doctor will also give us an idea whether our children are growing as they're supposed to or are seriously lagging behind. This is, of course, in addition to making sure they are generally healthy. We can also ask our kid's doctor for additional advice on how we can manage simple ailments at home such as fever and cold. Additionally, we can ask our children's pediatrician about the signs and symptoms that will tell us it's time to bring our young child to the doctor or to the nearest hospital. For some parents, they may need instruction on how to use an infant thermometer or even the use of a pacifier as well as teething products. The best person to show them how is a pediatrician.
For the first 6 months of life, it is best to breastfeed your child. Studies show that breastfeeding provides a lot of benefits not just for your child but also for you. Breast milk provides your child with adequate antibody protection, boosts his or her immunity, protects your child from many illnesses and diseases, helps prevent childhood allergies, and boosts your kid's intelligence. It has also been shown that breastfeeding can lower the risk of sudden infant death syndrome while also protecting him or her against childhood obesity. For you, you'll feel less stressed and depressed while affording you some protection against certain types of cancer. Now, isn't that great news?
Young children require plenty of sleep so they will grow and develop a lot faster. The more chances they get at the deeper stages of sleep, the more efficient is the synthesis and release of human growth hormone which helps direct how cells and tissues need to be built. Of course, it may be tiring and frustrating to put young children to sleep because most of the time, they are asleep when you're awake and are quite active when you're already sleepy. Unfortunately, the best advice is for you to get some shut-eye when your kid is also asleep. You can nonetheless use a variety of sleeping aids such as night lights, mobiles, lullaby players, a soft and comfy blanket, and other materials to make baby more comfortable and sleep more soundly.
Babies also need to feel relaxed. They may cry because they are hungry or require your attention. Most of the time, however, babies cry simply because they are anxious. You need to be able to soothe them. This is where baby products that play soothing music as well as provide a smooth texture to touch can help. Infant clothing like bonnets, mittens, and boots can help keep baby warm and cozy.
Of course, you will have to keep your young child stimulated. During the first month of life, you are his or her most precious play thing. After the first month, you can begin giving more sensory-stimulating toys like rattles, textured balls and other items, and things that light up and are colorful. These should help you make sure that your young kid's sensorimotor and cognitive development proceed in an orderly fashion.
The Bottom Line
There are a lot of things we can do to become better parents for our very young kids. Let our list of the top 15 baby gifts provide you with an idea of how to care for your infant. Or, as we have said earlier, you can just give these gift suggestions to your soon-to-be-mom friend. Either way we are optimistic that the kid who uses these products will surely feel the love of his or her parents
FAQs
Frequently Asked Questions
Q: Is a baby registry a good way to get gift ideas for a shower gift?
A: A baby registry is a good way to know what the new mother could need or want. However keep in mind that a registry is just a guide it isn't required to buy something off the list. If an individual finds what they feel is a great gift idea of a newborn and their mother that doesn't appear on the list there is no reason why this gift can't be purchased instead. After all, odds are others will buy off the registry so sometimes thinking outside the box might be a good idea.
Q: Are buying baby clothes as a gift for an infant really a good idea?
A: Well, baby's do need clothes, but there is room for concern in buying designer or high-price baby clothes. That concern is the fact that babies grow so much in those early months and years. So, it it any wonder that baby clothes are kept and handed down to others to use, for that matter some new parents look for bargains baby clothes that could cost a fraction of the price. That isn't to say that baby clothes don't make a good gift. We actually featured a few on the list that were clever unique gift ideas that no doubt a parent will love to receive nonetheless. When buying a baby outfit or accessories such as socks make sure to understand the sizing guidelines. When in doubt about size go for something that you know will be larger, for example an outfit that is made for a 3 to 6 month old. This way the baby could grow into the garment. Another thing to take into consideration is what kind of fabric the outfit is made out of and if will be soft on the skin. Also, make sure that there are enough snap closures for a simple opening for diaper change. New baby clothes are still a good gift idea, and one day could be among the clothes that are handed down to the next new mother to be.
Q: When buying a baby shower gift is a unisex gift the best option?
A: It would depend on whether or not you know the sex of the baby you are buying the gift for. These days even before a child is born a parent can know beyond a shadow of a doubt what gender their child will be, but some parents still prefer that element of surprise and decide to create their nurseries gender-neutral. So, the best course of action when buying a gift for a newborn baby is to make your gift gender-neutral as well. There are several gift ideas that fall into this category.
Q: Are stuffed animals and dolls really a good gift for a newborn?
A: The first thing to consider is that not all dolls and stuffed animals are recommended for a newborn baby. So, the first thing to always do when wanting to purchase one for a newborn is to make sure it is age appropriate. The next thing that will be a concern is the fact that stuffed animals and soft body dolls have been associated with suffocation in newborns. So, these should never be kept in a crib; in fact, pediatricians say that it's best during the early stages of a child's life should be free of unnecessary clutter. But don't be afraid to give a stuffed animal or an age appropriate doll as gift. New parents have taken the time to learn safety precautions.
Q: What sort of gifts do new mother's like to receive?
A: According to some mothers, a gift from the heart is one that could be most appreciated. For example, something like a handmade blanket, baby bonnet or boots. Those gifts that also commemorate certain events in the child's life also fall under this category. These types of gifts are something that a parent will treasure as their child gets older. If all else fails and you can't think of a gift idea the mother will like, then there is alway a gift certificate.
Q: How about a grab bag gift featuring necessity items?
A: Necessity items such as teething rings, squeeze toys, pacifiers, bibs, and rattles are always a hit. It seems like a new parent can never have too many of these. Necessity items such a baby powder, baby oil, baby shampoo and diaper cream are also something that a new parent will need. However, when choosing a product that is used on the baby's skin make sure it is designed with a baby in mind. Johnson & Johnson has become a trusted name in creating a line of baby products and other companies such as Aveeno has also created a baby safe hypoallergenic line. Anyway, a grab bag full off necessity items for a newborn baby is an excellent idea and no doubt one a new parent would appreciate.
Q: Why are no building blocks, books or baby mobiles on this list?
A: No doubt about it, books and baby mobiles are a huge hit with new moms. However, these are items they tend to think of buying themselves especially the mobile for the crib. Books on the other hand can still be a good gift and there are some out there that are perfect for a newborn's nursery. As for building blocks, these are a great toy but these are usually appropriate for kids ages 6 months and up. These can still be given as a gift nonetheless and no doubt appreciated, since it is certainly a gift the child will play with down the road.