10 Best Baby Gifts Reviewed in 2019
last updated
Jul 23, 2019
Gift giving is serious business. Coming up with the perfect baby gift is always hard to do whether you, yourself are expecting or if you know someone who's expecting, it always seems like you need to get the perfect item for that special day. One of the most exciting times for a new mother is the "baby shower" while it's one of the most wonderful rituals any time someone is expecting a new bundle of joy it can also mean coming up with the most creative, thoughtful gift for that new mama to be might not exactly be an easy thing to do.
In a Hurry? The test winner after 4 hrs of research
Gund Peek A Boo Bear
Why is it better?
Plays the peekaboo game by actually performing the movements and moving the blanket
Recites six different phrases
Has moveable mouth and arms
Has soft plush body and soft satin blanket
In a
Hurry? Editors choice:
Test Winner: Gund Peek A Boo Bear
16
Researched Sources
14
Products Evaluated
Sensory Stimulation
Value
Materials
By Default
10 Best Baby Gifts Reviewed
Plays the peekaboo game by actually performing the movements and moving the blanket
Recites six different phrases
Has moveable mouth and arms
Has soft plush body and soft satin blanket
Not machine washable has to be hand washed,even blanket isn't detachable to be machine washed.
Babies love the time-honored game of peekaboo, and Gund incorporated this game into their precious new animated stuff toy. This little bear will take the soft plush blanket to cover his face then start to take down while saying the words peekaboo.
Read more
Sensory Stimulation
This little bear is full of interactive, developmentally stimulating features. The six different programming phrases are a great way to introduce early language skills. The movement of the blanket up and down will help stimulate your baby's visual acuity.
Value
The arms and mouth of the bear move as he plays the delightful game. This little bear is also equipped to say six other phrases and has a soft plush body. It can even encourage familial bonding as you play peekaboo with your little one!
Materials
Not only is this toy safe for babies and toddlers, but it also makes them feel safe. Little ones are able to snuggle up to the soft, plush body.
2

. Octoplush by Baby Einstein
Soft cuddly body that plays music when hugged.
Satin pads on tentacles identify different colors when pressed.
Volume control feature to make the sound higher or lower
Can be switched from english to spanish in language setting.
Toy can be a bit sensitive in setting off the music element and it can be done just picking it up to put away.
One of the most popular baby gifts we have in our list of the top 15 is the Octoplush. This highly colorful musical plush toy is something that all young children can benefit from.
Read more
Sensory Stimulation
This is the best gift you can ever give to a young infant as it provides the right tool for promoting his or her sensory development. The different textures also help with cognitive development while the melodies and phrases can aid language development.
Value
Octoplush may look like a cuddly little stuffed animal, but he is so much more. This cuddly little guy also houses several features that will sharpen a child's cognitive skills. Not only will Octopus play music when a child hugs him tightly but each of his tentacles is a fun surprise. When a child presses the satin pad on each tentacle they will hear color phrases which help them to start to identify various colors.
Materials
This octopus elicits a safe, calming feeling for little kids. When they hug its large head, they will be treated with soft and child-friendly music and melodies. Squeezing the colored tentacle satin pads will also elicit color phrases. And with soft and newborn-baby materials, this is the perfect companion to send baby to slumberland.
3

. Winky Lamb Huggybuddy Baby Blanket by Gund
Soft satin blanket with cuddly plush adorable stuff lamb head and arms
Eyes and nose of lamb are embroidered on adding to additional safety
Safe for a child to snuggle up to at bedtime
Machine washable
Not a standard square blanket shape but more the shape of a tear drop instead.
Very young children are not able to effectively regulate their body temperatures. This means that we may be feeling warm yet the young child is already feeling cold.
Read more
Sensory Stimulation
It is always better to make sure that our babies are kept warm and comfy and this does just that. And since it is shaped like a lovely and adorable stuffed animal, it can be an excellent tool for playtime.
Value
A combination of two adorable gifts in one. The Winky Lamb Huggybuddy is a baby blanket to help a child stay warm and a fun little toy all in one. The top of the blanket has a soft plush lamb head and arms. So, a child will love to snuggle up to this blanket and hold it tight.
Materials
This is perfect for both playtime and sleep time. Its plush and soft surface also makes it ideal for cuddling with our little one. With the Winky Lamb Huggybuddy blanket, we can ensure our young kids are warm and comfy in its soft fabric made of satin. The Huggybuddy is also machine-washable.
4

. Wubbanub Infant Pacifier - Baby Penguin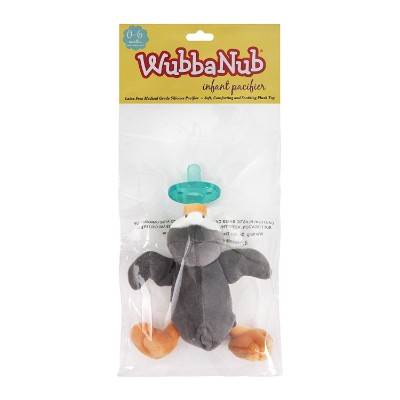 Latex, BPA, PVC, and Phthalate free
1-piece design for easy grasping
Recommended for newborns-6 months
Machine washable
Pacifier can detach from the stuffed animal
Lightweight design does not keep pacifier from falling if baby moves
Every newborn should have their very own stuffed animal to keep them company. With Wubbanub's Infant Pacifier-Baby Penguin not only will this adorable little friend become your precious baby's first friend but it will also keep their pacifier close at hand.
Read more
Sensory Stimulation
The little stuffy is perfect for tiny fingers to grasp and will help your little one self-soothe, which is great news for new parents! This little penguin brings a Soothie medical-grade silicone pacifier to the table so there is no need to worry about your little one's safety. Get some much-needed rest comfortable in the knowledge that your child is never alone.
Value
This adorable alternative to traditional pacifiers is the perfect baby shower gift as it is also the #1 choice for hospitals, NICUs, and well-baby units across the country. The stuffed penguin will help develop your baby's visual acuity and ability to self-soothe while the large body makes it easy for your child to grasp and manipulate the pacifier back into their mouth.
Materials
Composed of all baby-safe materials, this pacifier/stuffed animal combo is the perfect way to introduce your newborn to binkies. The Soothie style binky is recommended by hospitals as the safest option for newborns and will not cause nipple confusion in breastfed babies.
5

. "Let the Fin Begin" Blue Terry Shark Robe by Baby Aspen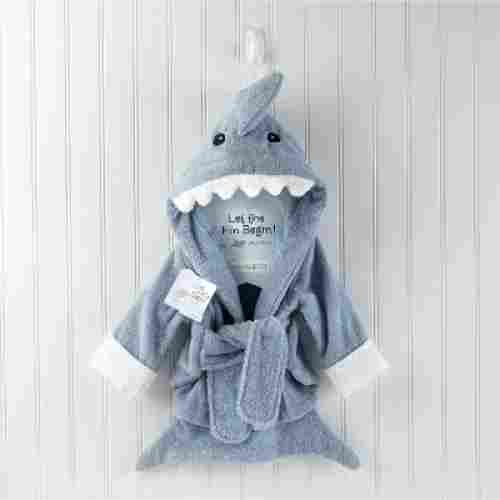 Made from `00% cotton terry cloth fabric which makes it absorbent and soft.
Robe has all the characteristics of a shark such as the fin and the tail
Comes in either blue or pink with white cuffs at the end of the long sleeves
Ideal for ages 0 to 9 months
The cotton terry cloth fabric can seem a bit stiff when first out of the package will need to be washed with a baby safe fabric softener to soften the garment up before use.
Make bath time more fun for your little tot with the Blue Terry Shark Robe aptly named "Let the Fin Begin".
Read more
Sensory Stimulation
A clever take on the standard terry cloth bathrobe, "Let the Fin Begin" will no doubt delight a new parent. This absorbent bathrobe is soft to touch and will be appealing against a baby's delicate skin. So, not only good for bath time but also a fun simple little costume for your baby on for example Halloween.
Value
Made from100% cotton terry cloth it has all the features of a shark as well, including the teeth at the hood and a tail in the back.
Materialis
This bathrobe is made of 100 percent cotton allowing excellent moisture absorption as well as superb softness and comfort. The robe itself is designed like a shark complete with fins, a tail, and the characteristic shark's head with a smiling face forming the hood of the shark robe.
6

. Puracy Organic Baby Care Gift Set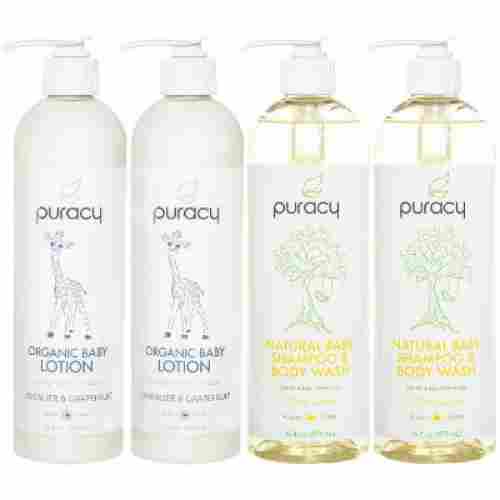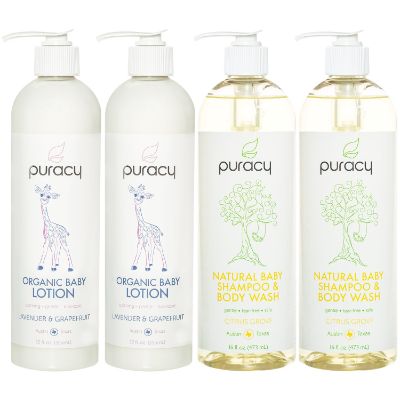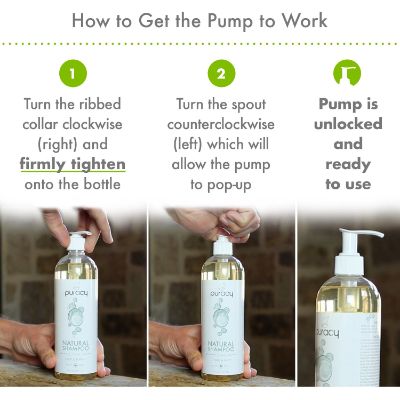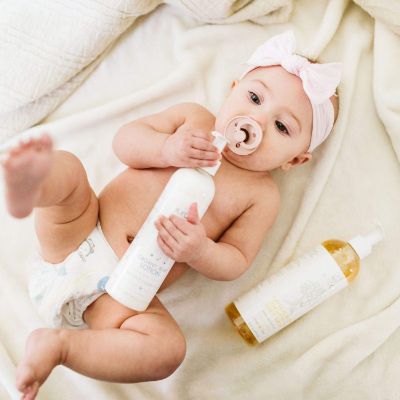 All natural baby shampoo and body wash in one bottle
Features naturally tear free ingredients
Created from plant derived materials, never any harsh chemicals
Developed formula by Doctors
Developed, bottled, and created in the USA
Does not features any great smelling or after smell
Pumps get stuck after being closed after initial use
This is a body care set that features two bottles of natural baby shampoo and body wash and then there are two bottles of organic baby lotion. Each of the bottles contains 16 ounces and includes a pump to easy access the product. The baby shampoo and body wash are made from natural ingredients and features tear free design. It is a gentle formula that is pure and natural leaving your baby clean and free of irritation. The body lotion in the set is a lightweight organic moisturizer that gives your baby's sensitive skin nourishment all day long. Together these products turn bath time into your favorite time.
Read more
Sensory Stimulation
The development of the all-natural shampoo and body wash is taken by this company very seriously. They have created this pure formula that contains only natural products. That means inside the bottle 99 % of all the ingredients are considered naturally derived ingredients or ingredients that are considered all natural. Together these ingredients all come together to create a formula that is tear free. This makes bath time less stressful for babies and parents.
Value
These products are created with materials from the environment that means that when they go back into the environment they are just as gentle. The bottles have also been created from a biodegradable material. The bottles are recyclable and help save on water and energy for the future. This company also makes a donation to a local family that is in need. This makes buying from them a value for you and your community.
Materials
They have created their shampoo and body wash with ingredients that are plant-based featuring no toxic ingredients plus are hypoallergenic. They are safe for the whole family including children, babies, and even pets. The formula has been developed by doctors for their families. It is trusted everywhere by doctors and it is loved by the families using it each day.
7

. Blanket and Rattle Gift Set by BubbyBabies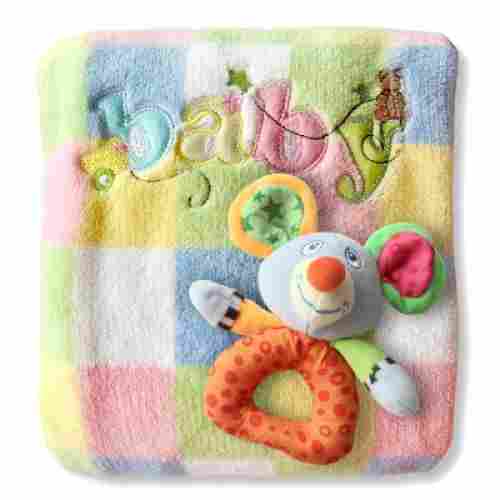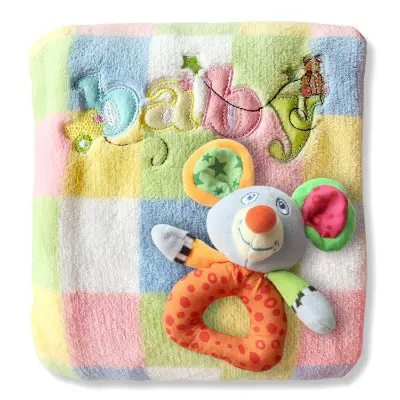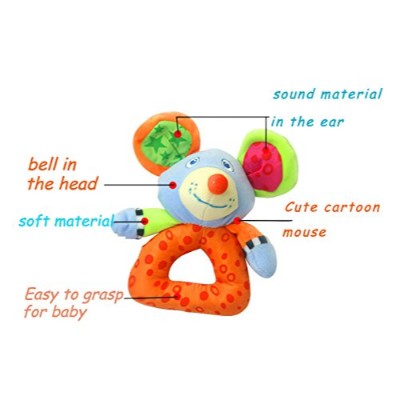 Made from 100% polyester fleece which makes the blanket warm and soft
Multi-colored with soft pastels such a peach, yellow, blue and pink, making it perfect of both genders.
Cute soft fabric ratte
Blanket designed not to fray, or fade over time and use
The embroidery on the center of the blanket can seem a bit stiff to the touch
Made of 100 percent polyester fabric, the colorful, gender-neutral baby blanket from BubbyBabies has been acclaimed as one of the best gifts for baby shower events.
Read more
Sensory Stimulation
You will never have to worry about your tot ever getting cold again. With the addition of the rattle, this gift set should be perfect for the all-around development of little ones.
Value
A foolproof gift for a newborn this baby blanket and rattle gift set is sure to be a hit of any baby shower. New parents can never get enough blankets or rattles for their new baby. This gift set has a beautifully soft fleece blanket made of polyester and a clever soft cloth rattle. Both are soft to the touch and are ideal for a child to cuddle up to.
Materials
Because it's polyester, it is more ideal for the colder months of winter. Nevertheless, it's designed to be cuddled and swaddled by your little tot all year round. It also comes with a soft and plush rattle stuffed with polypropene cotton. The blanket is machine washable.
8

. Baby Bandana Drool Bibs and Teething Toys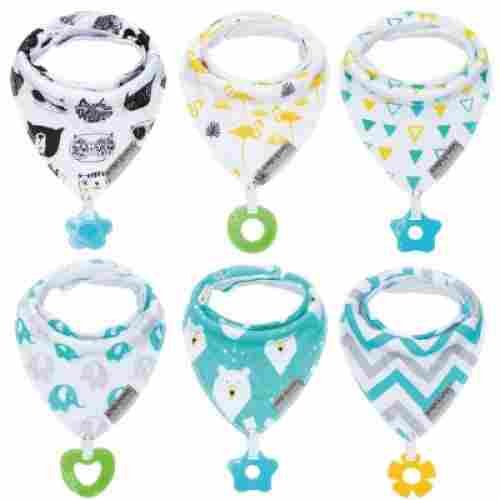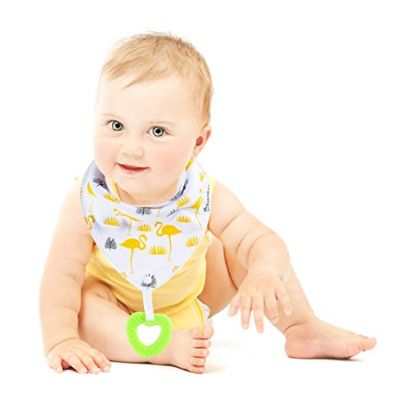 Bibs that are in a bandana style shape with a teething toy attached to each one
Constructed from the super absorptive cotton front, polyester fleece backing
Adjustable snap closure system features two snaps
Features fashionable designs and styles
Each set contains six of the bandana bibs
Fabric bunches up around the neck area and can be warm during summer months
Teether attachments fabric rips away from bid easily
Nothing is cuter than a bandana bib on a teething little one. The style of the bib is functional and also is a fashion accessory that parents will love using day after day. These bibs are created from pure cotton. Cotton works well because it is super soft and very absorbent. Each of the cotton bibs features a cool pattern that has been created by professional illustrators. Every baby is cute but even cuter with these bibs.
Read more
Sensory Stimulation
Providing your little one with a teething toy is not only good for satisfying their oral sensory system, but it is great for their hand-eye coordination. They also love chewing at this stage because of the relief that they receive from teethers. All teethers have been created from 100% food grade silicone. They are suggested to be best suited for babies that are under 10 months old.
Value
Included with each set are 6 different designed bibs. Each of the super soft and very absorptive features a design that has been professionally illustrated. The designs are cute, easy to match and make a great set paired with a colored teething toy. From the babysitters to dinner you will not want to take your teething baby anywhere without one of these bibs on.
Materials
Each of the bibs has been constructed from 100& cotton material on the front for a super soft feel and a backing that has been created from polyester material. That polyester material keeps the bibs looking great and makes them looking awesome wash after wash. All the materials are easy to care for. The bibs can be placed in the washing machine on a cold gentle cycle and then laid flat or hung to dry.
9

. Baby Handprint Kit by Little Hippo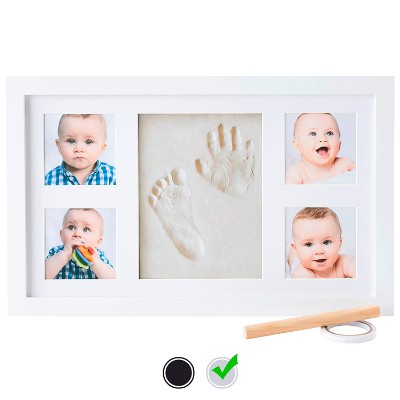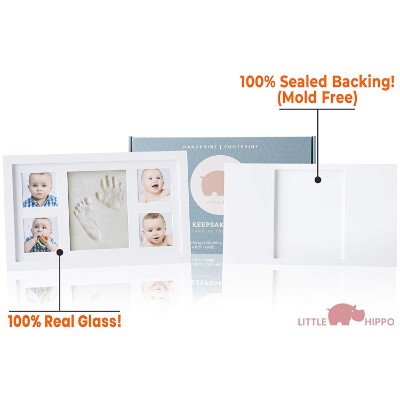 100% solid wood, hand-painted frame
No mixing or baking required
Extra thick acrylic safety glass
Holds up to four 3" x 3" photos as well as clay imprints
Clay may crack as it dries
May be difficult to mold into a clear surface
There is an old saying that kids grow up to quickly and, as parents, we know that this fact is all too true. Nothing can ever replace those first few months. The first giggle, those teeny tiny toes, and that sweet baby smell first thing in the morning are memories that we all wish we could treasure forever.
Read more
Sensory Stimulation
While you can't stop your little one from growing up (as much as we all wish we could sometimes), you can capture those early moments with the Baby Handprint Kit by Little Hippo.
Value
This beautiful solid wood frame securely encapsulates your precious newborn's hand and footprints in a pristine white clay medium while small photos from their birth and early days adorn each side. The thick safety glass will keep your memory safe and close to your heart forever.
Materials
This photo frame/handprint kit is designed with 100% real safety glass that can resist minor drops and scratches. The included clay is formulated to avoid the molding problems that plague many other clay print kits. The frame itself is made of solid wood and can incorporate up to four photos as well. The included instructions are highly detailed and illustrated to walk you through the process of imprinting step by step and the whole product is backed by Little Hippo's lifetime warranty.
10

. Winky Lamb Baby Rattle by Gund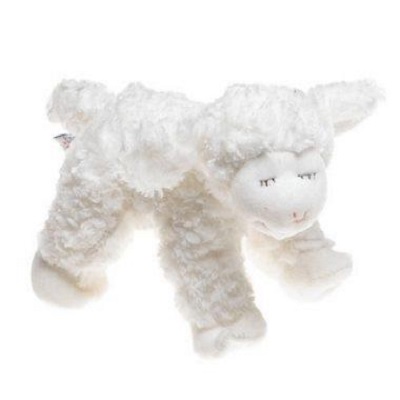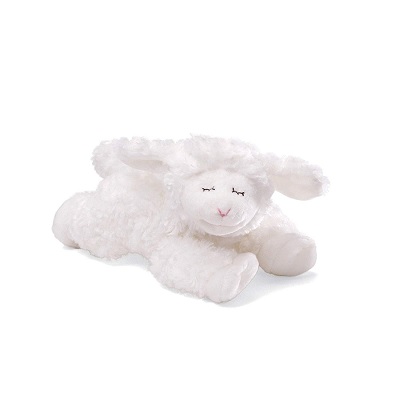 Soft cuddly fur body
Makes a rattling sound when shook
Has embroidered eyes, and nose as opposed to ones that are glued on.
Machine washable
The white color of the lamb can show dirt easily and therefore will need to be washed frequently
With a polyester blend making it super soft to handle, the Winky Lamb Baby Rattle is not your ordinary rattle. In fact, it doesn't even look like a rattle. It closely resembles that of a cute and adorable lamb.
Read more
Sensory Stimulation
The softness of the rattle is superb that it can be used as a sleep aid for babies. Additionally, rattling provides the necessary stimulation for young infants. This little lamb will no doubt delight a child in how soft and cuddly it is along with the fact that it makes a pleasant rattling sound.
Value
Definitely, an adorable little rattle to have. Mainly because the Winky Lamb isn't just a rattle but a cuddly stuffed Lamb for a child to cozy up to. A toy that will not only provide comfort but will also sharpen sensory perceptions.
Materials
The machine washable lamb rattle features embroidered details like the eyes and nose so your baby is safe as there are no small items that can be swallowed.
Criteria Used for Evaluation
Sensory Stimulation
The early stages of developmental levels to a child is heightening their senses. They'll be attracted to sound like music, vibrant colors, and even unusual shapes. Your child will also respond to things that are soft or things that might have a rough feel to them. Getting a gift that will make a gentle noise like a rattle, squeeze toy, or something that can play a soft lullaby will definitely help not only soothe a newborn baby but also help their developmental skills develop. Babies love vibrant colored toys because it's pleasing to their eyes and it helps sharpen their vision skills. When it comes to soft, cuddly, stuffed animals or accessories that a newborn baby can wear it can make a child more aware of the word around them even at such a young age.
Value
One of the most important things for a new parent especially is capturing forever moments. Children grow up so fast that having a gift that can store or capture those milestone moments that can grow with your child is always a wonderful sweet item to have around the house. Gifts like a photo album, picture frame or even a journal can help preserve these moments of time for a parent so that they'll be able to remember their favorite memories as their child gets older. Gifts for one year old girls like a music box is also wonderful as it's something that can become a keepsake for that child to pass down to their children in the future and something that they can't outgrow.
Materials
For new parents and caregivers when it comes to a newborn baby the most important thing to remember is making sure that your new bundle of joy is safe. When picking out the perfect gift we wanted to make sure that whoever was purchasing these items on our list remembered the guidelines for being safe for a new baby. An example of choosing to buy a gift set would include: shampoo, lotion, powder etc., it's recommended that when purchasing one of these products you're reminded to make sure that they are specifically designed for a baby and that harsh chemicals are not used in the making.We reviewed and looked into what other customers have said about these products in the past and we don't just consider taken the companies word for it. We wanted to make sure other new parents and parents in general loved the item they were purchasing.
Most Important Criteria
(According to our experts opinion)
Experts Opinion
Editors Opinion
Users Opinion
By Default

Parents, did you know?
We then explored the implications of the products to the overall growth and development of young infants. If it can help them develop and enhance their psychomotor skills while also laying the foundation for their optimum social, cognitive, and emotional development, then we had to include these products in our list. But it didn't stop there. We had to make sure that the developmental benefits of these products are appropriate for the designated or recommended age. It is critical to ascertain the company's understanding of developmental age appropriateness in the design and manufacture of products for babies.
Parents, did you know?
First and foremost, we must not be afraid to seek professional help, both for us and for our kids. If we are not really confident about taking care of our young children, then we need to seek the advice of those who are experts at parenting. We are not experts but we can share with you what we know. You can check out our section on Parent Tips for more of our articles on how you can become a better parent.
Other Factors to Consider

Comfort
Young children require plenty of sleep so they will grow and develop a lot faster. The more chances they get at the deeper stages of sleep, the more efficient is the synthesis and release of human growth hormone which helps direct how cells and tissues need to be built. Of course, it may be tiring and frustrating to put young children to sleep because most of the time, they are asleep when you're awake and are quite active when you're already sleepy. Unfortunately, the best advice is for you to get some shut-eye when your kid is also asleep. You can nonetheless use a variety of sleeping aids such as night lights, mobiles, lullaby players, a soft and comfy blanket, and other materials to make baby more comfortable and sleep more soundly.
Frequently Asked Questions