Notice that nowhere in its name does a headband suggest that one needs hair to wear it–which makes it the perfect accessory for babies old and new! Dressing your little tike up can be such fun. There are thousands of adorable outfits and even more accessories out there waiting for your little pumpkin to model them for all of their adoring fans. Jazz up their outfits even more with one of these fabulous headbands! Our top ten are all trendy, durable, and downright adorable. Many of them even come as variety packs, letting you and your mini-me rock some seriously versatile options!
Our Top Picks
Shabby Chiffon Flower

Our rating
Stretchy Elastic
Price:

See Here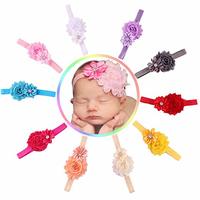 Rhinestone Girls Hair Accessories

Our rating
Newborn to Toddler
Price:

See Here
Mookiraer Nylon Bows

Our rating
Adjustable Size
Price:

See Here
The Best Baby Headbands Reviewed
Zelda Matilda Shabby Chiffon Flower
QandSweet Polygon Flower Rhinestone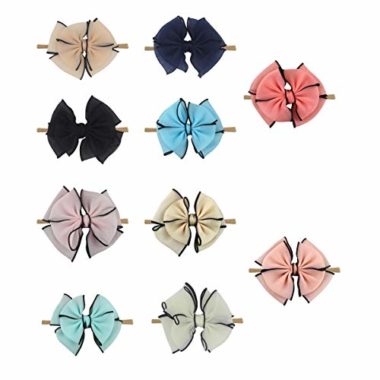 Parker Baby Co. Assorted 10 Pack
WillingTee 3 Inch Grosgrain Ribbon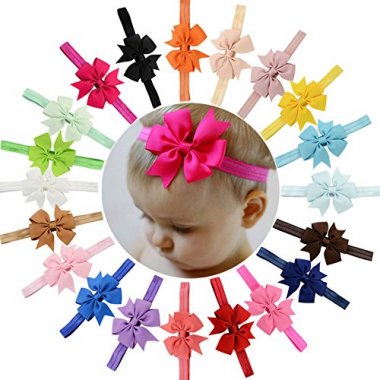 Prohouse Nylon Bow Elastics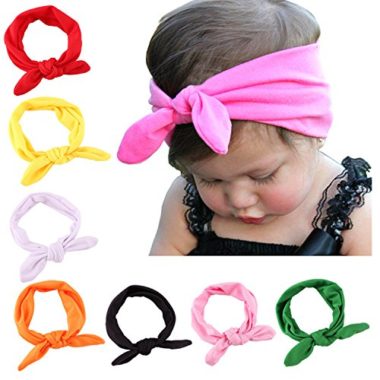 Quest Sweet Knotted Turban
Criteria Used in Evaluation of the Best Baby Headbands
Safety
As with many parenting ideas and concepts, there is somewhat of a debate surrounding whether it is ok for parents to put headbands on their newborns and growing infants. Our experts believe that although freak unfortunate circumstances may show headbands to be dangerous for babies, ultimately it is completely safe for babies to wear headbands. As long as the headband fits a baby's head properly and comfortably, there should be little need to worry about this accessory. Additionally, it is important to consider how small the headband is to discern whether it could be a choking hazard. Most headbands are too large for a baby to swallow even partially, but it is a point of consideration. It is also crucial that a baby is always supervised while wearing a headband. This type of accessory is not usually recommended for babies to wear while sleeping.
Size
It is important to consider size when choosing a headband for your baby. An ideal size for a baby is a snug fit such that it won't leave a mark by being too tight but will also stay in place without sliding. Many of the headbands we feature on our list are initially sized for newborns but then have the ability to stretch and expand to fit a growing head. It is not recommended to dress your baby in a headband that leaves any marks on their head.
Design
Headbands come in all sorts of designs and styles. For babies, often the headbands are circular and slide into place rather than a curved band that sits behind the ears. Baby headbands also feature bows and flowers as decoration a lot of the time. We included lots of bows and flower headbands, but also some other styles such as turban-knotted headbands or headbands with colorful patterns rather than solid colors. There are so many designs to choose from when it comes to headbands, there's bound to be a few that will be perfect for every parent's likings.
Comfort
Comfort is an extremely important thing to consider when purchasing clothing, accessories, and other baby products. When your baby is comfortable, there is less a chance for them to be fussy or upset. It is always preferred to provide a comfortable environment so your baby can be content and stress-free. Babies experience so many new things in their first couple years of life, and it can be overwhelming and even stressful. Something like their headband should never be a source of discomfort or unease, so we made sure to only recommend comfortable headbands.
Purpose for Wearing
When selecting a headband, it is always a good idea to consider what the headband will be worn for. For example, headbands might be used for baby or family photoshoots, special formal events like weddings and celebrations or more for everyday use. Fortunately, headbands can often serve multiple purposes with one design. But others might be preferred for more casual days over special occasions. Ultimately, there's an awesome headband for every baby!
FAQ
Frequently Asked Questions
Q: Are headbands safe for babies?
A: Most headbands designed for baby heads are safe for babies. Any potential hazards associated with headbands are for choking or strangulation. To prevent the risk for choking, make sure the headband isn't too small for your baby to swallow or even fit in their mouth completely. For strangulation, make sure that it is not too tight where it would be snug around your baby's neck. They are safe for babies to wear, but it is recommended that babies are under supervision while wearing headbands and that they do not wear them while sleeping.
Q: Will the headband leave a mark on my baby's head?
A: That depends on the size of your baby's head, but overall baby headbands are designed with soft material as to prevent this.
Q: Can I wash my baby's headbands?
A: It depends on which headband you purchase. Most are fine to be hand-washed and air dried. Some can handle being washed in a washing machine without losing quality or stretchiness.
Q: How do I know if my baby will fit in a headband?
A: When buying headbands online, usually there are dimensions available to compare to the size of your baby's head to make sure it falls in the size range.
Q: Can my baby boy wear headbands?
A: Although many headbands are marketed for baby girls, there is no reason a baby boy can't wear them too. It is totally based on preference.
Q: Do the flowers match the color of the bands?
A: Yes, the flowers are designed to match their corresponding bands.
Q: Are these headbands comfortable for babies?
A: Ultimately it is an individual experience, but most of these are designed to be comfortable for babies. The softness of material, stretchiness, and your baby's skin sensitivity are factors to consider in weighing in on comfort level.