Best Baby Nasal Aspirators & Inhalers Reviewed in 2019
last updated
Jul 22, 2019
Parents of babies all know that it is hard to deal with a baby with a stuffy nose. It can be a nightmare. They have problems breathing, eating, and just enjoying normal activities. The more upset they become with the stuffiness the more stuffy they get which causing crying for babies (and parents.) They are sick and dripping with snot and you feel like you can't help them at all or can you? A simple tool is your answer. A nasal aspirator allows caretakers to clear a snotty nose easily and safely. We have done all the research and created a list of the Best Baby Nasal Aspirators and Inhalers on the market.
In a Hurry? The test winner after 12 hrs of research
BabyComfy The Snotsucker
Why is it better?
Dishwasher safe, complete with a bag to wash it in
Uses tissues instead of foam/plastic filters
You control the tempo and pressure of the suction
Ships with two different sized nose caps for children
Parts can be easily replaced when lost rather than purchasing a whole new item
In a
Hurry? Editors choice:
Test Winner: BabyComfy The Snotsucker
13
Researched Sources
12
Hours Researching
14
Products Evaluated
Effectiveness
Ease of Use
Portability
By Default
Best Baby Nasal Aspirators and Inhalers
1

. BabyComfy The Snotsucker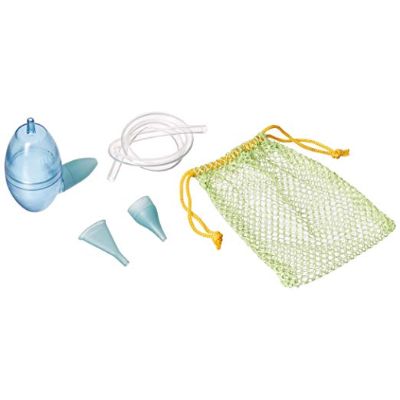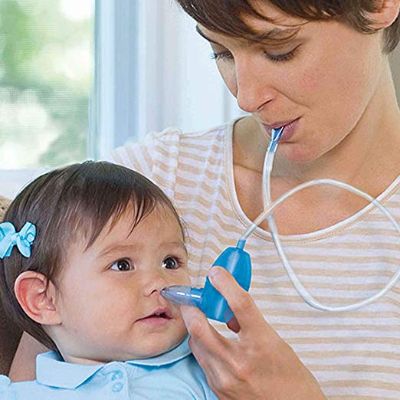 Dishwasher safe, complete with a bag to wash it in
Uses tissues instead of foam/plastic filters
You control the tempo and pressure of the suction
Ships with two different sized nose caps for children
Parts can be easily replaced when lost rather than purchasing a whole new item
A long tube, can get kinked up and cause blockage
Mucus gets caught in the nostril tip and needs to be soaked in warm water to disperse
BabyComfy highlights the increased functionality of "parent-powered suction." With the Snotsucker, you use your own suction to remove mucus safely and hygienically from your child's nose.
Read more
Effectiveness
As effective, if not more so, than battery-powered and bulbed alternatives, BabyComfy's simple design allows you to control the level and pressure of suction at all times. In another bold but bright move, they've eliminated the expensive and inconvenient foam-filter system so many other aspirators employ. Simply grab a household tissue, lightly bunch it, and insert it into the aspirator to filter mucus and germs.
Ease of Use
You have enough to worry about without considering the odds and ends of details that only crop up once every few weeks; take the expensive foam filters off your list and grab a tissue off the table. It's environmentally friendly, and it's one less thing for you to worry about. The regular household tissue is actually a great alternative to foam filters. Tissues are biodegradable, absorbent, easily accessible, and has a smaller pore size by a factor of roughly 1000. Additionally, utilizing tissues cuts down on the manufacturing of plastic, so you're doing the environment a big favor along with your bank account and your to-do list.
Portability
The newborn sized soft nose tip will fit gently into the baby's nostrils, or use the standard size nostril tip for older children. On top of all that, the Snotsucker is dishwasher safe and comes packaged in a mesh bag that keeps the product altogether, whether in your baby bag or the rinse cycle.
2

. Innovo Hospital Twister Bulb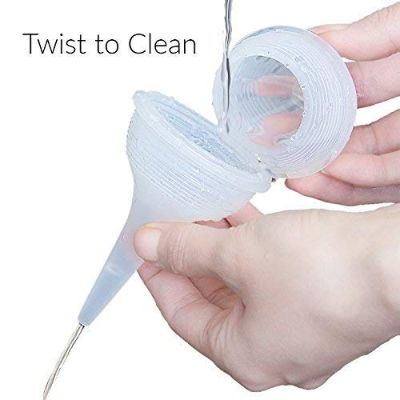 Composed of Medical grade silicone
See-through design allows parents to monitor the liquid being suctioned
Easy to clean
Drawstring carrying bag is included
Some reviewers had issues with the bulb falling off
The innovo Hospital twister bulb aspirator takes the guessing out of suctioning. This doctor recommended device works safely and effectively to provide you with your desired results.
Read more
Effectiveness
The innovo nasal aspirator comes highly recommended by hospitals and medical staff. Many of the current bulb syringes are composed of PVC but this one is made out of 100% medical grade silicone. The silicone material is hypoallergenic and naturally resistant to the growth of fungus, bacteria, and molds. The narrow tip is soft and very effective in suctioning. The affordable price and ability to reuse this device numerous times makes this aspirator a must have.
Ease of Use
Using this aspirtaor is a stress free process as 1-2 suctions will pull everything out. You can easily monitor the amount of liquid coming out of your baby's nose as the aspirator is see through. Cleaning the device is just as easy as the bulb is designed to twist off. You can handwash it or put it in the dishwasher. The simple cleaning process allows you to save money as you will no longer need to buy new bulbs after each use.
Portability
Along with the aspirator, you will receive a drawstring bag to make transporting it from place to place easy. Its small size allows it to fit in almost any purse, diaper bag, or backpack.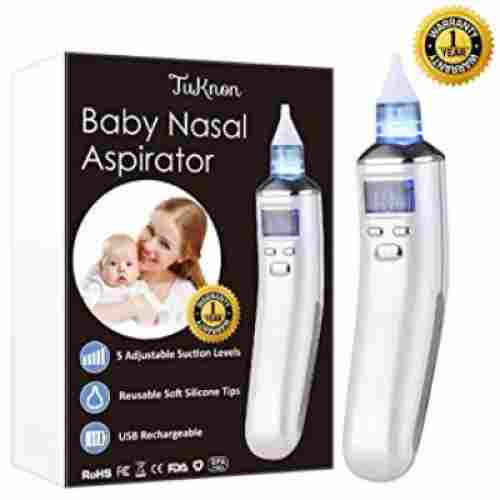 Includes two differently sized silicone tips
Entire device is waterproof and easy to clean
Included storage box makes transporting stress-free
Designed with five different suction strengths and a silent mode
Can be viewed as expensive
Tuknon has modernized the baby nasal aspirator by designing one that is electric. While this device is more expensive than your traditional aspirators it is portable, easy to use, and highly effective.
Read more
Effectiveness
Designed with five different suctions strengths this aspirator will remove your child's mucus in seconds. The aspirator comes with two different sized silicone tips. The curved shaped tip is for children between the ages of zero and two. The cone shaped tip is for children over the age of two. With two different sizes, you can continue to this aspirator as your child ages. Both of the tips will fit perfectly in your child's nose without causing any discomfort. With each tip being composed of 100% silicone and zero BPA, they are perfectly safe to use.
Ease of Use
Using this aspirator while your baby is sleeping won't be an issue as it is equipped with a silent mode. The entire device is waterproof. To clean it,simply remove the mucus cap and wash it with soapy water. With the tips being easy to clean there is no need to constantly buy new ones. The one button design makes it possible for you to operate it with one hand if you happen to be holding your baby with the other. The smooth curved handle provides a comfortable grip for people of all ages who are holding the device. Clear and detailed instructions are included just in case you need a little extra help.
Portability
No need to worry about keeping batteries on hand.The USB charging cable allows you to use it practically anywhere. The bright LCD display screen will help you keep track of when it needs to be recharged. Its compact and lightweight design provides it with a high level of portability. In fact, it even comes with a storage box for you to keep the aspirator in when it is not in use.
4

. Bubzi Co Reusable + Storage Case
Will not irritate the nose
BPA free
No risk purchase
Easy to use
It would be nice to have a little longer cord
This device is so simple to keep clean and avoid mold. You can take it apart to wash and there are no filters to deal with.
Read more
Effectiveness
Bubzi Co has developed this sweet little compact nasal aspirator with busy moms in mind. It removes nasal congestion in thirty seconds or less.
Ease of Use
Suction is parent-powered so you control the length and strength. This device is made with hospital grade soft silicone which is BPA free and made with no harmful plastics. It is made with clear plastic and is easy to clean, much better than the old bulb syringe. The device comes in a compact case for hygienic and convenient storage. You could put this aspirator in a kit with wipes and saline to make a perfect baby shower gift.
Portability
Babies don't always just get sick when they are at home, so it is always convenient when you can take their devices on the go. This aspirator features a cute carrying case. It is easy to place in and put right down in the diaper bag. The case also provides a hygienic place to store the aspirator when not in use.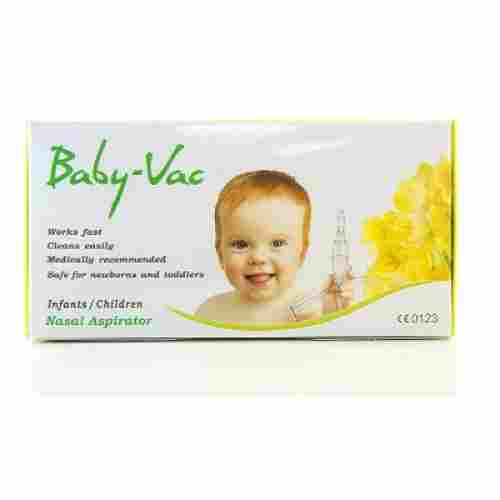 BPA free materials
Clinically tested
Attaches to vacuum
Strongest suction available
It does not fit on every vacuum. You will need to double check the hose size listed.
It has been designed to reduce the vacuum cleaning power on the suction to cause a gentle air vacuum flow that is more effective in collecting mucus in the chamber. The results you will be able to see instantly. It is a patented invention that is safe and effective for babies.
Read more
Effectiveness
It is both gentle and efficient, as well as clinically tested and approved. There was research done by the Medical University of Vienna proving that using Baby Vac can accelerate recovery from an illness, improve breathing and help with prevention of bacteria accumulating. This is the only aspirator in the world which has a vacuum attachment included. The design is trademark and patent protected, made with hospital grade materials and is BPA and Phthalate free.
Ease of Use
The Baby Vac works fast and is easy to clean after every use. This aspirator was designed by a Hungarian scientist to safely and effectively remove mucus.
Portability
We not only enjoy the strong suction on this aspirator, but it is convenient that it can also be used on adults and is great for commuting.
Keeps nasal passages clear
Easy to clean
100% safe
Soft nose piece
Can develop mold if it is not dried well
The BabyBubz aspirator is small and ingenious. This little tool will help your baby sleep and give you some piece of mind. Parents control the suction and this device is designed so mucus will never near your mouth.
Read more
Effectiveness
This aspirator is a simple design with two tubes, one going to your child's nose and one to you with a mouthpiece for providing suction. The nice benefit is the collection chamber which keeps the mucus from traveling too far.
Ease of Use
It is easy, comfortable and safe. The nosepiece is nice and soft for baby. There is no need for heavy medication or harmful nasal spray. This product is made with high-quality materials and is BPA free. It disassembles and cleans up in seconds, and it comes in a handy plastic container you can use to keep everything together between uses.
Portability
This design is compact and does not have any disposable filters or anything to replace, so you don't have to buy anything more for this aspirator.
7

. FridaBaby NoseFrida Snotsucker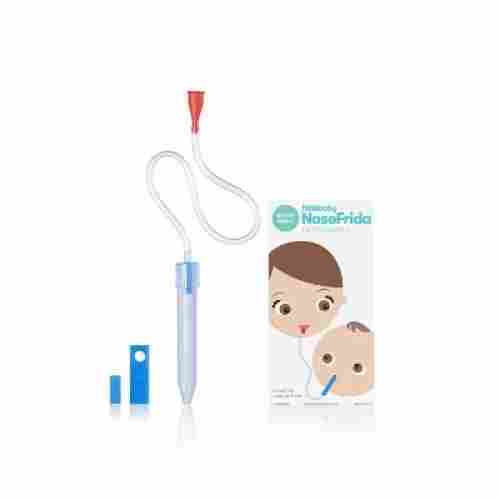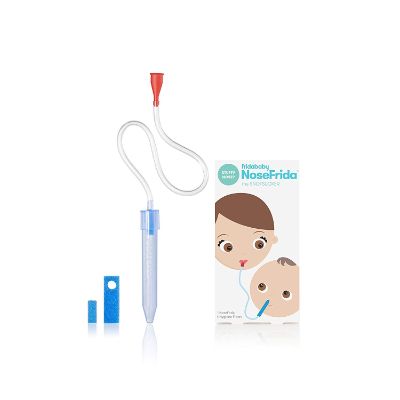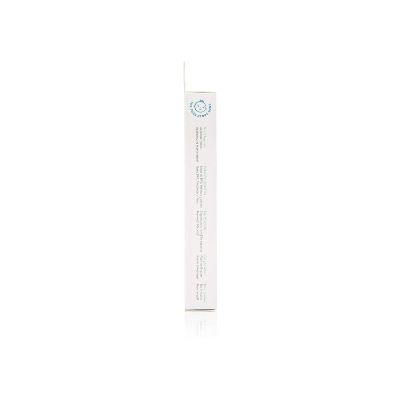 Pediatrician endorsed
Disposable filters
Dishwasher safe
Transparent so you can check for cleanliness
The tube can sometimes separate too easily.
Fridababy is well-known for their quality aspirators. This one was invented by a doctor and is pediatrician endorsed. Fridababy uses parent suction so it is good to know that it is designed to be very hygienic with disposable filters proven to prevent transferring the mucus or bacterial germs.
Read more
Effectiveness
The design of this device has been engineered by a doctor. The design is created, invented, and recommended by a Swedish doctor that wanted a safe way to remove the snot and give caretakers total control over the suction of the device. It is a booger buster.
Ease of Use
The soft silicone tip goes against the nostril to create a seal for the suction. Since it does not go inside their nostril, the tip cannot cause damage or irritation to baby's delicate nose. Give your fussy baby a little relief, making it easier for them to breathe and sleep. This device is also easy to clean and comes with three or four extra filters.
Portability
This aspirator is so nice for babies because it works without having to put the tip inside their nose. It presses against the outside so it is safer and more comfortable. It's compact and a cinch to travel with as well, making your life easier.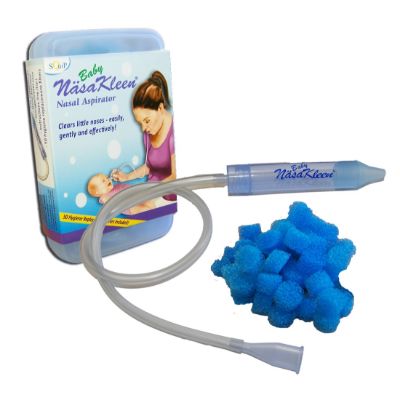 Easy and comfortable
Soft silicone tip
Includes 50 replacement filters
Excellent mouthpiece
The filter is so fine that it can be a little restrictive.
It is so handy that this device is transparent so it is much easier to clean and to keep track of how clean it is.
Read more
Effectiveness
Mom or Dad has complete control of the suction which will help the little one to breathe, eat and sleep better. You don't have to worry about the mucus or germs reaching your mouth because there are filters with lots of replacements provided. This device is easy to clean, shake dry and reassemble, and it all comes together in a nice case.
Ease of Use
The Baby NasaKleen is a simple, clean design which is easy to use and comfortable for your little trooper with the stuffy nose. It has a soft silicone tip which will is much easier for them and an excellent mouthpiece for you to provide adequate suction.
Portability
Disposable filters for aspirator are a great feature to have and this one comes with fifty replacement filters. The disposable filters prevent the mucus from entering the mouth of the caretaker and keep everyone safe. With so many extra filters you won't have to buy more for quite some time.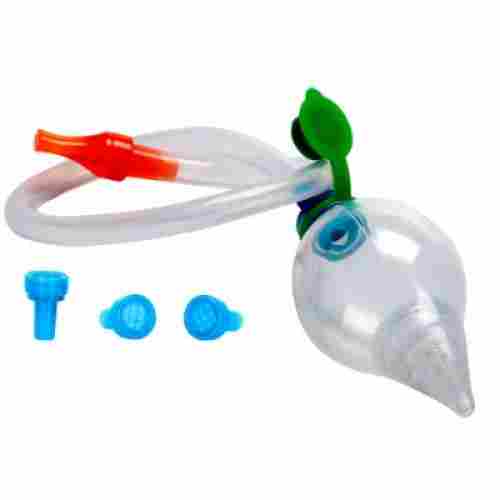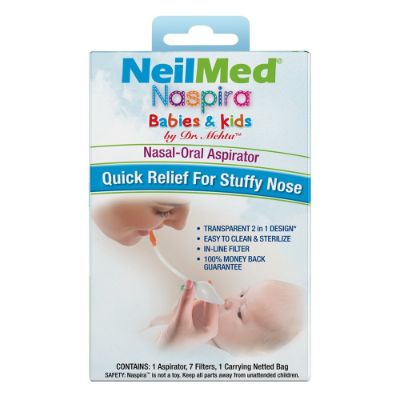 Uniquely designed aspirator and bulb in one device
Features disposable inline filter reduces contamination risk for caretakers
Easy to clean and take apart
Offers five to ten litter of suction per minute
Two in one design that offers instant mucus relief
Filters need to be purchased separately
Hard to get great suction with moving babies
Looking for a uniquely designed aspirator that is easy to use and proven to work the most effectively for clearing the snot from your babies nose? Then look no further. The design of this nasal and oral aspirator features a two in one device.
Read more
Effectiveness
It can be used as a nasal aspirator or as an oral suction that provides a suction that is similar to sucking through a straw. The suction is effective enough to clear the snot but gentle enough to be safe on babies. It removes the snot and mucus by creating a negative airflow at about five to ten liters per minute. The suction can be increased if the duration of the suction is held longer. When the aspirator was designed it was created to be as effective as a bulb style aspirator but offer more suction in a shorter period of time.
Ease of Use
Inside you will find a filter that is disposable. This protects the caretaker from coming in contact with the snot and mucus. It also features a one way valve that prevents air from the parent's mouth from pushing down on the mucus and not letting it through. From the simple unique design to the effectiveness of a bulb aspirator comes this wonderful magic tool that will free your baby of congestion.
Portability
The two in one design of this unique design allows caretakers to be able to use the device as a bulb or aspirator. It features all the suction power of both but offers a filter and suction control that the standard bulb does not. The design will leave both parents and babies feeling relieved. The design of this oral and nasal aspirator is great for babies that may be hesitant to the noises from a design that requires batteries. It is quiet and quick.
10

. oogiebear Raspberry and Seafoam
Double-tipped; loop or scoop options
Cute little bear design and soft, bright colors
Bear's ears serve to keep the tool from slipping too far up the nasal passage
Chemical free
Cleans the last of the build-up traditional aspirators will likely miss
Not soft tipped; must be handled gently
The nasal aspirators are a great way to extract already loosened or wet mucus, but that only leaves baby's nasal passages so clean. For a more efficient sterilization, use a proper suction-based nasal aspirator first, and then finish the job with the Oogieboogie. They come in sweet pastel colors (raspberry and seafoam) and have a happy little bear at each end to help distract and soothe infants. (The ears of the bear also serve as a pseudo-measurement tool, to make sure you don't put the scoop too far up baby's nasal passage.) The Oogiebear is suitable for newborns up through adulthood and is easy to clean and reusable.
Read more
Effectiveness
If you've noticed that your aspirator does a fine job of removing wet mucus, but the baby is still stuffed up thanks to all the dried gunk, Oogiebear's got you covered. Say goodbye to digging around with q-tips in hopes of scraping the last of the junk away. These two magic nasal wands are armed with a loop-end meant to help dislodge sticky mucus, and a scoop-end to safely eradicate the dried bits.
Ease of Use
BPA-, PVC-, and latex-free, Oogiebear understands the importance of buying safe, high-quality tools when it comes to the health and comfort of your child. For especially tricky passages, put a little saline spray in each nostril to help moisturize and loosen up any boogies, then let the Oogieboogie get in there and do its job.
Portability
While Q-tips might seem like the most effective alternative, they tend not to grab onto the dried, viscous little treasures, and it can be easy to get too ambitious with them, tilting baby's head back or pushing the q-tip up too far and causing discomfort (and, potentially, actual damage). The Oogiebear requires a soft touch but it's hard to push it very far into the nasal passage, and the design of its loop-or-scoop tips help get the boogies out the first time so there's really no reason to go rooting around up there in the first place.
Criteria Used for Evaluation

Effectiveness
Every parent is probably familiar with the bulb syringe they send home from the hospital with a new baby, but did you know that there are actually three different styles of aspirators? Each has their own benefits and drawbacks, so you will want to do some research to see which one works best for you. That is where we like to help.
The first type is the common bulb syringe. You squeeze it, hold it to baby's nostril and release it to cause suction. Probably the biggest benefit to these is the low price. They are also commonly available and good for getting rid of the thin mucus. The disadvantage is that there is only a short burst of suction. They are also hard to clean and can even grow mold inside, so you probably will not want to use them more than a couple of times.
Ease of Use
Next, there are aspirators which are powered by human suction. One side of a tube goes into baby's nostril and you suck on the other side. The mucus collects in a container between the two. A lot of them also have replaceable filters. The advantage to these is that you control the length and power of the suction. They are also usually clear so you can make sure they do not accumulate mold and they are usually much easier to clean, sometimes even dishwasher safe. The disadvantage is the risk of transferring germs and catching their cold.
Portability
There are also electric or battery-powered aspirators. These work basically the same way as the human-powered ones. The biggest benefit of these aspirators is that they are easy to use. You can just press a button and hold it to baby's nose. It provides constant suction. They are also more compact and portable. The disadvantage is that the batteries will need replacing and usually the suction is not adjustable.
Most Important Criteria
(According to our experts opinion)
Experts Opinion
Editors Opinion
Users Opinion
By Default

Parents, Did You Know?
When you are making a list of baby shower gifts, baby aspirators are probably not the first item that comes to mind. When you become a new parent, though, you learn quickly just how useful they can be.
Parents, Did You Know?
Your little one can develop a runny nose from a cold, allergies or because they are teething and a stuffy, runny nose can ruin their day. They have trouble breathing or eating and do not get much sleep, and that means you do not get much sleep either.
Other Factors to Consider
Materials
These aspirators are great for getting rid of liquid mucus but now and then you might come across crustier, hard stuff that needs a little encouragement. For this, you can squirt a little saline in baby's nose to moisten and loosen up the hard boogers. Saline can be purchased over the counter at a pharmacy, or you can make your own. Mix together one cup of distilled water, a half teaspoon of salt and a half teaspoon of baking soda. A baby nasal aspirator, and maybe a little saline, can your little one get a better night of sleep, and maybe mommy and daddy can get some sleep too.
Frequently Asked Questions
q:

What is BPA in the term "BPA-free?"

a:

It stands for bisphenol A. BPA is an industrial chemical used to make some resins and chemicals since the 1960s.
q:

What are phthalates?

a:

They are substances added to plastics to improve flexibility, durability, transparency, and longevity.
q:

What is the most effective way to clean a nasal aspirator?

a:

Using warm soapy water to clean a nasal aspirator is the most effective cleaning solution. Most nasal aspirators will come with a set of very specific cleaning instructions so it is important to review those before and after each use. After using the cleaning solution it is very important to make sure everything is thoroughly rinsed and dried.
q:

What does RoHS-compliant refer to?

a:

That refers to the Restriction of Hazardous Substances Directive, which works to restrict dangerous substances in household goods.
q:

Can the nasal aspirators be used for water in the ears too?

a:

No, since water in ears is most often behind the eardrum. Using a nasal aspirator in the ear would not be helpful and may, in fact, be harmful.