10 Best Baby Teething Gels Reviewed & Rated in 2019
last updated
Aug 07, 2019
The teething process can be painful for the whole family. Baby's gums are likely to become swollen and sore and their discomfort is bound to keep parents and other family members preoccupied with trying to calm them. Luckily, teething gels can help to soothe baby's irritated gums and bring everyone some relief. Many gels come in the form of all-natural formulas so you don't have to choose between bringing the baby (and the family!) some peace and keeping the baby away from potentially dangerous chemicals and drugs. Make the teething process a whole lot easier on everyone involved with one of our top ten teething gels for infants!
In a Hurry? The test winner after 60 hrs of research
Weleda 1.7 Ounce
Why is it better?
Safe to swallow
Benzocaine-free
Fluoride-free
Natural, organic ingredients
A sweet, minty taste
In a
Hurry? Editors choice:
Test Winner: Weleda 1.7 Ounce
22
Researched Sources
60
Hours Researching
16
Products Evaluated
Design
Effectiveness
Value
By Default
In Depth Review Top 10
Weleda 1.7 Ounce
Wink Naturals Cool Gums Double
Punkin Butt Natural Relief
Boiron Camilia 30 Doses
Wellements Oil
Orajel Non Medicated Formula
Nuby Chamomile Soothing Tablets
Hyland's Homeopathic Pain Relief
Nuby Massaging 0.53 Ounce
Hyland's Nighttime Oral Pain Relief Tablets
Table of contents
Criteria Used for Evaluation
Expert Interviews & Opinions
Other Factors to Consider
Frequently Asked Questions
Sources
10 Best Baby Teething Gels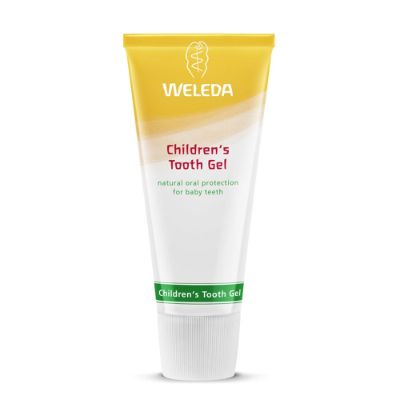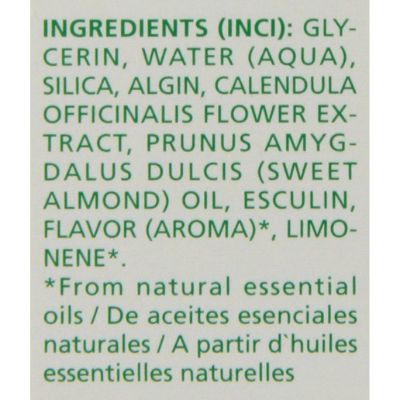 Safe to swallow
Benzocaine-free
Fluoride-free
Natural, organic ingredients
A sweet, minty taste
The new formula has a strong taste; some children complain it's like black licorice, probably due to the sweet almond oil
Weleda's Natural Children's Tooth Gel is a great example of high-quality homeopathy being used to treat everyday ailments. This gel includes natural silica to gently cleanse new baby teeth, while the calendula flower extract pacifies irritated gums. The formula is fluoride-free, benzocaine-free, and safe to swallow. Mild spearmint and organic fennel keep baby's teeth clean, white, and minty fresh!
Read more
Design
Weleda is a company practicing under the NATRUE seal. NATRUE is a certification bestowed by the International Natural and Organic Cosmetics Association that guarantees a company's practices and ingredients are both natural and high-quality, produced in ways that are sustainable and environmentally-friendly.
Effectiveness
This organic alternative to topical medicines uses natural, herbal ingredients to bring children relief from pain and to keep baby's mouth nice and clean while their new teeth develop.
Value
It's all natural, but still provides some relief. Mainly, its function is to clean, and it can be used as a great transitional toothpaste. It's not just for babies, either--plenty of adults like it, and children 2-5 years old still seem attached to this brand.
2

. Wink Naturals Cool Gums Double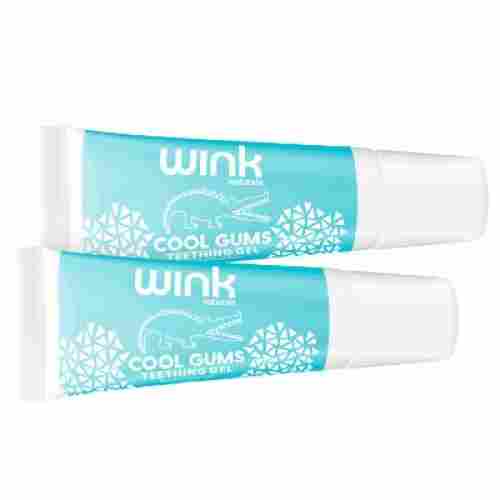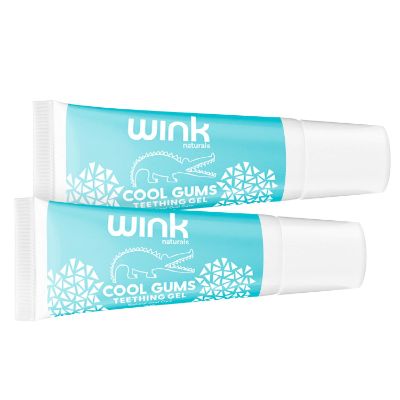 Provides baby with fast acting relief
Made without alcohol
Free of dyes and preservatives
Use as needed
The product comes with a one hundred percent money back guarantee
This gel has not been tested on animals so it's not recommended for use around pets or to be left unattended in the presence of inquisitive cats or dogs
Natural pain relief is something we all strive to find, especially for our precious babies. It's an awful feeling to watch your baby suffer and this wonderful gel is meant to provide relief without the use of harsh chemicals and dyes.
Read more
Design
Recommended for use on babies two months and up, the fast-acting formula works hard to comfort and soothe babies within minutes. This formula is made of natural ingredients and is safe to use as needed. Help restore peace and tranquility, for happy babies and a happy household.
Effectiveness
Hot and cold methods are some of the most recommended and effective in relieving inflammation and swelling. Exposure to these extreme temperatures can offer soothing benefits to aches and pains. The cold sensation provided by this gel is meant to reduce swelling by reducing blood flow to the inflamed gums. In addition to relieving swelling, drawing the blood away from this area can temporarily reduce nerve activity and lower your baby's level of pain. For an extra boost of cooling relief, you can put this gel in the refrigerator between uses. This formula is both fast acting safe to be applied as needed.
Value
Coming across a company that we wholeheartedly trust is quite a feat these days and our babies' needs are no exception. In fact, we may even be more apprehensive when it comes to the needs of our littles. This natural teething gel is made without dyes and preservatives to give you a natural product to best suit your baby's needs. Designed to be a fast acting formula, this gel is meant to provide relief in minutes. There is a one hundred percent money back guarantee so rest assured you can easily address your concerns.
3

. Punkin Butt Natural Relief
Comes in a BPA free plastic storage bottle
Made by a team of moms and scientists to give you a product you can trust
Made of ingredients such as Chamomile, Peppermint, and Sunflower oil
Can be used as often as needed
Frequent use may cause gas for sensitive tummies
The adorable label and soft color scheme are reassuring and calming to ensure you this is a product designed completely with your baby's best interest in mind. Punkin Butt is a company based out of Oregon, ran by a team of mothers who have paired with scientists, pediatricians, and a naturopath to bring your baby a high quality and effective product.
Read more
Design
This teething relief gel is made with ingredients such as sunflower oil, chamomile, and clove. The combination of these extracts provides baby with a calming product that is meant to provide baby with a soothing effect and helps to ease the pain.
Effectiveness
The formula inside this BPA free bottle is produced by a team of experts who have wholesome motivation behind their products. The mom's at this company have paired with several experts in their field to create a well balanced homeopathic formula. The formula includes naturally extracted chamomile, clove and peppermint oils. They have been measured and studied to ensure the perfect ratio, providing yours with safe teething pain relief.
Value
This gel is produced by a team of moms and scientists who worked together to bring your baby safe and effective pain relief to help ease your baby's frustrations and aid in getting a better night's sleep. The scientists who formulated this product are experts in chemical combinations and safety. Meanwhile the mom's in charge are experienced in the do's and don'ts of parenting. You can rest easy knowing this formula is made by people who have personally experienced the benefits and downfall of these ingredients to find a balance that is just right for baby.
4

. Boiron Camilia 30 Doses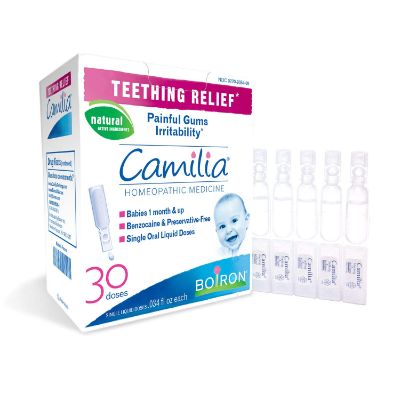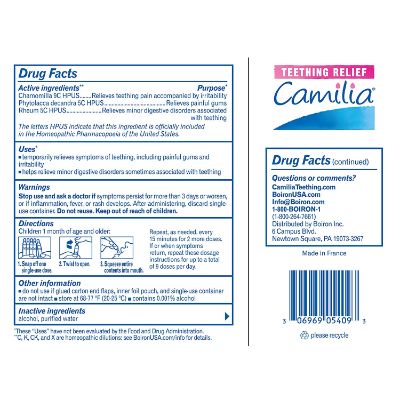 Does not cause a numbing sensation
Easy oral application
Made without preservatives
Great for sensitive tummies
Made without any flavors, fragrances, and dyes
It is not recommended to surpass nine doses in a day.
May pan out to be more costly than other gels or teething methods
Boiron Camilia is a long-time company that has been known for providing pain-relieving pharmaceuticals since 1932. It was started by two brothers who were not only well-known pharmacists but also experts in homeopathy.
Read more
Design
The company started in France and has become an international solution to worry-free pain relief. Peace of mind comes from knowing your baby is happy and healthy and with a product like this, you can rest easy knowing you are giving your baby a highly effective product that is made without preservatives and harsh drugs like benzocaine.
Effectiveness
Teething can be a painful and disruptive milestone and as parents, we want nothing more than to ease our babies' pain. While methods and home remedies used by our parents and grandparents were effective, there was little known about their damaging effects. Baby's are easily over-stimulated and have a sensitivity to extreme sensations so we are always looking for products that are simplistic and natural. This gel is made free of dyes, fragrances, and flavors, so you can be sure you are giving your baby a natural and effective method to teething relief. This gel won't cause any taste, smell or sensation that may cause baby any extra discomfort.
Value
Maybe you've woken up with pins and needles in your arm from sleeping on it for too long or maybe you've been to the dentist to have a cavity filled. Even if you have not, chances are good that you've felt that sensation at least once before. We all well know how uncomfortable and off-putting that sensation can be, for babies who have never experienced that feeling it can be disruptive and even a little scary. Made without the numbing agent benzocaine, this gel is effective in relieving pain without disruption to the throat and gag reflex that can come with that unpleasant sensation.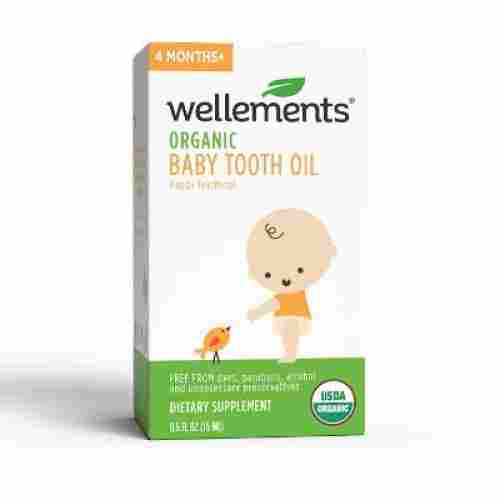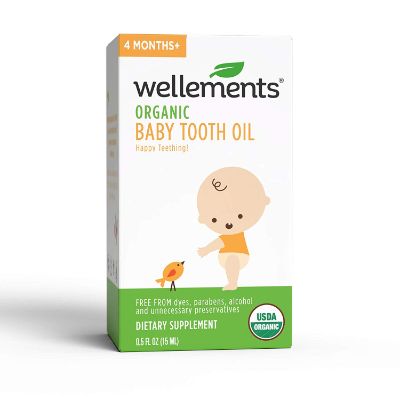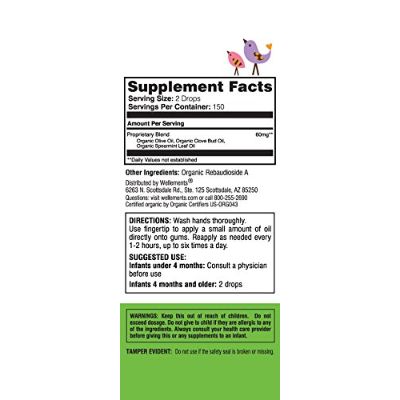 No drugs
No chemicals
Organic clove oil and vitamin e
Vegan and Kosher Certified
Comes in a glass bottle
Many bottles arrived leaking
Clove oil is a very strong smell and taste that many find unpleasant
Wellements is a company of "parents helping parents." They strive to make natural, quality products easily available to parents all over who want to give their baby the best there is.
Read more
Design
This teething oil is in no way a departure from that mission: with no benzocaine and no belladonna, the formula is entirely drug free. It's also free of chemical preservatives, dyes, aritificial colors and flavors, parabens, gluten, dairy, soy, and alcohol. It is Vegan and Kosh certified and comes in a little glass bottle so there is no contact with any plastics that might be carrying chemicals. Manufactured in the USA, this certified USDA organic, and manufactured in a way that is more ecologically friendly than many of its competitors. You can feel good about buying Wellements because it is their mission to do and be good themselves.
Effectiveness
Made with clove oil and Vitamin E, this organic, all-natural tooth oil is safe for little ones age four months and over. It's a very gentle formula and derived entirely of organic ingredients, making it a great pick, especially if you want to help soothe baby's gums in a more natural fashion.
Value
There are a lot of natural remedies out there that have mixed reviews in terms of effectiveness. This oil, by most accounts, lives up to its promises and truly does help bring some relief to aching little gums.
6

. Orajel Non Medicated Formula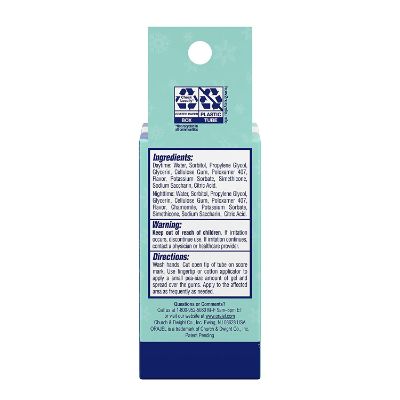 One formula for daytime, one for nighttime
Benzocaine and Belladonna free
No sugar, gluten, or parabens
Still provides gentle numbing and relief via a cooling sensation
No additives
May cause excessive drooling, don't use right before feeding time and have a bib handy
If you're looking to bring your baby some teething comfort without introducing them to a constant stream of medication, consider Orajel's Non Medicated formulas. These two gels are benzocaine free and work to bring relief through a soothing, cooling sensation. They provide something akin to a numbing agent without the health hazards. There's both a daytime and a nighttime formula so your little one can experience 24/7 relief. Simply put a pea-sized drop on a cotton swab or your finger and brush it over baby's gums up to four times daily. If you're working with a physician, apply it as frequently as they suggest.
Read more
Design
It's fluoride-free, safe to swallow, and has no gluten or dairy. The pack includes a finger brush for parents trying to be gentle with newly developing little teeth that might not yet be ready for harsh bristles. Elmo's smiling face eases little ones into a new routine involving dental and oral care. Sugar-free but slightly sweet, this is the perfect cleanser for children ages 3 to 24 months. With Orajel being named the #1 pharmacist-recommended tooth gel in 2017-2018, you know your child's oral health is in good hands.
Effectiveness
This transitional toothpaste will help children start to develop healthy oral hygiene. It won't provide relief from pain right away but should be used in conjunction with other topical herbal remedies to ensure clean, healthy teeth. Practicing good hygiene today means no pain tomorrow.
Value
It's not a topical remedy, but baby's hygiene is important at such an early age, and this gentle cleanser will ensure that there's no trapped bacteria to cause problems or more pain as those little teeth come in.
7

. Nuby Chamomile Soothing Tablets
Quick-dissolve
140 tablets in a bottle
All natural
No benzocaine or belladonna
Can be dissolved in water and consumed
Not all users felt they saw a difference in baby's comfort and disposition when using these tablets
Nuby brings natural relief with a 140-piece supply of their oral soothing tablets. These quick-dissolve tablets are designed to help restless or teething babies with a blend of natural botanicals. They are free of benzocaine and belladonna. The combination chamomile and marigold formula calms fussy babies to give everyone some much-needed peace. They're small enough to dissolve near-instantly but if you're worried about choking, you can also dissolve them in liquid first and give them to baby that way.
Read more
Design
It can be difficult to get a smooth layer of gel inside your baby's mouth when they're fussing. Q-tips, toothbrushes, wriggly little worms--the whole thing can result in a mess. With all that squirming, you've got to be an expert marksman. These tablets are an easy, quick-dissolving solution made of natural remedies. Give them relief the fast and easy way with Nuby.
Effectiveness
Natural remedies can be hit and miss. The majority of parents who tried these out rave about them. Some users say these are the only product that properly calmed their babies when they were teething or just generally restless. But some families felt they saw little to no difference in their child's demeanour when using these. If you're a fan of chamomile, these are a great pick! They help to quiet babies herbally. But if you need a true numbing agent, you'll want to look elsewhere.
Value
These are pretty moderate in terms of median price. The bottle contains 140 tablets, but a suggested serving size is usually 3-4 tablets. So it still has the potential to last you for some time, but you might want to buy a back up if you find Nuby's tablets to be the right remedy for your little one, just so you always have them when you need them!
8

. Hyland's Homeopathic Pain Relief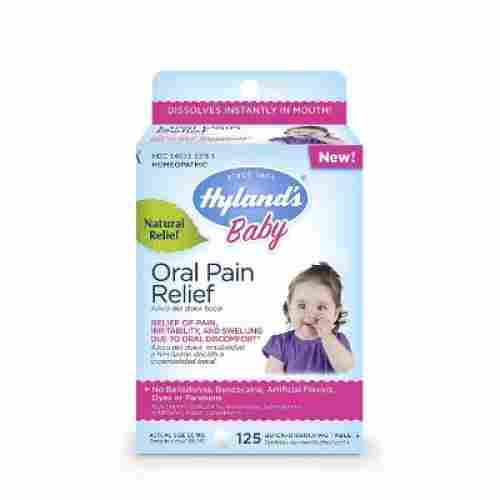 Quick-dissolving
Benzocaine-free
Belladonna-free
Natural, FDA-approved ingredients
No artificial coloring or parabens
Best for mild teething pain but not very effective for more extreme cases
Hyland's has been manufacturing natural remedies since 1903, making them one of the most trusted companies in the nation, by generations of moms all over. Hyland's products are made with all-natural ingredients and contain no artificial flavors, parabens, or coloring.
Read more
Design
These Oral Relief Tablets dissolve almost instantly to make pain relief fuss-free and fast. This formula is free of benzocaine and belladonna and contains herbal solutions with soothing properties such as arnica and chamomile. These tabs, as all Hyland's products, are produced in compliance with FDA standards for homeopathic pharmaceuticals, and all doses are nontoxic and inspected to ensure they meet the Code of Federal Regulations.
Effectiveness
These tablets are safe and reliable, and especially easy to administer. They dissolve quickly in baby's mouth and begin working immediately to reduce pain and swelling.
Value
These no-fuss tabs come in a 125 count, so you'll have a solid stock ready to go. They help reduce mild pain in an all-natural and safe way, and aren't especially strong in flavor so children tend not to put up a fight about taking them.
9

. Nuby Massaging 0.53 Ounce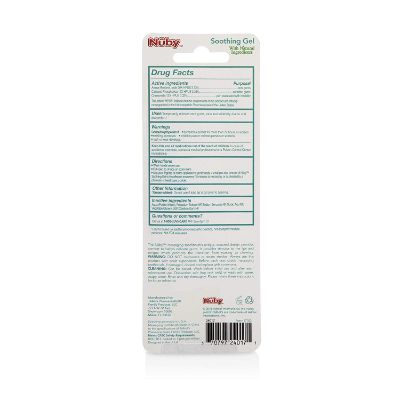 5 star Bio Republic rating
Benzocaine-free
Belladonna-free
Eugenol is both antiseptic and anti-inflammatory
Dentist-approved
For ages 4 months and above, this tutti-frutti flavored teething gel is great for soothing baby's gums, be it day or night. With no benzocaine, belladonna, BPA, or parabens in the formula, this gel works with the active ingredient of eugenol, which dentists often use on the gums as it is a naturally occurring ingredient in cloves, nutmeg, cinnamon, and basil leaf, which is both antiseptic and anti-inflammatory.
Read more
Design
This Nuby All-Natural gel comes with a gently massaging silicone brush on a teething ring. Simply apply the ointment to the teether and let baby gnaw away.
Effectiveness
This organic alternative to topical medicines uses natural, herbal ingredients to bring children relief from pain and to keep baby's mouth nice and clean while their new teeth develop.
Value
This organic alternative to topical medicines uses natural, herbal ingredients to bring children relief from pain and to keep baby's mouth nice and clean while their new teeth develop.
10

. Hyland's Nighttime Oral Pain Relief Tablets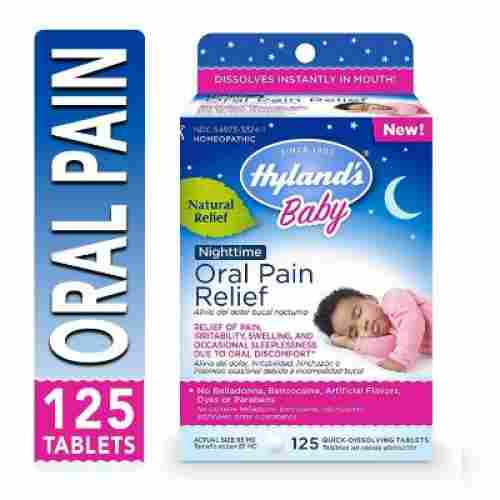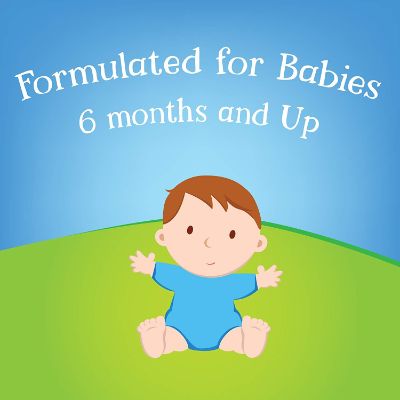 All natural ingredients
Also helps reduce sleeplessness
No dyes, artificial flavors, belladonna, benzocaine or parabens
Easy to administer
Dissolves rapidly in baby's mouth
Some babies experienced upset stomach and diarrhea after taking these
Not all babies found relief with these tablets
It's not exactly an oil or gel, but the Hyland's Baby Nighttime Relief Tablets certainly have earned their place in our top ten. These quick-dissolving tablets will melt instantly in your baby's mouth.
Read more
Design
A homeopathic alternative to numbing agents, these tablets are free of parabens, belladonna, and benzocaine. Arnica and other natural ingredients help to soothe baby's achy gums as well as relieve some of their sleeplessnesses. Restless babies mean restless parents and we know a good night's sleep can do everyone in the family a world of good. Hylands products are all manufactured following FDA regulations. They've been a trusted brand since 1903 and pride themselves on products that are all entirely free of artificial flavors, dyes, and parabens.
Effectiveness
Not only do these tablets help relieve teething pain and soothe gums but they also help to gently lull baby to sleep and they do it all through completely natural ingredients. Help baby get a good night's rest and feel better at the same time with Hyland's Nighttime Tablets.
Value
These are easy to administer: just pop them in baby's mouth! They don't taste strong or unpleasant as some gels and oils do, and they also will help baby to get some well-deserved and much-needed rest.
Criteria Used for Evaluation
Design
We want the best for our children and with that comes the instinct to shield them from the world and protect them from pain. Nothing is more heart-wrenching as a parent than watching your child suffer leaving you feeling powerless. While your baby will always be your baby, there is something incredibly powerful about being responsible for an actual baby.They lack the ability to communicate with you so learning to recognize signs and paying attention to detail can help you know what your baby is trying to tell you. You may notice your baby has become much fussier in recent weeks than they were during the first couple months. If there is no explanation for the recent inability to be soothed, your baby may be teething.

Effectiveness
Teething is a painful and unavoidable process that can come with several other symptoms. It may cause your baby to lose their appetite or feel too much pain to eat or drink anything. In addition to teeth and gum soreness and inflammation, teething can cause fever and an excess of drooling.
Some other symptoms can be an ear or head pain. As a parent, you want the best for your children and you give it your all every day to see they have the best. Good dental habits can help your baby to lead a healthier lifestyle and have good habits in the future. Brushing our teeth is one of the most important factors for good oral hygiene before we can begin instilling these habits there have to be teeth to care for.
By applying these natural teething gels on a regular basis you stimulate the gums and teeth to help aid the teeth to push through. Regular gum and teeth stimulation can also help to prepare your baby's mouth for the sensation of brushing their teeth. They will also get used to the habit of applying gel often. This can reinforce the concept of applying toothpaste and brushing daily.
Value
At around 2 or 3 months old you will notice your baby sucking and gumming more frequently, which can be the start of their first teeth popping through. Before you know it, your little one will have a full smile. Keep in mind they continue to pop out new teeth until they are well into being a toddler. The teething process can cause disruption to everyone in your household. The pain and discomfort will often cause disruption to your baby's sleeping patterns. When you have other children under the same roof, their sleep schedule also becomes affected, which can impact their mood and, in the long run, their school work could be affected. These natural teething gels are fast-acting and effective to help minimize disruption to your household's natural balance. When your baby is inconsolable through the night this can leave you feeling frustrated. exhausted and even like a failure as a parent. Don't worry though, you're not alone. These baby teething remedies are meant to soothe your baby's sore mouth and alleviate their discomfort to help them keep to their regular schedule.
Most Important Criteria
(According to our experts opinion)
Experts Opinion
Editors Opinion
Users Opinion
By Default

Parents, Did You Know?
Teething pain is real pain for babies. Babies usually start teething around six months old and some even younger. Remember to get ahead of the game and purchase the teething gels before they start.
Parents, Did You Know?
The first signs of teething usually start with drooling, a rash, biting, sometimes feeding problems, and pulling on the ears. Any combination of these can be present and sometimes even other symptoms as well.
Other Factors to Consider

Style
As these teeth painfully come in, you are on the lookout for some way to help ease your baby's sore mouth without causing damage to their livers and kidneys. In keeping with the theme of giving your baby the best, this list offers teething gels that are made of safe ingredients without harsh chemicals or dyes. They have natural ingredients and plant extracts thought to soothe pain and inflammation. It is important to be aware of the ingredients listed on the packaging and know your baby. Having this knowledge can help to prevent an allergic reaction.

Logic
As we learned from Mary Poppins, no one likes to take medicine and adding a spoonful of sugar can make taking medicine a bit easier. Medical and dental companies got busy to work turning her song into an effective method for helping ensure children get the vitamins and nutrients they need, camouflaged by a tolerable, sometimes pleasant, flavor.
Babies put so much trust into the adults who love and care for them so having to put them through these unpleasant moments can seem cruel. For hypersensitive babies or parents who don't want their babies to associate tasty flavoring with medicine, there are options that are entirely free of fragrances and flavors. For parents who are looking for an incentive to ease their baby's worry, there are gels to provide natural flavorings that are pleasant and gentle. With these gels, you can give your baby a reason to be open-minded about letting you apply these gels.
Frequently Asked Questions
q:

Do these products contain alcohol?

a:

No, most of these companies are highly reputable in providing safe products for babies, toddlers, and children.
q:

Can these gels be applied on surfaces such a bottle or teething toy?

a:

Yes, these products can be applied orally so you can rub a dose of gel onto the surface of a popular teething toy. Be aware that doing this may cause some of the gel to get all over the place, thereby causing your baby to get only a partial dose.
q:

Do they give off strong flavors/odors?

a:

Most of these options have gentle natural flavors that are meant to give your baby a pleasant experience.
q:

Do these companies have my baby's best interest in mind?

a:

The companies that have produced the gel products on this list are highly reputable in providing quality dental care and children's products for years. Many of the teams who've developed these products are moms who set out to find the best solutions for the obstacles they've faced in their own lives with their families.
q:

Tablets vs. gels. Which is more effective/safer?

a:

Tablets can be a very effective teething relief method for toddlers and older children. Not only do they contain a dose of pain-relieving medicine but the also provide your child with oral stimulation during an incredibly painful phase in development. However, gels are a much safer method for infants. Babies have small mouths and a gel application allows them to receive a dose of pain relief without the risk of choking. To provide your baby with an extra benefit apply gel by gently massaging onto gums and teeth to provide your baby with pain relieving stimulation.
q:

What is benzocaine?

a:

Benzocaine is a topical pain reliever. It works by creating a numbing sensation around the inflamed area. This numbing sensation can cause choking or gagging for children who have sensitive stomachs.
q:

Are these gels made of natural ingredients?

a:

Almost all on this list are comprised of natural ingredients. Some are plant-based, while others are glycerin-based. There are a few that do have some artificial colors, flavors, and ingredients. Keep in mind when choosing an all-natural alternative, the application may be required more frequently than anticipated.