Your baby is an explorer: they crawl and search every available inch of your house in their waking hours, and you can already see them attempted to stand and walk. This is an amazing and terrifying process to behold as a parent, it is both exhilarating and worrisome to watch them making their first moves towards autonomy. You want to encourage their growth and the expansion of their mind, but you don't want them falling and hurting themselves in the process. The baby walker is an ancient tool, one appearing in paintings from the fifteenth century, and one that will prove invaluable to you in this precarious process of growth and exploration.
The emerging ambulatory child adds a great number of worries to your list. They will now be opening low cabinets and drawers with their free hands, no longer slowed by the process of crawling. You will need to block off stairwells and bathrooms, keeping them from dangerous tumbles or bird bathing in a toilet. This process will be a constant exercise in ingenuity for your child, as they will make a game of finding ways around the barriers you set before them. Putting them in a baby walker is one way to make this process easier and safer for them, not to mention far easier for you. Even push and play options will keep their attention for longer than many other toys, as much of their attention is given to standing and moving. Your child is an ever-growing source of energy, and you will want to find productive outlets for their curiosities as their mind expands.
We've searched the internet for the best available baby walkers, and found the most reliable and inventive options for your baby. This process is stressful in and of itself, take one worry off of your list with these great options.
Our Top 3 Picks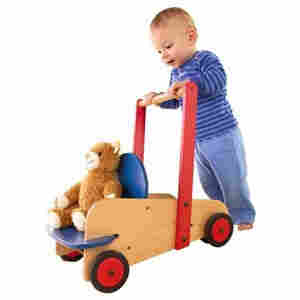 Walker Wagon

Our rating
For First-Time Walkers
Price:

See Here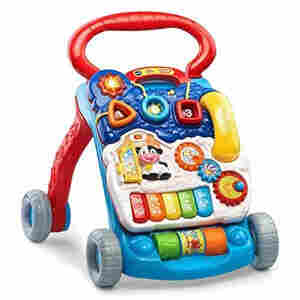 VTech Sit-to-Stand Walker

Our rating
Adjustable Speed Control
Price:

See Here

Fisher-Price Bright Beginnings Walker

Our rating
Develops Motor Skills
Price:

See Here

Our Picks Of The Top Baby Walkers:
Safety 1st Sounds 'n Lights Discovery Dino
Age Range: 9 months to 3 years old
Baby Einstein Baby Neptune Ocean Explorer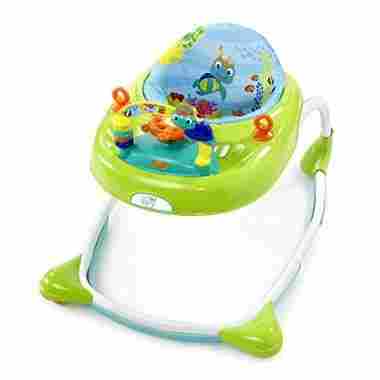 Age Range: 9 months to 3 years old
Chomp and Clack Wooden Push Toy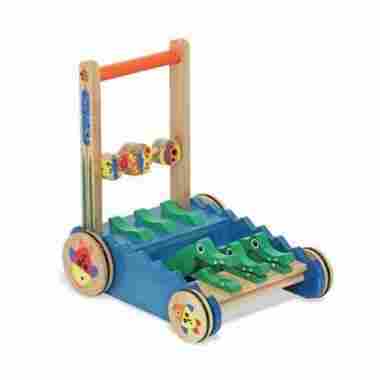 Age Range: At least 1 year old
Age Range: At least 6 months old
Safety 1st Ready, Set, Walk! 2.0 Developmental Walker
Age Range: At least 6 months old
Kolcraft Tiny Steps 2-in-1 Activity Walker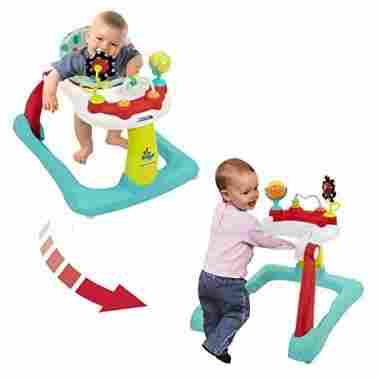 Age Range: At least 6 months old
Bright Starts Walk-A-Bout Walker
Age Range: At least 6 months old
Fisher-Price Musical Lion Walker
Age Range: 6 months to 3 years old
Disney Winnie The Pooh Music and Lights
Age Range: At least 9 months old
Storkcraft Mini-Speedster Activity
Age Range: 9 months to 3 years old
Bright Starts Giggling Gourmet Shop 'n Cook Walker
Age Range: At least 6 months old
Learn with Me Zebra Walker
Age Range: 6 months to 3 years old
Baby Batman Activity Walker
Age Range: At least 6 months old
Minnie Music and Lights Walker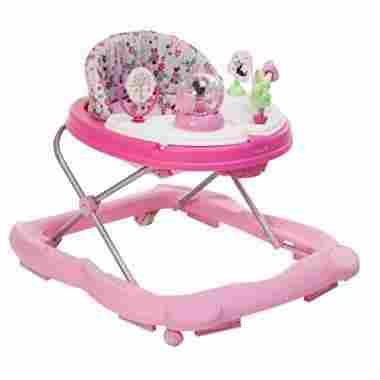 Age Range: At least 6 months old
Chicco Dance Walker Activity Center
Age Range: 6 months to 3 years old
Criteria Used to Evaluate The Best Baby Walkers for Your Infant
We wanted to get the right balance of engagement versus play. Some infant walkers come with many bells and whistles, thereby confusing the child and creating stimulus overload! And, while we can appreciate the desire of parents to provide only the best, new fangled thing on the market, it's not always the best in the long run. With our products, it was hard-pressed to come up with more than a handful of negative reviews or cons from parents. Depending on what the needs of the child and parent are, a range has been provided from the busy V-Tech sit-to-stand, to the more minimalist Joovy spoon walker, or the traditional Wooden Chomp and Clack Alligator walker. Each one with it's own unique and desirable traits. Our list here can never be fully comprehensive, which is why it is encouraged that each check in with him or herself, do their own research; observe their child. The answer will be quick to come, and we will have just what they need!
Basic Research
While the jury is still out on the efficacy of baby walkers, the technology that is afforded us by way of these products, enables babies to have the advantage that previous generations didn't. It's not just that we want children to walker sooner — we want them talking sooner, as well! We can see that there is a direct correlation between the speed of motor neural development with speech. We all know of the vital importance of early formation through social interaction with parents — being talked to, played withheld — in order to bring about desirable traits through mirroring and the development of neural pathways. This aids not only in speech, but imaginative function and capabilities
Walkers can develop and encourage more the sense of curiosity, exploration, and development in a safe way! There is always some nook or corner your child will try to get into or reach for! With proper supervision, some things can be more easily attainable (milestones, accomplished) with the aid of walker, while the parent is there to cheer them on! The important part is to keep them supervised, baby-proof the room, and don't leave them in the walker for too long. The walker should not be used as a substitute or crutch from the child learning to walk on his or her own.
How We Chose the Most Popular Products
Choosing the right baby walker is never easy simply because everything technically has the same basic components – a wheel and a mechanism upon which baby can hold onto while mastering his or her steps. So, it all comes down to the existence of additional features that can further enhance the growth and development of babies.
In such cases, we have to make sure that the different features are also developmentally appropriate and can really help enhance certain developmental skills that babies need to master. Additionally, these features must be safe to operate as well as made of baby-safe materials. We also had to look at the hundreds of reviews from customers, consumers, and parents who have first-hand experience buying, assembling, and letting the product be used by their respective children. The toy manufacturer's credibility and trustworthiness have to be considered as well.
We took all of these into consideration as we scrutinized every baby walker from cheap baby walkers to pink bay walker to even baby walkers for sale to present to you our list of the leading baby walkers for infants this 2016.
Babies and Their Motor Development
There is nothing better than seeing your baby take his or her very first few steps. This is a very momentous occasion simply because it already signals a nearly-developed gross motor skills, balance, and coordination.
In a few more months, your baby will already be exploring his or her new-found world. With well-developed motor skills, young children will be able to explore their surroundings a lot better, enabling them to learn more, and help foster a sense of independence and autonomy. This can help in the development of a healthier self-concept which starts with self-confidence. As confidence in themselves grow, children also learn to interact more actively with their environment including adults and other children. This, in turn, is what promotes the development of social skills.
Baby walkers are thus important in helping young babies initiate their very first steps. And while there are a variety of ways in which we can teach or help our babies learn to walk, the use of baby walkers are generally believed to be one of the most effective ways to help encourage babies to take large steps toward independence. Learning to walk take several stages which starts with mastery of babies' control of their head and neck muscles. By the time they are 4 to 7 months old, babies can already start sitting on their own.
Towards the 8th month, they will already be so adept at crawling – their very first chance at mobility, moving on all fours. This helps them strengthen their leg and arm muscles. Around this time, usually by the 8th month, they will already be pulling themselves up to stand. They can hold onto the railings of their baby cribs or even hang onto the fingers of Mom or Dad to pull themselves up. This is now the time for them to really plant their feet on the ground. Just another month and they will already be taking those steps but with the support of Mom or Dad. Around 9 to 10 months, they will already be cruising along, holding onto furniture to go where they want to go.
Towards their first year, usually beginning on the 9th month, babies will already be able to stand without support or any form of help. And this is one of the developmental cues that baby is already ready to walk on his or her own. If he or she can already balance standing on his or her feet for several seconds, this will encourage him or her to try to take those crucial first steps without support from Mom and Dad. And this is where baby walkers can greatly help. By providing support for their young muscles as well help provide safety against falls, baby walkers are simply one of the most efficient tools for helping babies learn to walk.
However, baby walkers are not only beneficial for motor development. Some baby walkers also come with a variety of fun learning activities to help with their cognitive development particularly thinking and problem solving. These may not be as complex as the cognitive processes seen in older children. However, these do provide the foundation for the development of more complex cognitive processes such as logical reasoning and critical thinking, divergent problem solving and counterfactual reasoning, and a host of other mental abilities.
Baby walkers are not just tools for encouraging babies to strengthen their muscles, develop coordination and balance, and enhance other psychomotor skills. More importantly, baby walkers can help foster babies' sense of independence and encourage exploration which can all enhance his or her understanding of the world around him or her.
It is for this reason that many parents give their infants baby walkers. And if you are looking for a baby walker yourself, we are optimistic our list of the 15 top baby walkers will help you choose the best one for your baby.
FAQ
Frequently Asked Questions
Q: Why are all the baby walkers listed so expensive?
A: Much of it has to do with cost of manufacturers cost of production and shipping! There is the reputation of the company as well that puts a certain "gold standard" to a product; in addition to the number of accessories, as well as warranties and the writing of user manuals. Another example is considering the complex safety features of the Joovy Spoon Walker, as opposed to the simpler, unencumbered and more free-flowing Chomp and Clack Alligator walker. More labor went into producing one as opposed to the other.
Q: Some pediatricians don't believe in the validity of walkers, why should I buy one?
A: This is left to the discretion of each parent and couple in deciding what is best for their children. Research has shown that there is some benefit, even if it is not extensive or all-encompassing. Our products are like anything, something to be used in moderation. It is never suggested that a child be in continuous play or use of a product. Walkers are used as an aid, a tool, just as training wheels on a bike — at one point, the wheels must come off!
Q: Will walkers replace crawling?
A: I see this as being highly unlikely! This has been a major concern of quite a few pediatricians and child experts, though! Crawling is an essentially fundamental and vital stage in the development of a child. Just as there's the old adage, "you have to walk before you run", so a child must crawl before walking! It's right for the parents to find a healthy balance when it comes to their child's development.
Q. Will a walker help my infant walk sooner?
A: Each child is different. Walkers may not help a child walk sooner, but it will start building neural pathways in that direction. Overuse of the walker has the possibility of atrophying the ability to balance properly on his or her own. Each case is different, but each stage of your child's development should equally savored and enjoyed.
Q: How durable are these walkers?
A: That depends on the walker! Each one your purchase has different specifications. While we stand by the overall durability of all our walkers, we can't account for rough your child can get with them. If an older heavier child decides to put their full weight on the product, it may break! The walker is to help gauge balance, so that the child him or herself can find it on their own. The child can tilt, the child can sway, it's up to the discretion of each parent.
Q: What does the "grow with your child" feature mean?
A: Typically, a grow with your child feature is meant to evolve to the changing style of play that your child develops as he or she gets older. It can also incorporate certain height and weight parameters. Often a feature like a learning activity center can remain relevant to the life of a child until the ages of 3-4. Their knowledge and cognitive abilities aren't too far advanced during these preschool years.