Kids need duffles and bags for the many activities they want to do. Whether it is Summer, Winter, or school time. For sports, dance, and regular use, bags are a necessity of life. Even toddlers need bags for their toys and favorite items they want to carry with them. When it is time for travel in the car or on a plane, bags will be needed for everyone. We feature small bags on this page for kids that they can handle easily themselves. These are small, but they do hold plenty of items and have a multitude of uses.
Some of them are best for travel purposes and other for the beach or parties as favors, but they can be used for whatever function you have in mind. The Overnighter Bag and the Dance Duffel can be used for those specific ideas but can hold other things that you need to move and travel with too. A few of these have the most adorable designs for kids, such as the many applique designs on the Quilted Duffel that we love so much. These have all been rated highly by purchasers and are the most bought from customers online. Come with us now to see the best of the best bags and duffels for kids in 2018.
adidas Diablo Duffle Bag for Kids
Rockland Luggage 19 Inch Tote Bag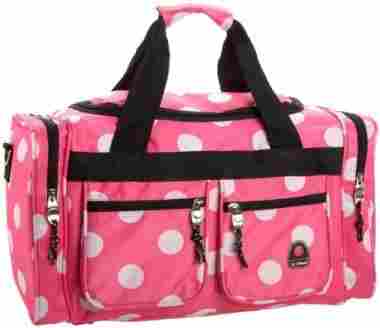 Personalized Multi Color Chevron Duffle Cheer Bag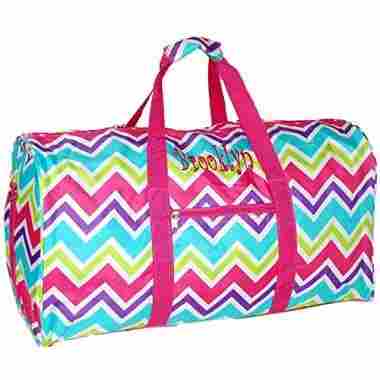 Wildkin Overnighter Duffel Bag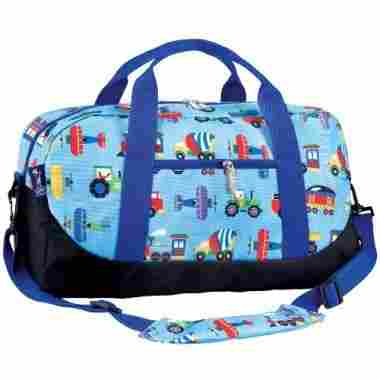 Private Label Quilted Nylon Dance Duffle Bag
BeeGreen Party Favors Bags 10 Pack 5 Designs
Vooray Roadie 23L Small Gym Duffel Bag
Stephen Joseph Quilted Duffle Bag
FunFitness Mesh Beach Bag
Colorful Mesh Breathable Sea Shell Bags
Criteria Used in Evaluation of the Best Bags and Duffle Bags for Kids
Small enough for kids to carry comfortably
Each of these bags is small enough for kids to carry on their own to the many places they go. The handles and shoulder straps are just the right sizes for children to grip and put on their shoulders. None of them are so big that ages four to fourteen cannot manipulate easily.
Great designs that appeal to children
Most of these duffles or bags have fantastic patterns, colors, and designs that will excite kids. The ones with the best graphics and patterns are the Party Favors, Overnighter, Roadie, and the Quilted Duffle. The ones with the brightest and boldest colors are the mesh bags and the Diablo bag. Kids will want more than one of these because they are eye-catching and fun.
Will hold plenty of items and versatile in use
Even the smallest of these bags, like the Party Bags, will hold a lot of things in them. The small ones can hold shoes, clothes, lunch, snacks, toys, and drink bottles. Children will want a bag for every different place they go, so they won't have to change out the contents each time.
Durable and will last a long time
The stitching on these duffels and bags are strong and long-lasting. Some of them have double stitching or tape that reinforces the seams. We let you know which ones have extra reinforcements in the seams. The materials used to create these are high-quality and will not tear through use and rough play. They can be used indoors or outdoors and anywhere kids can go with them.
FAQ
Frequently Asked Questions
Q: Which bags have a hard or solid bottom or base?
A: The only bag that specifically states it has a solid bottom is the Rockland Tote. The others have a soft bottom and can be bent. They take the shape of the interior contents because of the flexible base.
Q: How do you clean these bags? Can they be washed in the washer and dried in the dryer?
A: The Patchwork Duffle and the BeeGreen Paty Bags specifically state that they can be machine washed with ease. It is best to hand wash or just wipe clean the other bags for the best longevity.
Q: Are the bags versatile for any type of contents? Can they be used for school, play, and trips?
A: All of these are very versatile for whatever you desire to put in them. They can be used for many purposes from gym clothes to toys, so let your imagination run wild for uses.
Q: I want a bag with a lot of pockets. Which ones have the most pockets?
A: The ones with the most pockets are the Dance Bag, the Patchwork Duffle, and the Rockland Tote.
Q: Which bags would be good for a small child to carry? I am concerned about the size and weight.
A: The Wildkin Duffle, the Girls Dance Bag, and the Party Favor bags are all multi-purpose and they are small and lightweight to carry. Kids will want to take these everywhere they go because they are very versatile and fun to have.
Q: Which bags can fold flat or fold to be put in other bags when they are empty?
A: All of the bags, except the Patchwork Duffle will fold and can be put in other bags when empty. The best ones for the flattest storage are the mesh bags because they have the least amount of bulk from the materials.
Q: Do all of the bags featured have a zippered top opening? Are any of them open on the top without a closure like a simple tote bag?
A: The Colorful Mesh Bags do not have a closure at the top and the Fun Fitness Mesh Bag has a drawstring closure at the top. All of the others have a zippered main compartment as they are more of the duffle-type bag.
Q: Are any of these a set of bags, such as for luggage or travel purposes?
A: The only item that is more than just one bag is the Party Favor Bags. They are all the same size, so it would not be the same as various-sized travel bags. These come as a ten-pack of five different designs for kids.