Kids love climbing on furniture. You've probably already told them to get down from the counter, or off the back of the couch, or to stop jumping on the bed at least three times today, so we know that you know. But not all furniture was made equal, and certain designs actually lend themselves to children's more adventurous natures, without causing any significant damag, or posing any safety hazards. We're talking, of course, about the ever-stylish bean bag chair.
Bean bag chairs have been around since the 1970s, inspired by a 1968 Italian design aptly named "the shapeless chair." The bean bag chair was a widespread hit, rocketing to popularity. At the time, bean bag chairs were hardly considered children's furniture, but as they have evolved over time, it's become apparent how much little ones take to the soft, squishy sofa alternative.
Bean bags chairs are often filled with a small, bean-like substance. Many innovative designs of today use other materials, such as stuffed animals, to turn bean bag chairs into both a piece of safe, comfy furniture, and a storage system. Below, we've gathered 10 of the most popular and highly reviewed bean bag chairs on the market. No more monkeys jumping on the bed when they can crawl over and cuddle up in a comfy bean bag chair!
Our Top 3 Picks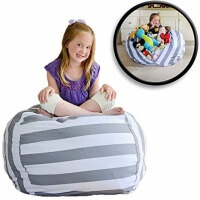 Creative QT Extra Large

Our rating
Stuffed Animal Storage
Stylish
Price:

See Here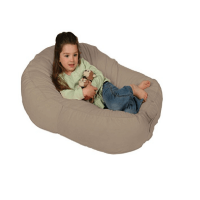 Leachco Pillay Plush

Our rating
100% Polyester
Center Stretch Panel
Price:

See Here
ECR4Kids Toddler Classic

Our rating
Durable Upholstery
Double-stitched
Price:

See Here
The Best Bean Bag Chairs for Kids and Toddlers Reviewed
Creative QT Extra Large Stuffed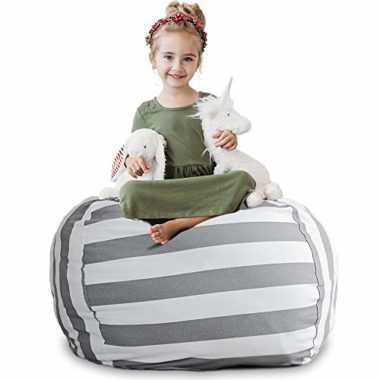 Leachco Pillay Plush Sling-Style
ECR4Kids Classic Assorted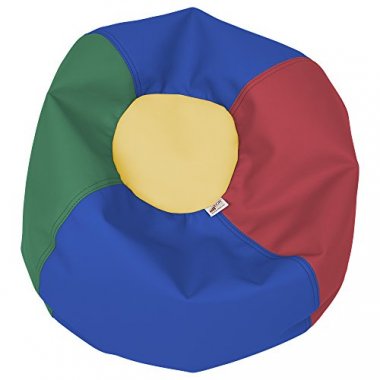 Flash Furniture Oversized Lavender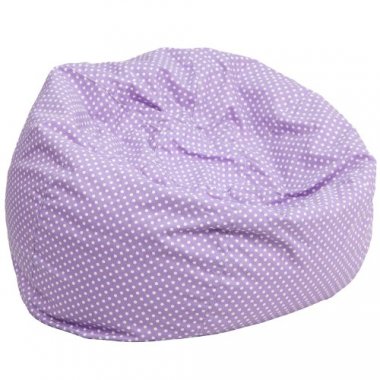 Cozy Sack Family Size Sack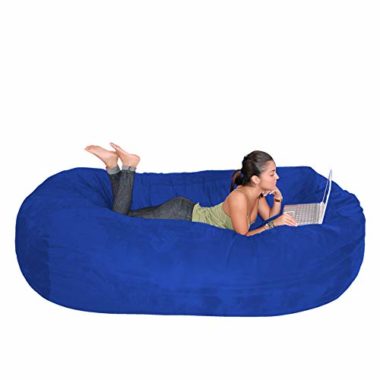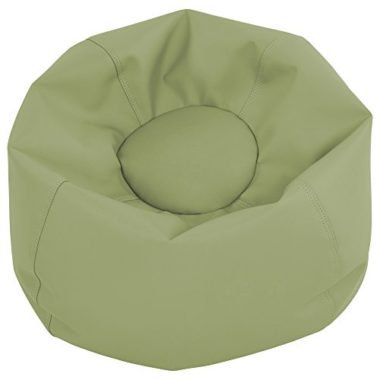 Big Joe Bagimal Maya the Monkey
Lukeight Extra Long Zipper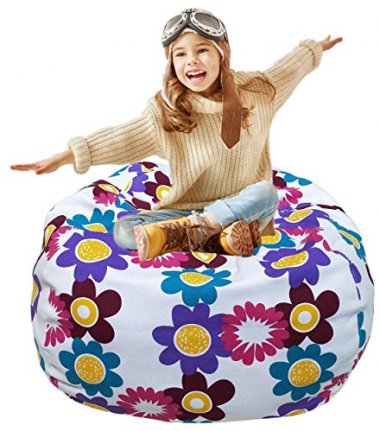 American Furniture Alliance Spider Web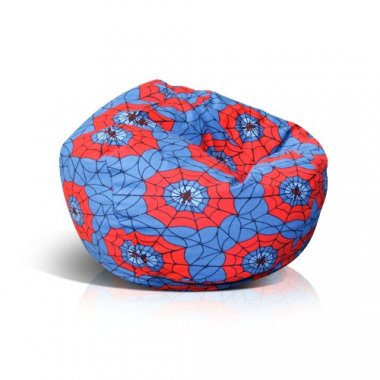 Criteria Used in Evaluation of the Best Bean Bag Chairs for Kids on Our List
True to its hippie roots, the bean bag chair comes from a rather revolutionary epoch in history! It was designed in post-war Italy–more specifically 1968–by three Italian designers–Gatti, Paolini, and Teodoro! Originally, it was called the "Sacco" meaning shapeless chair. Now, this would only be more or less meaningful if weren't within the context of all that had come out of Italy within the previous 20 years! This was the time that the Fiat, Vespa, Lamborghini, and Porsche were just making headway in the auto industry. Also, Italian culture was having a renaissance in couture fashion, architecture, literature, and films! Within this fertile realm of industry and imagination, the bean bag chair came to be!
What we found is that this style of shapelessness was, and is, quite ideal for our relaxed hang-loose culture! It was very popular in the '70s (think bell bottoms and butterfly collars!), then dropped off in popularity by the mid-'80s on! It's within the last 10 or 15 years with the resurgence of a new generation of hippies, and now hipsters, that there's been a new spin on old styles! There are now all kinds of designer bean bag chairs to suit almost any need. Some are looser, some more structured. Some are within the realm of kids' fantasy and novelty, others that cater to gamers and virtual-reality geeks!
In the past, the filler of these chairs could've been highly toxic, with chemicals like CFC. Now, the designs are catering to a more environmentally aware and comfort-seeking culture. While materials may still be synthetic, it reduces the waste caused by deforestation. Also, there's less need for polystyrene! Shredded foam is a fantastic alternative that conforms to the body much like a contoured pillow. Pretty much all designs promote correct posture and alignment.
FAQ
Frequently Asked Questions
Q. How safe are bean bag chairs for children?
A: For toddlers and older children, they are as safe as can be! There are a variety of sizes and designs that can prevent possible suffocation or falls. For instance, quite a few have a center panel that won't allow a child to sink in too far and possibly suffocate. Also, it would be best buy a chair made of cotton material rather than vinyl. Lastly, it would be a good idea to buy a chair that has extra safety precaution for opening the zipper. The filler is the biggest danger for a choking hazard! Alternatively, you can purchase a chair made of shredded foam instead.
Q. What are some of the therapeutic aspects of bean bag chairs?
A: Bean bag chairs promote proper posture and alignment no matter what position you sit in. They are sometimes used for occupational therapy sessions and they are also helpful for parents of autistic kids. In some of the child therapy sessions, a bean bag chair can be used for releasing aggression and pent-up emotion. It is also known that poor posture through sitting can cause head, joint, and muscle aches. So, it is recommended for anyone in high-stress situations.
Q. What are the best bean bag chairs for gaming?
A: That would all depend on your comfort level! Some gamers like to get low while playing, while others prefer to be perched on high! Depending on your size, you can't really go wrong with the classic design with polystyrene beads that can leave a great fanny indentation waiting for your next gaming session! Some bean bag gaming chairs have direct audio surround relayed through built-in speakers.
Q. Are there any other uses for bean bag chairs other than gaming or reading?
A: Yes, indeed! Some bean bag chairs can also double as storage holders. Parents often use them as storage bags for stuffed animals. They also have the capacity for storing linens and clothes, as well! As mentioned before, they can also be used as punching or kicking bags by young children! Even as vehicles to slide across the floor when kids are getting really creative! Some wider designs can function more as a bed or pallet where your child can nap. Alternatively, some owners use their bean bag chair as a dog bed or sometimes a blanket if they opt to take out the filler.
Q. Do all bean bag chairs have to be drab and monotone?
A: Not at all! In fact, there's a bean bag chair out there to suit almost everyone's needs and every home's style! Bean bag chairs no longer need to be relegated to the playroom or the basement! It doesn't need to be ugly black vinyl or the color of circus big top! You can have that if you want, though! These days, a bean bag chair can be both stylish and elegant, reflecting the taste of the parents as much as the child! They can be made of cotton and filled with ergonomic foam. A blue, gray, or striped design would be perfect for a living room or den, so you don't have to feel like your living in a nursery 24/7.
Q. What is the average lifespan before I need to invest in another chair?
A: A good bean bag chair can last up to a decade at least! If you buy an average-sized one for a child then you may have to take into consideration the fact that your child will outgrow the chair. With multiple children in the household, there should be a pretty good turnaround. If the chair is more of a size that your child can grow into, then it will probably have a longer shelf-life! Overuse and over-washing a removable cover can wear the material thin. Also, after about 10 years of use, the filler may go completely flat unless replaced with new beads.