10 Kids Bean Bag Chairs Reviewed in 2019
last updated
Jul 21, 2019
Kids love climbing on furniture. And they'll love bean bag chairs for kids! You've probably already told them to get down from the counter, or off the back of the couch, or to stop jumping on the bed at least three times today, so we know that you know. But not all furniture was made equal, and certain designs actually lend themselves to children's more adventurous natures, without causing any significant damage, or posing any safety hazards. We're talking, of course, about the ever-stylish bean bag chair.
Bean bag chairs have been around since the 1970s, inspired by a 1968 Italian design aptly named "the shapeless chair." The bean bag chair was a widespread hit, rocketing to popularity. At the time, bean bag chairs were hardly considered children's furniture, but as they have evolved over time, it's become apparent how much little ones take to the soft, squishy sofa alternative.
In a Hurry? The kids bean bag winner after 18 hrs of research
Leachco Pillay Plush Sling-Style
Why is it better?
Conforms to any position
Adjustable in length for child growth spurts
Portable and good chair for reading or gaming
Contoured borders keep child firmly embedded
In a
Hurry? Editors choice:
Test Winner: Leachco Pillay Plush Sling-Style
21
Researched Sources
18k
Reviews Considered
18
Hours Researching
16
Products Evaluated
Materials
Comfort
Style
By Default
Toddler Bean Bag Chair Reviews
1

. Leachco Pillay Plush Sling-Style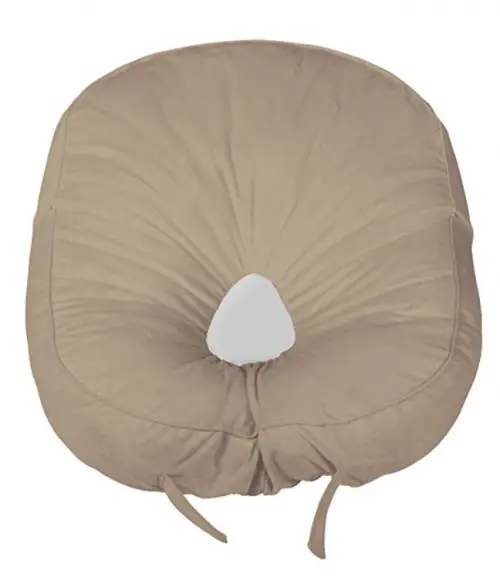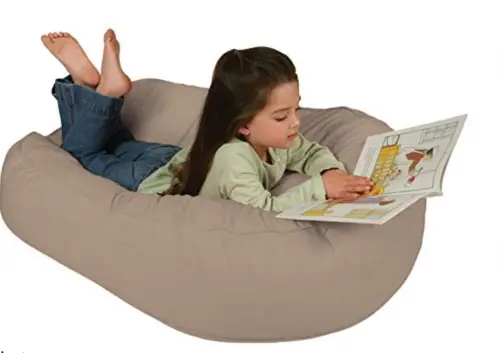 Conforms to any position
Adjustable in length for child growth spurts
Portable and good chair for reading or gaming
Contoured borders keep child firmly embedded
Unable to be used in a fully upright seated position
Not as plush as advertised
This bean bag chair for kids will contour to fit your little bean perfectly! The stretch panel in the middle adjusts to your child's weight and the contoured sides make it a cozy little hovel to cuddle up and take a nap in. The zippered cover is removable for easy cleaning and 100% plush polyester fabric. It's the perfect spot for reading, playing games, watching TV, or snuggling.
Read more
Materials
This kids bean bag chair has a flexible panel and adjustable tabs; and, in addition, it has a removable cover that makes it easy to wash.
Comfort
So comfortable, that the contoured borders give it such a cozy and relaxed feel that your child might even be caught napping in it.
Style
Center panel and tab adjustments allow for the lounger to grow as your child grows. This toddler bean bag chair is large enough to use past the years of kindergarten. It's portable enough to be brought on trips so your child can have all the comforts of home.
2

. ECR4Kids Classic Assorted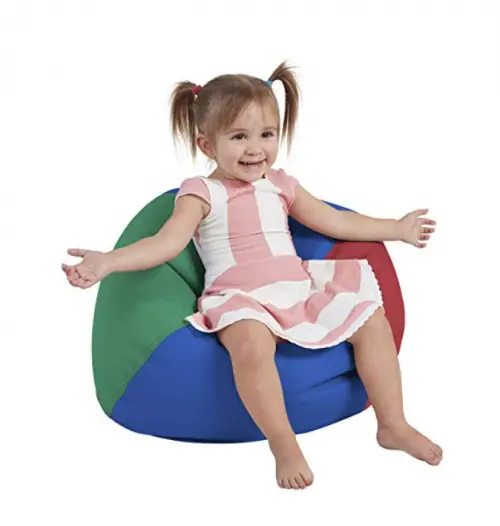 Child-proof zipper design with "no-pull" handle
Over time shape molds perfectly to the body of the user
No-fuss leather exterior for easy cleaning
Polystyrene beads make it light and portable
The chair might be smaller than pictured
The ECR4Kids Junior Classic bean bag chair for kids is exactly what it promises to be: classic. This piece is 26" and the perfect size for children. It comes in a solid chocolate color or a mix of earth tones. Filled with polystyrene beads, it's a fun and comfortable texture. The cover is made from a soft leather polyurethane and can be easily wiped clean and removed via the side zipper. IThis toddler bean bag chair is durable, it's a desirable hangout spot, and it's designed with comfort and easy maintenance in mind!
Read more
Materials
It has a polyurethane cover that can be easily wiped down after use. The filling consists of the traditionally used polystyrene pellets. Replacement pellets are sold separately from the same company. To ensure safety and avoid tears the zippers and seams in this bean bag chair for kids are reinforced.
Comfort
This is a comfortable and safe kids bean bag chair! It can be for use of children as young as two years old. No assembly is required. It has received a major environmental certification in helping to reduce chemical pollution and promote clean air.
Style
Also in kindergarten classrooms and daycares. It comes in an over a dozen colors and it is used to promote optimal learning as part of a series of classroom accessories.
3

. Creative QT Extra Large Stuffed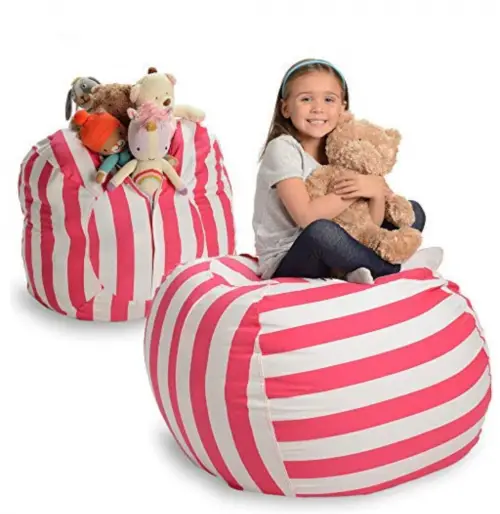 Roomy design for excess storage
Made of soft but durable canvas material
Available in five different colors for mixing and matching
Folds easily for storage
Looking for something both fun and functional? The Creative QT bean bag chair for kids provides a comfy place for kids to climb on and hang out in as well as a secret storage space! Pick from eleven different designs, unzip the cover, and then pile in your child's favorite stuffed animals! It helps get clutter off the floor and provides a nifty little chair for children to lounge around in at the same time.
Read more
Materials
In many old bean bag chairs, there was an excess of poly-fiber materials. If the chair ever split, it could be problematic. Creative QT's attention to this detail is just one of the facets that make up its mission. The many uses of this toddler bean bag chair as a spreadable play area, a chair and a storage device that helps children in learning decluttering and organizational skills.
Comfort
It's easy unconstructed design make it a cinch to stuff and empty in a matter of moments. It's made of durable canvas material and the array of designs may make it worth the expense of purchasing more than one, for both playroom and bedroom.
Style
The primary and most important being to develop the analytic and problem-solving abilities of your child through the exercise of simple organization. This children's bean bag chair has a convenient hook for hanging up when not in use, so no one trips when it's not in use.
4

. Flash Furniture Oversized Lavender
Polystyrene beads tend to hold their shape after prolonged use
Large enough for older children, tweens, and adults
Good therapeutic chair for muscle tension
Aesthetically pleasing pink and polka dot design
Has weak seams that make it rip easily
Loses of malleability and flattens out after a short time
Flash Furniture's Oversized bean bag chair for kids brings a whole new world of comfort. This bean bag chair measures 42 inches by 19 inches, making it large and luxurious for kids but functional for parents and older siblings, too! It's created with a cotton-twill upholstery and can be spot-cleaned with a damp cloth. Though oversized, it's still lightweight and can easily be moved around the house. Plus you can choose from sixteen different designs for this bean bag for kids so it's easy to match your style, whatever it may be!
Read more
Materials
Its oversize girth makes it easy to get lost in, in the best way possible! The twill upholstery can be spot cleaned, with a machine washable slip-cover. Small and lightweight, the cotton upholstery and cover keeps it cool breathable for the user.
Comfort
Has all the familiar comfort of a polystyrene bean bag chair in an updated and lightweight design.
Style
It's oversized and highly functional; gives a more stylish sensibility to a room as opposed to the classic leather features of older designs. It's a really good seasonal item that could be used on a porch or in a sunroom while reading. The cotton inside this children's bean bag chair keeps it cool and the patterned design has a beautifying effect on any room.
5

. Cozy Sack Family Size Sack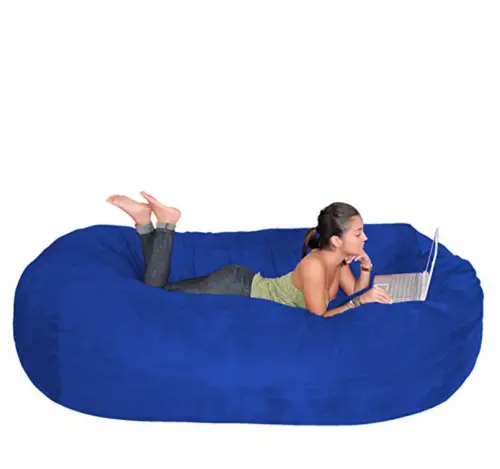 Seven different sizing options
Fifteen color variations
Removable, machine-washable microfiber cover
Protective lining and child-safety zipper
Foam shapes to your body and returns to original form when fluffed
Requires a lot of fluffing out of the box to give it a shape
Heavy piece, not easy for kids to take from room to room
The Cozy Sack bean bag for kids is perhaps the most versatile option on our list. It comes in six different sizes ranging from three to eight feet in length. Order a mini one for your mini-me or grab one of the larger ones so the whole family can enjoy it together! There are fifteen different colors to choose from, all manufactured with the company's "Cozy Foam" and filled with a durable sack liner. The covers of this children's bean bag chair are all microsuede so they're tough but smooth.
Read more
Materials
Filled with foam and then covered in a removable microfiber fabric and protective liner, this chair features a child-safety zipper and can be fluffed to restore the bag to its original shape. It's ultra-plush and the cover is machine-washable for easy cleaning. This Cozy Sack model comes in seven sizes from 3 to 8 feet, with 15 different color options.
Comfort
This bean bag chair has plenty of room for the whole family to cuddle up together. Put on a movie, pop that corn, grab your favorite blankets, and settle down for quality family time. Children who spend time bonding with their families are proven to statistically perform better academically and socially.
Style
The recommended floor space varies per size, so make sure you look at dimensions carefully when choosing the design that bests suits your family's needs and living space. This is going to be a more permanent fixture in your house, but we kind of like that it's heavy-duty and so big. Many bean bag chairs are cheaply made and only big enough to fit one toddler or child at a time, but this Cozy Sack is big enough to fit the whole family all at once and is made to last.
6

. Chill Sack Memory Foam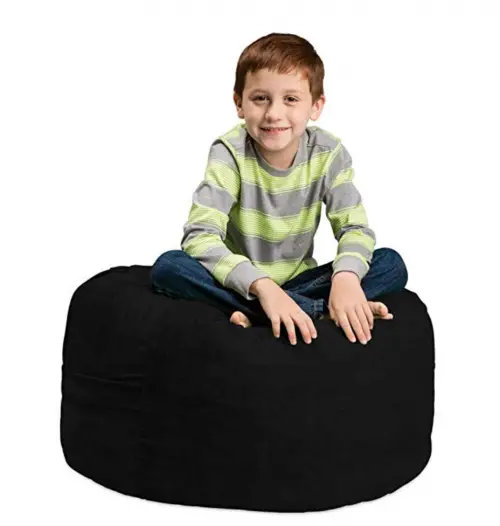 Good alternative to loveseat or futon
Has double-stitched zipper and seams for durability
Uses shredded memory foam technology for optimal comfort
Can be used as a dog bed as well
Foam has a stiff hard texture without much give
The Chill Sack toddler bean bag chair is compact but it's still comfortable for both kids and adults! Filled with shredded premium memory foam, it's got a good consistency that doesn't flatten out too quickly like some of the bead-filled chairs might. This children's bean bag chair is available in eight colors and all covers are micro-suede with a zipper for easy removal so cleaning doesn't have to be a hassle. It's roughly two feet all around (24 in x 24 in x 20 in) so it doesn't take up too much space in the house, either.
Read more
Materials
It has a microsuede cover that makes a little formal, and resistant to stains. The material is supple and soft, not prone to fading or discoloration with time like cotton. It incorporates memory foam technology to maintain both shape comfort levels by conforming to the body of its user over time.
Earth tone colors help it to blend in just about anywhere.
Comfort
The oversizing of the bean bag for kids at 24x24.20 can fit just about any child or guest comfortably, whether it's in the living room, playroom, basement, or studio apartment. Microsuede fabric is machine washable and easy to care for.
Style
This is an all-purpose furniture item. The colors offered coordinate well with any home decor. An average-sized adult can easily be made comfortable in it. The microsuede is washable and the reinforced seams make it a good investment.
7

. Big Joe Bagimal Maya the Monkey
Part of a collection series of 11 animal-themed bean bag chairs
Highest-quality UltimaX filler beads
Each chair comes with a companion doll
Double stitched with built-in companion pocket
Completely circular design that requires balancing to remain seated
Tired of the boring old toddler bean bag chairs? Want something a little more fun and funky? Try the Big Joe Bean Bagimal bean bag chair for kids. Children are tickled by the darling animal designs ranging from dinosaurs to unicorns to puppies, cows, and lions. Each chair comes with a matching little buddy for your kid to cuddle. The filling is recycled material and made to conform to your body. The children's bean bag chairs are tall and they're sturdy, so be ready to spot little climbers or take a little of the stuffing out to flatten it enough for toddlers to easily reach.
Read more
Materials
The zipper is safety locked to prevent accidents or spillage. Purchasing from Big Joe is supporting an environmentally safe and green business.
Comfort
It uses UltimaX bean filler that guarantees to conform comfortably to its user. The children's bean bag chair can be refilled, but any excess or replacement filler will have to be purchased separately.
Style
Pretty much everything has been thought of when it comes to the comfort and enjoyment of your child, from the filler, the array of animal options, and even the fact that each kids bean bag chair comes with a "lil buddy" companion doll that's an imitation of the chair design! In addition, 10% of all proceeds go to Children's charities.
8

. ECR4Kids Toddler Classic
Double-zipper child-safety mechanism
Nontoxic materials
Easy to clean with soapy water and a cloth
Refillable with polystyrene beads
Double-stitched for durability
Light enough for children to throw at each other
Arrives fairly flat, you may need to order a refill just for set up
Another hit from ECR4Kids, this bean bag chair for kids comes in a bright primary blue and boasts all the comforts of a bean bag chair with none of the mess that cheap designs often yield. The company works in such a way as to be Greenguard Gold Certified, meaning that they manufacture their products while still reducing chemical pollutants and improving air quality. This kids bean bag chair is double-stitched and double-zippered so the beans stay inside and the stitching stays together!
Read more
Materials
The durable upholstery can stand up under rough play by little ones and the soft leather polyurethane covering is easy to clean with warm soapy water and a washcloth, making maintenance simple. It's filled with polystyrene beads, which hold shape but are still comfortable, and can be replaced with separately sold beads in the case of a tear. Double zippers keep beads safely locked away otherwise, making it difficult for curious little hands to accidentally cause a spill. All materials are nontoxic and safe, as well as being Greenguard Gold Certified for minimal indoor air emissions, and compliant with the CAL 117 flammatory regulations.
Style
This toddler bean bag chair is the perfect size for kids. It's not so big that they'll have trouble climbing in or get bombarded by fabric and foam, but it's also not so small that they'll be dangling over the edges. It's soft, it's durable, and kids love it! It is nice and comfy!
Style
This little bean bag is the perfect plush size for toddlers. It's great for use in the home, in schools, or in daycares. It gives kids somewhere soft to sit, without making them climb high to get up on furniture like sofas. This product is most suitable for children ages 2 and up, and requires no assembly. It weighs 4 pounds, making it easy for kids to tote around and move, and is available in 27 different colors and patterns.
9

. Lukeight Extra Long Zipper

The option of buying both sizes to use in tandem
Great for use in occupational therapy settings
Extended zipper length for larger storage capacity
Product accurately matches the description
Thin cotton that rips at the seams
The Lukeight Stuffed Animal Storage Bean Bag keeps toys off the floor and kids in a comfy, safe chair. There are 26 total designs to choose from, making this one of the most aesthetically fun options available. It can be purchased in a large or extra large size and is made from 100% cotton canvas, a durable but cozy material. The large bean bag chair for kids can hold about 95 small stuffed animals (or 45 medium-sized/20 large-sized). If you'd rather go a more traditional route, you can fill it with beans yourself (about 100 ml), giving you some great options!
Read more
Materials
It's made from 100% cotton and is machine washable, but hand wash and air drying are recommended for lasting durability. It has an extended zipper length for greater storage capacity. The functional handle is extra-strong for carrying and blends in well enough to be seen as a decorative accent. It's multipurpose features, helps to stretch the imagination of your child through use.
Comfort
These bean bag chairs for kids are really comfortable. It comes in two sizes with 20 + colors to choose from! It's reasonably inexpensive with a large capacity and convenient handle for transporting when not in use.
Style
This is a good bean bag chair for kids who like this style of chair primarily for reading. And, the storage space isn't the only additional benefit! It can also be used therapeutically as a punching or kicking bag! This makes it a very good option for occupational therapy. All-in-all, children will get an experience of well rounding with time on this.
10

. American Furniture Alliance Spider Web

Bright colored design that resists fading
Can be used on hardwood floors as an alternative to a playmat or blanket
Light enough for travel
Can be purchased in conjunction with other Spider-Man accessories
Can be overstuffed with filler
The American Furniture Alliance's Child-Sized Bean Bag is traditional in all the best ways. It's available in two prints and two sizes: child's junior, or child's large. It's lightweight so you can move it between rooms with ease and it's double-stitched with a double-folded overlap seam to make sure stuffing doesn't spill out. Spot clean it with a damp cloth for easy care. Then lay it out in the family room and everyone cozy up for a good movie!
Read more
Materials
It's double-stitched and very light with an overlapped seam. This makes for an extra-durable option that will last extended wear and tear. It's easy to clean, with only a damp cloth for spotting.
Comfort
With Spiderman colors and comfort to boot, this is the perfect toddler bean bag chair.
Style
The chair conforms nicely to the child seated. The large is a good size for the average, child while the smaller option could be for toddlers or younger. The Spider-Man motif keeps your child engaged and makes a good companion item for other toys and accessories related to the comic superhero.
Criteria Used for Evaluation
Materials
In the past, the filler of these bean bag chairs for kids could've been highly toxic, with chemicals like CFC. Now, the designs are catering to a more environmentally aware and comfort-seeking culture. While materials may still be synthetic, it reduces the waste caused by deforestation. Also, there's less need for polystyrene! Shredded foam is a fantastic alternative that conforms to the body much like a contoured pillow. Pretty much all designs promote correct posture and alignment.
Comfort
What we found is that this style of shapelessness was, and is, quite ideal for our relaxed hang-loose culture! It was very popular in the '70s (think bell bottoms and butterfly collars!), then dropped off in popularity by the mid-'80s on! It's within the last 10 or 15 years with the resurgence of a new generation of hippies, and now hipsters, that there's been a new spin on old styles!
Style
There are now all kinds of designer bean bag chairs to suit almost any need. Some are looser, some more structured. Some are within the realm of kids' fantasy and novelty, others that cater to gamers and virtual-reality geeks! But even simple designs can be as fun as any other kids bean bag chairs designed specifically for that age.
Most Important Criteria
(According to our experts opinion)
Experts Opinion
Editors Opinion
Users Opinion
By Default

Parents, did you know?
True to its hippie roots, the bean bag chair comes from a rather revolutionary epoch in history! It was designed in post-war Italy–more specifically 1968–by three Italian designers–Gatti, Paolini, and Teodoro! Originally, it was called the "Sacco" meaning shapeless chair. Now, this would only be more or less meaningful if weren't within the context of all that had come out of Italy within the previous 20 years! This was the time that the Fiat, Vespa, Lamborghini, and Porsche were just making headway in the auto industry. Also, Italian culture was having a renaissance in couture fashion, architecture, literature, and films! Within this fertile realm of industry and imagination, the bean bag chair came to be!
Other Factors to Consider

Green Factor
Bean bags haven't more sustainable in years! No more Styrofoam. While materials may still be synthetic, it reduces the waste caused by deforestation.
Frequently Asked Questions
q:

How safe are children's bean bag chairs?

a:

For toddlers and older children, they are as safe as can be! There are a variety of sizes and designs that can prevent possible suffocation or falls. For instance, quite a few have a center panel that won't allow a child to sink in too far and possibly suffocate. Also, it would be best buy a chair made of cotton material rather than vinyl. Lastly, it would be a good idea to buy a chair that has extra safety precaution for opening the zipper. The filler is the biggest danger for a choking hazard! Alternatively, you can purchase a chair made of shredded foam instead.
q:

What are some of the therapeutic aspects of bean bag chairs for kids?

a:

Bean bag chairs promote proper posture and alignment no matter what position you sit in. They are sometimes used for occupational therapy sessions and they are also helpful for parents of autistic kids. In some of the child therapy sessions, a bean bag chair can be used for releasing aggression and pent-up emotion. It is also known that poor posture through sitting can cause head, joint, and muscle aches. So, it is recommended for anyone in high-stress situations.
q:

What are the best bean bag chairs for gaming?

a:

That would all depend on your comfort level! Some gamers like to get low while playing, while others prefer to be perched on high! Depending on your size, you can't really go wrong with the classic design with polystyrene beads that can leave a great fanny indentation waiting for your next gaming session! Some bean bag gaming chairs have direct audio surround relayed through built-in speakers.
q:

Are there any other uses for bean bag chairs other than gaming or reading?

a:

Yes, indeed! Some bean bag chairs can also double as storage holders. Parents often use them as storage bags for stuffed animals. They also have the capacity for storing linens and clothes, as well! As mentioned before, they can also be used as punching or kicking bags by young children! Even as vehicles to slide across the floor when kids are getting really creative! Some wider designs can function more as a bed or pallet where your child can nap. Alternatively, some owners use their bean bag chair as a dog bed or sometimes a blanket if they opt to take out the filler.
q:

Do all bean bag chairs have to be drab and monotone?

a:

Not at all! In fact, there's a bean bag chair out there to suit almost everyone's needs and every home's style! Bean bag chairs no longer need to be relegated to the playroom or the basement! It doesn't need to be ugly black vinyl or the color of circus big top! You can have that if you want, though! These days, a bean bag chair can be both stylish and elegant, reflecting the taste of the parents as much as the child! They can be made of cotton and filled with ergonomic foam. A blue, gray, or striped design would be perfect for a living room or den, so you don't have to feel like your living in a nursery 24/7.
q:

What is the average lifespan before I need to invest in another chair?

a:

A good bean bag chair can last up to a decade at least! If you buy an average-sized one for a child then you may have to take into consideration the fact that your child will outgrow the chair. With multiple children in the household, there should be a pretty good turnaround. If the chair is more of a size that your child can grow into, then it will probably have a longer shelf-life! Overuse and over-washing a removable cover can wear the material thin. Also, after about 10 years of use, the filler may go completely flat unless replaced with new beads.