Big Wheels got their start in a little factory in Girard, Pennsylvania, back in 1969. Introduced by Louis Marx and Company, this tricycle alternative was touted as a safer option for little ones than traditional bikes or tricycles. It was popular throughout the 1970s, in part due to its low cost. The large front wheel is meant to help children who are still working on maintaining their balance.
Since their inception, Big Wheels have undergone fluctuating popularity. Several companies that were producing them en masse have gone under, but it's hardly a rarity to find one of these bad boys in any family home today. Big Wheels are a great way for children to learn to ride and transition over to more traditional bikes. Little ones love pedaling their way around like miniature speed demons. And these vehicles are often safe to use indoors or outdoors, as long as there's enough room for maneuvering.
There's a whole world of Big Wheels to explore, but personally, we already know our favorites. Below, you'll find our top 10 picks for Big Wheels. Some make noises, some have push-and-play options, and all are safe and made to stand up to more than a few kid-sized road trips.
Our Top 3 Picks
YBike Toyni

Our rating
Encourages Exercise Play
Price:

See Here
Razor FlashRider 360

Our rating
Spark Bar Feature
Price:

See Here
Big Wheel 48727 Tricycle

Our rating
Pedal Powered
Price:

See Here
[/vc_column_text][/vc_column][/vc_row]
Fisher-Price Kawasaki Tough Trike
Razor RipRider 360 Caster Trike
Barbie Lights & Sounds Trike by Fisher-Price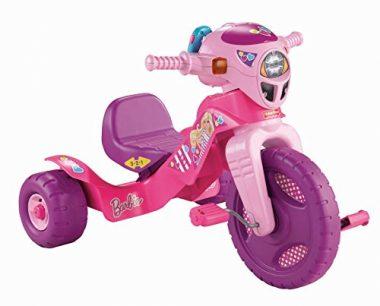 Fisher-Price Rock Roll 'n Ride Trike
Harley-Davidson Tough Trike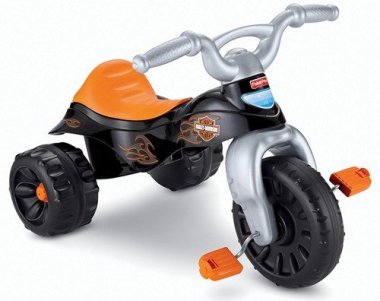 Schwinn Roadster 12-Inch Trike
Fisher-Price DC Lights & Sounds Trike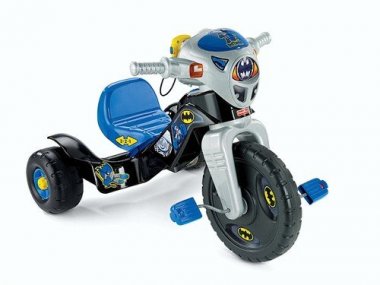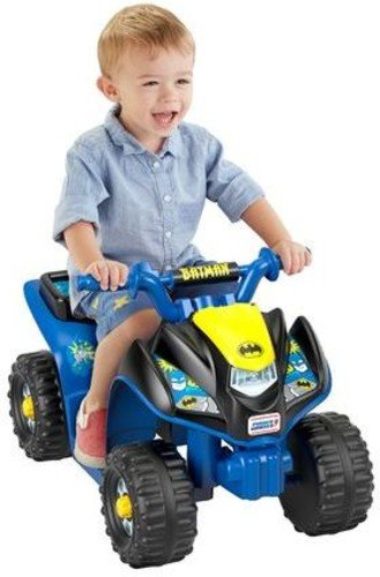 Criteria Used In Evaluation of the Best Big Wheels for Kids
The benefits provided to your child by tricycles are plentiful, which is why we couldn't allow your child to end up with just any trike. Especially since tricycles are not a one-size-fits-all type deal. Our team did diligent research to compile this list of the 10 best Big Wheels for kids. Some trikes are designed to endure the elements and dings of outside, while others were meant for a docile interior life. You will see trikes listed that are decorated with your child's favorite characters, while others may simply be your child's favorite color.
Picking out a tricycle specific to your child's personality will get them excited to ride and explore the outdoors. While you decide on which trike to purchase, it is important to keep your child's size in mind. Some are created with adjustable seating that will allow the trike to grow with your child. Others are geared toward a specific age range that your child may be too small or big for. In creating this list, we also factored in that your child will only get this trike moving by pedaling. We wanted to make sure that we only listed trikes that were easy to use by children and offered a high level of stability.
We don't take your child's safety lightly, thus we did our research on the materials used in making each trike. We also took into account the maker of each tricycle. We only included trikes manufactured by trustworthy creators. This list includes a lot of variety but ultimately the trikes listed have been comprised with stability, safety, functionally and overall the developmental stimulation they can have in your child's life.
Trikes, Big Wheels, and Your Child's Development
By now it should be of no surprise that trikes and Big Wheels are extremely beneficial in stimulating development in your child. Some of the benefits like getting your child outdoors may be obvious. Other benefits may not be so self-explanatory. Here are some of the ways your child's development will improve while riding a trike or Big Wheel.
Helps with balance and coordination
Big Wheels and trikes are built with the innate ability within their three wheels to supply great stability, but the large front wheel is the focal point of the trikes when it comes to the balance because if the movements are disjointed, the trike will tip over. Nevertheless, trikes offer the learning capacity for children to improve and maintain their balance. By coordinating their movements properly and efficiently, they gain the necessary balance for smooth productive rides.
Fosters a sense of independence
Children want to be self-sufficient; this is especially apparent in toddlers who are already identifying themselves as separate individuals from their parents. Once they have the ability to ride on their own with no assistance, their independence is validated in their minds. They begin to understand if they can do this by themselves, they are capable of other individual feats like reading and pottying. The independence they develop will be carried on throughout the rest of their life.
Encourages initiative
To stem from independence, when children learn to do something, they will often take initiative and begin that action by themselves. This could have further implications for the future as having initiative is a well-sought quality in the adult world. Your child will be more successful as they are more motivated and determined to be a leader.
Builds self-confidence
Learning to ride a trike is more than another notch in the belt for children, it is an accomplishment and provides them a source of pride in what they achieved. Self-confidence is derived from that pride, and when exposed to the same activity, they gain the experience and confidence until they feel the goal has been reached.
The Bottom Line
Whether you are looking for a developmental tool, a fun and engaging product, or maybe a little of both, Big Wheel trikes are beneficial in all areas and can provide sufficient sources for physical and psychological growth and development. Learning to ride the trike helps differentiate between left and right directions and having light consequences if the either is chosen incorrectly all the while developing their muscle memory. While riding outdoors is great, riding indoors is also beneficial as your child will still be getting exercise. Providing your child with a tricycle gives them the opportunity to imagine. With this list of our 10 best Big Wheels for kids in 2019, you are now ready to put the pedal to the metal in choosing which trike is best for your child.
FAQ
Frequently Asked Questions
Q: When can a kid first use a trike?
A: Children can start riding trikes at about 10 months old. Just make sure it is age-appropriate and they can reach the pedals and/or ground.
Q: What age can a kid learn to pedal?
A: Children can normally start pedaling between 1 and 2 years old. However, every child is different and learns at their own pace. It may take them a while to develop the muscle strength and coordination to use pedals. Trikes offer children the opportunity to learn to pedal early in development with minimal risk of falling.
Q: Can special needs kids learn to use a trike?
A: Yes, they most certainly can. There are companies that create trikes specifically designed for special needs children with physical disabilities. This gives them an opportunity to enjoy a fun safe ride while working out and enjoy the sunshine just like all of the other kids.
Q: When is the right time to buy a kid their first trike?
A: Parent's should consider what stage their kid is at physically and mentally. Parents should ask themselves if their kid is strong enough to make full pedal rotations. Are they tall enough to reach the pedals? Can they sit in their trike without falling? Can they navigate around objects and corners? Do they understand safety? Meaning, do they understand that they should not be trying to run other people over or cross the road in their trike all by themselves? If the answer is no, they may not be ready for one yet.
Q: Should little kids wear a helmet when riding a trike?
A: Yes, and there are a couple reasons why. Wearing a helmet at an early age helps them to get used to it by the time they are ready to ride a full bicycle. And, children don't develop good hand-eye coordination until about age 7. They tend to crash a lot on trikes, mainly by tipping over. And a helmet will protect their head from serious injuries.
Q: Are trikes dangerous?
A: Since trikes are an active toy, there is a chance that your child will fall. Proper supervision and direction from parents should be enough to prevent any serious injury. But accidents happen and trikes put children below eye level. It may be difficult for motorists to see your child, especially if there is some type of cover. That's why it's important to buy an age-appropriate trike, to make them wear a helmet and practice general bike safety.
You May Also Like
10 Best Balance Bikes For Kids
10 Best Electric Kid's Scooters
10 Top Rated Kids Scooters
10 Best Bikes For Kids
10 Best Toddler Scooters This Year