When we talk of big wheels, we conjure images of a big, bulky, low-rider with humongous front wheels and two unusually small wheels at the rear. It was popularized in the 1970s as a much better and safer alternative to bicycles and even tricycles owing to its larger front wheel. Honestly, we cannot help but think about Harley Davidson's iconic three-wheelers. Well, regardless of what people think, these 10 best big wheels for kids in 2017 we're about to share with you are simply going to be the best and safest ride for your kid.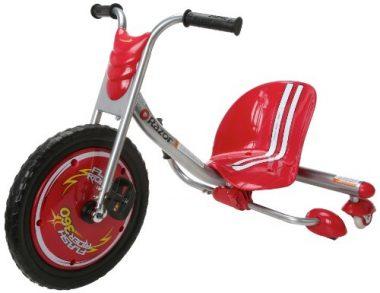 The Original Big Wheel Tricycle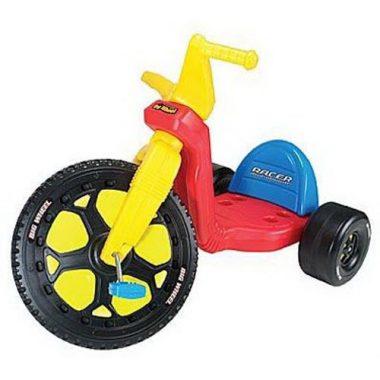 Barbie Lights & Sounds Trike by Fisher-Price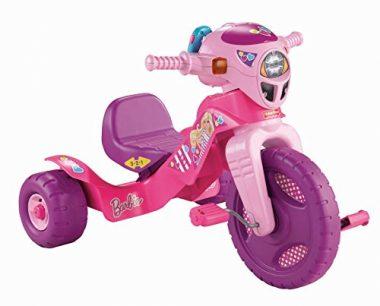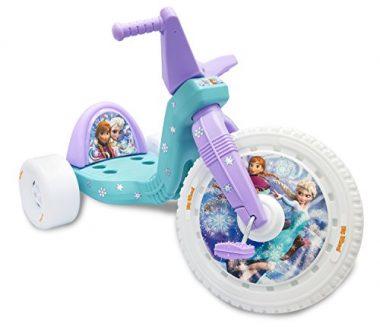 The Original Big Wheel Junior Racer
Age Range: 18 months-4 Years
Criteria Used In Evaluation of The Best Big Wheels for Kids
Our team searched the world wide web to find the 10-best big wheel's for kids. These trikes are intended for different ages and have various specialized features. Most are built to take a beating outside while others are meant for cruising indoors. These trikes have been chosen primarily with engagement, safety and stability in mind.
Not all trikes are a one-size fits all. In fact, even with adjustable seating some trikes are still just a little too big for a toddler. However, there are trikes like the Junior Racer that children about 2-year-olds can start riding. The seat is not adjustable but the trike is small enough that they can reach the pedals.
Trikes with characters like Frozen and Minions encourage kids to ride and explore. They love getting to play with their favorite characters while you love that she is exercising. The best part is that it helps encourage healthy habits and memories that can last a lifetime.
And we all know how rough kids can be on toys. We made sure to include entries that are designed to stand up to the rigors of use. Since these trikes are built with sturdy plastic or metal, they can survive or simply shrug off the abuse kids dish out.
Then there are cruiser trikes. The cruiser bikes are perfect for those times where parents want to take long walks and kids are too young to keep up.  With cruiser trikes, little ones can join parents on longer excursions at parks or through events. One of the cruiser trikes on our list comes with a storage compartment, which is convenient for them to bring their water or extra toys if or when they need to stay hydrated.
What Determined the Best Big Wheels in Our List
Performance-wise, it was never easy to pick the best kids big wheel ride-on toys for this list for the simple fact that these require leg and foot power and not on some electric or gas-powered motor. Hence, the performance aspect of these products was evaluated based on their maneuverability and ease of operation. Since kids will be literally pushing themselves to move these ride-on toys, it was imperative that built-in features in these products allow kids to move them with relative ease. Furthermore, stability is a major factor as these types of toys were lauded for their superior stability compared to other types of ride-on toys such as bicycles and tricycles. Alongside the product's stability, we also looked at the soundness of its construction. Design integrity that points to superb safety is very important to help make sure that your kids will not injure themselves every time they take the kids big wheel for a spin. The reputation of the kiddie trike's manufacturer was also considered in the equation. It was very important for us to establish the trustworthiness of the company as it can have a significant implication in the overall quality, safety, and usefulness of the product.
Trikes, Big Wheels, and Kids' Development
All ride-on toys can provide a variety of benefits to young kids. Each type of ride-on toy will typically have its own pros and cons. For very young children, there are plenty of advantages of a trike or big wheel compared to other types.  In case you are wondering what trikes teach children, we can safely guarantee you that it is more than just the mastery of his or her physical skills. Here are some of the more common benefits of trikes and big wheels in children's development.
Helps with balance and coordination. 
While it is true that big wheels and trikes essentially have three wheels allowing for excellent stability, kids will still have to learn how to maintain the correct balance by properly coordinating their movements. The large wheel at the front provides a very critical point in the balancing act. Any wrong move can result in tipping over.
Fosters a sense of independence. 
Young children want to feel autonomous. This is particularly evident among toddlers who are already identifying themselves as separate entities from Mom and Dad. Being able to ride a trike on their own validates their idea of an independent self. They learn that they can ride these toys without the help of adults. 
Akin to fostering a sense of independence, kids who know they can ride their trike will normally take the initiative in doing so. This can have significant implications later in life as initiative is almost always a trait welcomed in the adult world. 
Being able to ride a trike can become an excellent source of pride. The sense of accomplishment feeds the confidence that slowly builds. Over time and with repeated exposure to the same activity, children will gain more experience and hence, build self-confidence.
The Bottom Line
Ride-on toys are beneficial for children's optimum growth and development. One very useful ride-on toy that's clearly making a huge comeback is the big wheel. With the 10 best big wheels for kids in 2017, you're now equipped with all the right information to make the correct decision on which trike to buy for your child. You can view more great ride-on toys by clicking here. 
FAQ
Frequently Asked Questions
Q: When can a kid first use a trike?
A: Children can start riding trikes at about 10 months old. Just make sure it is age appropriate and they can reach the pedals and/or ground.
Q: What age can a kid learn to pedal?
A: Children can normally start pedaling between 1 and 2 years old. However, every child is different and learns at their own pace. It may take them a while to develop the muscle strength and coordination to use pedals. Trikes offer children the opportunity to learn to pedal early in development with minimal risk of falling.
Q: Can special needs kids learn to use a trike?
A: Yes, they most certainly can. There are companies that create trikes specifically designed for special needs children with physical disabilities. This gives them an opportunity to enjoy a fun safe ride while working out and enjoy the sunshine just like all of the other kids.
Q: When is the right time to buy a kid their first trike?
A: Parent's should consider what stage their kid is at physically and mentally. Parents should ask themselves if their kid is strong enough to make full pedal rotations. Are they tall enough to reach the pedals? Can they sit in their trike without falling? Can they navigate through objects and corners? Do they understand safety? Meaning, do they understand that they should not be trying to run other people over or cross the road in their trike all by themselves? If the answer is no, they may not be ready for one yet.
Q: Should little kids wear a helmet when riding a trike?
A: Yes, and there are a couple reasons why. Wearing a helmet at an early age helps them to get used to it by the time they are ready to ride a full bicycle. And, children don't develop good hand-eye coordination until age 7. They tend to crash a lot in trikes, mainly by tipping over. And a helmet will protect their head from serious injuries.
Q: Are trikes dangerous?
A: Trikes are an active toy, there is a chance that your child will fall. Proper supervision and direction from parents should be enough to prevent any serious injury. But accidents happen and trikes put children below eye level. It may be difficult for motorists to see your child, especially if there is some type of cover. That's why it's important to buy an age appropriate trike, to make them wear a helmet and practice general bike safety.
You May Also Like
10 Best Balance Bikes For Kids
10 Best Electric Kid's Scooters
10 Top Rated Kids Scooters
10 Best Bikes For Kids
10 Best Toddler Scooters This Year