We all know about infant car seats, but did you know there are also infant bicycle seats available? That's right! If you're itching for a bike ride but the baby is still too young to successfully put in a trailer, don't stress, just invest in an infant bike seat. Some bicycle seats mount at the front of your bike, allowing your child to lie there and coo happily right in your line of sight. Others mount in the middle of the bike, and still, others are rear-mounted. Whatever you choose, there are plenty of products out there meant to protect your precious cargo while you enjoy your ride.
Most kids' bike seats feature solid spinal support, and a multi-point harness to keep them strapped in snugly. They come in all different colors and styles, so you can choose the design that's best suited to your family's particular needs. These bike seats allow mom and dad to take their favorite two wheels out for a spin without worrying about finding someone to watch baby every time they want to get a brief (or long!) ride in.
Below, you'll find eight of the best products on the market. So break out those maps and find the prettiest routes near you, or take the bike for a quick spin around the neighborhood. Whatever you're doing, you'll know that the baby on board is in a safe, comfortable seat built just for them.
Our Top 3 Picks
Schwinn Child Carrier

Our rating
Frame-mounted
Quick-release
Price:

See Here
iBert Child Safe-T-Seat

Our rating
Center-mounted
Better View
Price:

See Here
WeeRide Kangaroo

Our rating
Front-row View
Ages 1 & Up
Price:

See Here
Best Bike Seats for Kids and Toddlers Reviewed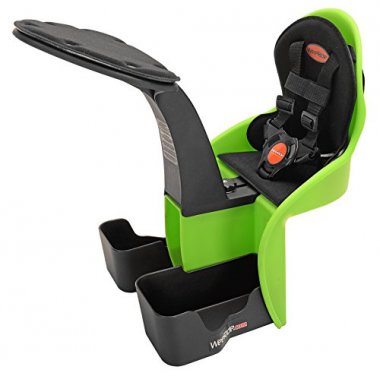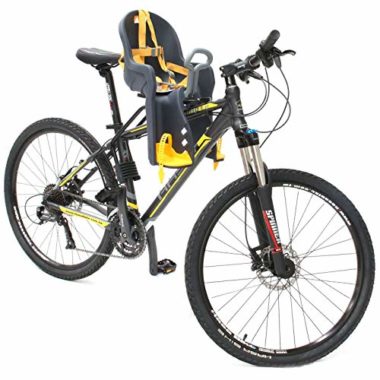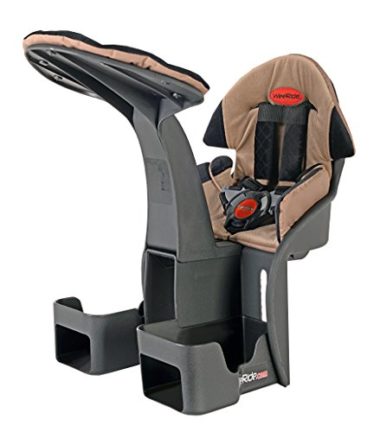 Criteria Used in Evaluation of the Best Bike Seats for Kids and Toddlers
Weight limit
When judging which child carrier was better than the opposing one, we looked at the maximum weight limit that the child carrier could hold and the larger one was typically superior. This is because we want you as the parent, the one purchasing these products, to get the most out of your hard-earned money. Products with a heavier weight limit will allow you to use the bike seat for a longer time as your baby grows.
Mounting options
We looked at whether the product was rear-mounted or front-mounted, typically leaning more toward the front-mounted seats because they offer a wider and more clear visual experience, as opposed to rear-mounted seats, that are more movement beneficial and bonding oriented.
We also looked at whether a company decided to give you a mounting rack with your purchase, rather than requiring a separate purchase to use their product. Most of these add-on mounting racks are  $30 to $40, and then you have to add that on to the total price of your new seat. That is why we did our very best to weed out the majority of products that do not include a mounting rack with purchase.
Safety features
When judging these products, we looked very hard at whether a product had the adequate safety features needed to keep a child safe and chose the best ones that met our very tough standards. We care about you and your child's safety, and that is why the products on this list are extremely geared towards being safe in all the crucial areas needed to protect a child on a bicycle.
Color Options 
We looked hard to find the safest and best functioning child bike seats that have the largest variety of universal colors to choose from. We know parents and kids love to accessorize and match, that is why almost all of the items on this list have multiple color options and styles.
Efficiency 
Not only does a child bike seat need to be functional, but it also needs to be able to perform efficiently without stress and complication. That is why we only chose the very best, most-efficient child bike seats that met our tough standards. That is why you will find one-second quick release brackets, and three-step installation of mounting racks featured on the products in this list, ensuring the most effective on the market.
FAQ
Frequently Asked Questions
Q: Do child bike seats fit banana seat bikes?
A: With the right adjustments, any of these bike seats on the list could fit any bike.
Q: How old should a child be to ride in a child bike seat?
A: Your child should be old enough to have already developed neck muscles strong enough to hold their head up normally.
Q: Is front mount better than rear mount?
A: Honestly it is personal preference, but many people prefer front mount over rear mount due to the safety aspect of the child being in front of you rather than behind.
Q: Do all of these child seats include a mounting rack?
A: No, please read the Amazon description to determine this before buying.
Q: Are these child seats only meant for adult-sized bicycles?
A: Yes, it is recommended that your bike is at least 16 inches to use a child bike seat, if not followed injury can happen.
Q: Should my child wear a helmet while riding in these products?
A: Yes! Always have your child wear a helmet when riding on any bicycle, in fact, you should wear one too.