8 Best Bike Seats for Kids & Toddlers Reviewed in 2019
last updated
Jul 20, 2019
Most kids' bike seats feature solid spinal support, and a multi-point harness to keep them strapped in snugly. They come in all different colors and styles, so you can choose the design that's best suited to your family's particular needs. These bike seats allow mom and dad to take their favorite two wheels out for a spin without worrying about finding someone to watch baby every time they want to get a brief (or long!) ride in.
Below, you'll find eight of the best products on the market. So break out those maps and find the prettiest routes near you, or take the bike for a quick spin around the neighborhood. Whatever you're doing, you'll know that the baby on board is in a safe, comfortable seat built just for them.
In a Hurry? The test winner after 23 hrs of research
WeeRide LTD Kangaroo
Why is it better?
Padded backrest and plush seating
Tray in front gives little ones somewhere to rest their heads if they get tired
Five-point safety harness
Easy front mount
Even weight distribution
In a
Hurry? Editors choice:
Test Winner: WeeRide LTD Kangaroo
14
Researched Sources
23
Hours Researching
15
Products Evaluated
Ease of Use
Safety
Support
By Default
8 Best Bike Seats Reviewed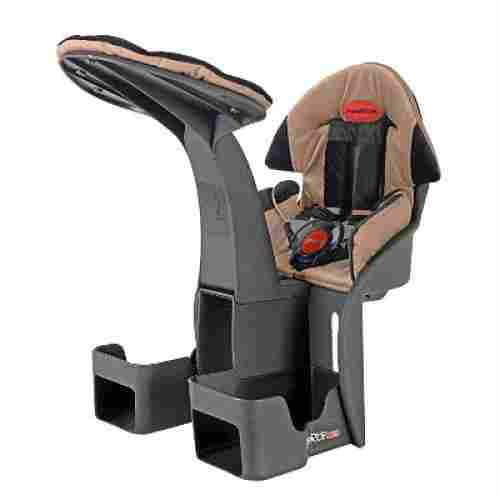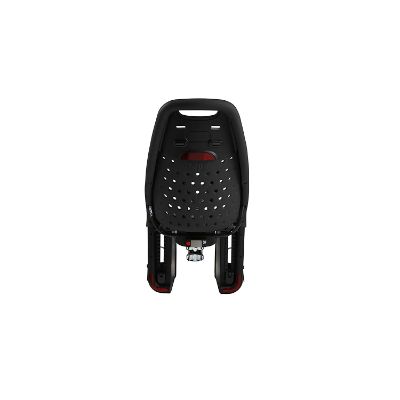 Padded backrest and plush seating
Tray in front gives little ones somewhere to rest their heads if they get tired
Five-point safety harness
Easy front mount
Even weight distribution
Hills are tough with this as the mounting makes it hard for cyclists to stand and pedal to get up inclines
Your little one will not only be sitting but riding in the lap of luxury with this WeeRide Kangaroo Seat. With its unique front-position mounting and ultra-plush seat lining and back padding, kids will be extra comfy.
Read more
Ease of Use
The five-point safety harness keeps kids buckled in securely so you won't be sweating any more than usual on your rides. The harness is padded along the shoulders to keep baby comfy, so no one will get fussy and make you turn back early, either. It's probably one of the most comfortable bike seats out there. WeeRide really pulled out all the stops in making sure their product is extra lush and cozy for kids.
Safety
It installs in front of your bike saddle and includes a deluxe safety harness. The addition of an oversized buckle system maximizes safety. Weight distribution is even throughout the seat, improving stability, especially when navigating turns and tight corners.
Support
Meant for children between the ages of 1 and 4 years old, this seat holds up to 33 pounds. Adjustable foot holders and a padded headrest allow kids the ultimate in comfort all along the family's favorite riding routes.
Rear Mounted
Installation rack included
Made from Polypropylene plastic
Quick release harness and leg straps
Bonus seat spring guard and spoke guard included
Additional installation rack not available for purchase
Experiencing the outdoors is relaxing and beneficial to most everyone in the world, more so to those living in 1st world countries. So imagine the benefits of the outdoors to a child and their overall development as a whole. Exposing your child to vast amounts of nature and the outdoors will not only help spark an interest in wildlife and living outdoors but also strengthen their immune system and prevent future viruses from spreading. Whether you are riding around the local park, or through a heavily wooded biking trail, you and your child are reaping the benefits while enjoying the quality time together as a family.
Read more
Ease of Use
We really like the quick release harness and leg straps, as well as the bonus seat spring guard and spoke guard, ensuring your child is as safe as they could be riding in their child carrier. We also really liked the rear mount ability along with the very strong and durable polypropylene the seat is made of, making sure you will be getting the most out of your money for years to come.
Safety
Including the rear rack that connects to the stem of your bicycle seat makes taking the child carrier on and off a piece of cake. Any small child would love to go on rides to the park or trail in this comfortable and durable children's bike seat carrier by Schwinn.
Support
Made from extremely strong and durable polypropylene plastic, the child carrier children's bike seat by Schwinn is one of the best rear-mounted child seats on the market. Being made by the well-known bicycle company Schwinn, there is no surprise in the quality and effectiveness this child carrier has to offer.
Front mounted seat
3 color options
Never fading plastic
Up front view
2-year warranty
Handlebar adjustment might be required depending on the bike
Coming in three different colors to choose from (green, pink, and red), the child carrier Safe-T-seat by iBert is revolutionary when it comes to bicycling with your little one. Featuring a front mounted seat sitting right behind the handlebars, making communication between child and parent easier than ever before.
Read more
Ease of Use
Unlike rear-mounted child carriers, the Safe-T-seat by iBert gives the adult rider help with balancing the bike and child through a more subtle center of gravity, as well as keeping dirt and water from being sprayed from the back of the tire. This company is so keen on quality and durability, that they added UV inhibitor to their seats to ensure the long lasting stylish color stays on for life. One of the safer child carriers on the market, the Safe-t-seat by iBert will always have you and your child's back, regardless of the situation.
Safety
We like the front mounted style with the extended legs and the wide open front view your child gets to experience, aiding in the natural development factor. We also really like the never fading color and anti-rust stainless steel, ensuring a perfect, stable child carrier for years and years to come.
Support
Being able to bring your child along for a bike ride while they are still too young to ride on their own is extremely beneficial to their development in the future. Showing them the world at such a young age is not only beneficial but it is also very very impressionable. Meaning your child will be extremely likely to want to ride a bike on their own just like you, which is great when trying to get your child to be active while still having fun. Exposing children to the outdoor air actually has a scientifically proven effect on learning and cognitive skills, and it actually makes a lot of sense. Fresh air is what biology says we should breathe, and where is the fresh air? Outside the house of course! So get your ibert Safe-T-Seat and your 16-speed bike out of the garage and get to riding! You both will benefit.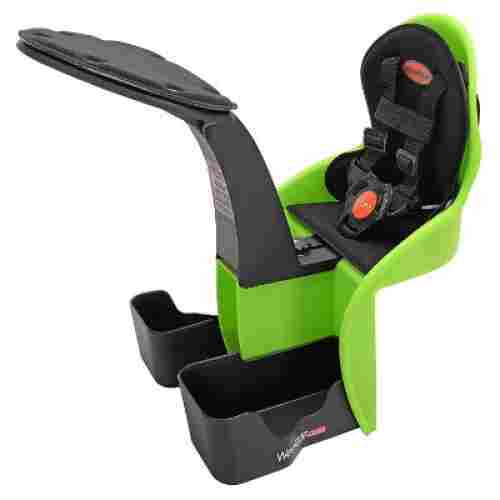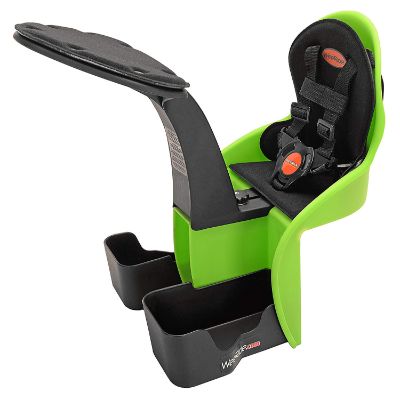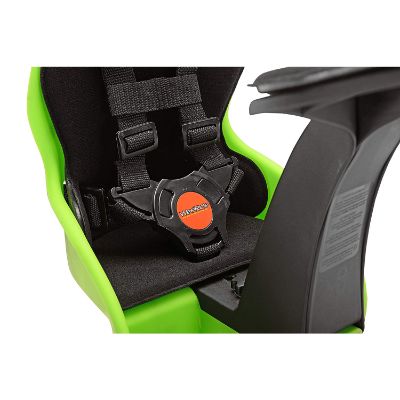 Front mounted
5 point safety harness
Padded dashboard
Adjustable foot cups
Mounting bar included
Taller parents knees hit the seat on some bicycles
The advantage a front mounted child seat has over the opposing rear-mounted seat is visibility. Children love to let their eyes wander, limiting that ability can actually cause a child to lose interest in exploring the world. With a front mounted seat like the Kangaroo Bike seat by WeeRide, your child will have a vast front view of the world, open to exploring with their eyes and discovering new things. This ability is very beneficial to developing basic cognitive motor skills along with imagination and creativity. Allowing your child access to a wide view of nature and the outside world will not only them but also you in more ways than you can imagine.
Read more
Ease of Use
We love the adjustable foot cups and padded dashboard not only making this bike seat very safe, but also making it really feel like this is your child's personal bike seat. We also like the overall design of this seat, as well as the the front mounting style that the company put into consideration.
Safety
This oddly shaped, front mounted child carrier kangaroo bike seat by WeeRide is just the perfect child carrier for the adventurous toddler in your house. Ironically getting its name from a mother kangaroo, this child seat looks as if it has your child sitting in a kangaroo-like pocket for safety and snugness.
Support
Being mounted right behind the handlebars, you will always have your child cradled in your arms, this way you know exactly how safe your child is regardless of terrain. Coming in 2 colors (green and grey), the Kangaroo bike seat by Weeride offers tons of features, including a padded dashboard, 5 point safety harness, and adjustable foot cups. If this doesn't make you want to jump on your bike right now and take your child for a ride, I don't know what will.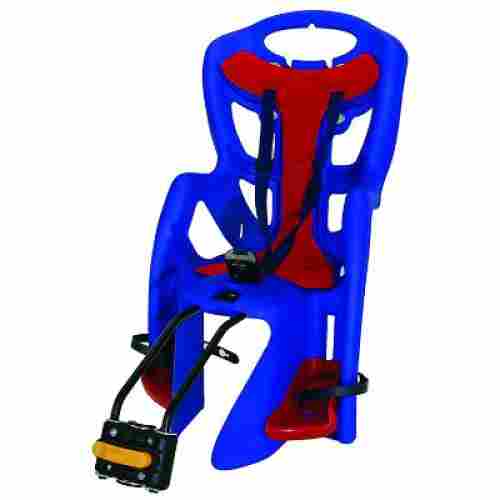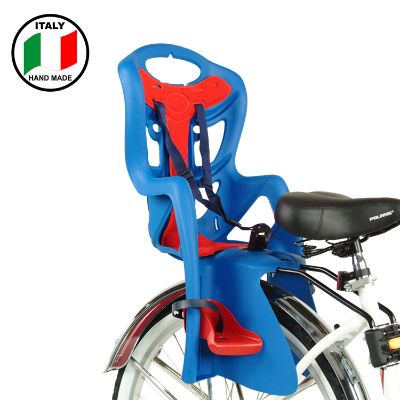 3 point childproof safety harness
3 mounting options
Adjustable footrests
Elevated side walls
Ergonomic Shoulder Support
Rear mount rack not included
The Bellelli Pepe is a rear-mounted carrier that can support up to 50 pounds. It's intended for children ages seven and under. This sleek design is lightweight, durable, and easy to wash. It's created with optimal support in mind and a 5-point harness system keeps your child snug but comfortable throughout the ride!
Read more
Ease of Use
As the parent, most child seat companies don't view you as the person actually using the seat, but it is by far very wrong. You are the one riding with this hunk of plastic attached to your already large bicycle, that's where Bellelli started when designing this seat. The ability to choose where to mount the seat in the front or back of the bike is extraordinary. Some days you want your child to experience the visual aspects of riding a bike so they are prepared, other days you want your child to feel the riding motion from the back of the bike. Both of these have different benefits to them, and being able to interchange between the 2 is twice as beneficial for your child's development.
Safety
With fully adjustable footrests for an easy growing room, high sideboards for enhanced protection and containment, and 3 different ways to mount the seat to your bike, this seat will be you and your little one's best friend. Buckle your child into the seat with the safe 3 point harness and childproof buckles, knowing they won't be in danger of getting hurt. But be warned, you might become an addict for bike riding with your child!
Support
We love the initial 3 mounting options and adjustable footrests, making the seat easily interchangeable to any bike and mounting option. We also like the elevated side walls and child proof safety harness, making you as a parent feel confident when riding with your child.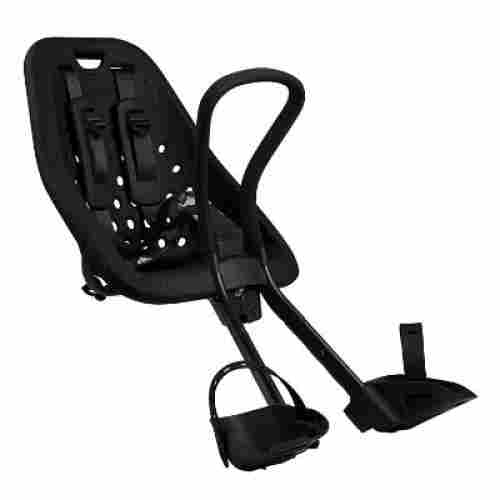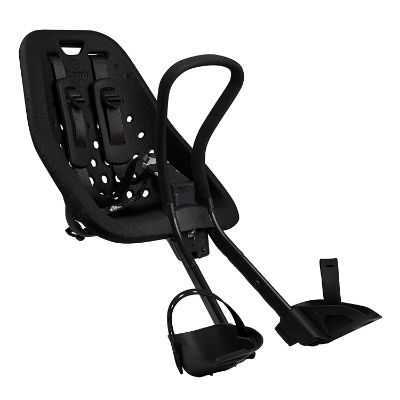 Comes in various colors
Five-point adjustable harness
Adjustable footrests
Front-facing seat
High enough so your child feels close to you
It can be a tough fit on mountain bikes
The Thule Yepp Mini grows with your child so you can enjoy the fresh air together for years to come. It supports children roughly between the ages of 3 months and 9 years and holds up to 33 pounds. The adjustable footrests and 5-point harness gives your family some wiggle room in terms of height and fit while still protecting and supporting your precious cargo.
Read more
Ease of Use
The sleek design of this bike seat helps it to provide optimal comfort for your little one. While they're in there having a blast as you pedal, know that they're safe and sitting like a king or queen in their new bike seat!
Safety
The "pedals" attached to this bike seat give your child the feel for a real bike when in reality, they're safely stationary in their new bike seat. The footrests are adjustable and while your child grows, they'll eventually be able to put their hands on the handlebars and steer with you. This seat features a five-point harness to keep your baby strapped and locked in, all while providing them with a seat that's comfortable and water-resistant.
Support
This bike seat works with most bikes which makes it great for the active family who often switches between bike units. It's perfect during any season with its water-resistant design and comfortability.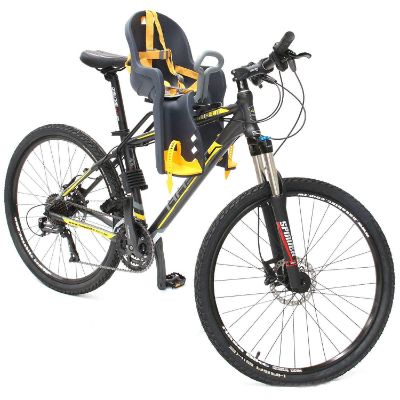 Easy mounting and dismounting
Middle-mount design
Safety-certified
Holds up to 33 lbs
Easy assembly
Straps are difficult to tighten
CyclingDeal changes things up a bit with a front-mounted child seat. It's designed and tested for children between 9 months and 3 years old and it safely holds up to 33 pounds. All accessories are included and it's easy to mount and remove! It's not made for all bicycles though, so move along if you're looking to pair a seat with a dual suspension bike, beach cruiser, or front derailleur.
Read more
Ease of Use
A universal quick-release bracket allows you to mount and dismount the unit from the bicycle within seconds, but doesn't impair the seat's stability once clamped on. It's compatible with most bike frames (27.2-38 mm diameter rounded frames), and guaranteed to be safe for children from 9 months to 3 years of age, or up to 33 pounds. It's not meant for beach cruisers, dual-suspension bikes, or front derailleurs, but if you're riding a pretty standard make and model, it's a solid choice.
Safety
Middle-mounted, this CyclingDeal infant bike seat is easy to pop on and off without tools, but guaranteed to meet or exceed all USA safety standards.
Support
This bike seat will allow you a happy, balanced ride with baby. It mounts easily in the middle, is easy to detach when you're riding solo, and certified to meet all safety standards in the US.
8

. InStep Take 2 Foldable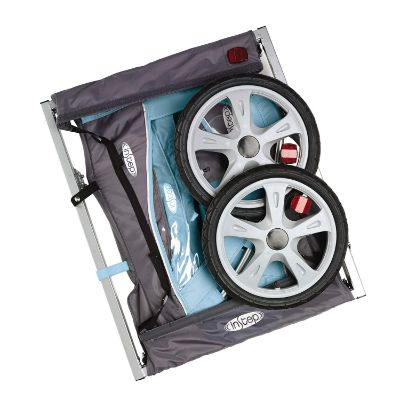 Comfortable and spacious
Room for storage
Five-point safety harness
Protected on all sides
Features a front-facing screen
The tire valves aren't the best quality
Not every parent will be completely comfortable strapping their child into a bike seat, and that's okay! On this list, we've included some bike seat options that are a little more child-friendly, as well as independent. Tow-behind trailers are a great option for toddlers who are outgrowing their bike seats or might just feel more comfortable in their own space, protected from whipping wind that can often be uncomfortable to smaller children.
Read more
Ease of Use
Having the ability to bring your kids wherever you want to bike can make for some great memories. These bike trailers allow your kids to discover a love for the great outdoors without needing to be fully immersed in it quite yet.
Safety
The InStep Tow-Behind Trailer features room for up to two children and will keep them safe with a five-point safety harness. There's also room to fit additional gear in this trailer, which not only makes it great for your kids but gives you a great storage option as well.
Support
The InStep Tow-Behind Trailer allows for kids to feel safe and secure inside their own tent without limiting the fresh air they'll get while out and about with you. The front of the trailer features a screen that will allow for a nice breeze, while the covered sides protect your child from any splashes or harsh winds. These bike trailers can also be great in inclement weather since you never know when it'll rain or be a little more breezy than you anticipated.
9

. Peg Perego Orion Front Mount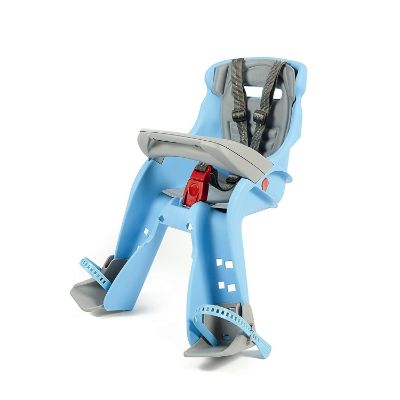 Four color combinations to choose from
3-point safety harness
Easy to install and remove
Designed not to throw your bike off-balance
Can be mounted on electric bicycles
Can be tricky to mount without interfering with brake cables
The Peg Perego Orion is a rare front-mount with plenty of adjustabilities to grow with your child. The footrests can be locked into three different positions for comfortable support and the 3-point harness' length can also be customized! This seat can comfortably and safely hold up to 33 pounds.
Read more
Ease of Use
The one-click installation makes this a cinch to cart around and means that you can easily ride with or without your little one along. An innovative mounting bracket attaches the seat in such a way as to evenly distribute weight so your extra passenger won't throw you off balance!
Safety
A three-point harness system keeps your child tucked safely in their seat. The strap lengths are adjustable as well so you don't have to worry about them constricting your child throughout their inevitable growth spurts.
Support
The unique design of the Orion means it can be mounted to almost any support frame! In terms of supporting your child, it also features footrests with three different height settings. The straps are likewise adjustable for optimum comfort.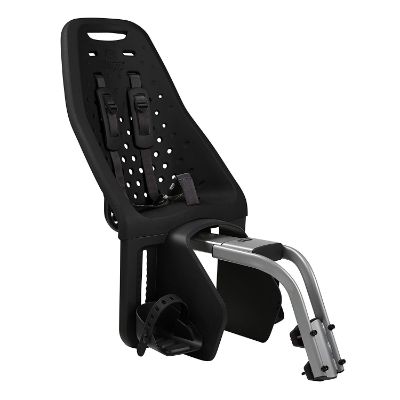 5-point safety harness and childproof buckle
Easy to wash
Easily installed, removed, and switched between bikes
Supports up to 48.5 pounds
Adjustable footrests and straps
Some customers complained about poor support
Needs the key to lock/unlock, so don't lose it!
The Thule Yepp Maxi is a rear-mounting bike seat meant for slightly bigger kids. If you're tired of the weight limit topping out at 33 pounds, this one can safely hold children up to 48.5 pounds. The shock-absorbing seat provides a smooth, comfortable ride for kids. It features a 5-point harness and adjustable footrests as well!
Read more
Ease of Use
This design snaps right on and off without much labor. A key allows you to mount it easily and even switch between bikes. If you're looking for something that doesn't have to be a permanent fixture and gives your family some flexibility, this is it!
Safety
A built-in reflector helps make you and your child even more visible at night! The five-point harness keeps kids tucked safely in their seats. Additionally, a childproof buckle means curious little ones can't unsnap themselves in the middle of the ride.
Support
The footrests provide both support and comfort for your child. They're adjustable, as are the associated straps. The seat is also water-repellant and so can be cleaned easily and withstand norma, fluctuating weather conditions. This model also holds more weight than most of its contemporaries, so if you're looking for that kind of support, this is a great pick!
Criteria Used for Evaluation
Ease of Use
Not only does a child bike seat need to be functional, but it also needs to be able to perform efficiently without stress and complication. That is why we only chose the very best, most-efficient child bike seats that met our tough standards. That is why you will find one-second quick release brackets, and three-step installation of mounting racks featured on the products in this list, ensuring the most effective on the market.
Support
When judging which child carrier was better than the opposing one, we looked at the maximum weight limit that the child carrier could hold and the larger one was typically superior. This is because we want you as the parent, the one purchasing these products, to get the most out of your hard-earned money. Products with a heavier weight limit will allow you to use the bike seat for a longer time as your baby grows.
Safety
When judging these products, we looked very hard at whether a product had the adequate safety features needed to keep a child safe and chose the best ones that met our very tough standards. We care about you and your child's safety, and that is why the products on this list are extremely geared towards being safe in all the crucial areas needed to protect a child on a bicycle.
Most Important Criteria
(According to our experts opinion)
Experts Opinion
Editors Opinion
Users Opinion
By Default

Parents, Did You Know?
We looked at whether the product was rear-mounted or front-mounted, typically leaning more toward the front-mounted seats because they offer a wider and more clear visual experience, as opposed to rear-mounted seats, that are more movement beneficial and bonding oriented.
Parents, Did You Know?
We also looked at whether a company decided to give you a mounting rack with your purchase, rather than requiring a separate purchase to use their product. Most of these add-on mounting racks are $30 to $40, and then you have to add that on to the total price of your new seat. That is why we did our very best to weed out the majority of products that do not include a mounting rack with purchase.
Other Factors to Consider

Style
We looked hard to find the safest and best functioning child bike seats that have the largest variety of universal colors to choose from. We know parents and kids love to accessorize and match, that is why almost all of the items on this list have multiple color options and styles.
Frequently Asked Questions
q:

Do child bike seats fit banana seat bikes?

a:

With the right adjustments, any of these bike seats on the list could fit any bike.
q:

How old should a child be to ride in a child bike seat?

a:

Your child should be old enough to have already developed neck muscles strong enough to hold their head up normally.
q:

Is front mount better than rear mount?

a:

Honestly it is personal preference, but many people prefer front mount over rear mount due to the safety aspect of the child being in front of you rather than behind.
q:

Do all of these child seats include a mounting rack?

a:

No, please read the Amazon description to determine this before buying.
q:

Are these child seats only meant for adult-sized bicycles?

a:

Yes, it is recommended that your bike is at least 16 inches to use a child bike seat, if not followed injury can happen.
q:

Should my child wear a helmet while riding in these products?

a:

Yes! Always have your child wear a helmet when riding on any bicycle, in fact, you should wear one too.