Binoculars are excellent pieces of technology that allow us to view objects from a distance with great detail. And while these gadgets are mostly reserved for men and women in various professions, it doesn't mean that kids will not benefit from its use. Whether it is used as props for their role playing activities or as an instrument in their exploration of their surroundings, children will need the 10 best binoculars for kids in 2017 so they'll be able to realize their objectives.
Our Picks For The Top Binoculars For Kids
Shock Proof Kids Binoculars Set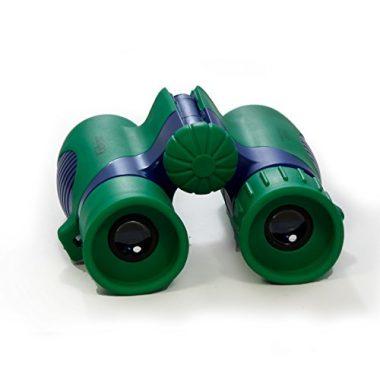 Age Range: At least 3 years old
GeoSafari Jr. Kidnoculars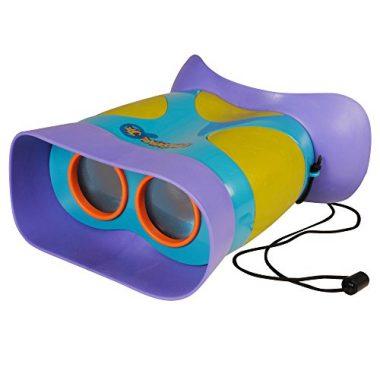 Age Range: At least 3 years old
ExploreOne 6×21 Binoculars
Age Range: 7 to 15 years old
Age Range: 3 to 12 years old
Backyard Safari Field Binocs
Age Range: At least 6 years old
Bixie Butterfly Toy Binoculars
Age Range: 3 to 5 years old
GeoSafari Compass Binoculars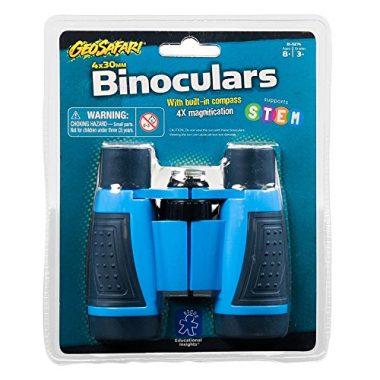 Age Range: At least 5 years old
Age Range: At least 3 years old
High-Resolution Binocular Set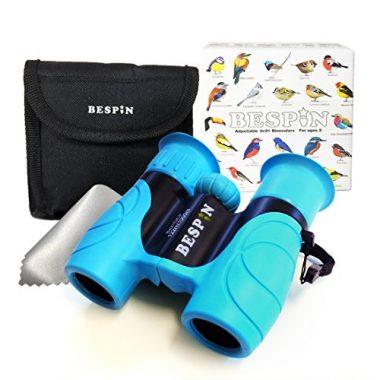 Age Range: At least 6 years old
Criteria Used in Evaluation of the Best Kiddie Binoculars 
It can be difficult these days to motivate your children to get out doors. With all the fun to be had with technology, from social media to infinite game system choices, there is so much to distract from the simplicity of a good outdoor adventure. We find ourselves so wrapped up in our fast paced lives it can be a challenge to remember to take a moment to observe the sights, smells, sounds and textures around you. Here is a list of the top choices for binoculars, helpful to get your little one excited about nature, science and the world around them.
Introducing your little one to STEM studies is a huge benefit of this fun gift idea. These toys offer an enhanced experience during outdoor exploration. By introducing your child to a more detailed and in depth quality view they will not only be introduced to science and nature. They will also begin to understand the basic notion of electrical activity in the brain by sending signals of the images to the brain.
It's the end of summer and you are trying to take one last family vacation, why not camping? Among campfires and s'mores,  star gazing is a great way to bond and make lasting memories with your child while also giving them a basic introduction to the stars and the many incredible things in spaced  to be explored. These binoculars allow for a great view of the night sky. Bird watching is another great activity that gives your child the opportunity to study nature and learn about the beauty and complexity of birds.
Binoculars are a great way to help steady your child's attention and improve their observational skills. This toy and a great development aid and will give your child a greater view of nature. There is no better way to get your child excited about nature and science, than to give them the chance to enhance their senses directly in the palms of their little hands. Your little one will inspired to observe the creatures living in your garden. Experiencing a trip to the zoo will be enhanced with the ability to zoom the lenses into focus and magnetize objects that are far away.
By giving your child a set of binoculars they will not only be exposed to brain development skills, but also an understanding of the rudimentary anatomy of the eyes. These sleek and stylish binocular sets will be a great addition to inspire your little explorer. You want to find a way to get your child outside to absorb some sunlight and the vitamins our bodies need. The sun provides nutrients vital to our happiness and healthy bone development. These great gift ideas are sure to inspire and promote your child to get outside and be active. Help them learn about the world as them.
What Determined the Best Kiddie Binoculars in Our List
Picking the best binoculars should've been easy, except that it's not. We have to admit we're not really experts on these things. That's why we've enlisted the assistance of someone who has, quite literally, spent his life using these devices in both his profession and his personal life. Let's just say that the brief time he spent with us opened our eyes to the fabulous world of children's binoculars and how we can come up with a more objective selection of ocular devices that kids and their parents will definitely love.
However, even with the watchful guidance of our technical expert, we found the selection process to be quite intimidating. As such, we tried simplifying the process. Since the focus is not on professional-grade binoculars, the quality of the optics was not really given much weight. We know that premium optics can command a hefty price. Some parents may not entirely agree with the idea of paying a premium price for something that might get broken because of the nature of children. Nonetheless, we made sure that the quality of the optics was high enough to allow our kids to enjoy what they are doing.
Next, we had to make sure that the device is easy to operate. While we commend products that have integrated a lot of features into their design, we had to make sure that these are not very complicated for the child who is going to use it. That's why we also had to take into consideration the developmental appropriateness of these gadgets and determine whether any feature can bring a particular benefit to growing kids. If not, then we ticked it off our list.
Comfort was also an issue. Since binoculars are to be placed in front of the eyes, the design of the eyepiece must not bring discomfort to children. Any protective feature or a mechanism that will help provide for a more comfortable viewing experience is duly noted and considered in the final tally.
Sturdiness and durability were also major factors. We already said that people don't want to spend hundreds of dollars on a device that can be easily broken. Unfortunately, children are not really known for being too careful about their gadgets. They can bang it, drop it, or even throw it with ease. And while we cannot really help prevent this from ever occurring, we can somehow find solace in the notion that these gadgets we have listed are extra durable and tough enough to withstand sudden or accidental impacts.
Lastly, as you may already know, we took note of the product rating of these kids binoculars. Four stars was our lower limit for inclusion into the list. At any rate, this should give you the peace of mind that many other consumers actually think the product is worthy of the money they spent. Perhaps, of more importance, is the experiences of their children related to the use of these products.
Developing the Observational Skills of Children
Observational skills are very important in helping kids develop their understanding of the world. They may only be looking at the things that they see. However, their brains are already processing a lot of these information that are arriving at integration centers in the mind. We know that observation is important in early childhood education and learning. Unfortunately, not many of us actually know how to help children develop their observational skills. While there are no clear cut rules on how we can approach the matter with guaranteed success, there are a few things we can do to make sure that our children's innate ability to observe and make sense of his or her world is properly cultivated and allowed to grow. Here are some things you can try.
Introduce the different senses. 
The very first thing we can do is to introduce the concept of the sense organs and how these structures work. For instance, we can teach them about the rudimentary anatomy of the eyes and how the things that we see are sent to the brain as electrical signals. We can cover the different senses one at a time.
Talk about using the senses to gather information.
Once kids already have a fair understanding of the different senses, we can proceed to talking about how we can use these senses to obtain information about our surroundings. For example, we can use our sense of smell to know if a liquid is fragrant or not or if a fruit is already ripe or not yet, based on its scent alone.
Show them how the senses can be used to gather information. 
While teaching or discussing with them how the senses can be used to gather information, it's a lot better to show them how it is done. In our previous example, we can place several jars that contain different substances. We can then encourage our child to sniff each one out and try to make very casual remarks about what he or she thinks about the odor or scent. They don't need to identify what is in the jar. They will have to strive to describe the object using their sense of smell.
Teach your child to take down notes. 
A very important part of observation is taking down notes. This is crucial as it enables children to remember the important details about what he or she has just observed. It also teaches children to identify which descriptions can be considered very important and which ones are not.
The Bottom Line
Observational skills are important for children's cognitive development. With these 10 best binoculars for kids, you can have the correct tool to help them develop and enhance their ability to observe and understand the meaning of the world they live in.
FAQ
Frequently Asked Questions
Q: Do these products come with a warranty?
A: Yes, most offer a warranty of some kind. The sites you purchase them from as well as the manufacturers each offer a set of warranty options and policies
Q: What is the age range for these toys?
A: They are not intended for children under three, nor is it recommended to leave your unattended. However they do range in ages three and up. Anyone can have fun using binoculars. There are however some designs that are suited for a younger target audience.
Q: Will they be convenient for my child to use?
A:Most of these products are durable and designed to take a beating.. Some feature a storage case and most offer a strap or cord to be easily worn around the neck or wrist.
Q: Do these products work for children with glasses?
A:Yes there are several options on this list that will work for children with glasses. The lenses have a rubber coating for optimal comfort. The size of the lenses allow for your little one to see great images all while supporting the frustration that comes from having to wear glasses.
Q:How long are the neck straps?
A:Some are very long, not all contain a neck strap some offer a storage case while others come with a wrist strap.
Q:Are these binoculars waterproof?
A:Some of these higher quality products are capable of taking a beating and may not be damaged too badly from some water exposure, it is not recommended to submerge these objects in water
You May Also Like
10 Cool Gadgets For Kids
5 Best GPS Trackers For Kids
10 Best Play Tents For Kids
10 Best Kids Backpacks