Kids of all ages adore watching things outside and are curious about anything and everything. A must-have for inquisitive kids is a pair of binoculars, because what's a better way of saying "I want to help you explore the world" than with a device that will allow them to see things at all distances, both near and far? Binoculars are a great tool to help kids learn about nature, the atmosphere, and even how to observe people. Whether they're using binoculars to see their friends walking down the street or to observe a cardinal in a tree, they're still expanding their brainpower and making use of their natural curiosity in the best way.
The best part about binoculars is that they can even be used indoors on cloudy or rainy days so the fun doesn't need to stop just because the weather decides it so. This is a great gift to any science-loving kid since binoculars can be used in virtually any environment, and they're wonderful to take on family trips to get a more up close and personal look at things. Overall, we can't think of any kids who wouldn't be enamored with a chance to see the world in a different and unique way.
Below, we've created a list of the Best Binoculars for Kids as of 2018, complete with everything you need to know about them. No matter the age, we have a pair of binoculars that will suit any kid with any adventure in mind. Take a look and prepare to give your child a toy they'll never put down!
Our Top 3 Picks
Geosafari Jr. Kidnoculars

Our rating
+Placement Guide
Price:

See Here
Kidwinz Kids Binoculars

Our rating
Rubber Eyepieces
Price:

See Here

ExploreOne Binoculars

Our rating
+Carrying Bag
Price:

See Here

Our Picks For The Top Binoculars For Kids
Shock Proof Kids Binoculars Set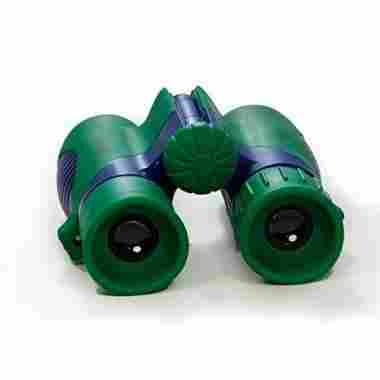 Age Range: At least 3 years old
ExploreOne 6×21 Binoculars
Age Range: 7 to 15 years old
BlueCabi Shock Proof 8×21
Age Range: 3 to 12 years old
8×21 Kids Binoculars by Sky Genius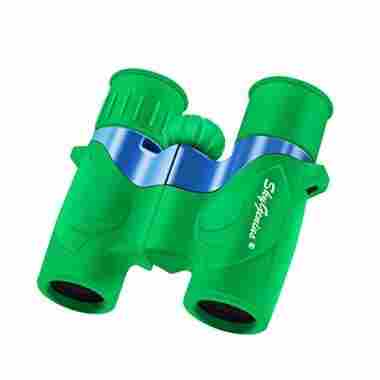 Age Range: At least 6 years old
GeoSafari Compass Binoculars
Age Range: At least 5 years old
Educational Insights GeoSafari Compass Binoculars
Age Range: At least 3 years old
High-Resolution Binocular Set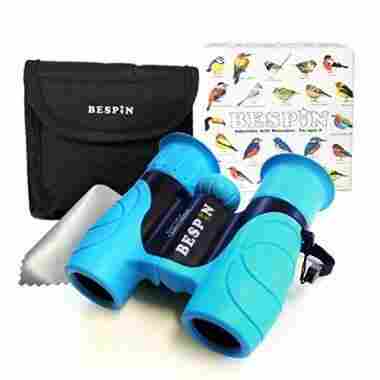 Age Range: At least 6 years old
Outdoor Set for Kids by Back 2 Nature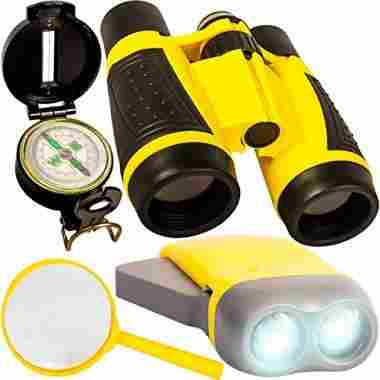 Age Range: At least 6 years old
DIMY BINOCULAR for Children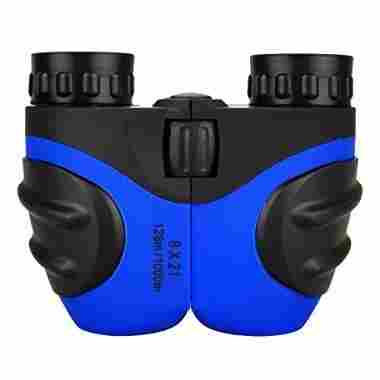 Adventure Kids Educational Outdoor Children's Toys
Cobiz Kids Binoculars, 10×25
Outdoor Exploration Kit for Young Kids
Carson AdventurePak With 30mm Kids Field Binoculars
Living Squad Kids Binoculars 8×21
Criteria Used in Evaluation of the Best Binoculars for Kids
In the daily hustle and bustle of everyday life, we often forget what it's like for kids to have some experience being outside. It seems like nowadays every kid has an iPhone, iPad, iPod, or some other kind of Android device that keeps them looking through a screen rather than seeing the world in a new and unique way. When you break it down, it's relatively unnatural for kids to be so invested in spending time behind a computer or television when studies show that fresh air is great for them.
It's so important to give them the experience that only the Great Outdoors can show them because when technology breaks, they're often at a loss for what else they can do to have fun and pass the time. Being outside can be a great vector for learning and supporting mental health as well as physical growth; your child can learn about nearly anything they want to and binoculars are a wonderful way to do so.
Family time is also an important factor in a child's life and that much-needed quality time is made even better with fun and different activities. Board games and movie nights are great and sure to inspire some laughs, but why not become truly inspired by heading outdoors and getting a feel for the world around you? Showing your kids the life outside of their home is something they can take with them for years to come, and they'll remember all the times your family went on hikes or went camping.
Sure, it's a different way to live for a bit — but it's one that will spark personal growth and bring your family so much closer together. The addition of binoculars or a simple explorer kit like the ones we've listed in our list can turn the entire experience around and give your family a goal to keep in mind. Whether it's finding new plant life, discovering what kind of bugs or insects are around you, bird-watching and learning to identify different species, or simply just hiking to a high point and scoping the land, your family can do it together.
When it comes down to it, binoculars aren't just a toy you can give your children to keep them busy and pass the time. They're a visual tool that can show them everything in a different way and soon they'll learn to start thinking outside of the box. They'll view the world different because they've been exposed to something that will alter and improve the way they see everyday objects, and maybe they'll even see something new that they've never noticed before. There's a world of new things to discover when you have the power to magnify and focus in on it and that starts with a simple gift: Binoculars.
What Determined the Best Binoculars for Kids
There are many factors to take into consideration regarding binocular quality and what to look for in a pair that's both affordable and great quality for your child. On some products, you will assuredly be sacrificing viewing distance for something like durability and lasting power, while on others you may sacrifice breakability ratings for a higher magnification and stronger lenses. We've tried to find an excellent balance between all of these to bring you a list that is both comprehensive as well as suitable for any age range, from toddlers all the way up to the adults in your family.
To be honest, age had a big part in what helped factor out our decision. We strive to find products that will suit every age level so that no one needs to feel left out during any family activity. Age range is also important because when it comes to group play, not every age is created equal. Some of the binoculars you'll see on here are a wonderful starting set for toddlers, with easy-to-use grips as well as a rubber-coated outside that was designed specifically with them in mind. Other binoculars are simple enough to use for kids slightly older than a toddler but also efficient enough to be used by adults as well. Anything in between can go up or down as far as age ranges go, and we find that this opens up possibilities and lessens the stress when choosing what brand or type to go with for your child.
Functionality is also key on our list. If it doesn't work then there's no point in spending money on it or even using it, so why bother? Our top picks included binoculars that may not have an insane magnification or zoom rate but work regardless of distance. Any that we've included that do cover a long-range distance are of the highest quality and we've made sure that they can easily be used by kids.
Trying to get binoculars to focus can be frustrating, especially when what you're trying to focus on is time-sensitive. For things like bird-watching, we'd recommend one of the higher magnifications that are targeted for kids in a higher age range. For simple tasks such as general viewing on hiking or camping trips, we'd recommend taking a lower magnification or choosing an explorer kit that has other necessary explorative tools included. There's a pair of binoculars for each and every task at hand and we've done our best to include only the greatest products out there.
Developing the Observational Skills of Children
Kids can have a short attention span. This is common and completely normal, but binoculars are a tool that can help them increase their observation time while being educational at the same time. Let's say you're on a hike with your child. Along with your hike, there are many stop-offs and viewing points. Wouldn't it be great if during one of those stop-off points, while you're overlooking a beachy cliff or a broad mountain range, you could pull out a pair of binoculars and watch what's below and above you? If you had the ability to visually skirt the treeline or master the art of finding schools of fish far below the water's surface, it would not only catch your child's attention but increase it as well.
Kids learn through experience. In a case like this, with their focus being solely on what they're watching through a viewfinder, they'll learn valuable skills such as how to observe things in their natural habitat. It could be during a bird-watching activity where they find a rare species and are able to identify it or even whale-watching where they watch a fin come up out of the water and are able to note which whale is lying just under the surface. Through the lens of a pair of binoculars, your child could be witnessing something incredible and learning about it in the process. They'll easily learn the value of observation and how rewarding it can be.
Introduce the Different Senses
The five senses go hand-in-hand. Binoculars, while designed for one sense, can be used to incorporate many at once. Visually learning is often a powerful tool in education and this can very obviously be done through binocular observation, but how can we include the other senses to help educate children through discovery? When your child spies something that catches their eye and zooms in on it, ask them what they can audibly hear — Is it a bird, are they making a specific cry?
Is it an animal — Can you smell anything particular about them? Or maybe it's an edible plant — Can you taste the sweetness that's associated with a honeysuckle plant? If it's a tree, what does the bark feel like compared to what it looks like under the magnification of the binoculars? There are so many different questions we can ask that will encourage and push kids to further discover what may literally be right under their noses.
Talk About Using the Senses to Gather Information
The first half of learning is observation, the second half is inference and understanding through experiments and trial and error. When your child is looking through their binoculars, are they seeing something that they can potentially learn about as well?
Binoculars provide an excellent way to educate kids without needing to take them to a museum or science lab (not that either of those things shouldn't be done!) because they can discover for themselves and also make adult-guided inferences. By using their sense of smell, touch, taste, and sound, they can incorporate these aspects into their visual sense to learn more about what they're seeing. Associative behavior is helpful in science and nature education because by linking two sense together, the experience becomes ingrained in more ways than just one.
Show Them How the Sense Can Be Used to Gather Information
This is the part of learning that can, and should, be acted upon. Once your child has used his or her binoculars to observe something, let's say in your own backyard. They've gone up to the second floor and through their bedroom window, they've locked onto a tomato plant they didn't realize was producing produce yet, and are now curious about it. With their binoculars, they're not only seeing a shiny red tomato — They're seeing insect life, dew leftover from the early morning mist, tiny fuzzy hairs that are running up and down the stalk of the plant.
For the first time, they're seeing plant life for what it actually is in nature. These are all valuable observations that you can use to educate and explain to your child the process of photosynthesis, how plants either help or destroy crop production and how the plant naturally defends itself and survives. Afterward, the tomato your child discovered can be a part of their information-gathering process; let them run outside to pick it and then make lunch! Healthy and educational, yum!
Teach Your Child To Take Down Notes
To add an extra element of long-term learning, take your child on a walk with their new pair of binoculars. Have them observe a natural habitat near your home or even town life. During the process, hand them a notebook and a pencil and have them write down everything that they see, are curious about, or want to learn more about. This is a great way to educate your kids on things they haven't seen before and help them grow mentally as they absorb information and develop a deeper understanding of what surrounds them. Through the process of writing down information, they'll remember it and be able to resort back to it if they ever want to re-learn something or remember it. Binoculars are a great basis for any learning activity no matter the age!
The Bottom Line
The fact is that binoculars are an excellent learning tool. All scientific education aside, they're also just a fun gift that will last for a long time and never gets boring, because what's on the other side of them is constantly changing. They're a great investment of money for a growing child and can be used by all members of the family. Portability is also an included asset when it comes to a pair of binoculars because they're useful no matter where you go. If you do happen to be a family of hikers and campers, they really are a must-have for exploring. They set the tone for adventure and can be so useful when it comes to seeing what's out there since they're essentially just visual boosters!
FAQ
Frequently Asked Questions
Q: Do these products come with a warranty?
A: Yes, most offer a warranty of some kind. The sites you purchase them from as well as the manufacturers each offer a set of warranty options and policies
Q: What is the age range for these toys?
A: They are not intended for children under three, nor is it recommended to leave your unattended. However, they do range in ages three and up. Anyone can have fun using binoculars. There are however some designs that are suited for a younger target audience.
Q: Will they be convenient for my child to use?
A: Most of these products are durable and designed to take a beating. Some feature a storage case and most offer a strap or cord to be easily worn around the neck or wrist.
Q: Do these products work for children with glasses?
A: Yes there are several options on this list that will work for children with glasses. The lenses have a rubber coating for optimal comfort. The size of the lenses allows for your little one to see great images all while supporting the frustration that comes from having to wear glasses.
Q: How long are the neck straps?
A: Some are very long, not all contain a neck strap some offer a storage case while others come with a wrist strap.
Q: Are these binoculars waterproof?
A: Some of these higher quality products are capable of taking a beating and may not be damaged too badly from some water exposure, it is not recommended to submerge these objects in the water.
You May Also Like
10 Cool Gadgets For Kids
5 Best GPS Trackers For Kids
10 Best Play Tents For Kids
10 Best Kids Backpacks