10 Best Board Games for Teens Reviewed in 2019
last updated
Jul 23, 2019
Gather your teens for the evening with these fun activities that will not only bring laughter but also family memories that will last a lifetime. It's time to unplug your children's electronics and instill a little bit of friendly family competition-–game night. Teens go through so many physical and mental changes as they age that often it's nice for them to simply unwind. Board games help develop spatial reasoning, social skills, cognition, improve memory, and reduce stress. Not only will this type of entertainment help with development, but it also will make your teen laugh and have a wonderful night of fun with friends or the family. We have compiled the most-reviewed and the best-rated products of this category for your review. Pick out a few and make at least one night a week game night at your house!
In a Hurry? The test winner after 38 hrs of research
Codenames
Why is it better?
Quick play
Engaging action
Develops social skills
Uses logical reasoning
Exercises wordplay
In a
Hurry? Editors choice:
Test Winner: Codenames
25
Researched Sources
38
Hours Researching
15
Products Evaluated
Educational Value
Ease of Use
Social Development
Entertainment Value
By Default
In Depth Review Top 10
Codenames
Labrynith
5 Second Rule
Blokus
Sequence
Cards Against Humanity
Smart Ass
The Game of THINGS
Pictionary
Ungame Teen
Table of contents
Criteria Used for Evaluation
Expert Interviews & Opinions
Other Factors to Consider
Frequently Asked Questions
Sources
10 Best Board Games for Teens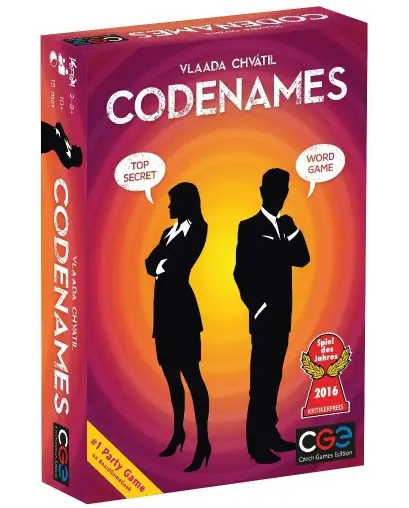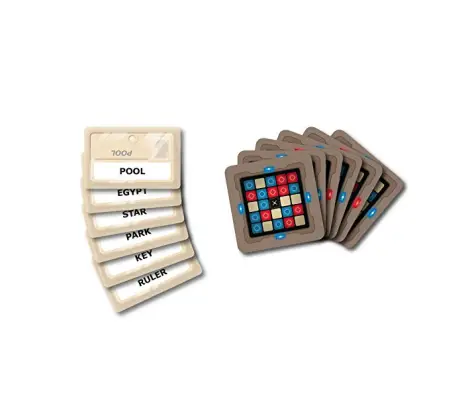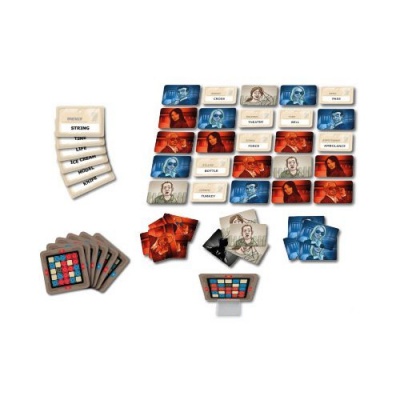 Quick play
Engaging action
Develops social skills
Uses logical reasoning
Exercises wordplay
Might end too quickly for some teens
Our top pick is Codenames by Vlaada Chvatil. This engaging and quick to play game will have your teen begging to play again. They will play it with their friends and gladly bring this game out at family gatherings.
Read more
This is a multiplayer game where you get cues to help you find secret agents. It can be played with just two people for a special parent-child bonding time or with as many as eight people to keep the entire family or a group of friends engaged. This is one game your teen will want to share with their friends! It is a quick and challenging product that will be finished before your teen can start complaining about not having their phone.
Educational value
This marvelous product will have your teen's social skills improving while they use their logical reasoning skills to find all of the secret agents faster than their opponents in fast game play.
Ease of use
This game is catered to the 14 and up crowd so your teen won't feel like they are playing a child's game. It only takes around 15 minutes from start to finish for a game, once you understand the rules.
Social development
You can work together as a family to beat the game or play against each other as rival teams. This fun and easy to play - the game will have you laughing and making lasting memories as a family in no time.
Entertainment value
You will get to spend some valuable time with your growing young adult and have educational fun in the process. They might even have so much fun that they will ask you to play again!

Great replay value
Fun for eight-year-olds and older
Nice gameplay time of 30 to 40 minutes
Action packed fun
Promotes brain development
Older teens could find it boring
Ravensburger Games has created the fun family-friendly game of Labyrinth that will have you and your family racing to find the treasure on family night.
Read more
The high-quality game pieces will stand up to many hours of family play. It is perfect for the whole family and can be played by people at least eight-years-old and up. This is the perfect item to set up for family night, so your teen can bond with younger siblings and have a thrilling time with mom and dad, too. Full of fun and surprises, it has a constantly shifting maze that prevents you from finding the treasure. You can keep this game around for years of family enjoyment!
Educational value
Labyrinth will have your teens working on their cause and effect skill set, building a strategic planning skill set, and using their social skills for good! It is a game the whole family can bond over.
Ease of use
Even eight-year-olds can play this enticing game well. It is simple to set up and understand with wonderful treasure to be found and a maze to endure to get to it first.
Social development
This action-packed game will have your family involved in some fun friendly competition. Each time you play the game the board it is different, so it keeps you on your toes. It will create many wonderful family memories.
Entertainment value
Its value is in its ability to provide fun for the entire family from eight-year-olds up to eighty-year-olds. You and your family will be so glad that you bought this item for your family's entertainment gatherings.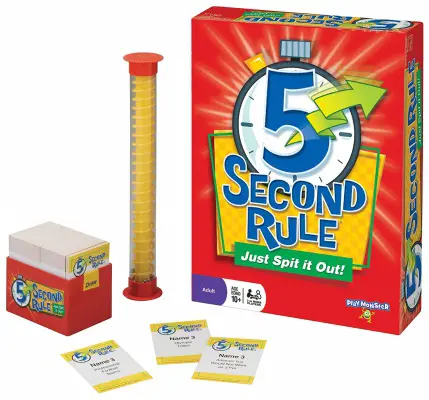 Hours of replay value
Funny and addictive
Family oriented
Only three players are needed
Uses memory skills and wordplay
Could be seen as too simple to hold interests
Play Monster's 5 Second Rule is a whimsical word game will have your family bonding over their silly verbal fumbles. It will entertain you with the unique timer and unique topics.
Read more
This game has fantastic terrific replay value and will have your teen asking to play again and again. You and your teen will spend some great times together coming up with three topic items that have a common trait. Which teenager doesn't enjoy watching their parents make silly mistakes? When they bring this game out to play when friends come to hang out and you can rest easy knowing the game is appropriate for them to play.
Educational value
This game will provide you and our teenager with hours of wordplay. You will be using your memory and logical thinking skills to connect three things to silly topics. Can you name 3 bald actors in 5 seconds?
Ease of use
This is simple word play at its best which may seem easier than it really is. When you are put on the spot to name three specific items, it can be quite challenging. Nonetheless, the logistics of the game are quite easy.
Social development
This game will not only engage your teen in fun action-packed play, you can include the whole family. This funny fast-paced game will create many great memories for you and your teenager.
Entertainment value
It will provide your family with tons of entertaining laughter. This is a game well worth its affordable cost! It will have you laughing and fumbling over your words for the entire game. Laughter is the best medicine!
Family-friendly and simple
Strategic and exciting play
Creates friendly competition
Easy to understand and play
Can be played by younger kids
Losing any of the unique pieces may affect the game
Blokus is a fantastic strategy game that the whole family can play. Using four vibrant colors of various-shaped game pieces, you must be first to use all of your pieces on the board.
Read more
You'll be able to sit down with your child and enjoy this fun challenge with a little bit of friendly competition. It ends when there's no more room for any other pieces on the board, so the winner is whoever has the lowest number of pieces in their hand in the end. Using a simple idea, Blokus can even be played strategically by younger kids, since it only uses colored pieces fitting on the grid to play. It is a fabulous game to take on vacations and trips away from home to have fun with others.
Educational value
We love this product because it's family-friendly and the perfect puzzle game to help teach your children how to strategize in simple game play. Using puzzle pieces of a single color, can you finish first?
Ease of use
This strategy game comes with 21 pieces in a variety of colors--red, green, yellow, and blue. The object of this game is that each piece that a player places must be touching the same color. No cutting corners either!
Social development
Players will be sitting on the edge of their seats trying to get all their pieces used first. It is a quick game that can cause much excitement for the one, two, or three players in the various color pieces.
Entertainment value
Provides fierce competition and brain-teasing fun in thirty-minute gameplay action. Blokus pits one player against the others in a race to cover the board and use all of his or her pieces first.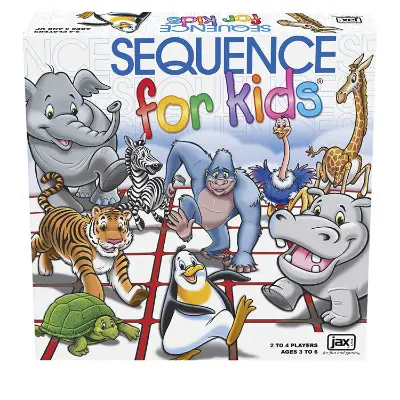 Family-friendly
Both a card and a board game
Perfect for young and old players
Play with teams or single players
Educational with numbers and card suits
Some customers received poor quality cards
If you love card games, friendly competition, and strategies, then this is the game for you and your family. You can play it with teams or just single players and even all ages of players.
Read more
The point of the game is to have two sets of five in a row. You'll learn to block your opponents well with practice to gain momentum in strategy. Remember that if you obtain a one-eyed jack, you're allowed to remove an opponent's chip to better your odds of winning the game. Be the first to gain the required number of sequences of playing cards in a row to win the game. Playing chips and regular playing cards are used for game play, so it can be highly educational for smaller kids with the colors, suits, and numbers of the cards while playing.
Educational value
The excellent game of Sequence teaches friendly competition, team building, and the ability to read your opponent. For smaller children, they can learn their numbers and the suits from the playing cards.
Ease of use
It is easy to follow along and once you start playing, you'll never want to stop. This item is perfect for a family tournament or just for one round on a special night. It's even kid-friendly and perfect for children that are seven-years-old and up.
Social development
Card games have always been social occurrences for groups of people at play. Plenty of talking and bonding can happen during this type of game because it is highly social.
Entertainment value
Although the directions are quite simple, this product can be very entertaining for groups. The challenge of getting your sequences on the board first makes it exciting and thrilling, especially towards the end when the board fills up.
6

. Cards Against Humanity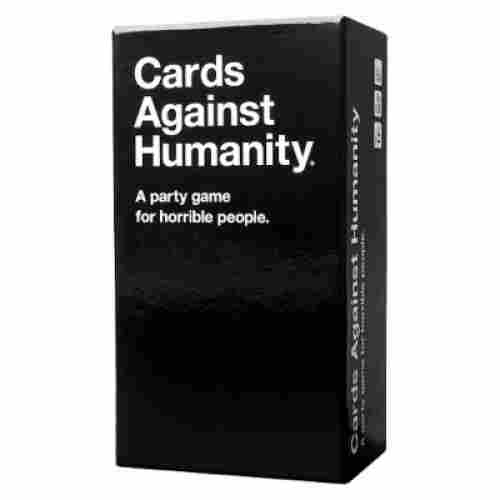 Humorous and silly
Good for a large group to play
Easy and simple to use
Can be strategic with answering
No minimum or maximum play time
Not for middle-aged kids or young teens
Perfect for parties and all types of get-togethers of friends and family, Cards Against Humanity is a card game with a hilarious twist.
Read more
The game is played by one person asking the others a question from one of the 100 black cards. They, in turn, answer only from one of their white cards, which has some very funny and interesting answers to excite the group. There are 500 white cards, so the game can be played for a long period or played often on various occasions. It is best for older teens or adults to play this game, as it is not the best choice for small children or middle-aged kids. This game will bring laughter to anyone who plays it. It's the perfect game for any party.
Educational value
While it does not have much educational value, the skills of learning how to get along well with others and be a part of a social setting are important to know. Young adults need to know how to interact with other people well.
Ease of use
Playing this outrageous game is as simple as reading cards and taking turns, but it can produce a hilariously good time for everyone. Predicting what others' cards will say can also be a challenge.
Social development
Highly sociable, this fun item will have everyone laughing and talking that is near. The answers are so funny and the questions so bold that it will be hard to stop or end the game.
Entertainment value
We love this product because it will bring laughter and tears to your eyes no matter what round it is. You'll be playing this game for hours and hours, since it is so simple and entertaining.
Super funny and unique
Trivia and talkative style game
Takes less than an hour for normal gameplay
Promotes social skills
Can be enjoyed at parties
Similar to other popular trivia games
From University Games, the item Smart Ass is a fast-paced party game that will keep everyone in stitches. It will have your teens yelling out answers and racing to win the title.
Read more
Does your teen love to interrupt and always have something to say? This is the perfect game to get them talking out of turn when it is allowed. You and your family will make many fun-filled memories around this game board. Kids will bring this game out when friends are over and have a blast with the game play that can go on and on for hours of enjoyment. You get to have fun and laugh all while knowing that you are helping your teen's mental development and social skills grow.
Educational value
This terrific game will help with brain development and cognitive thinking skills in your teen. They must think quickly and speak quickly to win. It will have them playing word association games and trying to figure out clues so they can advance around the board.
Ease of use
Guessing the clues and taking turns as the play progresses are the main focuses of this product for older teens. Using word association, it could not be easier. However, it can be challenging most of the time.
Social development
This is the perfect game to play with a large group of people. Your teen might want to play it at a party with their friends or at a family gathering with their cousins. It is also great for family game night.
Entertainment value
It is a great value for a family looking for a funny engaging trivia style game. You will not be disappointed with the extra fun and enjoyment that it will add to your regular game night.

Funny and interesting topics
Developmentally appropriate
Facilitates proper social development
Great for the whole family
Great conversation starter
Uses handwritten answers – might be confusing
The Game of THINGS by PlayMonster is a fantastically entertaining game that will have you and your teens laughing for hours. You will be given a card that says THINGS you should do (when sleeping, while walking, on a trampoline) or THINGS you shouldn't do (in a park, on the highway, when you ride a bike).
Read more
The players make a list corresponding to the topic. You will get to know the other players well because the game is fast paced, so they will be forced to write the first thing that comes to mind. Purchase this game and you will be spending your game night rolling with laughter.
Educational value
This game will have you thinking quickly and facilitate decision making and social development skills in your teen. They will have to think fast and analyze the answers and their peers to know who wrote what answers.
Ease of use
Everyone will have fun with this game! The topics that come up in the game are great conversation starters and will get you and your teen talking about subjects that might not normally come up in everyday conversations.
Social development
It will get you and your teen talking about crazy funny topics. This game is great fun at parties with just teenagers or with multiple age groups 14 plus years old. You will get to guess who wrote what response to the topic given.
Entertainment value
We think is a fantastic value for your family. After all, laughter is the best medicine. This thought-provoking game will have you laughing out loud the entire time you are playing.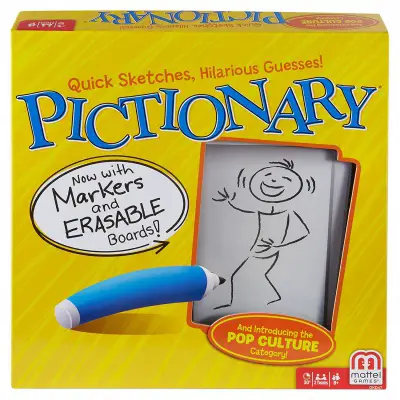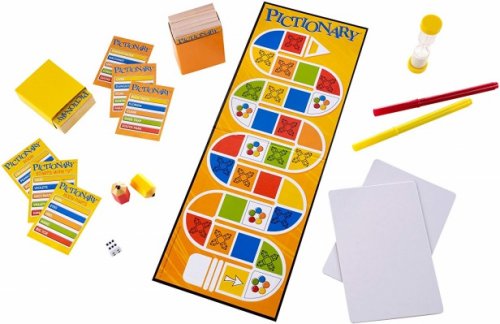 Social skills development
Fine motor skills development
Funny and challenging
Fast paced and quick
Cross generational
Could use more dry erase boards and markers
Mattel doesn't disappoint with Pictionary. This exciting drawing game will keep your teen engaged in the good-hearted fun for hours of play.
Read more
Drawing and doodling is something everyone can try, as this game is not only for aspiring Picasso's it is also for your average person who draws stick figures. You must think fast and draw fast to win at Pictionary. Everyone can play, even if you cannot draw well. Your teenager and their friends will dissolve into fits of giggles while playing this game.
Educational value
This game has a plethora of benefits for teenagers. It will help them practice their fine motor skill set and spatial reasoning while they are drawing pictures. Their social-emotional skills will get a work out when it is their team's turn to guess what a teammate is drawing.
Ease of use
Drawing is a simple skill that we all like to do. With this interesting game, you can put these skills to good use in being a better artist than the others. it is one of the easiest games we feature here.
Social development
This product has been around for a while, so you might be sharing part of your childhood with your child. It is just plain silly fun that is classically entertaining and fast-paced.
Entertainment value
This fast-paced game of drawing clues will have your teen and their friends in stitches. It is great for family game night and will be a staple in your game rotation for years to come.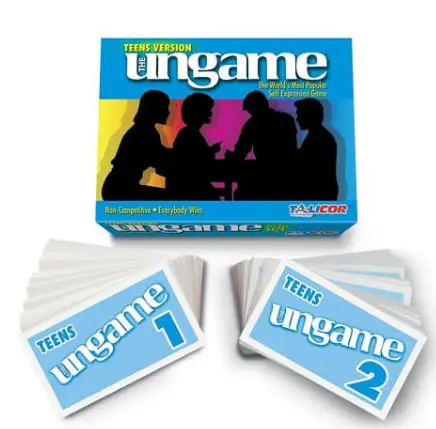 Compact and travel-friendly
Non-competitive and interesting
Good icebreaker for parents
Great way to connect with your teen
Good for large or small groups
Can be controversial depending on the child's age
TaliCor Pocket is the creator of Ungame Teens. It is made specifically with teenagers in mind to get them active in a social setting and talking.
Read more
Does your teenager obsess over just one topic? Maybe you have a crazy amount of knowledge about their favorite video game or band. Now you can play this game and have some real thought-provoking conversations. This game will get your teenager thinking about real-world situations and give you the opportunity to help them navigate life.
Educational value
Bring it in the car for a road trip, to the beach or ask a few questions over dinner. It will entertain you and make you really think about your personal opinions and feelings on a variety of subjects. The value comes in hours of fun gameplay and social skills development for your teens.
Ease of use
The best thing about this game is its portability. Take it anywhere you go with your teen. Want to go hiking and have something to talk about on the trail? This is the perfect game for you.
Social development
You will be bonding with your teenager in no time and it might just open the door to them talking to you more often about their life. This social game will have your teen's social skills improving while they use their logical reasoning skills to find all of the secret agents faster than their opponents.
Entertainment value
This thought-provoking game will have you discussing light-hearted and hard-hitting topics with your teenager in no time. You will both enjoy the bonding experience this game provides.
Criteria Used for Evaluation
Educational Value
Board games have tons of benefits for teenagers. We wanted to make sure that the games on our list had some type of educational value. You will find trivia games, thought-provoking games, and games to aid in proper brain development. All of the games on our list assist with social skills development, and most of them will have your child using spatial reasoning skills and logic to win the game. Board games do not have to be mindless activities that only constitute fun playing. At the same time, your child is enjoying other people and the challenging gameplay, they can be exposed to the joys of learning to take turns, get along with others, and be courteous when it is others' turn to play. Every experience should be a learning experience, even with family game night.
Ease of Use
Each game on this list has been tested with teens in mind. All game-making companies do product testing to make sure their games are appropriately entertaining for the recommended age groups. Each game on our list has passed market testing to make the grade for teenagers. We wanted to make sure that these games can be played with friends as well as family. Each one is multiplayer. Our list includes games that are playable by two players all the way to a large party of people.

Social Development
These games are perfect for a family game night, parent and child bonding, a teen party or a family reunion. Your family will thank you for this purchase. You can play them at parties, over dinner, for a family bonding game night, or on vacation. Board games are a classic way to have good clean fun for teenagers and their friends and family members. The games on our list will have your teenager laughing, using strategic thinking skills, practicing their social-emotional skills, and bonding with friends and family members. You will not be disappointed with the money you spend on these games; they are all affordably priced and time-tested with other teens and their families. Our list has games for every type of family to play.
Entertainment Value
Board games are a great way to pass the time and get your teenager to unplug. They help keep teenagers off their phones and give everyone something fun and entertaining to do. Cell phone addiction is real, and it is changing the brain chemistry of our children. Taking time to be away from your phone on a regular basis can help to break the cycle of addiction. The games on this list will get your teen to put their phone down and maybe even talk to you for a while. Board games are a great way for family and friends to bond. These games will make them laugh, keep them on their toes, and give them an outlet for all of their energy.
Most Important Criteria
(According to our experts opinion)
Experts Opinion
Editors Opinion
Users Opinion
By Default

Parents, Did you Know?
If a board game with many small pieces does not come with something to contain them, you may want to get a small plastic hinged box to put them in or a simple cloth bag with a drawstring.
Parents, Did you Know?
If your teen is having social issues, then possibly spending more time with them in a fun atmosphere of a board game will get them relaxed and talking to you about their problem. Just showing them that you are there is wonderful.
Other Factors to Consider
Durability
Because board games will be played over and over multiple times, they are constructed of sturdy materials that will last a long time. Manufacturers know that the boards, instructions, cards, and game pieces will be handled by many people in their lifetimes in your home. As kids become older, it is possible that games are handed down to younger groups of kids in the family to relive the fun and excitement with another set of children. These games can withstand that kind of prolonged treatment from users well.

Portability
Board games are portable to be played almost anywhere you can get a group up for some fun. They can all be played indoors, but most of them can also be enjoyed outdoors too. When you travel in the car or go to a relative or friend's home, bring the games along to make the experience more exciting. Vacations are also a great way to relax and spend some time in hotel rooms to wind down the day of sightseeing or visiting faraway places. All of these items travel well for the best carrying anywhere.
Frequently Asked Questions
q:

Is my teenager going to have fun playing these games?

a:

This list consists of a variety of top-rated games for a teenager. There should be a game for every teen. Our list has trivia games, logic games, and games where you throw balls. All of these games have been play-tested on multiple groups of teenagers and have been tailored to their likes and dislikes. We cannot say for certain that your specific child will or will not have fun playing these games because we do not know your child. You should pick the game from our list that you think would best fit the needs of your family.
q:

Do these games have any educational value?

a:

Each one of these games will help with proper mental development for your child. Some of them will assist with fine-motor development as well. All games help with social and emotional skill development because they need multiple players. Our list has games that will allow your child to use math skills and science skills. We also have games that require logical thinking and singing. There is a game for every teen on our list, and each of them has something educational to offer your child.
q:

Are these games appropriate for my teenager?

a:

Many of the games on this list are rated 14 years and up. They are all intended to be appropriate for teenagers through adults. A few of them are rated lower in age but are still intended for older players, such as your teenager. Some of the games that include questions have a few questions that might toe the line of appropriateness, depending on your specific family's set of morals and values. Our recommendation is to look through any question cards before playing the game to ensure that the game fits your family's standards for decency.
q:

How long does it take to play these games?

a:

The total play time per game will vary greatly depending on a lot of factors. The average play time is between 20 to 40 minutes. One factor that might affect your game time is your familiarity with the game. You play time might also be affected by how many players are playing or if you choose to modify and rules. Our recommendation is to set aside at least an hour the first time you or your teen sit down to play one of these games. This will give the players enough time to get familiar with the rules and not feel stressed about finishing quickly.
q:

Are these games family friendly?

a:

Every game on our list can be played with children age 14 and older. A few of the games have lower age ratings. Our recommendation is to look at the age rating for your game and use your judgment when it comes to younger children playing with older siblings. If you have a family of teenagers or you are having the grandparents over to visit, these games should be perfectly fine to play.
q:

Where can I get replacement parts?

a:

Losing parts to a game can ruin the fun for everyone. If you lose a part to your game, check your instruction manual to find information on how to replace the lost part. If you have also misplaced your instruction manual, then you should check the manufacturer's web page for information on ordering replacement parts.