10 Best Books on Autism Reviewed in 2019
last updated
Sep 06, 2019
Everyone knows that everyone is uniquely different. Whether you yourself have autism or you know a family member or friend who does, these specialty books featured on our top ten list below will shine a bright light and let you into a world where you'll be able to have a better understanding of this condition. Every book on our list is written by experts specifically for this field or by people who have autism themselves and want you to have a better knowledge of how they handle it and how you can handle this successfully. We are quite certain that no matter which book you end up choosing, you will end up with a valuable item and a greater awareness of ASD. Here are the best books on autism in 2019.
In a Hurry? The test winner after 31 hrs of research
The Reason I Jump
Why is it better?
Named as a Best Book of the Year by NPR
Available in many formats
Shares an incredible view of life and autism
The book is simple, truthful, and beautiful
Makes a wonderful gift for anyone
In a
Hurry? Editors choice:
Test Winner: The Reason I Jump
19
Researched Sources
31
Hours Researching
17
Products Evaluated
Educational Value
Accuracy
Emotional Development
Value
By Default
10 Best Books on Autism Reviewed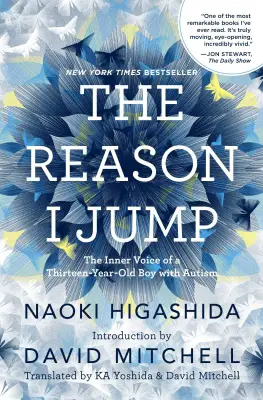 Named as a Best Book of the Year by NPR
Available in many formats
Shares an incredible view of life and autism
The book is simple, truthful, and beautiful
Makes a wonderful gift for anyone
Some did not feel like the book content came from a teenager
A few thought the book was trying to speak for all autistic people
With more than twice the online customer reviews for excellence as the other books in this category, The Reason I Jump is a memoir of a thirteen-year-old boy with autism. Named as a Best Book of the Year by NPR, it is written by Naoki Higashida and translated by KA Yoshida and David Mitchell. It gives the inside particulars of what really goes on in the mind of an autistic teenager as the author shares his incredible views of life and autism.
Read more
Available in the formats of hardcover, paperback, Kindle, audiobook, and MP3 CD, the author answers questions that people want solutions for most. This terrific book relates how the autistic mind responds, perceives, and feels things in ways we cannot even imagine. Higashida uses a grid of the alphabet to spell out thoughts, sentences, and words that he cannot speak aloud. The translator/writer Mitchell has an autistic child, and in working with this book, he felt that he was getting to know what was going on in his own child's mind. It has editorial and reader praises from Chicago Tribune, The Boston Globe, Parade, and People, just to name a few.
Educational Value
This educational book is the result of communication with a teenager's with autism. The world is able to learn about autism and get answers about what mentally goes on in the average autistic mind because of it.
Accuracy
This book is one of the most popular and accurately written autism books on the market. It has plenty of rave reviews from well-known sources and celebrities, such as Whoopi Goldberg who absolutely loved it.
Emotional Development
The book is simple, truthful, and beautiful, and it would make a wonderful gift because it needs to be shared with others to be fully appreciated. It will provide a great amount of comfort and emotional support.
Value
Costing a little over the average of the paperback books on this list, The Reason I Jump is a true treasure that has been and will continue to be read by millions who want answers to questions about the autistic mind.
2

. Ten Things Every Child with Autism Wishes You Knew
Is the updated and expanded edition
Perfect for teachers, physicians, and parents
Is compassionate and funny
Relates the characteristics of autism
Includes seventy questions for self-reflection
Some felt the book was too repetitive
A few said the author put herself in a heroic light
This fantastic book is offered in paperback, audiobook, and Kindle versions and is 200 pages long. Written by Ellen Notbohm, it is the updated and expanded edition of the original version. The author has a child with autism, so she relates the ten characteristics that help explain autistic children.
Read more
Perfect for teachers, physicians, therapists, social workers, and parents, this wonderful book is compassionate and funny. Published in 2012, it tells of the important role that adults have in directing the autistic child to a productive meaningful life. Included in the back are over seventy questions that are perfect for self-reflection of group discussions.
Educational Value
The ten characteristics about autistic children is the main focus of this great educational book. They help others understand the autistic person and be aware of what makes them special.
Accuracy
The writer contributes to many websites, conferences, publications, and classrooms globally concerning autism. This wonderful book is filled with accurate and detailed information.
Emotional Development
There are loads of discussion or self-exploring questions in the back of the book. These can be used for school projects, therapy sessions, or parent-child emotional bonding talks at home.
Value
This is the highest-priced book on autism we feature. It's great qualities and value are the list of the ten things you should know about autism and the format that is perfect for anyone to enjoy reading.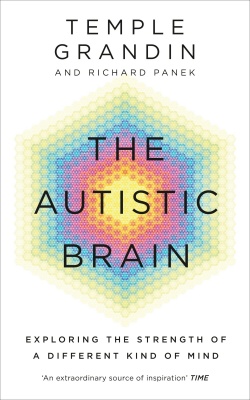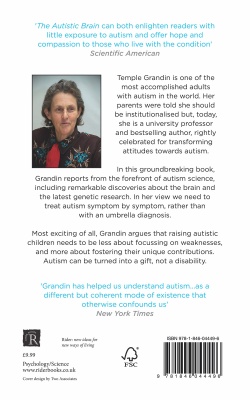 Offered in many enjoyable formats
Explores the real science of autism
Tells of the latest genetic research and neuro advances
Features the scientists studying autism
Celebrates the unique gifts of autistic people
Can be hard to read and technical
Was boring for a few people
The Autistic Brain, written by Temple Grandin and Richard Panek, explores the real science of autism in its 253 pages. It tells of the latest genetic research and neuroimaging advances being accomplished and includes a list of occupations that are perfect for autistic individuals.
Read more
Offered in the formats of Kindle, hardcover, paperback, audiobook, and audio CD, this great book was published in 2013. The writer has autism and shares her brain scan to highlight common signs of the condition. This amazing book features the self-advocates and scientists who are currently studying autism causing theories and treatments for it.
Educational Value
This author is widely-known for her positive attitude and incredible mind. In this book about autism, she relates her own story to explain new findings in the medical world of autism.
Accuracy
For those that want to know what is happening and being discovered currently in the world of autism, this is the book for you. All of the explanations of brain science uncovered are here.
Emotional Development
The author tells her own story of autism mixed in with the new discoveries. It gives insights into celebrating the unique gifts of autistic people instead of focusing on their weaknesses.
Value
The price online for the paperback edition is the lowest in cost. It is very much worth it for the many scientific answers it gives the reader along with the personal story of the author.
Offered in a couple of formats
Is an inspiring beautiful memoir
Tells of the inner person in those that cannot speak
Uplifting for parents of those with autism
Carly is a contributor to the father's book
Was repetitive for a few readers
Made some parents of autistics depressed of their own situation
Offered in hardcover, paperback, audio CD, audiobook, and Kindle, Carly's Voice is written by Arthur Fleischmann. The book was inspired by his daughter Carly, who has severe autism. She was diagnosed at the young age of two and was unable to speak.
Read more
The father did not think she could communicate or understand him for years, until she typed some words on a laptop when she was ten-years-old. Carly can type her conversations on a computer for communication with her family.
Educational Value
This feel-good novel gives a different perspective of one autistic person and their family life. It shows just how varied the severity and the situation can be within the same disorder. The readers will learn a lot from the journey.
Accuracy
This 402-page book is a mixture of her words and his story of their life together. It is a heart-warming book for those that love a great story about family, and would make a great gift for anyone that knows someone who is autistic.
Emotional Development
This is an inspiring story that lets everyone know of the inner life of those that cannot speak. Everyone has a voice and a personality whether they can tell you about it or not. The readers form an emotional bond with the characters.
Value
Priced around the average of these books on autism in paperback, Carly's Voice is a true tale that inspires and relates the life of Carly Fleischmann by her father. It is a good read for anyone that loves a beautiful story.
5

. An Early Start for Your Child with Autism
Provides information on research for toddlers and preschoolers with Autism Spectrum Disorder
Describes how to promote their development to reach their full potential
Useful guide to use every day
Promotes learning through daily tasks and routine development
Give vivid examples of all techniques
Book written from a researcher of ASD lacks empathy
Describes tasks as a very methodical way
If your toddler and preschooler have diagnosed with Autism Spectrum Disorder you play a huge role in their development track and allowing them to reach their full potential. This book has been designed to clearly outline a plan that allows you to connect to resources that provide strategies that you and your child can use every day. It is groundbreaking research that has been all provided in a useful guide.
Read more
Educational Value
Throughout the book, the details about the groundbreaking research that has been put forth in a detailed guide encourage parents to provide the child with an early invention program. The program guide gives details on strategies that are practical enough to use every day and effective enough to provide a significant difference in the track. Any simple task or daily routine can be turned into a learning opportunity that will provide a child with Autism Spectrum Disorder a crucial skill.
Accuracy
The vivid examples are the true reward of this book. It almost feels like the author comes out of the pages and then is in the house with you teaching you these wonderful skills. It is a truly rewarding system that provides learning opportunities for both the child and the parent. The guide provides proven and researched techniques that incorporate playing, speaking, and social interactions. Giving them that early start is key to them reaching their potential.
Emotional Development
Providing children that have been diagnosed with Autism Spectrum Disorder the jump start that they need will give them the tools and strategies to make sure that they can be all that they should be. The book focuses on ways that allow the children to reach their potential through daily tasks and routine skills. This provides them with a stress-free learning experience that will allow them to grow, learn, and expand their developmental skills without them even knowing that they are working the guide. This is a proven strategy for parents to work with their toddlers and preschoolers.
Value
When it comes to tools and guides on how to effectively connect your child with Autism Spectrum Disorder reach all their potential the resource is priceless, but this book does have a price tag. The book comes right in at the middle range for a paperback book with these resources.
Written by an author that is diagnosed with Autism Spectrum Disorder
Gives hope and understanding that has never been seen before
Provides details about genetic research and neuroimaging
Promotes education children on the Autism Spectrum Disorder
Gives insight like never before on ASD
Provides lots of information, but not an easy read
Gives lots of medical information that is hard to follow
Ever wanted to read a book on Autism Spectrum Disorder that was actually written by someone that has Autism Spectrum Disorder? Then this is the book for you. It has been well written by a very famous author that her, herself has Autism Spectrum Disorder. It is a condition that affects nearly 1 in every 88 children in the United States. Since birth, the author has been able to undergo a transformation that allows her to give the insight that many others cannot.
Read more
Educational Value
Speaking from her own experiences and her remarkable discoveries the author is able to introduce information on genetic research and neuroimaging that allows the science of the brain to connect to the behaviors. She even allowed her own brain to be scanned to aid in the research process. The scan was able to display the anomalies that could be linked to the collective symptoms of Autism Spectrum Disorder.
Accuracy
You really can not get more accurate with the information and the insight that this book is able to provide. Many authors that write books on the Autism Spectrum Disorder are usually researchers and do not have the disorder themselves. From the research and transformation that she has undergone, it is leading to an understanding of Autism Spectrum Disorder that has never been seen before. It gives hope that an understanding and treatments for the disorder are coming full steam forward.
Emotional Development
In the book the author, Temple Grandin, gives insight on information that encourages parents that they should provide children with Autism Spectrum Disorder with the details of the spectrum. This would provide them with the tools that allow them to focus on the strengths that they have and work towards long term goals. The book brings a true perspective into the brain of someone with Autism Spectrum Disorder.
Value
When it comes to firsthand experience and understanding Autism Spectrum Disorder this author knows more than any other author on the market. This is why it is so great that this book is listed for a price that is lower than the average book on this subject. It is a must half for anyone that has someone with Autism Spectrum Disorder in their life.
Available in many reading and listening formats
Was a finalist for the Pulitzer Prize in 2017
Tells the history of autism from the start
Gives many accounts of the struggles of progress
Relates what makes today's autistic freedoms possible
Was painful and troubling for a few to read
Some complained of the length
Authored by John Donvan and Caren Zucker, who both have long tenures at ABC television, In a Different Key is an interesting collection of autism history. Zucker is co-writer and producer of Autism Now, which is a six-part series on PBS. This great book was a finalist for the Pulitzer Prize in 2017 and is available in many reading and listening formats.
Read more
At 690 pages, it is an interesting tale of parents struggling for the civil rights of their kids, doctors trying to define autism, social change, and self-advocacy. It is a collection of all the people who made today's advance possible because of their struggles against society. Controversies are also addressed, such as autism is an epidemic and if vaccines are to blame and many more myths about the condition.
Educational Value
For those who want to go back to the beginning of when autism was first diagnosed, and the painful advances made along the way, this book puts everything into perspective in an organized manner.
Accuracy
The writing is exquisite in this book because two veterans professional wrote it. both authors have long professional careers in television and news, so it is only fitting that their book is magnificently put together.
Emotional Development
This amazing book relates the decades of history of fighting to get autistics out of institutions, the right to attend school, getting society to accept them, and changing expert opinions about the field of autism.
Value
Because of the huge amount of fascinating details and historical facts that are contained in this volume, it is not surprisingly one of the highest-priced books in this list of autism books.
Available in formats for reading and listening
Written by a well-known autistic person
Explores the Son-Rise Program
Gives details of the guided step program
Tells of great progress, science, and hope
Some feel the optimism of the book is not realistic
A few saw this as an advertisement for the author's expensive treatment plan
Autism Breakthrough is available in formats for reading and listening and explores the Son-Rise Program that the author's parent created for him. Written by Raun K. Kaufman, who is the former Autism Treatment Center of America CEO and current director, this is a guided-step program that parents can begin right away.
Read more
The author is severely autistic and a graduate of Brown University in biomedical ethics. The program allowed him a complete recovery from his autistic symptoms. Kaufman's story was told in a few books of his about the now popular program that helps thousands like him. Children can participate in the world successfully, have meaningful relationships, and detailed communications.
Educational Value
With this method book, results are seen quickly because it empowers and enables autistic children to be themselves. This is a great work of progress, science, and hope to inspire anyone.
Accuracy
This terrific and accurate book is a true story that was written by someone diagnosed with severe autism as a child, but with his parent's created program, he is an inspiration to all with autism.
Emotional Development
Taking science, determination, and the ideas of this book, parents can start their autistic child on the path to a better fulfilling life. The possibilities are endless once the connections are made.
Value
Priced at above average for the paperback version, but not the highest in cost, this great book on autism explores the Son-Rise Program and tells how parents can get started with the treatment.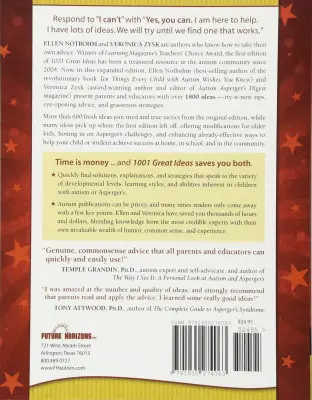 Offered in formats of Kindle, paperback, and audiobook
The winner in the Independent Publisher Book Awards in 2010
Features strategies, advice, and tips
Helps your autistic or Asperger's child succeed
Is a collection of knowledge from many experts
Some said it is not really helpful for those with older kids
May be geared more for teachers than for parents
Offered in formats of Kindle, paperback, and audiobook, this 394-page autism book features strategies, advice, and tips to try for educators and parents. Written by Ellen Notbohm and Veronica Zysk, this edition adds to the idea list of their first edition of this great book.
Read more
It is a winner in the Independent Publisher Book Awards in 2010, and both authors have written several other books on autism separately. Zysk has been working in the autism field since 1991 and was the Autism Society of America's executive director from 1991-1996. This is a collection of knowledge and advice from many experts in the field combined with the experiences of the authors.
Educational Value
This is not just the knowledge of these two writers but is a collection of valuable information from many field experts put together in an organized learning format that is easy to read and understand.
Accuracy
Both authors of this book have plenty of experience and expertise in the realm of autism. They have written several books independently on the subject and one has held an executive position with a society of the disorder.
Emotional Development
It tells of abilities, learning styles, and levels of development in autistic children. This fabulous book of theirs helps your autistic or Asperger's child succeed at school, home, and the community.
Value
This huge book is the most economical one on the list in the paperback form. It is well worth the price in value because of the many ideas and suggestions it has to help those with autism.
10

. The Survival Guide for Kids with Autism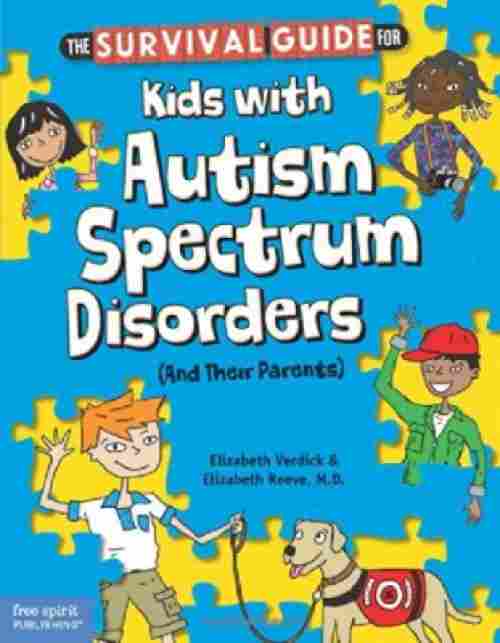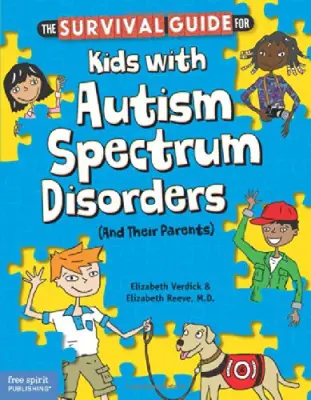 Made just for kids to help with coping with autism
Addresses the many questions kids have
Aids in handling strong behaviors and emotions
Includes resources and helpful checklists
Has great cartoon illustrations
Some parents said it stresses medication a lot
Had irrelevant parts for some people
The Survival Guide for Kids with Autism Spectrum Disorders is made just for kids to help with coping with autism. It is written by Elizabeth Verdick and is available as paperback and Kindle editions. This terrific book is great for ages eight- to thirteen-years-old and ideally should be read with a parent for the best experience.
Read more
It helps children increase self-acceptance and self-understanding and is 240 pages long. It aids in handling strong behaviors and emotions and getting support from others. Included are resources, helpful checklists, stories from real kids with autism, and fact boxes.
Educational Value
This survival guide book is not only educational and profound but it also features great cartoon illustrations and features suggestions about sleep, relaxation, toileting, diet, hygiene, and exercise.
Accuracy
Providing tips for doing well in school, gaining friends, and communicating, this book also addresses the many questions kids have with this condition. Readers will find a lot of accurate information.
Emotional Development
You will find plenty of things to help you and your child live a happier low-stress life in this great book. There are checklists, resources, and fact boxes to educate and entertain.
Value
Kids can learn about their own issues with autism with this wonderful book that is just for them. With simple phrases and cartoon illustrations, it is a valuable read for both parents and kids together.
Criteria Used for Evaluation
Educational Value
It is very important to be properly educated on autism especially if you have a child or a relative that has been affected by the condition. The books that we specifically picked for our top ten list are written by either experts in this specific field or by those that have the first-hand experience with this disorder. Several people with autism have penned even their own accounts of living with autism, as well as some of these authors are people who have children with it.
Either way, you will get the full picture of autism in the format of memoirs or as a fact-packed lesson in what this disorder is really like. Whatever your situation is, one of these books will have the answers for you. Each one of these novels gives tips and suggestions on how you can help those living with autism and help provide an upbeat attitude for future living and endeavors.
Accuracy
Many of the books that we have listed above have plenty of accurate information about autism. Most of the books on our list are either from people who have it or are parents who have children with it. With these novels, you will get detailed stories of what each of these individuals has lived through. A few of these products that we have listed are also written by leading authorities on this disorder in a scientific way.
One of them even digs deep into the beginning history of autism and how it was diagnosed and treated a long time ago. Whatever aspect of autism you are interested in or looking for one of these books on our list is the perfect solution to your quest and will have all the answers to whatever questions you have and will even give you more details about autism than you thought possible.

Emotional Development
These books on autism are meant to help you understand the condition and break the stigma around this neurobehavioral condition. Children and adults that have been diagnosed with ASD can often feel isolated from society since the condition is characterized with impairments in communication skills, social interaction and developmental language. Therefore it is important to learn more about the challenges they face and understand what we can do as a society to help them feel less alienated.
These books will not only educate the readers about the condition, but they will also teach them how to create a meaningful bond with people who have ASD. This type of literature is a great vessel for emotional development for anyone who has a family member or a friend with autism. It will provide information, relief, comfort, and empathy by analyzing the stories that affect many people around the world.
Value
When coming up with our list of the top ten books for autism we knew that it wasn't going to be an easy task. We wanted to save anyone looking into this subject the hours of research when it came to finding the perfect book that had all the information they needed. We tasked our research team to find nothing but the highest-rated, reviewed, and quality of these books that we know customers love. We wanted to make sure that each book on our list would be helpful, provide you with enough information about autism and be able to answer all of those unanswered questions that you might be having.
While taking all of this into consideration we were able to come up with our top ten list above. We are sure that you will find one that will have the answers you are looking for. No matter which book you decide to purchase, you can rest assure you are investing in a valuable, long-lasting item.
Most Important Criteria
(According to our experts opinion)
Experts Opinion
Editors Opinion
Users Opinion
By Default

Parents, Did You Know?
The term autism comes from "autos", which is a Greek word for "self", therefore the literal meaning of autism would be "alone". People need to take into consideration that individuals who have ASD are able to care deeply about others and want to interact, yet lack the capacity to express empathy and tend to lack typical social behavior and effective communication skills. However, they tend to express themselves successfully through various creative art forms.
Parents, Did You Know?
Even though the causes for autism are still unknown, the condition is not caused by parental behavior, whether you consider it before, during or after pregnancy timeline. While there doesn't seem to be a cure or medical detection for autism, it is important to be well aware that those affected with this condition can successfully coexist and contribute in society especially when given proper services in the early stages of the child's development.
Other Factors to Consider

Comfort
These books related to autism are the most well reviewed and the highest rated online books on the subject in today's market. A majority of the customers loved how helpful they were and left positive feedback about their satisfaction regarding their purchase. We wanted to make sure that with a topic such as autism that we only featured the best items of this category on our list. We also wanted to save you the hours of research searching through all the available products by highlighting only the best that consumers love.
After all, these items are meant to provide the readers with not only information and educational content but comfort as well. When you encounter the right book that helps you better understand this subject, you will undeniably experience a blissful joy that comes with realizing that you are not alone, as instead, other people can relate and in fact, share your journey.

Compatibility
Everyone has their own preferred way of gaining more knowledge and technology has allowed that we have different options when it comes to getting information. Therefore we wanted to make sure you are aware of every format option in order to find the most compatible with your lifestyle. Many of these books come in different formats for customers. Some of these are hardcover, paperback, audio, audio cd, and come in the form of an e-book for Kindle users.
You'll be able to read these printed words, or you can listen to them in a relaxed atmosphere where you can enjoy the content wherever you may be. Because of the various forms of these books, pricing tends to also be a bit difficult when it came to comparing these books against each other. Please also keep in mind that some of the pictures and graphic content may be missed with the Kindle or audio versions of these books.
Frequently Asked Questions
q:

Are these books for children or adults to read and use?

a:

They are mostly for adults to read because the content and wording would be difficult for a child. Most of these explain the signs and struggles of autism for parents and their children, giving tips and suggestions for dealing with the condition.
q:

Which book has the best rating and is considered great by readers?

a:

Three books are tied for the best rating. They are Ten Things Every Child with Autism Wishes You Knew, Carly's Voice, and Uniquely Human. These have the others beaten slightly in the ratings.
q:

Which of these books are more memoirs or stories of the author's life of autism?

a:

The ones that tell the personal stories of the author or their children living with autism are The Reason I Jump, Carly's Voice, and Thinking in Pictures.
q:

Do more boys have autism than girls?

a:

Studies show that boys are four times more likely to have it than girls. There is no reasoning for this yet, but some think it is because some girls that have it are not properly diagnosed with autism, therefore skewing the numbers.
q:

Is autism becoming more common now?

a:

Because of diagnosing changes, the number of cases of autism is changing. The Autism Science Foundation claims that in 2014, one out of every sixty-eight kids in the U.S. had an autism-like condition. In past years, it was misdiagnosed or not caught in time to be diagnosed, so the numbers are not really comparable to years ago. We are better at recognizing the signs of autism now and properly naming it when we see it.
q:

What are the usual signs of autism?

a:

These can be of varying degree, but usually, children with autism have problems with body language, eye contact, empathy, peer hobbies, and communication. Reports indicate that as much as 40% of those with autism do not speak. As with all disorders, some have severe symptoms, while others have just mild cases. People are individuals, so the signs will not always be the same in everyone.
q:

At what age are these signs or symptoms noticeable and capable of being diagnosed as autism?

a:

Most kids are diagnosed at age two or three when these signs are quite evident. Some babies have been diagnosed at eighteen-months-old, which is very early. Often children are not diagnosed until many later years when it is time to enroll them in school. It is then that teachers or administrators notice the signs of autism in children and alerts the parents of the condition.