Cannon ball!
Whether it's summer, spring, or just an odd warm autumn day, there are lots of great ways to cool off. The local pool is a frequent hotspot in many communities, as are lakes, rivers, the beach, and the backyards of friends and family. We know how tempting it can be to take a dip when the heat strikes, and how important it is that everyone in the family is prepared to face the water. We'd like to advocate for the following top 10 boys' swimsuits as options to help suit up your family for some seasonal fun. These suits are made from a variety of fabric blends, in various patterns and sizes, some with adjustable waistbands, plenty with pockets. We think your little tikes and you will be delighted by the selection this year. And if you're going to be a beach bunny, consider investing in more than one suit! Nothing dampens a potentially fun day more than missing out on all of the action because you're waiting for your suit to be cleaned or to dry. There's certainly enough prospects below to clothe your kids twice over. Slap on the sunscreen, break out the shades, and enjoy splashing around.

Our Top 3 Picks
LOSORN ZPY Two Pieces Swimsuit

Our rating
Machine Wash Cold
Price:

See Here

Sansi Wishere Kids Boys Swimsuit

Our rating
Easy To Put On
Price:

See Here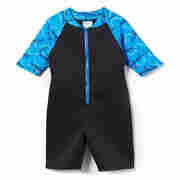 Tuga Boys Thermal Wetsuit

Our rating
UPF 50+
Price:

See Here

Our Picks Of The Best Swimsuits For Boys
Vaenait Baby Two-Piece Set
Nageuret Reusable Swim Diaper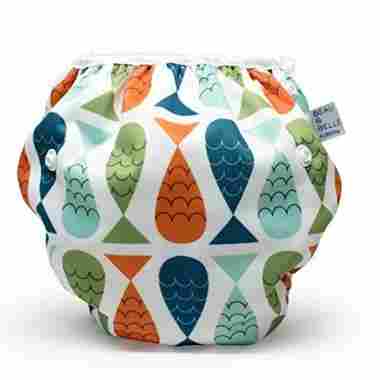 Alva Reusable Swim Diapers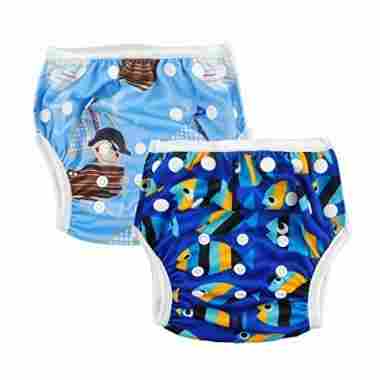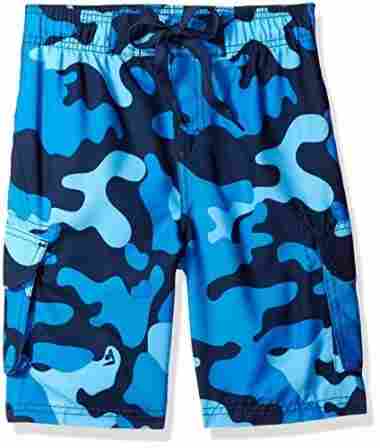 SwimZip Long-Sleeve Sunsuit
Nautica Toddler Boys' Two-Piece Set
Criteria Used in Evaluation of the Best Boys Swimsuits & Swimwear
Safety
Kids love to play in the sun. And parents want to make sure their kids are safe while they are having fun during the hottest times of the year. Parents can try to apply sunscreen to their kids, but as they swim and run around it tends to wash away. And sometimes parents can't keep reapplying screen all day long. The swimsuits on our list are well-made and some have long sleeves for more protection against the sun and so are safe for kids to use…and look great on them too.
Manageability
Each style of swimsuit serves a different purpose. Infants require a different style of suit than toddlers and kids. Parents prefer to put their infants in onesies because it is easier to hold them without their outfits riding up their backs. And if they have a diaper blowout, the mess can stay enclosed long enough for mom and dad to do something about it. Onesies are also the most commonly used type of baby clothes parents like to use for their infants. When holding an infant, it is easier to manage them when they are wearing a one-piece suit. Infants are wiggly little critters that tend to have separate suit pieces ride up and around them. A cute sweater and shirt don't always cover a baby while they are in their parent's arms because they tend to slide around. Onesies stay in place better because the bottom clasp keeps the onesie down.
Convenience
When at the beach or near a fun water source, it's no different. Parent's like to use onesies on their infants, especially in a situation where they may want to get in the water with them. It would be an inconvenience if the shirt a baby was wearing kept floating up, exposing their unprotected skin to the harsh sun. Why not use a nice sun-screened onesie that stays down and out of the way? Parents feel more comfortable when they know their infant is protected as much as possible. And using a non-fussy one-piece swimsuit that helps protect their babies from the sun and itchiness shows they are good parents. And who doesn't like knowing they are doing the best they can for their loved ones?
Movement
Toddlers can be in onesies or in two-piece suits. They can move around and at a certain age will begin potty training lessons. It's easier to pull down shorts to potty than it is to take off a one-piece suit with a zipper in the back. Unless the toddler is too young for potty training, in which case it's better that they wear a onesie with a hard-to-reach zipper.
Style
As kids get older, they start to notice style and trends. They want to look cool like the big kids. The suits on our list for older children are trendy and up to date in current fashion. All the suits on our list are also UV-protected. This is because we believe that all kids should have the best protection from the sun we can give them.
FAQs
Frequently Asked Questions
Q: How can parents find the right sized swimsuit for their baby boy?
A: Parents should make sure that their baby's swimsuits and other clothing are not too tight or snug on them. If it is too tight then it will cause irritation and chafing. Their clothes shouldn't fit too loosely either because they can fall down and interfere with their swimming. Make sure that kids can reach with their arms high above their head and twist to their sides. If they can move around normally then the suit should be the right size for them.
Q: What are the latest swimsuit trends for boys?
A: The rules vary from different locations. The U.S. is more relaxed when it comes to wearing swimsuits. For example, little infant boys are either wearing nothing at the beach, their own set of normal clothes or UV-protected suits. Some swimsuits are either two-piece sets (like a shirt and shorts) or a onesie. In France, no one can swim in public pools unless they are wearing a Speedo.
Q: What do parents need to know about boys' swimsuits?
A: It's fun to dress kids up to match the activity of the day. When going to the beach, parents will want to dress their kids in appropriate gear. Colorful clothing makes it easier to spot their own kid as they like to run around and sometimes a little too far away from parents. While at the beach or any outdoor activity, kids should wear breathable clothing to keep them from overheating. To test their kid's swimsuit before going to the beach, some parents have their kids swim in the bathtub first with their swimsuit on.
Q: What type of boy's swimsuits should parents buy?
A: Over the years, the style of boys swimsuits have changed drastically. In the distant past, boys used to wear modest knitted suits that were made by grandmothers in the late 19th century. Men were prohibited by law to be seen bare-chested in public. In the '30s, men began to protest, arguing that they should be allowed to go topless. From 1936, swimsuits were more about function and style than modesty. Parents should buy their boys swimsuits that are stylish but safe to use in the hot summer sun.
Q: Are UV-protected clothes safe for babies?
A: Yes, UV-protected swimsuits are safe for babies and children. They add an extra layer of protection from harmful UV rays. UV-protected suits do not provide 100 percent protection from the sun, but they do help. Sunblock tends to wash off every time kids go into the water. The suits provide protection even after the sunblock has washed away.
Q: How can parents keep their kids safe from the sun?
A: Parents shouldn't rely on sunblock or swimsuits alone. It's not healthy for kids and adults to be out in the sun for extended periods of time. It is recommended that if anyone is going to be out under the sun all day, that they include a beach umbrella or hang out under some sort of shaded canopy. And drink lots of water and wear breathable clothing. Wear shades and apply generous amounts of sunscreen (at least SPF 30).
Q: What can parents do to promote UV-hazard awareness?
A: Talk to kids and other parents about the hazards of prolonged exposure to sunlight. If parents really want to get involved in spreading awareness, then they can get together with the schools and have an assembly show to help teach kids how to safely have fun in the sun.
Q: What should I bring when traveling with babies?
A: Drinkable water, diapers, and wipes, an extra clean set of clothes and a good swimsuit with UV protection. Also, bring a towel and good sunscreen. The swimsuit should be zippered and not snapped because zippers do a better job of keeping the sand out. The swimsuit should also have a high neckline to protect them from getting sunburned in that area too. Hats with ear flaps and a visor will also provide protection from harmful UV rays. The car's AC won't protect kids from getting sunburned. Sometimes, sunlight gets into the car and will beam directly at kids' faces. Wearing their hats with shades will help protect them from getting sunburned while traveling in the car.