Choosing how to feed your newborn can be a difficult choice. The American Academy of Pediatrics recommends that you breastfeed your baby for a year or more to give them the best start in life. Breast milk is liquid gold, especially in the early days of a newborn's life. Some moms will have to pump during those first few precious days. How will you store all of that milk? Other moms will have to back to work shortly after your baby is born. How will your baby be fed when you are away? If you choose to breastfeed breastmilk storage bags are the go-to storage solution. How do you know what bags will work best for you?
Read ahead to find the best breast milk storage bags we could find to meet your storage needs. These bags have been tested for strength and durability by their manufacturers and many moms before you. They have been used and reviewed by moms all over the world. Durability and ease of use are vital components when searching for a storage bag for your valuable milk. The storage bags on our list meet these requirements to make your life easier. You can check one item off of your list when you choose one of the top ten breastmilk storage bags to store your valuable breast milk.    
You hear it all the time, "Breast is best!" The proper storage and transport of breastmilk is a key component in keeping it safe for baby to consume. Breastmilk that is stored improperly loses its nutritional content and can make baby ill because of yucky bacteria that can form when it is left out or put into unsanitary containers. The bags we have chosen for our top ten list will make breast milk storage a breeze. Check out this list for portable, durable, easy to use breast milk storage solutions. Your precious milk deserves the best transport and storage options available.  
10 Best Breast Milk Storage Bags
1. Lansinoh 100 ct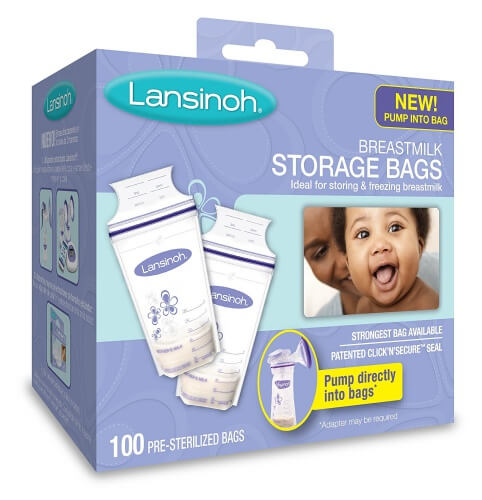 Lansinoh is a company that can be trusted when it comes to breastfeeding products. It has been around for 30 years and deals exclusively with breastfeeding products. These bags are versatile and sturdy, making them our top pick.
Expand to see more
Benefits
These storage bags have recently undergone a redesign making them one of the strongest storage bags on the market. They have a patented double Click 'n' Secure closure to keep your milk from spilling. They also have reinforced side seals and a double sealed gusset for durability. You won't have to worry about milk leaks with Lansinoh bags.

What We Like About It
You can pump directly into these containers using several top brand breast pumps. They stand up in the fridge and lay flat in the freezer. These bags are fantastic for keeping your milk safe and secure.

Cost and Value
The cost versus value of these bags is far superior to competitors. These bags offer the greatest value of any on our list. You get a top of the line bag for an economical cost. This is one reason Lansinoh is top on our list.
Patented Click 'n Secure closure
Double Reinforced seams and gussets
Easy to read measurements
Self standing
Freeze flat
Pump into the bag
You must purchase an adapter kit to pump into non-Lansinoh pumps
2. Kiinde Twist
The Kiinde Twist is an innovative new style of breastmilk storage bag that can be used on its own or as part of an entire feeding system. They have a super convenient leak-proof closure. The Kiinde Twist bag will make transferring and transporting your milk easy.
Expand to see more
Benefits
Kiinde Twist breastmilk storage bags are part of an innovative collect, store, and feed system. You can pump directly into the bag from all leading pump brands using a convenient adapter kit that is provided. These bags make pumping and feeding your baby easy.

What We Like About It
These bags eliminate the need to transfer your milk to another container if you choose to use the Kiinde Squeeze Natural Feeding bottle. They also have a very large labeling area for your convenience. No more searching through the work fridge for your breastmilk bags.

Cost and Value
The cost per bag makes these a great value. Especially when you consider the option of collecting, storing, and feeding from the same bag.
Leakproof twist cap
Large labeling surface
Part of a convenient feeding system
Quick to freeze and thaw
Very durable
Take more storage space because of the twist cap
Bag measurements are sometimes inaccurate
3. NUK Seal N Go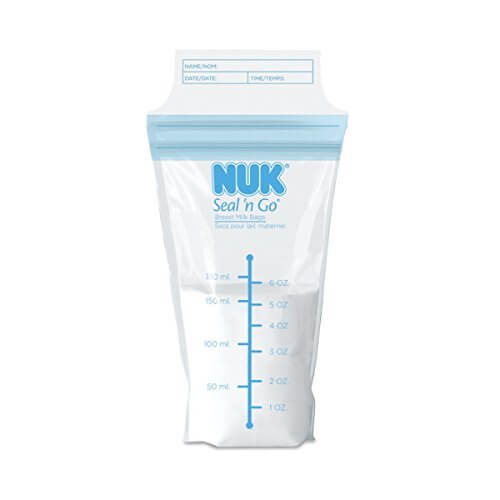 The NUK Seal and Go Breastmilk Storage Bag has earned our number three spot. This storage option is guaranteed safe and secure. It is a durable option that will keep your breastmilk safe and be easy to store.
Expand to see more
Benefits
This bag comes with a tamper-evident seal to ensure safety. They are self-standing and gusset free to prevent leaks. They also come equipped with double zipper seals to prevent spills. You can rest assured that your milk is safe in these bags.

What We Like About It
These bags are BPA free and hold about 6 ounces of milk each. The label is on the top tab and not the bag so you can easily find the oldest milk first. They store flat in the freezer to take up less space.

Cost and Value
These bags are a great value for the features they provide. The tamper evident seal and gusset free bottom give you peace of mind. There cost falls into the mid-range on our list.
Tamper evident safety seal
Gusset free bottom
Self standing when full
Label is on the top tab
Freeze flat
Thaw quickly
Must use permeant marker for labeling
Label area is clear, usually bags have a white background
4. Medela Self Standing
Medela has been in the business of breastfeeding for 50 years. Their breastfeeding products are synonymous with quality. The breastmilk storage bags from Medela do not disappoint. They are sturdy and easy to use.
Expand to see more
Benefits
They have a protective oxygen barrier to keep milk fresh during transport. The bags conveniently attach to most Medela breast pumps for direct pumping with the included adapter. Medela though of everything when they made the bags free standing. No more worrying about spilling milk while trying to hold your breast pump and a full storage bag; just place the bag on a stable countertop and it will stand up until you are ready to seal the bag and store the milk.

What We Like About It
The top tab includes space to label the date, name, and amount. They lay flat for freezer storage and have a convenient to close zipper top. These Madela bags will make your breastfeeding journey easier.

Cost and Value
The price range per bag falls into the middle section for this list. The features that this bag offers, namely the stand-up bottom make it a great value.
Oxygen barrier for freshness
Stand up bottom for easy sealing
Ample room for labeling
Convenient zipper close top
Attach to most Medela pumps for direct pumping into the bag
You must ensure that the zipper seal is free from milk to prevent leaks
The mouth is more narrow than other brands
5. Mommy's Precious 110 Count
Rounding out our number five spot is Mommy's Precious. These bags are very durable. They will hold more milk than the average storage bag. This is the storage solution for you if you have oversupply or need to store a larger amount of milk.
Expand to see more
Benefits
The double zipper seal on this bag clicks shut for peace of mind. This bag is made of a super sturdy material for easy transport and storage. You can rest assured that your precious milk will be safe in these bags.

What We Like About It
These bags hold 8 oz of milk, which is two more ounces then the standard bag. The gusseted bottom allows this bag to stand freely wouldn't fall. Mommy's Precious really thought of every detail to make these bags easy to use.

Cost and Value
The price per bag is on the low end of our list. For all of the features these bags have you are getting a great value for your dollar.
95% accurate measuring lines
Tamper evident seal on each bag
BPA, phthalate, and latex free
Gusseted bottom
Hold 8oz of milk
Label area is on the bag, not on a tab
Can be difficult to open at first
6. Philips Avent 6 Ounce
Philips Avent has created a winner with their breastmilk storage bags. This storage solution is super durable and easy to use. It is easy to seal and store. These bags will make Having to pump and store milk much easier.
Expand to see more
Benefits
These pre-sterilized bags come with a tamper-evident seal. The durable leak-proof construction is evident through the use of a double lined bag with reinforced seams. Moms everywhere can breathe a sigh of relief when they use these breast milk storage bags.

What We Like About It
This product offers a large area for labeling needed information such as your name, the number of ounces of milk pumped, in addition to the date and the time that you pumped. The Phillips company has done independent testing to check the that the measurements are accurate; reviews state that the measurements on the bag are usually within an ounce of the actual contents. This is great news for moms because breast milk storage bags are known for their inaccurate measurements.

Cost and Value
The cost of these bags will make you breathe a sigh of relief; they come in at the lower price range on our list. The features that are provided with this bag offer a great value and you certainly won't be disappointed spending money on this product.
Tamper evident seal for safety
Dual layer bag
Reinforced seams for durability
Wide neck for easy milk transfer
BPA Free
You can not pump directly into the bag
Tear the bag open carefully, it has a tendency to rip unevenly
7. Dr. Brown's 50 Count
Dr. Brown's breast milk storage bags have taken number 7 on our best products. They provide for easy handling and storage. These bags meet the two most important criteria for our list. Dr. Brown's won't let you down!
Expand to see more
Benefits
Dr. Brown's bags come with a top tab label so you can easily find the milk you need in your freezer or your refrigerator. They were built with milk transfer in mind because they have a wide neck that makes pouring milk from the bag into a bottle much more simple.

What We Like About It
The durability of these bags is what puts them on our list.

Cost and Value
The dr. Brown's bags come in the mid-price point for our list. They offer ease-of-use and durability which makes them a fantastic value.

Double zipper for leak-proof storage
Individually sealed for sterility
Easy to write on the label
Self-standing when full
Wide neck for easy milk transfer
Be careful not to overfill the bag or it will leak
Some people have found these bags to be leaky when thawing
8. Ameda Store N Pour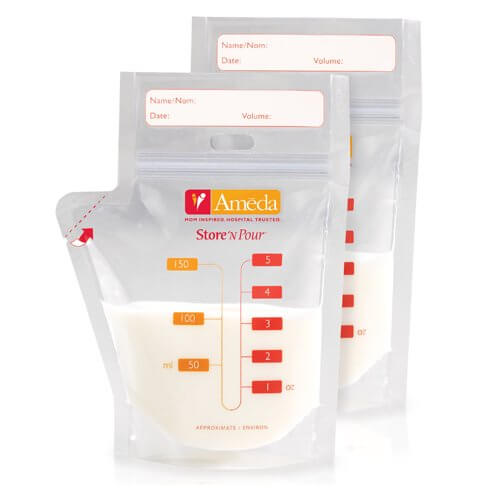 The Ameda Store 'n' Pour joins our list at number eight. This product lives up to its name and offers a convenient option for storing a pouring breast milk. The Ameda company has a 75-year history of helping to facilitate positive breastfeeding relationships. This company makes high quality trusted products for breastfeeding families.
Expand to see more
Benefits

This bag comes equipped with a convenient pour spout that is below the zipper seal to allow for easy pouring of thawed milk into a bottle. every bag connects to all Ameda HygieniKit Milk Collection Systems for direct pumping. Being able to pump directly into the bag is definitely a time saver for moms.

What We Like About It
Features a strong multi-ply design to prevent splitting or cracking and increase durability. The bag stands up on its own when full. The smaller size of this bag allows you to store smaller amounts of milk and is especially helpful for moms with low production.

Cost and Value
The cost of these bags at the higher end of our Their value can be seen in the conveniently-placed and sanitary pour spout that allows you to easily transfer milk out of the bag.
The pour spout is super convenient
Self-standing when full
Smaller-sized than the average bag- great if you have low production
Durable BPA-free bag
You have to buy the adapter separately to pump directly into the bag
The seal is a bit small I must be checked carefully for proper closure
9. Tommee Tippee Pump and Go
The Tommee Tippee breast milk storage bags come in at number nine. They are a part of a full feeding system for your baby. This system is intended to allow for direct pumping into the bag storage and feeding without having to transfer the milk. The Tommee Tippee feeding system can be very convenient for working moms and caregivers.
Expand to see more
Benefits
This feeding system bag can adapt to any major brand
breast pump
with an easy-to-use adapter. If these twist top bags give you an added level of security, because you do not have to worry about improperly sealing a zipper top.
What We Like About It
When using the feeding system you no longer have to worry about spilled milk, because the baby eats directly from the pouch you pump into. this bag has a very large area for labeling.
Cost and Value
These bags come in in the middle of our price range for this They are a great value considering you don't have to worry about spilled milk anymore.
You should have around four or five pros
For each product on the list
Pros should always be more than cons
These should be straight to the point
No more spilled milk if you use the feeding system
They take up a lot of space for storage
You should purchase the storage case so that the bags are fully protected when freezing
10. Milkies No-Break No-Leak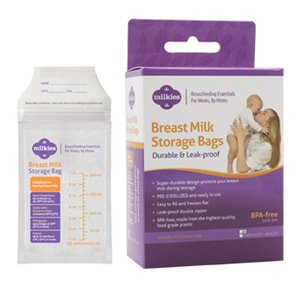 The final bag to make our list is the Milkies "No-Brake, No-Leak" bag. These bags are highly tested for durability. They offer a great storage solution when you have multiple caregivers for your baby.
Expand to see more
Benefits
This is the only product on our list that has storage guidelines printed on each bag. These storage solutions are extra durable with reinforced sides and a double zipper seal at the top. This is the perfect storage bag if your baby goes to daycare.

What We Like About It
Milkies bags stand up for easy filling and store flat for compact storage in your freezer. Attack has a large label at the top that allows you To take note of the date, your name, and volume of breastmilk pumped. These durable bags will keep your milk safe in your freezer and during transport.

Cost and Value
The cost per bag for the Milkies "No Break, No Leak" bag is in the middle of our list. They provide great durability and offer a a good value for breastfeeding families.
Storage guidelines printed on every bag
Very durable
Freezes flat
Stand up on its own when full
Double zipper closure
The bag measurements can be a little off
It can be difficult to pour milk into the bag one handed
Conclusion
Deciding how to store your breast milk can be a difficult choice. Breast milk is liquid gold, and it is an incredibly precious resource that mothers can provide their babies. It is entirely devastating when you lose any amount. No mother wants to spend hours pumping to have milk spilled because of a defective storage bag. The bags on this list keep your breast milk safe and secure during transport and storage. They all fit in the freezer or refrigerator and make thawing and heating baby's milk easy.
There are times that the breast milk storage bags can become an afterthought because you are so concerned with when and where you're going to pump and type of breast pump you should use. Hopefully, this list will help alleviate some of your concerns and allow you to find the best breast milk storage bag brand to meet your needs. We have looked at all types of bags and picked the best ten for you to choose from. Consider your options carefully and select the bag or bags that best meet your needs.
How your breast milk is stored is extremely important. Almost more critical then when and where you will pump because if your bags leak your milk is lost. Each bag on our list can help prevent leaks when properly used. We have created strict criteria for evaluation of the top breast milk storage bags. This criterion has helped us to ensure that you are getting the best products we could find. You will undoubtedly find a storage bag to meet your needs on this list.  
Criteria Used in Evaluation of the Best Breast Milk Storage Bags
Strength and Durability
Each bag is made of food grade BPA free plastic, so you don't have to worry about harmful chemicals leaching into your breast milk during storage and heating. They are also all rated for use in the freezer so they can handle the temperature changes of being warm then cold then hot for heating up your milk. These bags will not let you down!
Holding Capacity
We wanted to make sure you get the most bang for your buck with these bags by making sure that they will properly contain at least 5 ounces of milk each. Most of the bags hold more, and our top capacity bag holds 8 ounces of your liquid gold. You don't want to have to switch bags in the middle of direct pumping, so we made sure to have bags big enough to hold an average pumping sessions worth of milk. The number of ounces you get in a pumping session can vary, but these bags should have you covered.
Ease of Use
All of these bags are easy to open and easy to close. Each bag has either a double reinforced zipper seal or a twist top cap for your convenience. Almost every bag on our list also has measures in place to ensure that the bag is sterile before its first use. The twist top cap bags will click when you first open them to ensure that they are unused. Most of the zipper top bags have a special part to tear off above the zipper seal to ensure the bags are clean and ready to use.  They all have a label area for writing your name and the date, so you don't misplace your milk in a public fridge. When using these bags, you can conveniently store your milk for later use.
Leak Prevention Measures
The bags that made our list all have leak prevention measures. Several of them have reinforced seams and gussets. The reinforced seams will prevent milk from leaking out the sides of the bag as they are filled, frozen and thawed. These bags should not split open during any part of your milk storage process. The bottom gussets are a convenience measure to help the bags stand up when they are partially full. The gussets are also reinforced to keep the bottom corners from leaking during storage. They all have reinforced closures so milk will not leak out of the top of the bag when sealed properly. These leak prevention measures should keep your milk safely in the bag until it is ready to be used by your little bundle of joy.
Ease of Milk Transfer
Each bag on our list is easy to open, either by zipper sealed top or twist top. This should make for easier milk transfer from the bottles you pump milk into. It should also make it easier to pour the thawed milk into the bottle for your baby to drink from. Several of the bags allow you to directly connect your breast pump for one less milk transfer. If your bags can be directly connected to a pump, you need to make sure you have the proper adapter kit so that the bags will stay properly attached during the entire pumping process. Each bag on our list has a wide mouth or a pour spout to assist with pouring milk into bottles when your baby needs nourishment. These storage bags should make your breastfeeding journey much easier.
FAQ
Frequently Asked Questions
Q: Can I use a bottle warmer to heat frozen or refrigerated milk?
A: It is not recommended to use a bottle warmer with bagged milk. Bottle warmers are intended to be used with higher grade plastic or glass bottles. They can heat the plastic of a breast milk storage bag to a dangerous temperature. When the plastic is heated too much, it can melt or become dangerous to handle and can harm your bottle warmer.
Two of the milk storage bag brands on our list are a part of a feeding system. These feeding systems come with specially designed bag warmers that will not overheat the bags designed to go with that specific system. For the twist top bag feeding systems, you can use their specific warmers without worry.
Q: Can I use a microwave to heat my milk?
A: No, you can not use a microwave to heat your milk. Microwaves do not heat food evenly. They can create hot spots that could be dangerous for your baby. Using a microwave to heat your milk could cause your storage bag to break because of overheating. This would cause you to lose whatever milk you were planning to feed your little one.  
Q: So I can't use a bottle warmer or microwave. How do I heat my milk?
A: Most bag manufacturers recommend placing the bagged milk in warm water for heating purposes. You can do this in a variety of ways. Some caregivers prefer running hot tap water over the bag; others will warm water on the stove and place the bag in the pan as the water heats. This will allow the milk to melt gradually and usually the milk will be heated thoroughly before the water on the stove is at a full boil. You can also fill a small crockpot with water, turn it on, and then place the bagged milk inside. Make sure you remember to turn off any appliances you use to heat up your milk, so you do not cause a fire hazard in your home.  
Q: What can I do to help prevent leaks?
A: The first thing you should do to prevent any milk leakage is to inspect and bag you plan to use for defects. If your bag is defect free the next step is to ensure that it is completely opened before pouring in any milk. This will help you get an accurate measurement and allow you to pour more milk into the bag. After pumping your milk ensure that the bags seal is completely free of any milk or milk residue, you may want to wipe it with a clean paper towel before sealing the bag. Next, read your bag instruction guide. How should you store your bags; do they stand up or lay flat to freeze? You should plan to store the bags in their hard-sided container for freezing. Also, do not freeze fresh milk on top of each other, freeze them laying flat beside each other and make sure all bags are completely dry before putting them in the freezer. Finally, make sure to use your frozen milk within three months. If you follow these simple storage steps, you can rest assured that your bags should not leak during storage.  When you are heating up frozen milk, it is best to first thaw the milk in a refrigerator or a cooler with an ice pack. Make sure the milk is in a container as it thaws and that nothing else is touching the bag. These easy to follow steps will help you to thaw your milk with less worry about leaks.
Q: How long can I store breastmilk in the refrigerator?
A: Fresh breast milk can be stored in the refrigerator for up to 4 days. After four days you must freeze the milk so that it can stay fresh. Thawed milk can stay in the refrigerator no longer than 24 hours before you must dispose of it properly. Do not refreeze thawed breastmilk it is dangerous for your baby because it can contain harmful bacteria. Remember that improper storage of breast milk can harm your baby. Do not forget that it is important to throw out any milk that is older than four days in the refrigerator. Make sure that you date any milk that you store. You can use a dry erase marker on a plastic bottle or a permanent marker to date a storage bag.
Q: How long can I store breastmilk in the freezer?
A: Storing pumped breast milk in the freezer is the most common way to keep your milk fresh and safe. Your frozen breast milk should not be stored for more than six to twelve months. When you store it in a freezer make sure to place your breast milk in a hard storage container and do not lay unfrozen bags on top of each other. Make sure not to stack things on top of your breast milk and do not let the bags freeze to the sides of the freezer or other items in the freezer. You should make sure that your breast milk is stored in a way that you can use the oldest milk first, so you do not have to unnecessarily throw out your valuable milk. Also, make sure that the dates are visible and don't forget the 6-12 in the freezer rule!
Q: How long can breast milk be stored at room temperature?
A: You may not always be able to get your freshly expressed breast milk into a refrigerator or freezer right away. If this is the case, remember that you can only store it at room temperature (77 degrees Fahrenheit) for up to four hours. This is also very important to remember when you have a freshly prepared bottle. If your baby hasn't finished the bottle in four hours, you must dispose of the milk. Do not place used milk back in the refrigerator or freezer. It can begin to grow harmful bacteria once the germs from your baby's mouth are introduced to the bottle nipple. The germs will enter the bottle and cause bacterial growth. For your baby's safety, please make sure to follow the 4 hours on the counter rule.  
Sources
Breastmilk Storage and Handling,

Web Article

,

Jan 15, 2019

,
A Pumping Discussion,

Web Article

,

Jan 10, 2018

,
Proper Storage and Preparation of Breastmilk,

Web Article

,

Jan 14, 2019

,