The importance of carbon monoxide detectors simply can't be underestimated. Carbon monoxide is an odorless, invisible gas that can cause anything from lightheadedness to migraines and dizziness, and can even be fatal if not caught in time. Every house and apartment should be equipped with some kind of device to detect this deadly gas but unfortunately, not all homes come with them. A common problem is that many people see their smoke detector and automatically assume that it's a multi-use detection system, but there's really no way of knowing this unless you check with the manufacturer. While all homes should come equipped with smoke detectors, something that detects the presence of carbon monoxide is often the sole responsibility of the homeowner. They're easy enough to find and purchase but the question you're left with is this: How do you know which brand is best for your home and where can you find it?
That's why we're here and that's exactly the type of question we're going to answer in this article. There are many reputable brands out there that claim their detection systems are the best but when it comes down to it, you have to explore your options and compare each one. It's not the type of decision you would just make, especially when it's your family's health on the line, and that's something we genuinely understand. With something like this, specific research must be done and brands must be evaluated, tested, and either ruled out or chosen wisely. We'll get into the science behind detecting carbon monoxide and some important safety tips and tricks later on but for now, we want to first present you with the products we think are worthy of keeping your home safe. All of these vary in price, where they need to be placed, and how they alert you, which is why we've included detailed summaries to go along with each one as well.
10 Best Carbon Monoxide Detectors Reviewed
1. Nighthawk AC Plug-in Operated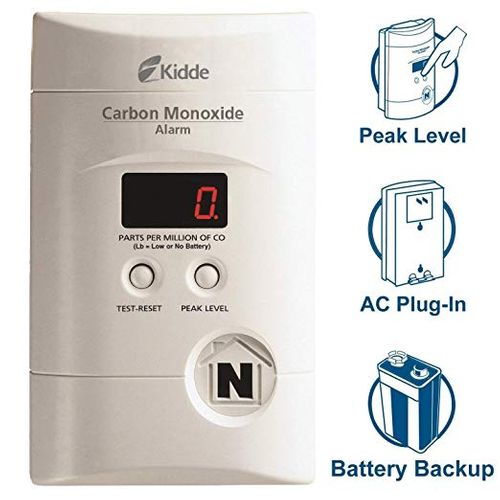 It's one of the best: Nighthawk is an alarm system you can depend on. It'll update frequently and show rising CO levels in real-time so that you're prepared and ready to plan your next move.
Expand to see more
The Nighthawk is the CO detector that most people commonly think of when it comes to testing for the deadly gas. This detector has a nice feature that's helpful with easy gas readings, and that's a digital display. The number on the reader is plain as day to see as it lights up in red and if the numbers ever begin to go up, not only will you be able to watch it in real-time, but you'll also hear an alarm if they exceed peak level. This detector can be plugged into the wall or run off of battery power alone making it versatile for any place in your household. This detection system is top of the line when it comes to home alert systems and will repeat a patterned sound that's unmistakable in the event of a leak. It's also a very affordable unit and won't have you spending big bucks to give your home all the protection it needs.

Benefits
The 9-volt battery system operates as a backup in case the AC adapter stops working. This is an excellent quality to have in the event of a storm or any other circumstance where you'd lose power for a significant amount of time.

What We Like About It
The digital display is easy to read and will pick up on elevated CO levels rather quickly. It's because of this that we love how versatile it is in placement, as it can be plugged in right-side-up, sideways, or even run on battery power when placed away from an outlet.
Pros
Easy to read display
Can run on battery power or through an adaptor
Battery functions as a backup source of power
It has a unique alarm system
Shows real-time readings
Cons
Some people have reported receiving out of date units
2. Kidde 21008873-2 KN-COPP-B-LPM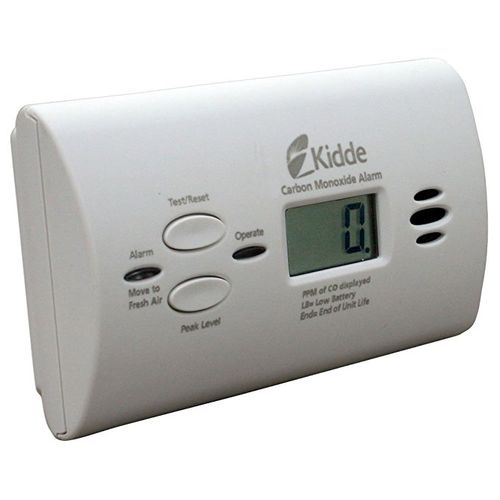 This slightly larger alarm is a powerful tool in defense against carbon monoxide. It's designed to pick up on changing levels immediately and also features a "test" button so that you can always make sure that it's working, anytime of day.
Expand to see more
Another brand that's worthy of earning a place in your home is Kidde. Kidde has had a long-standing history of providing products that are stellar in safety quality and produce tremendous results when compared to the competition. This alarm is a great basic unit for those who need something simple and easy to use. It features a "peak" button that will show you what the last highest recorded peak was, if any, as well as a "reset" button that's useful when testing and resetting the unit to ensure that it's ready to go. It is battery-operated so those will need to be replaced on a regular basis, but it will still function even if you happen to lose power or electricity to an outlet. The alarm itself is rather small so it can be placed inconspicuously in various rooms in order to keep your family safe while not becoming too obvious.

Benefits
The display on this Kidde alarm is very easy to read, even in low-light environments. That makes it perfect for garages or spare room that no one uses very often since you won't need to turn every single light on in order to check the read-out.

What We Like About It
The simplicity of this unit is what makes it the gold standard in our book. You don't need to be any type of engineer to set this up, test it, or check peak levels since everything is clearly labeled and simple to use.
Pros
Easy to read display even in low lighting
You can check peak levels since the last rest
The unit is small
Battery-operated so it's versatile
Well-known brand
Cons
Users are cautioned against using reusable batteries due to changes in functionality
3. First Alert BRK SC7010B
Battery backups are important, especially during storms or the unpredictable nature of a power outage. This alarm is designed to automatically switch over so that you never need to worry whether or not your family is safe.
Expand to see more
Another option is to go with a two-in-one system, such as this device, which measures both smoke and carbon monoxide. This unit is designed to simplify the number of devices running in your home by alerting you to the presence of significant smoke in the atmosphere as well as the presence of CO. Some families prefer this over just a standard CO detection device because it safeguards them in two ways: By providing an extra, back-up smoke detector (most homes have them previously installed) as well as an additional alarm. This alarm is hardwired with a photoelectric sensor that's designed to pick up heat from anywhere nearby and sets off an alarm that's also loud-spectrum. This feature alone makes it ideal for families who might have someone facing a hearing deficiency as the alarm is designed to alert those with poor hearing as well.

Benefits
This unit can be connected to other various units throughout the house to function as a full-house system. It's compatible with BRK and First Alert systems in order to provide the most accurate and fast warning possible in the event of an emergency.

What We Like About It
The battery acts as a backup system in the event that the electricity in your house does happen to fail. This is a life-saving measure that can mean the difference between getting out in time or sending a fire or leak far past when the alarm should have gone off.
Pros
Compatible with other BRK and First Alert alarms
Features a loud alarm system that's designed for all types of hearing abilities
Has a battery backup system
Detects smoke and heat as well as CO
Uses advantaged technology to stay up to date
Cons
It can send off a false alarm occasionally
4. Kidde KN-COSM-BA Battery-Operated
Voice-activated alarms are gaining in popularly because not only do they get your attention, but they'll tell you exactly what's wrong. This alarm includes a self-correcting "alarm hush" feature that fixes a false alarm without you needing to do a single thing.
Expand to see more
All of the things you heard as a kid about "
smart houses
" wasn't too off-track when it comes to this combination alarm. The Kidde Combination Smoke/Carbon Monoxide alarm comes equipped with a vocal warning system that makes it unmistakable in the event of an emergency. This is designed to pick up on CO gas as well as smoke and heat if there's a fire, alerting your family quickly to get out. It will also differentiate between the two, sending out a vocal alarm of, "fire!" or "warning carbon monoxide!" if detected. This alarm also has a backup battery power unit to ensure that your home will always be protected, no matter the circumstance. In the event that there's a false alarm, this detection unit has a way of dealing with that as well. You'll hear "hush mode activated" as it corrects itself, followed by silence or a warning that CO levels were temporarily elevated.
Benefits
Changing the batteries in any alarm is tough to remember to do annually and if your system runs on backup power for a significant amount of time, you might have a problem. This smart alarm also announces when there's low battery power rather than just sending out a "chirp" which can be misheard or easily ignored.
What We Like About It
The distinguishing warnings when it comes to smoke versus CO detection is something that's quite remarkable in an alarm. While many just sound off and don't provide any way to tell the difference, this alarm will tell you exactly what's wrong.
Pros
Voice-activated for any and all alerts
Tells you when the battery power is low
Will function on backup battery power
Combination smoke and CO detection
Corrects false alarms on its own
Cons
The smoke detection can be faulty
The battery power does not last very long
5. First Alert CO605 Plug-In
Simple is often better... And much less confusing! This little unit is great when purchased in multiples since it's easy enough to plug into several rooms around the house.
Expand to see more
Sometimes easy, uncomplicated, and small is better and that's totally fine when it comes to searching for CO detectors. With all the advances of
today's technology
, the First Alert is the detection system you'll want if you need something that's discreet but still does the job. While this basic system has no digital display (there is an option to upgrade) it will still read CO levels like a champ and alert you of increasing levels with no trouble at all. It has been tested to reach UL-certified standards and can be plugged into any standard outlet, so for the low price, you can get one for every room of your home. They're easy to set up and do feature a "test" button that allows you to ensure each one is working properly as well.
Benefits
Sometimes, using an AC adaptor can be more reliable when it comes to electricity coming from a wall unit rather than just depending on battery power alone. You'll know that your system is always working with a simple and quick test-run.
What We Like About It
These units are easy to move around and place in various areas of your home and we love how uncomplicated they are. If seeking out a unit that you don't know how to use is your fear, these are the perfect option to add that extra level of safety to each floor of your house.
Pros
Simple to use
Can be moved around easily
Runs on electricity alone
Testing is easy and quick
Very affordable
Cons
There's no digital display
6. First Alert CO615 Frust Free Dual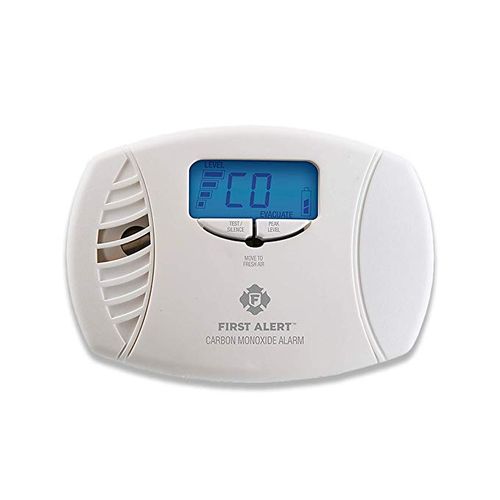 The digital display on this alarm is easy to read and great for first-time users. It'll send off an alarm when CO levels reach an unsafe level while always displaying the battery life of the device.
Expand to see more
This is the upgraded version that we mentioned briefly in the previous post and it provides all the same great features with the addition of a unique digital display. This display tells you everything from the battery life and level CO, both with a warning detecting its presence and with a gauge bar. It's a clever display that's also backlit so it'll be easy to see in a dark room and the warning system works exactly the same -- When levels have breached a safe amount in the surrounding atmosphere, you'll hear an 85-decibel alarm. Additionally, this unit features an "end of life" alert system which will chirp in response to the unit needing to be replaced.

Benefits
First Alert includes a seven-year warranty with all of its alarm which tells you that not only do they care, but they also strive for the best when it comes to their systems. Most units only last that long as it is, so during that time you'll be in good hands if any issues should arise with your CO detector.

What We Like About It
The display on this alarm is clean, clear, and concise. It shows you all of the real-time information that you'll need in order to know the status of gas in your home and is easy enough for the most inexperienced of CO alarm owners to use.
Pros
Features an end-of-life chirp
The digital display is easy to read
Shows the real-time level of CO gas
Runs on electricity or battery power
7-year warranty
Cons
Can throw off false readings
7. First Alert SCO5CN Combination Smoke
Combination systems are very popular for families who want both silent gas protection as well as fire protection. This unit is designed to read both warning signs accurately and
alert your family
when it's time to get out.
Expand to see more
Surprise surprise, another winning unit from First Alert! It's recommended that you have more than one CO detection unit throughout your home which is why the fact that these come in packs of three or four is so highly valued. This alarm detects the presence of both CO as well as smoke so, in the event of a fire, you'll have an additional backup alarm along with the one that's likely already installed in your home. You'll also find a test as well as a "silence" button on this alarm which allows you to shut the warning off in the event of a false alarm, which does occasionally happen. However, with the addition of a photoelectric sensor, it's less likely to happen with this alarm specifically. The 85-decibel noise system is standard for First Alert alarms and is loud enough to wake your family up at night or alert them efficiently during the daytime hours.

Benefits
This unit features an easy to install process that requires no electrician to do so. That takes the stress off of you and allows you to install as many as needed in no time at all without the help of a professional.

What We Like About It
The user-friendly aspect of these alarms is something that we really appreciated especially when it comes to keeping your family safe. You'll be able to install as many as you need, quickly and easily, with the mindset that your home is protected.
Pros
Very easy to install
Combination system
Photoelectric sensors are advanced
Loud alarm setting
Comes in a pack of multiples
Cons
The warning voice itself is not programmable
8. Nest Protect Smoke S2001LW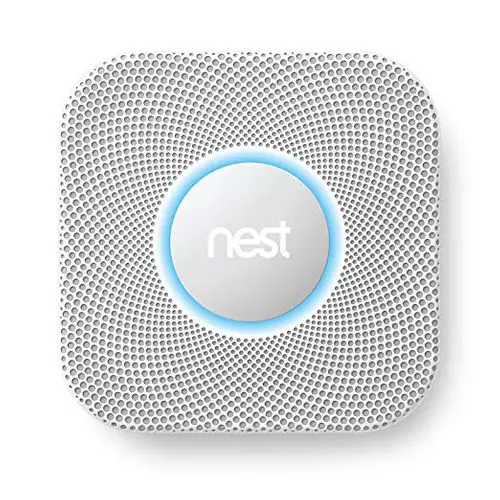 The
Nest Protect
is one of the first to provide mobile alerts and keep your family safe while you're away as well as while you're home. It'll even reach out to close family members or friends and alert them in the event that you can't respond.
Expand to see more
For the most extreme in home protection matters, the Nest is a great system to have if you're often away from your house. It comes with a WiFi alert that can be sent straight to your home, signaling you of unseen dangers even if you're not there to actually find them yourself. It also sends you mobile alerts when the batteries are low so that you'll always have peace of mind even if you're not around to hear the "low battery chirp" we're all so familiar with. The Nest is perfectly up to date in its technology and features a split-spectrum censor that detects smoke as well as CO and fits perfectly into a ceiling or at the top of a wall. That's not all this modern device does, however -- It also alerts you of potential hazards. If you happen to burn something in the kitchen, leave the oven on, or throw something hot in the trash bin, this little sensor will pick up on it and give you a friendly voice warning.

Benefits
A decade is a pretty long time when it comes to appliances and electronics, but believe it -- that's the average life of the Nest alarm system. With all of its advanced features, it's no surprise to hear that a long life is one of them.

What We Like About It
The advanced warning system is something to be respected, especially if you have kids in the house. It's so easy to leave a burner on or leave a pan unattended and this smart alarm will tip you off before you even get a chance to walk very far.
Pros
Advanced detection system
Mobile alerts
Works via WiFi
Sleek-looking unit
Split sensor for smoke as well as CO gas
Cons
It is prone to sending out false alarms
9. Leeo Smart CO Remote Alarm
For all the bells and whistles, this detection system is one of the most advanced on this list. With
specially-colored lights
and the ability to customize the alerts as you need them, this is definitely state of the art.
Expand to see more
The Leeo is a great little plug-in unit that provides much more than what meets the eye. On its own, it might just look like your typical alarm but once you dive deeper into what this little number can do, you'll be floored. It comes with a program that syncs to your smartphone so that you can check it 24/7 while also getting alerts sent straight to your mobile device. Additionally, it will provide all the emergency numbers needed basing on your area so that you spend less time searching for the right ones during a panic-filled situation. Leeo goes one step further than that, however, and will also go as far as sending alerts to the additional numbers you provide in the system so that your closest family and friends can respond to the warnings if you don't. As far as alarms go, this one is pretty stylish as well. What do we mean by that? You can adjust the ambiance when it's plugged into the wall based on the free app that accompanies it on your smartphone. You'll have a choice of light colors as well as dimming level in order to use it like a nightlight as well as a life-saving preventative measure.

Benefits
The high quality of these features is something that you simply don't find with other alarm systems. In addition to changing the color of your unit, you can also set various colors to indicate various warnings, making it a visual alert system as well as an auditory one.

What We Like About It
The versatility and capability behind this system are unparalleled. Leeo is what most systems will probably look like in the future and it's something we can get behind as a progressive society.
Pros
Versatile light systems that can alert you based on color
Mobile alerts
Completely customizable
Works via WiFi with a free phone app
Can function as a nightlight as well
Cons
It must be plugged into an outlet
10. Pyle PCMM05 Hand Held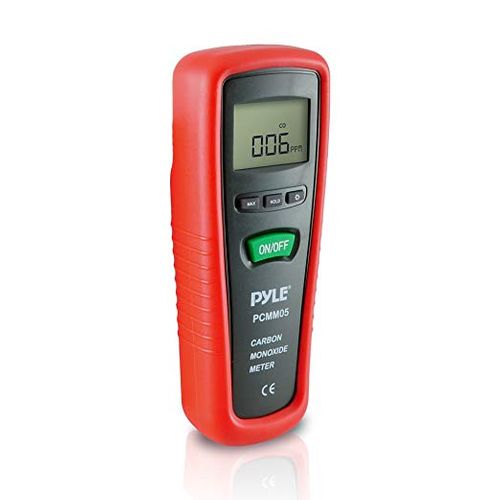 This is a great, portable way to take measurements on the go. It's fast and easy and shouldn't give you any problems when coming up with an accurate read-off for rooms without an
alarm
.
Expand to see more
Perhaps what you're looking for is something that's portable and can be used to immediately take readings in a variety of situations. If that's the case, then a handheld carbon monoxide meter might be the perfect option for you. Devices such as this are helpful when it comes to taking readings in the car, in the garage, and even in various rooms of your house to check the accuracy of current CO detectors. This detector, while a bit pricey, measures readings in the environment almost immediately and will measure anything up to 1,000 parts per million, or PPM. The meter features a beep that's very specific to the elevation of CO gas detected and will alert you when levels have reached an unsafe number. There are only four buttons, one of which is an on/off switch, while the other three control the testing and screen brightness of the meter. It's easy to use and very accurate as far as handheld detection systems go which means you won't need to worry about testing it against another alarm that has already been deemed accurate.

Benefits
There's nothing complicated about this device. The readout on the screen is easy to understand and won't confuse you in the slightest, while the four buttons found on the front are labeled clearly.

What We Like About It
This device is portable enough to bring nearly anywhere. It's great in the event that you have a suspicion that your current alarms aren't working or if you want to check places such as your car, which doesn't come with a CO detector.
Pros
Easily portable
Simple to use with clearly-labeled buttons
Brightly-lit LCD screen
Alerts you to elevating levels
Powers off automatically to conserve battery power
Cons
Can't be left on to monitor a room 24/7
Criteria Used in Evaluation of the Best Carbon Monoxide Detectors
Carbon monoxide gas can come from a variety of sources which is what makes it so dangerous. Since you can't smell it or see it, many people don't even release when they have a leak somewhere until their alarm goes off or they begin experiencing symptoms of it. Since this is such a serious matter and should be taken as such, we went through a very thorough process when it came to choosing the best detection systems for your home. You might recognize some of the brands we've listed such as Kidde and Safety First, but we have included some other brands that include benefits outside of just an alarm as well. In order to find out what worked the best, we first had to evaluate these brands based on their standings in 2019. After doing that, we were able to scope out what the best and most current models were, leaving us with the most obvious choices. While any carbon monoxide detector will eventually alert you to growing CO levels, what sets these apart is their advancement in that department. Not only will they alert you to these hazardous levels, but they'll do so much quicker and efficiently than some of the older models or brands out there. Upgrading is important and with something like this, you always want to go with the best.
How Do Detectors Pick Up on CO?
There are three different ways that CO detectors work. The first is through a biomimetic sensor, which is a gel that has the ability to pick up on the dangerous gas. Once the gel turns color, it will then trigger the alarm, warning you of its presence. Second, a metal oxide semiconductor uses a silica chip as a level-reading and when the level of electrical resistance is lowered due to the presence of CO, the alarm is triggered. Lastly is an electrochemical sensor. It uses electrodes and a chemical solution in order to detect CO and when the electrical currents are altered, the alarm is triggered. All three of these are modern and reliable options and the great thing is that the alarm will continue going off until the levels of CO have dissipated. This means that you'll know exactly how high levels are and when they're safe enough to re-enter the room again.
What Are the Physical Effects of Carbon Monoxide?
Effects of CO exposure can vary but there are several common signs that many people exhibit when exposed to such a gas. Since it can linger while being completely undetectable, it's important to pay attention to these signs if they become frequent when your family is home with the windows closed, doors closed, heating systems on, stove on, fireplace going, etc. The minor systems of low exposure to CO include headaches, fatigue, nausea, dizziness, and shortness of breath. All of these will come on fairly suddenly and likely be unable to be explained and may get better when leaving the area. Symptoms that should be taken very seriously due to high exposure to CO include loss of muscular coordination, loss of consciousness, vomiting, and mental confusion. It's these signs that a person will normally exhibit when their body is reaching the point of suffocation due to CO inhalation and they should be immediately removed from the area and taken to the nearest hospital.
Why Is It So Dangerous?
It's odorless and invisible, but what exactly happens when CO enters the bloodstream? CO is volatile when it comes into contact with the human body because it essentially attacks the red blood cells. Rather than binding to hemoglobin, red blood cells will bond to the CO molecules, forming carboxyhemoglobin, which can severely inhibit the oxygen levels in your body. When this happens, these bonded molecules will then force the body through oxygen deprivation, which is responsible for all the symptoms that were previously mentioned. It's not something that we think about every day but it's certainly something to be aware of.
What Can Cause a CO Leak?
You might be wondering what parts of your house are the most vulnerable to leaking CO and this is also a good thing to take note of. The most common cause of CO build-up is the use of an at-home backup generator without proper ventilation. These generators operate under the use of gas as fuel which can result in CO, a byproduct of gas that has not been fully burned up or released. Anyone who uses a fireplace, kerosene, coals, space heaters, or a pellet stove, or propane or natural gas for heating should have a CO detector somewhere in your home. Fossil fuels and biofuels can also throw off CO, so it's important to be very aware of your heating systems and washer and dryer hookups. Anywhere there can be carbon buildup, such as within the coils of a stove, should also be checked regularly in order to avoid the buildup of toxic gases.
Where to Put it and What to Do
When purchasing a CO detector, one should be placed near the opening of each sleeping room in the house. This will alert you quickly to the growing presence of CO and wake you from your sleep in the event that this buildup happens at night. Since CO detectors are designed to only detect that specific gas, you won't have to worry about temperature or other gases or smoke interfering with the device. Ensure that it's installed or placed properly and avoid putting it somewhere that it can be easily covered up or lost. Additionally, you should have a CO detector on each floor of your home in the event that there's a leak on one floor that isn't reaching another. All detectors should come with the UL label on them which ensures that they've been properly certified and tested to meet safety standards.
In the event that your alarm does go off, immediately evacuate your family from the premises. Don't go back inside for anything and immediately call 911. Until the fire department arrives and declares your home safe for re-entry, do not re-enter. The fire department is also trained to look for CO leaks and they'll help to determine what it is that set off your alarm.
FAQ
Frequently Asked Questions
Q: Should I purchase more than one of these detectors?
A: In short, yes. It's a good practice to place one just outside of each bedroom in the house as well as on each floor and though this might seem tedious, it's the best way to keep your family, and your home, safe.
Q: What will the alarm sound like and will it be loud?
A: Yes, it will be loud enough for you to hear it. Detectors vary from brand to brand but sound very similar to smoke alarms. Some of the more modern detectors might even speak to you and alert you of the dangers by repeating a certain phrase, similar to modern smoke detectors. Either way, the alarm will be loud, jarring, and enough to get your attention.
Q: How often should the batteries be replaced on these?
A: If it does not need to be plugged into an outlet, the batteries should be checked roughly every six months. A common rule of thumb is that whenever you replace your smoke alarm batteries — usually daylight savings time — you should also replace those in your CO detector.
Q: Should I replace my model every year?
A: That's up to you. Many times, updated models include extra features such as mobile alerts, digital displays, and newer alarms, but it's a personal preference. As long as you have some sort of detection system by a reputable brand, you're one step closer to ensuring the full safety of your home.
Q: Can these be used in places such as the garage as well?
A: Yes. You could put a CO detector in every room of your house if you really wanted to! They're designed specifically to pick up on CO gas and nothing else, so there shouldn't be any other gas or smoke that will trigger the alarm.
Q: I am a heavy sleeper. Would it be beneficial to put one of these detectors in the bedroom?
A: In that case, we'd recommend putting one detector in your bedroom and still placing one just outside in the hallway somewhere. This way, one alarm will go off in the event that the presence of CO is picked up on the hallway, which could very well wake you up, but by having one in your room, you'll also have a backup — Just in case.