Are you in the process of becoming a parent? What an exciting time! There is so much to be done before the birth of your child. In particular, selecting the right cradle is an important decision you need to make before you bring your child home from the hospital. If you aren't sure where to begin, you've come to the right place. We have put together this ultimate guide that will cover what all the best cradles are, why they are great, as well as other important information you need to know, answers to questions, and more!
Our Top 3 Picks
BABYBJORN CRADLE

Our rating
Soft
Price:

See Here
DREAM ON ME

Our rating
Soft
Price:

See Here
SORELLE DONDOLA

Our rating
Soft
Price:

See Here
Orbelle Trading Gabriella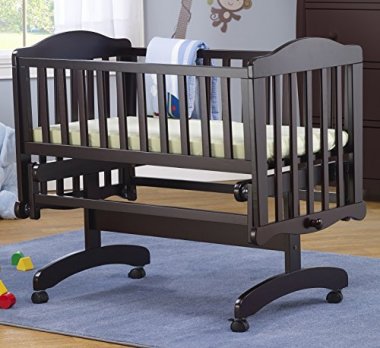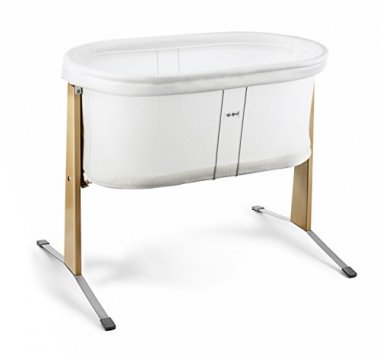 5 Tips to Make Sure Your Baby Cradle Functions Well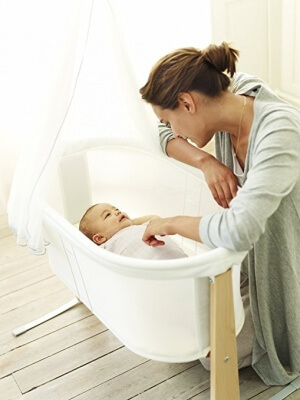 Purchase the proper mattress
Some cradles come with a mattress, but you might find the mattress is not comfortable, or you may select a cradle that doesn't have one. If that is the case, be sure to measure the space and get a mattress that fits perfectly. It can be a safety hazard if there is extra space around the edges that your child can grab or move.
Find the right fitted sheet
This is just as important, if not more important than finding the right mattress. A loose sheet can come off of a mattress and could possibly be a suffocation hazard for your baby. The fitted sheet you select should be the right size and fit snugly and wrap around the mattress securely so that it cannot come loose during the middle of the night.
Understand the weight or age limit
You cannot use cradles for a long period of time, as they are just not meant for that type of usage. The typical limit is around 20 pounds and is based on when your child can roll over or push up on their hands and knees. Make sure you aren't using your cradle past this stage in your child's life.
Decide about a rocking function
Most cradles are rocking, but the majority have the option to stabilize the cradle. Make sure you know how the stabilization works for the specific cradle you do select so that you are always keeping your child safe.
Inquire about portability
Do you want your baby to start out in their cradle in your room, or are you going to have them sleep in their nursery? Also, do you plan to travel a lot with your baby (say over to grandma's house or another family?) If so, make sure you are aware of how portable the cradle you select is. Several have wheels which are convenient for moving the cradle from room to room in your home. For traveling, select a cradle that can detach from the base. Traveling with an entire base can be quite the hassle, so it's best to leave it at home if possible.
Criteria Used in Evaluation of the Best Cradles
Price
Price is one factor we consider when selecting cradles. Everyone has a different budget, so we always strive to select items that have a wide range of price points. Some cradles are more expensive, but some are also very affordable.
User Ratings
User ratings are important for selecting our list items. The best way to feel confident about making a purchase is to see how other people have reacted. If you see a bunch of unhappy parents, it would be hard to feel confident about purchasing that item. We keep this in mind as we develop our lists, especially with items such as cradles, which are so important and are used when a baby is so small.
Manufacturer's Reputation
This is another important factor to consider. Some manufacturers have a better reputation, and in this case, that is something to keep in mind. Items for your child are too important to not pay attention to things like reputation and safety. An unsafe manufacturer is the last thing you need when selecting a cradle for your newborn baby.
Ease of Use
Finally, ease of use is another important factor both for your convenience and for the safety of your child. Parents, or soon to be parents, are some of the busiest people out there. We understand that you do not have countless hours to put together products, so we try to find products that are listed as being easy to assemble or easy to use. The easier something is, the greater chance you have at installing it 100% correctly, which is important for child safety. Should you ever be unsure of how to install or use any item, including a cradle, always ask for help.
Buying a Used Baby Cradle
Are you trying to save some money as you prepare for the birth of your child? We totally understand. Raising a child (or children) is incredibly expensive, and most parents are on the lookout for saving money wherever they can. A great way to save money is by purchasing or inheriting items from other parents. These slightly used items work the same as a new item but at a fraction of the cost.
One main item where parents like to save money is with a cradle. After all, a child only uses a cradle for a few months before having to switch to a crib. However, as with any used item you purchase, the safety of your child has to come first. Saving some money is not a reason to sacrifice safety. If you are looking to buy a used cradle, here are some things to look out for as you shop around. If a family member is offering to give you their used cradle, this is no different. While it is a generous offer, you still need to inspect the item for safety.
Check For Recalls
The first thing you should do when considering buying or using an old cradle is to look if there was a recall of the specific product. There have been numerous recalls over the years, and the older the cradle gets, the higher the likelihood that something is wrong with it. There is an abundance of safety standards that manufacturers must meet today when producing cradles and other baby furniture, but going back just a few years, things were different.
Either ask the person who is selling or giving you the cradle what the actual brand name and the product name is, or look on the cradle itself to try and find this info. The more specific info you can get, such as a product or serial number, the better. This is an important first step to take because the cradle may look like it is in perfect condition, and it very well may be, but seeing it is recalled is an immediate sign that you need to look somewhere else.
Look Up Reviews
Now that you have already found out what specific cradle you are interested in, do another online search to see how other parents review it. If a bunch of parents are unhappy with the cradle, that is a potential sign it isn't the right decision. A bad review doesn't need to be a deal breaker, but if there are an abundance of negative reviews, that is very telling of the product itself. Just because a cradle doesn't have an actual recall doesn't mean that it is a fully safe product. If parents complain that it doesn't feel safe, or that their child has almost gotten hurt or stuck, that should be proof enough that you need to find another cradle.
Ask for Instructions/Find Online
Again, the more information you can have about the specific cradle you are purchasing, the better. Since you are buying the crib used it is more than likely already installed, but that doesn't mean you don't have a need for the instructions manual. Other helpful information could be listed there, and it is also a way to double check that the cradle was installed properly. Ask the person giving you the cradle if they kept any of the paperwork for it.
No luck? Check online! Many brands now put their manuals on their website so you always have access. Try to locate the exact manual for the product you have, and take a brief look at it. If the seller doesn't have the manual and you also can't find it online, consider finding a different cradle. If the cradle is that old that there is no info about it online, that is more than likely a cradle that is far too old and potentially unsafe for your baby. Again, it is never worth the risk of your child's safety when it comes to used products. If any part of you is unsure, trust that instinct.
Inspect For Missing Parts
At some point, you need to stop looking online for info about the brand and product and inspect the actual cradle you might be purchasing. It might be a great brand, but if the cradle itself seems to be in bad condition, you obviously need to walk away. Inspect the cradle and see if it appears to be missing any parts. Also feel free to ask the person who is selling or giving you the cradle if any parts are missing.
If you are getting the cradle as a "gift" it might feel rude to ask if it is in good condition, but the reality is that your child's safety is most important, and any parent should understand that. Take whatever information they give you, along with your inspection of the cradle, and decide if it seems in good enough condition to keep using.
Test the Rocking or Wheel Stabilization
Most cradles come with a rocking feature and some have wheels at the base for easily moving it around the house. These are great features, but ones you need to make sure can still be halted. Make sure that the wheels can still fully lock and test that the cradle stays still even when you push on it. As for the rocking feature, most cradles have a lever or pin or some other way of stopping the cradle from rocking. Make sure you have that feature and know how to work it. Test to make sure it still works and that the cradle is completely still. If either of these features can't be stopped, find another cradle.
Purchase a New Mattress and Sheet
Finally, if the cradle comes with a mattress or fitted sheet, consider purchasing a new one. It is tempting to save money and use the existing products, but fabric items like these are harder to clean and can pose a safety hazard. At the very least, be sure to purchase a new fitted sheet for the mattress. Most importantly, make sure the sheet fits securely and cannot slip up or off of the mattress. This is a major safety hazard.
FAQ
Frequently Asked Questions
Q: When should a baby sleep in a cradle?
A: A baby can sleep in a cradle starting from when they are first born. This is a perfect initial sleeping situation for even the smallest of newborns. However, they won't stay in a cradle long. Once they reach about 18-20 pounds and start to move around and roll over, it is time to get them a larger crib. This typically happens around 6 months of age.
Q: Can you decorate your baby's cradle?
A: The short answer to this is, no. It is tempting to decorate everything so that your nursery looks beautiful, but when it comes to a crib, you do not want your child to have access to anything they can grab or pull, as it is too dangerous. Instead, purchase a cradle in a style you like, and leave it as is in your nursery. No decorations needed!
Q: Should you get a rocking cradle?
A: This is up to you, but a rocking feature is a plus for many parents. The gentle rocking motion is soothing to babies and can help them fall asleep quicker. However, you should always know how to lock your cradle in place so that it will not rock.
Q: Why can't you just purchase a crib for your baby?
A: Newborns are very small, something you might not even realize if you are a first-time parent. A crib is a far too much space for a newborn, and most will be more comfortable in a smaller, more cozier atmosphere. A cradle is a perfect solution for that first stage in life.
Q: Can you purchase cradle accessories (mattresses, sheets, etc) from anywhere?
A: This depends. When purchasing sheets for your own bed you are likely used to shopping anywhere and selecting the sheets you like based on things like style or price. However, you have to take extra precautions when shopping for mattresses or sheets for your newborn. You need the sizing to be exact for these items so that the sheet doesn't slip off or so that the mattress doesn't slide or move around. Always check this out before letting your baby sleep on it.
Decision Time
And there you have it! These are the ten best cradles on the market. Base your decision on things like price and style. Each cradle on this list is safe for your child, but depending on your budget and the type of style you prefer or style of nursery you have, that can help you make your decision. Also keep in mind if you want additional features with your cradle, such as wheels on the base, an extra place for storage, a canopy, or more.
If you still haven't fully decided, here is some more information for you to help you make your decision, including some usage tips, evaluation criteria, and frequently asked questions.