Did you know that your baby spends on average sixteen hours a day in their crib? Most of this time is spent sleeping, and often with their faces down pressed snugly against the mattress. For concerned parents, the thought of their baby helplessly breathing in toxic fumes while they sleep is extremely distressing. Even more frightening, chemically processed crib mattresses have been increasingly linked to SIDS, or sudden infant death syndrome. It's now more important than ever to take toxic chemicals seriously, especially since they are so numerous and easily concealed. The unfortunate truth is that many unethical manufacturers will not disclose all of the chemicals they use, so you can never be sure what toxic substances you are bringing into your home.
Buying a crib mattress that uses mostly or only natural and organic materials is the first step you can take to protect your baby's health. Many parents are amazed after making the switch from a cheap chemically processed mattress to an all natural one how soundly their baby sleeps, often well through the night without waking up. The reasons are obvious; a natural and organic crib mattress does not off-gas or produce toxic fumes, thereby giving your baby the best sleep possible, as nature intended. Our list features only the best of these safe and eco-friendly crib mattresses that are designed to give your baby the firm support he or she needs while remaining soft and comfortable. With materials like organic cotton, natural plant-based foam, and lambswool, these crib mattresses will give you and your baby peace of mind.
The Best Crib Mattresses and Pads for Babies and Toddlers in 2018
Newton Wovenaire Crib Mattress
Moonlight Slumber Little Dreamer Dual Crib Mattress
LA Baby Waterproof Portable/Mini Crib Mattress
Milliard Crib Mattress and Toddler Bed Mattress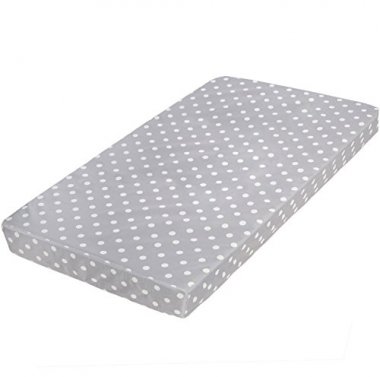 Colgate Eco Classica III Dual firmness Eco-Friendlier Crib mattress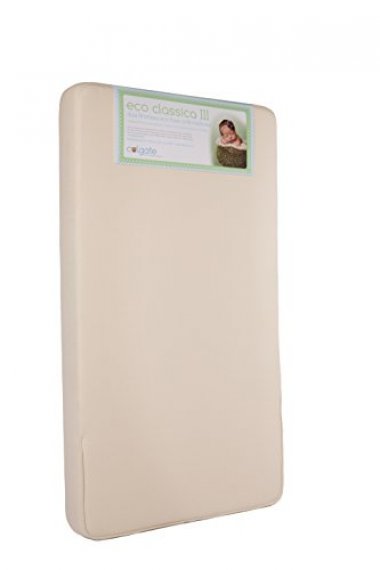 My First Crib Mattress, Memory Foam Crib Mattress
Safety 1st Heavenly Dreams White Crib Mattress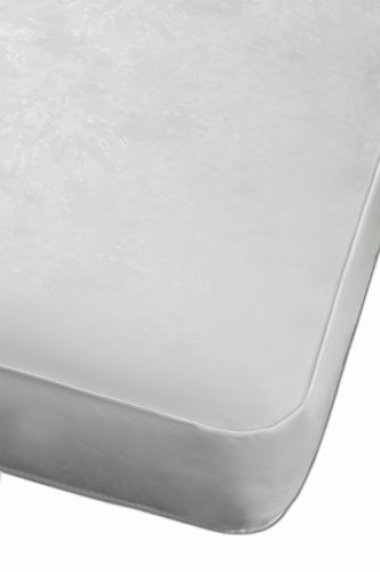 Sealy Soybean Foam-Core Infant/Toddler Crib Mattress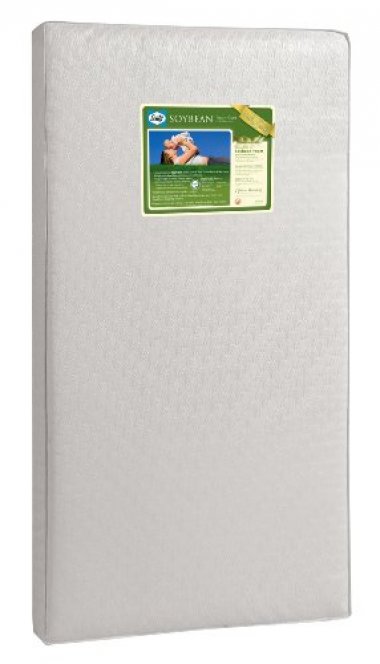 Kolcraft Pure Sleep Therapeutic 150 Infant/Toddler Crib Mattress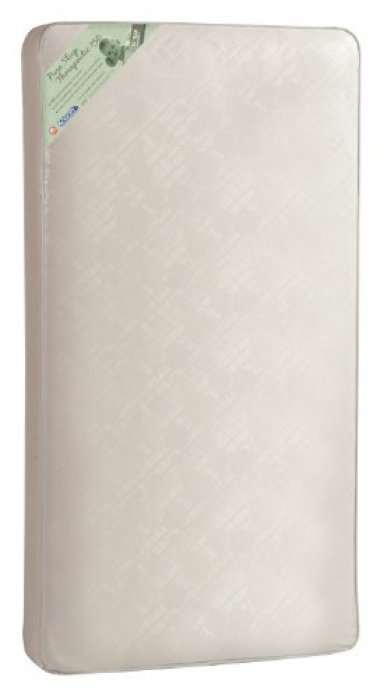 Naturepedic Organic Cotton 2-Stage Crib Mattress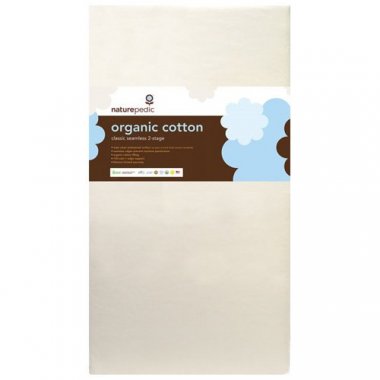 Criteria Used in Evaluation of the Best Crib Mattresses & Pads for Babies & Toddlers
Non-Toxic Materials
After the recent reports by top universities and whistleblowers who published their findings regarding the use of toxic and harmful chemicals in mattresses, public outcry followed. Alarmed families were shocked to learn that they were putting their loved ones at risk without even being aware of it. This also leads to the investigations of crib mattresses, and how they compared. Unfortunately, the findings were the same, and parents everywhere were horrified when they found out that even some of the most trusted brands were using harmful chemicals in their products. This is why it has become so important to choose a crib mattress that uses only natural or organic materials, or as close to natural as possible. Your growing baby's health is always our top priority, which is why we created a list of only the best all natural and organic crib mattresses.
Quality
When it comes to mattresses, finding one that fits within your budget can be a challenge. Retail prices for high-quality crib mattresses can range widely depending on thickness, amounts of materials used, and things like certifications from prominent health organizations. For this reason, we felt it was necessary to present a wide spectrum of price points, without sacrificing top quality. Because of the demand for natural and organic baby products, it is easier now than ever before to find a well-made crib mattress within your budget. The mattresses on our list are durable and long-lasting, and never lose their firmness even after years of regular use. A quality crib mattress should offer not just a pleasing appearance or economical price, but also longevity. Although your baby will eventually outgrow their crib mattress, you should still look at it as an investment that will help to safeguard your baby's health.
Comfort
As adults, we take great care when purchasing a mattress to find one that suits our comfort needs, whether that be an extra-firm mattress, a memory-foam core, or an adjustable head and feet area. We should take the same amount of care and time researching the best crib mattress to ensure our children are 100% happy. After all, they're the ones who are going to be spending many hours in the crib, so it's important to find a crib mattress that offers superior comfort. There are also health and developmental reasons for why it's crucial to get a cushiony crib mattress; your baby's spine and limbs are still growing and don't yet have a natural support that adults do, so it's recommended to buy a crib mattress that offers firm support. As a general rule, your baby should never be "sinking" into the mattress. A growing baby's bones need a surprising amount of support at this stage, and what may feel too firm to an adult is often perfect for a baby.
Resistant Fabric Covers
Messes are to be expected when you're a mom, so it's always a plus when baby products are designed from the beginning to make clean-up as stress-free as possible. Things like waterproof fabric covers, fire resistant layering, and stain resistant materials all help to make these crib mattresses not just safe, but easy to manage as well. A thick and reliable mattress cover is absolutely necessary because it prevents soiling of the inner mattress material. Because accidents are bound to happen, a large majority of the products on our list feature resilient waterproof covers that you can depend on not to leak through. Another essential covering is a fireproof or fire-resistant layer, which is the latest innovation to hit the market. These days, instead of using toxic fire retardants in crib mattresses, eco-conscious companies are using natural plant materials that are known to already have an inherent flammability resistance.
FAQ
Frequently Asked Questions
Q: What are some of the toxic materials I should avoid when buying a crib mattress?
A: The first step you can take to improve your baby's health is to educate yourself by becoming more aware of what to look out for when you're ready to buy your first crib mattress. Because there are so many reports out there that can sometimes have conflicting information, it's important to learn about the most common toxic chemicals that pop up frequently on safety reports. Some of these include flame retardants, phthalates, and common fragrance chemicals found in house cleaning solutions like limonene. These and other toxic chemicals are classified as VOCs or volatile organic compounds.
Q: How easy are these mattresses to clean?
A: You'll be surprised just how easy they are! The crib mattresses on our list are all designed with you the parent in mind, by using materials that are easy to clean and resistant to stains and spills. And, because most of these crib mattresses have waterproof covers when accidents do happen you never have to worry about the inner core of the mattress being ruined. With these mattress covers, all it takes is a quick wipe with a damp cloth for most spills. Also, several of these crib mattresses feature removable covers that can be machine washed for even easier maintenance! By machine washing your baby's mattress cover at a hot temperature, this will help kill any bacteria or dust mites.
Q: How do I know if these will fit my crib?
A: The great thing about these crib mattresses is that many of them are already able to fit the standard and most common crib size, which tends to be around 52'' by 27" for most cribs. Most crib manufacturers follow these standard measurements, so if you are unsure whether your crib is considered a standard size, then it's best to use a measuring tape to get an accurate measurement before buying a crib mattress. This will ensure that the mattress fits perfectly inside the crib and lays flat, which is important for your baby's overall comfort.
Q: Which ones offer a fire protection layer in the mattress?
A: Finding a crib mattress that offers natural flame resistant materials used to be almost impossible. But thankfully, today's modern and eco-conscious crib mattresses come with the same amount of flammability safety precautions, but without the use of toxic flame retardants. This really is a win-win for families who are concerned about their baby's health, but who appreciate the safety assurance of fire-resistant materials. Some of the options on our list that offer such protection include the Naturepedic Organic Cotton Crib Mattress and the Colgate Eco Classica III. All of these crib mattresses pass the federal guidelines for flammability standards.
Q: How firm should my baby's mattress be?
A: This can often seem contradictory to many parents. It's easy to assume that you should buy only the softest crib mattress available for your baby. However, this is not actually the case. Because a baby's bones are still developing, they need even more support than you would think. For this reason, health experts recommend a mattress that is as firm as possible, but still comfortable. A general rule of thumb is that the mattress should spring back up when you push down on it and not leave a deep hand imprint. The options on our list are all designed to give your baby the best support possible by offering firm bedding with soft materials.
Q: What are some of the natural stuffing materials used in these crib mattresses?
A: This is largely in response to the toxic chemicals used in synthetic foams, which have been shown to produce harmful off-gases. Since then, there has been an explosion of natural and organic materials on the market that offer today's modern families more options and control over their children's health. Instead of man-made toxic stuffing materials that release toxic fumes over time, these crib mattresses are made with things like recycled organic plant matter, such as the Sealy Soybean Crib Mattress that uses an all-natural soybean foam. Another great example is the Natural Mat Coco Mat, which uses the outer material of coconuts for the mattresses inner stuffing, providing a truly sustainable and effective inner core.