10 Best Crib Mattresses & Pads for Babies & Toddlers Reviewed in 2019
last updated
Jun 28, 2019
When you're having a baby selecting a crib mattress can seem super challenging. There are so many on the market and which one is best for your expecting bundle of joy? The facts are that your baby may spend more time in the crib for the first couple of months than anywhere else. You need to make sure it is safe and you have a well-planned sleeping environment for them. Crib mattresses actually have a ton of technology behind them. They are way more than meets the eye. So, you want to go with a trusted brand and a mattress that offers the best support. This can all still seem overwhelming so we have created this list to make things easier for anyone shopping for a crib mattress.
In a Hurry? The test winner after 16 hrs of research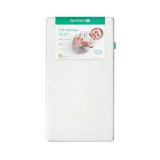 Newton Wovenaire Hypoallergenic
Why is it better?
Made in the USA
A fully washable inner core
Award winner
No common allergen materials
In a
Hurry? Editors choice: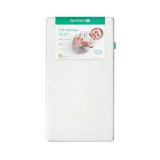 Test Winner: Newton Wovenaire Hypoallergenic
15
Researched Sources
16
Hours Researching
17
Products Evaluated
Design
Materials
Ease of Use
By Default
10 Best Crib Mattresses & Pads Reviewed
1

. Newton Wovenaire Hypoallergenic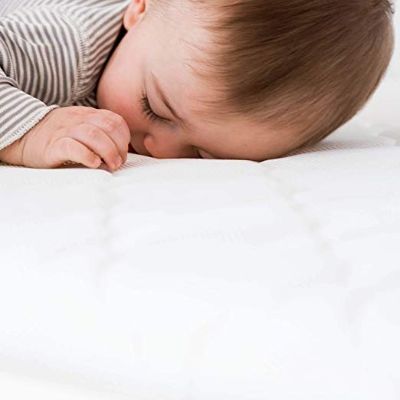 Made in the USA
A fully washable inner core
Award winner
No common allergen materials
Needs to be aired out for a few days due to plastic polymer smell
An Amazon's choice, this highly praised option has seemingly endless positive reviews. Keep reading to see why the Newton Wovenaire Hypoallergenic mattress has parents raving
Read more
Design
There are so many great things to love about this product, like the fact that it lets the air circulate throughout the mattress, allowing your baby to have continuous air-flow while they sleep. This is important because babies will often sleep face down, and in order to prevent suffocation, proper breathability is needed. If that's not enough, this mattress has also won several awards for its innovative design.
Materials
It's also made with zero allergic materials, avoiding the most common allergens like irritating glues and dyes. Made with recyclable materials and praised by child health experts, this is an excellent and sustainable choice.
Ease of Use
This leading-edge design takes easy cleaning even further with a fully washable and removable cover and a washable inner core! With the majority of crib mattresses, it's virtually impossible to deep clean the inner stuffing. But because this one uses a feather-light polymer material for the inner core, it can be easily taken out and soaked in the bathtub! This way, you can rest assured that any bacteria is being washed away for good.
2

. Milliard Hypoallergenic 27.5"x52"x5"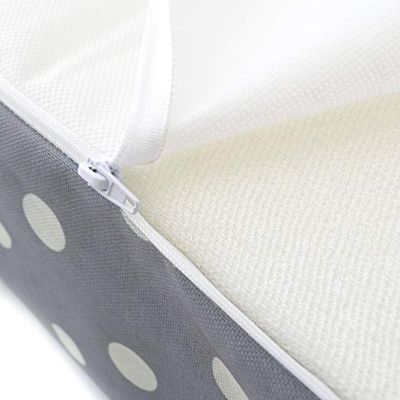 Waterproof cover
Foam recognized by CertiPUR
Affordable
Allows for air-flow
Waiting time while it inflates
For an economical choice that won't break the bank, you can't go wrong with this simple but effective option.
Read more
Design
An almost five-star rating on Amazon proves that this one can go the distance and never lose its firmness, while consistently giving parents peace of mind.
Materials
For a newborn baby, harsh coil and spring mattresses will never do. This great product provides your baby with the comfort and support they need by using a unique combination of natural foam materials. Not only that, it features a waterproof top covering and meets all flammability requirements without the use of chemicals by using a special fiberglass filling. This fiberglass lining was made without any toxic chemicals, so you can be sure you are getting a truly safe and natural option for a great price.
Ease of Use
The top cover can be easily removed with a zipper, and the mattress design allows air to circulate through it unrestricted.
3

. Colgate Eco Classica III Dual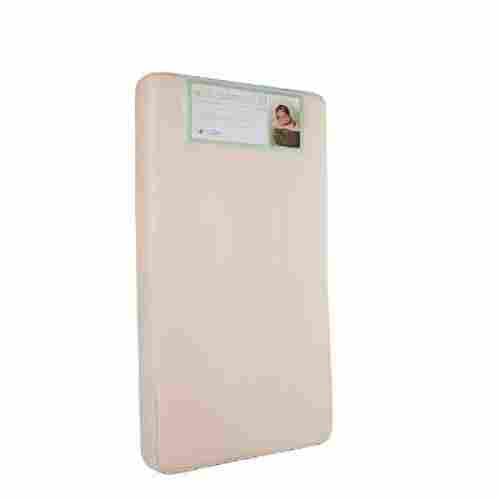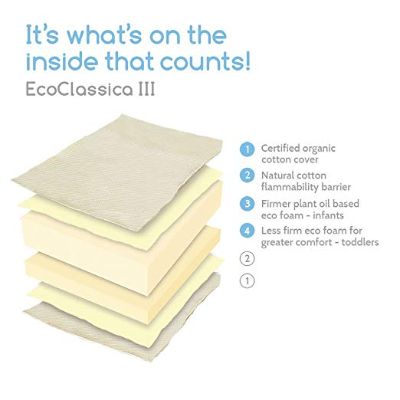 Made in the USA
Recognized by CertiPUR
Foam infused with plant essential oils
Two-sided
Parents report only stretchy sheets fit
This outstanding company has been around since 1955, so they definitely know a thing or two about producing high-quality products that last for years. With their Eco Classica III Dual mattress it is clear that they designed it with both you and your baby in mind.
Read more
Design
This particular item is a bestseller across the nation, so you can be confident that your baby is in good hands. You can also feel great about supporting a homegrown family-run company because everything is made right here in the United States.
Materials
This crib mattress already comes with two different sides that offer varying levels of firmness and support. The firmer side is meant for your child's early years, and the completely organic cotton material is perfect for a baby's sensitive skin
Ease of Use
Even better, this mattress is made to transition conveniently into the toddler years, so you don't have to worry about buying another bed. Although the mattress has thick layering, it's actually incredibly easy to lift and turn, so you can effectively change the sheets on your own with no hassles.
4

. Sealy Soybean Foam-Core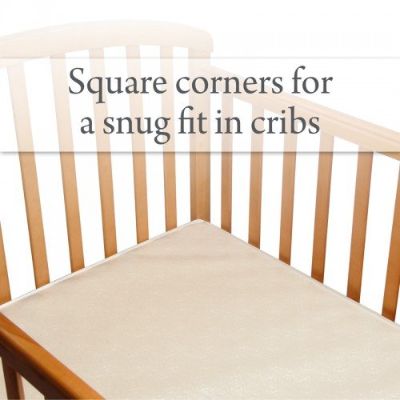 Uses natural plant materials
Award winner
Made in the USA
No phthalates or flame retardants
This may be the most patriotic option on our list; not only is the mattress itself made in the United States, but even the soybeans are American grown!
Read more
Design
Get the most for your money with this versatile option that is perfect for both babies and toddlers. The practically seamless stitching on this crib mattress makes it non-permeable to dust mites and bacteria, helping to prevent mold growth inside the core.
Materials
Feel good about supporting an American company that uses sustainable materials to keep you and your family safe. This option is recognized by the top two certifying agencies when it comes to non-toxic materials; Greenguard Gold and CertiPUR both approved of this product.
Ease of Use
One of the most important factors to look for when buying a mattress for your baby is to find one that never loses its shape because this diminishes the amount of support for your baby. You don't have to worry about that happening with this one, because parents say it holds its shape consistently over time.
5

. Milliard Crib Mattress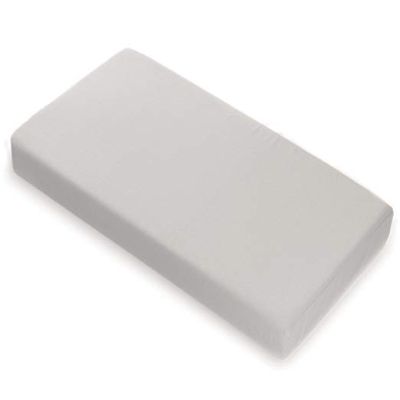 Designed with a firm side for infants and softer side for toddlers
Fits standard size cribs and toddler beds
Cover is machine wash safe
Meets all Safety regulations.
Does not include instructions to inform users which side is which.
With a firm side for infants and a soft side for toddlers, the Milliard Crib Mattress will continue to provide your child with a peaceful nights sleep as they grow.
Read more
Design
This double-sided mattress will safely cradle your newborn and support your child's back and neck properly. The mattress meets all of the US safety regulations, thus giving you the peace of mind you need to place when placing your baby on the mattress.
Materials
The 100% cotton cover will is not only waterproof but also machine wash safe. The breathable cover makes keeping your child's sleeping area clean super easy. It is also hypoallergenic. The memory foam provides a high level of comfort as it contours to your child's body.
Ease of Use
Measuring in at 52 x 27 ½ x 5.5 inches, this crib is designed to fit standard size toddler beds and cribs. The antislip layer on the cover, will keep it in place so you don't have to worry about it bunching around your infant as they sleep.
6

. LA Baby Waterproof Portable Mini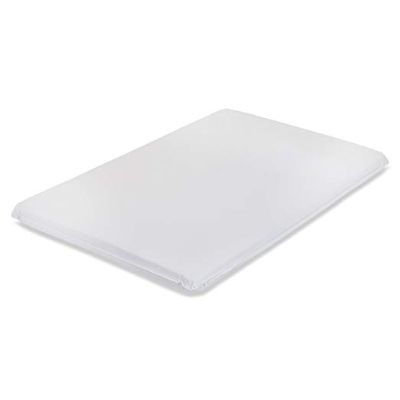 Dust mite proof
Hypoallergenic
Waterproof
Easy to clean
Anti-microbial
It's not great for long-term use in a crib
Once your baby is born, their sleeping habits quickly become more important than your own. Picking out the right mattress for them is just as important as if you were picking out a new mattress for yourself.
Read more
Design
The pad has a built-in barrier to protect against dust mites, and it's also anti-microbial as well as hypoallergenic.
Materials
The 2-inch thick mattress is very comfortable. The design is waterproof which is music to a parent's ears and will easily lend itself to being cleaned often.
Ease of Use
This crib pad offers portability which is something that many can't, and due to its compact size and thickness, can easily be traveled with. The sizing is standard which allows it to fit virtually any standard size portable or stationary crib. You can clean this portable crib mattress with a little soap and water and as soon as it's dry, it's ready to be used.
7

. My First Memory Foam Waterproof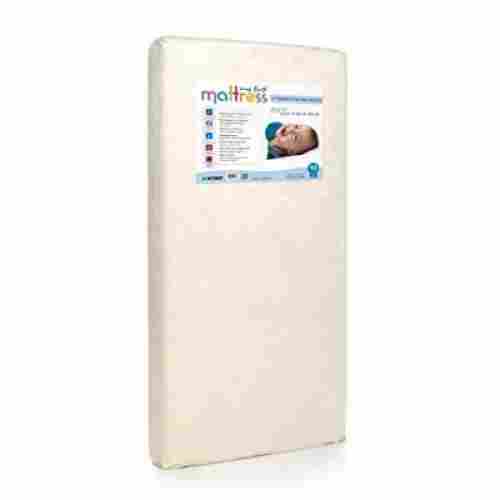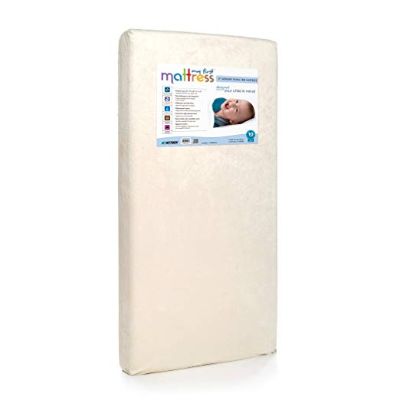 Foam recognized by CertiPUR
No phthalates
Mite resistant
Natural flammability protection
Requires three days to fully expand after opening
No need to "sleep on" the idea of purchasing the My First Memory Foam Waterproof crib mattress. You get to enjoy a ten-year customer satisfaction guarantee when you purchase this excellent option.
Read more
Design
The perfectly squared corners fit completely flush in standard cribs, leaving no dangerous gaps that could pose a danger to your baby. This mattress not only meets but goes above and beyond the basic safety standards of the industry by providing a superior sleeping experience for your little one. Even more impressive, this is all done without the use of any toxic chemicals. Its mid-range price point makes it even more attractive to budget-conscious parents. Because this one offers extra thick support layering, many parents are initially worried that it's too firm, but soon realize it's perfect for their baby. Your baby's developing bones need all the support they can get, so it's worth it to find an extra firm mattress like this one.
Materials
No plastic top layers here; your baby will enjoy a velvety soft outer layer made from a unique plush fabric that doesn't irritate their skin.
Ease of Use
The outer layer on this product isn't just waterproof but is also compatible with machine washers as well.
8

. Kolcraft Pure Sleep Therapeutic 150
Waterproof
Hypoallergenic
10-year warranty
150 coils help to aid in sleep
The mattress is relatively noisy
Kolcraft is the number one manufacturer of crib mattresses and they have a long-standing history of excellence and success to prove it. The top of the line materials and high-quality design should be enough to convince you.
Read more
Design
Inside this mattress, you'll find 150 metal coils that all play a small part in providing your baby with the support they need to fall asleep quickly and get a full night's rest. This mattress holds up so well, in fact, that it's not just designed for newborns -- It's safe to use for kids up to five years old, which means that it'll grow with your child. This is well worth the investment to provide them with a mattress that's safe, comfortable, and long-lasting.
Materials
This Kolcraft Pure Sleep Therapeutic mattress is waterproof and hypoallergenic which means your baby is sleeping on something that's safe, non-toxic, and allergen-free. The entire mattress has been certified Greenguard Gold which means that not only is it safe for your baby, but it's safe to have inside your house, period!
Ease of Use
Babies are messy and lets all face it. We know that there is going to be accidents in the crib. So, you want the mattress to have a cover that can withstand the mess. This mattress features a waterproof cover that has a stitching that locks out the mess and helps it resist stains, mildew, and moisture. It can be simply wiped clean.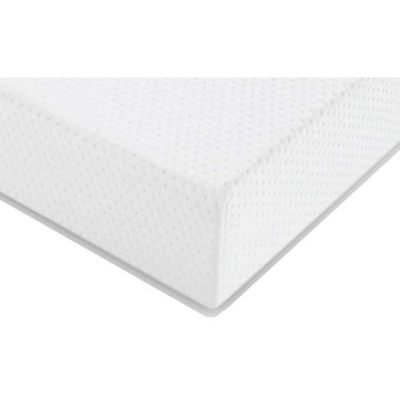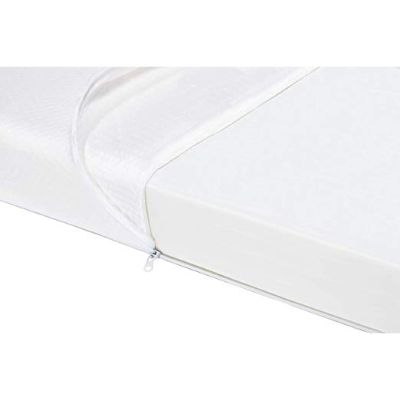 Foam based crib mattress
Constructed from high quality breathable material
Features anti-microbial and anti-static materials
Fits any standard size crib or toddler bed
Meets all standards for Federal flammability
Mattress is not as thick as others
Unwrapping and inflating the mattress takes several days to complete
When you need a comfortable mattress for your little one's crib here is a lightweight version that is the perfect size. Not to mention, getting it ready for your child to use is a simple and stress-free process.
Read more
Design
It is designed to fit all standards cribs and when it is shipped to you it comes in a compressed packaging that makes it easy for anyone to move around. On the outside of the d mattress, you will find a lining that is water resistant. It is designed to keep the little ones dry and clean. It meets all the standards for Federal flammability and features a limited 6-year warranty.
Materials
It has been constructed from high quality foam that allows for the maximum airflow and breathability. This allows for your little one to be able to get the best possible night's sleep that a growing baby needs. The mattress also features foam that is both anti-microbial and anti-static. This makes the mattress safe and gives you the peace of mind that every parent needs.
Ease of Use
When the boxes arrive it is simple to open, and then remove the protective plastic on the outside, and then right there before you the mattress will expand into its full size.
10

. Dream On Me Foam for Pack & Play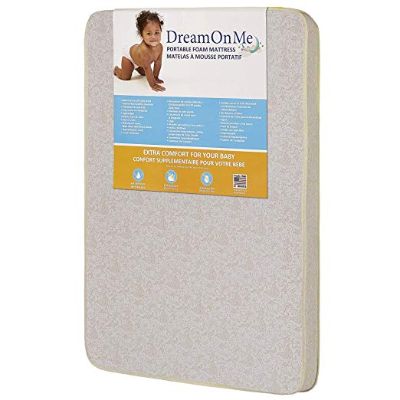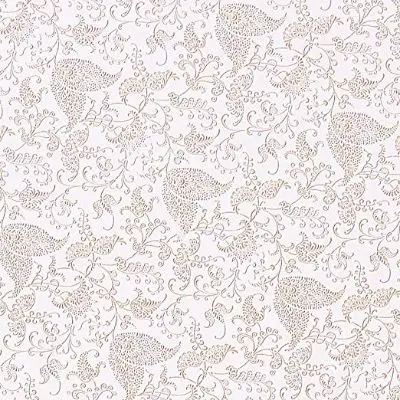 Waterproof cover
Reinforced stitching to prevent mold, mildew, and odor
Reinforced wire perimeter
Firm without being uncomfortable
Insulation and airflow implemented into the design
Doesn't fold properly with the Pack and Play; not great if you're traveling with the crib frequently, as it will be a bulky accessory to carry
Not a snug fit; you may want to get fillers as well
The Dream on Me Pack and Play Foam Crib Mattress promises safety, comfort, and quality. Priced under forty dollars this mattress also appears to be an affordable option.
Read more
Design
This mattress' waterproof lock stitching works to prevent mold, mildew, and nasty odors from seeping inside the mattress. Normal cotton bindings have no such protection, meaning this product has a lead as far as antibacterial resources go. It includes a waterproof cover, reinforced to resist liquids, stains, and tearing. It's breathable, with airflow and insulation implemented in the design, easy to clean, and phthalate-free.
Materials
With hypoallergenic components and a wire-reinforced perimeter, this mattress ensures safe sleep for babies, guaranteeing that the corners won't sag and created dangers for breathing. It's firm, it's light (3 pounds), and it's not too thick (3 inches).
Ease of Use
The mattress doesn't fold especially easily, but if you aren't traveling much with your Pack and Play crib, it fits perfectly and is a solid, high-quality option, especially for its price point.
Criteria Used for Evaluation
Design
When researching each crib mattress and pad, we paid close attention to the quality of the design. When it comes to mattresses, finding one that fits within your budget can be a challenge. Retail prices for high-quality crib mattresses can range widely depending on thickness, amounts of materials used, and things like certifications from prominent health organizations. For this reason, we felt it was necessary to present a wide spectrum of price points, without sacrificing top quality. Because of the demand for natural and organic baby products, it is easier now than ever before to find a well-made crib mattress within your budget. The mattresses on our list are durable and long-lasting, and never lose their firmness even after years of regular use. A quality crib mattress should offer not just a pleasing appearance or economical price, but also longevity. Although your baby will eventually outgrow their crib mattress, you should still look at it as an investment that will help to safeguard your baby's health.
Materials
After the recent reports by top universities and whistleblowers who published their findings regarding the use of toxic and harmful chemicals in mattresses, public outcry followed. Alarmed families were shocked to learn that they were putting their loved ones at risk without even being aware of it. This also led to the investigations of crib mattresses, and how they compared. Unfortunately, the findings were the same, and parents everywhere were horrified when they found out that even some of the most-trusted brands were using harmful chemicals in their products. This is why it has become so important to choose a crib mattress that uses only natural or organic materials, or as close to natural as possible. Your growing baby's health is always our top priority, which is why we created a list of only the best all-natural and organic crib mattresses.
Ease of Use
When it comes to a mattress being easy to use, we are mainly talking about how easy it is to clean. Messes are to be expected when you're a mom, so it's always a plus when baby products are designed from the beginning to make clean up as stress-free as possible. Things like waterproof fabric covers, fire-resistant layering, and stain-resistant materials all help to make these crib mattresses not just safe, but easy to manage as well. A thick and reliable mattress cover is absolutely necessary because it prevents soiling of the inner mattress material. Because accidents are bound to happen, a large majority of the products on our list feature resilient waterproof covers that you can depend on not to leak through. Another essential covering is a fireproof or fire-resistant layer, which is the latest innovation to hit the market. These days, instead of using toxic fire retardants in crib mattresses, eco-conscious companies are using natural plant materials that are known to already have an inherent flammability resistance.
Most Important Criteria
(According to our experts opinion)
Experts Opinion
Editors Opinion
Users Opinion
By Default

Parents Did You Know
Crib mattresses that designed with innerspring coil tend to last longer than those that are memory foam.
Parents Did You Know
It is best to clean up accidents as soon they happen. Allowing the liquid to soak into the mattress will make it much harder to clean.
Other Factors to Consider
Comfort
As adults, we take great care when purchasing a mattress to find one that suits our comfort needs, whether that be an extra-firm mattress, a memory-foam core, or an adjustable head and feet area. We should take the same amount of care and time researching the best crib mattress to ensure our children are 100 percent happy. After all, they're the ones who are going to spend many hours in the crib, so it's important to find a crib mattress that offers superior comfort. There are also health and developmental reasons for the importance of a quality crib mattress; your baby's spine and limbs are still growing and don't yet have a natural support that adults do, so it's recommended to buy a crib mattress that offers firm support. As a general rule, your baby should never be "sinking" into the mattress. A growing baby's bones need a surprising amount of support at this stage, and what may feel too firm to an adult is often perfect for a baby.
Frequently Asked Questions
q:

What are some of the toxic materials I should avoid when buying a crib mattress?

a:

The first step you can take to improve your baby's health is to educate yourself by becoming more aware of what to look out for when you're ready to buy your first crib mattress. Because there are so many reports out there that can sometimes have conflicting information, it's important to learn about the most common toxic chemicals that pop up frequently on safety reports. Some of these include flame retardants, phthalates, and common fragrance chemicals found in house-cleaning solutions like limonene. These and other toxic chemicals are classified as VOCs or volatile organic compounds.
q:

How easy are these mattresses to clean?

a:

You'll be surprised just how easy they are! The crib mattresses on our list are all designed with you the parent in mind, by using materials that are easy to clean and resistant to stains and spills. And, because most of these crib mattresses have waterproof covers when accidents do happen you never have to worry about the inner core of the mattress being ruined. With these mattress covers, all it takes is a quick wipe with a damp cloth for most spills. Also, several of these crib mattresses feature removable covers that can be machine-washed for even easier maintenance! By machine-washing your baby's mattress cover at a hot temperature, this will help kill any bacteria or dust mites.
q:

How do I know if these will fit my crib?

a:

The great thing about these crib mattresses is that many of them are already able to fit the standard and most common crib size, which tends to be around 52 by 27 inches for most cribs. Most crib manufacturers follow these standard measurements, so if you are unsure whether your crib is considered a standard size, then it's best to use a measuring tape to get an accurate measurement before buying a crib mattress. This will ensure that the mattress fits perfectly inside the crib and lays flat, which is important for your baby's overall comfort.
q:

Which ones offer a fire-protection layer in the mattress?

a:

Finding a crib mattress that offers natural, flame-resistant materials used to be almost impossible. But thankfully, today's modern and eco-conscious crib mattresses come with the same amount of flammability safety precautions, but without the use of toxic flame retardants. This really is a win-win for families who are concerned about their baby's health, but who appreciate the safety assurance of fire-resistant materials. Some of the options on our list that offer such protection include the Naturepedic Organic Cotton Crib Mattress and the Colgate Eco Classica III. All of these crib mattresses pass the federal guidelines for flammability standards.
q:

How firm should my baby's mattress be?

a:

This can often seem contradictory to many parents. It's easy to assume that you should buy only the softest crib mattress available for your baby. However, this is not actually the case. Because a baby's bones are still developing, they need even more support than you would think. For this reason, health experts recommend a mattress that is as firm as possible, but still comfortable. A general rule of thumb is that the mattress should spring back up when you push down on it and not leave a deep hand imprint. The options on our list are all designed to give your baby the best support possible by offering firm bedding with soft materials.
q:

What are some of the natural stuffing materials used in these crib mattresses?

a:

This is largely in response to the toxic chemicals used in synthetic foams, which have been shown to produce harmful off-gases. Since then, there has been an explosion of natural and organic materials on the market that offer today's modern families more options and control over their children's health. Instead of man-made toxic stuffing materials that release toxic fumes over time, these crib mattresses are made with things like recycled organic plant matter, such as the Sealy Soybean Crib Mattress that uses an all-natural soybean foam. Another great example is the Natural Mat Coco Mat, which uses the outer material of coconuts for the mattresses inner stuffing, providing a truly sustainable and effective inner core.
q:

What are the different types of baby mattresses available to me?

a:

There are two types of baby mattresses to choose from: foam and innerspring. A foam mattress will likely have more variety for baby's comfort, be lightweight, and the less-expensive option. Organic foam mattresses are available, but check to make sure if this is a priority for you. They're also less durable, often lack edge support, and wind up with indentations pretty easily. Cheaper foam mattresses may not hold up as well or as long as the more expensive variety, but they're good if you're on a tight budget, and can easily be replaced. Both memory foam and gel foam are available. Memory foam contours and adjusts for our bodies, and gel retains temperature. If your mattress is a little smaller than the crib, aim for something with better edge support so your baby doesn't roll into the cracks (this can lead to suffocation and SIDS). Innerspring or coil mattresses, on the other hand, are geared for longevity and firm support. These are your best options if you intend to use the mattress for more than one child, or give/have received it as a hand me down. Innerspring mattresses are heavier and cost more, but will last far longer than their foam counterparts. They have solid edge support, but poor covering can lead to exposed springs, so be careful to check the mattress regularly for any wear and tear.