Changing baby diapers is never fun but it can be quick and easy with the help of a well-organized diaper caddy or diaper stacker. These essential pieces of nursery equipment can make being a new parent so easy by just having everything at the ready for you to grab as you need it. Diaper caddies mostly hold plenty of diapers, so you do not have to go looking for a new one at each change, but they can provide easy access to so much more than just diapers. Diaper changes sometimes require lotions, creams, powders, and the all-important baby wipes. Even the wipe warmers will fit in the top of most of the mountable caddies we feature here. Some of the larger ones will hold burp towels, onesies, bottles, cotton balls, and even a toy or two to keep the baby busy while you work quickly. Diaper caddies come in two types.
There is the larger caddy for the nursery that can be attached to walls, doors, cribs, or changing tables, and then there is the one that is portable to carry around from room to room. These can also be taken in the car or used at relatives' and friends' houses on the go. All of these caddies come in gender-neutral colors and patterns to make it easy to blend them into nursery décor or to give as gifts at baby showers.
The well-known names of hiccapop, Munchkin, Dexbaby, and JJ Cole are featured in this list of wonderful diaper caddies because they are the best of the online products that customers loved and would purchase again. Here are the best diaper caddies and diaper stackers rated in 2019.
12 Best Diaper Caddies & Diaper Stackers
1. Prince Lionheart Depot
Made of durable, sturdy plastic, the Clear Diaper Depot can hang from and attach to most baby changing tables easily. It will keep all of your diapering needs close by and ready when you must
change diapers
. This unit will hold up to twenty large diapers and can be used with cloth or
disposable diapers
.
Expand to see more
The side bins can hold various items such as powders, lotions, and ointments, plus they are removable. This product is compatible with wipes warmers from Prince Lionheart and will hold a pack or tub of any brand of baby wipes on the top. This diaper caddy is perfectly designed for one-handed, safe changing of diapers. Because it hangs from the changing table, this organizer creates storage space where there was none before. The diapers can be assessed from the bottom or the left side of the container. No assembly is necessary, and this product can be used for other storage purposes when the child no longer wears diapers.

Benefits
There is no need to worry about matching this item with your nursery décor because it is clear and will go with anything in the room. The clear form also lets you easily see when you are low or out of diapers too.

What We Like About It
This terrific diaper organizer hangs from your changing station in the baby nursery to give you more room to work and be comfortable. It will not be in the way or take up shelf space but gives you ample room to have diapers and accessories at the ready.
Can hang from the changing table
Will hold up to twenty large diapers
Side bins that can hold other items
Designed for one-handed diaper changing
Can be used for other storage purposes
Does not work well with newborn diapers
Is not left-hander friendly because of the opening
2. Dexbaby Playard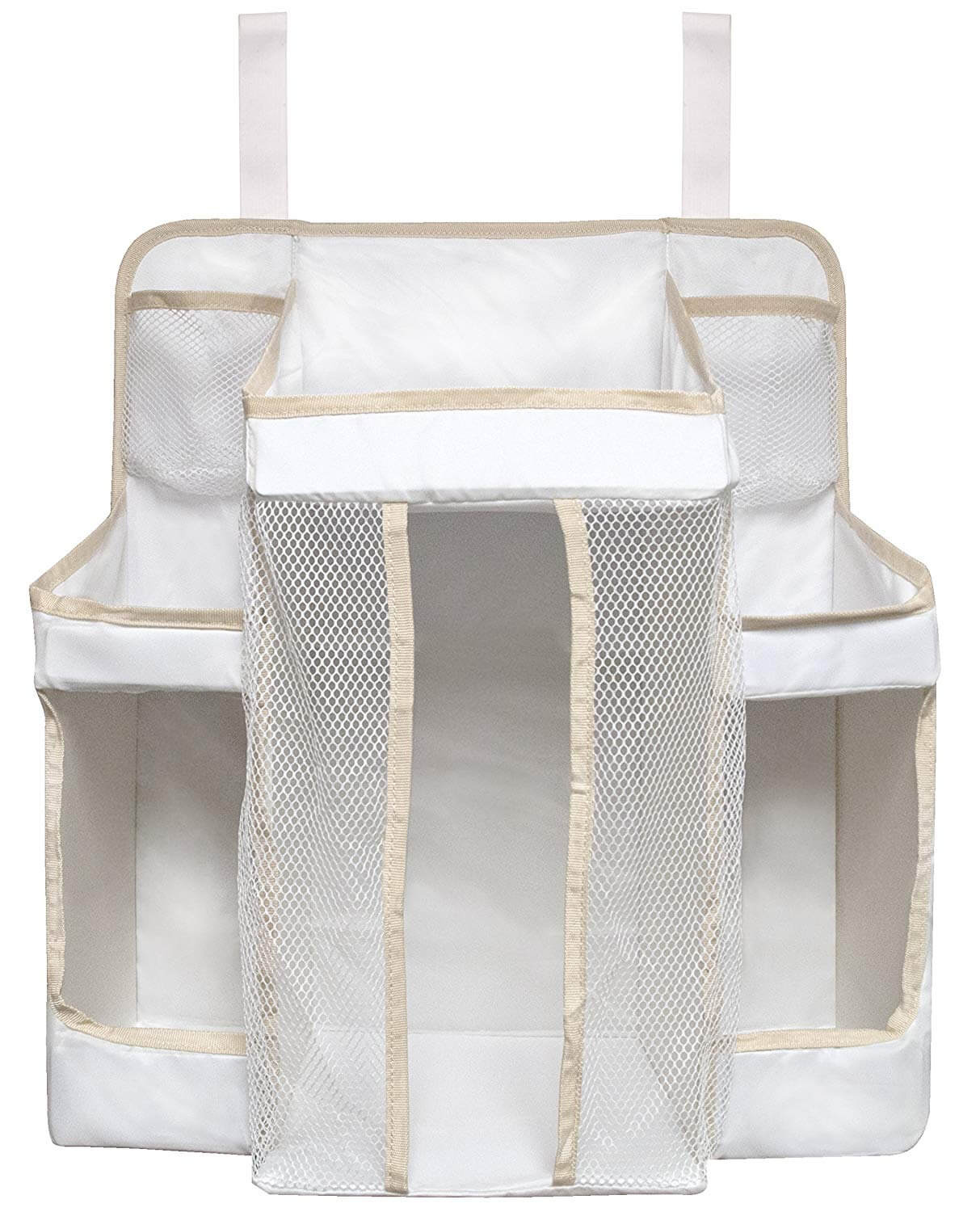 The Dexbaby Diaper Caddy is made of 100% polyester material for the backing and shelf and has heavy-duty cardboard supports for the individual pockets. Those supports are free from Phthalates, lead, latex, and BPA. There are eight large compartments for all
baby-changing items
.
Expand to see more
The caddy will keep all baby essentials neatly organized, especially the diapers. It can attach to a wall, dresser, or changing table with the Velcro straps. There are eyelets to hand the item from a wall or door and fasteners with adhesive backs for attaching to a dresser. This organizer gives easy access to all baby materials, such as diapers, lotions, wipes, toys, creams, and powders with the convenient shelves and pockets. It makes the most out of vertical space that is not being used. The design is gender-neutral and blends in well with any nursery décor. It is easy to clean by just wiping the organizer with a disinfectant wipe or a damp cloth. This organizer makes a terrific unique gift for a baby shower.

Benefits
Diaper caddies like this one are terrific because they do not take up precious shelf or counter space for your diaper needs. This one can be attached to a door, dresser, or wall easily.

What We Like About It
With the eight large compartments of this organizer, you will definitely find a space for all of your baby changing essentials. It not only holds plenty of diapers but everything else needed to care for your baby too.
Free from Phthalate, lead, latex, and BPA
Can attach to a wall, dresser, or changing table
Includes eyelets and adhesive backing
Gives easy access to all baby materials
Has a gender-neutral design
Some buyers did not like the cardboard supports
The Velcro straps may not hold very heavy items
3. Munchkin Duty Green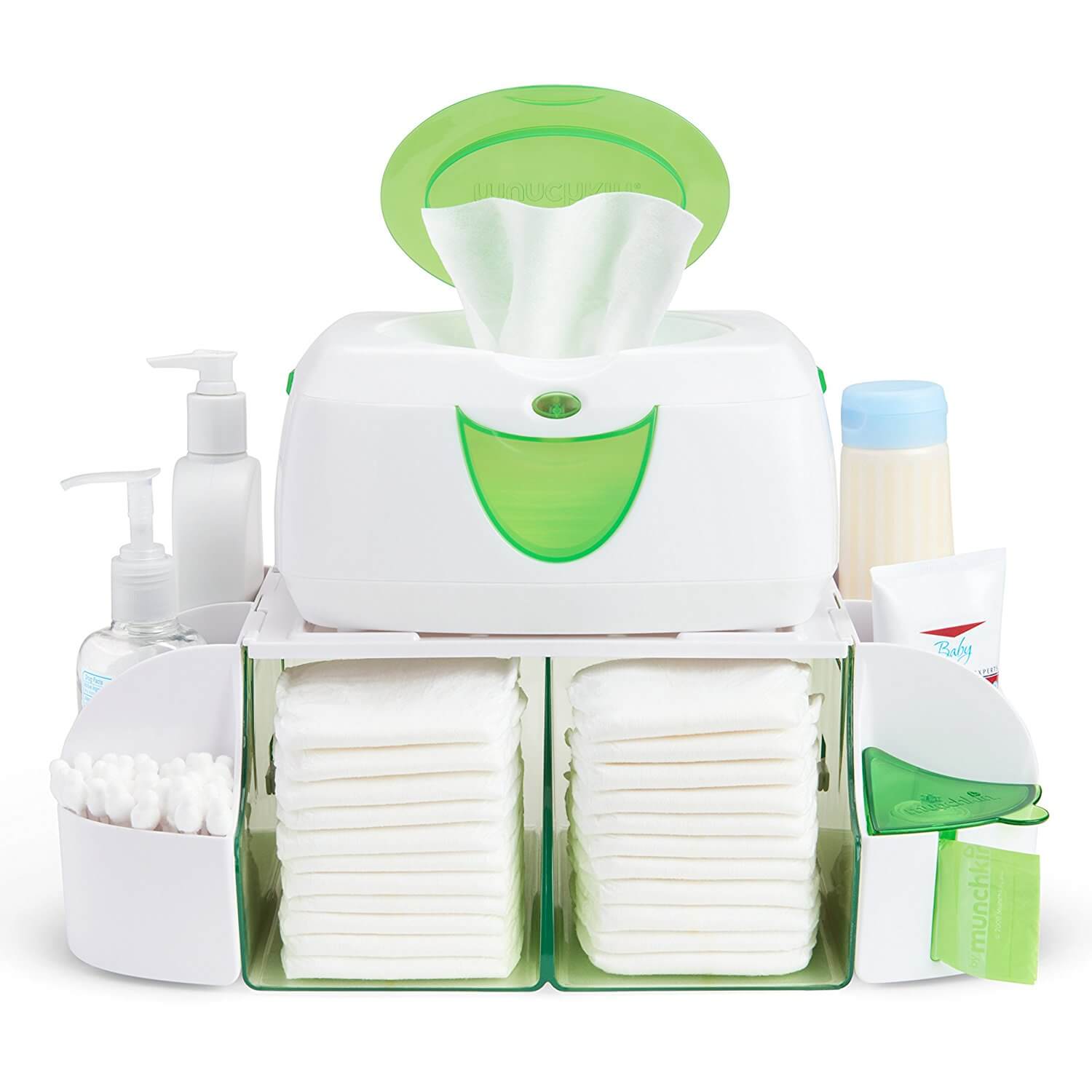 From Munchkin we highlight the Diaper Duty Organizer that is made of long-lasting plastic material. it is an organizer for the table top to hold wipes, diapers, ointments, powders, and more. The flat top will hold a wipe warmer or a dispenser of baby wipes for easy access.
Expand to see more
It includes detachable side bins that organize all of the extras as well as twelve disposable diaper bags that are scented. The compartments are easily accessible and will hold over twenty large diapers. This unit is available in a gender-neutral bright green color that will look great with almost any nursery room décor. If you are in need of an excellent baby shower gift for someone, this is a great choice that the new parents will really appreciate.

Benefits
Nursery room equipment that is gender-neutral in color is fantastic because they eliminate the necessity of having to match colors with the other items in the room. This one is a lovely bright green that will add charm to any baby's room.

What We Like About It
The compartments in this organizer are easy to get to even if you have large hands or are left-handed. Some other caddies do not have such open sections and are hard to use.
Fits on the tabletop
The top holds wipe warmer or baby wipes
Includes detachable side bins
Comes with twelve diaper bags
Is gender-neutral in color
May become dirty quickly
Side pieces may have trouble staying on
4. Parker Baby Co. Nursery Storage
The Parker Baby Diaper Caddy is available in a large or regular size, and it will hold dozens of disposable or cloth diapers. It is versatile and will hold a multitude of baby products
including clothes, toys
, wipes, diapers, medicine, changing pads, lotions, and powders.
Expand to see more
The organizer insert is removable, so the caddy can be used as a one-compartment bag. It can be used without the dividers as a baby hamper, toy bin, or nursery basket. This item is portable, collapsible, and lightweight, plus it has two strong, durable handles for carrying it. the caddy has eight outer pockets for added storage and is made of a felt material that is soft and sturdy. It totes easily to every room in the house and wherever it is needed. This lovely caddy has a neutral design and colors that will
go well with any room
and décor.
Benefits
Not only are there several internal sections in this caddy, but it also has many smaller pockets on the outside to hold many essentials. It is a super caddy that holds plenty of things you need to care for your baby.
What We Like About It
The removable compartment dividers make this a fantastic item to have for new parents. The possibilities to use this item for the baby and after the baby grows up are endless.
Holds dozens of disposable or cloth diapers
Can be used with or without the dividers
Is portable, collapsible, and lightweight
Has eight outer pockets for added storage
Has neutral design and colors
Material may seem flimsy
A few parents received some torn pockets
5. hiccapop Hang on Crib
From the well-known manufacturer of
baby essentials
, hiccapop, we feature this dependable
diaper
caddy and organizer that is available in two fantastic colors. It keeps all of the baby's necessities close, handy, and ready to use. There are six easy-access shelves and two nifty pockets in this item that is backed by a lifetime guarantee.
Expand to see more
It will hold up to seventy-two large diapers plus plenty of other baby supplies and will even hold a wipe warmer in the top. The shelving is reinforced with heavy-duty construction, and the surface is washable and stain-resistant. This product will attach simply to a wall, crib, or table with the included buckle straps. It makes a fabulous baby shower gift because it comes in a beautiful display box.

Benefits
There are many places this caddy will attach to make the most out of the available room you have. It can go on a wall or mount on the side of a crib or changing table to turn airspace into usable space.

What We Like About It
This caddy will hold an enormous amount of diapers at once plus all the other needed accessories for caring for an infant. the diapers will not have to be refilled very often with the use of this great organizer.
Is backed by a lifetime guarantee
Reinforced with heavy-duty construction
Is surface washable and stain resistant
Will attach simply to a wall, crib, or table
Comes in a beautiful display box
Straps may be too small
Material was frayed for some parents
6. Munchkin Portable White
This Portable Diaper Caddy is unique in that it is a real tight-weave wicker basket of wood with a soft 100% cotton lining. It has large compartments that will hold the container of baby wipes in place along with other supplies. This caddy contains four compartments of medium size for diapers and plenty of extras.
Expand to see more
It is stylish and functional for any room because it was designed by a mother. The strong handle is collapsible, and the caddy comes in the different cloth colors of yellow, white, and green stripes. If you need an unforgettable baby shower gift that will be greatly appreciated for its value and durability, get this basket and fill with baby goodies for a perfect present.

Benefits
This basket filled with accessories and packaged nicely will make a wonderful baby shower gift that will be remembered for a long time. The basket can be kept long after the baby is out of diapers.

What We Like About It
Old-fashioned baskets lined with cloth are perfect to use for a diaper caddy, like this one from Munchkin. It is large and will hold everything you need to care for your baby well.
Is a real wicker basket with a cotton lining
Has large compartments
Is stylish and functional for any room
Designed by a mother
Strong handle is collapsible
Handle may be too light and flimsy
Basket is really large
7. Lil Dandelion Organizer
Made of 100% polyester material of felt, this wonderful diaper caddy is offered in two great colors. It is unisex in color and design and will compliment any
nursery room décor
.
Expand to see more
This will hold disposable or cloth diapers as well as other items such as a breast pump, changing pad, clothes, teethers, pacifiers, wipes, bibs, onesies, and more. It is sturdy and lightweight and is larger than most other brands of caddies. This will hold newborn to toddler diapers and is ensured to hold its shape even when it is not filled all the way. The inside dividers are adjustable and there are external pockets for extra storage. It includes a large strong handle to carry the organizer, and it is a terrific practical gift for expectant parents. The caddy can be repurposed after the infant grows up and can be used for home, car, or travel.
Benefits
This item is offered in two terrific colors that are gender-neutral making it a fabulous baby shower gift. The colors will suit any established
nursery
colors and be a treasured present.
What We Like About It
The fact that this caddy can be used long after the baby has grown out of diapers is wonderful. You can use this item for many purposes in and out of the house.
Is larger than most other brands
Can be repurposed after infant grows up
Use for home, car, or travel
Is a terrific practical gift for expectant parents
Inside dividers are adjustable
Material is not very soft
Some people said this had a bad odor
8. hiccapop Playard Nursery
This diaper caddy will hold three dozen cloth or disposable baby diapers and is easy to clean. It will resist stains and includes C-clip hooks to attach to any brand of a playard frame for easy access. Having two shelves that are reinforced and two organizational pockets, this caddy is strong, long-lasting, and functional.
Expand to see more
The side pockets and the top can accommodate extra supplies needed at changing times, such as lotion, powder, a burp cloth, extra baby clothes, and wipes. The gender-neutral dark gray color will suit any
nursery décor
and will be appreciated by new parents as a terrific baby shower gift.
Benefits
While most attachable nursery organizers will adhere to a changing table, door, or wall, this one will attach to any playard frame. The hardware is provided to make this step easy and quick.
What We Like About It
Nursery equipment that is easy to clean will make your job as a new parent much easier, like this wonderful organizer and diaper caddy. It can be wiped clean quickly and is resistant to most stains.
Has two shelves and two pockets
Will hold three dozen baby diapers
Side pockets and top hold plenty of supplies
Easy to clean and resistant to stains
Includes C-clip hooks for attaching
Straps may break easily
Material might be flimsy
9. California Home Goods Playard
The Playard Diaper Caddy and Nursery Organizer keeps all supplies for changing the baby near and easily accessible. It has three mesh pockets on the side in different sizes and includes a large diaper section and a big top area. This item has a unisex color and pattern of light gray and white chevron and is long-lasting and rigid.
Expand to see more
It is not flimsy like other brands because it has a flexible, lightweight sheet for shelf support. the high-quality polyester material is easy to clean and absorbs moisture. The product includes plastic, durable hanging hooks to keep the caddy in place. It attaches to all cribs, changing tables, and dressers. The manufacturer offers a lifetime guarantee for this product. The side panels are reinforced for strength and durability, so it will not collapse. It looks great in any room of the house and will hold up to forty diapers. The woven polyester fabric is BPA-free, and the caddy comes with hooks of top-grade plastic that are reinforced and strong.

Benefits
The versatility of this caddy is great because it will attach to any crib, table, or dresser to make caring for the baby easy and trouble-free. No matter what brand or style you have of the attachable items, this product should fit nicely.

What We like About It
The manufacturers made this diaper caddy sturdy and not as flexible as some other top brands. It has great shelf support and will not be flimsy and hard to access when you put things in or take them out.
Manufacturer offers a lifetime guarantee
Side panels are reinforced for strength
Will look great in any room of the house
Holds up to forty diapers
Woven polyester fabric is BPA-free
May be smaller than expected
Some said it fit too low on table and crib
10. Trend Lab Dove Gray Chevron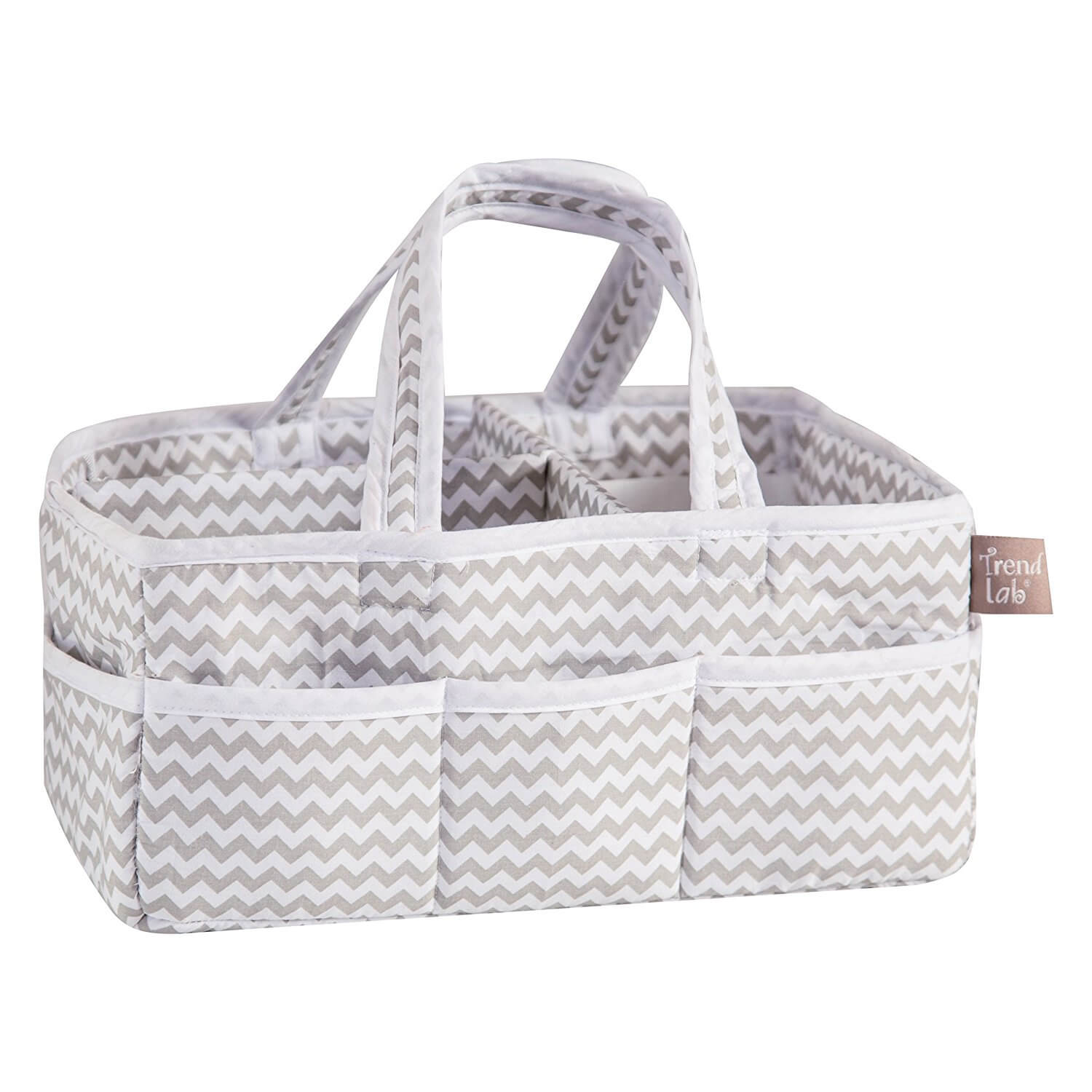 This diaper caddy from Trend Lab gets you organized quickly because it is so roomy, and it holds so much more than just diapers. It has eight outer pockets and a removable separator and will accommodate all of baby's supplies.
Expand to see more
This is a durable, versatile caddy that can be used long after the infant grows out of diapers, plus it coordinates very well with other products from Trend Lab. It is gender-neutral in design and color and is great for changing stations and dressers. This great diaper caddy makes it so easy to go from place to place in the house and can be used easily when traveling or away at friends' and relatives' homes.

Benefits
The chevron pattern and color are gender-neutral so it can suit any child and any nursery room décor. This feature makes it perfect to give for baby shower gifts for boys and girls.

What We Like About It
For portability and ease of operation, this diaper caddy is one of the best. It can be moved quickly and simply from room to room in the house and can even be brought anywhere you need to travel.
Gets you organized quickly
Has eight outer pockets and a removable separator
Is gender-neutral in design and color
Great for changing stations and dressers
Coordinates well with other products from Trend Lab
May be smaller than expected
Was flimsy for some buyers
11. JJ Cole Slate Heather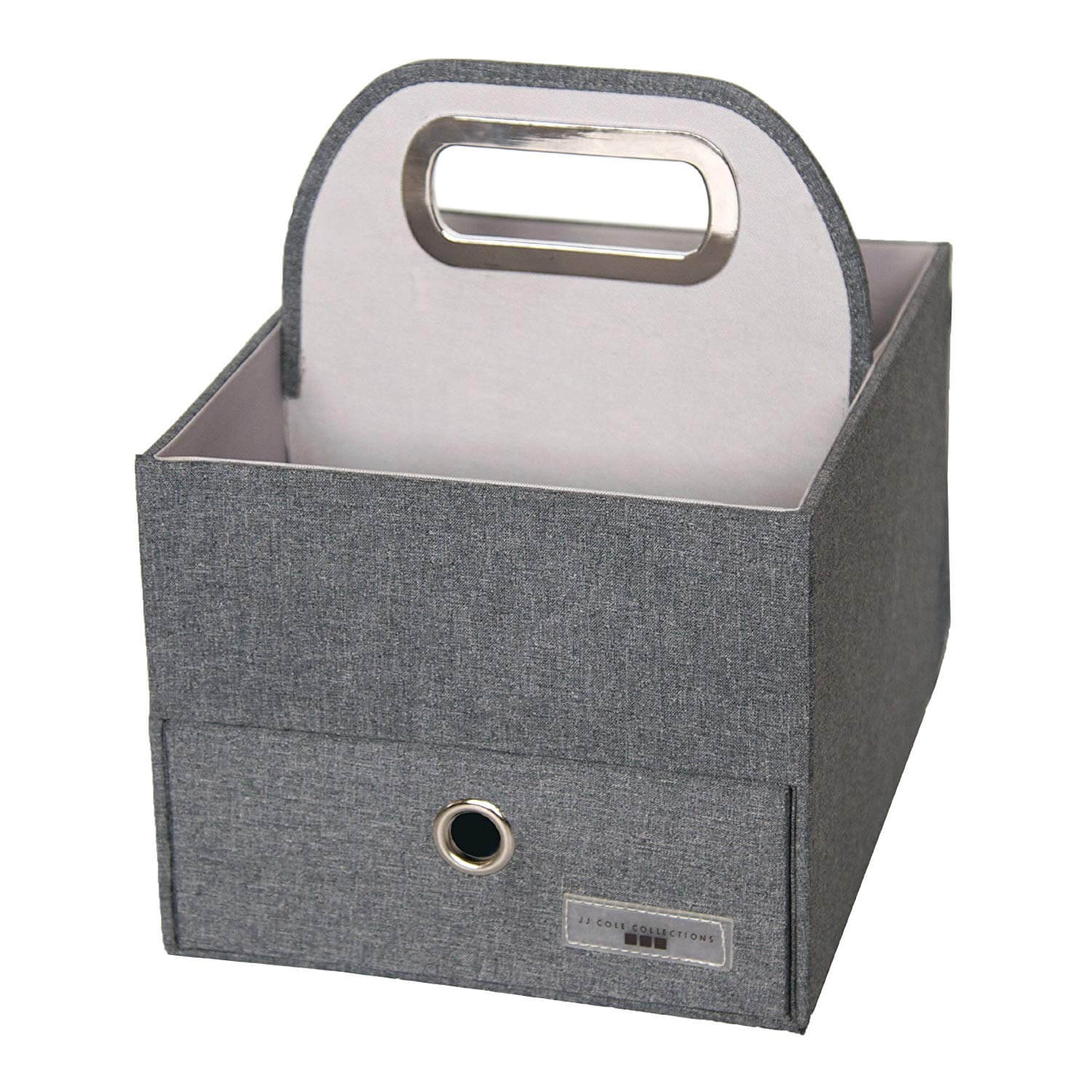 From JJ Cole, we highlight this square little diaper caddy that is available in gray or navy. It is made of 100% polyester material and has plenty of space for diapers, lotion, and baby wipes. This item includes a bottom drawer for other essentials such as balms, powders, and cotton balls, plus it comes with a changing pad in a coordinating color. It has a sturdy compact design and protective feet of rubber.
Expand to see more
These feet will keep it in place as you work to change your baby. The caddy is constructed with paper chipboard, and the handle is made of sturdy metal. A large pocket is on the rear of the diaper caddy for the folded changing pad that is included. Other coordinating JJ Cole Storage products can be bought separately to make a wonderful ensemble of storage containers for the nursery.

Benefits
This cute caddy has rubber feet on the bottom of it to keep it from moving out of reach while you try to change the baby. It will not slide away on smooth surfaces as some hard caddies can do when you need them to stay in place.

What We Like About It
Parents get a free changing pad with this diaper caddy. There is even a pocket on the back to keep the folded pad in for easy access. It comes in a matching color of the caddy for a wonderful set.
Includes a bottom drawer
Comes with a changing pad
Has protective feet of rubber
Constructed with paper chipboard
Handle is made of sturdy metal
Item came unglued for a few people
Changing pad was missing for some buyers
12. Delta Children 4 Pocket
For organizing in the nursery, this item is the top-rated mode of storage online. It creates space to store diapers and everything else for the baby by utilizing a door or a wall. The hardware is included to fix the organizer to the wall or hang it by the hooks on a wall.
Expand to see more
It is available in six fabulous colors of a polka dot design with contrasting piping. Choose from one or two sets when you order. Other pieces from Delta Children match the colors of this item to make a complete set of movable storage space you can use anywhere. You will certainly find a use for both of them with a new baby at home. This organizer makes a wonderful diaper bin and accessory storage compartment and can be used for plenty of other things as the baby grows. It includes four large pockets in a vertical style which is very easy to hang. The material is strong and durable and can help you get organized in the nursery very quickly.

Benefits
This piece can be matched with other coordinating storage pieces from the manufacturer. You could have a nursery full of matching portable storage pieces that look wonderful.

What We like About It
The Delta Children Organizer makes storage space out of a door or empty wall. You never have enough space to put everything for the baby, so this item helps you make the most of the space you do have.
Hanging hardware is included
Makes a wonderful diaper bin
Is strong and durable
Is very easy to hang
Helps you get organized quickly
Hooks may be too flexible
Pockets were too close together for some parents
Criteria Used in Evaluation of the Best Diaper Caddies & Diaper Stackers
Specifically for use as a diaper caddy for infants
Each of these items featured has the main purpose of a diaper caddy, whether is a portable one or a mountable one for the house. They all hold the necessities for changing a baby's diaper in small and large portions for the sole purpose of making this task easy and quick. With these items already in a compact container that is easily accessible, changing dirty diapers becomes less of a chore.
Can hold plenty of diapers and accessories
Some of the caddies can hold as many as seventy-two diapers and other only hold two or three dozen, but they all hold more than just the diapers. Even the smallest of the caddies will hold the baby wipes, cotton balls, lotions, and powders needed during diaper changing time. The other larger caddies and organizers can offer wipe warmers at the top and side pockets to hold plenty of other necessities like onesies, burp towels, baby toys, extra clothes, and a bigger supply of diapers.
Has a sturdy, durable design that will last a long time
Whether they are made out of strong polyester, chipboard, felt fabric, or a wicker basket, these caddies, and organizers are all sturdy, durable, and long-lasting. They will definitely outlast the baby diaper years and then have another function for either the child, parents, or another member of the family. These caddies can hold a multitude of small items such as toys, games, puzzles, books, cosmetics, https://borncute.com/best-boys-ties-and-bow-ties-reviewed/clothing, or craft items. The possibilities are endless as to what they can be used for in and around the house and even in the car.
Top-rated, most-bought products
These caddies are all the best-rated and most-rated items online in this category. Customers were overwhelmed by the quality and usefulness of the products and left feedback that was overwhelmingly positive. We sort through the reviews and bring you only the best of the diaper caddies and stackers on this page that customers loved. Our aim is to save you valuable time in your shopping experience, so you can spend more time enjoying your family and the products you love to have.
Some Diaper Caddy Essentials for Your Baby:
Regular baby powder

Cloth wipes

A

nti-fungal powder

Vaseline

Hand sanitizer

Baby lotion

Hydrocortisone cream

A toy

Thermometer

Hair comb and brush
FAQ
Frequently Asked Questions
Q: Are any of these diaper caddies just for boy or girls? Which ones are unisex?
A: No, most of these are not gender-specific in the patterns, designs, and colors. Some have a choice for colors, so you can choose a specific color, but those are all gender-neutral as well.
Q: Are these items for disposable or cloth diapers? Will large diapers for older infants fit in them?
A: All of these diaper caddies can accommodate either disposable or cloth diapers. Large diapers, as well as newborn diapers, will fit in any of these caddies well.
Q: How many diapers on average will fit in these caddies?
A: The number of diapers that will fit in each of these greatly depends on each item. Some of them can hold up to seventy-two diapers, while the smaller ones hold only a couple of dozen diapers. The larger the caddy, the more it can hold, so this will depend on the one you buy.
Q: What is the best way to clean these caddies? Are any of them made out of fabric that can be washed?
A: Most of the caddies are made of durable materials that can just be wiped clean. Several of them are stain-resistant and one of them is a wicker basket. None of them are suitable for machine washing because of the cardboard inserts used for dividers. Even the cloth caddies have these inserts which would become damaged in the washing machine. A damp cloth with a mild cleanser should clean any of these caddies just fine.
Q: Which caddies attach to things in the house like doors and cribs? Which ones can be taken in the car and on trips?
A: The ones that are for carrying around are from Parker, Munchkin, JJ Cole, and Trend Lab. These can all be carried by hand and are great for away from home and traveling. The others are organizers too and mount to walls, cribs, doors, and changing tables.
Q: Do they all hold more than just the diapers?
A: Yes, all of these caddies hold more than just the diapers. Plenty of things can be put in these organizers that you need to care for the baby. Items such as lotions, powders, wipes, wipe warmers, bottles, burp towels, onesies, and more can be added to these products.