Of all the necessities that new parents need, an effective, efficient diaper pail is a must. Diaper pails come with many choices for size and odor control, but individuals must decide which factors are most important to them. Even though a diaper pail would make a wonderful gift, knowing the demands of the parents and the space they have to donate to such equipment is needed.
When you consider that a newborn baby will use over 2,500 diapers over the course of its first years, diaper disposal is a major concern. Some parents may opt for just regular garbage disposal at first, but when the infant begins to eat food instead of just formula, this can be a smelly bad choice. Diaper pails are specifically made to curb odors when tossing one diaper and also when changing the whole bag. Manufacturers have developed products with features such bags with many layers, baking soda in the plastic, or bags that are lavender scented.
Others have baking soda disks in the lid, such as Arm & Hammer's featured product. A few of the pails are constructed of closed-cell plastic, which does not hold odors as regular plastics do. Bags for some pails, such as the Diaper Genie models, come in a continuous piece so the user can cut off the bag to the size they personal desire. This eliminates bag waste so the consumer gets the most use from their bag supply.
The Diaper Genie pails have a snap and seal mechanism that seals each diaper in the bag separately when the lid is closed. When the whole bag is taken out of the pail for disposal, the result is a "diaper sausage" that has each diaper individually wrapped. This type of diaper pail is not design for cloth diapers because retrieving the diapers from the bag would be a disaster.
All of the other pails can be used for the holding of cloth diapers, and all pails here can be used for adult diapers too. No matter how short on space you are for a diaper pail, at least one option on this list will be perfect for your disposal needs. Here are our picks for the best diaper genies and trash cans for babies in 2018.
Best Diaper Genies & Trash Cans for Babies Reviewed in 2018
Dekor Plus Hands-Free Diaper Pail
Ubbi Steel Odor Locking Diaper Pail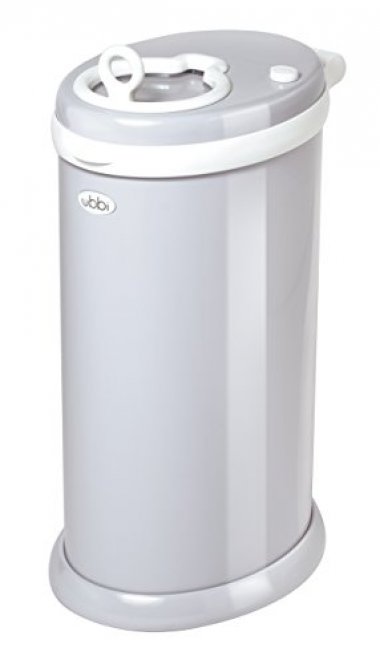 Diaper Dekor Plus Diaper Pail Liner Refills
Safety 1st Easy Saver Diaper Pail
Playtex Diaper Genie Refills – 270 Count (Pack of 3)
Munchkin Diaper Pail Snap – Seal and Toss Refill Bags
Munchkin Step Diaper Pail Powered by Arm & Hammer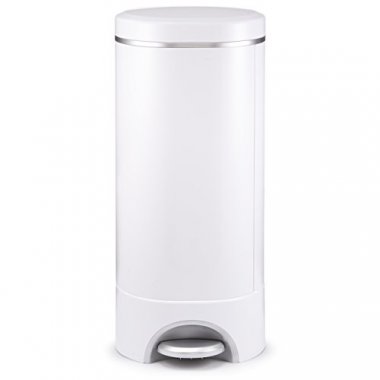 Playtex Diaper Genie Diaper Pail with 1 Full Size Refill
Tommee Tippee Simplee Diaper Pail with 4 Refills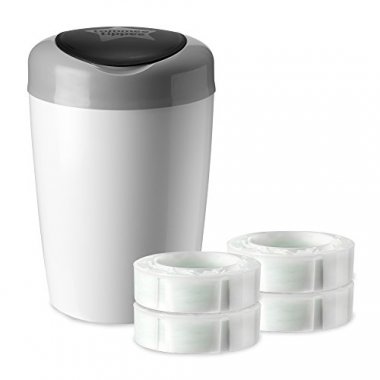 Playtex Diaper Genie Customizable Diaper Pail with Starter Refill
mDesign Baby Trash Can with Swing Lid
Criteria Used in Evaluation of the Best Diaper Genies and Trash Cans for Babies
Best-rated diaper disposal products that consumers are using
All items we list have been rated overall as a great product by consumers for disposing of diapers. These are the best Diaper Genies and diaper pails that parents have put through the tests of diaper disposal most recently. Although mostly used for disposable diapers for infants, these products may also be used for adult diapers and with some cloth diapers may also be stored before washing.
Sizes and holding capacities vary with each, so the consumer must decide which would work best for their space size and diaper usage. Prices must be considered too because some are more economical than others. Any of these diaper bins would make ideal baby shower gifts or just a gift in general for new parents.
Special features to combat or deter odors
Every diaper pail or can has some sort of odor protection to keep the smells inside the product the best it can or in some cases as in the single uses cans, the odor control lies in the fact that each diaper is tossed separately.
Different methods are used, but it seems that the most effective restriction of odor comes with the pails that use the one diaper to a sealed part of the bag method, such as the Diaper Genies. Parents seemed very pleased with these, as it combines with bags that have baking soda in them or are lavender-scented. Some even have baking soda disks in the lid that can be refilled regularly. The closing off of the bag after each deposit does seem to work well, however any diaper pail is going to smell when emptying the entire bag to the regular trash.
The only pails that eliminates odor entirely are the ones that wrap each diaper in an individual bag for immediate disposal. This is more time consuming for parents, and it takes both hands to tie the bag and toss it after each diaper change. This is the reason so many different types of diaper pails are offered.
Finding the perfect diaper pail depends heavily on how often parents change the bag in a diaper pail, how much space they can devote to a diaper pail, how much they want to pay for one, if child safety prevention is needed, and how much odor protection is desired. Odor control is the biggest factor in getting the right diaper bin and all of these items handle that issue well.
Safety locks or unique doors/lids that prevent toddlers from gaining access
A few of the diaper pails have safety locks, buttons, or door handles that would pose as a deterrent for inquisitive toddlers. The larger lids still open without any special hindrances, but very small children cannot usually lift the larger lids of the bins. Parents who have small kids in the house while caring for a baby may want to look into these diaper pails to prohibit any messy accidents from occurring.
FAQ
Frequently Asked Questions
Q: Can you use the Hands-Free Dekor Diaper Pail for cloth diapers? Adult diapers? Pet waste? With regular garbage bags instead of the liners?
A: This diaper pail is very versatile because of the odor protections that the manufacturer has installed in the product. It can be used for cloth diapers, adult diapers, and pet wastes. It will hold less of the cloth and adult diapers than newborn disposable baby diapers, but it works equally as well and contains odors. Regular kitchen garbage bags may be used with this product too.
Q: The Ubbi Odor Locking Diaper Pail has a childproof lock on the small sliding door of the lid. Why is this not on the whole lid? Does this pail work well with regular plastic kitchen bags?
A: The lock on the small door of this pail is to prevent kids from having access to the used diapers. Kids very small could learn how to open this door by watching parents use it, but will be too small to lift the larger lid to gain access. The sliding door would most probably be the most used entry to the pail. Yes, regular plastic 8-gallon or 13-gallon kitchen garbage bags work well with this product.
Q: For the Arm & Hammer diaper pail, how do you replace the baking soda cartridge or can you just refill it with baking soda you buy? Why does this diaper pail make noises when it is closed?
A: The cartridge can be taken off and refill when needed with the baking soda you purchase in the store. Just snap it back into place when filled. The noise you hear is the pail twisting and sealing the bag after you put a dirty diaper in it and it turning the baking soda cartridge.
Q: Which are the best diaper pails to use for adult diapers? And for cloth diapers?
A: Any of the diaper pails we feature on this page that do not seal the diapers after each deposit can accommodate the cloth diapers. The pails such as Munchkin seal the diaper after each use for throw away. Cloth diapers are not tossed until after many uses. All of the pails work well for adult diapers. They will not hold as many diapers as newborn diapers and will have to be emptied more often. Some of the sliding doors or lids may be a bit small, but by folding the diapers, they can easily fit into the pails.
Q: Is the opening small on the Munchkin Step diaper pail? Do you have to squish the diapers in it? Does it come with any bags and does it sprinkle baking soda in the bag like the older model?
A: Yes, the opening is quite small and diapers will have to be folded or squeezed to get them in the hole. The reason is to minimize the air flow of the open pail. The pail does come with a few bags, so you will have to purchase more bags very soon. The baking soda for this model comes in the bags already. It is in the plastic so there is no need for it to come as a powder in the pail. A baking soda disk must be replaced periodically. This is one of the best diaper pails to neutralize odors.
Q: How do you get the fabric outer sleeves for the Playtex Diaper Genie? What are they made of and how many different choices are there?
A: There are six various fabric sleeves available for this diaper pail, which are sold separately. The material is a flexible fabric that differentiates with each style. They should match any baby room décor easily.
Q: Does the One N Done diaper pail have a lid? I do not understand why it says it is for only one diaper at a time.
A: This is a diaper pail for parents that do not want a pail full of dirty diapers sitting around in their house. The concept eliminates odors because the soiled diapers are tossed as soon as they are bagged up. No, it does not have a lid because diapers are not intended to stay in the pail. Some reviewers are using it to hold several diapers at a time for newborns that are not on solid foods yet. You just put a diaper in the opened, clean bag, tie it off and toss in regular garbage can.
Q: Which diaper pails would be the best to fight odors? Which features would be the best?
A: All of the diaper pails have some sort of odor deterrent either in the pail materials, the bags, or an add compartment for chemical disks. For the best odor protection, buy one that has all three of these features. The ones with baking soda have mixed reviews with some parents raving about it and others say it does not work well. A few manufacturers use the chemical disks that come with the pail and must be refilled or re-purchased often. These do help as well too. It seems the best way to positively eliminate diaper smells is to change the bag often, thereby not holding the soiled diapers for prolonged periods. Maybe the best choice for some that are really opposed to the foul smells is to purchase the pails that allow just one or two diapers per bag. If it is not there, it cannot smell.