Dressing your babies up in cute clothes can only be topped by perhaps one other activity…dressing your fur babies up in cute clothes. Some pets love it and some are less enthusiastic. But if you have a pup that enjoys putting on his Sunday best and trotting around the house or outside during his walks, take a look at these hilarious and adorable Halloween costumes! Dress the whole family up in something that coordinates for some extra fun on your trick or treating routes.
10 Best Dog Halloween Costumes Reviewed
1. Rubie's DC Comics Wonder Woman
Available in small, medium, large, and extra-large sizes, this Wonder Woman costume from Rubie's has the highest rating from customers and the most reviews online. The design is the Wonder Woman
superhero
, and it includes the symbol for the character and a headpiece.
Expand to see more
The skirt and dress consist of blue with white stars, a gold belt, and a red top with insignia. It is officially licensed by DC Comics, is authentic, and was created by the largest maker of costumes since 1950. It is a classic that will be the hit of any Halloween party, event, or while trick-or-treating with the family.

Benefits
Dogs that are not used to wearing clothes sometimes do not want to wear costumes. This one will not be a problem because it is cool and not binding, as some others can be.

What We Like About It
Who does not love Wonder Woman? With this remarkable costume, your dog can dress like a superhero and look so adorable. The flashy bold colors make it very attractive.

Cost and Value
Priced well below the average of these dog costumes, this item has the great qualities of resembling a popular superhero, being legally licensed by DC Comics, and being a bright, eye-catching costume, everyone will love.
Pros
Available in four average sizes
Has plenty of eye appeal
Is officially licensed by DC Comics
Created by the largest maker of costumes
Is easy for the dog to wear
Cons
Some dogs tripped on the skirt part of the costume
A few people were not happy with the overall quality
2. Animal Planet PET20104 Triceratops
The Triceratops Dog Costume is offered in extra-small, small, medium, and large. It is a headpiece of the famous dinosaur including horns that fastens under the dog's chin with a Velcro strap.
Expand to see more
Three horns are white with the two larger ones on the sides and the smaller one in the front. Because of the brownish-gray color, this headpiece would be most appealing on a dog of the same color or similar. It wraps around the head and has a piece that comes slightly between the eyes where the smaller horn is. Kids will love going trick-or-treating and bringing the dog in this fabulous costume as a
dinosaur
.
Benefits
Costumes that are simple to use are best for any size of a dog. This one is quite simple to get on and take off because of the Velcro strap that connects under the dog's head.
What We Like About It
This wonderful costume headpiece will transform your nice little puppy into a feared dinosaur of the past. Any size of dog will look terrific with this costume because it is amazing.
Cost and Value
This is one of the most expensive costumes we feature on this page. Its value comes from the fact that it is simple to put on and take off of the animal, is lightweight, and is not too hot to wear.
Pros
Offered in four great sizes
Is not a full costume that could be hot
Fastens simply with a Velcro strap
Looks just like the head of a triceratops
Made of comfortable soft material
Cons
A few people received folded costumes making creases in it
Some parts of the horns were not sewn all the way said some customers
3. NACOCO Pirates of The Caribbean
Perfect for parties, photo shoots, holiday events, and Halloween, this design from NACOCO is comfortable and soft to wear. Made of durable cotton material and Velcro closures, it comes in three pieces of a cloak, hat, and suit.
Expand to see more
The design is a pirate from Pirates of the Caribbean, and it is available in sizes of extra-small, small, medium, and large. Included is a pirate hat in black lined in yellow with the skull bones on the front that straps under the chin. The clothing part of the costume is worn only on the front part of the dog and does not cover the middle or back section. It is meant to resemble a pirate standing using the face and the front legs of the dog as the two legs of the pirate.
Stuffed and fixed in place are the pirate arms, with the hooked arm of the costume swaying every time the dog moves and walks. This fantastic pirate costume is machine-washable for easy care.

Benefits
Even though there are three pieces to this costume, it is easy to put on and take off. It does not consist of fully clothing the dog, so this adds to the simplicity of the overall design.

What We Like About It
This is really a brilliant idea for a dog costume. By just decorating the front of the dog and using the front legs as the legs of the character, it transforms the dog into a lovable pirate that is well decorated.

Cost and Value
Valued for the adorable intricate design and easy fit, this superb costume is priced under the average cost. It is a perfect pattern that will fit almost any size canine.
Pros
Is comfortable and soft
Made of durable cotton material
Has Velcro closures
Comes in three easy-to-fit pieces
Can be machine washed
Cons
Problem with sizes being too small
The hat may come off the dog easily
4. Casual Canine Glow Bones Skeleton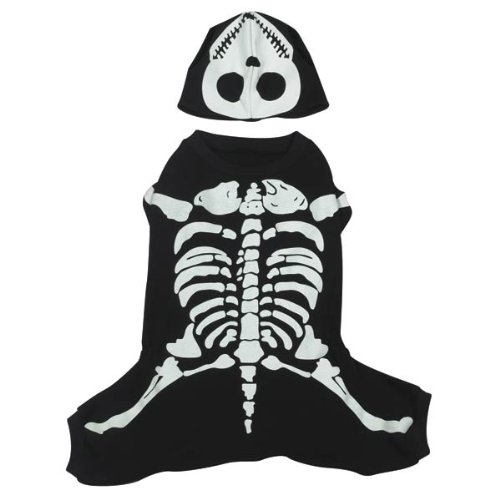 The design of this wonderful doggie costume is a graphic picture of a dog bone skeleton on soft black fabric. The bone pattern glows in the dark and is a two-piece set of the body and a hat.
Expand to see more
It fits like a sweatshirt on the dog with ribbed arm and leg holes, plus includes a gentleman's cut so it stays dry when the dog urinates. This superb puppy costume comes with a hangtag and hanger and is made of the easy-to-care-for cotton material that can be machine washed. Offered in extra-small, small, medium, and large sizes, this is a memorable costume you can use for parties, trick-or-treat, or photo shoots.
The hat has ear cutouts for comfort and best fit plus a closure strap that fastens below the chin. Sizes may run large as the small size fits the breeds of Pug, Silky Terrier, Maltese, Jack Russell Terrier, and Boston Terrier.
Benefits
Being a full-body costume, this design will fit and stay on the pup well. It fits like a t-shirt or sweatshirt with tapered arm and leg holes, so it stays in place splendidly.
What We Like About It
Absolutely perfect for Halloween is this wonderful Glow Bones Costume for dogs. While trick-or-treating in the night, only the glowing bone design will be visible for a truly haunting experience.
Cost and Value
This is one of the two highest-priced items on this list. It is a full-body costume with a hat included, so for the material and design involved, it is understandable. In addition, the pattern is really cute and
glow-in-the-dark
.
Pros
The bone pattern glows in the dark
Fits like a sweatshirt with ear cutouts
Includes a gentleman's cut
Made of soft cotton material
Can be machine washed
Cons
Some problems with getting the hat to stay on well
Sizing was an issue for plenty
5. California Costumes Holy Hound
Consisting of a white robe with the crown and embellishments of a pope, the Holy Hound Dog Costume has a soft comfortable fit. It is designed in the colors of cardinal red and white with bones as the cross on the hat and necklace feature.
Expand to see more
Available in sizes of extra-small, small, medium, and large, this great pattern covers the entire back, neck, and front of the puppy. The stole is detachable, and the hat has a flexible strap to help keep it in place on the head. For a different selection for Halloween, try this adorable costume on your pet this year.

Benefits
The hat and bodice of this product fit each size well because of the simple closures to fasten them to the dog. Durable Velcro straps hold the costume in place, as you enjoy the fun of the appearance.

What We Like About It
It may seem disrespectful to some, but Halloween costumes are all in fun and harmless. This one will make your little devil seem quite angelic and nice in the pure white and red design of the pope.

Cost and Value
This is an average-price product with plenty going for it. the idea is refreshing and unique, plus the cute design comes in plenty of sizes to fit any size of dog comfortably.
Pros
Is a cute replica of the pope's robe and hat
Available in four good sizes
Stole is detachable
Has a comfortable fit
Includes a flexible strap
Cons
Problems with the hat not staying on for a few
The material is not flexible to stretch for fit
6. Rubie's DC Comics Robin
Great for superhero fans, this
DC Comics
Teen Titans Costume makes the family pet look just like Robin from the Batman comics and movies. It includes a black mask the dog can see out of, a removable yellow cape, and a shirt of red-green-and black with the "R" for Robin on the chest.
Expand to see more
This is a long-sleeved shirt to fit snugly on the arms for a great fit and comes in small, medium, large, and extra-large sizes. It is licensed by DC Comics and makes a perfect costume Halloween or any special event where your pup can go in disguise.

Benefits
The closures for this design were well-thought out by the makers. Velcro straps hold the shirt closed and allow the cape to detach. The mask is fastened in the same way for a terrific fit on the face.

What We Like About It
Anyone who loves superheroes or Batman and Robin, in particular, will go crazy for this doggy costume. It is designed perfectly to look just like Robin, only in the canine form.

Cost and Value
Costing just below the average of these costumes, the DC Comics Robin item is wonderful because of the detachable cape, Velcro straps, and easy fitting mask for a splendid ensemble.
Pros
Fastens well with Velcro straps
Includes a mask, cape, and shirt
Fits snugly on the arms for a great fit
Comes in four terrific sizes
Is licensed by DC Comics
Cons
The arm sleeves were too long for some small dogs
Velcro straps did not hold well for a few buyers
7. Jedi Robe
These are not the droids you're looking for. --It's better than that! It's a good dog dressed in an adorable Jedi costume.
Expand to see more
This set includes the classic cloak with an attached shirt and belt. The design has been officially licensed from Lucas Film Ltd, resulting in a costume that isn't some generic knock-off; your pup will look like they stepped right out of the silver screen! You can put the belt on the inside of the robe to adhere to movie details, or on the outside if the costume is flopping too much for you and your dog's liking. The hood comes with ear holes so your pup can wear it up or down. Additional costumes in this collection include Leia, Han Solo, Chewbacca, Darth Vader, Obi Wan, Yoda, Boba Fett, Palpatine, Lando, and R2D2. They come sized for adults, children, and pets, so get the whole family in on the action!

Benefits

This little outfit looks great but isn't too complicated, and seems to be pretty comfortable. Your pup can run and play like they usually do without worrying about itchy straps or weighty costume accessories getting in their way.

What We Like About It

It's a great costume: easily recognizable, simple enough to put on, and not itchy or clunky. Combine forces with the whole family, even your pets, to bring Star Wars action right to your front door.

Cost and Value

It's definitely not a dollar-bin find, but it's actually pretty moderately priced, especially considering the quality and attention to detail here.

Pros
Sizes range from Small to Extra Large
Ear holes in the hood
Belt can be worn two ways
Looks just like the movie
Soft and easy for dogs to move in
Cons
This costume runs pretty small, so make sure you read other reviews, check the FAQs, and watch the sizing video before ordering
8. NACOCO Cowboy and Saddle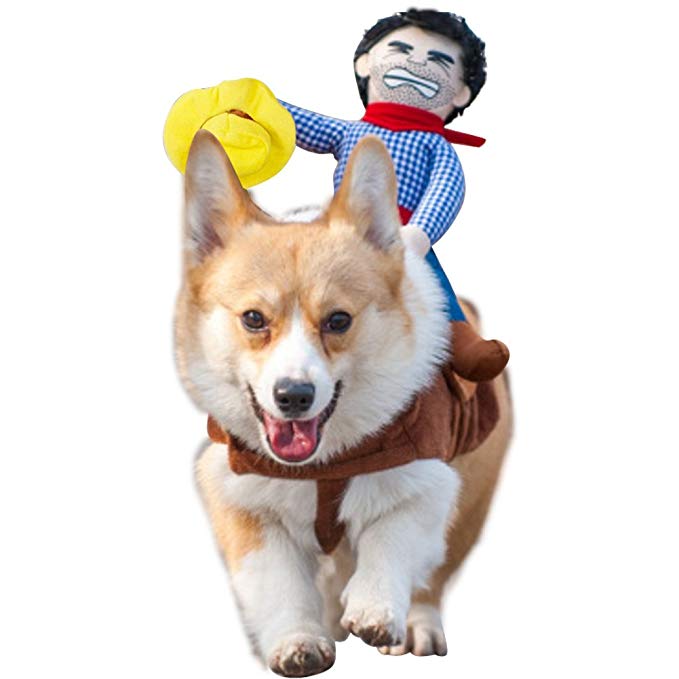 Giddy up, partner. This cute little cowboy outfit features a cowboy doll attached to a saddle.
Expand to see more
The saddle velcros around the dog's tummy and can be adjusted according to size, meaning you don't have to worry about EXACT measurements. The costume is made out of soft, breathable cotton and polyester fiber, making it comfy for your cute little critter to play in all day. It comes in sizes small to large, and is best suited for breeds such as Maltese, French Bulldogs, Boston Terriers, Corgis, Pugs, Jack Russell Terriers, Terrier Teddies, and other mid-size dogs. We know your little fur baby loves to run around at top speed and the cowboy knows it too, from the look on his face!

Benefits

This costume is a cute little topper, especially for dogs that love to run around. It's easy to strap on, it's not burdensome or heavy, and it's made of a soft fabric with an adjustable velcro strap, so you can tailor it to your pup's preference.

What We Like About It

It's pretty silly. It will definitely inspire a case of the giggles to watch your dog sprinting around with a terrified cowboy strapped to his back. The costume is sized so that it could even fit slightly larger house cats as well!

Cost and Value

It's a little pricier in the larger sizes, but it's constructed well and won't fall apart easily, plus it's one of the most minimal and comfortable costumes available for pets. If you have an animal friend that doesn't enjoy lots of clothes, you might still be able to get away with this.

Pros
Easy to strap pets into
Easy to adjust
Quality material
Soft cotton
Available in sizes small to large
Cons
The cowboy is a little too heavy to stay upright on small dogs (he droops to one side or the other)
9. TOMSENN Dog Lion Mane
For medium and large dogs, the Dog Lion Mane turns any pooch into a ferocious-looking king of the jungle. It is realistic in the appearance on dogs to look just like a real lion, plus it fits well and snug.
Expand to see more
Made of high-quality wool material, this costume is easy to keep clean and will not cause irritation or discomfort. It is quite an attention getter from people and perfect for all types of dress-up events such as Halloween and costume parties. A tail tuft is included with the purchase, so your dog will be in a complete lion uniform, and this terrific costume is offered in brown or brown and black models to best suit the color of your dog.

Benefits
Attaching easily to the dog with a drawstring to fasten and close it around the head, it is simple to put on and take off dogs. Even the tailpiece will adhere in an easy way to make dressing trouble-free.

What We Like About It
This is an incredible costume for dogs to make them look just like little lions. When it is put on a dog of matching color, such as a Golden Retriever, it is amazingly similar to the real thing!

Cost and Value
Costing less than the average price for dog costumes of this type, the Dog Lion Mane has the quality features of being easy to put on and wear and eye-appeal that will shock all who see it on your dog.
Pros
Easy to keep clean and fits well and snug
Is quite an attention getter from people
Perfect for all types of dress-up events
Will not cause irritation or discomfort
Tail tuft is included with the purchase
Cons
Did not look right on some breeds of dogs
A few had trouble getting the mane to stay in place
10. Animal Planet PET20101 Butterfly
The Animal Planet Butterfly Dog Costume features a headpiece that includes antennae and wings that are made of printed foam. It is offered in sizes of extra-small, small, medium, and large and is perfect for
Halloween
and other party-type occasions.
Expand to see more
The wings are fastened under the arms of the dog with a Velcro strap. They are shaped and colored like real butterfly wings in the beautiful colors of orange and yellow hues trimmed in black. The headpiece is black with grayish spots trimmed in white with black antennae. It covers the head entirely except for the face and attaches under the chin with a Velcro strap. The antennae are sturdy to stand up on the head and have little white balls on the ends. This delightful butterfly costume looks wonderful on a spotted dog where the spots would blend in well with the spotted headpiece. Most customers purchased this costume for female dogs, but it can be worn by male dogs too.

Benefits
If your dog is fussy about wearing a full-body costume, then try this butterfly costume that allows most of the body to be free from material. They will look great and still be 100% comfortable.

What We Like About It
Any dog will look marvelous in this butterfly costume with its sturdy wings and cute headpiece. It looks particularly pleasing on spotted dogs that will coordinate with the spotting on the headpiece to look like a new species of butterfly.

Cost and Value
Being a below-average priced costume, this butterfly ensemble is easy to wear, to put on, and take off of the dog, as well as not as hot as a full-body costume would be in warmer climates.
Pros
Headpiece and wings are durably constructed
Offered in four different sizes to fit most dogs
Both pieces fasten with easy Velcro straps
Great for both male and female dogs
Is not a hot costume to wear
Cons
Was not durable for a few buyers
The headpiece matching in size to the wings was an issue for some
Criteria Used in Evaluation of the Best Dog Halloween Costumes 
Top-rated and most-purchased
These are the best dog costumes for Halloween online rated and reviewed by customers. They have the most reviews and the highest ratings of any products in this category according to the overwhelmingly positive feedback from consumers. They would purchase these same items again because they were so pleased. The Rubie's DC Comics Wonder Woman costume that we list as the first item has the honor of having the best and the most reviews of any other online Halloween costume for dogs. In our concise informative summary paragraphs, we relate all of the product description details from the manufacturer along with what customers thought were the items best features. In this format of a best of the best page, you can make the most intelligent decision as to which costume is perfect for your pet for this Halloween.
Pleasing to the eye
We had such fun looking at all of the costumes for dogs online because they are so creative and thoughtful. Some of the designs make you laugh out loud and others make you just ooh and aah because they are so adorable. All of these costumes featured have eye appeal that will get your dog noticed no matter where you go. From the Wonder Woman and Robin superheroes to the Stegosaurus and Triceratops dinosaurs, these all have that special appearance that just makes you want to get out your camera to preserve the moment.
Durable
For adult dogs, these outfits should last for several years of wear because grown-up pooches rarely grow any larger. For puppies, you may have to repurchase a favorite character or try another for variety. The materials for all of these are durable and long-lasting for several years of use. with the proper care and storage, you should be able to enjoy your dog in one or two of these for years to come.
Ease of use
Easy-to-use Velcro straps make these doggy costumes so easy to put on and take off. With fasteners that clasp flexibly around the neck, under the chin, and around the tummy, dogs can wear their owner's favorite design with comfort. The full body design of the Stegosaurus would be the harder of all costumes listed to put on a dog, but it fastens easily underneath at the belly. The hat for it has Velcro also to keep it snug on the head. Because the Velcro strap can fasten in several positions, it allows flexibility in the fits if the dog grows or loses weight. This way, the costumes are viable for years of enjoyment and fun.
FAQ
Frequently Asked Questions
Q: Can these costumes be cleaned at home? If so, then how?
A: The ones that are more material and less decoration could possibly be cleaned at home either by hand or in the washer. They should all come with washing or cleaning instructions from the manufacturer to guide the user on its care. A general rule would be that the more decorations of extra pieces the costume has, the less it can be cared for at home. You could take it to be cleaned at a dry cleaner, especially if it is one such as the Pirate costume with plenty of details in the design.
Q: Does it matter if the dogs are boys or girls as to the costume design?
A: No, not at all. Some people may care if the dog's gender matches or is compatible with the design, but it really does not matter if you like the costume on them. For instance, some people may think it is wrong to put the Animal Planet Butterfly costume on a male dog, but male pups would look just as cute as female canines with it on. It is really up to the dog owner's preference of which ones to pick. None of them are really gender-specific, so they all should be great for either males or females.
Q: Are these costumes safe for dogs to wear outdoors, meaning for tripping problems?
A: Yes, tripping and wearing outdoors should not pose a problem for any of these designs or size of the dog. If the size is correct, then the pooch should be able to walk and run in it comfortably. A few of these costumes have long sleeves, so just make sure these are not so long as to cause a tripping hazard. These include the Holy Hound, Stegosaurus, Glow Bones, DC Comics Robin, and the Pirate costumes. A few have capes, such as the DC Comics Robin, Pirate design, and the Holy Hound. If not on the back properly, these could get turned around to the stomach and cause the pup to trip on the material. Just make sure all long and draping materials are out of the way of the legs, and everything should be fine for the dog's mobility.
Q: Would dogs destroy these if they are left alone in them unsupervised?
A: Like the other question states, this depends on the behaviors and demeanor of the dog's normal behavior. If you have a dog that likes to chew everything in site or new, then it would not be wise to leave them alone with a new costume. They would destroy it, making it necessary to purchase another one, plus they might ingest some of the material.
Q: Are these easy to repair if they get rips or tears in them?
A: Repairs really depend on the circumstances and the area of the damage. Sometimes the seams just start to come apart because of stretching or running. These can be repaired easily with a needle and thread. If there is not enough material to patch the hole or space, then a substitute fabric may be used instead. If the repair is too large or extensive, then it may be best to bring the costume to an alterations shop or seamstress who can fix it properly.
Q: What are most of these made of? Are they safe materials in case the dog starts to eat them?
A: Most of the costumes listed are made of cotton or polyester materials. They are fairly safe on the dog, even if he or she tears it and begins to eat it. There are not many small parts on these, and for the ones that do, they are not very harmful. Designs like the full-bodied Stegosaurus has plates on the spine that could be chewed off, but they are made of foam material. the best thing is to decide whether to leave the animal alone or not based on the temperament. If your pup is known to be destructive, then it may be best not to leave them alone with the costume. Just like children supervision may be necessary at all times to protect your investment and the dog's health.