Beep, beep! Baby on board but not just that, this time baby is driving the bus. (Uh oh!) But not to worry: these electric cars are built for little ones to be able to take the wheel. Ride-along cars help children develop motor skills, hand-eye coordination, responsibility, and reflexes. And they're also just plain fun. Kids love mimicking mom and dad, and driving is one of the grown up activities they most look forward to. These ten electric vehicles are some of the best "first cars" you can gift to a child. They're all lauded as the most durable, safest, and kid-approved models on the market. Buckle up!
Our Top 3 Picks
Peg Perego Tractor

Our rating
2 speeds plus reverse
Price:

See Here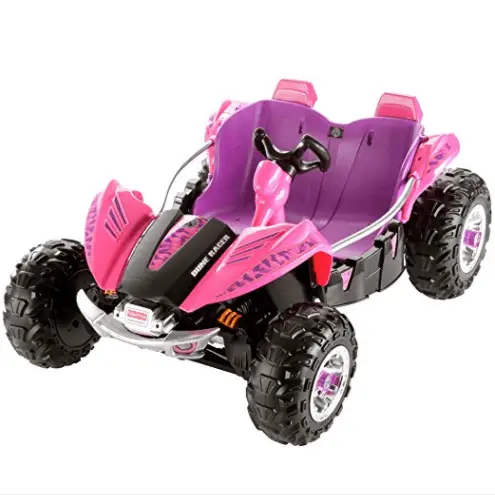 Fisher Price Dune Racer

Our rating
Monster Traction
Price:

See Here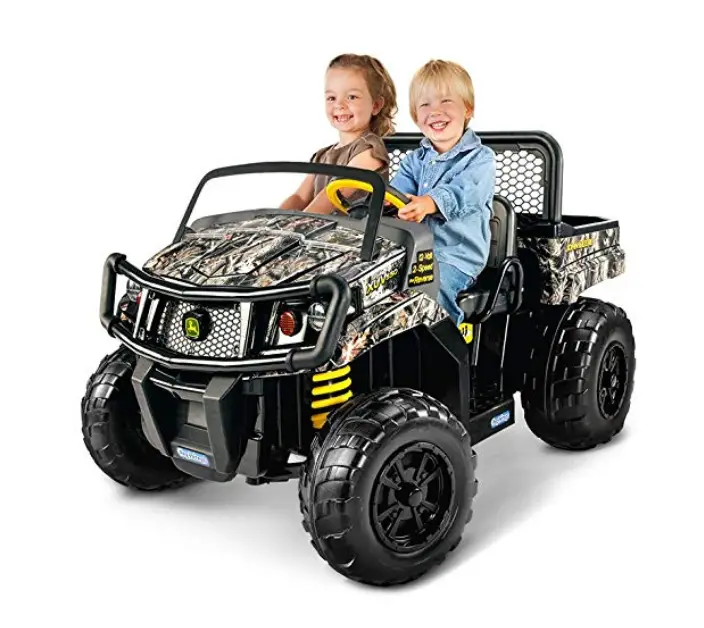 John Deere Gator XUV

Our rating
Working flatbed and tailgate door
Price:

See Here
Our Picks Of The Top Electric Cars For Kids:
Peg Perego John Deere Ground Force Tractor with Trailer
Age range: 2 to 7 years old
12V Ride On Truck w/ Remote Control
Age range: 3 to 7 years old
Peg Perego John Deere Gator Xuv
Age range: 3 to 8 years old
Power Wheels Nickelodeon PAW Patrol Lil' Quad
Age range: 2 to 4 years old
Thomas & Friends, Thomas Train with Track
Age range: 3 to 5 years old
Kids 12V Ride On Car with MP3
Disney Frozen Jeep Wrangler
Age range: 3 to 6 years old
Ride on Car Kids RC Car Electric Battery Power with Radio & MP3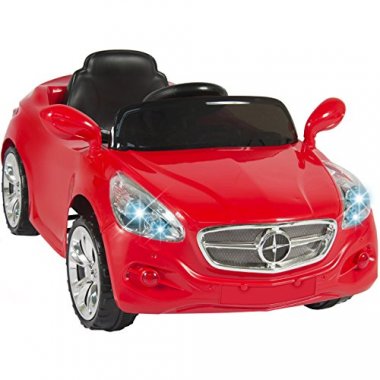 Moderno Kids Kiddie Roadster
Age range: 3 to 6 years old
Criteria Used In Evaluation of the Best Electric Cars for Kids
We had to consider the developmental appropriateness of the electric vehicle especially when taken in the light of the recommended age. We also had to look at safety and stability issues especially the battery charging mechanisms. We then looked at what other consumers are saying about the products so we are sure these are the very same toys you would give to someone you love. Then, we had to look at the company's credibility and whether it is observing good manufacturing practices or not.
Another factor we took into account is the authenticity of the product.  We want to remain culturally relevant, whether it is using a keyed-ignition for the design or a push-button starter, a manual or automatic stick shift.  Whatever a child witnesses in their everyday life with Mom and Dad, or other adults on TV, we wanted it to reflect in our products — the look and the feel! Who wouldn't want the authentic chrome-look of wheels on a Ford F-150 truck?
Not just the look and the feel, we want the same quality and design of durability expected of a trusted auto manufacturer. This includes the sturdy steel-frame structure of the Dune Buggy; the all-terrain tires of the John Deere model tractor; the familiar engine roar and MP3 tunes to accompany the sporty ride that's always turning heads in that direction!
We took into account everything it could take to build your child's self-confidence as early as possible, ranging in all colors and model of car, to all sizes and age group from 6 months old and up.
Cars for Kids and Realistic Vehicles
Electric cars are great examples of ride-on toys that are otherwise similar with pedal-powered vehicles, except for the fact that these run on battery power. Nevertheless, these playthings are excellent for helping kids develop their psychomotor skills particularly in terms of their visual-motor coordination, balance, and proprioception. Flicking on switches also help enhance dexterity and master their control of fine motor movements.
More importantly, however, is these playthings' ability to encourage role-playing and pretend play among children. This can have a significant impact on their cognitive development especially in terms of problem-solving, spatial reasoning, and understanding of cause and effect relationships. These can lay the foundation for more complex thinking and reasoning skills such as critical thinking, creative thinking, counterfactual reasoning, and divergent thinking. For example, when given a particular terrain to navigate through, their brains are processing a lot of information to help them decide which path to take or whether to run over the obstacle or not. They are also processing the possible consequences of every action that they decide to take. Thus, these kids ride-on cars help children develop their ability to predict based on their understanding of cause and effect relationships.
When we received our driver's license, it was the most joyous moment in our lives. It signaled our abilities and our sense of independence. The same is true with children as they drive their electric ATVs, supercars, jeeps, and trucks around the neighborhood or in the park. This helps build their sense of independence which can help boost their self-confidence. This then translates into better self-esteem. The kid's sense of self-worth is thus, enhanced giving rise to the formation of a healthier self-concept.
Lastly, motorized vehicles for kids, when used with friends, helps greatly improve social development. They learn the value of taking turns and of sharing their vehicles with other children. When friends ride along as passengers, they learn that it is a lot more enjoyable to drive and ride in the company of friends than doing it alone. This helps foster friendships and more mutually beneficial relationships.
Safety Precautions
As with any electrical and mechanical toy, it is important that you are responsible and monitor your children's movements when playing with motorized vehicles. Make sure you buy reputable brands, like the products featured in this list, and always stay in a safe residential area away from busy roads and cars.
FAQ
Frequently Asked Questions
Q: How do we gauge the authenticity of the product design?
A: In some ways, the specs speak for themselves.  Savvy parents can see thorough research and dialogue our company made with car manufacturers to mirror the authentic driving experience to meet their child's needs.
Q: Is the maximum weight restriction/capacity enough?
A: On average, our products have a maximum weight capacity of 130 lbs.  This is taken from the usual height-weight ratio of a child below the age of 12.  Depending on the specified product, at most, it can comfortably seat two.
Q: What is the point of equipping these cars with "real life" radio or engine sounds?
A: It is proven that our auditory functions and familiar with the world begin in-utero. From an incredibly early age, we begin to make sense of our environment through auditory senses.  This helps to reinforce socio-cognitive function, as well as begin the early development of hand-eye coordination – it truly is a skill to rock-out to a tune while steering a vehicle!
Q: Why a maximum speed of only 7 mph?
A: This is the speed that a parent would probably feel most comfortable without endangering their child.  Anything higher, would not be recommended for toddlers or preschoolers.
Q: What can I do to get additional battery-life?
A: We understand that your child can be like the Energizer Bunny when it comes to playing! We recommend limiting use of the battery car in order to conserve the life of the battery. Then, to recharge the battery after nearly every use before it runs out. It's just like filling up your gas tank every time before it runs on "E".
Q: What is the possible resale value once my child outgrows this toy?
A: While this is a valid question, there is no easy answer!  What can be said, is that these are definitely "legacy-pieces", whose value will only increase with time.
The Bottom Line
Ride-on toys have always been considered important in the development of a child. If you don't want your child to tire easily, then giving him or her an electric car should be a wise decision. Let our list of the top 10 children's electric car reviews provide you with a heads-up on what to buy.
Related Posts
10 Of Our Favourite Remote Control Cars For Kids
15 Best Remote Control Rock Crawlers 
10 Best Toddler Ride-On Toys
12 Best Wagons Your Kids Will Love
10 Awesome Electric Dirt Bikes For Kids
10 Top Electric Kids Scooters
10 Go Karts Kids Will Love