10 Best Fidget Toys for Kids Reviewed in 2019
last updated
Jul 19, 2019
Some kids have a hard time sitting in their seat, some have a hard time listening for longer periods of time, and some kids just need to relax their brains to calm themselves. Whatever the reason, fidget toys are great for helping kids relaxing and be able to better focus. These toys have been created in a wide variety of shapes, colors, and even concepts. With their recent popularity among school age children, many products have hit the market. Weeding through that market to find the best fidget toys can be such a challenge. We have created a list of the best fidget toys for kids based on the current market.
In a Hurry? The test winner after 12 hrs of research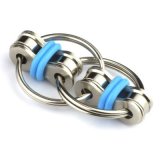 Flippy Chain Blue
Why is it better?
Provides continuous active movement
Quiet toy
Stainless steel rings and real bike chains create an unbreakable product
Keeps tiny hands occupied
Different colors for every child
In a
Hurry? Editors choice: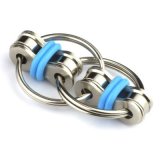 Test Winner: Flippy Chain Blue
11
Researched Sources
12
Hours Researching
14
Products Evaluated
Durability
Ease of Use
Sensory Stimulation
By Default
10 Best Fidget Toys for Kids Reviewed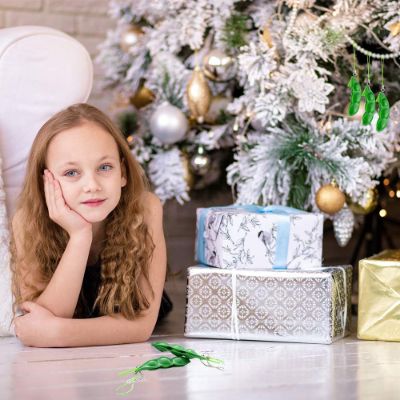 Provides continuous active movement
Quiet toy
Stainless steel rings and real bike chains create an unbreakable product
Keeps tiny hands occupied
Different colors for every child
Not suitable for children under three years due to small parts
Some kids may not like the metal design, texture, or metallic smell
If your child is super active, the Flippy Chain offers relief for their constant-motion hands. We know the struggle to keep a kid's hands out of their mouth (nail-biting and scab-picking child parents, we're looking at you!), so why not give them a Flippy Chain instead?
Read more
Durability
This fidget toy is a steel fortress, virtually unbreakable which means it's great for kids who have destructive tendencies -- in other words, most of them! Unique in the fact that it's created with real bike chains, the Flippy Chain is exactly how it sounds: a link of chains that is colorful and able to be flipped, squeezed, pulled, and fidgeted with.
Ease of Use
While smoothe, circular motions are soothing, we like that the Flippy Chain is virtually indestructible. When you don't have to worry about sending your child to school with a breakable toy, it's a good day.
Sensory Stimulation
The linked chains create a soothing circular motion when flipped, and the metal itself stays cold which can add a sense of relief for kids who do suffer from stress and/or anxiety.
2

. CuberSpeed Rainbow Ball Magic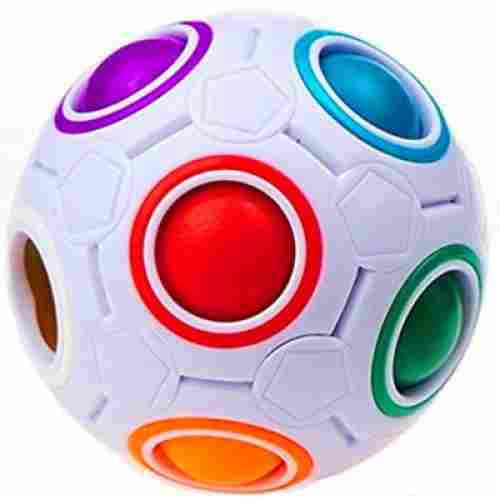 Bright colors offer visual stimulation
Helps improve basic logic
Critical thinking is necessary to complete the puzzle
Has dual usage as a game and fidget toy
Does not make any sound; silent game
Caters to older kids
Make cause frustration for kids who do not like puzzles
And now for something completely different! Not every kid is a fidgeter or in need of stress relief, some of them just truly enjoy a good puzzle to keep themselves occupied. The CuberSpeed Magic Ball is the modern twist on a Rubix cube (and much prettier than one!) and will keep your kids either occupied -- or stumped -- for hours.
Read more
Durability
The ball consists of 12 vibrantly colored holes and 11 just as vibrantly colored balls that turn a simple sphere into a fun game. The object is to align all the colors with same colors, but if a game isn't what your child is looking for, the foam ball inserts will serve as a soothing fidget toy just as well!
Ease of Use
Brain power is important, and we like that the Magic Cube requires it in spades. Or, shall we say, circles.
Sensory Stimulation
For growing kids, a good brain game that they actually enjoy is second to none in their development, and the great news? It doubles as a fidget toy while keeping them occupied with a goal in mind.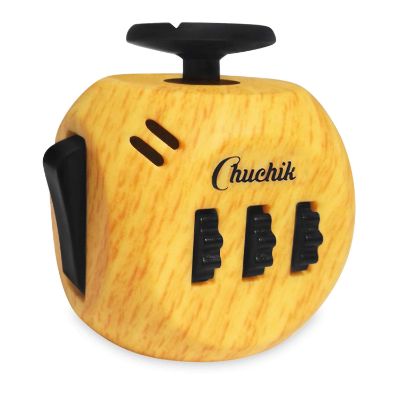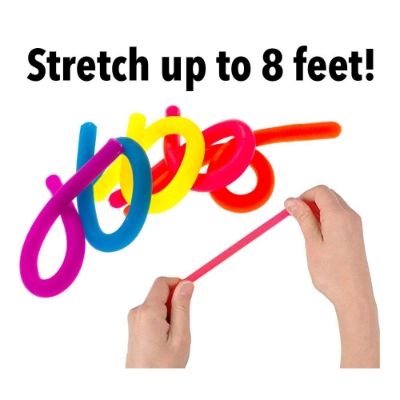 Cube designed fidget toy
Features six sides of uniquely designed features
Constructed from high quality soft plastic
Outside coating features rubbery texture
Reduces stress and anxiety, promotes calmness
Cube is slightly larger than other standard fidget cubes
Flat stick does come out and makes a clicking sound when pressed back in place
Fidget toys have been designed to reduce stress and increase concentration for many that struggle with keeping their mind focused on a task. The creator of this fidget toy has designed the cube to have six different features. Each of the features is unique and is designed on each side of the cube. That means that each side is different and a way of keeping the mind busy and more focused directly on the task at hand.
Read more
Durability
This is a cube that has been designed to keep the fingers busy and the mind focused. It has been constructed from a high quality soft and durable plastic. The outside of the plastic has a coating that gives the fidget cube a rubbery type feeling. It is an experience that the fingers will not let go and mind will not want to. It is a premium durable cube can be used day after day.
Ease of Use
If your little one crews their nails, twists their shirts, moves a lot in the chair plus many other actions then this will be the fidget toy that you have been looking for. Because the cube others six different sides and each side is unique it keeps their attention longer and their fingers busier. It is easy to use, each side features silent devices that are simply designed to keep the figures busy without having to think about the task.
Sensory Stimulation
From people with high stress to extra energy this cube offers just what they need. It keeps their fingers busy and their minds focused plus the total bonus is no one even has to know that they have it in their hand. It has been designed with silent features that are textured to tell the difference. The tool is amazing and works well for keeping anyone focused when they need it most.
4

. Born 2 Calm Sensory + Carry Pouch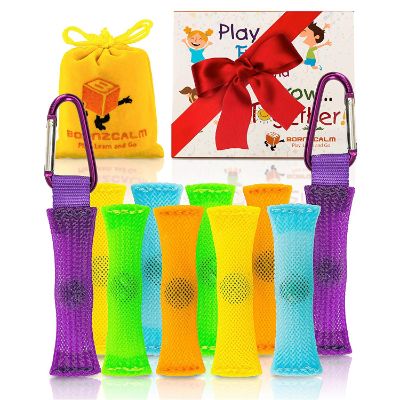 Assorted 10 Pack
Bright, bold colors
Durable, BPA-free nylon mesh
E-book with a related story
Includes carrying pouch and carabiners
Not every color has the necessary loop for the carabiner clasp attachment
Twist it, bend it, roll it, squish it: there's no wrong way to play with this fun fidget toy. With their smooth and varied texture, these toys give children something dynamic and interesting with which to busy their hands.
Read more
Durability
With a vibrant storage pouch and two colorful carabiners, it's hard to lose this toy. At 3.5" long, it's compact but durable, constructed from nontoxic, BPA-free nylon mesh. A wonderful tool to alleviate the stress of long hours of homework, or simple everyday tensions, this toy also helps give back to the Autistic community, as Born 2 Calm donates 10% of their profits each year to charities focused on the bright, beautiful children on the spectrum.
Ease of Use
These are simple and small. They're easy for little hands to hold, and come with several accessories to make sure that they won't be lost right away. The e-book is a fun, unique added touch to help you introduce children to these new toys.
Sensory Stimulation
Recommended by therapists and teachers, Born 2 Calm's colorful toy includes a marble, or "magic pearl," in the middle of a bright, bouncy bag. This set includes ten total toys, as well as an electronic book to explain to children how their magic pearl got caught in the bag in the first place. These fun little marble-and-mesh baggies have an immediate soothing effect on fidgety little fingers. The electronic e-book tells a darling story about the magic pearl inside the bag, helping to provide additional context and interest for young users.
5

. Playvisions Stretchy Mice and Cheese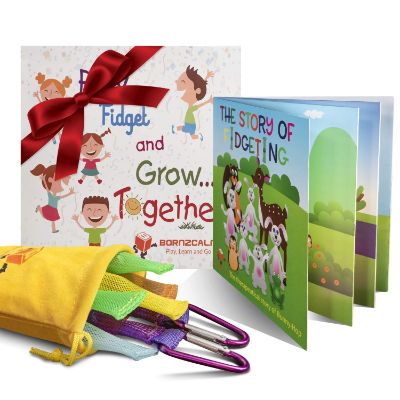 Mice and cheese designed fidget toy
Set includes cheese and two mice
Constructed from hyperflex material
Squish and stretch, push and pull to relieve stress
Provides hands and fingers with busy movements
Material easily attractions dirt and lint
Paint from the mice tail flakes off if pulled from the tail
What do you do with two mice and a block of cheese? They are small in size, but the stretch is big. It is the big and stretchy mice and cheese fidget toy.
Read more
Durability
It is an awesome stress reliever that has been constructed from a hyperflex material. The Hyperflex material gives both the mouse and the cheese a super stretch that kids are able to pull and fidget around with. The two included mice are not attached to the cheese. Each of the mice can be taken out and rearranged into different configurations. The various holes allow kids to be able to stick the mice in and pull them out this gives them stress relieving fidget toy that can be used in many different ways. When the mice are not in the cheese they can be played with individually, but like all mice, they usually end up back at the cheese holes. It is a great fidget toy that has a neat look that kids just love. If you are looking for a new style with all the same stress relieving benefits this super stretchy mouse and cheese is a great fidget toy for the kids.
Ease of Use
The design of this fidget toy is unlike all the other ones that the kids have seen. It is a neat concept that keeps them entertained time after time. It is also a quiet busy fidget toy.
Sensory Stimulation
Stress is just as overwhelming for kids as adults, if not more. As adults, we are able to use different coping methods, but children may not even know they are stressed or how to deal with it. Providing them with toys that allow them to fidget with their fingers and hands in a stress situation allows them to deal with the situation easier. The pulling and pushing the mice in and out of the holes of this cheese is super stress relieving and allows their minds to focus with ease.
6

. Small Fish Infinity Cube EDC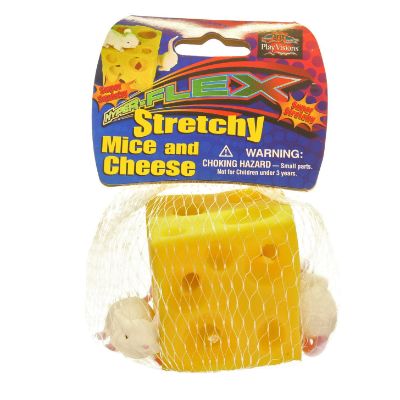 Hours of endless possibilities
Gives kids an introduction to geometric shapes without the numbers
Good mental stimulation
Improves hand-finger muscle coordination
Easily manipulated
Only comes in one color
Kids may get bored with lack of fidget option
No, we're not talking about the Infinity cube from Thor, however, Smallfish has created something equally as cool! The Infinity Cube has a well-earned name, made up of tiny little plastic blocks to create one larger block allow this cube to be formed, re-shaped, formed again, and pulled out to create another shape entirely different from its original form.
Read more
Durability
Safety is important to us, which is why this cube made our list no questions asked. An international safety rating isn't easy, but neither is creating a fidget toy that actually works!
Ease of Use
The term "infinity" implies limitless, and the options most definitely are with this fidget toy. The eight ABS certified blocks make this cube super safe for any age, and it doesn't stop there -- the Cube also topped the ASTM International Top Safety Standard, so if safety is your concern, this is your Cube.
Sensory Stimulation
Boring is not a word we associate with a cube that can be pushed into whichever form your child wants. With endless possibilities, this fidget toy was made for those kids who just can't help but jump around, shake their legs, crack fingers, or just be all around hyper.
7

. Neliblu Wacky Tracks Snap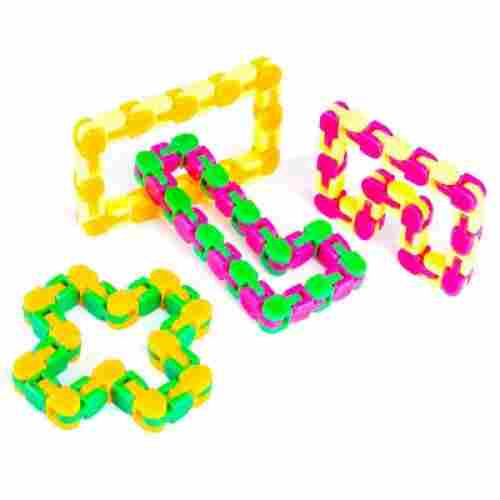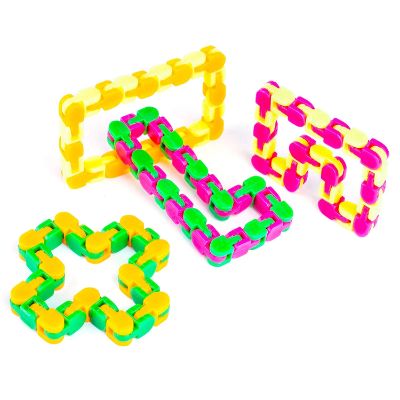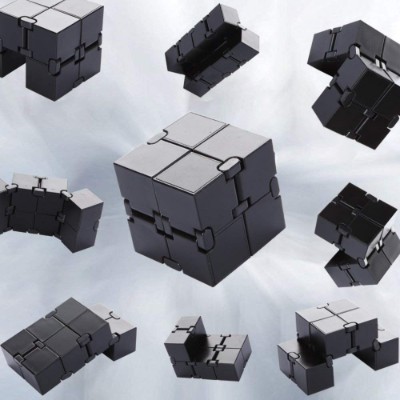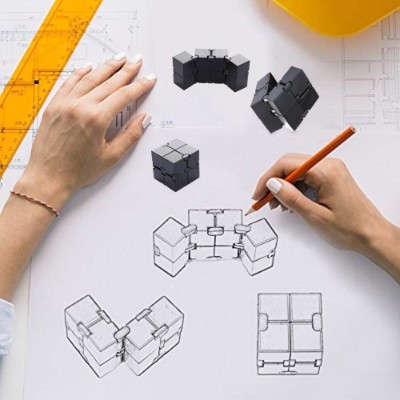 Various colors for personalization
Fully flexible to create different shapes
Caters specifically to OCD and anxiety disorders
Bendable links create hours of fun
Satisfying "snap" sound when links are pushed together
May not be stimulating enough for excessive fidgeters
Small parts may be considered a choking hazard
If your child opts for squares over circles, the Neliblu Wacky Tracks offer a unique way to fidget. Ideal for kids with Autism, ADHD, anxiety disorders, and/or OCD, what makes this fidget toy so unique is its ability to not only be morphed into different shapes -- but the sensory satisfying "click" the links make when being snapped into place.
Read more
Durability
With numerous daily compulsions, links that snap into place and form perfectly linear, even chain links That snap can reassure worried minds that all is in place and perfectly even.
Ease of Use
We like fidget toys that target specific disorders and encourage the natural act of fidgeting. While a Wacky Track isn't necessary the quietest fidget toy, it is by far the most satisfying.
Sensory Stimulation
For many children with sensory problems, sound can be a valuable tool, and the simple snap of a link sliding into place may be the most soothing sound for them. It seems simple on the outside, but Neliblu created this fidget toy with some pretty complex disorders in mind -- and how to soothe them!
High-quality materials
Easily transportable
Encourages learning and scientific interest
Sleek, sophisticated design to appeal to both children and adults
Some customers complained about poor assembly (magnets placed the wrong way), and thus a lack of resistance
Cheap packaging
The gold and silver precision slider help to establish a simulation of free fall. If your child's energy is as boundless as the frontiers of time and space, this makes a wonderful gift. No more trying to explain the moon by way of a giant ball of cheese (who originated that scientifically sound theory?); sit your little brainiacs down and show them the fun and wonder our world has to offer.
Read more
Durability
If you've ever wondered what gravity on the moon might be like, the Moon Drop Desk Fidget is a great simulation for inquiring minds. Made from high-quality, durable metals, the product is meant to be long-lasting, yet is also compact enough to fit in the palm of your hand, making it an easy travel accessory. Utilizing physics and magnets, Cool Fidget has created a simple but beautiful fidget toy for kids and adults alike. It is meant to mount easily on you or your child's desk, but is transportable and can be fiddled with and fidgeted to help increase focus and relaxation.
Ease of Use
The sleek design and fun physics-centered model make this a great choice for both kids and adults.
Sensory Stimulation
While being relaxing and focusing, this particular fidget toy also encourages scientific interest and allows for the beginnings of a conversation about space and physics.
9

. Impresa Products 5-Pack of Stretchy String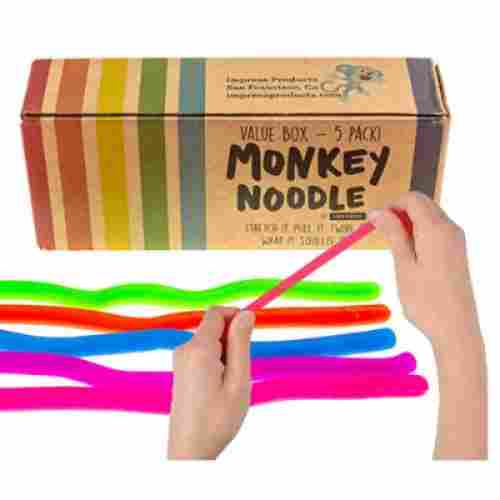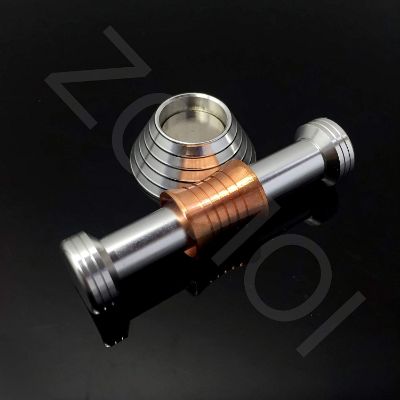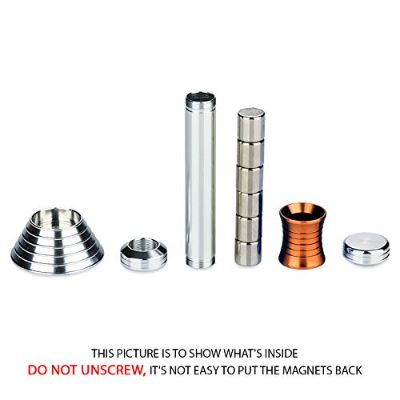 5 bright colors
Durable, high-quality rubber
Bendable into lots of different shapes
Great for focusing and calming children
Compact and easy to travel with
Can become gummy and sticky after repeated use
These Monkey Noodle Sensory toys bounce back nearly as fast as children do. Stretch them, twirl them, wrap them, squeeze them: then let them go and watch them revert back to their original form.
Read more
Durability
Hypoallergenic, non-toxic, BPA-free, phthalate-free, and latex-free, these noodles are high-quality twelve-inch toys that stretch up to eight whole feet! Each five pack includes a variety of colors and is suitable for children ages three and up. They're compact, easy to travel with, and the bright colors are attractive to young eyes and fingers. They're highly durable, made from rubber, and can be washed in soap and water. And the rave reviews about Impresa's customer service certainly make these worth consideration.
Ease of Use
These toys allow children something simple to do with their hands, but also gives them some range of expression. They can twist these noodles however they'd like, and even connect them temporarily. Children who get bored of standard fidget spinners or toys without much room for innovation might do well with this set.
Sensory Stimulation
Fidget and sensory toys help provide a sense of calm and focus for children and adults who are under high amounts of stress, or simply have a lot of energy and no real way to channel it. These fun, colorful Monkey Noodles give kids something creative and easy to do with their hands without eating up too much of their attention.
10

. Anpole Bean Fidget Toy with Keychain Extension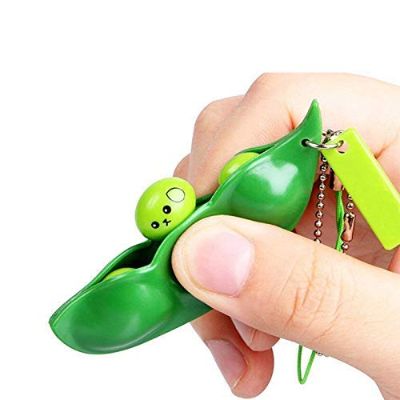 Pod and bean designed fidget toy
Features hours of endless bean "popping"
Each bean inside pod features a different facial expression
Helps relieve stress, improves concentration, and stops nervous habits
Easy to carry with keychain design
Beans inside pod are small in size, no intended for children under the age of three years old
Pods often come with a greasy film on the outside that needs wiped clean
Kids are often nervous and have anxiety just like adults, but they don't know what to do with that feeling. Sometimes they act out or not able to perform to their potential because of this issue. Fidget toys have been designed to curve that and allow them to focus on the task or even waiting on others. This fidget toy has a truly unique design that is the perfect pocket size. It is great for passing the time and helping to curb bad habits. The pea popping keychain offers hours of endless fun.
Read more
Durability
Each of the pods has been constructed from a durable plastic material that will pop over and over. It will continue to keep its size and shape over time never letting the popper down. Squeezing and squeezing then feeling the pop of the bean makes each time as exciting as the last.
Ease of Use
The endless fun that this fidget toy will provide each time that it is used is amazing. The design is simple enough for just about anyone to use, but the feature is complex enough to keep the mind busy when it needs it most. The design of the toy is small enough that it can be placed on a keychain in the pocket or on the backpack of your kids. It is a great replacement for electronic devices to pass the time.
Sensory Stimulation
Portable, popping with excitement, and stress relieving. This is one of the most uniquely designed fidget toys on the market. The design is great for transferring anxiety, relieving stress and curing boredom. One of the coolest things about this fidget toy is that each of the beans featured inside the pod have a facial expression. Each of the facial expressions is different and you will never know which one you get. It will never leave the user with a dull moment.
Criteria Used for Evaluation
Durability
Being restless as a kid can be both frustrating and exciting, and we considered all of the bursts of energy that come with simply just being a kid growing up. All of the toys we've selected provide hours of endless fidgeting options, regardless of whether the ultimate goal for your child is to wear them out, or calm their mind enough to relax at the end of the day. Mental stimulation goes hand in hand with physical stimulation as a kid, and being restless and excitable is a good thing! Less stress means more physical energy, and there's no reason why that can't be channeled into a fidget toy specifically designed to keep your kids stimulated and playing for hours.
Ease of Use
It was really important to us to find fidget spinners that allowed your child the freedom to roam, while also having their spinner close by in the instance of an energy burst or bout of anxiety. Kids can occasionally become stressed at school, in groups, or just in general while out in public, and having a method of controlling and channeling that anxious energy is so valuable. Whether carried in hand, in a pocket, or in your child's backpack, we made sure that all fidget toys were able to be easily transported wherever your child goes.
Sensory Stimulation
There are multiple types of stimulation that kids need to both stay focused, and promote mental and physical growth during their adolescent years. We've compared fidget toys from all over that offered significant points in both categories, and have even included some that may teach children logic far beyond their years. Early learning is never a bad thing, and there's no better way to to do it than with a fidget game! We often neglect how much kids are sitting still: at home doing homework, in school sitting at a desk in class, or in bed right before they fall asleep. All this time sitting and being idle prevents their body from being physical, which only makes fidgeting worse with no outlet. Sometimes an hour of gym time or half an hour of recess isn't enough, and there is no shame in gifting your child with a way to stay "awake" both mentally as well as physically during the day when they feel stuck doing otherwise.
Most Important Criteria
(According to our experts opinion)
Experts Opinion
Editors Opinion
Users Opinion
By Default

Parents, Did You Know?
Our list of fidget toys is diverse and unique, just as every child is. Kids have their own preferences and ways of coping with whatever it is that makes them fidget, whether that includes hyperactivity, attention disorder, sensory disorder, or just the struggles of being a kid with too much energy and the need for different forms of entertainment.
Parents, Did You Know?
Fidgeting is not a bad thing, and while we and science encourage it for positive growth, fidget toys designed specifically for that can take much of the pressure off of parents and caretakers. Below are several points of criteria that we've used to find the very best fidget toys for your child, we leave nothing to guesswork…even fidget toys!
Other Factors to Consider
Safety
Some Fidget Toys feature lots of small parts. Usually, these materials are contained so that they're not slipping around everywhere, but if a fidget toy breaks, its contents might go spilling out. If you have a little one who still likes putting all sorts of inopportune objects in their mouth, aim for a fidget toy that is one piece or made of safer materials that won't be so easy to swallow.
Frequently Asked Questions
q:

Is this quiet? My son needs to use it in his classroom.

a:

Each fidget toy varies as far as sound goes, most are silent. However, there are some that make a subtle clicking noise, which is included in the description of each separate toy.
q:

Does it really relieve stress?

a:

Fidget toys have been proven to relieve stress while also providing mental and physical stimulation sufficient for distracting the mind from stressors. So yes, it is stress-reducing to an extent.
q:

Can this be played by kids of all ages?

a:

All the fidget toys mentioned are age-friendly unless otherwise specified. As always, when dealing with toddler-aged children, supervision should always be present.
q:

Is this made of rubber or another material?

a:

Most of the fidget toys are made of either plastic, metal, or a combination of both. Materials can be found in summaries–but most are plastic.
q:

My 3-year-old son has autism. Will this be a good toy for him?
q:

Are these good for increasing hand strength?

a:

Strengthening hand muscles is an unlisted benefit of fidget toys–any repeated physical activity involving muscles will strengthen them, however minimally.