Whether you are on a particular diet, you want to maintain healthy eating, or you want to cut back on food expenses when traveling, bringing your food is always an enviable decision. You get the option to pack your preferred meals in the right proportion, seasoning and the variety that you want. When keeping fit or losing weight, you get the advantage of sticking to your diet goals.
It is best to pick containers that are best suited to your food type and travel factors. There are so many options for food storage from thermos flasks, plastic containers, stainless steel to glass containers. In our list, we have all these types with different holding capacities, prices, and durability features. We have comprehensively reviewed each product for you to comprehend their features, strengths, weaknesses and its value. We went through a rigorous selection process to handpick these products.
Our Top 3 Picks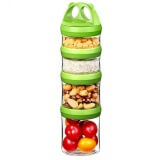 Seleware

Our rating
Soft
Price:

See Here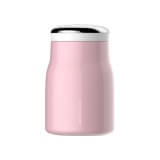 AKS Vacuum

Our rating
Soft
Price:

See Here
Herb Guard

Our rating
Soft
Price:

See Here
Besteamer Vacuum Insulated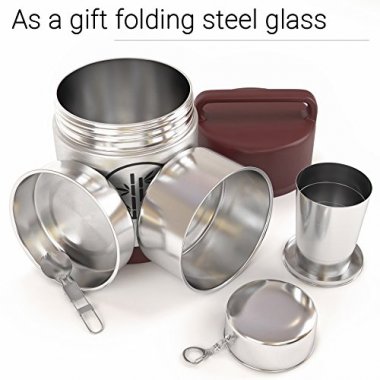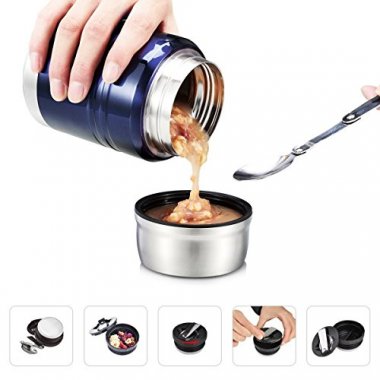 Nicole Home Collection 36-Pack
Herb Guard Airtight & Smell Proof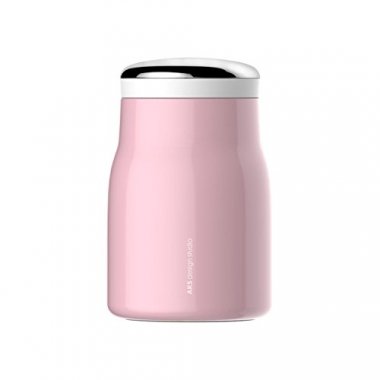 SELEWARE Portable and Stackable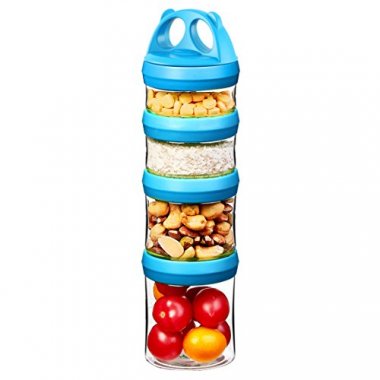 Criteria Used in Evaluation of the Best Food Containers
Buying a product from a physical or online store can at times be tasking especially if you have never bought that product before. It even gets more tasking if you are not sure of its quality and durability. We have made choosing a traveling food container a little bit easier, in our review. We have chosen the best that you will currently find in the market. Making a selection was not easy for us too – we had to do a market search. This is the criteria that we used to pick these products.
Safety of product material
Raw materials used in making food containers are a critical subject. Some materials have been shown to leak and into food, and others have substances like Bisphenol A (BPA) and Bisphenol S (BPS). These two substances have been proved to have hormone-mimicking properties that are linked to chronic diseases like diabetes, obesity, and cancer. Therefore, we made sure that the containers that we chose are made from food-grade materials.
User product reviews and ratings
A research study conducted in early 2015 showed that more than 90% of customers rely on reviews and ratings to make a buying decision. It is prudent to see what others have to say about a product before buying it. However, you need to be careful as some sellers have gotten into the habit of unfairly soliciting positive reviews. We were much aware of this during our search. Thus, we only considered reviews and customer feedback from online sellers that filter their reviews. We only settled on feedback from verified, unbiased and objective customers. We then chose products that had the highest user ratings and positive reviews.
Brand Reputation
A strong brand reputation was another critical consideration. We selected products from manufacturers that are renowned for their unmatched quality and durable products. These manufacturers are also known well for their excellent customer response and satisfaction. Their products also meet their advertisement claims. Some of the producers have even put a lifetime warranty on their products. Is there any other better way to prove the efficacy of a product?
Product testing
Some of the products have been tested for safety (to prove that they are BPA-free as claimed) by independent certified laboratories. For the containers that are meant to maintain food temperature, we put both hot and cold food for a number of hours. They were proved to keep the temperatures, just as labeled. We also tested on the claim of airtightness by submerging each container in water and leaving solid content like food overnight. We also proved that the lids fit tightly and do not leak.
Durability
When spending your money on an item, you hope that it will perform its required function for a long time without having to spend much more time and money on maintenance or replacements. We, therefore, chose food containers made of heavy duty material meant to serve you for the longest time.
Multifunctionality
We chose products that you will not only use when traveling but also for other purposes in your kitchen. Some of the products on this list can comfortably move from your travel bag to the dishwasher, microwave, freezer or even the oven without any trouble. With some of the food jars, you will also not need to carry an extra spoon or bowl as some come with these foldable items.
Factors to consider when buying food containers
Container material
There is no perfect material for food containers since each has its pros and cons. What you should bear in mind when buying one is that some are safer, more durable and can be used for several other purposes.
Glass food containers are generally considered to be safer than most other materials. They do not leach unwanted chemicals when in contact with food, are non-porous and are safe to be used over and over again. Washing a glass container is very easy as it does not absorb stains and smells. The fact that glass can withstand high temperatures also makes it very easy to sanitize at high temperatures. When it comes to durability, glass food containers are built to last long. However, glass containers are heavier, take more space in your bag, are costly, and some are quite fragile.
Plastic food containers are less costly than most food containers. They are manufactured in high quantities, making them more readily available. They are therefore the most common packaging containers that you will find around. Some of the plastic containers are heavy duty and can last longer. They are also lightweight and take less space when traveling. It is also very easy to recycle plastic as it takes less energy. On the other hand, plastic absorbs food smells and flavors. It is also affected by scratches, and can easily dent or crack. Although it is easier to recycle plastic, some people do not pay attention to it. When disposed, plastic contaminates soil, and it becomes an expensive affair to manage the toxicity it creates.
Stainless steel containers are more durable as they have a good mechanical strength and are non-breakable. They can withstand heat too, and if you do not like using the microwave, you can put your stainless steel container right on the stove. They are also lightweight and take minimal space in your bag. On environmental friendliness, metallic containers are highly recyclable. Their drawback is that they are prone to corrosion and quickly lose heat.
Type and amount of food
The kind of food that you want to carry will also determine the type of container that you buy. Some food containers are meant for both solid and liquid food while others are only meant for one. Others have compartments to store different foods, and others have stackable dishes in which you can pack a variety of meals. If you need a container for soups, the mouth should not be too wide, and it should be watertight. For solid food, it should be wider to allow easy scooping. For snacks, nuts, and salads a small container is enough. Coffee, herbs, teas, and spices need a container that is preferably small, airtight, and moisture controlled.
If you are watching your diet, then small, portioned or partitioned containers would be an ideal pick. If you are traveling for a long time or with family, then larger containers are the best for you.
Temperature control
If you need to keep your food either hot or cold when traveling, a thermal food container will help maintain the temperatures until you are ready to dig in. These types of containers use the vacuum wall technology to prevent heat loss. Again, if you need your smoothie, drink or any other kind of food chilled, a thermal food jar will maintain that cool temperature and freshness. Most of them have wide openings, and you can eat directly from them, making them even more convenient. Most keep hot temperatures for six to eight hours and 12 hours, for cold food.
Pricing
Mostly, food goes hand in hand with quality. The pricier traveling food containers have had more workmanship put into them. So, they are more durable and convenient. The type of material used will also significantly influence the price of a container. If you need something that will last you longer, we recommend that you invest more. However, you should be careful as a high price does not always translate to quality. Consider doing a background search from other experienced users before buying.
Reusability
If you need a food container that you will use for just one trip, a disposable one would be more economical. However, if you will need to use it over and over again for trips, lunch, to carry kids' snacks, then consider a reusable container. Some containers can also be used for other purposes, not just carrying food- for meal preparation or freezer, kitchen cabinet, microwave, oven, and as fridge containers.

Maintenance tips
Here are some tips to make your traveling food containers remain in tip-top shape and serve you longer.
Plastic containers and lids
Go easy on the microwave
Only use the dishwasher for those labeled 'dishwasher '
If dishwashing, stick to the top rack to avoid melting the container
Keep the containers stain-free by spraying a light coating of cooking oil before adding food
If already stained, soak in a mild bleach solution for about thirty minutes
Always rinse (but it is preferable to clean with warm water) immediately after removing food to eliminate odor and stains
If the container has already absorbed the smell, freshen it up with a natural deodorizer like baking soda
Stainless steel containers
Use a soft cloth, sponge, or a scouring pad to clean. Avoid materials that may scratch the container.
For stubborn dirt, use a nylon non-abrasive pad or use a baking soda paste
If your container(s) has polish lines, scrub parallel to them
Use an alkaline, alkaline chlorinated or non-chloride cleaning material to prevent corrosion
Minimize use of hard water
Leave them to dry before storing
Clean and dry immediately after removing food
To remove stickers and labels soak in hot soapy water or soak with vegetable oil then gently scrape off
If you notice any rust, use a scratchless pad without water or a cleaning paste and a cloth to clean
Thermal control containers
Clean with warm water
Handwashing is recommended using a brush
For stubborn stains use baking soda or soak overnight with warm soapy water
Avoid bleaching products
Before using, prefill for about three minutes with hot water for hot food and cold water for chilled or cold
Do not use in the microwave
Do not exceed the recommended holding capacity
Do not use for milk products as there is a possibility of bacterial growth
Do not use for carbonated drinks
When storing, keep the container empty and open
Glass food containers
The glass is relatively easier to maintain.
Wash with mild detergent
For dishwashing, use the top rack on the low heat cycle
When handwashing, avoid abrasive materials
Avoid frequent impact and scratches
For the freezer and oven safe containers, do not place directly from the freezer to oven as extreme temperature changes may cause breakage
Do not overfill
Avoid stacking glass containers when storing them
FAQ
Frequently Asked Questions
Q: Which is the best container material to buy?
A: It is hard to pinpoint a particular material to be the best. Each has its advantages and disadvantages, and again, it depends on your needs. On the factors to consider when buying a food container, we have comprehensively discussed the pros and cons of each. It is best for you to weigh what works for you best.
Q: What if I want to keep my food hot?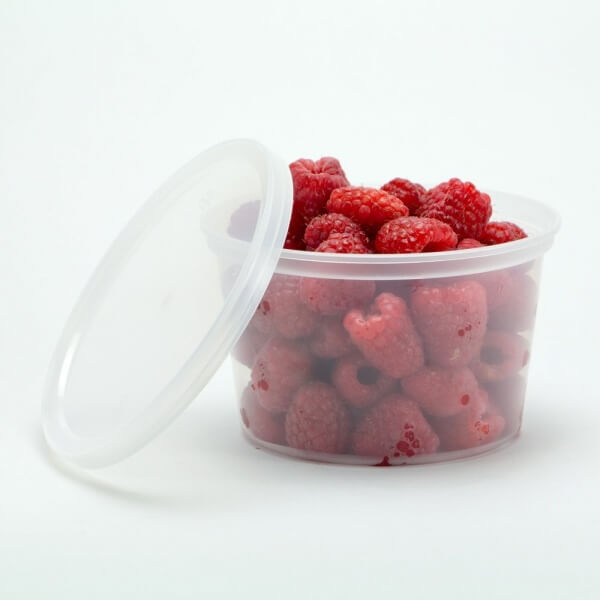 A: There are food containers that are designed to maintain the temperature of your food. They use the vacuum technology for heat retention. On our list, we have several of such products.
Q: What about their pricing?
A: Prices of the containers vary depending on the material used, durability and multifunctionality. No matter your budget, be sure that you will get a container that will serve your purpose. If you want one that will serve you longer, invest more, but if you want a short-lived one, there is no need to spend much.
Q: Can the containers be used for other purposes?
A: Most of the food containers on our list can be used for other purposes other than carrying food. They can be used for storing food in the freezer, fridge or kitchen cabinet, for prepping your meals, or baking if oven-friendly.
Q: How should I wash them?
A: If dishwasher friendly, use the top rack on the low heat system. Do not use harsh detergents. For handwashing, use warm soapy water. Avoid abrasive cleaning pads.