No need to wait until The World Cup to engage in your love of the game. And no need to pack everyone up and head to the park, or clear the yard! There's a way to kick your way to victory right in your own living room. We're talking, of course, about the age-old game of foosball. If you've been searching for a quality foosball table to share in nostalgia and friendly competition with family and friends, check out our favorite picks below!
Our Top 3 Picks
Warrior Professional

Our rating
Recognized by ITSF
Price:

See Here
Carrom Signature

Our rating
Premium bearings for spinning
Price:

See Here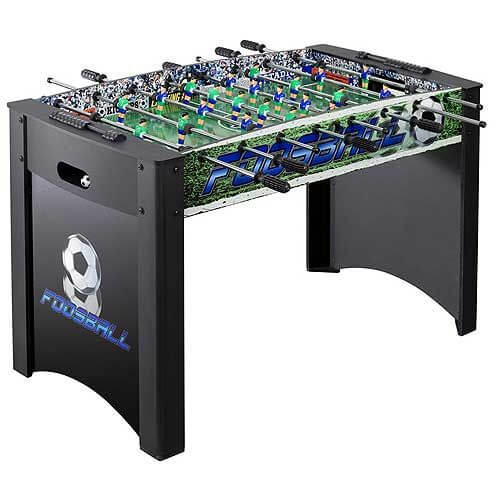 Hathaway Playoff

Our rating
Egonomic Grip Handles
Price:

See Here
Warrior Professional Foosball Table
Carrom 525.00 Signature Foosball Table
Playoff Soccer Table by Hathaway
FX40 Foosball Table by Sport Squad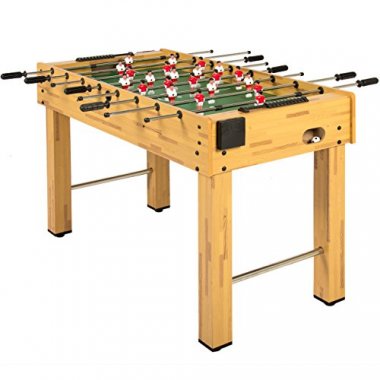 KICK Triumph Black, 55 In
Child Development and Foosball
Foosball is a great game for kids to have fun and compete with each other, but it's benefits are farther reaching than that. When we focus on child development, foosball is a sport than can have far reaching benefits.
Fun is wonderful, and kids need it. Without fun, life wouldn't really be worth living. But learning is just as important, and it's a good thing to learn and have fun at the same time. A sport like foosball is easy to get started in because you can start at home. You don't need an expensive table to start out with, which is good in case your kids don't enjoy the game. It isn't the rough and tumble of football or basketball. Foosball is a bit easier on the body. In fact, for people recovering from injury, foosball is great therapy. Many hospitals have foosball tables in their physical therapy departments.
Competing with others to see how often you can win is great exercise, and competition is a great tool for learning how to get along with others. You don't want hard feelings when one wins and one loses. There will always be a winner and a loser. But this is a teachable moment in parenting as well. If squabbles break out over competing, parents need to sit down and explain to their kids what sportsmanship is and how to resolve these conflicts. So kids learn conflict resolution when they are young. That's a great thing. It's a part of problem solving and getting along with others. There is lots of social and cognitive development going on here.
Foosball also offers kids support of development of hand-eye coordination, reflexes, fine motor skills. All of those physical factors support brain development. The more children move their bodies, the more their muscles strengthen, the more agile and coordinated they become, and the better they become at thinking and problem solving.
Kids need emotional support as they grow older, and foosball is a way for kids to work through emotions. Again, a teachable moment opportunity occurs. Activity is a way for kids to burn energy so they can control their emotions, but they need guidance to learn why they feel anger and frustration and how to deal with it. The control comes along as they get older, but parents need to explain why you don't scream at someone who just won a game or call someone stupid when they make a mistake. Maybe they are just learning the game. Kids need to be able to realize how to try to understand other people's feelings and treat them with respect.
This gives parents and kids a big opportunity to talk about their feelings, learn the language of feelings, and become able to sort feelings out, especially as related to competing. They learn how to feel about winning and losing, learning that anger may be appropriate, and how to express it. Or anger may not be appropriate as it relates to winning vs. losing. Then they can learn how to win and lose graciously. There's a good vocabulary word for you.
The more parents can help their kids understand what sportsmanship is, how to win and lose and what are proper ways to express their emotions, and the more successful a child becomes at expressing emotions, the more self-confidence he will gain. It's important for parents to show their kids that they take pride in the children when they do what is right. This boosts self-esteem, a very important feeling to develop in children as they grow. Kids who are shamed for their actions or reactions do not tend to become confident adults. Positive praise for positive emotions and gentleness when mistakes are made build more confidence.
Just as important, foosball is a sport and like all sports can help build relationships and personal bonding within families and circles of friends. These groups are important for developing trust, friendships, and loyalties between people, something everyone should be able to experience as it is very rewarding. Kids need to learn how to handle these relationships in a positive way.
Just as competition may bring out the worst in little kids, it can bring out the best as kids grow and mature. It creates connections between friends and family members. People in a group of foosball players can help each other out and motivate each other to do better. So children then can learn to motivate themselves to do better instead of showing anger. This is because as they grow, they learn and understand their feelings better. Cultivating motivation in a kid can bring out the best in them as they become more productive in practice. As an adult, that may help in being productive in the work environment.
When kids play at sports, any sport, they learn how to strategize, or come up with a plan for how to win the game. Thus, they are learning problem solving skills and how to organize their thoughts so they can come up with a plan that works. If it doesn't work, they learn how to improve their strategy. It might be hit and miss at first, but eventually they learn to think it through. And if a child gets stuck, they can ask for help from a friend or parent. These cognitive skills are so important, and with foosball, learning is so much fun that kids often come back to the game again and again.
Strategies kids learn in games when they are young, can often be stored in memory for when they are adults. Some game strategies can transfer over to the adult world as they go work and become productive.
Trivia
Foosball has been included in several TV shows, including the very popular series "Friends." Chandler and Joey lived simply in their own apartment. The ended up putting a foosball table in the kitchen area to replace their broken dining table. They placed a lot of value on relaxation. Apparently, eating did not fall into that category.
Criteria Used in Evaluation of the Best Foosball Tables
For foosball tables, we tried to keep it simple. Quite honestly, good foosball tables are pretty similar as far as their features go. They need a field of play, rods with players, legs, and balls. The differences are in the materials and the customer service. We have tried to get a variety of foosball tables to choose from based on price, materials, and ease of use.
Now with foosball tables, the people using the tables are quite capable of using the tables safely. The only controversy is the MDF wood fiber boards are made with formaldehyde. Some of the tables are made with that material. A few of them are CARB certified meaning they don't emit much formaldehyde. And the formaldehyde is mostly found in the dust of the MDB boards. The good thing about MDF is that it is much stronger than particle board and some other types of board, so it stands up to the punishment of foosball play.
There are three CARB certified tables that we have included in our list. So if you are concerned about this issue, we suggest purchasing one of these three tables. As always we try to choose well-respected manufacturers of foosball tables. The ones on our list have been making foosball tables for many years. Tornado (a top-rated manufacturer of foosball tables), Harvill, Hathaway, and Sports Squad are three of the best foosball table makers out there.
We tried very hard to find tables that customers report to be easy to set up. As always, there are differences of opinions, and not everyone has the same building skills. While there are instructions included, they are not always well written. That is common with most toys and furniture, not just foosball tables. Our best advice is to read the reviews because there are some buyers who have very good suggestions. And, don't try to set these tables up by yourself. Get some help. Three people are better than one.
Most of the time, people receive what they order and all of the needed parts and then some. When something goes wrong, call customer service. We found that lots of buyers had good customer service reviews. If we find too many customer service problems, we leave the problem product off the list.
When we choose the items for our lists, of course, they have to conform to our main goal of enhancing a child's development with toys. All of the foosball tables here do aid in child development, enhancing social, emotional, and physical skills. They learn about sportsmanship, how to get along with others and form social and family bonds, how to emotionally connect with others, and how to treat people with kindness, fairness, respect, and understanding. They learn how to motivate themselves and others to do better and they learn how to become confident, productive members of society. What a wonderful sport foosball is. And, you don't have to be a skilled athlete to participate and learn the game.
What Determined the Top Foosball Tables on Our List
How do you choose a foosball table? Well, we gave that task to our research team who had to scour the internet for the most popular and most talked about foosball tables currently available in the market. We were told that it was never an easy task especially that almost every other foosball table has essentially the same features. So how did we do it?
Well, we had to look at the convenience of setting it up. We read through a lot of comments and found out that the ease of assembly matters a lot to different people. Since our goal was to provide you with an entertainment system that fits right in your home, we have decided to look for features that will sit well with modern homes which should include the overall design of the table including its sturdiness and quality craftsmanship. The materials used in its construction were also taken into consideration. We also had to look at the goalie system as some models only include 1 goalkeeper while other models have 2 separate defenders on both sides of the goal, providing a 3-goalie system. The ease of use or playing had to be considered as well.
By the time we were finished with our evaluation, we knew we had completed one of the most challenging tasks we have ever faced so far.
Foosball and Your Kids' Visual-Motor Coordination
One of the most striking benefits of playing a foosball is the development and enhancement of your child's visual-motor coordination. The visual information is processed by the brain and almost instantaneously sends motor information to the hands holding the player rods. For us, we may think it's all about reflexes. But for the scientific community, it is a reflection of central nervous system development. It reflects how well the brain's neurons are processing a variety of information and how fast they can send these pieces of information to the different muscles of the body, particularly the hands.
Playing foosball is not only good for visual-motor coordination. It's also beneficial for the emotional and social development of children. It teaches them the importance of fair play as well as teamwork and cooperation especially if they are going to play side-by-side with their friends going up against an opposing team. This builds self-confidence while also enhancing their social skills. It can also help in their language skills as they learn to communicate tactics to their friends. Now, if children will play it with their family, it can help strengthen family social relationships.
FAQ
Frequently Asked Questions
Q: Do I need a lot of space in the rec room to house a foosball table?
A: That depends on the size of the table you buy. Leave 3-4 feet of space on each side of the table. You can go a little closer if the ball returns are on the sides.
Q: I need to move my foosball table to another room. How do I do this?
A: You should take the legs off the table and lift and carry it through the doors sideways. You will need help or you would have to take the player rods off. Doing that would possibly ruin the rods and the table. It's best to leave the player rods in place.
Q: My kids basically just play by spinning the rods around. I'm afraid they are going to break the table. Is this spinning a bad thing?
A: Ah, Yes. This spinning is a sign of inexperience in foosball play. While it's fun for little kids, it encourages bad playing habits and yes, it can harm the table. Spinning can ruin the rods, pins, and players on the rods. The players may get broken, making them useless for play. By playing slower, you can get opportunities to kick the ball more often and set up for a good defense.
Q: How does foosball help my child developmentally?
A: The most often cited benefit is eye-hand coordination. Your child has to aim the player feet at the ball and get it into the goal. Or he has to defend the goal with the goaltender. That requires great reflexes, which comes with enhanced eye-hand coordination.
Q: My child wants to play foosball in tournaments. He's quite competitive. Where should we start?
A: You should definitely start locally. Find other kids who play in tournaments. Check with your child's school, your city's community center, rec center, or YMCA. Watch the bulletin boards in your town. If you live in a small town, you may have to go to a nearby city.
Q: Why should I encourage my child of five years to play foosball?
A: There are many reasons. Here are a few. First, foosball helps your child developmentally with eye-hand coordination and strengthening of mini-muscles used in fine motor skills. Second, foosball is played in competition with others. This encourages competitive play, cooperation with others, following rules, maybe even showing up at a practice. Kids learn sportsmanship when involved in different sports. Third, it encourages the building of relationships with others, making new friends, sharing, playing together, and becoming a kinder person.
The Bottom Line
Foosball tables are not only fun to play with. These can also be excellent instruments for developing the various skills of children, especially their social and emotional skills. This Christmas, do yourself a favor and give your child any one of our top 10 foosball tables in 2019.