10 Best Formula Dispensers Reviewed in 2023
last updated
Oct 09, 2019
Feeding your baby is one of the most important things you'll do throughout your day as a new parent and it's also one of the more stressful things to do. In addition to figuring out which formula is perfect for your little one, you'll need to ensure that it's the right temperature, have consistently sterilized bottles, make sure your ratios are correct, and the list goes on. One thing that can help tremendously with this task is the introduction of a formula dispenser. These little gadgets are neat because they take away some of the stress that comes with feeding time. The dispensers on our list are easy to use, easy to clean, and will take up barely any room on your countertop at all. They make feeding time a breeze and can be refilled as you need them.
In a Hurry? The test winner after 11 hrs of research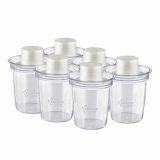 Tommee Tippee 6-Pack
Why is it better?
Easy to clean
Non-toxic and infant-safe
Can be sterilized with other bottles
Comes in a pack of six
Great for on the go
In a
Hurry? Editors choice: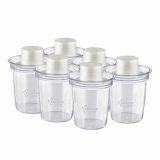 Test Winner: Tommee Tippee 6-Pack
16
Researched Sources
150
Reviews Considered
11
Hours Researching
13
Products Evaluated
Design
Capacity
Ease of Use
Value
By Default
10 Best Formula Dispensers Reviewed
Criteria Used for Evaluation

Brand
When it comes to babies, there are so many things to consider. Luckily, here at Born Cute, we consider those things for you! When we chose to write this guide for formula dispensers, we went through a way array of thoughts and debated whether or not containers should have only one purpose -- dispensing formula -- or more than one. When it came down to it, that question is what helped to shape the majority of our list. You'll notice a variety of products on here ranging in anything from strictly formula containers all the way to toddler-safe snack containers. We wanted to provide you with options while also showing you what else is out there. Modern advancements have turned traditional items such as a formula dispenser into something that can have more than one use. This bumps up the usability tremendously and also increases the value of the product. If it's something that you and your child can grow with, then it's something that we want on our list so we can show it to you. There were some other factors we did have to consider, though, and those were as follows:
a.) Will it be safe for babies and kids in general?
b.) How can it be washed and will it lose its shape or durability?
c.) What exactly can it hold and how can it be locked?
d.) Is it travel-friendly?
e.) How much will it hold and will it make feeding easier at all?

Capacity
We had to carefully answer each of these questions while evaluating all the products we found. After they were answered successfully, we were able to present you with the list that you've just read. It was important to us that each product had an answer for each of our questions and though some might not have answers that are as successfully, it was determined that if they excelled in other areas, they were worth being on the list. It's through this process that we were able to make our determination on what's worthy and what's not for your baby and his or her formula.
After all this, you might be asking yourself "why" when it comes to a formula dispenser. Does it seem lazy to you or like a useless step in something that you're just going to complete anyway? If so, then allow us to explain some of the beneficial factors in having one of these. For parents who are on the go constantly, a container that's intended specifically for formula can be a huge help in the way of remaining organized. If you lead a busy life and find yourself short on time much of the time, being able to pre-portion out a formula and store it in a container that can be easily grabbed is huge. This makes mornings run much more smoothly and can lead to much more relaxing nights as well.
Ease of Use
Absolutely! That's one of the reasons as to why we've included containers that have more than one use. These containers are great when it comes to portioning out any type of formula but also come in handy with snacks as well. Since they're built to last, containers such as these can be easily converted into small snack packs. You'll be able to give your toddler fruits, veggies, their favorite crackers or even a sweet treat in their own personal container.
Value
They'll feel like tiny grown-ups when it comes to being responsible for opening up their own containers and feeding themselves and you'll love the fact that you can make them feel that way. Some of these containers can also store liquids so you can pack things like baby food, puddings, and even yogurt for your child to take to daycare or preschool. They come in handy in more ways than one which is what we began to discover when we started our own research.
Most Important Criteria
(According to our experts opinion)
Experts Opinion
Editors Opinion
Users Opinion
By Default

Parents should know
How will you know for sure that your baby is hungry? Since they can't talk yet, it can sometimes be challenging to know when your baby is craving food. Once you have a formula dispenser and have eliminated some stress from feeding and getting a bottle ready, it's time to move onto how you can tell for sure that they're ready for it. The most obvious is crying -- They'll do this in such a way that it will sound low-pitched, will raise in tone, and go back down again. This uneven, unique cry basically means, "feed me, I'm hungry!" Your baby might also begin to lick their lips and make smacking sounds that are totally adorable but have an alternate meaning.
Parents should know
Anything they're doing with their mouth is usually a sign that they want something in it -- Meaning it's time for another bottle! Your baby might also nuzzle up against you as an instinctual sign that they're ready to be fed and open their mouth repeatedly, occasionally even sticking their tongue out or sucking on their own hands or fingers. These are all signs that you might have a hungry baby but luckily, you've already pre-portioned your formula.
Other Factors to Consider

Effectiveness
In conclusion, formula dispensers are designed to be revolutionary as far as making life easier. What they are designed to do, however, is to make your life as a parent go much smoother. We always strive to find the best products that are worthy of taking a look at in the hopes that they help you in some way. Parenting is challenging enough and you don't need products that aren't up to par or performing as they should, to make that even harder. We believe that you and your kids deserve the best which is why we're happy to bring products to you that have been thoroughly researched, reviewed, and deemed acceptable by parents and kids alike. That's our job, after all!
Frequently Asked Questions
q:

Can these hold liquid formula as well?

a:

Once a formula has been mixed, it can be rather tricky. We say this because formula won't stay fresh forever and should really only ever be given to your baby if it was recently made. We don't recommend holding liquid formula in these unless you're planning on feeding immediately after, however, they can be used to hold other liquid products. They perform their best when being used for their main purpose -- dry formula.
q:

How long will formula powder remain fresh in these?

a:

In all likelihood, you probably won't keep dry formula in these for longer than a couple of days. Babies go through their formula pretty quickly so that's not really the main concern. We'd say you could store it up to a week and after that, it's up to your discretion, depending on how often the container has been opened. If your baby doesn't go through a lot of formula powder at once, it's best to only fill what you know you'll need.
q:

Can these all be put in the dishwasher?

a:

Most of them can with the exception of the first option on our list. That container is heat-sensitive and will need to be hand-washed in order to avoid ruining or damaging the container itself. The rest can go into a sterilizer for thorough cleaning.
q:

Most of them can with the exception of the first option on our list. That container is heat-sensitive and will need to be hand-washed in order to avoid ruining or damaging the container itself. The rest can go into a sterilizer for thorough cleaning.

a:

Yes. As silly as it sounds, these containers work in a similar way to LEGOs. They can be stacked easily and stacked together regardless of which order they're in or if you've purchased two or more sets. This is actually a great idea if you have a baby and a toddler at home, as one set can be used for dry formula while the other can be used for snacks, etc.
q:

How much heat or cold can these containers handle?

a:

We'd recommend not putting anything into them that will steam up the sides as far as hot temperatures go. Alternately, we'd recommend staying away from products that are too cold as well. Their first purpose is to hold a dry powder and while they can hold snacks, they're not all designed to tolerate extreme heat or cold.
q:

Does it matter what type of formula is stored in here?

a:

No. You can store any type of dry powder in here and the ingredients of the formula do not make a difference. They're versatile for any type and brand and will serve the same purpose regardless.?