10 Best Formula Dispensers Reviewed in 2019
last updated
May 06, 2019
Feeding your baby is one of the most important things you'll do throughout your day as a new parent and it's also one of the more stressful things to do. In addition to figuring out which formula is perfect for your little one, you'll need to ensure that it's the right temperature, have consistently sterilized bottles, make sure your ratios are correct, and the list goes on. One thing that can help tremendously with this task is the introduction of a formula dispenser. These little gadgets are neat because they take away some of the stress that comes with feeding time. The dispensers on our list are easy to use, easy to clean, and will take up barely any room on your countertop at all. They make feeding time a breeze and can be refilled as you need them.
In a Hurry? The test winner after 11 hrs of research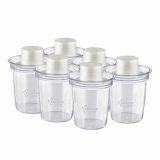 Tommee Tippee 6-Pack
Why is it better?
Easy to clean
Non-toxic and infant-safe
Can be sterilized with other bottles
Comes in a pack of six
Great for on the go
In a
Hurry? Editors choice: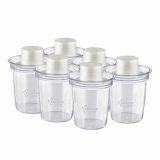 Test Winner: Tommee Tippee 6-Pack
16
Researched Sources
150
Reviews Considered
11
Hours Researching
13
Products Evaluated
Brand
Capacity
Ease of Use
Value
By Default
In depth review top 10
Tommee Tippee 6-Pack
Dr. Brown's Pink
Munchkin Combo Pack
Simba Twist-Lock Stackable
Joovy Boob Clear
Kidsmile Twist-Lock Stackable
Skip Hop Grab & Go
OXO Tot No-Spill
Philips AVENT Powder
BEABA Peacock
Table of contents
Criteria Used for Evaluation
Other Factors to Consider
Frequently Asked Questions
Sources
10 Best Formula Dispensers Reviewed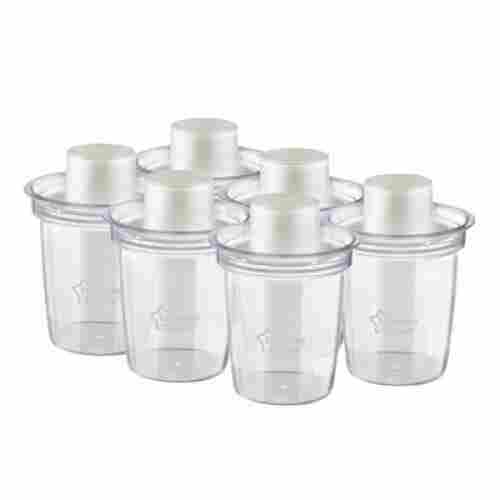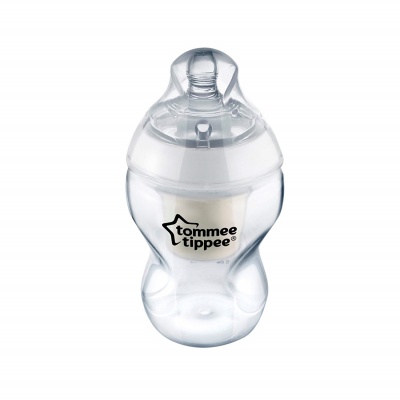 Easy to clean
Non-toxic and infant-safe
Can be sterilized with other bottles
Comes in a pack of six
Great for on the go
Holds less than eight ounces
If you're constantly on the go then containers such as these are what you need for sure. They come in a full pack of six so you can leave on at daycare, one with your babysitter, and one at the grandparent's house.
Read more
Brand
These containers are BPA and phthalate-free which means that your baby is safe no matter what. They can also be sanitized just like any other bottle which makes them easy to clean and reuse quickly.
Capacity
Rather, you can have three dispensers ready to go at a moment's notice so that your child will always have a formula that's fresh, warm, and ready to go. With six containers, you can store these anywhere that you go routinely and keep them filled in the event that your schedule overlaps with your baby's feeding times.
Ease of use
Having a jumbo pack of dispensers might be more helpful than you think! This six-pack of formula containers is great on the go, while at daycare, in the car, and even at home or at a friend's house. You'll no longer need to have three separate bottles sitting in your diaper bag awaiting your baby. Sometimes, traveling is just unavoidable. You no longer need to stress over how you'll measure out bottles on the go, though, because Tommee Tippee figured that out for you. This large pack of dispensers is the perfect way to stay on top of your baby's feedings and stay ahead of the game.
Value
These are great to pack with babysitters, family members and friends as well who might not have the experience or know-how to measure out a bottle accurately. The best part? They lock tightly, are completely hygienic and safe, and can hold up to nine ounces of powder formula.
Durable and strong
Travel-friendly
It has three compartments
Tight-locking opening
Can hold 12 full formula scoops
The lid can pop off rather easily while spinning
Dr. Brown's has an excellent reputation amongst parents and their formula dispenser exceeds that. It's simple yet durable, strong, and will outlast many other products in the same category.
Read more
Brand
This formula container contains three separate compartments, similar to some others on this list, with the exception being the spout. It's designed to lock in place so that you can travel with it, store it in a bag, etc., and never worrying about accidental spills.
Capacity
Because really, no one appreciates formula covering the bottom of a diaper bag! This container is durable and strong and will hold up to four scoops in each separated compartment. Additionally, it's clear, so you can see exactly when you're running low and in need of a refill.
Ease of use
The tough spout is something that many people don't realize makes a huge difference in the quality of a product. Having a durable dispenser opening is the difference between a floor full of formula and three servings, ready to go for your baby when they're hungry and waiting.
Value
The top is easily moved around as well so you can pour out what you need when you need it. Having a product that's dishwasher-safe goes a long way when it comes to hygienic baby products. You won't have to worry about this coming out as a strange science experiment after it goes in which is something that comes as a relief to many parents.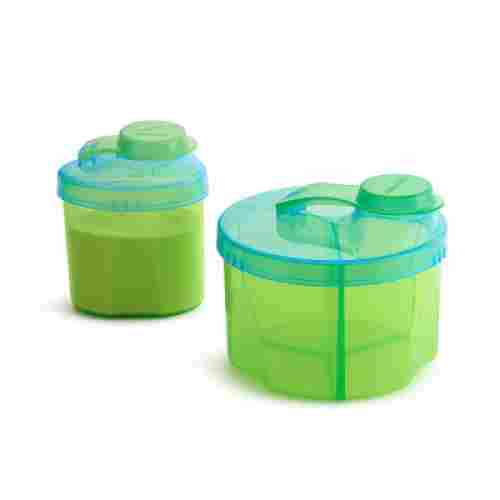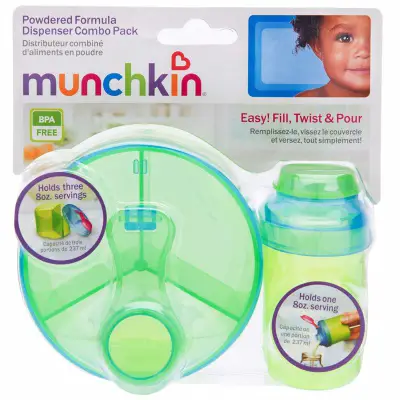 Durable container
Easy-out dispensing system
Three compartments
Holds powder, snacks, or liquid
Clear sides make it easy to peer into
It is not dishwasher or sterilizer safe
This is a great -- and not to mention colorful -- addition to any parent's baby collection. The Munchkin dispenser is designed to be easy to use, great for storing large amounts, and mess-free.
Read more
Brand
Have you ever been ready to feed your baby and realized that you never portioned out their formula the night before? Or perhaps your baby is being fussy and it's just one of those days where you feel like there's not enough time in the world, even to pre-measure formula for meals.
Capacity
This heavy-duty plastic will hold up to three separate servings of the formula of your choice so that when it comes time for feeding, all you need to do is pour. The sides of these dispensers are clear so that you can see right in. This is beneficial because, in the event that you're overtired (it happens to everyone!) or happen to measure incorrectly, you'll be able to see exactly how much formula you've deposited.
Ease of use
The Munchkin Formula Dispenser is changing all that with a unique three-compartment container that's designed to save you time and stress. The easy-out spout makes it simple to mix and empty each chamber, meaning you won't waste any time while your baby is hungry and fussy.
Value
Having three chambers means that you can plan for the entire day or night without doing it the following day. These are ideal for daycares as well because all you'll need to do is fill it, give it to your provider, and voila -- Three meals for the day!
4

. Simba Twist-Lock Stackable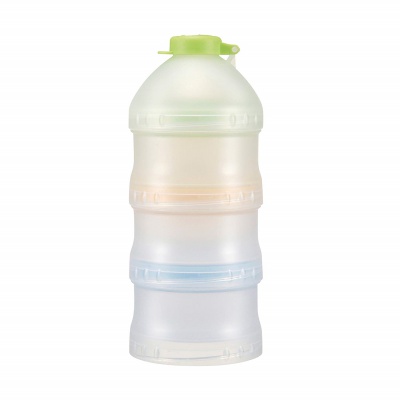 Durable and tight-locking
Color-coordinated
They stack to save on space
Can be used individually or all at once
Travel-friendly
The formula occasionally sticks to the plastic dispenser
Everything should be stackable, are we right? Not only do these containers save you storage space, they're also tight-locking for mess-free storage and color-coordinated to make feeding much easier.
Read more
Brand
These are the result of advancements in baby products and really convey how far we've come with innovative measures. The Simba Twist-Lock Stackable Formula Dispenser also doubles as a snack container to hold whatever your baby loves later on down the line.
Capacity
That's not the greatest thing about these containers, though -- They do actually stack! They'll save space in your cabinet, diaper bag, and even on your counter. Each container fits into the next like a puzzle piece and ensures that no formula is lost or spilled.
Ease of use
That's not the greatest thing about these containers, though -- They do actually stack! They'll save space in your cabinet, diaper bag, and even on your counter. Each container fits into the next like a puzzle piece and ensures that no formula is lost or spilled.
Value
The stackable nature of these containers allows for a bit more breathing room on your countertop or in your diaper bag. They're designed to hold one serving each but can be snapped together in order to plan out your baby's feeding schedule.
Has two locking lids
Easy to clean
Completely baby-safe
Holds up to eight ounces
Can be used as a snack container
It's only good for one formula serving
This product has a funny name but it's really quite serious in the dispensing department. It's the ultimate in locking technology so you'll never worry about a mess on your hands with the Joovy Boob.
Read more
Brand
Despite its funny name, the Joovy Boob Formula Dispenser can only hold eight ounces, but it is a solid choice as far as formula storage goes. The design of this containers lends itself to easy cleaning, and incredibly tight-locking top to prevent spilling and a completely safe and non-toxic container for babies
Capacity
It can also be used to hold snacks as it's roomy inside with plenty of height. The lid makes dispensing easy and will prevent any type of leaking or mess, making it one of the top runners for mess-free formula containers. The lid provides a tight enclosure and it even comes with a secondary lid just to ensure that formula never escapes the container until your baby is ready to be fed.
Ease of use
The secondary lid prevents a formula from leaking out even in the event that some does escape the dispensing spout. This is a great precautionary measure that we'd love to see with other containers.
Value
The mess-free promise of this container is exactly why we were so eager to add it to our list. It's easy to use, quick, and won't have you cleaning up formula that would otherwise be a waste once it spilled.
6

. Kidsmile Twist-Lock Stackable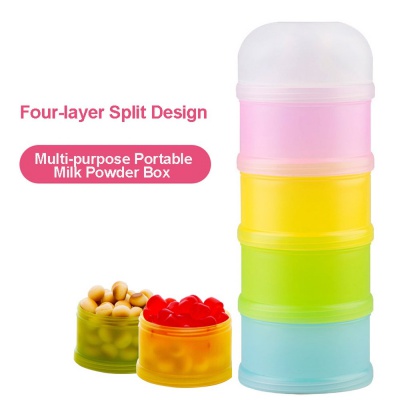 Color-coordinated
Easily stackable
Can be used for snacks
Space-saving
Very easy to clean
They can be challenging to twist closed
We've got more stacking products for you! These pastel-colored containers are perfect for travel and feeding on the go. They're also very helpful when it comes to grabbing single formula servings on your way out the door and even have an easy-out spout.
Read more
Brand
Similar to the Simba containers, Kidsmile has created a similar stacking product that can hold up to four separate formula servings. This is excellent for when your child goes to daycare or is staying with a babysitter since all you'll need to do is measure out the formula and instruct them on the correct temperature.
Capacity
The stackability of these really saves space when it comes to countertops and diaper bags, but it helps in plenty of other ways, too. Stacking each cup allows you to keep track of how much your baby has eaten, when it's time for which meal, and they can also hold snacks -- making them useful for toddlers as well.
Ease of use
These are color-coordinated even more than the rest, meaning that neither you or someone who is babysitting your baby will have an issue figuring out which container is for what time. The unique thing about each of these containers is that the dispensing spout can easily fit into the opening of most standard bottles.
Value
That means that when it comes time to empty the serving into a bottle, there's literally no mess and no trouble when it comes to receiving a full serving.
Options for dry and wet foods
Stackable
Comes with a handle
Various ounce sizes
Easily cleaned in the dishwasher
It's not as easy to add dry formula to a bottle as with some of the other designs
Skip Hop has made these containers versatile enough that you can fit anything from dry formula to fruit in these adorable stacking cups. And our favorite part? The handle that makes it totally travel-friendly!
Read more
Brand
This is the ultimate in container-stacking and formula-holding, at least when it comes to our list. Some parents might even say that these containers hold too much but we think that more is always better! The Skip Hop Stackable Baby Formula Dispenser comes with two ten-ounce containers and two six-ounce containers.
Capacity
There's one additional feature that we haven't told you about yet, and that's a lid handle. You wouldn't think this is very important until it comes time to walk out the door and your hands are full -- Thus all you need to do is grab the lid handle and all four compartments come with!
Ease of use
This variation allows full customization over your baby's feeding schedule and will make your life much, much easier. Additionally, you have options as far as lids go too; this set features an easy-pour lid, a dry formula lid, and two water-tight lids for liquids. They can be unlocked in order to be carried as separate food containers and when you're done, just throw them on the top rack of your dishwasher to clean
Value
These couldn't be easier and allow so much versatility when it comes to feeding that many other brands lack.
The options are endless when it comes to stacking these containers. They'll grow with your child and as they get older, you'll be able to pack various snacks according to each lid design.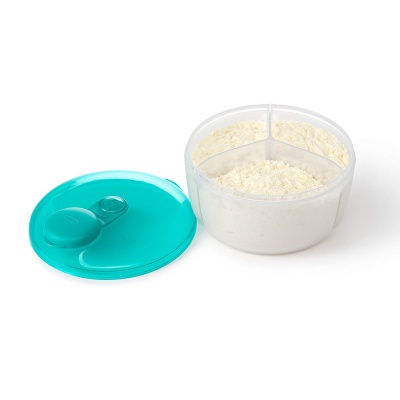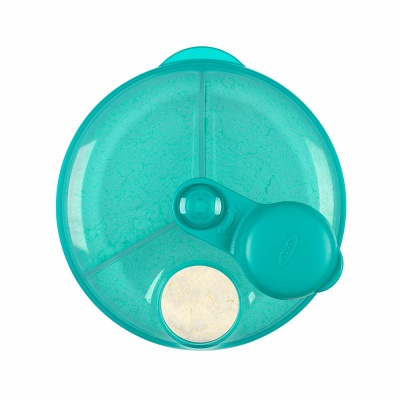 Tight-locking lid
Easy to swivel around
The stopper can be moved around
The formula comes out easily and quick
Can hold up to 27 ounces total
The stopper can be awkward if pouring at an angle
The shape of this container might throw you a bit but we assure you, it's this design that has parents loving it. The unique tub-like appearance helps keep dry formula in one place and allows for easy measurement as well as safe, mess-free storage.
Read more
Brand
Another thing that we love to see is a "no-spill" guarantee on dispensing products. This OXO Tot container has three separate compartments, each holding up to nine ounces of powder formula. The design and shape of this container are a bit different from the others; it's shaped much more like a tub than a tall container. This makes it easy to pack away and very travel-friendly, as the lid has more surface area to lock onto and the individual compartments are much more shallow.
Capacity
That means that while you're pouring out the formula, the stopper can be twisted in the opposite way in order to keep it out of the way and make dispensing much, much easier.
Ease of use
The swivel-lid is much easier to swivel than most due to its tub-like appearance. This means that you'll never need to stress over tricky containers that get stuck or stiff when it comes time to feed your baby.
Value
Additionally, the top isn't the only thing here that swivels in order to make pouring easier. You'll notice that the stopper on top has a directional arrow to indicate that it, too, can spin it either direction.
Completely baby-safe
Can be washed in a myriad of ways
Can be used as a three-compartment storage space
Easily converted to a snack cup
Will last for years
The spout can occasionally fall over two separate compartments and let out some extra formula
This cute Philips Avent little cup has two functions, both of which we applaud. It can be used to hold dry formula but it also great for when you baby is a little older and in need of some snacks on the go.
Read more
Brand
It's no secret that we love products that have more than one use. In today's world, where time is seemingly in short supply and everything has more than one use, we were happy to find these AVENT Formula Dispensers. This smart little cup has a spill and leak-proof dispenser spout that prevents anything from escaping while in your bag or in-hand. It also functions as a formula dispenser while your little one is still a baby and as soon as they begin growing, it's large enough to hold tiny snacks.
Capacity
It's easily converted as well; simply remove the interior compartment divider that allows room for three formula measurements and you'll have a snack cup instantly.
Ease of use
This cup does it all; from three pre-planned formula measurements to an easily converted snack cup, it's useful in every way possible. It's a great investment and will last for years so that you get as much use out of it as possible.
Value
This is the perfect "on the g" product for moms who are looking to make their lives just a little bit easy. It's also a great investment for your child too, since they're the ones who will benefit from their snack-filled container later on.
Easy to lock into place
Stackable to save room
Completely non-toxic and kid-friendly
Will grow with your child
Comes with a handle for travel-friendly food storage
Does not hold as much formula as other models
IF long-term investments are what you like then these stackable cups are right up your alley. They're designed to grow with your child and will have them loving mealtime as a baby and snack time as a toddler.
Read more
Brand
This is a list that we are proud to say has no products that are even slightly better than any other. All ten of these have their own features that make them a true top ten. Although the BEABA Container is listed last, it certainly is not at all inferior to the others when it comes to quality and design.
Capacity
This stackable container comes with three compartments that are tight-locking and remain secure, regardless of whether you're storing formula or snacks. Each compartment can hold up to four ounces and can be stacked for an easy, on the go meal plan for your baby or set up on the counter for easy feeding.
Ease of use
As your child gets older, the easy side-grips allow them to open these containers themselves at school or at home. They're the perfect size for small snacks and allow kids to eat out of them easily. You'll also notice a handle added to the top of this stack, making them very travel-friendly as well.
Value
Although these containers are not clear, they make up for that in durability and lasting power. They're completely baby and toddler-friendly and won't spill, leak, or break easily. They're perfect for storing baby formula at home and as your child gets older, they'll be thrilled to have their own colorful snack containers. It's personal and fun!
Criteria Used for Evaluation

Brand
When it comes to babies, there are so many things to consider. Luckily, here at Born Cute, we consider those things for you! When we chose to write this guide for formula dispensers, we went through a way array of thoughts and debated whether or not containers should have only one purpose -- dispensing formula -- or more than one. When it came down to it, that question is what helped to shape the majority of our list. You'll notice a variety of products on here ranging in anything from strictly formula containers all the way to toddler-safe snack containers. We wanted to provide you with options while also showing you what else is out there. Modern advancements have turned traditional items such as a formula dispenser into something that can have more than one use. This bumps up the usability tremendously and also increases the value of the product. If it's something that you and your child can grow with, then it's something that we want on our list so we can show it to you. There were some other factors we did have to consider, though, and those were as follows:
a.) Will it be safe for babies and kids in general?
b.) How can it be washed and will it lose its shape or durability?
c.) What exactly can it hold and how can it be locked?
d.) Is it travel-friendly?
e.) How much will it hold and will it make feeding easier at all?

Capacity
We had to carefully answer each of these questions while evaluating all the products we found. After they were answered successfully, we were able to present you with the list that you've just read. It was important to us that each product had an answer for each of our questions and though some might not have answers that are as successfully, it was determined that if they excelled in other areas, they were worth being on the list. It's through this process that we were able to make our determination on what's worthy and what's not for your baby and his or her formula.
After all this, you might be asking yourself "why" when it comes to a formula dispenser. Does it seem lazy to you or like a useless step in something that you're just going to complete anyway? If so, then allow us to explain some of the beneficial factors in having one of these. For parents who are on the go constantly, a container that's intended specifically for formula can be a huge help in the way of remaining organized. If you lead a busy life and find yourself short on time much of the time, being able to pre-portion out a formula and store it in a container that can be easily grabbed is huge. This makes mornings run much more smoothly and can lead to much more relaxing nights as well.
Ease of Use
Absolutely! That's one of the reasons as to why we've included containers that have more than one use. These containers are great when it comes to portioning out any type of formula but also come in handy with snacks as well. Since they're built to last, containers such as these can be easily converted into small snack packs. You'll be able to give your toddler fruits, veggies, their favorite crackers or even a sweet treat in their own personal container.
Value
They'll feel like tiny grown-ups when it comes to being responsible for opening up their own containers and feeding themselves and you'll love the fact that you can make them feel that way. Some of these containers can also store liquids so you can pack things like baby food, puddings, and even yogurt for your child to take to daycare or preschool. They come in handy in more ways than one which is what we began to discover when we started our own research.
Most Important Criteria
(According to our experts opinion)
Experts Opinion
Editors Opinion
Users Opinion
By Default

Parents should know
How will you know for sure that your baby is hungry? Since they can't talk yet, it can sometimes be challenging to know when your baby is craving food. Once you have a formula dispenser and have eliminated some stress from feeding and getting a bottle ready, it's time to move onto how you can tell for sure that they're ready for it. The most obvious is crying -- They'll do this in such a way that it will sound low-pitched, will raise in tone, and go back down again. This uneven, unique cry basically means, "feed me, I'm hungry!" Your baby might also begin to lick their lips and make smacking sounds that are totally adorable but have an alternate meaning.
Parents should know
Anything they're doing with their mouth is usually a sign that they want something in it -- Meaning it's time for another bottle! Your baby might also nuzzle up against you as an instinctual sign that they're ready to be fed and open their mouth repeatedly, occasionally even sticking their tongue out or sucking on their own hands or fingers. These are all signs that you might have a hungry baby but luckily, you've already pre-portioned your formula.
Other Factors to Consider

Effectiveness
In conclusion, formula dispensers are designed to be revolutionary as far as making life easier. What they are designed to do, however, is to make your life as a parent go much smoother. We always strive to find the best products that are worthy of taking a look at in the hopes that they help you in some way. Parenting is challenging enough and you don't need products that aren't up to par or performing as they should, to make that even harder. We believe that you and your kids deserve the best which is why we're happy to bring products to you that have been thoroughly researched, reviewed, and deemed acceptable by parents and kids alike. That's our job, after all!
Frequently Asked Questions
q:

Can these hold liquid formula as well?

a:

Once a formula has been mixed, it can be rather tricky. We say this because formula won't stay fresh forever and should really only ever be given to your baby if it was recently made. We don't recommend holding liquid formula in these unless you're planning on feeding immediately after, however, they can be used to hold other liquid products. They perform their best when being used for their main purpose -- dry formula.
q:

How long will formula powder remain fresh in these?

a:

In all likelihood, you probably won't keep dry formula in these for longer than a couple of days. Babies go through their formula pretty quickly so that's not really the main concern. We'd say you could store it up to a week and after that, it's up to your discretion, depending on how often the container has been opened. If your baby doesn't go through a lot of formula powder at once, it's best to only fill what you know you'll need.
q:

Can these all be put in the dishwasher?

a:

Most of them can with the exception of the first option on our list. That container is heat-sensitive and will need to be hand-washed in order to avoid ruining or damaging the container itself. The rest can go into a sterilizer for thorough cleaning.
q:

Most of them can with the exception of the first option on our list. That container is heat-sensitive and will need to be hand-washed in order to avoid ruining or damaging the container itself. The rest can go into a sterilizer for thorough cleaning.

a:

Yes. As silly as it sounds, these containers work in a similar way to LEGOs. They can be stacked easily and stacked together regardless of which order they're in or if you've purchased two or more sets. This is actually a great idea if you have a baby and a toddler at home, as one set can be used for dry formula while the other can be used for snacks, etc.
q:

How much heat or cold can these containers handle?

a:

We'd recommend not putting anything into them that will steam up the sides as far as hot temperatures go. Alternately, we'd recommend staying away from products that are too cold as well. Their first purpose is to hold a dry powder and while they can hold snacks, they're not all designed to tolerate extreme heat or cold.
q:

Does it matter what type of formula is stored in here?

a:

No. You can store any type of dry powder in here and the ingredients of the formula do not make a difference. They're versatile for any type and brand and will serve the same purpose regardless.?