10 Best Gaming Chairs for Kids Rated for Comfort in 2019
last updated
Apr 15, 2019
For those children and teens who spend hours playing video games, being comfortable is incredibly important. We know that parents have a love/hate relationship when it comes to screens and video games. Video games can be beneficial to your children because they can help with their memory, critical thinking skills, logic, and problem-solving. Manufacturers have created some unique comfortable chairs that are ideal for hours of sitting and lounging while enjoying favorite computer games. We list the best-rated and the most-reviewed of these excellent products that have been deemed by customers at the most outstanding items being offered in this category. Our informative summary sections give you all of the pertinent details of each product to make your online shopping experience much easier. Here are the best gaming chairs for kids in 2019.
In a Hurry? The test winner after 34 hrs of research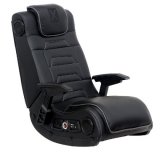 X Rocker 51259 Pro H3 4.1
Why is it better?
Four speakers for surround sound immersion
Compatible with most devices for gaming
Headrest and full support for the back
Has a side panel for the controls
Stores easily because it folds up
In a
Hurry? Editors choice: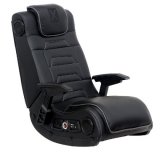 Test Winner: X Rocker 51259 Pro H3 4.1
16
Researched Sources
34
Hours Researching
20
Products Evaluated
Comfort
Ease of Use
Design
Adjustability
Capacity
By Default
In depth review top 10
X Rocker 51259 Pro H3 4.1
X Rocker Pedestal
BirdRock Home 14-Position
X Rocker 5143601 II
Cohesion XP 2.1
Giantex 360-Degree Swivel
Hormall S-Racer
Crew Furniture Classic Video Rocker
Devoko Ergonomic Racing Style
Furmax High Back Racing
Table of contents
Criteria Used for Evaluation
Other Factors to Consider
Frequently Asked Questions
Sources
10 Best Gaming Chairs for Kids
1

. X Rocker 51259 Pro H3 4.1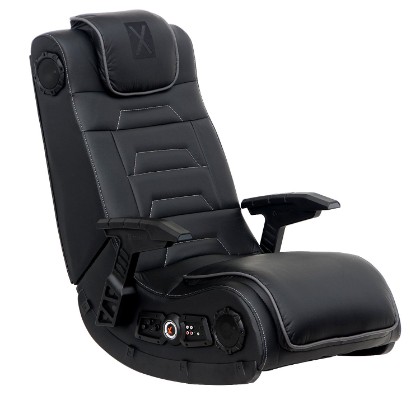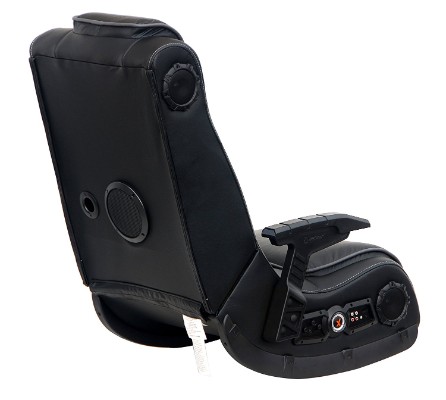 Four speakers for surround sound immersion
Compatible with most devices for gaming
Headrest and full support for the back
Has a side panel for the controls
Stores easily because it folds up
Wireless features are spotty at times
Item was smaller than some people expected
For all the bells and whistles if your child wants to feel like a professional gamer, the X Rocker Pro H3 is the way to go! It feels professional but adds a level of realism to gaming that is simply unparalleled.
Read more
This superb chair goes above and beyond the call of duty (no pun intended) when it comes to what a normal gaming chair entails and what a hardcore, over the top gaming chair features. Not only will your child be outrageously comfortable in this rocker, but they'll have access to a myriad of crazy extras such as built-in surround sound complete with audio, a wireless receiver, and transmitter, and compatibility with most gaming systems as well as mobile and tablet devices. It connects to Gameboy, PlayStation, Xbox, home theaters, and MP3/CD/DVD. Use it for listening to music, watching TV, or playing games. This fabulous product also features a fairly intense vibration that's designed to work with the chair's audio feature in order to provide the most realistic experience possible while gaming. Included are four speakers for surround sound immersion, RCA cables, a headrest, and full support for the back. Made of tough vinyl material that is easy to keep clean, this item has a weight capacity of 275 pounds. It stores easily because it folds up, plus it has a side panel for the controls of bass, volume, output and input jacks, and headphone jack.
Comfort
There is full support for the back with the padded cushions and the headrest that is very comfortable. Kids will appreciate the soft vinyl material and the form-fitting style of this product when they play games for hours at a time.
Ease of use
The proof is in the padding when it comes to this fully-outfitted rocker. The leather exterior helps maintain cleanliness and provides for easy spot cleaning, while the padded interior allows comfortably long periods of lounging.
Design
Everything is conveniently located on a lower side panel which means it's within easy reaching access. Unlike some rockers, you'll also notice that this one has nifty armrests so that your upper body won't get stiff without a place to rest your arms when they're not mashing controller buttons.
Adjustability
A side panel on the chair allows for the adjustment of the controls of bass, volume, output and input jacks, and headphone jack for games, music, and TV viewing while relaxing.
Capacity
The weight limit for this marvelous item is 275 pounds which is fine for most sizes and ages of children and teens. Even most adults will be very comfortable in this lovely chair as they join in on the excitement.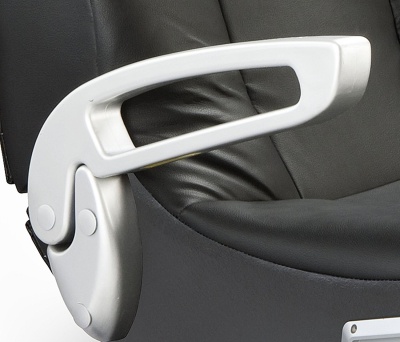 Compatible with most gaming systems
Sound system with subwoofer and speakers
Control panel for bass, volume, and jacks
Support for the back with an ergonomic design
Foldable with flip-up arms for portability and storage
Overall quality was disappointing for a few people
Does not have many features for adjusting the chair
The addition of a pedestal on the X Rocker Pedestal Gaming Chair may seem like something minor, but it can really alter how your child plays video games. It's great for taller kids and allows an extra level of stability and support.
Read more
If a chair that's a bit more elevated is something your child is interested in, Ace Bayou has combined comfort and style to create a chair that exceeds its limits in terms. A fantastic pedestal chair allows the user a bit more leg space and the chance to recline back without having the entire chair move with them. This can be more comfortable for taller kids when sitting for longer periods of time. This ideal product is compatible with most game consoles, including Nintendo, Gameboy, PlayStation, and Xbox, and it features surround sound audio that flawlessly brings gaming to life. This wonderful item has a sound system of 2.1 with subwoofer and two speakers along with a headphone jack and audio transmission that is wireless. The control panel on the side has bass control, volume, and jacks of input and output and even swivels and tilts for comfort. Full support for the back is provided with the ergonomic design. It has a foldable construction for portability and storage and includes a vinyl heavy-duty cover that is easy to keep clean. The flexible arms of the chair flip up to use it with or without them for versatile sitting.
Comfort
Two great features of this item are for the comfort of the user. The back support of the ergonomic design makes hours of sitting pleasurable, and the flip-up arms give you a choice of using them for resting or not.
Ease of use
The convenient side panel is something we really enjoyed seeing on this chair model. Everything is within easy reach and each control is laid out in a simple, common-sense way.
Design
The ergonomic design of this chair makes it one of the most comfortable on our list. The interior padding allows the user to settle in and will provide the perfect balance of support and cushion for hours on end.
Adjustability
The side controls for the bass, volume, and jacks for input and output are conveniently located on the side of the chair. This makes it quite easy to reach and control while sitting in the superb chair.
Capacity
Although the weight limit is not specified in the product description of this terrific chair, it is made for kids, so a safe limit to assume would be about 275 pounds. This is the minimum amount for a chair of this type.
3

. BirdRock Home 14-Position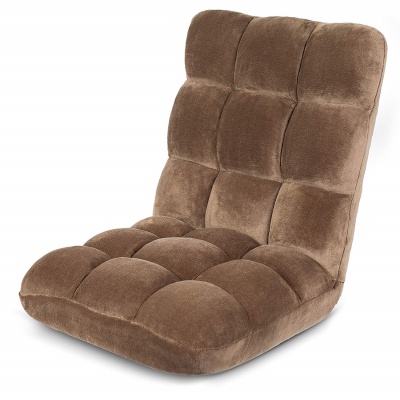 Memory foam will conform to body shape
Can be stored flat or stacked
Includes fourteen adjustable positions
Provides comfortable support for the back
Great for watching TV, reading, and lounging
There are no armrests
No audio or vibration features
Memory foam makes all the difference in your mattress and pillows so why not in your gaming chair too? The BirdRock Home Adjustable 14-Position Memory Foam Chair, while simple in design, is designed to provide the utmost in lounging comfort.
Read more
Created with luxurious memory foam this splendid gaming chair is made of fabric that is plush and soft for a wonderful cushy experience. This floor chair is a rocker with fourteen varied positions that will conform to the body shape for an ideal seat. It provides comfortable support for the back and is great for other activities of watching TV, reading, and lounging. This impressive item can be laid flat for napping and lounging or put in a right-angle position for sitting up. For storing the chair, it can be placed flat under other items such as a bed or stacked on top of another one for the best use of space. It provides extra seating for guests and family when they come over and there are not enough seats for everyone.
Comfort
No other chair on this list is designed with memory foam which helps this one stand out from the others. It not only feels great when you're sitting in it but will save you space and backache as well.
Ease of use
Using this marvelous product could not be any simpler. You just place it on the floor and adjust the back for the incline you want. It will do the rest of making you feel super comfortable for hours.
Design
Whereas the rest of these excellent chairs are large and mature for very young kids, this great item is toddler-friendly. Little ones can sit on it safely without the danger of falling off.
Adjustability
Since it is smaller and can be folded in a completely flat position, this terrific product is easy to store when not in use. The fourteen different positions that it has gives you choices from a 90-degree angle to a flat position for full comfort.
Capacity
There is no weight limit for this fabulous item because it sits directly on the floor. Heavier bodies may experience the chair tilting backward if too much pressure is placed on the back portion of the item.
Low to the floor and foldable
Full back support and an ergonomic design
Has two speakers by the headrest
Oversized with comfortable armrests
Comes fully assembled
Item can lean back too far
The stitching of the cover was a problem for some people
This is the same marvelous product as the second item listed but without the pedestal, allowing for full rocking mobility. Similar to a regular rocking chair, it allows your kids a full range of motion as well as a professional gaming experience.
Read more
You get all of the same great features as the other X Rocker product but without a base that adds height to the chair. By using body weight to counterbalance this chair, the experience can be more enjoyable than with a stationary that doesn't allow for freedom of movement. This impressive model includes surround sound audio and the same great side control panel to adjust the bass and volume that we saw with the other X Rocker model, complete with audio hookup and controls. You'll also find that this terrific chair has the same adjustable armrests and the ergonomic design of full back support that allows for long-term sitting. It allows you to actually feel the wonderful sounds, as there are two speakers by the headrest. Connects to PlayStation, Xbox, Gameboy, Home Theatre, and MP3/CD/DVD systems and comes fully assembled. This marvelous chair is oversized with comfortable armrests, has a durable vinyl cover, and is foldable with foam construction. The weight limit is 250 pounds.
Comfort
You will experience full back support with this excellent chair that has a design to fit the body well. It is most relaxing for all sorts of activities you can do in a chair plus take a nap to rest a while.
Ease of use
This chair is great for younger kids who are a bit more petite and might not be comfortable in a chair with a high-rise feature. It sits low to the floor and is safer than some other models that are higher.
Design
The audio has an added subwoofer so that the sound is as realistic as possible while gaming or listening to music. Having the two speakers by the headrest makes the sounds seem close and alive.
Adjustability
The bass, volume, and hookup controls are on the side panel of this terrific product. This makes it easy to reach and adjust when you need to quickly for the best gaming experience.
Capacity
This wonderful chair has one of the lower weight limits of 250 pounds. The limit is not so much for the base of the chair but for the weight on the back that could tilt backward too far with too much weight on it.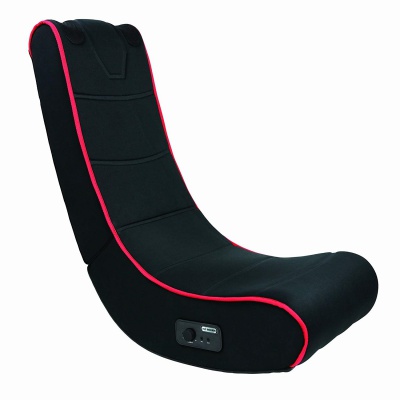 Features audio and AUX input
Includes two audio receiver speakers
Comfortable, foldable, and lightweight
Meets all safety board standards
Microfiber material is breathable
Was too narrow for some people
Does not have any armrests
If this chair looks like something that was just popped straight out of a race car, that's because it was specially designed that way. Need for Speed fans will definitely appreciate this amazing seat setup.
Read more
The Cohesion XP comes with all the features you'd normally expect in a gaming chair while sporting a look that's super-cool and chic. The flexible exterior of this great product helps conform to the back of the person, while the material is easy to clean and won't show dirt or wear and tear very quickly. It's designed to rock with your body and is a true "rocker" in every sense of the word. This fantastic item is lightweight which makes it somewhat portable since you can fold it in half to store easily. On the control panel, which is conveniently located on the side of the chair, you'll find two AUX inputs and a volume control. It's simple yet professional and makes for an ideal starter gaming chair. Included are two audio receiver wired speakers made into the product. It is comfortable and lightweight because of the microfiber material that is highly breathable. This item meets all safety standards of the Consumer Product Safety Commission.
Comfort
The microfiber material and the relaxed design of this item make is very comfortable for long periods of sitting. Breathable and lightweight, the fabric will not be hot or irritating to sit on for hours.
Ease of use
Because this amazing product is lightweight and foldable, it is quite easy to put anywhere you want. It is ideal for any room of the home and simple to move even by children.
Design
This is the perfect "in the middle" chair for a child who enjoys gaming but doesn't need all of the added special features. It does have audio and the basics for the AUX hookups but doesn't feature anything that's fancy or flashy.
Adjustability
The controls for adjusting the volume and sound system of the chair are on the side panel. This is well within reach on anyone sitting in the chair for easy manipulation of the sound aspects.
Capacity
Even though the weight capacity of this item was not given in the product description, it is safe to assume that the weight limit would be about 250 pounds. Just as long as not too much pressure is put on the back of the chair to tilt it over.
6

. Giantex 360-Degree Swivel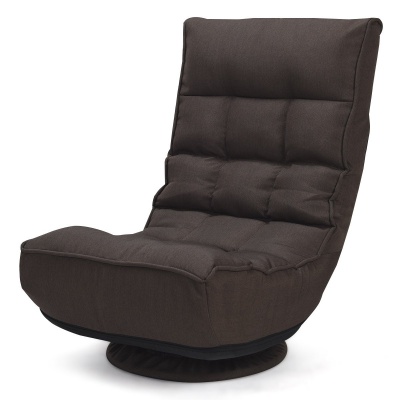 Backrest is adjustable to four position
Rotates 360-degrees and adjusts simply
Folds for easy portability and storage
Sturdy and supportive solid steel construction
Thick padding for great support for the back
Might be smaller than expected
Curved back could use added lumbar support
The backrest of the Giantex 360 Degree Swivel Gaming Chair is adjustable with four positions and will fit perfectly to the body. It is simple to adjust as it rotates 360-degrees and folds for easy portability and storage.
Read more
The sturdy linen fabric will not tear easily and is durable, and the base cover is removable for cleaning. This wonderful product is sturdy and supportive because of the solid steel construction which will relax the body for the enjoyable activities that can be performed in it. The thick padding makes the seat comfortable with great support for the back and can be used for reading, TV viewing, lounging, and playing games. It has a weight limit of 286 pounds.
Comfort
Relaxing and lounging will be comfortably done in this amazing chair because of the thick padding and back support. Long hours of sitting require good support for the body core as this one possesses.
Ease of use
The base cover of this item may need cleaning from time to time which is easily done, and the back of the product folds down to make it easy for carrying and storing when needed.
Design
The long-lasting construction is made of steel and is very durable. If needed, the base cover also can be removed easily for cleaning, plus the soft fabric is made of breathable linen that should not tear.
Adjustability
This fabulous item rotates 360 degrees for angling in any direction, plus the backrest has four varied positions for the best recline comfort. You can easily find your perfect setting quickly for long-time enjoyment.
Capacity
This has a medium weight limit of 286 pounds for the user. Any size and shape of a child will fit in it well, plus plenty of smaller and medium adults for gaming or relaxing fun at home.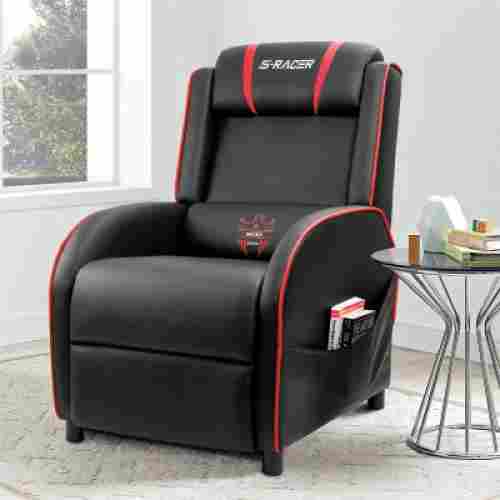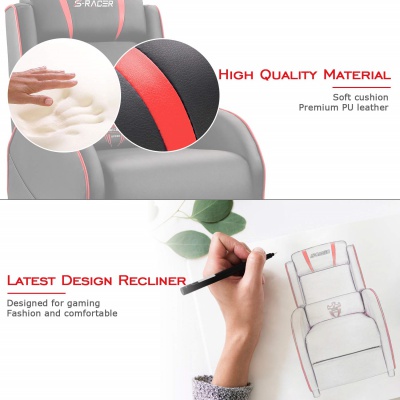 Easy to clean and skin-friendly
Back and footrests are adjustable
Has three 90 to 180-degree positions
Good cushioning for the neck and back
Includes side pockets for storing items
Was smaller than some buyers expected
A few people said the cushions were hard
Made with PU high-quality leather and thick high-density sponge which is easy to clean and skin-friendly, the Hormall S-Racer Gaming Chair has back and footrests that are adjustable and a capacity of 265 pounds.
Read more
Use it in three shape forms from 90 to 180-degree positions since it is great for napping, gaming, working, reading, or watching TV. Softer, bigger, and more suitable than racing game chairs for longer time periods, this superb item includes side pockets for storing all sorts of things such as books, magazines, or remotes. It is pleasing to the eye as it is a modern and trendy reclining chair with added support cushioning for the neck and back.
Comfort
Gaming requires sitting for long spans of time, so a very comfortable chair is required. This one is suitable for comfort because it is cushioned well, has different reclining settings, and is bigger than some other models.
Ease of use
Adjusting the settings of the back is easy, even for a child, plus the chair is simple to keep clean. The top-quality leather material makes cleaning a breeze and is safe for the skin.
Design
Unlike most other gaming chairs, this one has the trendy and stylish look of a fancy reclining chair that would normally be in a living room. The added neck and lumbar support make it appealing for long-time sitting.
Adjustability
You can choose from a right-angle position of sitting to a napping position of reclining with this highly adjustable item. Three varied settings allow you to choose which you prefer for the most comfort and enjoyment.
Capacity
All kids and most adults will be quite comfortable in this reclining chair since the weight capacity is 265 pounds. It is so roomy that smaller children can sit in pairs for gaming side by side.
8

. Crew Furniture Classic Video Rocker
Made for rugged heavy use
Comes fully assembled
Simple to move from place to place
Very safe for toddlers to use
Foam filling and an ergonomic design
Not adjustable for reclining positions
Can be non-supportive and narrow for larger people
Designed for children three and up the Crew Furniture Classic Video Rocker Gaming Chair is incredibly lightweight and easy for parents to move around for wonderful mobility. It is constructed of a wood frame that is sturdy and a synthetic leather vinyl cover, which makes it easy to keep clean.
Read more
This great item comes fully assembled and is perfect for kids agreed three-years-old and older. It comes in six fabulous color styles and is very safe for toddlers to use. This is a floor model of a chair without a base that has a foam filling and an ergonomic design. It is ideal for many types of floor activities, TV viewing, relaxing, reading, or playing games.
Comfort
The foam filling and ergonomic design of this wonderful product make it desirable for kids and teens, plus the fact that it sits on the floor makes it very suitable for gaming and relaxing.
Ease of use
This chair is easy to clean with a damp cloth. It is lightweight and made of breathable material, so it is easy to move around.
Design
This is a floor model of a gaming chair without a base that is very safe for young children to use. the wooden frame and durable vinyl make it long-lasting and sturdy for extended wear and use.
Adjustability
The aspect of adjustability of this chair comes in the form of its portability quality. It is easy to move from place to place and can fit in most places that some other chairs may not.
Capacity
The weight capacity is not specified in the product description of this product, but it is more for younger kids than larger ones considering the relaxed design. The back support is great for small children of lighter weights.
9

. Devoko Ergonomic Racing Style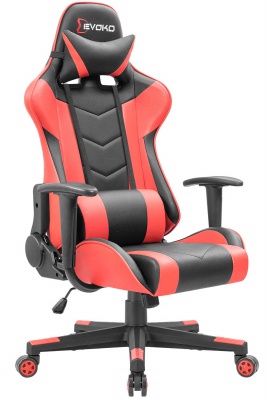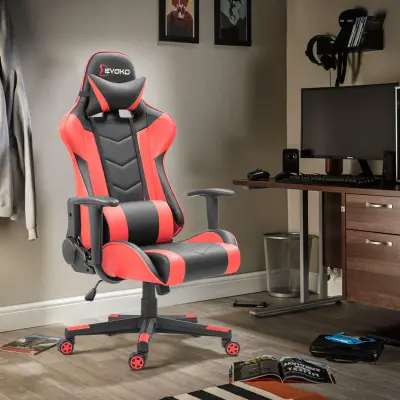 Adjustable for height and ergonomic
Has a high, curved back
Lumbar support and headrest
Headrest pillow and lumbar cushion
Wheels are mute and swivel 360-degrees
Armrests are not adjustable
Seat can be stiff because it lacks cushioning
The Devoko Ergonomic Racing style gaming chair has a weight limit of 300 pounds and is made of premium leather material. It comes with a terrific headrest pillow for supporting the neck and spine and offers lumbar support with a soft cushion for the back. The curved back is adjustable for height and has a high form for complete coverage of the body core.
Read more
Offered in several bold color combinations, it rotates and swivels 360-degrees with PU rolling wheels that are mute and high-quality. The wheels will move freely and not scratch floorboards when placed on hard surface areas. This amazing chair includes lock-tilt easy adjustment with angle recline adjuster to relieve body pressures and feelings of tiredness during long working or gaming periods.
Comfort
For hours and hours of gaming fun, you want a chair that will feel great to sit it. this one is adjustable for height with a high curved back and includes headrest and lumbar cushions to support your body.
Ease of use
The exceptional PU rolling wheels make this one unique item for gaming purposes. They will rotate and swivel 360-degrees and will not make noise or scratch the floor surface.
Design
With an ergonomic design that has much support for the back, neck, and head, this wonderful product is more comfortable than some of the others with its extra cushioning.
Adjustability
You get adjustments for angle recline, lock tilt, and height with this superb product. You can make it fit your exact size and comfort level for long periods of gaming enjoyment every day.
Capacity
With a 300-pound weight limit, any size of child or teen could use this gaming item comfortably. It is one of the higher limits for weight making it ideal for a wider group of children to enjoy.
10

. Furmax High Back Racing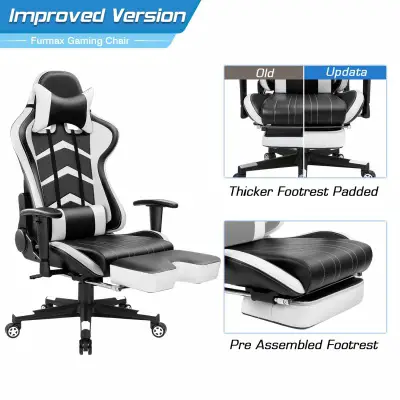 Ergonomic, high-back adjustable design
Has a footrest, lumbar support, and neck pillow
Features a footrest that pulls out and flips over
Backrest alters from 90 to 180-degree angle
Base is a 5-star base with rolling wheels
Could be more comfortable according to some buyers
Assembly instructions could be more descriptive
With a high back that is adjustable for height and an ergonomic design, the Furmax High Back Racing Gaming Chair includes a footrest, lumbar support, and a bucket seat. Made of premium leather material, it has a neck pillow and lumbar cushion, plus it comes in several bright color combinations.
Read more
This terrific design includes thick padding in the seat and back and features a footrest that pulls out and flips over for complete relaxation. The backrest is adjustable from 90 to 180-degree angles and can be used for napping. It has a 310-pound weight limit capacity and is made with a strong and durable steel tubular frame. The armrests provide a soft lift and support, and the base is a five-star base with rolling wheels for the best stability. The height of the seat adjusts easily with a lift system of pneumatic gas that even a small child can operate.
Comfort
The built-in comfort of this marvelous chair is in the form of its foldable footrest, adjustable height, cushions for the neck and the back, and the bucket seat. it is perfect for sitting for long periods of time.
Ease of use
The many personal and adjustable qualities of this model make it easy to use for any age of a child. the adjustable parts are simple to operate and change, and the footrest is easy to manipulate.
Design
Made for the comfort of the user, this incredible chair has an ergonomic design with a high back, lumbar support, and a neck pillow for comfort. Additional features are a bucket seat and a footrest that pulls out for convenience.
Adjustability
Adjust the height of this fantastic item to suit your preference. The backrest also can be altered from a sitting position to a reclining one for napping and relaxing in-between games or work.
Capacity
The weight capacity of this amazing chair is 310 pounds to accommodate almost any child and adult for gaming fun. Smaller kids could possibly sit in pairs in it because it is roomy and open.
Criteria Used for Evaluation
Comfort
A recreational chair for gaming should be above all else very comfortable for the person sitting in it. Considering how often and how long kids sit to play video games these days, the chairs they use must be quite supportive and cushioned for the best experience. The discomfort of a chair will affect the concentration of someone playing games and be a botheration to their enjoyment. These wonderful chairs are perfect for gaming because they give the user a relaxed, supported, and comfortable sitting position that can be appreciated for hours at a time. These all have ample cushioning of foam interiors, steel or wood supportive frames, and covers of soft and smooth vinyl or leather material. some of them have pillows of support for the neck and lumbar region, and one even has a fold-out footrest for the most reclined positions possible.
Ease of Use
Although the majority of these products must be assembled when you receive them, they are easy to put together using the supplied instructions. The ones that come with the audio features are simple to manipulate and understand with the side panel of controls. The options of the reclining positions are easy for children to operate and use, plus most of these are light enough for the kids to position them in the room themselves. Keeping these clean is not a problem either since they are constructed of sturdy and durable materials of vinyl and leather fabrics that are simple to spot clean. Once the child finds the ideal position of reclining and the perfect place in their room for their chair, all they have to do is simply enjoy it.
Design
The overall design of these terrific items is a relaxed, supported, and cushioned seating product for the use of video game playing for children. They vary in design details from being floor models or ones with bases that allow swiveling and turning. Some have pivoting bases, while others include bases with rolling durable wheels for extra mobility. They all offer some amount of lumbar and neck support and more than a few have audio qualities for surround sound with hookups. More than half of these models offer the buyer a choice of bold, bright color options to select a favorite color or a color to match the child's room. Because video games are played for hours and hours daily by children, these gaming chairs are designed to be the most comfortable for long periods of sitting.
Adjustability
Several types of adjustments can be made on these gaming chairs. Most of them have numerous reclining settings, so the user can go from a right-angled position to one that is completely flat for napping and lounging. The chairs that have surround sound capabilities have the control panels on the side of the product for altering volume, bass, and input/output connections. These are well within reach of the sitting child and easy to use. Some of the chairs have the ability to be folded flat for storing and portability possibilities. The ones that can contort to be completely flat are ideal to have in multiple because they can be stacked to make the best use of space in storage areas.

Capacity
The weight capacities of these kids' chairs are high when you consider that they are intended for children to use. even adults of small or medium size can sit on these chairs comfortably without any issues. The weight limits run from 250 pounds to 300 pounds generally, depending on the model of the chair. With the bigger types, even two small kids can fit in the chair together for competitive fun with their games. The weight is most important for the cushioning and lumbar support aspects of the chairs and the amount of pressure that will be put on the back of the product. If there is too much weight on the back of the rocker-type chairs, then the possibility of tilting backward too much becomes a problem. Lighter children will not be in danger of this issue because they are not heavy enough to tip the items over.
Most Important Criteria
(According to our experts opinion)
Experts Opinion
Editors Opinion
Users Opinion
By Default

Parents, Did you Know?
Since there are several types of gaming chairs on the market, you need to decide which one you prefer and need for your gaming pleasure. the choices are racer, PC gaming, bean bag, pedestal, and rocker. Make sure you get the one that is most appropriate for your comfort level and gaming style.
Parents, Did you Know?
Make sure the chair only has the features that you are lacking for your system. Don't duplicate qualities such as surround sound if you already have great sound with your gaming system.
Other Factors to Consider
Entertainment Value
These gaming chairs for children add to the overall experience of playing video games because of their comfort, style, and appearance that they offer to the user. Having a wonderful chair to relax with proper support and cushioning for sitting for hours is required for the most enjoyment. These excellent products make gaming fun more exciting and lasting longer because the player is so comfortable. The super styles of the floor models and racer types will look so wonderful in kids' rooms adding a pleasing effect to their personal environment.
Durability
Strong materials are used for the frames, cushioning, and covers of these items to last a long time for years of exciting fun. Some of them have wooden frames while others have steel ones, but they all give an adequate amount of durability and sturdiness for the gaming experience. These will not easily tear or show signs of wear, even when used daily and by more than one person. They are built with children in mind that will be using them for their gaming and relaxing desires.
Frequently Asked Questions
q:

Can these be used by adults as well or is there an age or weight limit?

a:

Anyone can use these chairs. We would even say that they can be used by toddlers as well, though they might have trouble understanding the notion of balancing in order to keep them from tipping. These products are suitable for any age.
q:

How can they be cleaned without damaging the fabrics?

a:

For any chair such as this, we recommend spot cleaning with a damp cloth and a little soapy water. For tough stain removal, it is best to check with the manufacturer with materials such as microsuede or leather. Most of these chairs are constructed with materials that are easy to clean quickly.
q:

Do they all offer audio and/or built-in vibration?

a:

No, they do not. Only some of these chairs offer those extra benefits. You will find this information in the summary sections above.
q:

How long will something like this last before it needs to be replaced for a new one?

a:

This depends on how much the item is used mostly. The majority of these chairs will last for many years without even beginning to show signs of wear and tear. Gaming chairs are comparable to armchairs, so they will last several years or more before they need to be replaced.
q:

Do these items work well on all floor types?

a:

Yes, they do. These chairs are designed to operate under the weight of the person who is sitting int hem, meaning that regardless of what they are sitting on, they will work just the same. Carpet might reduce friction and allow them to slide around a bit more, but the chair itself will work exactly as it does on any other floor surface. Technically, the weight of the child is what weighs the chair down and keeps it stationary.
q:

What is the most common complaint about these chairs online?

a:

The biggest problem that buyers had with these chairs, in general, is the size and the shape of them. from the photos posted by the manufacturer, some customers thought that the items would be bigger or wider than they really are. The size dimensions are given in almost every detailed description by the maker, which should be viewed before purchasing if size is a factor for you. They are designed for children and not adults, so this needs to be kept in mind when buying them.