Video games: Something that many parents have a love/hate relationship with. While it's been proven that video games can actually be extremely helpful in the way of improving memory, critical thinking skills, and boosting logic and problem-solving, that's not what we're talking about today. Rather, we're discussing the importance of owning a gaming chair especially if your child does do a lot of this fancy controller work. Gaming chairs are still relatively new on the scene and aren't a well-known concept to those outside of the professional gaming world (yes, it's a legitimate career!), therefore looking for one can be a bit overwhelming and present somewhat of a challenge.
There are two types of gaming chairs: An office-type chair and a rocker. We've filled this list with the former because when it comes to kids, no one wants to be distracted with wheels when you're super close to defeating a boss that has taken you two weeks to work your way up to. These rockers provide not only a comfortable environment for kids and teens who do game but provide ample back, arm, and leg support. By simply using your own weight against you, these chairs manage to sit upright and rock — hence the name — just slightly until they find equilibrium. As your child reclines all the way back, their weight pushed against the back of the chair will counteract the weight from their legs, which is pushing down. The result is an extremely comfortable chair that's conducive to all things sitting down, not just playing video games. These chairs are perfectly practical when it comes to playing board games, reading, and even watching television. Even though they're intended for use while playing video games, they present themselves as a perfectly natural way to sit at ground-level as well. They're helpful when you have company over, for sleepovers, or even study groups. As you recline on your couch, sit back and consider how amazing it would be to have one of these in your living room right now.
10 Best Gaming Chairs for Kids
1. X Rocker 51259 Pro H3 4.1
For all the bells and whistles if your child wants to feel like a professional gamer, the Pro H3 is the way to go! It feels professional but adds a level of realism to gaming that's simply unparalleled.
Expand to see more
There are gaming chairs and then there's the Pro H3 by X Rocker. This chair goes above and beyond the call of duty (no pun intended) when it comes to what a normal gaming chair entails and what a hardcore, over the top gaming chair features. Not only will your child be outrageously comfortable in this rocker, but they'll have access to a myriad of crazy extras such as built-in surround sound complete with audio, a wireless receiver, and transmitter, and compatibility with most all gaming systems as well as mobile and tablet devices. This chair also features a fairly intense vibration that's designed to work with the chair's audio feature in order to provide the most realistic experience possible while gaming.

Benefits
The proof is in the padding when it comes to this fully-outfitted rocker. The leather exterior helps maintain cleanliness and provides for easy spot cleaning, while the padded interior allows comfort long periods of lounging.

What We Like About It
Everything is conveniently located on a lower side panel which means it's within easy reaching access. Unlike some rockers, you'll also notice that this one has nifty armrests so that your upper body won't get stiff without a place to rest your arms when they're not mashing controller buttons.
Pros
Surround sound and a subwoofer
Easy-access control panel
Fully-padded for optimum comfort
Easy to clean leather exterior
Armrests for lounging
Cons
The wireless features are spotty at times
2. X Rocker Pedestal
The addition of a pedestal may seem like something minor, but it can really alter how your child plays
video games
. It's great for taller kids and allows an extra level of stability and support.
Expand to see more
If a chair that's a bit more elevated is something your child is interested in, Ace Bayou has combined comfort and style to create a chair that exceeds its limits in terms. A pedestal chair allows the user a bit more leg space and the chance to recline back without having the entire chair move with them, which can be more comfortable for taller kids. This chair is compatible with most game consoles and features surround sound audio that flawlessly brings gaming to life. On the side control panel, you'll also find an audio jack to connect MP3 and mobile devices in order to use the chair for entertainment rather than a gaming component, making it versatile as well. The audio can also be used via the wireless method as it's compatible with most devices.

Benefits
The ergonomic design of this chair makes it one of the most comfortable on our list. The interior padding allows the user to settle in and will provide the perfect balance of support and cushion for hours on end.

What We Like About It
The convenient side panel is something we really enjoyed seeing on this chair model. Everything is within easy reach and each control is laid out in a simple, common-sense way.
Pros
Features full volume control
Elevated from the ground
Surround sound
Adjustable armrests
Ergonomic design
Cons
Not compatible with Xbox One
3. BirdRock Home 14-Position
Memory foam makes all the difference in your
mattress
and pillows so why not in your gaming chair, too? This chair, while simple, is designed to provide the utmost in lounging comfort.
Expand to see more
Simple is sometimes better, especially when the topic is kids. The BirdRock Memory Foam Gaming Chair offers comfort in the simplest of ways, without any extra-added features that can overwhelm kids or turn them off when it comes to using it. Why would we consider something so simplified? Allow us to explain; the power of this chair lies in its comfort factor. It's created with memory foam which means the same padding that you likely sleep on is what your child has access to with this chair. That means 14 different positions that allow for full comfort, from their head all the way down to their feet. This chair can recline, be sat upright, and lock onto every position in between. Additionally, it's small enough to be set up in a child's room without taking up too much space and it comes in several different colors, including a vibrant, fun orange. This would be an excellent chair for a young gamer who doesn't need anything too outrageous and just wants to be comfortable playing video games. It would look great and minimal in a living room set up as well since the other two color options are very neutral.

Benefits
No other chairs on this list are designed with memory foam which helps this one to stand out quite a bit. Whereas the others are a bit too big and/or mature for young kids, this chair is even toddler-friendly.

What We Like About It
Since it is smaller and can be folded in a completely flat position, it's incredibly easy to store when not in use. This chair not only feels great when you're sitting in it but will save you space and a backache as well.
Pros
Created with a memory foam padding
Can be stored completely flat
14 adjustable positions for various options
Small and will save on space
Comes in several different colors
Cons
There are no arm rests
No audio or vibration features
4. X Rocker 5143601 II
This is the same great chair without the pedestal, allow for full rocking mobility. Similar to a rocking chair, this allows your kids a range of motion as well as a professional gaming experience.
Expand to see more
You're not hallucinating, this chair is a very similar model to the first X Rocker by Ace Bayou -- The difference is in the base. Whereas the X Rocker I features a pedestal base for the chair to swivel and sit on, this rocker is a rocker in the true sense of the word. You're getting all of the same great features without the addition of a base that adds height to the chair, which some kids might prefer. By using their own weight to counterbalance this chair, the experience can be more enjoyable than when the chair is stationary and doesn't allow for that freedom of movement. This model includes surround sound audio as well as that same great side control panel that we saw with the previous model, complete with audio hookup and volume controls. You'll also find that this chair sports the same adjustable armrests as well as the ergonomic back support that allows for long-term sitting.
Benefits
Although it's a slight difference, it's one that can really affect how comfortable your child is while they're sitting down. This chair is great for younger kids who are a bit more petite and might not be comfortable in a chair with a high-rise feature.
What We Like About It
The fact that nothing was left out of this design and, in fact, features were improved, is something that really sparked our interest. The audio has an added subwoofer so that the sound is as realistic as possible while gaming or
listening to music
.
Pros
Lower to the ground
Great for smaller kids
Audio features a subwoofer and surround sound
Same great armrest and ergonomic features
Comfortable for long-term gaming or lounging around
Cons
It often leans back too far with no lumbar support
5. Cohesion XP 2.1
If this chair looks like something that was just popped straight out of a race car, that's because it was designed to. Need for Speed fans will definitely appreciate this seat setup.
Expand to see more
This chair is simple, streamline, and looks completely professional. The Cohesion XP comes with all the features you'd normally expect in a gaming chair while sporting a look that's super-cool and chic. The flexible exterior of this chair helps form to the back of the user while the material is easy to clean and won't show dirt or wear and tear very quickly. It's designed to rock with your body and is a true "rocker" in every sense of the word. As a whole, this chair is lightweight which makes it somewhat portable as well since you can fold it in half to store easily. On the control panel which is conveniently located on the side of the chair, you'll find two AUX inputs as well as a volume control. It's simple yet professional and makes for a greater starter gaming chair.

Benefits
This is the perfect "in the middle" chair for a child who enjoys gaming but doesn't need to have crazy features thrown at him or her. It does have audio and the very basics when it comes to AUX hookups but doesn't feature anything that's too fancy and the design is anything but flashy.

What We Like About It
We're not really sure if this chair should be featured in the center of your living room or popped into a race car. It has a professional look without being too futuristic and definitely says "I'm a serious gamer" without being too over the top.
Pros
It looks great in any room
Saves on space with a unique foldable design
Features audio and AUX input
Has volume control
Designed to move with your child
Cons
There's not very much padding
6. X Rocker 5109201 Spider 2.1
It looks uber professional but it's really quite simple to use! This Spider model by X Rocker is cool, sophisticated, and sleek, for the gamer who values the finer things when it comes to video games.
Expand to see more
X Rocker just keeps rolling them out! Don't worry, the Spider has nothing to do with arachnids. However, it does feature an awesome sleek design that's intended to be used for all forms of entertainment, not just for gaming. The audio is second to none in this chair as it features speakers that are hidden from sight but will complete and movie, music, or gaming experience. Additionally, this chair features a pedestal design which means your child won't need to worry about rocking back too much like with some of the other rocker chairs and will be more stationary than mobile. The combination material on this chair helps to provide back and spine support where it's needed while still allowing comfort and padding for neck, shoulders, and head. Just like the other X Rocker models, the Spider comes with adjustable armrests that can be brought down for all-day marathons or left up when your child is in and out of the room. Within the control panel, you'll find AUX inputs for just about anything and this chair is compatible with most systems and devices. It's truly a leader when it comes to gaming accessories and technology.

Benefits
Not only does this chair look epic, but it will provide an epic gaming experience as well. It's not for the faint of heart and would make a tremendous gift for the serious gamer who can appreciate all of these crazy features.

What We Like About It
While there are plenty of add-ons, this chair is not overwhelming to operate. It's as simple as sitting down, getting comfortable, and allowing X Rocker to provide the realistic experience that all of their products are prided on.
Pros
AUX inputs for nearly every device
Comfortable with added support
Sleek and ergonomic design
Adjustable armrests and stationary pedestal
Hidden speakers for a realistic experience
Cons
The battery runs out quickly if you're using the wireless option
7. X Rocker 5172601 Surge Bluetooth 2.1
If high audio quality is something that your child values then this chair should be first in the running. It also features a look that's almost too cool for us, so there's that.
Expand to see more
This is the last chair designed by X Rocker that made it to our list and it has a few variations to it that are worthy of explaining. While most of the other X Rocker models have hidden speakers, this chair has them right out in the open and gives the chair much more of an arcade-style look to it. It's fun for kids because they'll feel fully immersed in their gaming or movie-watching experience, since the speakers pour sound out of the headrest, allowing for full 360-degree audio. This chair has no pedestal which allows it to be fairly mobile and will automatically counterbalance in accordance with your child's weight and height, making it easy to get comfortable quickly. The control panel, which is found on the side of the chair, glows neon blue for quick and easy reference if your child is sitting in the dark and needs to adjust something like the volume without spending too much time looking for it. Additionally, this chair features the same AUX input options as the others as well as a totally rad look that was modeled after race car-style seating.

Benefits
If your child is all about looking cool and getting a genuine gaming experience, this chair will have them head over heels excited. It received excellent scores for comfort and is designed in a modern and sleek way that any child will love.

What We Like About It
This will make your little gamer feel like a professional. For the price, it's an awesome way to take their gaming hobby to the next level and provide them with something that will help their posture and overall comfort, while making them feel confident and capable.
Pros
Amazing ergonomic design
Provides a genuine arcade-style feel
Control panel lights up
Feature full audio and AUX inputs
Fairly mobile as a rocker
Cons
It's a bit heavy and clunky to move around
8. Imperial Ergonomic Rocker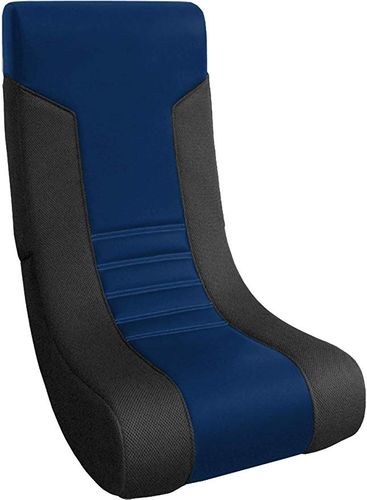 It's simple, it's chic, and it has a high back for all the extra-added support your little gamer needs while facing off against that boss. This will keep them comfortable for hours without any fussing over crazy features.
Expand to see more
When we set out to create this list, we opted to include options that were budget-friendly as well as top-notch quality. It was through this research that we found the Imperial Ergonomic Rocker Gaming Chair, which users have given high praise due to its level of comfort as well as the welcome price tag. For under one-hundred dollars, this chair can be a great addition to your child's gaming routine. It's simple yet serves its purpose as far as providing comfort over the span of several hours. It comes in four different colors, any of which would go well in a living room or child's bedroom. It's comfortable and provides firm support without being too hard on the back which is ideal for gamers who enjoy lounging back while gaming.

Benefits
There's no reason that something like a gaming chair should always have a hefty cost. This chair is perfectly practical for long days or nights spent gaming and can even be used alternately for watching movies, reading, doing homework, etc.

What We Like About It
This chair specifically is great for kids due to its smaller size and rocking abilities. Kids of just about any age will be able to lean back and allow their weight to be the counterbalance in order to get the most comfort out this chair.
Pros
Simple design
Provides significant back support
Very affordable
Comes in four different colors
Comfortable for young kids
9. ECR4Kids SoftZone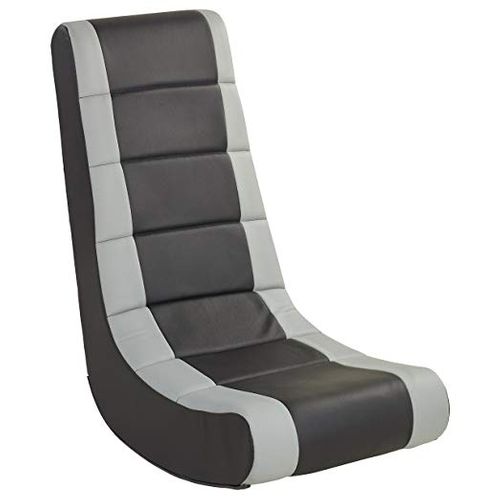 This is the gaming chair that's great for kids of all ages, for all things gaming and otherwise. It's the perfect shape for anyone from toddlers all the way up to teens and is a great lounger for any activity you can do sitting down.
Expand to see more
Not only is this chair comfortable but it's actually designed for kids. While many gaming chairs are designed for everyone, this chair features an ergonomic design that allows it to contour to the natural height and weight of anyone from toddlers up to young teens. It features most of its weight in the base so that a balance is always maintained when it comes to sitting in a reclined position, and the comfortable foam padding allows a bit of flex to conform to any body shape. While it can absolutely be used for gaming, it's also highly versatile and is great for reading, watching TV and movies, working on projects, or even just lounging around. It's available in two different neutral colors that won't compete with the other furniture in the room and its sleek exterior is unbelievably easy to clean with a bit of soap and water. Since the price is very low compared to some of the other options on our list, this chair would be great when purchased as part of a pair for larger households with more than one kid.

Benefits
With a higher, arched backing, this chair provides support so that your child doesn't feel like they're about to tip over. Using a rocker can be initially nerve-wracking as you don't automatically trust your own weight to balance the chair, which is why this is perfect for those who don't like too much mobility.

What We Like About It
We love that this chair can be used by everyone. It's not just your typical, run of the mill gaming chair; this is something that's versatile and well worth the money even though the price tag isn't all that high, to begin with!
Pros
Simple design with added support
Comes in two colors
Can be used by kids of any age
Can be used for more than just gaming
Very easy to clean with soap and water
Cons
The vinyl can shed as it gets worn-in
10. Crew Furniture Moonbeam
It's unbelievably affordable and it's a classic. This gaming chair will have your kids propped in front of their favorite games for hours; in fact, it's so comfortable that they might never want to sit in anything else.
Expand to see more
Last but not least is perhaps the most affordable option on our list but don't worry -- That doesn't mean it lacks quality in any way, shape, or form. This gaming chair by Crew Furniture features a fairly streamline design that only comes in one color, but is minimal all the same. With an easy to clean faux leather exterior, you don't have to worry about your kids making a mess after school or during sleepovers because this chair is an absolute dream to clean. It features an interior filled with foam padding in order to provide comfort as well as stability and support, making for a great gaming experience. It's easy to get comfortable in because this chair is has a well-thought-out center of gravity, making it versatile for just about anyone to use. Additionally, the wood frame makes the chair lightweight and easy to tote around and move from room to room if necessary.

Benefits
The classic style and look of this gaming chair is something that many no longer have. With all the extra add-ons and features that many do come with, we sometimes forget what it's like just to have something easy that we can sit on without fussing over.

What We Like About It
This chair allows the user to rock significantly far back, providing that classic "rocking chair" feeling that many gaming chairs have been stabilized against. It's fairly versatile and mobile so your child should have no issue getting comfortable while they're playing video games or watching TV.
Pros
Allows for full mobility
Comfortable for long periods of time
Simple yet sleek design
Foam padding holds up well
Very easy to clean
Cons
There's nothing extra about this chair
Criteria Used in Evaluating the Best Gaming Chairs for Kids
We had to weed out a lot of poorly-made chairs in order to find the best and most comfortable and let us tell you, the process was pretty similar to attempting to beat a video game. However, we did succeed and now we're going to tell you a little bit about how we found the best rocking gamer chairs out there.
The first part was easy. Much like starting out at level one in a video game, all we did was simply separate the office-type chairs from the more kid-friendly rocker chairs. Once we had that done, it was time to begin asking the big questions. We evaluated each option based on what it brought to a child's free time in terms of comfort, mobility, stability, and how well it was made. We were determined to only find chairs that had an excellent counterbalance to them, otherwise, the chair would not even be worth looking at in the first place. Comfort was another huge item on our list because kids have been known to play games anywhere from an hour to several hours, and we had to ensure that these chairs would provide adequate comfort as well as support. If a chair is uncomfortable then not only does that result in a waste of money, but it results in a frustrated kid as well… That was definitely something we did not want to happen. As far as mobility and stability go, each chair had to have enough mobility that allowed kids of any age, height, or weight to sit in it and be able to move around and get comfortable. It was a give and take; if the chair turned out to be too mobile, kids risked the chanced of offsetting their balance. If the chair was too stable, they risked the chance of not becoming comfortable at all. It wasn't until after we'd addressed all of these issues and questions that we'd narrowed our choices down to ten great options for your little gamer.
Why Are Gaming Chairs Important?
You might be asking why in the world you would need to spend money on a chair that's simply used for a hobby. It doesn't matter what your child is doing, whether they're reading, painting, drawing, running around outside, playing a sport, etc., it's the tools of the trade that make the difference. If your child is playing a sport, comfortable shoes are a must. If they're painting, they need good paint brushes and paints. If they're drawing, high-quality pencils or graphite are often needed. While gaming chairs aren't necessary in order to play a game, they do help in the way of providing adequate back, leg, and arm support while playing. Similar to typing on a keyboard, playing video games involve the use of a controller and lower arm and hand muscles. Because of this, a chair that provides a good basis for support is needed in order to stabilize the rest of the body so that the hands and arms are free to move around while also getting support when they're in a resting position. If your child plays video games more than once a week, this might be something to consider in order to avoid potential back and neck pain from sitting in an awkward position, or craning their heads in an awkward way to see the TV as well as their controller.
Additional Features That are Definitely Worth it
Gaming chairs offer comfort, yes. But what they also offer is a totally realistic and awesome experience when it comes to add-on features. Several of the gaming chairs we've listed have options for audio and vibration, which can really take gaming to a whole new level. If this gaming chair is a gift and especially if it's one your child has been wanting for some time, considering these features makes all the difference. With built-in speakers and additional vibration, your child will not only feel like he or she is in the game, but they'll be able to sense all the motion that's going on, on the screen, through the vibration in the chair. That means that if they're fighting an enemy and their swords clink together, they'll hear it in thought their headrest and feel the vibration when they've been struck in the game. It's an incredible tool that's used to boost the gaming experience a bit in order to make it more enjoyable and much more of a personal escape. Avid gamers will enjoy this experience and it might even be beneficial to those who suffer from anxiety and turn to video games as a method of relaxing or tuning out for a bit.
Some Other Things To Consider About the Health of Tiny Gamers
Kids are still growing, right? That means that while they're scrunched up in the same position for hours on end, their backs, necks, and spines can suffer from it. Eventually, these hours turn into little aches and pains that can be alleviated with the used of a chair that's specifically designed for their hobby. Gaming chairs can improve blood flow by allowing the body to stretch out, relax, and regain control of motion without being confined or constricted to a couch or regular armchair. They can improve overall stamina and back health by allowing the bones and muscles to stretch out as they normally would while occasionally getting a workout from maintaining a balance while sitting in the chair. And, of course, they can definitely improve your child's gaming skills, because they'll be so much more comfortable! Talk about leveling up.
FAQ
Frequently Asked Questions
Q: How can I determine the size of this chair?
A: All of the specs and details are listed on the product page. By scrolling down a bit, you can find the sizing as well as the materials used.
Q: Can these be used by adults as well or is there a proper age limit?
A: Anyone can use these chairs! We'd even say they can be used by toddlers as well, though they might have trouble understanding the notion of balancing in order to keep them from tipping. But yes, these are suitable for most any age.
Q: How can they be cleaned without destroying the material?
A: For any chair such as this, we'd recommend spot-cleaning with a damp paper towel. For tough to remove stains, it's best to check with the manufacturer on things such as microsuede and leather. Most chairs are made with material that's easy to clean, however.
Q: Do they all offer audio and/or built-in vibration?
A: No. Only some of these chairs offer those extra benefits; we've listed each one in the summary section of every product.
Q: How long will something like this last before needing to be replaced?
A: That all depends on how much it's being used. Most chairs will last several years without even beginning to show signs of wear and tear. When we create these lists, one of the first things we look for is the shelf-life of a product. These gaming chairs are comparable to armchairs — They'll last several years or more before you need to consider replacing them.
Q: Do these work well on all floor types?
A: Yes! These chairs are designed to operate under the weight of the person who is sitting in them, meaning that regardless of what they're sitting on, they'll work just the same. Carpet might reduce friction and allow them to slide around a bit more, but the chair itself will work exactly as it does on any other floor. Technically, the weight of your child is what weighs the chair down and keeps it stationary.