It's the spooky season! We all know that for most households Halloween is a favorite holiday. Not only do you get to dress up, but you get free candy as well. However, we know that for certain families not everyone goes trick or treating and that everyone has different traditions when it comes to holidays. Reading holiday specific books can be wonderful, especially for little ones, because they can start getting into the holiday spirit – or in this case the spooky spirit. 
If you look below, we came up with a list of the best ten Halloween books for your children that today's market has to offer. Be sure to check it out! We're sure you'll find something just spooky enough!  
10 Best Halloween Books for Kids
1. Room on the Broom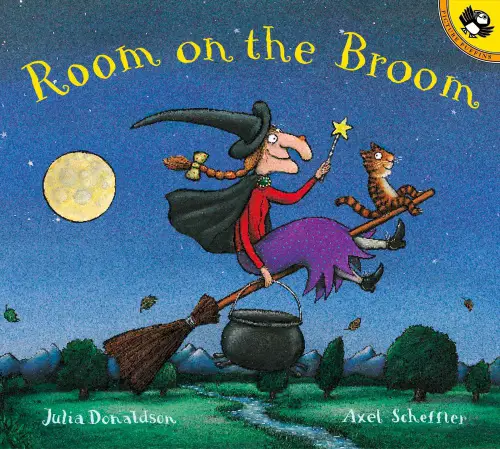 This book was written by Julia Donaldson and illustrated by Axel Sheffler. It is our number one pick.
Expand to see more
This Halloween story written in 2003 is a fantastic read. It will have your children giggling and gasping as they follow the witch and her cat on their adventures.

Benefits
The entire story is written in rhyme. The cadence of this story is merry and fanciful. There are helpful characters that help the witch throughout her journey. This book shows children that helping others is a good thing.

What We Like About It
The witch encounters some problems along the way and makes new friends. She is kind to her friends and they return the favor at the end of the book when they all encounter a dragon! Kindness counts and this book is a great example.

Cost and Value
The price for the paperback copy of this book is just under the median price for our list. This cute rhyming book is a great value. It teaches your children that helping others helps you make new friends.
Pros
Written in rhyme
A theme of friendship
Great pictures
A theme of helping others
Not a scary book
Cons
There are two versions of the book. You might not get what you expect.
2. Big Pumpkin
Big Pumpkin is written by Erica Silverman and illustrated by S.D. Schindler, it has our number two spot. This cute book is about a gardening witch with a very large problem.
Expand to see more
All of her spooky friends come by to help, and none of them are successful. Then the bat comes by with a great idea and saves the day.

Benefits
This book has the fantastic theme of teamwork and helping out your friends. It does a great job of sticking with the Halloween theme because of the use of spooky Halloween characters. The pictures are cute and the text is easy to read.

What We Like About It
This book is all about problem-solving. It teaches kids not to give up and to ask for help when there is a problem to solve. It also teaches them that the solution to a problem can come from the most unlikely of places.

Cost and Value
The cost for the paperback version of this book is just over our median price range. It is a very cute Halloween themed story that can teach your littles some great lessons. This book is a great value!
Pros
A theme of teamwork
Teaches problem-solving
Cute illustrations
Teaches that even the small guy can solve the big problem
Great use of Halloween characters
Cons
There is one scene in the book where the witch kicks the pumpkin
3. Ten Timid Ghosts
Ten Timid Ghosts was written and illustrated by Jennifer O'Connell, it has taken our number three spot. This counting book has lots of spooky Halloween characters.

Expand to see more
There is even a haunted house! You will count your way through the haunted house using cute little ghosts to guide your journey.

Benefits
This is a counting book. It will help to introduce your little one to counting from one thru ten. You can use each page to practice counting as you tour the haunted house. This book is written in rhyme to help your little one remember their numbers. The illustrations are very charming and fit well with the theme of the story.

What We Like About It
The use of Halloween characters is well done. The haunted house is even a character in this cute counting story. This is a designated Read With Me Paperback. It is intended to help your little guy or gal read along with you and eventually read the story to you.

Cost and Value
The paperback version of this book is at the bottom of our list for price. It is a great book to read with your little ones. The rhyme scheme will help them to remember their numbers. This book is a great value!
Pros
Helps introduce counting
Rhyming text
Charming illustrations
Spooky characters
It is a Read With Me Paperback
Cons
Some of the rhymes are not very creative
4. The Spooky Wheels on the Bus
The Spooky Wheels on the Bus was written by J. Elizabeth Mills and illustrated by Ben Mantle; this is our number four pick for best Halloween books for kids.
Expand to see more
This is a Halloween themed take on the classic children's song 'The Wheels on the Bus'. You can sing your way through this cute Halloween themed book. It is a counting book with many cute twists and turns to keep your children's attention.

Benefits
This book offers a Halloween twist on the children's classic 'The Wheels on the Bus'. Children will love singing along with the familiar tune. They will enjoy learning new words to one of their favorite songs. This is a great book if you have musical little munchkins.

What We Like About It
This book also teaches counting. As you ride around town on this spooky bus you pick up many eerie passengers. Each verse of the song adds another number and you can count the objects with your child to help reinforce early math concepts.

Cost and Value
The price for this book is at the bottom of our list. You children will love learning new lyrics to a familiar song and you will like teaching them early math concepts. This book is a great buy.
Pros
A Halloween adaptation of a favorite children's song
Reinforces early math concepts
Has a spooky cast of characters
Adorable illustrations
Great to sing along with
Cons
Some people are disappointed that it is just a song adaptation
5. Danny and the Dinosaur: Happy Halloween
Our number five pick is Danny the Dinosaur: Happy Halloween written and illustrated by Syd Hoff.
Expand to see more
This is a classic children's book that was first published in 1958. This is definitely an oldie, but a goodie. It follows Danny and his giant dinosaur pal on their Halloween adventures.

Benefits
This book shows a great group of friends out having some innocent Halloween fun. Danny and his dinosaur dress up in costumes and walk through the neighborhood collecting candy and lots of stares from the neighbors.

What We Like About It
This is an I Can Read book, so your little one should be able to read along with you rather quickly if it is at their proper reading level. This edition of the book includes over 30 stickers, a poster, and a pumpkin stencil to extend the Halloween fun.

Cost and Value
The cost for this classic paperback treasure is just above our median price range. It is a great value because it comes with many extras to extend the Halloween fun. You and your little one will love reading this book together.
Pros
An I Can Read book
Includes stickers, a poster, and a stencil
Shows friends being kind
Brings imagination to life
A classic book first published in 1958
6. The Hallo-Wiener
This super fun Halloween book will have your kiddos in stitches. Oscar the Weiner dog will take them on a fun adventure on Halloween night.
Expand to see more
You will meet other dogs along the way as Oscar works to save the day. This will be one book you enjoy reading multiple times because you will be laughing too.

Benefits
This book shows kids that you should continue to work hard even when you may feel down. In this story, other dogs make fun of Oscar because he looks different and is a bit slower than the other dogs. Oscar overcomes the teasing to show the other dogs that he is a great dog by solving a big problem.

What We Like About It
The hero of this book is literally the underdog. This Halloween tale will teach your little ones to persevere through tough times and prove themselves when others do not believe in them. It will also deliver a few laughs along the way.

Cost and Value
The cost of this cute and funny book is just above our median price on the list. It is a fantastic book because it teaches your little ones to be strong and is super funny.
Pros
Humorous
Teaches your little ones to persevere
Great illustrations
Spooky backgrounds
Easy to read
7. Pumpkin Jack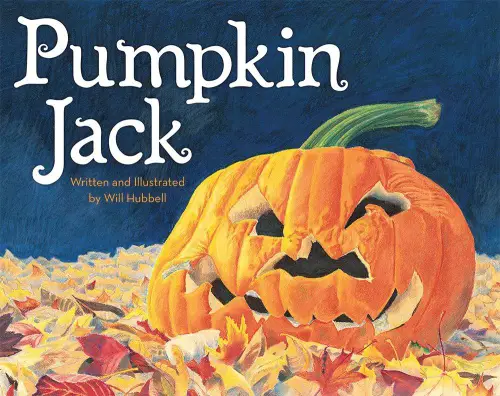 Will Hubbell's Pumpkin Jack is our number seven choice. This a sweet tale of change. A child carves the perfect pumpkin for Halloween.
Expand to see more
He learns that things do not last forever as he watches the pumpkin change over the course of the next few weeks.
Benefits
This book is great to read to children to introduce change. Many kids are afraid of things changing. This
book
shows them that change is a natural part of life. The pumpkin changes into a Jack-o-Lantern and then deteriorates back into the ground by the end of the book.
What We Like About It
This can be used to teach the life cycle to smaller children. It is a sweet story with a big message. You will enjoy sharing Pumpkin Jack with your family over Halloween.
Cost and Value
This book is just over the average price for books on our list. It has a subtle but strong message about change. This book is a fantastic addition to your home library.
Pros
Detailed illustrations
Easy to read
A message of change
Teaches the life cycle
Halloween themed
Cons
Not as fun or funny as other Halloween themed books
8. At the Old Haunted House
Helen Kettemen is the author and Nate Wragg does illustrations in our number eight pick At The Old Haunted House. This is a rousing tale of a haunted house party.
Expand to see more
It includes all manner of spooky characters and even a few trick or treaters. This is a fun book to read before going trick or treating on Halloween night.

Benefits
This book will introduce your little ones to all types of spooky creatures. They will see mummies, bats, and witches galore. There are also goblins, werewolves, and vampires inside. This is a spooktacular story perfect for Halloween!

What We Like About It
THis is not just a fantastic book. It also includes a counting game. On the back cover, you are challenged to find a certain number of objects throughout the story. This will help non-readers to feel included in the story and have your kiddos searching the pages.

Cost and Value
This book is the most expensive on our list. It has hand painted illustrations that are breathtakingly spooky. The search and find features make this a great value for your family.
Pros
Beautifully painted illustrations
Spooky characters
Chilling backgrounds
Search and find counting fun
Haunted house fun
Cons
This choice may be a bit scary for wee ones
9. One, Two...Boo!
One, Two...Boo! Is a board book by Kristen L. Depken; it is out number nine choice. This book is filled with creepy Halloween characters. It is great for children who are just
learning to read
.
Expand to see more
They can read along with you or read this book to you. This is also a great book to help reinforce counting. You will love the educational value of this book and your child will love the cute story.

Benefits
This board book is fantastic for babies. It will introduce even your smallest child to the fascinating world of books without them ripping pages out. The Halloween themes story will keep them interested with cute illustrations and numbers.

What We Like About It
Each page of this book has a lift the flap surprise. As you read along you will come to each flap and you can lift it or have your little one lift it for a fun little treat. You will be having fun and teaching your little one the basics of counting when you read this book together.

Cost and Value
This book is on the low end of prices for our list. It is a great value because you are teaching your child about counting and the art of surprise. They will love lifting the flaps on each page and getting to turn the pages themselves. This little board book is a great value.
Pros
Board book
Lift the flap on each page
Cute illustrations
Well written
Counting fun
Cons
Not a great choice for older children
10. Goodnight Goon: a Petrifying Parody
Michael Rex is the author and illustrator of our number ten choice Goodnight Goon. This book is a ghoulish parody of the classic bedtime story Goodnight Moon.
Expand to see more
You will find many frights throughout this book. It is not for the child that scares easily. If you have a child who loves a little fright this is a great pick for you.
Benefits
In this book, you get to visit a monster filled tomb. You will say goodnight to all of the spooky things inside. The illustrations are fantastic and follow along with the story perfectly.
What We Like About It
This is a sturdy board book that is great for
children of all ages
. It will not be easily destroyed and the story is interesting enough to keep the attention of older children. The rhyme scheme makes it easier for older children to read.
Cost and Value
This book falls into our middle price range. It is a fantastic choice for your Halloween library is you want a book that will work for multiple age groups.
Pros
Board book
Rhyming text
Fantastic illustrations
Keeps the attention of older children
Spooky
Cons
This book may be too spooky for younger children
Criteria Used in Evaluation of the Best Halloween Books
Reading Halloween tales can be a favorite memory for your children today. Not only are books a wonderful way to get your child to think outside the box and get into a creative space. It's a wonderful way to also encourage them to read themselves. We can't stress enough how important reading is in a child's life. So, it's time to put those screens away, and pick your favorite Halloween tale! All of the books on our list above are all rated nothing but the best of the best in today's market. We know that your family is going to love these special spooky tales.
Highly Rated and Well Reviewed
When coming up with our top ten list above of the best Halloween books we wanted to pay close attention to customer ratings and customer reviews. We wanted nothing but the best books on our list and we are sure that we have them. We also wanted to make sure that we had a wide variety on our list to suit everyone's needs from spooky tales to just general Halloween tales. We looked at everything from positive feedback to negative feedback and we made sure that every book on our list had at least a very high rating with plenty of reviews to research.
Easy to Read
Another thing we also paid close attention to is making sure that each book on our list as age appropriate and perfect for a child who's learning to read. We didn't include any short stories because we wanted to make sure that each of the books on our list was suitable for children to read by themselves or with a loved one. Each of these books on our list are age appropriate for any child. Of course, some are specifically better for younger children mainly because of the style of the level of the book.
It's important for parents to remember that when you select books for your children that you select levels of where your child is on the reading charts. You don't want to get them something to difficult but if you also get the next level up, it can inspire your child to read more and have something to look forward too. There are also several books on our list that rhyme. Books that have a rhyme to them help children read quicker and gain confidence in their reading. With a rhyming book, children often only need to know the sound of each of the words that their matching. The beginning sounds are typically the ones that are easiest for children to sound out. Having a book that rhymes is also wonderful because this will increase your child's vocabulary as well.
level.
Enticing Pictures
Each book on our list has beautiful illustrations that go along with the story. You will be able to see the details of the story in the pictures. Your child will enjoy looking at the pictures as you read. There are hand-painted illustrations, computer generated ones, cute whimsical pictures, and spooky ones. You can use the pictures to discuss other details of the story that may not be written in the text. The enticing pictures in these books will help to hold your child's attention as you read.
Halloween Themed
Of course, one of the things we paid extremely close attention too is making sure that each book on our list was specifically Halloween themed. On our top ten list we have everything from parodies to hold classics, witches, pumpkins, haunted houses and many more. Every book on our list also has a spooky character or other Halloween related themes to them that we're sure your family will love. We wanted to make sure that we had a variety of tales on our list that your children will enjoy so that you're not reading the same Halloween book over and over again. We wanted to give parents options to choose from and we did that with our top ten list. Please check it out above! We're sure you will find exactly what you're looking for..
FAQ
Frequently Asked Questions
Q: Why is reading important?
A: Reading is incredibly important for many reasons. The most important reason reading is important is that we are a society that communicates through the written word. You can not go for a day in modern society and not see something you should read. Ordering food in a restaurant, driving down the street, receiving text messages from your friend, or getting work emails all to require you to read. Reading is also a pleasurable activity. You can read a book to escape your life for a bit or to visit a new location. Reading expands your intelligence and imagination. Reading is also the primary way students learn in school all the way through college-level courses. These are a few of the many reasons reading is very important.   
Q: How can reading aloud benefit my child?
A:  Reading aloud to your child is very important. It does not matter if you are a great reader yourself. Your children will not care. They get to spend time with you and your skills will improve with practice. Reading aloud helps with cognitive development in children. It also helps with language acquisition, because you will probably be reading books with different words than you typically use while speaking in your everyday life. Reading aloud with your child can also increase their creativity and imagination. Reading aloud with your child can also increase their concentration and discipline levels. They will be taught to sit still while you are reading to them because reading is entertaining. These are some of the many benefits of reading aloud to your children.
Q: Why do we celebrate Halloween?
A: Our modern day Halloween is a combination of several ancient festivals.  The Celtic festival of Samhain (pronounced sow-in) is one such festival. This celebration happened the last day of October after the harvest. It was intended to scare away ghosts over the long dark winter. People would dress up and dance around bonfires. Another such celebration is the Catholic festival of All Saints Day. This was a time where people would dress up in costume and celebrate around fires as well. When America was settled many of these traditions were brought with the settlers of the southern colonies. Over time it has turned into the holiday we celebrate today with trick-or-treating and scary decorations.
Q: When should I start reading to my child?
A: You should read to your child early and often. You can read to them from birth to foster a love of reading and have special bonding time with your little one. With your newborn, you can sit in a rocker or on the sofa and hold a book in one hand while you cradle them and read. It can be a relaxing time for you and your baby. Babies love to hear the voices of their parents. When your little one can sit up you can place them in your lap and allow them to interact with the books by touching them and helping to turn the pages. Once they are big enough you can let the baby hold the book and you can use your finger to follow along with the words as you read and to point out pictures. Continue reading to your child as they grow up, soon they will be reading to you!
Q: What do I do if my child hurts a book?
A: For rips: It depends on the type of rip that happens to the book. If a page is torn you can just tape it with clear scotch tape. If the spine is broken you will want to use a stronger tape to hold the book together. In the situation of a broken spine, a duct style tape will work better. You may want to keep a few different types of tape around in case you come across a book with flaps that need to be reattached or pop up features that no longer pop.
For smudges or writing: It completely depends on the type of smudge or what was used when writing in the book. If your child wrote in a book with a pen, pencil (colored or uncolored), or a crayon you will want to go to an art supply store and get a rubber eraser. A rubber eraser is used by the artist to erase mistakes in paintings. It comes as a small white square. When you use it you roll it in your hand and gently blot it against the page. The marks should easily lift off onto the eraser. This will also work with nonsticky smudges. Please understand that this method might not clean the page entirely, but it will certainly help to clean the page up a bit. If you child has elected to use markers you are out of luck unless they are washable and you catch it the right way. If the markers are washable you may be able to use a small amount of water and a paper towel to blot the color out of the page.
In general: Work with your children to teach them how to properly treat books and put them away after each use. If you come across a repair that needs to be done and the answers are not here you can always check with your local library and see if they do book repairs. Many libraries offer this service to their patrons. You can also take a book into the library and ask their advice on how to best repair the book. 
Q: How did you select these books?
A: These books were selected based on ratings and reviews found in several places. We picked the highest rated Halloween books. Many of them are classics that you may have read as a child, and a few are newer books that are just as fun to read. We also looked at individual reviews for the books. Because they are children's books we wanted to stay away from anything too scary and stick with the fun and spooky spirit of Halloween. Reading individual reviews helps us to determine how others who are reading these books to their children feel about the book. This is very important because one individual cannot select the best and books without input from others.   
Conclusion
Halloween is a time for scares, treats, and family traditions. Why not make snuggling up with a good Halloween themed book one of those traditions? The books on this list are perfect to add to your home library. You can read them year after year to welcome the spirit of Halloween into your home. We have selected books that are spooky, ones that are cute, some are educational and others are just for fun. Reading to your children has tons of benefits. You can introduce new concepts, review things they have already learned and help their vocabulary to expand. Reading enhances intelligence and helps to grow a child's imagination. Children have the unique ability to place themselves in a story. You can even use these books to aid in acting out the story in real life. These books will help to create many fantastic Halloween memories in your home.