Mothers want to always do right by their children and taking their well-being into consideration will start when the child is just a newborn baby. Mothers of newborns know that when it comes to proper nutrition, nothing beats breast milk. So, most mothers will want to breastfeed their babies to ensure that they get the proper nutrients to give them a good start in life. But there is another reality that may need to be faced for some new mothers–sometimes breastfeeding isn't possible. They have busy schedules that could include older children who also need their attention, work schedules and other household responsibilities. This is where a breast pump could facilitate the continuation of breastfeeding when conventional breastfeeding is not an option. But what about women who want to multitask or relax while pumping? This is where a good electric hands-free breast pump can come in handy.
In fact, for any mother who wants to use an electric breast pump, a good hands-free pump bra can be essential. But which one of these types of bras the best to buy? There are many on the market to choose from and with everything a soon-to-be mother or a new mother has to deal with, searching for a hands-free pumping bra may be the last thing she has time for. So, to help narrow the field, we have taken the time to list 10 of best hands-free pumping bras we have found online.
The Best Hands-Free Pump Bras for Nursing Moms Reviewed
Simple Wishes Signature Patented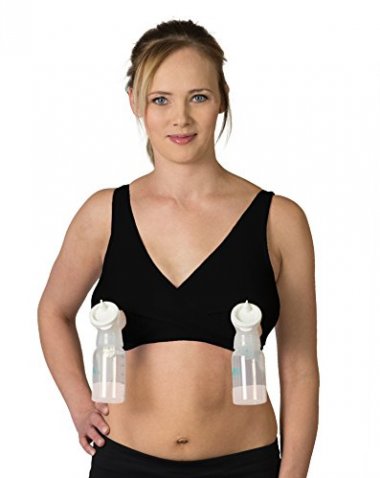 Bravado! Designs Clip Accessory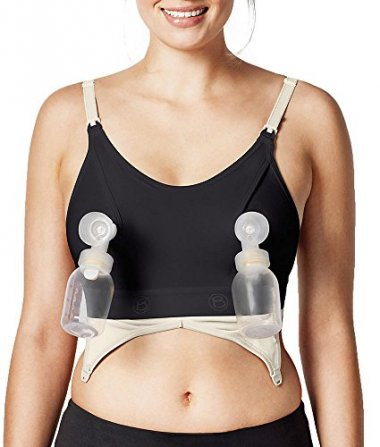 Medela Easy Expression Bustier
The Dairy Fairy Ayla Lace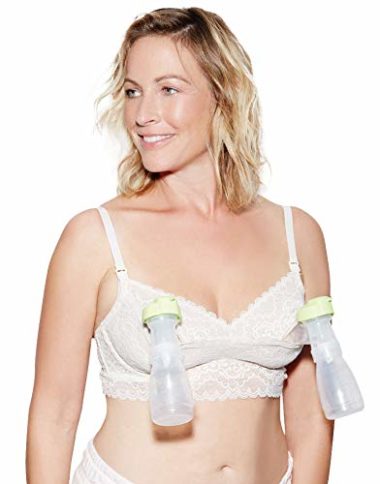 Mfreely Maternity Accessory
Criteria Used in Evaluation of the Best Hands-Free Pump Bras
Providing breast milk to a child is essential to their growth and development. However, for a new mother there will be the fact that although she loves her newborn and wants nothing more than to do what is best for the child, there will be other concerns.
Life, in general, doesn't stop because we are new mothers, there are other obligations that will need to be met and fulfilled, which is when a quality breast pump can come in handy. Especially helpful are the electronic ones that are hands-free and actually able to express milk without the woman having to use her hands to do it. This frees up a mother's hands so that she can multitask while using the pump.
When using such a hands-free breast pump, it is essential to also have a good pump bra as well. In creating this list, we looked for products that fit the criteria of things that a new mother will consider when choosing not just a quality pump bra but a nursing bra as well.
Comfort
This is key to any garment we wear, especially for a new mother. She has enough on her plate so she would want a bra that wouldn't pinch or constrict, that allows for extra room and not constrict the natural flow of breast milk. Even in a hands-free pump bra, it is essential that it be comfortable to wear.
Versatility
This is another important feature for a pumping bra. These need to be adjustable because the breast size of the woman will shrink over the months as the breast milk starts to deplete. As the breast shrinks, the bra has to be able to continue to work with it and be adjusted to conform properly.
Protection
Unfortunately, breast milk can seep out even at the most inopportune moments such as during pumping. This is why a good pumping bra needs to have good absorbency. These can also come with washable breast shields for even more protection. After all, a woman will need to make sure that the bra remains dry against her skin.
Functionality
This component certainly applies to the hands-free pumping bras. These make it possible for a woman to do other things while pumping. They can text, talk on the phone, fix breakfast, even work online all the while pumping out milk. With a nursing bra, it will be important to have one that makes it easy to nurse when necessary and be able to readjust when finished.
FAQ
Frequently Asked Questions
Q: Isn't it best to breastfeed as opposed to using a pump?
A: There is no denying that actually breastfeeding a child is quite beneficial to a child's development. Not only does it help create more of a bond between mother and child but there are experts who believe that it also benefits a child's cognitively to have this sort of close contact with their mother.
But there is a reason why pumping is becoming so common in America and why more than 80 percent of new mothers now use one. It's because women don't have the time that they used to in order to always breastfeed their child.
For instance, if they are working, they may only get six weeks for maternity leave, if they have other kids or if they have other pressing schedules, they might not be able to breastfeed as often as the baby requires. Yes, whenever possible it is still a good idea to breastfeed a child and to have that personal contact but sometimes it's just not practical to do so.
Q: When is the best time to start using a breast pump?
A: Some recommend that the best time for a new mother to start using a breast pump is two to three weeks after giving birth. However, the best course of action is to consult the pediatrician or obstetrician about when would be the best time to start. No two babies are exactly alike and some could have different needs, as could the mother, so it's always advisable to consult a physician about when would be the best time to start using a hands-free breast pump.
Q: Do all hands-free pump bras work with most breast pumps that have a hands-free option?
A: Most of the ones we chose on our list have a very good track record of being compatible with most electric breast pumps. But as also illustrated, sometimes the hands-free pump bra won't be compatible. So, the best advice is when in doubt check information that you can find on the bra you have in mind to see if it is compatible with the electric breast pump you either have or are considering.
Q: What is the best time of day to use a hands-free pump?
A: This could vary as well depending on a mother's schedule. If she is home taking care of her baby, a good time would be in the morning around an hour after the child has actually been breastfed. Another option is to actually pump one breast while the child receives milk from the other, which is possible with a hands-free pump and pumping bra. If the pumping is done while working or on a tight schedule, then a set time will need to be put in place in order to use the hands-free pump. Pumping can take place up to three times a day but will need to be done at the same time each day whenever possible.
Q: Is there a difference between a standard nursing bra and a hands-free pump bra?
A: As illustrated on our list, there is a definite difference between the two. Hands-free pumping bras are ideal for using while expressing milk with a breast pump, but these aren't always made to be worn at other times. There are, as we showed above, some bras that actually give the convenience of both a nursing bra and a hands-free pumping bra as well.
Q: Are battery-operated breast pumps similar to the electric kind and can these hands-free pump bras be used with them?
A: Yes, hands-free pump bras are ideal to use with battery-operated breast pumps as well. Keep in mind though that although these may seem more convenient to use than an electric breast pump because they are more mobile, the fact is these don't express as much milk. So, a battery-operated breast pump might be fine to use away from home but always have an electric or manual one as well. It turns out these hands-free pump bras tend to work with manual breast pumps as well although the hands-free feature won't be possible.
Q: Are electric breast pumps comfortable to use?
A: Just like with the hands-free pump bra, a new mother will also want an electric breast pump to be comfortable. The first thing to do is to read the instructions that come with the pump completely to make sure that you completely understand how to use it. When using the pump, start at a standard speed and adjust it to a level that is most comfortable during the process.