10 Best Hand Wraps for Kids Rated & Reviewed in 2019
last updated
Apr 21, 2019
Today wrestling is becoming one of the most popular contact sports. Sports like wrestling, kickboxing and anything related to the martial arts require a lot of high-energy and physical activity. Sports like that have a lot of physical activity and contact to them can also help your child process their emotions. Contact sports like wrestling are a wonderful way for your child to release any temper and get a control of any aggression that they might be feeling. It's also a wonderful aerobic and cardiovascular workout. Of course, with any contact sport comes must-have equipment to help keep your child protected. Here is our list of the top 10 hand wraps for children so that they can play these sports safely.
In a Hurry? The test winner after 11 hrs of research
Meister Junior 108"
Why is it better?
Smaller size caters to smaller hands/younger ages
Elasticity provides flexibility and stretches when wrapping
Variety of colors for kids to individualize
Velcro fastener
Shorter length for less extra wrap
In a
Hurry? Editors choice:
Test Winner: Meister Junior 108"
13
Researched Sources
11
Hours Researching
15
Products Evaluated
Age Range
Materials
Safety
By Default
In depth review top 10
Meister Junior 108"
MTF MMA KONE 180"
Ringside Mexican-Style Muay Thai
Pro Impact Mexican Style 180"
RDX Boxing Inner Bandages
Meister Gel-Padded Pro
Elite Sports Professional 180"
Venum Boxing
Kakoa Sports Boxing Stretchy
Ringside Boxing
Table of contents
Criteria Used for Evaluation
Other Factors to Consider
Frequently Asked Questions
Sources
10 Best Handwraps for Kids Reviewed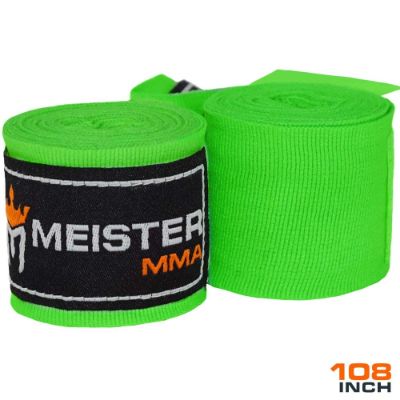 Smaller size caters to smaller hands/younger ages
Elasticity provides flexibility and stretches when wrapping
Variety of colors for kids to individualize
Velcro fastener
Shorter length for less extra wrap
May be too short for some kids
Simplistic design
If full-on gloves aren't appealing to you or your child, Meister also makes traditional hand wraps that made our top ten list for the same reason their gloves did: incredible color combinations, of course! Just kidding.
Read more
Age Range
We like the smaller look of these hand wraps, and we like the fact that no age group is left out of such a confidence-building sport because of it. Our hats are off to Meister on this one, options are a beautiful thing.
Materials
These hand wraps come in a smaller wrap length which we think is really important when you have younger children or just kids with hands on the smaller side. While the extra padding in a 180-inch length is great to pad your tiny boxer's hands, some children may prefer less padding to a better, tighter fit. That's where the Meister 108 inch hand wraps come in; a blend of cotton and spandex truly provide dual power in the battle to find gloves to suit smaller hands and wrists and provide that little extra stretch to keep wraps in place during the most heated of practices.
Safety
Coming in a smaller length is definitely a point-earner for younger kids who don't want to miss out on all the things kickboxing has to offer. The Mexican style wraps lend themselves to be stretched a little more than traditional wraps, and anyone with young children can attest to the fact that wrapping little hands that can't sit still can be a nightmare. With these Meister hand wraps, they make it super easy to just stretch, wrap, velcro shut, and send your kid off to practice their high kick!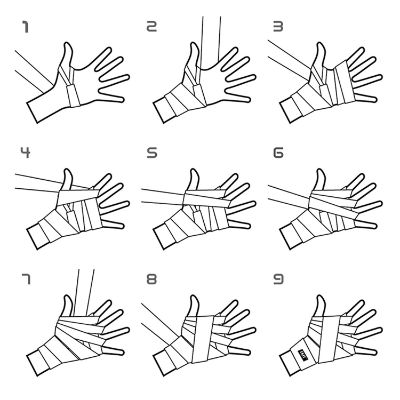 Elastic cotton means flexibility and comfort
Multiple uses make wraps versatile
Repeated wrapping provides extra support
The unique look is sure to please kids
180 inches suits larger hands
May be too long for some kids
The pattern may not be bright and colorful enough for kids
If comfort and authenticity, look no further. MTF hand wraps bring their authenticity straight from Thailand, so you can be sure that these hand wraps will do the job with any kind of martial arts practice.
Read more
Age Range
MTF provides nothing but the most professional of hand wraps with their elastic material and sleek prints. At a measured length of 180 inches, there's plenty of wrap to go around your kid's hands multiple times while still having enough elasticity cotton material left to cushion knuckles and wrists and give necessary support in any boxing style.
Materials
While traditionally made for Muay Thai, these wraps can be used in any boxing, and have eye appeal as well! While most wraps are solid in one color, these wraps peak interest with their geometric patterns and unique colors. Help your kid stand apart from the crowd while boosting their confidence in kickboxing with these hand wraps, and you'll be rewarded with one happy child!
Safety
We really like the look of these, but we also like that they cater to martial arts. While kickboxing is taking the world by storm, martial arts are definitely not a thing of the past, and we love that MTF is keeping that tradition alive.
3

. Ringside Mexican-Style Muay Thai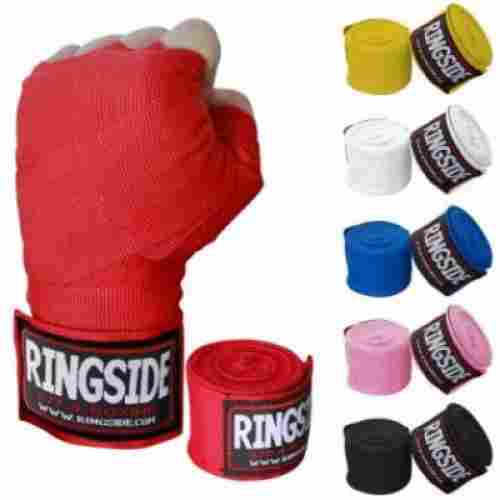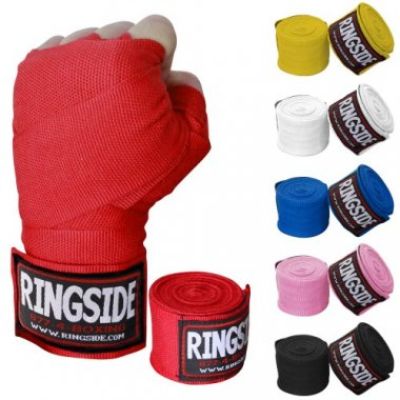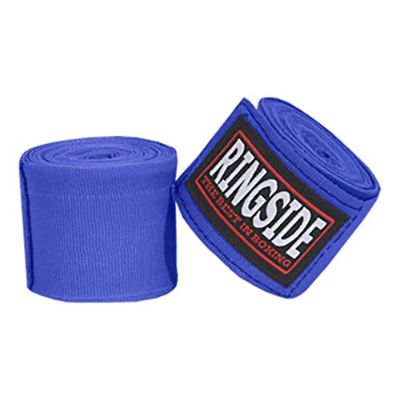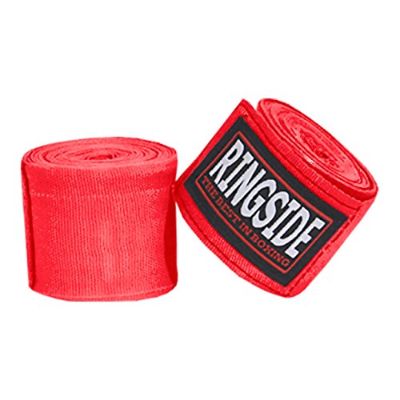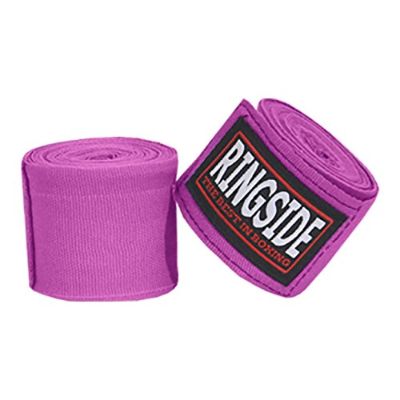 Elasticity with a dual cotton/elastic blend
Easily washed
Hook and loop closure for a tight fit
Breathable while adding flexible support
Multiple fun and bright colors to fit each kid's style
Elastic may provide too much stretch for kids with smaller hands
No antibacterial blended into wrap material
The grip is just as important as the punch they're throwing, and if you want your child to have wraps that stay put, Mexican style made be the blend for you.
Read more
Age Range
The most obvious difference between the "traditional" and "Mexican" style handwraps is in the threads. Traditional hand wraps are made without elastic and weaved, while Mexican style are made with both elastic and semi-elastic cotton. This makes for a tight fit and a little stretch, which can be great if you're dealing with a child who has larger hands or just likes a better fit in their hand wraps.
Materials
The great thing about these Ringside hand wraps is the elasticity of them, especially if you want to make sure they won't unravel or slip off in the middle of an event or practice. Since one of the most valuable assets of a practicing boxer or MMA fight is their hands, wrists, and arms, these wraps provide the most stable support you can get while also allowing breathable room to provide optimal comfort. The wraps come with 180 inches of a slightly elastic cotton blend, and if you're familiar with a t-shirt, then you're familiar with how comfortable this material can feel when wearing it for an active sport! Since sweat is the goal here, so is an easily washed wrap -- just slip these off with the easy hook and loop closure and throw them in the machine and you're good to go!
Safety
With the amount of elasticity these hand wraps come with, we love the fact that they can be easily contoured to your child's hand. Add that to the fact that we can treat them like socks and toss them right in the laundry, and they've totally sealed the deal with our top ten list.
4

. Pro Impact Mexican Style 180"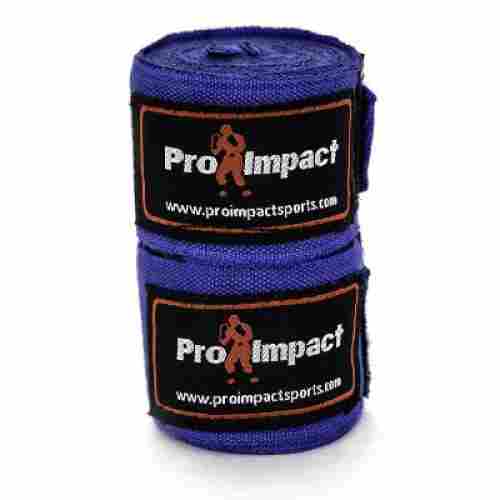 Elasticity with an elastic cotton blend material
Velcro closure ensures a proper fit on hands and wrists
Thumb strap keep wraps in place
Versatility for use between different sports
Can be used specifically for martial arts
Extra wrap distance may be uncomfortable for some kids
Velcro may be irritating based on location
Once again the Mexican wraps make the list! We're really loving the flexibility and elasticity of these boxing hand wraps, when dealing with children, the last thing you want to interfere with their ability to excel in a sport is how comfortable their sporting equipment is.
Read more
Age Range
Just like all Mexican-style hand wraps, the elastic in this wrap material helps parents, caretakers, instructors, or older kids wrap their hands and wrists to a perfect fit. These hand wraps are so versatile, they can be used in sports other than kickboxing and MMA fighting, and can even be worn to practice martial arts, Muay Thai, or aerobic boxing. The perk of this is it's not like buying football and full-body pads if your child doesn't like kickboxing? They can use the same wraps and try Jiu Jitsu! The possibilities are endless, just like our love for these Pro Impact hand wraps. What drives our love even deeper? The velcro fitting closure, of course! Easy fit, happy kids.
Materials
These wraps do a great job of providing your kickboxing kid with both and make them look cool while they're doing it. These wraps come in sleek black and are as traditional as can be as far as the classic wrap look goes. It's the smooth life for the wearers of these wraps, with velcro grips it's wax on, wax off in no time!
Safety
Since we all know how experimental and interested kids can be at a young age in several different sports, we really like the fact that these hand wraps can be passed on from one physical contact sport to the next. Simply put, they can even be used just to get some aggression out on the 'ol punching bag in the basement if your child doesn't want to make a serious commitment!
5

. RDX Boxing Inner Bandages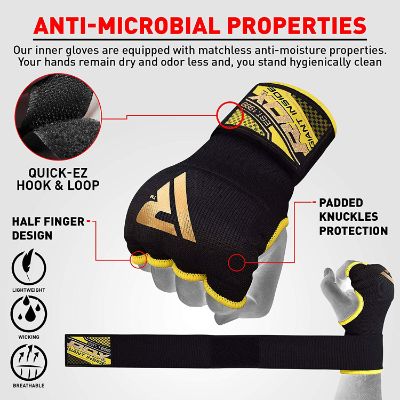 Utilizes a padded knuckle mitt for shock absorption and comfort
Stitched finger and thumb holes feature woven carbon fiber material
Knuckle area padded with aero foam
Approximately 29 inches long including Velcro-style closure
Several adult reviewers report that the finger area can be too tight to be comfortable but this may vary depending on your child's hand/finger size
The velcro and stitching can wear quickly from normal use
An exclusive boxing supply for many of the top gyms in the country, this wraps provide several layers of interwoven comfort and protection to protect your child's hands and wrists and are suitable for a number of sports.
Read more
Age Range
Whether your child is learning boxing, dabbling in amateur MMA, or simply needs a bit more hand protection at the gym a proper set of hand wraps in a must. The RDX Fist Protector Bandages have been designed to provide a comfortable yet secure way to protect their hands, knuckles, and wrists from injury while they train.
Materials
These glove-style wraps feature individual finger channels as well as a large thumb hole to provide a flexible fit. Universally compatible with multiple physical sports training, these wraps are suitable for use both on their own or as inner gloves for boxing. The hook and loop type closure is also ideal for cutting down on the time it can take to wrap your hands which can make all the difference between matches. It can also be beneficial during workouts as that extra five minutes of wrapping time can then be used for more training or hydration. They are also safe to wash with your regular laundry which is a big plus!
Safety
Designed with hand and wrist protection in mind, these hand wraps utilize several interwoven features to help prevent injury. Extra padding around the knuckles and wrist provide added stabilization and shock absorption while maintaining a high level of comfort. A gel integrated aero foam is used as padding just over the knuckles as well to help your child avoid broken and strained fingers. The wraps themselves are made of a woven carbon fiber fabric that is durable and strong while still providing ideal flexibility.
6

. Meister Gel-Padded Pro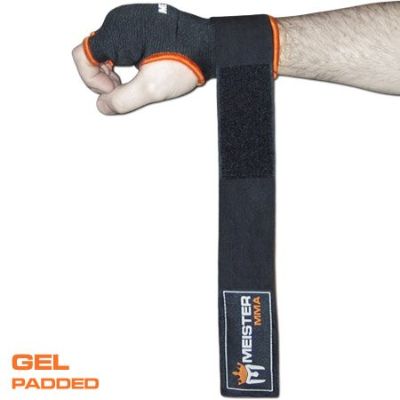 Custom fitting gloves
Gel foam padding in the knuckles
Large wrap to support wrists
Extended finger holes to mimic traditional wrapping technique
Various sizes provide more options for a wider range of ages
May not be ideal for the smallest of child's hands
Some kids may not be comfortable in the 26-inch lycra wrist strap
Another option for kickboxing and MMA fighting is to go with gloves. This pair is a stellar option because it's a combination of the best of both worlds: hand wraps and gloves. There's not much that we don't love about these Meister gloves, but if we had to pick only a couple things, they would definitely be the gel molding within the glove, and the extended finger holes. While every aspect of these gloves are important, anyone who has boxed knows what a high impact that can leave on your hands, and we like to leave no stone unpadded.
Read more
Age Range
Normally, if your child has smaller hands, the idea of gloves would be a big no-no. Fear not parents and caretakers, not only do the gloves come in sizes small-extra large, but the gel molding lends itself to be custom fit to your child's hand. Any of us with kid experience know the word "custom" can mean a world of difference between a proper fit, and a glove that looks like it got stretched in the dryer a few times.
Materials
The way these custom fit works is pretty simple. The elastic carbon fiber within the glove simply molds to your child's hand, which provides both a good fit and extra added support without needing to be wrapped multiple times to provide the same cushion you'd get with hand wraps. If you find yourself questioning whether these gloves will provide the same benefits as wrapping, the answer is yes! Meister has taken careful consideration in where to place stitching on the finger holes of these gloves, so much so that the finger holes actually mimic traditional wrapping.
Safety
These gloves are also thin enough to be worn under boxing gloves as well, which makes them a great safety precaution as far as punching goes. The thing that makes these gloves shine is the gel-integrated aero-foam padding that sits in the knuckles of the gloves, and speaking in the name of safety, who wouldn't want to protect their knuckles? When you're talking about a place that takes plenty of heat in boxing and MMA fighting, knuckles are pretty important -- Meister is just leading the race in the fight to protect them.
7

. Elite Sports Professional 180"
Fully machine washable for easy cleaning
Velcro-style closure ensures a tight and supportive fit
Universal fit is perfect for any type of contact sport from boxing to Muay Thai
Large open thumb loop and stretchy material provide optimal flexibility
May stretch out over time from normal use and no longer fit properly
Can lack the durability for long-lasting use and stitches can pull apart or fray quickly
Elite Sports is a highly reviewed sports equipment maker that is well-known for their high-quality products. Their 180-inch hand wraps are no exception! A top-quality product from a well-known brand, these wraps make the perfect gift to complement your child's new Elite-brand boxing gloves and can even match their favorite punching bag at the gym.
Read more
Age Range
These ultra-soft wraps are the epitome of form blending with function as they provide one of the most comfortable yet protective fits on the market. Elastic cotton wraps your child's hands in a thick layer of padding that prevents accidental injury to their hands, fingers, and wrists.
Materials
The gloves are universal enough to be suitable for a variety of contact sport including kickboxing and MMA. They are also thin enough to use as inner gloves for boxing while being supportive enough to wear on their own for training and work-out assistance. Designed for right- or left-handed wear and ideal for any size and shape of hands, these are some of the most versatile wraps available and are sure to be your child's go-to at their next match.
Safety
Crafted from a cotton material that is designed for easy stretch, these hand wraps are both breathable and fast-drying which can help prevent slipping and also wicks moisture away. They are easily machine washable so there is no concern of sticky wraps adding to the BO that is your teenager's room! The bones and tendons in your child's hands are protected from injury as the material and Velcro enclosure stabilize and provide shock absorption. A wide thumb loop also provides a level of finger protection while maintaining needed flexibility.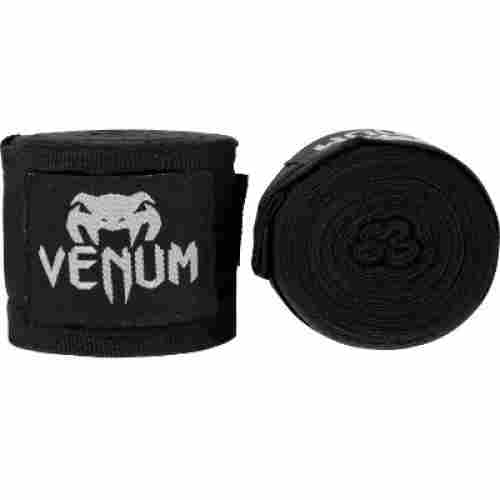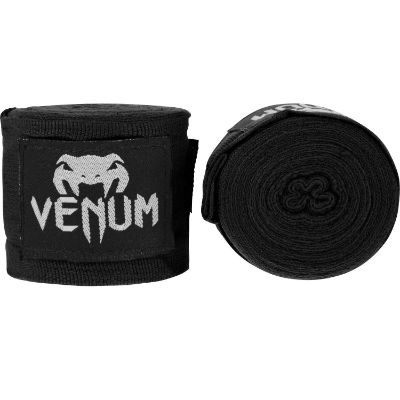 Uses 100 percent cotton material
Hook-and-loop-style closure ensures proper fit
Comes with two hand wraps, one for each hand
Available in 98-inch (2.5 meters) and 157-inch (4 meters) lengths
Can be more narrow than similar brands and stretches less
Loose threads on edges can occur over time through normal use
One of the most frustrating things about purchasing hand wraps for your child is that most wraps come as singles rather than pairs. Your kiddo has two hands so why do you have to buy two separate wraps? Fortunately, Venum has the perfect wraps for parents on a budget.
Read more
Age Range
These wraps utilize an elastic cotton material that can stretch to fit any size or shape wrist and hands. The fabric is breathable and light, reducing sweating and slipping and helping to wick away moisture. They provide excellent wrist protection and stability as well as protecting your child's knuckles and fingers from accidental injury. While not quite the traditional 180-inch length of similar wraps, the slightly shorter length can be a perfect fit for smaller hands.
Materials
Their cotton wraps come in two-packs so you won't pay double for the same amount of fabric. The stretchy material has just the right amount of elasticity to get a strong wrap without cutting off circulation. These gloves are ideal for any type of hand-to-hand sport from martial arts to MMA. A bit thinner than similar styles, these wraps can also be worn under boxing gloves for added protection without reducing breathability.
Safety
Available in several bright eye-catching color themes from solid neons to camo, these hand wraps will protect your child's hands and wrists while still giving them a flair of style.
9

. Kakoa Sports Boxing Stretchy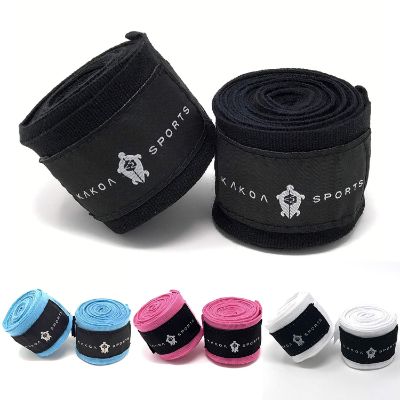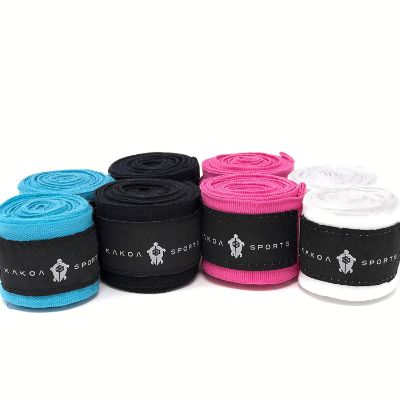 Extremely stretchy elastic
Median length provides a great option for smaller hands
Breathable for the sweatiest of competitions
Ability to be wrapped multiple times adds to padded protection
Easily washed
If kids prefer sturdier wraps, these may not meet the grade
May not be long enough for larger hands
You could almost cut someone with the sleek, sharp look of these Kakoa Sports hand wraps. If a boxing wrap could be fashionable and functional, Kakoa has accomplished it with these.
Read more
Age Range
Once again, Mexican-style elastic wraps reign supreme on our top ten and offers comfort and flexibility. However, if you're going for that professional boxer look, we can't imagine any kid would be unhappy sporting one of these wraps on each hand. These wraps are also versatile and are approved for any hand-to-hand combat sport, the product not limiting itself just to kickboxing. Usable for a wide range of hand types and sizes, Kakoa hand wraps are a great option for any newcomer to the sport or for kids who just want to upgrade their starter wraps.
Materials
While we adore the look of these hand wraps, we also love the comfort and support they give to airborne hands. The versatility alone is a great asset to indecisive kids who want to try a multitude of sports, but in addition to that, these gloves have some other notable features. No one wants uncomfortable material wrapped around their hands for hours, and these wraps solve that problem with stretchy elastic that doubles as lightweight to hold a tight fit and prevent adding weight when practicing. Since the material is thin, parents don't have to worry about their kids walking away with suffocated hands -- breathable material is the answer to our plea for less sweat, that's for sure! The best selling point Kakoa offers for these gloves is the length, at 120 inches there's enough wrap to provide extra padding, while also being short enough for small hands to be wrapped without discomfort.
Safety
You don't have to be a boxer to appreciate the look of these hand wraps, and we appreciate the variety of colors and super stretchy elastic that is sure to fit any range of tiny hands. While we're at it, can we take a minute to once again thank breathable material and a perfect fit?
Simple design
Intended for use on smaller hands
Hook and loop closure makes for easy fitting
No stretch means extra padding
Sturdy material for cushioned impact
Will not appeal to elastic loving kids
May still be too big for kids with extra small hands
We like the look of these hand wraps, the simplistic design matches its simplicity in theory and usage. What you see is what you get, and for some kids that's all you need.
Read more
Age Range
These wraps are traditional which means they are made without the use of elastic and stretchy cotton material, and that means sturdy heavier padding hand wrapping. Specifically made slightly shorter with kids in mind, the shorter the better when there's no means to stretch the extra fabric to create more padding. The good part is, you definitely won't need it with these wraps!
Materials
If you want the basic of basics, Ringside makes the hand wraps for you. Sometimes the addition of a glove or extra wrap or even elastic can be uncomfortable and distracting to some kids, in which case the kids hand wraps by Ringside provide a professional grade alternative for your child.
Safety
Traditional hand wraps are a good preference when it comes to picky kids or kids just starting out in the sport. The basic wrap is made out of stiffer material which keeps fingers, knuckles, hands, and wrists protected from each and every impact. Ringside intended these wraps for boxers with smaller hands, so parents can rest assured that a good fit is to be expected. The hook and loop closure that is traditional with this type of hand wrap provides an even more secure fit.
Criteria Used for Evaluation

Age Range
For hand wraps, there are some specifically made for little hands in mind. However, parents should be reminded that they know the correct style that their chosen hand wrap is to be wrapped. Once you learn the correct way your child is good to go and ready for action.
Materials
Lastly, one thing we carefully looked at when coming up with our top ten list is that we wanted to make sure all of the items on our list were made of nothing but high-quality materials. We do have some that are part of the antibacterial factor that a lot of athletes love especially when it comes to children and harder workouts. All of the hand wraps on our list can be easily washed, easily taken on and off, and most of them are fitted with elastic so that they will stay right in place. Each hand wrap also comes in a variety of sizes so whatever size your child needs, our list has them!
Safety
We know that when it comes to sports, all sports come with that risk factor of an injury. We also know that parents can't exactly keep protecting their children during practice or at their latest match, but they can protect them with the right equipment. With contact sports, it's important for parents to remember that when children are playing, they are not going to have that same aggressive contact that professional athletes will have but getting your child a hand wrap will protect your child more than being without one. Hand wraps are necessary protection especially when it comes to long-term so that your child can practice sports like kickboxing, martial arts, wrestling as they choose. All of these hand wraps on our list are perfect for this kind of physical activity.
Most Important Criteria
(According to our experts opinion)
Experts Opinion
Editors Opinion
Users Opinion
By Default

Parents, Did You Know?
Of course, one of the most important things to consider in a contact sport is safety. Hand wraps are a wonderful way for your child to stay active and safe without parents having to worry if their child is causing any damage to their hands. We wanted to make sure that we had the best of the highest rated hand wrap on our top ten list that the market has to offer. We looked at everything from safety, to how much experience a child might need, to reviews – all positive and negative, and of course, we looked at hand wraps that were specifically made for children. We hope that you find the perfect one for your child as their beginning their endeavor in the world of sports.
Parents, Did You Know?
Experience doesn't matter at all in this case! That's the great thing about sports. Whether you're a child or an adult you can learn at any age. For children to engage in this kind of physical activity, it's more fun than learning. However, once they learn certain moves from their favorite contact sport, it can boost their confidence and help their self-esteem along the way. There are no requirements when it comes to these kinds of sports, meaning here, that you don't need to prep your child and have them get into shape. The only kind of prep that parents need to do is making sure that their children have all of the protection gear that they'll need for whatever contact sport they choose.
Other Factors to Consider

Physical Development
Having your child participate in a contact sport like boxing, wrestling or anything of the martial arts can help build your child's confidence. Your children will learn the importance of their physical health such as balance, muscle coordination, hand-eye coordination, endurance, and strengthening all of their muscles along the way. Contact sports are also a wonderful way for your child to release and learn to control any type of aggression that they might have.
Frequently Asked Questions
q:
How do these (glove wraps) compare to using cloth wraps for protection when hitting a bag in kickboxing?
a:
The choice between hand wraps and glove wraps is a personal preference. You may find that your child prefers gloves since they have more points of contact and will stay in place between fingers, or they may prefer hand wraps because of the added benefit of deciding where there is extra padding. To each their own!
q:
How would you go about washing these?
a:
Due to the simple blend of material, most hand wraps and gloves are machine washable. If you are nervous about shrinkage or them getting damaged or lost in the wash, you can soak them in soap and water and gentle dry in the dryer.
q:
If I wear a medium-sized boxing glove (with traditional wraps underneath) what size in these Meister gloves should I get?
a:
Stick with the medium–the tighter the wrap or glove, the better. It shouldn't be tight enough to cut off circulation, but it should be snug enough to not move on your child's hand in order to provide proper support and protection.
q:
Is there a difference between gel and just padded wraps?
a:
Wraps with gel-added padding will add a little extra impact protection. Especially for high-impact sports, it's important to have a padding option on your hands that will absorb excess shock.
q:
I'm a 14-year-old boy. Would these wraps fit me?
a:
Yes–stick with a smaller size, wraps are easily adjusted and most come in sizes from 108 to 180 inches for versatile customization, judge based on your hand size and the wrap itself–whether it is elastic or sturdy and non-stretch.
q:
How can I know my hand size?
a:
The good thing about hand wraps is that even if they are a tad long, they are easily wrapped around the wrist and looped to secure. If your child has very small hands or you are just unsure about which size wrap to get, you can seek out 108-inch wraps that are specifically targeted for small hands and kids, or just get glove wraps, which come in sizes small to extra large and fit the hand, with a slight wrist wrap.