Even if you aren't yet a parent, you are well aware that diapers are expensive. Babies go through a lot of them, and by the end of the month, you can have a huge bill just for diapers alone, not to mention everything else a baby needs! For this reason, many parents are in search of a more cost-effective alternative to disposable diapers. Have you heard of hybrid diapers before? They are the latest solution to the diaper dilemma. These diapers are a perfect cross between a cloth diaper and a disposable diaper- giving you the best of both worlds! These diapers typically have an outer diaper that is washable and reusable with an insert that is used inside the diaper- which can either also be reusable or can be disposable. Parents love the ease of using these diapers, and the amount of money saved in the long run is incredible! If you haven't considered hybrid diapers before, please read our full guide and review, we think you'll change your mind! We have selected the ten best hybrid diaper products on the market today and also have plenty of helpful information regarding using hybrid diapers.
Our Top 3 Picks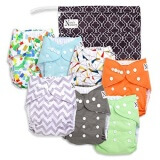 NORA'S NURSERY

Our rating
Soft
Price:

See Here
GROVIA SHELL

Our rating
Soft
Price:

See Here
FLIP CLOTH

Our rating
Soft
Price:

See Here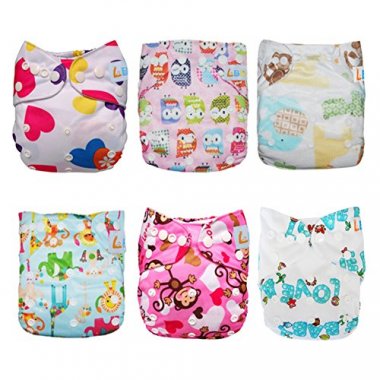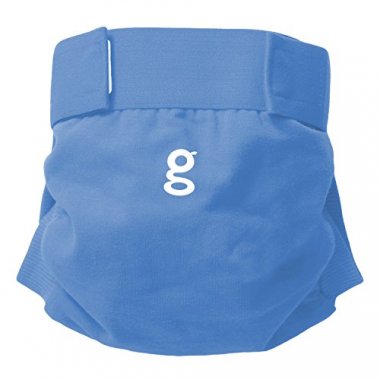 Ecoable 3-Pack Convertible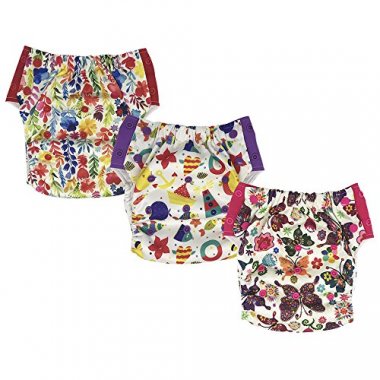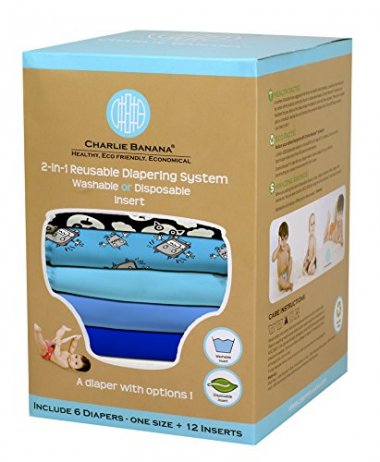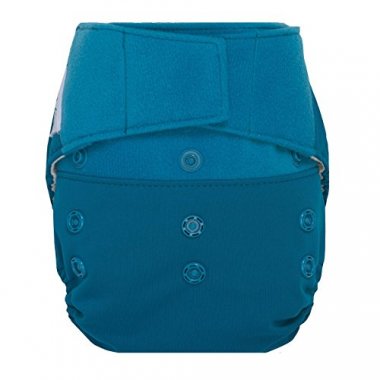 5 Tips to Make Sure Your Hybrid Diapers Function Well
Make sure you get the right fit for the outer cover
This is probably the most important tip. Because most of these diapers are one-size-fits-all, that means they are highly adjustable in order to fit a wide range of sizes. Most come with numerous snap options that you simply adjust as your child grows. Make sure you are getting the right fit at the hips and at the legs to ensure the diaper stays in place and is comfortable for your child.
Understand how to use the insert
Hybrid diapers utilize inserts to hold and absorb moisture. Some diapers have pockets where you insert the liner in, while others are just a cover and you simply place the insert inside. Make sure you understand how your specific hybrid diaper works so you are using it how it was designed to be used. Some allow you to use the inserts in different ways, allowing you to decide. For example, if you want to use the cover multiple times before washing it, don't stick the insert inside a pocket (or purchase a cover without a pocket) so that the cover stays dry and is underneath the insert. Simply remove the insert, wipe the cover down, and place another insert.
Decide if you want to use it swimming
Not all hybrid diapers are meant to be used in the pool. Even if it has a waterproof material, that doesn't mean it is meant to be submerged in water. If the diaper cover is more of a fabric material, the water will stretch it out and it will basically be useless. Be sure to select a diaper specifically made for swimming (such as the EcoAble product on this list)
Decide between disposable and reusable inserts
The best part about hybrid diapers is you can decide the type of insert you want to use, either reusable or disposable. There are pros and cons to both, so it really comes down to lifestyle and personal preference. Reusable ones are better for the environment, but require you to wash them and have enough on hand when your child needs them. Disposable ones are easier but you will always need to purchase more.
Know how frequently they need to be washed
Be sure you understand the washing instructions and how frequently both the inserts and covers need to be washed. Reusable inserts need to be washed once they have been used. Some covers can be wiped down and used again if the insert sits on top of them. Make sure you understand how your hybrid diapers work so you aren't left with everything dirty, and no clean option for your child.
Criteria Used in Evaluation of the Best Hybrid Diapers
Price
Price is always a major determining factor when selecting items. Disposable diapers are incredibly expensive, which is what spurred on the hybrid diaper movement in the first place. These diapers may seem more expensive at first glance, but in actuality, all on this list are more affordable than disposable diapers because you can use them over and over again.
User ratings
User ratings are very helpful when determining the best hybrid diapers. These are a fairly new type of product and are not always easy to understand for parents who are used to traditional diapers. If other parents find the diapers easy to use, that is the sign of a great product.
Manufacturer's reputation
We always want to choose products that have a good reputation. When it comes to the baby industry, you want to make the absolute best decisions that will keep your baby safe. With hybrid diapers, you want diapers that are easy to use, clean, and safe for your child. This means using safe fabrics and not using chemical additives or perfumes or other things that may be harsh on a baby's skin.
Ease of use
Finally, ease of use is always an important factor. Parents are incredibly busy and don't have the time to figure out how to use a new type of diaper. We try to choose products that are easy to adjust and get used to.
Hybrid Diapers vs Disposable Diapers
The world of parenthood is full of choices and as parents, those decisions start from the moment you learn you're expecting a new little one. Among the many choices, you'll need to make as a parent is how you will diaper your baby. Most parents either choose cloth diapering or disposable diapering, but many don't realize that there is a third choice. That additional choice that you may not have heard of before is hybrid diapering. Cloth diapers are certainly the most cost-effective choice but they just aren't right for everyone. If you decide against cloth diapers, you'll need to make a decision between disposable diapers and hybrid diapers.
When using hybrid diapers for your baby, you'll have a set of the reusable hybrid diaper shells or covers. Each reusable hybrid diaper shell can be reused multiple times before washing as long as the hybrid diaper shell doesn't get soiled or become soaked with urine. Most of the time, if your baby has a dirty diaper, the hybrid diaper shell will need to be washed before reuse as it will most likely be soiled. However, with diapers that are only wet and not soiled, you may be able to use the hybrid diaper shell over again before washing. If the hybrid diaper shell becomes wet, you'll need to wait to use it again until it's been washed.
With a hybrid diaper system, you'll typically use disposable diaper inserts inside of the hybrid diaper shell. The disposable inserts will soak up the urine and most of the waste from dirty diapers will also remain on the disposable diaper insert. These disposable inserts must be disposed of with every diaper change and are not to be reused like the hybrid diaper shells or covers. For this reason, you'll be purchasing the disposable diaper inserts regularly. Alternatively, you are able to use reusable cloth diaper inserts in the hybrid diaper shells if you choose to. This gives you the option to use reusable cloth diaper inserts some of the time and disposable diaper inserts at other times with your hybrid diaper system.
What Are the Benefits of Hybrid Diapers?
Hybrid diapers combine the benefits of disposable diapering and cloth diapering. One big benefit that hybrid diapering shares with cloth diapering are that it's better for the environment than disposable diapers. It's not as good for the environment as cloth diapers, but the disposable part of a hybrid diaper system is much smaller than a disposable diaper which reduces waste. The production of disposable inserts also generally has less of a negative impact on the environment than disposable diapers. Finally, many companies make biodegradable disposable diaper inserts which are definitely better than disposables which take an extremely long time to decompose.
The cost of disposable diaper inserts as well as disposable diapers can vary, so cost may or may not be a benefit of hybrid diapers depending on what brand you choose to go with in regard to either disposable diapers or hybrid diapers. Disposable diaper inserts take up less space than disposable diapers, so another benefit to hybrid diapers is that they are more space-saving and therefore they can be a great choice if you are limited for space or for when going on trips where you don't have a lot of room to pack diapers.
One more benefit of using hybrid diapers with your baby over using disposable diapers with your baby is that the great majority of parents find that they have less diaper blowouts when using a hybrid diapering system compared to when using disposable diapers. A common complaint of parents using disposable diapers is regular diaper blowouts which are very inconvenient and lead to having to change your baby's clothes even more often. Hybrid diaper shells usually hold messes in very well.
What Are the Benefits of Disposable Diapers?
There are also some great benefits of using disposable diapers with your baby rather than using a hybrid diaper system with your baby. One obvious benefit of using disposable diapers over hybrid diapers is that you won't have to wash your diapers at all. Disposable diapers are designed to be one-time use items that you will dispose of after every change. This can save you a little time on doing the bit of extra laundry that inevitably comes along with choosing to use hybrid diapers with your little one.
Another benefit of disposable diapers is that they are widely available practically anywhere. Almost any store that you go to including dollar stores, convenience stores, and gas stations will have disposable diapers available for sale. Disposable diaper inserts are not as widely available and depending on the brand you want and where you live, you may even have to strictly order your disposable diaper inserts off of the internet. Again, the cost may be a benefit of using disposable diapers over a hybrid diapering system, but it just depends on what brands you choose. The good thing cost-wise about disposable diapers is that there is no upfront cost like with a hybrid system where you need to purchase all of your diaper shells before your baby is even born.
Choose Whatever Works Best for You
Every family is different and has different needs. No matter what type of diapers you decide to use on your little one, the most important thing is to just make sure that your baby is diapered and changed regularly.
FAQ
Frequently Asked Questions
Q: How long should you use hybrid diapers?
A: You can use hybrid diapers as long as you would use regular disposable diapers. These diapers are meant to be used in place of disposable diapers and can be used just the same way. Many hybrid diapers can even be used once your child starts potty training. Some hybrid diapers are one-size-fits-all (in fact many are) while others come in different sizes. It is up to you to decide how long you would like to use hybrid diapers. Many parents use disposable diapers with their newborns and switch over to hybrid diapers once their baby is a bit older, and use them all the way until they are potty trained.
Q: Are they safe?
A: Yes! In fact, hybrid diapers are typically safer and cleaner than disposable diapers. While you have to change them just as you would a disposable diaper, they are better at wicking moisture away from the baby, making it much more comfortable for them. Most of the materials used with hybrid diapers are incredibly safe and are odor resistant and help prevent things like diaper rash from developing.
Q: Are hybrid diapers really reusable?
A: Yes, hybrid diapers are meant to be reusable. Hybrid diapers consist of an outer "shell" that is completely reusable and machine washable. You use these outer shells with things called inserts, which can either be reusable or disposable. Disposable inserts, as their name suggests, can only be used once, but you can choose to use reusable inserts if you are looking for a totally environmentally friendly and economical option. Simply wash the shell and the inserts and keep using them- and in fact- the more these products get washed, the greater their absorbency becomes.
Q: How many should I have?
A: Even though hybrid diapers are reusable, that doesn't mean you just need one. In fact, you should have on hand several diapers and inserts at all times. Once a diaper and insert get dirty it needs to be washed right away before being used again. For that reason, you should make sure to always have at least one clean diaper and insert available at a given time. Purchase a collection of diapers and inserts and get into a system of washing them so you will always have some that are clean.
Decision Time
There you have it! These are the 10 best hybrid diapers on the market right now. All of these diapers are great options, but certain specific features can help you decide which is right for you. Consider things like size options, insert type and usage, cost, and material when making your decision. Here's some more information to help you decide if hybrid diapers are right for you.