People catch the shutterbug at all ages. Some don't discover a love of photography, both amateur or professional until they're much older. Still, others are eager to snap pics from a young age. When children ask to borrow your camera, it's always a tricky line to walk as you gauge whether or not they're responsible enough to handle the equipment, or if you're about to watch another screen crack. Still, even if they're only snapping blurry pictures of their toes, it brings them joy, and it's important to encourage little ones to follow and explore their passions. Luckily, there are lots of cameras available for all ages. Even preschoolers have equipment well-suited to their skills and needs. Below, we've compiled a varied list of products to meet all your needs. You'll find cameras meant for action shots, for underwater fun, for instant Polaroids, for in-app editing, for tiny hands, clumsy hands, steady and sure hands; there's a little something for everyone here. So whether your family is looking to draw silly glasses and wigs on dad, or capture a sentimental moment as a keepsake, you'll have just what you need to get the job done.
Our Top 3 Picks
Fujifilm Instax Mini 9

Our rating
Instant Camera
Price:

See Here

VTech Kidizoom

Our rating
Waterproof Action Cam
Price:

See Here

Fisher-Price Kid-Tough

Our rating
Suitable for Preschoolers
Price:

See Here

Fujifilm Instax Mini 9 Instant
Age Range: At least 12 years old
Fujifilm Instax Mini 26 Rainbow Film Bundle
Age range: 4 to 9 years old
Playskool Showcam 2-in-1 Digital
Age Range: 3 to 7 years old
VTech Kidizoom Camera Pix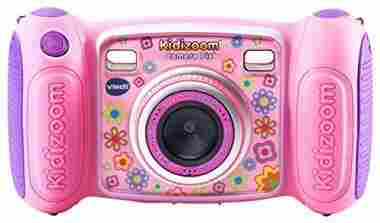 Age Range: 3 to 9 years old
Age Range: 3 to 9 years old
VTech Kidizoom Selfie Cam
Age Range: 3 to 8 years old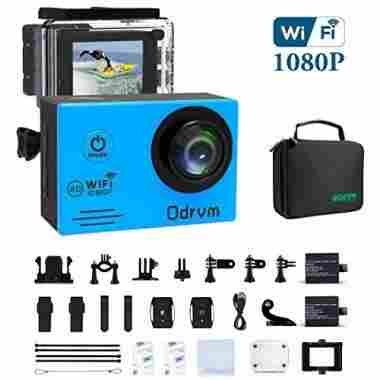 Age Range: At least 6 years old
"U49C Red Heron" Camera Drone
Age Range: At least 12 years old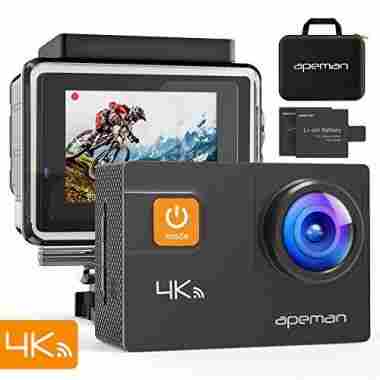 Age Range: 6 months to 3 years old
Age Range: At least 10 years old
Criteria Used in Evaluation of the Best Kids Cameras
Age-appropriate products
Most of the cameras featured here are for very young children starting from the age of 3. It is at this age that kids start developing their talents and begin to branch out into activities they find appealing. By purchasing a child's camera for your little photographer, you light the spark that may lead to a fantastic profession or satisfying hobby for your child. All age levels are listed with each product, but any would be appropriate for young children depending on the qualities of the camera they prefer.
Quality of pictures from the camera
It must be kept in mind that these cameras are indeed cameras for children and as such, the quality of the pictures will not be the superb specimens that you would expect from adult professional devices. All in all, these cameras do a good job of allowing your child the freedom to explore the realm of photography with his or her own camera being free to choose photo content and editing styles. Some of the less-sophisticated models must have more lighting for the best shots, but with practice, any child can master the skills needed for really good photographs.
Other features of cameras
Not only do all of these cameras take good photographs for small child devices, but some of them also have voice-recording and video abilities. When the little one is tired of hunting photo subjects, he or she can settle down with one of the built-in games that provide an added feature. Most of these devices also allow for multiple editing and framing artistic expression so your child can show off their skills of photography.
Durability of camera (shatter-proof, waterproof)
All of the cameras featured have small children in mind as far as durability goes. These can take the abuse of dropping and getting wet because they have a harder outer case than most cameras.
What Determined the Top Kiddie Cameras on Our List
Today's photographic equipment is light-years ahead of what we used to have way back in the 19th century. Today, it's all about finding the right frame to create really stunning pictures. Everything is already simplified by technology. Unfortunately, this does not make the selection process any easier. In fact, it has clearly made it more complicated as there are plenty of things to consider. However, since our topic is more on camera systems that will be used by children, we opted to focus more on certain areas that will make photography easy to learn and fun for kids.
First, the ease of operation. If you look at professional DSLR cameras, there are a lot of things that need to be set. Professional photographers never use the auto mode of their cameras as they would like to have greater control in the kind of outcome over their images. So, they always use the manual setting, by dialing in the correct shutter speed, aperture, and ISO settings. These are just the basics. Forcing kids to master these fundamentals will definitely snuff the fun out of kiddie photography. As such, the cameras on our list should make it very easy to operate while still allowing the expression of the child's creative potential.
Of course, we also had to consider the developmental appropriateness of these cameras. As you may have already noted, on our list we also included some cameras that are specifically designed for a particular age group of children. For instance, we simply cannot expect a 1 year old baby to really take pictures or even shoot videos using a kiddie camera. What we did include, nonetheless, are cameras that are appropriate to their developmental stage.
Our researchers then sifted through the different feedback and reviews left by satisfied (and unsatisfied) customers, determining recurring themes in their comments. This gave us an idea of how these products are received by the general public. At least we can say that countless parents also recommend these products.
Benefits of Photography to Children
Photography is not just about pointing your camera at a random object and shooting at will. It's also not only about freezing a memory in time so you can always have something to look back to. Photography is more than just a profession or someone's hobby. It is a very important tool for normal human development. This is especially true for children. Here are some of the more common benefits of children learning photography.
Enhances cognitive abilities.
Whenever kids look through the viewfinder of a kiddie camera, their brains are actually trying to figure out how to compose the best possible frame for the image. This requires an understanding of the different elements of photography such as light, shadows, lines, balance, and harmony among others. For some, this often translates to a child's creativity. However, there are more complex cognitive processes occurring every time the child takes a picture. These cognitive processes are often reflected in the type and composition of the photograph.
Fosters healthier self-concept.
If children are able to operate a camera with very minimal adult supervision, they tend to be happy about themselves. If they are able to create really stunning pictures for their age, then their confidence in themselves also increases. Self-confidence is one of the basics of developing a healthier self-concept which helps improve the kid's emotional well-being.
Facilitates mastery of balance and control.
Taking a picture requires mastery of one's reflexes. As much as possible, the hands must be steady to avoid camera shake which can be magnified by the image sensor and result in blurred, unrecognizable images. As such, photography can actually teach kids to control their hand and arm muscles while also achieving balance and stability especially in depressing the camera's shutter button.
The Bottom Line
You don't need to buy a high-end DSLR for your child just so he or she will learn photography. You will only need to buy any one of the 10 most amazing cameras for kids that we have listed here.
FAQs
Frequently Asked Questions
Q: Does the Selfie Camera take regular pictures as well or just selfie shots?
A: The Selfie Camera does take both–selfies and regular photographs.