When you think back on favorite childhood activities, coloring books appear within almost everyone's top 10. It's a simple activity, but one that can be almost meditative. Coloring allows us to explore our own aesthetic tastes, work on motor skills, and occasionally think outside of the box. It also helps to build hand strength and dexterity, as well as giving children a safe, fun space to start paying attention to detail. But even after we've seemingly outgrown crayons boxes, many people still enjoy coloring. The market is currently booming with adult coloring books, spanning from calming, focusing mandalas to off-color humor in their topics. Finding the right kids' coloring book will help to ensure that your little one stays engaged and occupied as they work on their artistic capabilities. We've compiled a list of the top 10 coloring books, making sure to include options for varying skill levels and interests. Sharpen those pencils, break out those crayons, uncap those markers–or, if you're looking for a creative challenge–buy one of the books with single-sided pages and try your hand at watercolors! Just make sure that if you're leaving the tots unattended, you have some Mr. Clean nearby, in case they decide to expand their canvas.
Our Top 3 Picks
Coloring Books for Toddlers: 100 Lessons in 1 Book

Our rating
Letters, Numbers, Shapes
Price:

See Here

Coloring Books for Kids & Toddlers: Animals Coloring

Our rating
48 Pages to Color
Price:

See Here

Little Bee My First Big Book of Coloring

Our rating
200 Pages
Price:

See Here

The Best Kids Coloring Books Reviewed in 2018
My First Big Book of Coloring
The Dr. Seuss Coloring Book
Disney Pixar Adventure Coloring (Jumbo Coloring with 50 Stickers)
Paw Patrol Coloring Books – 2 Pack
Disney Mickey Mouse: 400 Pages of Coloring Fun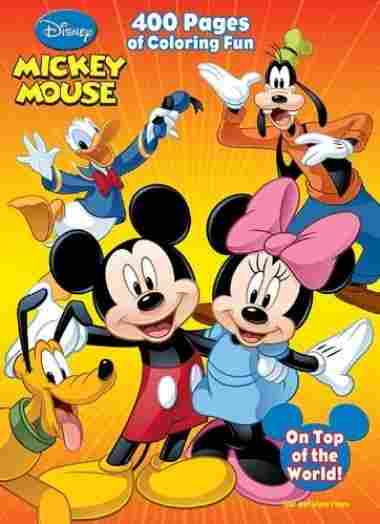 Crayola Gigantic 224 Pages Color
Toddler Numbers & Shapes Activities
Disney Princess Jumbo Coloring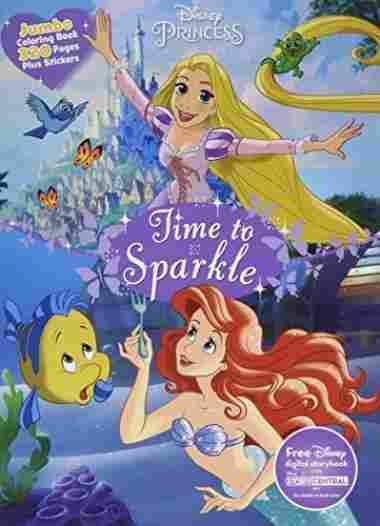 Criteria Used in Evaluation of the Best Coloring Books
There are a few things to keep in mind when choosing a good coloring book. Keep in mind the age of your children, the quality you are looking and your child's interests.
If your children are very young, 18 months old to 5 years old, you will want a coloring book that has thick lines, big spaces, and thick paper. The thick lines will help them to stay in the lines while practicing, which will help them build their self-confidence. The big spaces will also help.
If your children are a little older, the pictures can be drawn with thinner lines and more details. Older kids may be more likely to color subjects that are interesting to them whether it is horses, a current movie or Disney characters. You might also look for something that is educational. Coloring by number is fun and activity books are a bit of a challenge to them. Books with the images only on one side and perforated pages are also good because they can take their masterpieces out of the book and put them on the fridge to show off.
There are also a lot of different media you can use. The most common, of course, are crayons which are probably the best bet for younger artists. They are simple to use, nontoxic and fairly easy to clean up. There are also colored pencils which are nice for the older kids who like to do more detailed work. They do have sharp points, so they may be better for the older kids only. There are also markers or gel pens which are very popular. Before you use these, you will need to check the quality of the paper to make sure there will not be any bleed through. You might also try watercolors, charcoal or chalk. The more they get to be creative, the more their imaginations will grow.
There are many good reasons to encourage your children to color. Being creative and imaginative can be beneficial in helping them relieve stress later in life and with problem-solving skills. Coloring helps your child to focus while finishing a project. It also exercises their fine-motor skills. They can learn color and texture awareness. There are many shades of every color. What are they all called? Older kids can practice different techniques to create different textures. They can also experiment with different media. The coloring is an activity that helps your child to slow themselves down and they can think and process emotions while coloring.
Coloring can also be a great social time. Kids love to share books or tear out pages to share. Everyone can put the colors in the middle of the table and color as a family. Finally, finishing a masterpiece does a lot to build their self-esteem. You can encourage them to hang up their picture and to be proud of themselves. There is a little something in coloring for everyone.
FAQ
Frequently Asked Questions
Q: Do you have any special coloring techniques?
A: If you want to play with a "softer" texture, try coloring with a crayon and then using a pencil eraser to blend it. Blending the colors to make them look softer or even trying to blend them into each other could be a fun experiment.
Q: What is the best way to prevent bleed through?
A: Some of the coloring books come with free PDFs to download or two copies of each picture, but for the ones that don't have them you can get a piece of thin cardboard (maybe the cover from an old coloring book or the back of an old tablet?) to put behind the picture while you are coloring it.
Q: At what age do kids become interested in coloring?
A: Parents have told us that children at about 18 months start enjoying coloring, as long as they have some close supervision and guidance.
Q: How long have there been coloring books around?
A: The McLoughlin Brothers are credited as the inventors of the coloring book, when, in the 1880s, they produced The Little Folks' Painting Book, in collaboration with Kate Greenaway.
Q: Do coloring books stifle a child's creativity?
A: Well, we are definitely not experts but the guess would be no. Coloring can open up new parts of the world that maybe your child hasn't thought about and they can experiment with different color blends and ways to texture. A good suggestion might be to get a coloring book which has blank back pages so they can draw their own pictures as well.
Q: Can teaching my daughter to color improve her handwriting later in life?
A: Yes. Coloring early on in life can improve dexterity, strength in her hands and attention to detail. Starting coloring early can improve all these so that later on her handwriting will come more naturally.